NEWS FROM THE FRONT
One of the things I like most about my job is meeting people who are super creative and make by hand 1:6 scale items that can be used by Joe, The Elite Brigade, or any figure for that matter. Randall with Artlab Design is one of these people. His DIY System Kits are phenomenal! He's already made 4 different sets for us (2 of which can be lit from within) and he's hard at work on his fifth – the SIDEKICKS Module Set. They can be used as individual modules, combined together, or added to other Artlab Design modules (like the Command Center System – sold separately). Click HERE to check out the images he's sent us and HERE to see a video of the modules in action!
These aren't on our website yet, so you'll have to make do with the pics and video until then!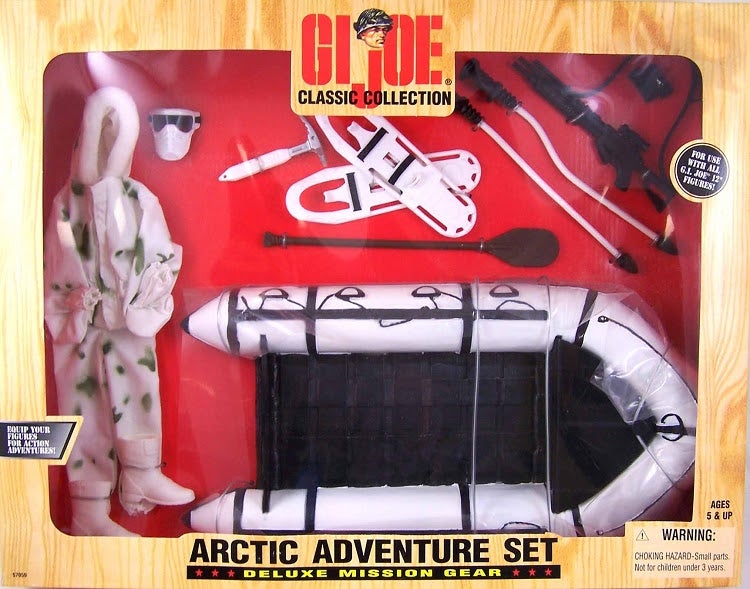 BLAST FROM THE PAST
Arctic Adventure Set
Released in 1998, the Arctic Adventure set includes: White 'camo' hooded suit, Gloves, Snowshoes, Boots, Ski poles, Face mask, Ice pick, White raft, Paddle, Rifle w/sling & 2 clips.
BUY NOW

WEEKLY SPECIAL
20% Off All In Stock Figure Stands
Click HERE for details.
Offer Expires: October 3rd, 2018 at 6:00 pm (central). Cannot be combined with any other special or discounted pricing. Sorry – No Backorders or Rainchecks.
---
NEW PRODUCTS ANNOUNCED!
DAM Toys Assassin's Creed Aguilar
DAM Toys Assassin's Creed Altair the Mentor
Pew Pew Gun Pinyike DIY All-Purpose Humanoid (Black / White)
DJC Toys Claus Head Sculpt
Alert Line Spotted Hyenas (2 Color Styles)
Alert Line WWII German Female DAK Officer
VF Toys Chris Head Sculpt
Hot Heart Toys Full Evening Dress (4 Color Choices)
HY Toys Imperial Roman Army Legionary
INCOMING!
Firebase Ryan Sandbags – Set of 10 (Assorted Colors)
Firebase Ryan Wooden Crates (Various Colors & Sizes)
Firebase Ryan Wool Blanket & Pillow
Firebase Ryan Stretchers (Assorted Colors)
Firebase Ryan Deluxe Camo Netting (Assorted Sizes)
Firebase Ryan Small Camo Net Roll
Firebase Ryan Anti-Tank Obstacle
Elite Brigade Fuzzy Heads (Assorted)
Flirty Girl Collectibles Combat Shorts Fashion Clothing Sets (2 Color Styles)
My Sweet Doll Boutique Women's Polka Dot Dress Set (White/Black)
X Toys Fur-Collared Cloaks (Assorted Colors)
ZY Toys Sexy Santa's Helper Outfit Set
COO Models Viking Ship Display
DID Toys General 'Drud': WWII German Wehrmacht Communications
DID Toys Private Takuya Hayashi Japanese 32nd Army (24th Division)
Elite Brigade Wrist Communication & Navigation Units (Assorted Colors)
Elite Brigade Spy Probe (Yellow) with Wrist Controller
Elite Brigade Ready Attachable Configurable Components System (RACCS)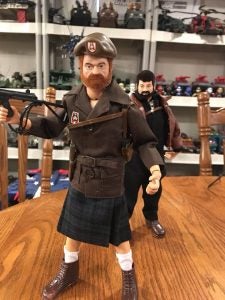 CUSTOM FIGURE OF THE WEEK
The Irish Adversary by Mike Haehl
Click HERE for larger image.
---