After hitting 1/4 statue collectors with a veritable deluge of X-Men statues over the course of about two years, Sideshow Collectibles hit the brakes and slowed things down considerably once the pandemic hit. Other than a (rather awkwardly posed) Brown Costume Wolverine, Sideshow has launched zero new X-Men statues since 2019. But the drought is at an end—and appropriately enough, it's Ororo Munroe bringing the rain! The new Sideshow Storm Premium Format Figure statue is now up for order: does the Wind Rider look worth the six Ben Franklins she'll set you back?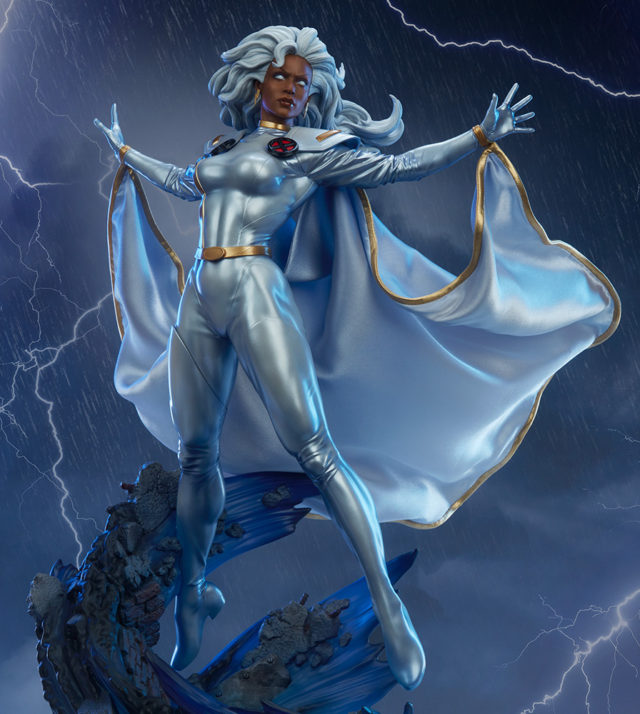 Ever since Sideshow Collectibles went full speed ahead on a renaissance of 1/4 X-Men Premium Format Figures when they announced five X-Women (Rogue, Mystique, Psylocke, Emma Frost and X-23) back in 2018, fans have been begging to see perhaps the most iconic female X-Men member of all get them quarter-scale treatment once again.
And just when all hope had begun to diminish, Sideshow finally announced that a new Storm Premium Format Figure would be coming our way in 2021! Fans have a lot of hopes and dreams for this figure—did Sideshow bring them to fruition with their newest take on Storm?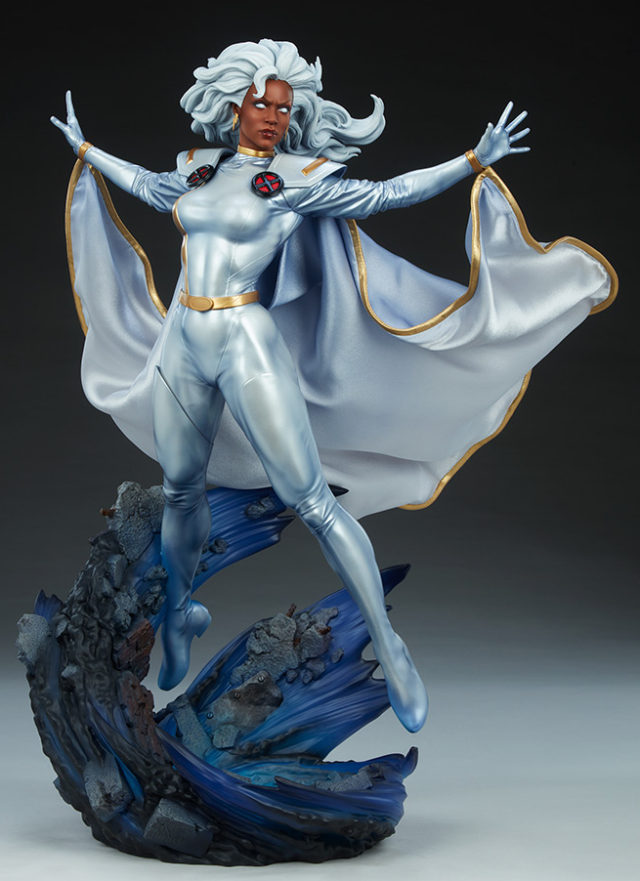 In my eyes, this comes fairly close to being an epic win for Sideshow, but hits a few snags that hold it back. I don't think this Storm PF statue is perfect, but I do think that it hits enough of the most important notes to be a definite purchase for myself and many other starved fans of the character.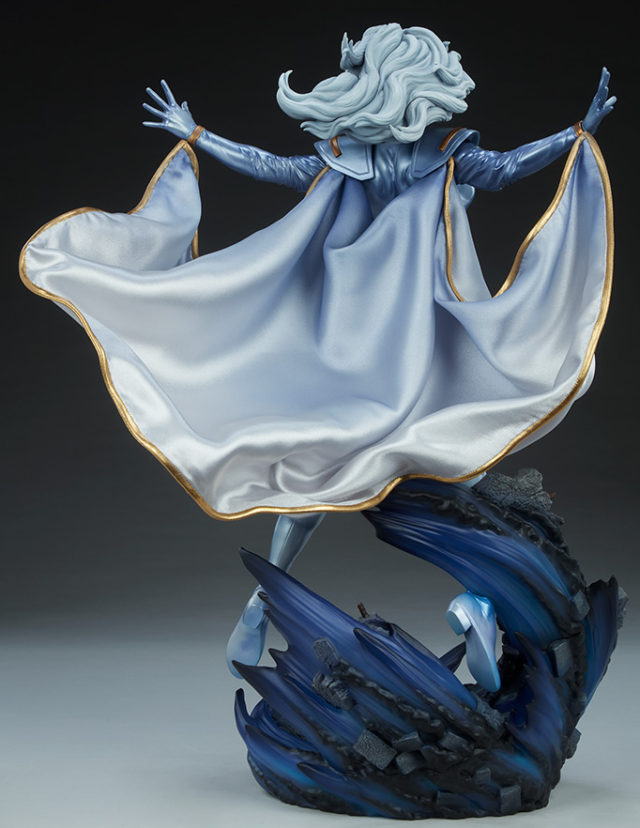 I'll start with what I don't like, because longtime readers can guess what I'm going to say: I outright hate soft goods on my statues, and I would prefer fully-sculpted elements 100% of the time. I understand why that's sometimes not economical (and potentially breakable) when you have a humongous flowing cape like Doctor Strange—but I am much less accepting when the cape is more basic like the one this Jim Lee Storm design has.
As far as fabric capes go, this one is inoffensive and looks fine, but dust and dirt getting on the white fabric will become a large issue for those who aren't carefully with where Storm is displayed and how she's cleaned.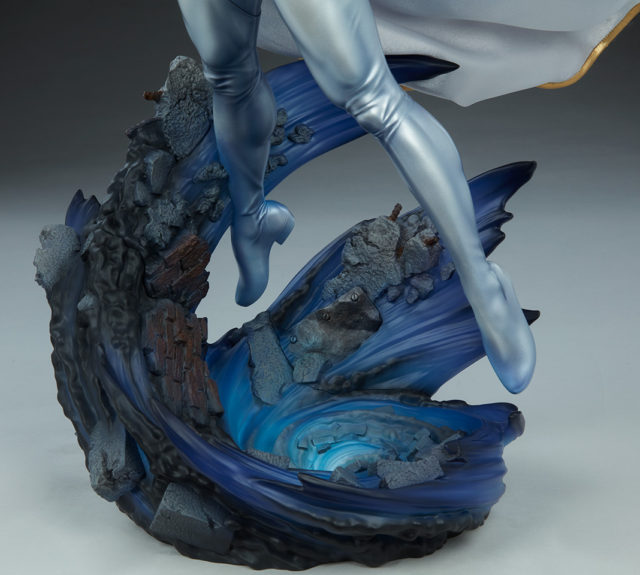 My other complaint about this particular statue has to do with the base. While I like the idea of Storm using a storm cloud to hover above debris, the blue nature of those winds is a little bit jarring. I assume Sideshow's designers picked the color to add contrast between the base and the figure itself—and yes, it's true that you can have blueish rain clouds—but I would have much preferred grey winds. The blue distracts me more than I would like.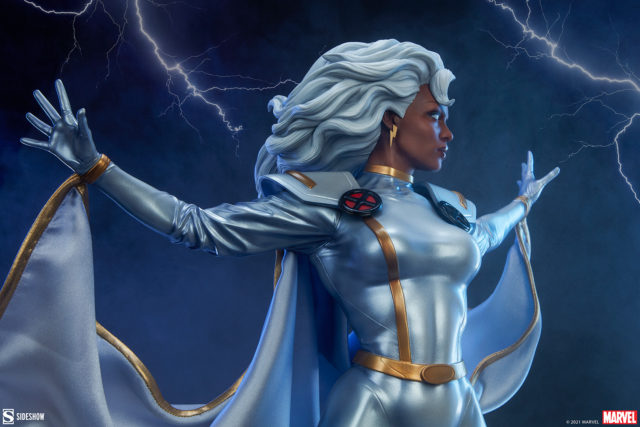 Don't be fooled into thinking I hate this, though. This will be joining my
collection for sure, as I am somehow lacking a quarter-scale Storm in my collection (though I have several 1/6 statues of her). I didn't love the previous Sideshow 1/4 iterations and I missed the XM Storm that's not selling for crazy taters amounts on the aftermarket, and at $600, the price is right for me on this one—cloth cape or no.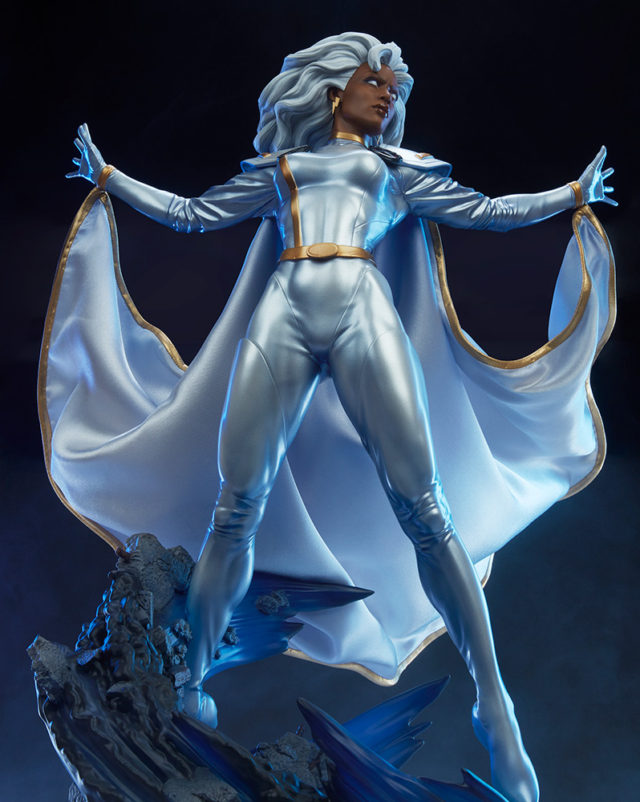 And while I've complained a lot so far, everything I haven't nitpicked looks absolutely outstanding to me. Sideshow has solved the age-old debate as to whether the Storm Jim Lee costume is white or silver but choosing an ideal silvery-white paint for this piece, which has a gorgeous pearlescent look to it.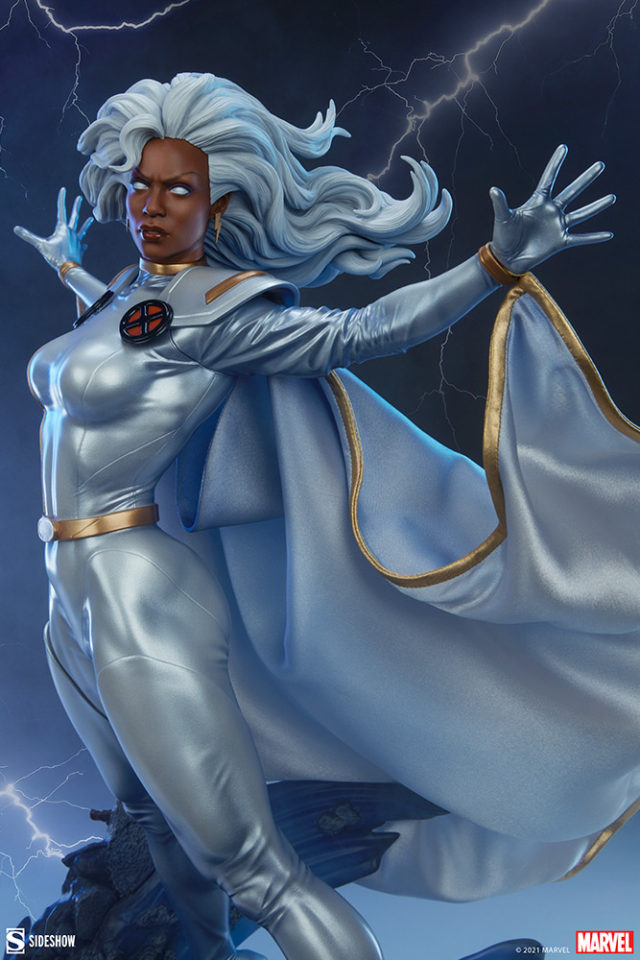 Depending on the lighting, this can look silver or white—and frankly, this is the best compromise between the two color choices I've ever seen. The pearlescent paint definitely adds a contrast with Storm's white hair that we don't see when plain white is used for her costume on figures and statues, and the gold accents pop vividly on the silver.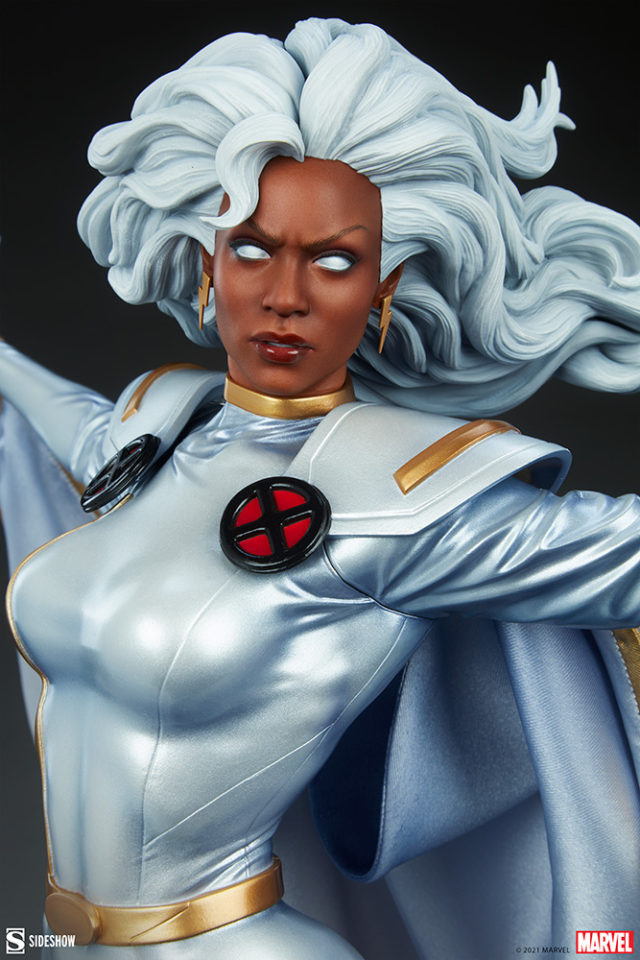 The portrait for Storm looks dead-on accurate to what I want and expect from a head sculpt for Ororo Munroe. And though some people are probably going to rag on me for saying so, I think Sideshow's face and hair actually look a little more appealing than the default XM Studio head (no, not XM's insane laughing head—I outright hate that one).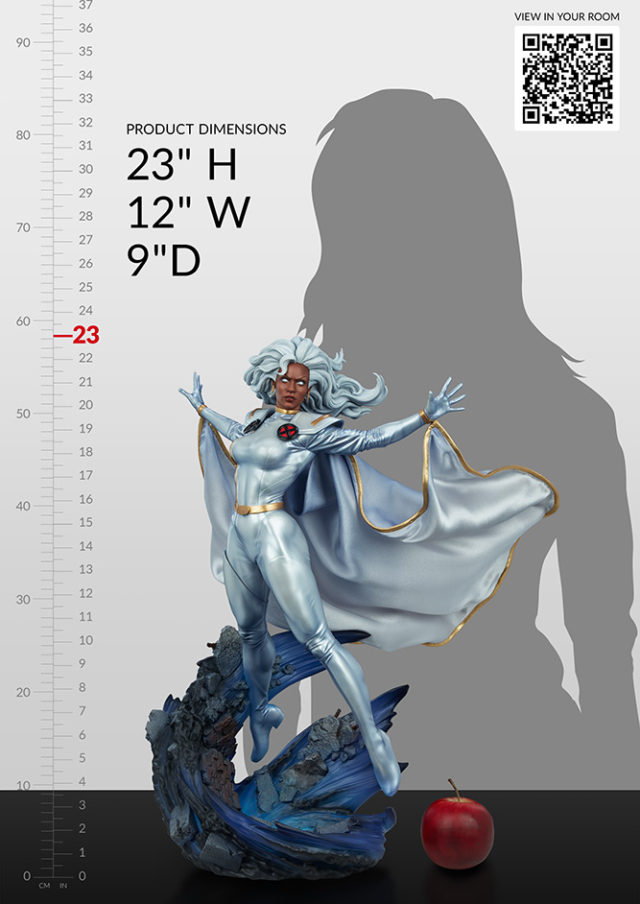 At 12" wide and 9" deep, the 23" tall Storm PFF statue will also be able to fit into IKEA Billy Bookshelves and even IKEA detolfs (with one glass shelf raised or removed), making it an easy piece to display in a classy way. I'd prefer her up high to get the greatest effect out of the gravity-defying, levitating pose that Sideshow opted for.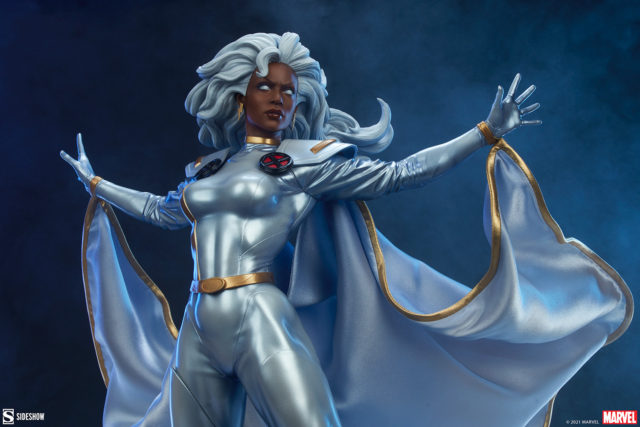 The Sideshow Premium Format Storm statue is now up for pre-order, and is scheduled to be released in spring 2022. She's also available with $4 shipping and the same $600 MSRP from BBTS, although I generally buy my Sideshow statues directly since it's easier to get replacement parts if there are any damages when I buy straight from them. That $4 shipping is awfully enticing with shipping rates being what they are these days, though!
Now that we've seen the newest Storm 1/4 in all its hi-res glory, what do you think, Marvel collectors? Has Sideshow matched the high bar for Ororo Munroe set by previous statues of the character, and are you planning to add her latest iteration to your collection?
The post Sideshow Storm Premium Format Figure Statue Photos & Order Info! (X-Men 2021) appeared first on Marvel Toy News.