Sometimes you just can't tell based on a first impression when a piece is going to end up being a popular hit with fans! One such case is the recently-released Sideshow Collectibles Silver Surfer Maquette (with Nova included with the Exclusive Edition). When Sideshow debuted this resin statue last summer, it wasn't met with the instant universal love. But now that collectors have actually started getting their 1/4 Silver Surfer statues in-hand, things have changed a bit! Let's take a look…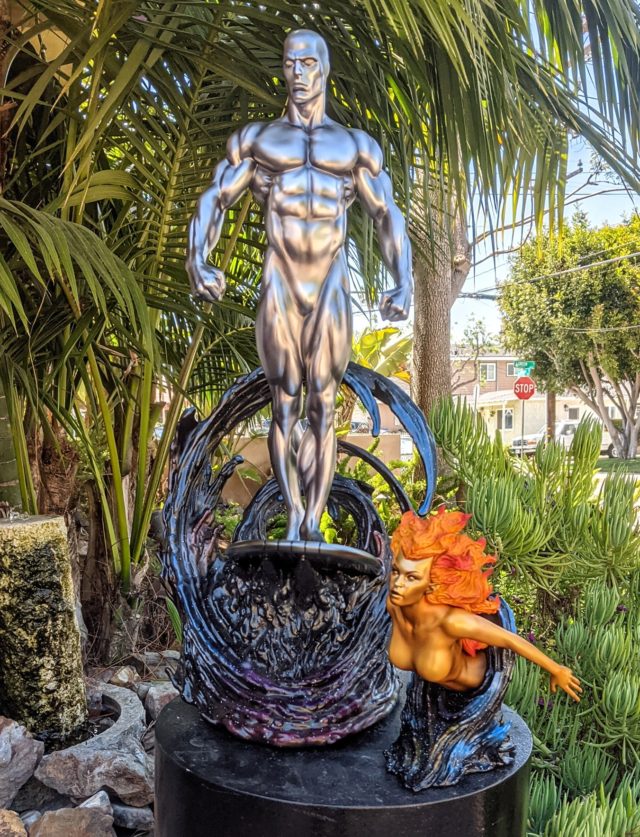 Confession time: When this sculpture was first premiered by Sideshow Collectibles, I was absolutely one of the haters at a glance. I was scandalized that only a fraction of the silver surfboard was present on the statue, I regretted the omission of chrome, and I was no fan of the pose that had been selected for the design. Frankly, I thought that this might be a bit of a sales misfire for Sideshow.
But clearly–I thought wrong! As more and more collectors have started receiving their Silver Surfer quarter-scale statues (it's technically labeled a Maquette and a not a Premium Format Figure because reasons), I've seen virtually nothing but happy fans and all-around praise.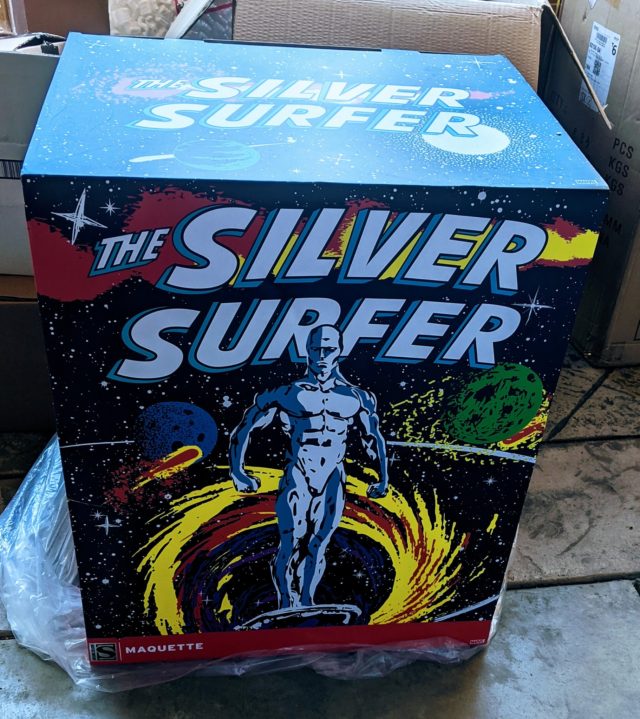 Even the art box for this maquette is a beauty, evoking the artistic look and feel of the classic Silver Surfer comic book covers. I definitely don't want to be a box fanboy, but I have to say–this is one nice box.
Of course, what's inside that box, well… it's pretty dang nice too. I thought the pelvic area on this Silver Surfer looked a mite strange when I first saw it and I still do, but there's no questioning that the proportions and anatomy sculptor Daniel Bel has sculpted for this figure looks dead-on otherwise.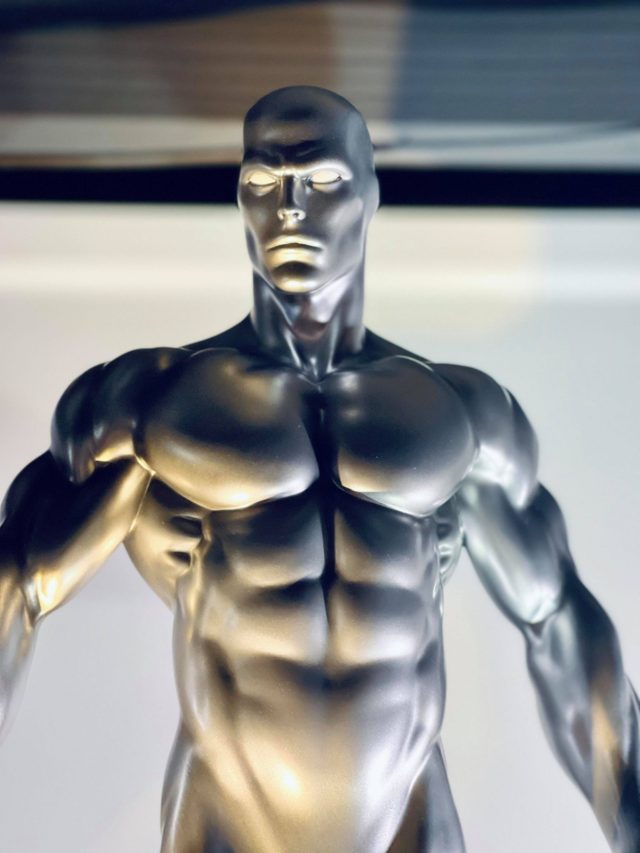 (Truth be told, I legit haven't heard anyone but me complaining about the pelvis, but it just looks weird to me. I will respect the opinions of the many, many collectors who I've seen that have bought this statue and say it looks superb to them, however.)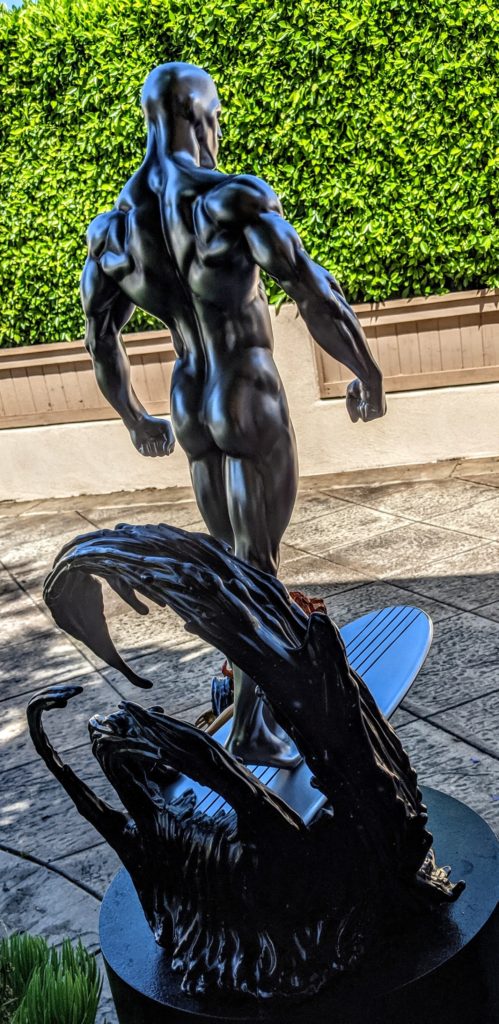 I think the portal base with its swirling cosmic specks came out looking pretty sweet. I have heard a few quibbles about it being a bit small, but honestly I think expanding the portal on this by much more would really put it in jeopardy of having too much of a spatial footprint from the wide audience that Sideshow Collectibles was aiming for with this maquette.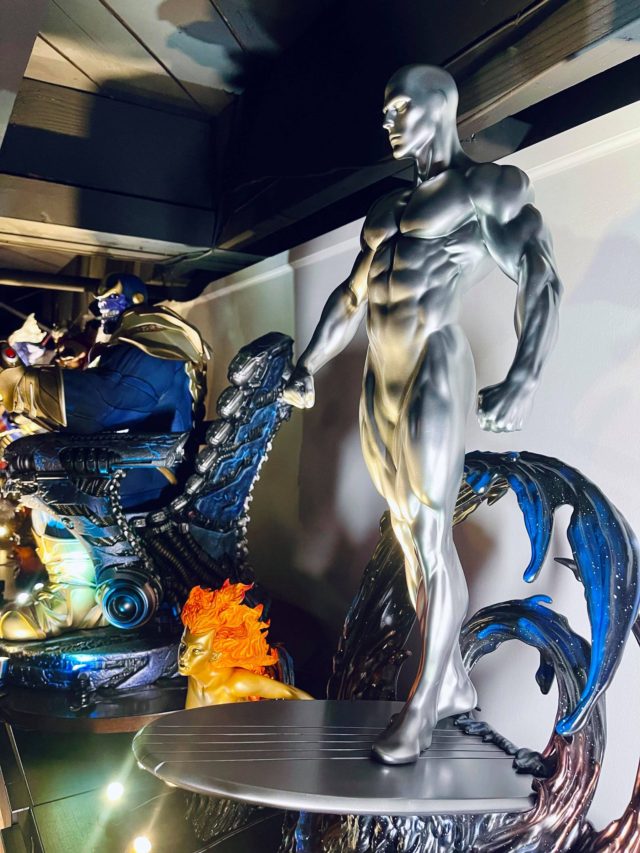 As soon as it was announced, I thought that the light-up Frankie Raye Nova proximity piece add-on that comes exclusively with the Exclusive Edition was going to serve as an outstanding incentive to purchase that version (for a mere $630 compared to the $600 of the standard edition), and it seems like that that notion has been proven true by the lofty edition size of the Exclusive Edition.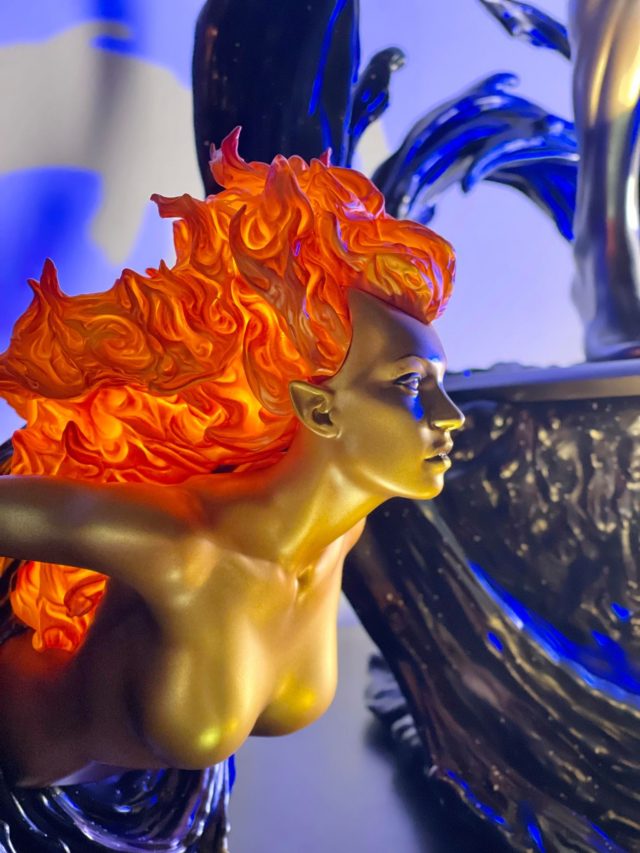 Sideshow did a hell of a job with this Nova–the light-up hair looks absolutely spectacular in the in-hand photos, and for the thirty bucks extra she costs, she's much larger and makes more of a statement than the Bowen mini-bust of the character from a decade-plus ago that cost twice as much. I hope Sideshow considers more proximity pieces like Franky Raye for future statues, because they are undoubtedly the best Exclusive Edition incentive in my eyes.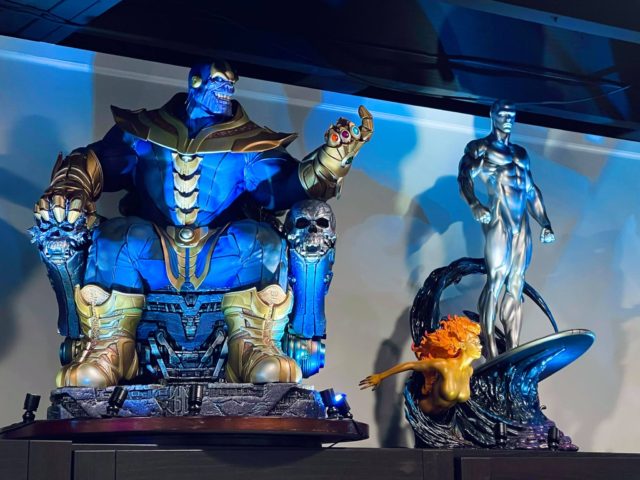 For those who have and love the Sideshow Thanos maquette released a few years back, Silver Surfer makes an awesome complement and seems like a no-brainer for those who love both characters. For as much as I whined about the lack of chrome, the shiny silver paint that Sideshow did select for this sculpture actually does look really slick.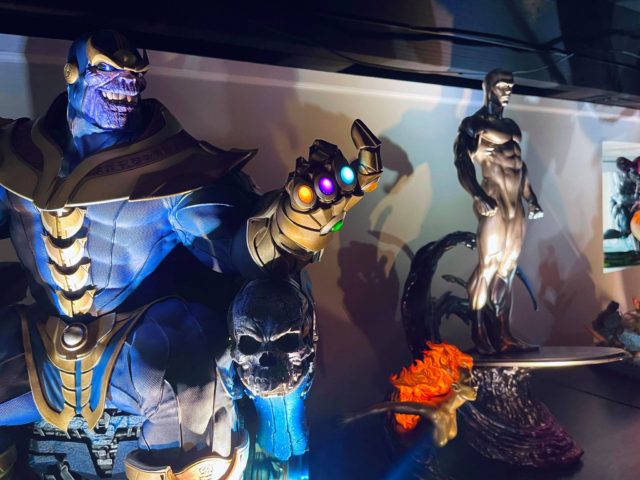 Early sales must have indicated that there was going to be massive popularity for this statue, too–the Exclusive Edition has an LE size of 2500 pieces, whereas the standard edition without Nova has a wild 4000 pieces run size. Sideshow is definitely planning on churning out batches of that standard edition for the next couple years with that kind of LE number.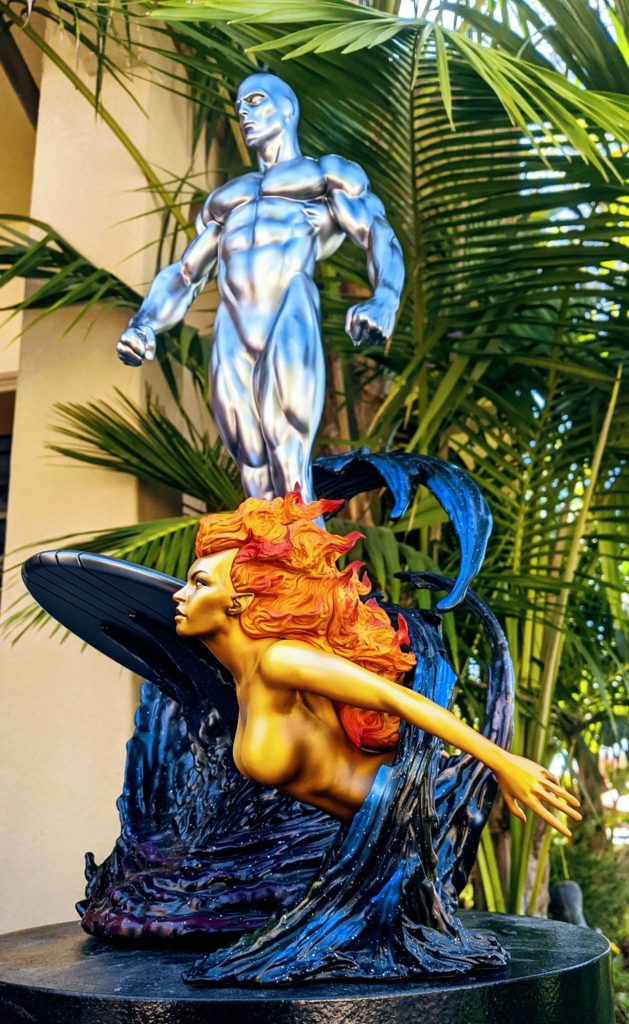 The Sideshow Exclusive Silver Surfer Maquette with exclusive Nova proximity piece is in-stock now on Sideshow's website and ready to ship. For 30 bucks extra, the Exclusive Edition's Nova is a huge add-on that is likely to sell for much higher on the aftermarket, so it's probably worthwhile for anyone thinking of snagging a Silver Surfer to snap up the Exclusive version while it's available, even if just to sell Nova separately.
Humongous thanks to Joe Seligman and Jerry Wilson for giving permission for their gorgeous photos of their Silver Surfer (and Nova) statues to be posted here! You guys have really helped this piece look its best!
And now that you've had a chance to see lush fan photos and see the finished product, what do you think, Marvel collectors? Did Sideshow do right by the Sky-Rider of the Spaceways? Anyone else pick up this piece and have impressions that they'd like to share?
The post Sideshow Silver Surfer Maquette Statue (w/ Nova) Released & Photos! appeared first on Marvel Toy News.