We're under a week out from San Diego Comic Con 2019, so I would ordinarily hesitate to proclaim anything as the weirdest Marvel collectible that Sideshow Collectibles has revealed this year just yet. But, well… I have a hunch nothing is going to top this on the bizarro-meter! Following in the footsteps of the Premium Format Deadpool and Lady Deadpool figures, the Sideshow Kidpool Premium Format Figure is now up for order! And, uh, yes… Kidpool is in fact in a kiddie pool…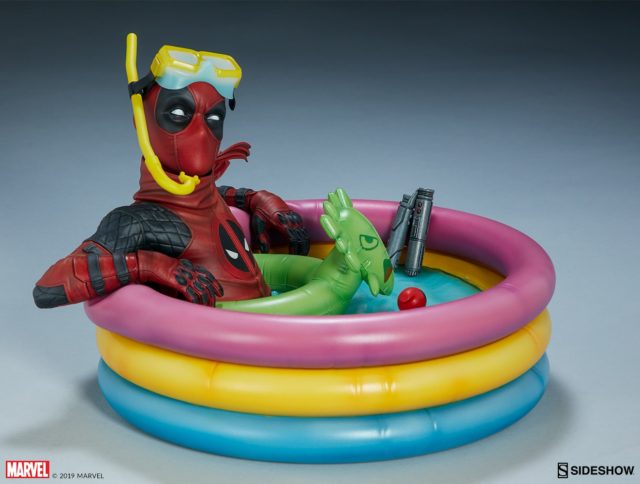 While Sideshow Collectibles has revealed some eagerly-expected (and hotly demanded) Marvel statues such as X-Men Colossus and Gambit in their lead-up to SDCC 2019, they've also now fully-revealed and put up for PO a character that I'd bet money no one genuinely expected to ever get a Premium Format Figure: Kidpool!
Yes, the kid Deadpool Wade Wilson of Earth-10330 is here in high-end Statue form! Whoever had that in the betting pool is now a rich man!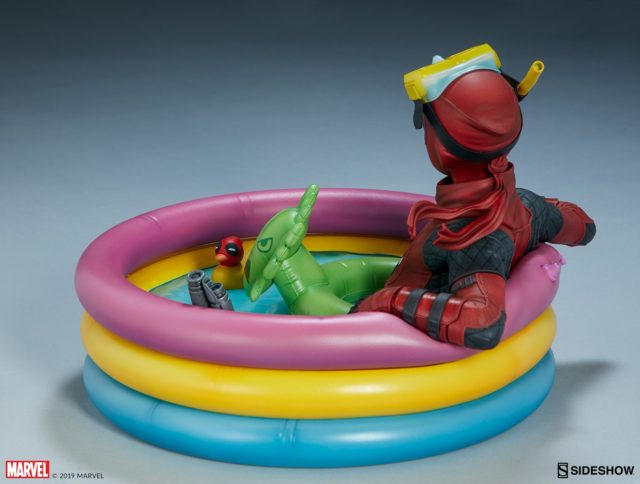 …But speaking of pools! In a move that caused my face to fall into a crazy half-cringe/half-smile/half-jaw drop (I know that doesn't add up, but whatever), Sideshow has posed Kidpool in an actual kid pool. As in, like, an inflatable kiddie pool.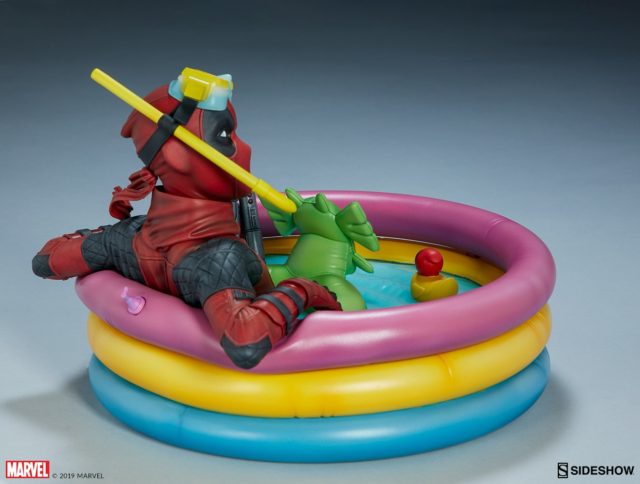 …No, seriously.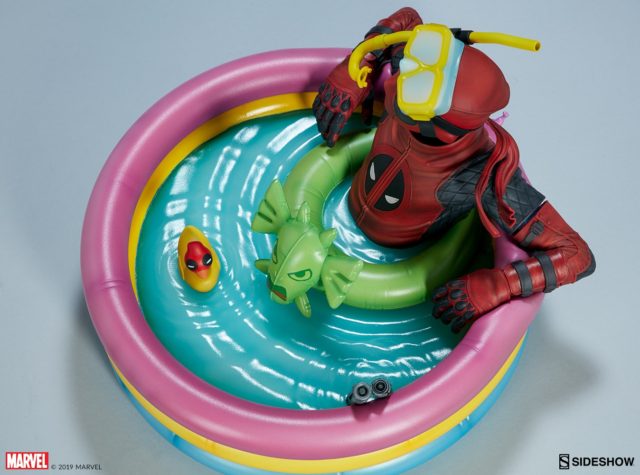 Seriously.
Okay, now that we've had a chance to contemplate the lunacy of this piece, let's actually look at it. And… craziness aside… I think this is kind of a neat release.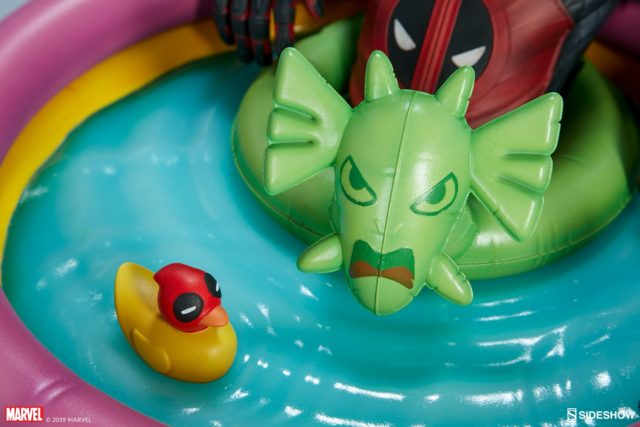 Sideshow's designers clearly had a blast with this piece, as they've integrated a Deadpool mask-wearing Duckpool rubber ducky in the pool, a pair of lightsabers (sorry, "laser swords"—and yes, he does actually wield these in the comics (they have green blades like ROTJ Luke Skywalker, FYI)), and even a Fin Fang Foom innertube. Freaking clever and adorable!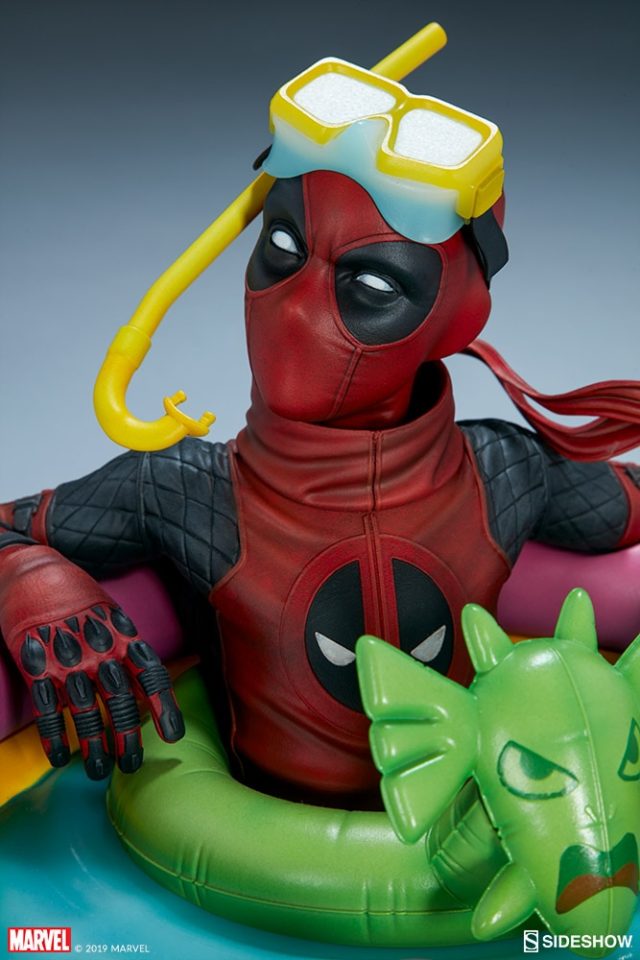 Against the odds, perhaps the most obscure character to ever get a Premium Format Figure actually does look, well… fun! This is wildly creative and an altogether different release from anything else that Sideshow has done since… ever!
The killjoy that wipes some of the smile off my face from this release is the price-tag: $250 MSRP. For a statue that's 7" by 8" by 8", that feels rather extravagant. In a world where mini busts sells for $120 and up, I'm not flabbergasted by this kind of a price, but I do think it's probably still about 50 bucks too high to be a good value.
In addition, I'm not convinced that this is going to scale properly with the previously-released Deadpool and Lady Deadpool statues, as the dimensions just don't seem quite right to me for this figure to be true 1/4. I wonder if that's why Sideshow omitted any comparison photos of this with their other Deadpool Corps members?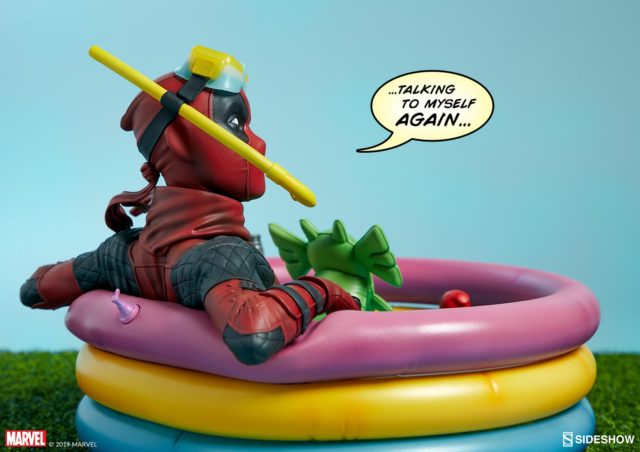 The Sideshow Kidpool Premium Format Statue is now up for order, and is scheduled to be released in Spring 2020. I've never read a comic with this character, but I do get a kick out of this. If it gets discounted, I may give it a serious look. Deadpool Corps fans will hypothetically enjoy it more than me, though.
Thoughts on perhaps the zaniest Sideshow Collectibles Marvel Statue ever? Is anyone hardcore into Deadpool Corps and contemplating snatching up this pool-loving kiddo? And is anyone else secretly hoping for a Premium Format Dogpool Statue to complete the "core" Corps?
The post Sideshow Kidpool Premium Format Figure Statue Up for Order! appeared first on Marvel Toy News.