Largely thanks to their ever-expanding X-Men statues range, Sideshow Collectibles has claimed more of my money in 2019 than ever before. And while my wallet is cowering and begging for mercy, my heart is absolutely twitterpated to drop another future 700 bucks today. Because a new statue thousands of fans have asked for for years finally launches today: the Sideshow EXCLUSIVE Gambit Premium Format Figure goes up for order today! The Ragin' Cajun is charming his way into our collections again…!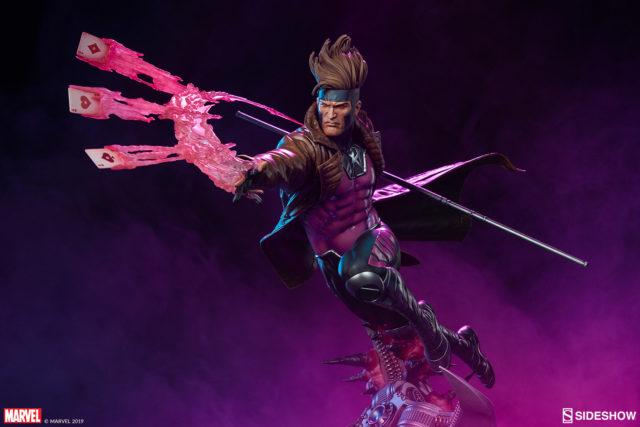 When Sideshow Collectibles released their first Premium Format Gambit figure way back in 2010, I was still in the denial phase that I would ever want to collect humongous statues in the 1/4 scale. And so, that Gambit was a pass for me, even though Remy Lebeau is near and dear to my heart.
But as the years rolled by and I started to soften to larger-scale statues, I realized that Gambit was an absolute must-have character for me that I just couldn't live without. I pre-ordered the XM Studios Gambit from overseas, but I gotta say: it doesn't happen often, but Sideshow has soundly defeated XM's effort this time out!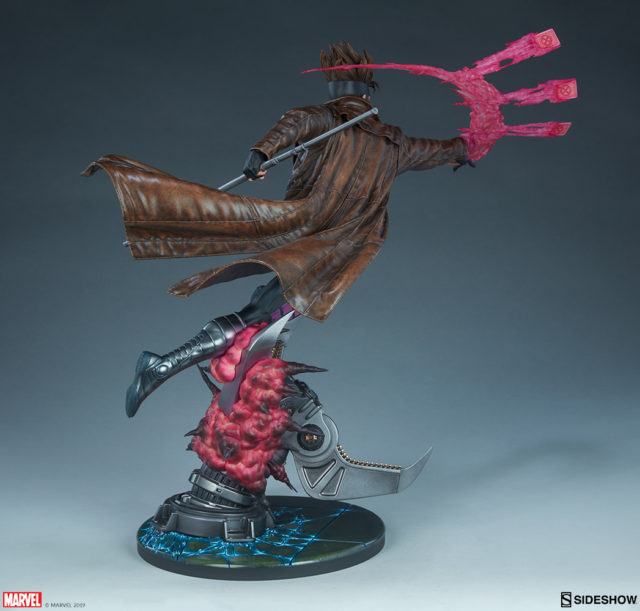 As he should be, this 1:4 Gambit is adorning his iconic Jim Lee costume (which is really the only way to go for this character). While I think the original Remy that Sideshow made 9 years ago is still pretty solid even today, I've never liked that he has a soft goods jacket. In almost every instance, I just don't like mixed media on my statues. After Rogue got a fabric jacket, I feared this Gambit would meet the same fate—but thankfully, that's not the case.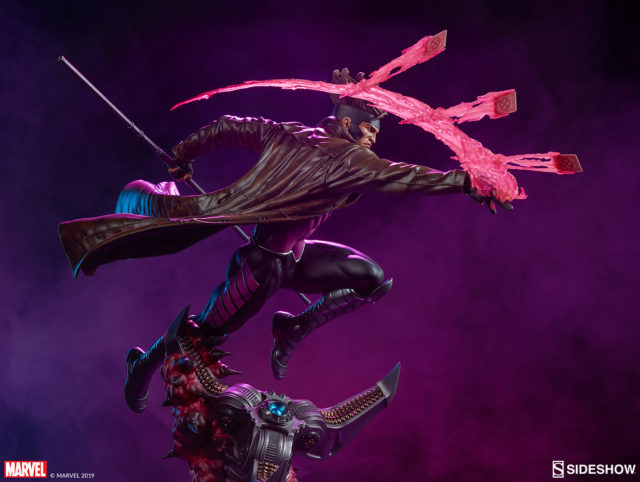 The fully-sculpted, flowing jacket on this Gambit Sideshow PFF looks downright amazing, and I don't think the design of this figure would have looked anywhere near as good (or effective) with a fabric coat. Gorgeous and intelligent work here.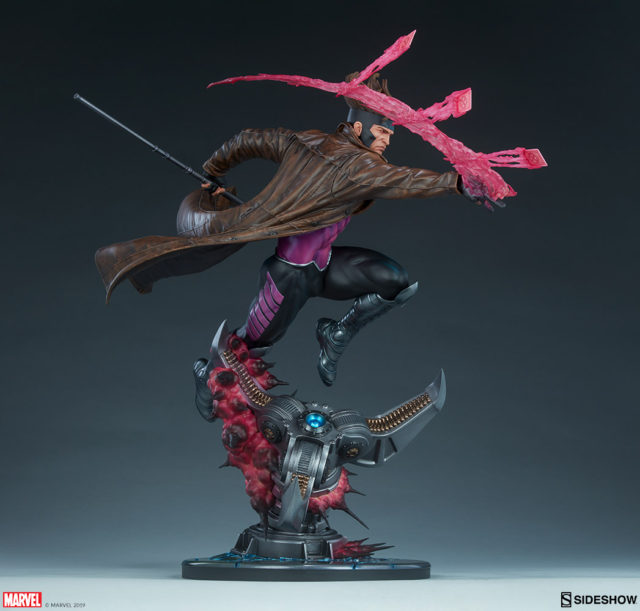 This piece joins Juggernaut, Rogue, Colossus and (sort of) Kitty Pryde in the Danger Room sub-series, as Gambit is leaping over a huge, exploding robotic claw. These Danger Room bases (without overplayed Sentinel parts on them) are totally my jam, and I'm loving the look of this base and how it incorporates into the overall design. Thumbs up.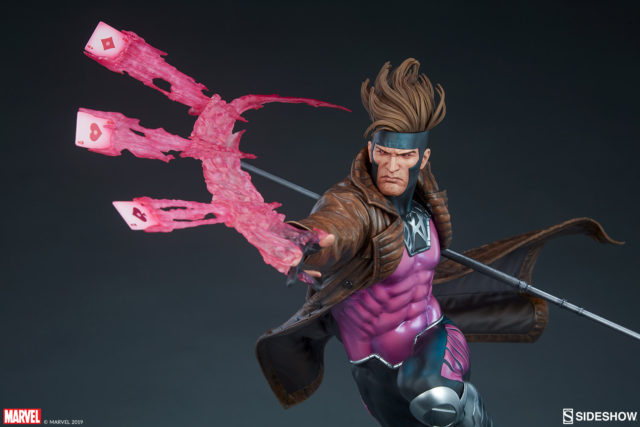 The arc of the kinetically charged playing cards Gambit is throwing looks perfect, and the pink energy effects coming off the cards are top-notch. Quite frankly, the design here is gold: as much as I love my old Bowen Designs Gambit, this is far and away the best statue of the character that I've ever seen.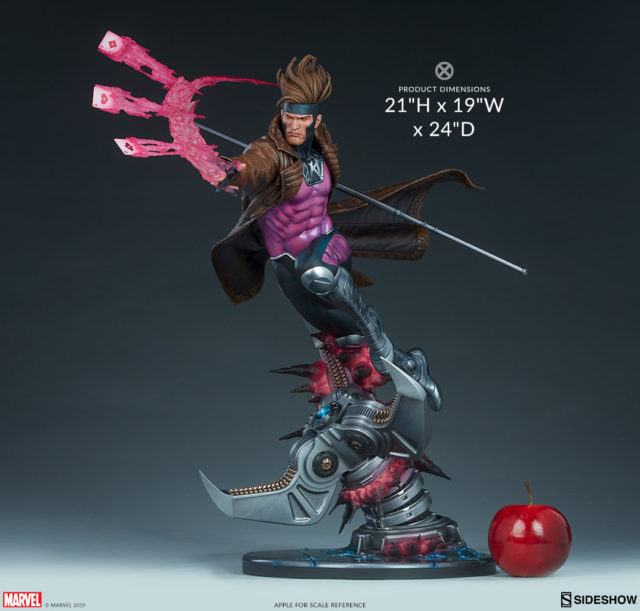 The one aspect of this statue that I think fans are going to have to agonize over is how and where they want to display this piece. Not only is this Gambit PF figure 21" tall, but it's also 19" wide and two feet deep! Just like Juggernaut, this is going to require some careful positioning and thinking outside of the box when setting up for display, that's for sure!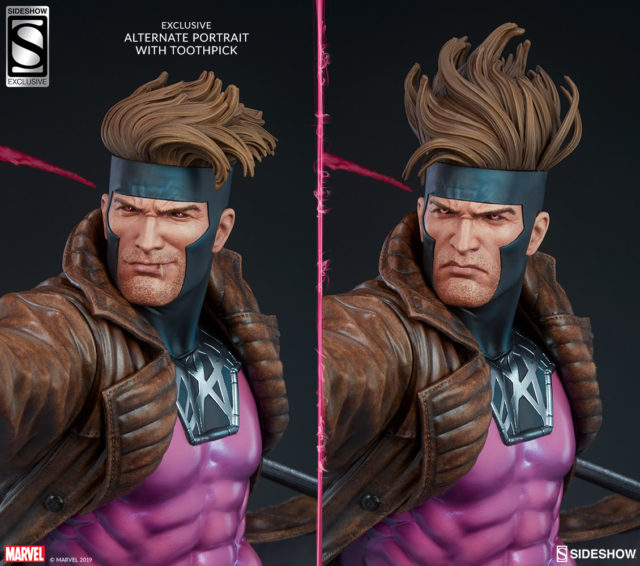 As (almost) always, there's a Sideshow Exclusive version of this statue. And surprise—we've already seen it! The grinning, toothpick-chewing Gambit head displayed at SDCC 2019 turns out to be the Gambit EX bonus accessory, while the regular edition has a totally different interchangeable head sculpt!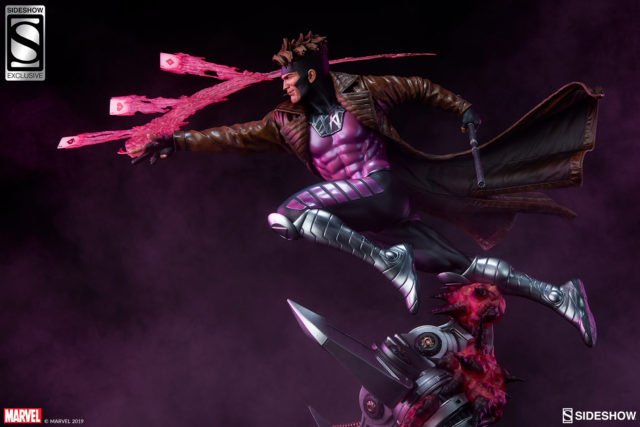 I think that SS has totally rocked both of these portraits, and I'm hard-pressed to choose which I'll want to use in my display. Luckily, for the extra 15 buck surcharge of the exclusive edition, I'll be getting both the serious and grinning heads and can put that decision off for many more months.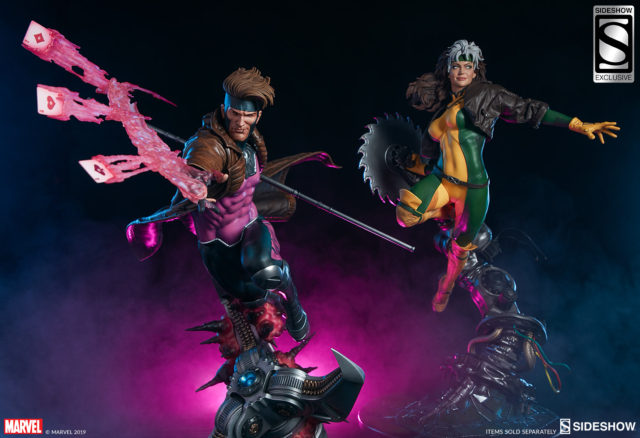 The Sideshow EXCLUSIVE Gambit Premium Format Figure is up for order this afternoon, and is scheduled for release in mid-2020. Retail price is $700 for the exclusive and $685 for the regular edition. Frankly, I thought Sideshow was gonna ask more, so I'm okay with this MSRP. There are (thank God) payment plans available, so that I (and maybe you) can continue to sleep soundly at night. Bless you, Sideshow!
Sound off, X-Men fans! Who do you think wins the battle between XM Studios and Sideshow Collectibles for the best Gambit 1/4 Statue arriving in 2020, and will you be adding either (or maybe even… both?!) to your collection? What X-Men character do you hope SS expands their statue collection to next?
The post Sideshow Gambit EXCLUSIVE Statue Photos & Order Info! appeared first on Marvel Toy News.