2018 has been a banner year for Sideshow X-Men statues, and it appears that the likely final X-Men Premium Format Figure pre-order of  the year is also the one with arguably the most hype around it. Following the popular Mystique, Emma Frost, Rogue and Psylocke POs, the last of this year's X-Women is officially on the way: the Sideshow Exclusive X-23 Premium Format Statue goes up for pre-order Thursday afternoon! And if you want her awesome masked head, you're gonna need the EX…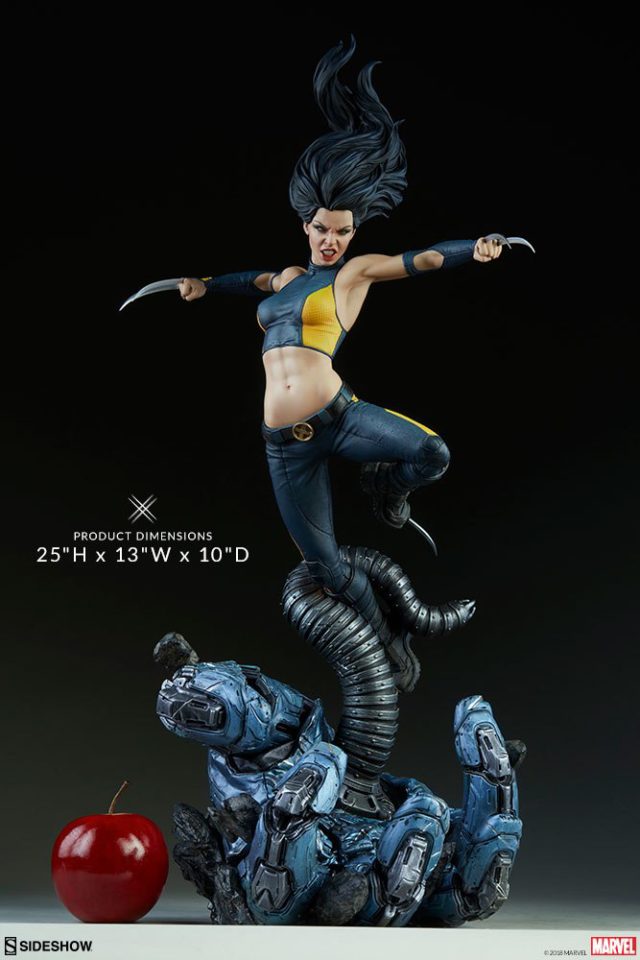 While X-23 was a character I rolled my eyes at when she was first introduced in X-Men Evolution in 2003, Laura Kinney has really grown on me over the past 15 years thanks to her expanding role in the comics and evolving character development.
And so, while I've passed on her previous statue releases by Bowen Designs and Kotobukiya—along with the Sideshow X-Force diorama—I think I may finally be ready to invest in my first X-23 Statue. And Sideshow Collectibles is eager to take my money and fulfill that wish!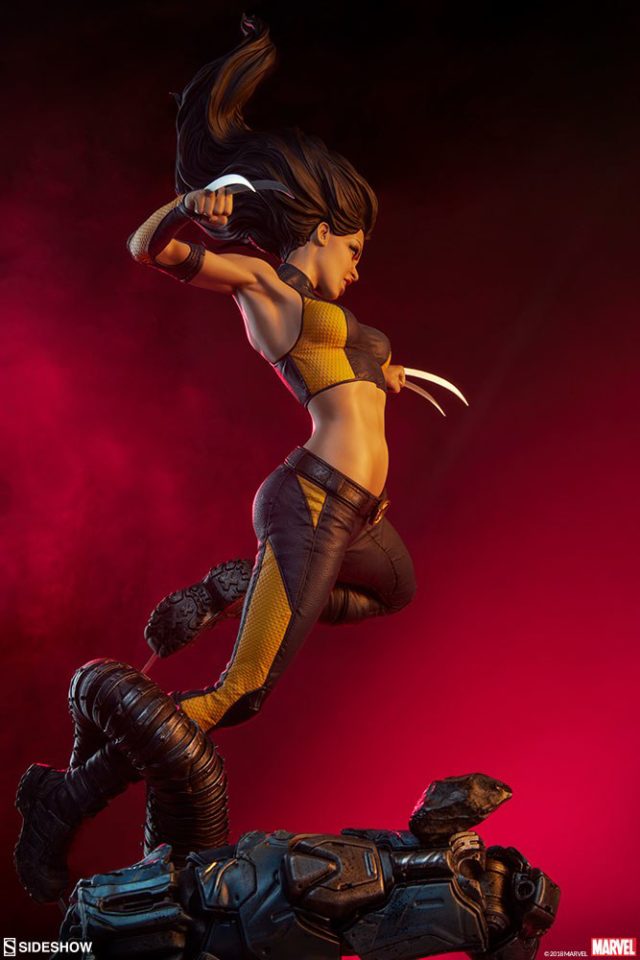 Of all the X-Women Premium Formats we've seen this year, this 25″ X-23 definitely takes the cake as far as dynamic, over-the-top action goes. Laura is leaping into battle over a downed Sentinel hand with her hand and feet claws out and ready to slice! If that's not action-packed, I don't know what is!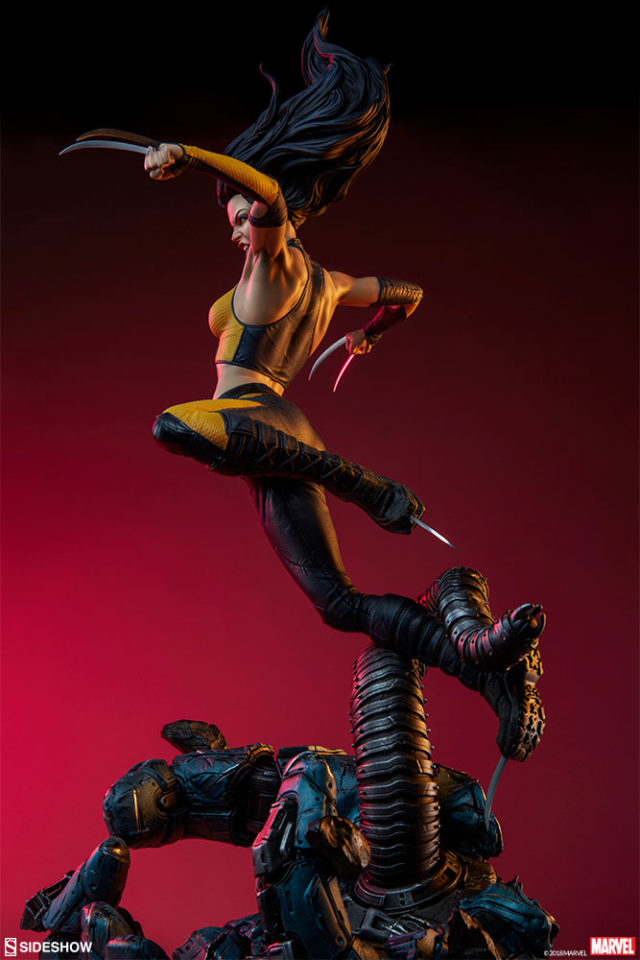 From the treads on the bottom of her boots to the texture on her pants and top, Sideshow has loaded this statue up with vastly more sculpting detail than we've ever seen on a figure of this character from any company. Compared to what we've seen before universally for X-23, this is next-level stuff.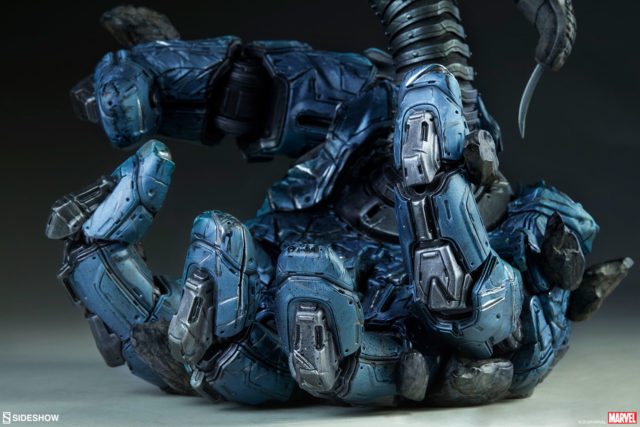 While I thought the bases for the new Mystique and Emma Frost Premium Format Figures were a bit underwhelming, I totally dig the X-23 base.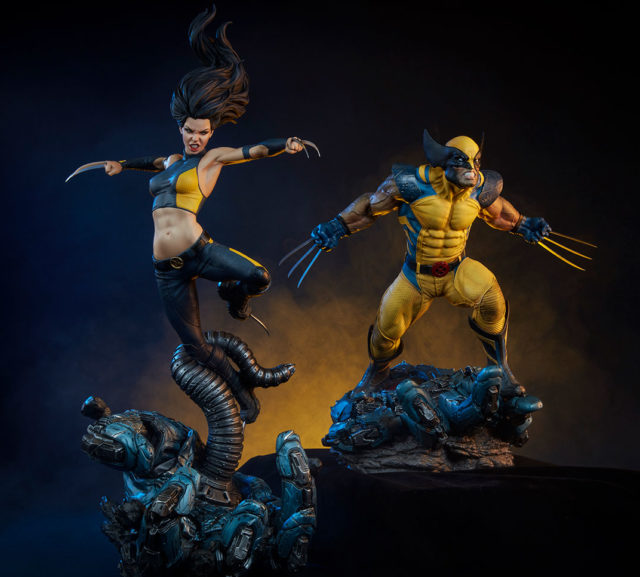 It's an incredibly elaborate blue Sentinel hand base that perfectly complements the base on last year's Wolverine, and features a tentacle used to elevate the X-23 figure into the air. Rockin'.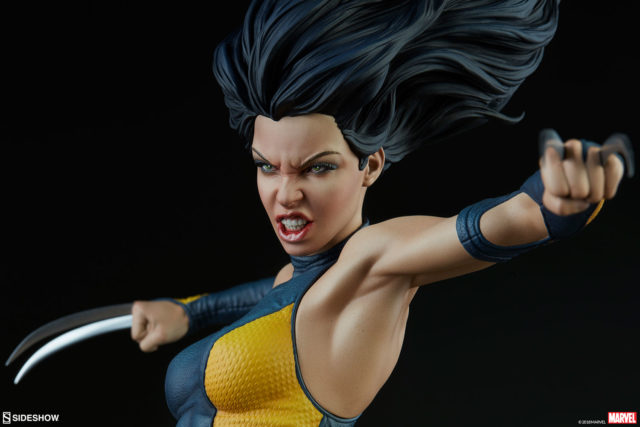 The facial sculpt on Laura is superb–she looks vicious and violent, and not at all "cheesecake"-d up. This is a young lady who's out to fight–not stand around looking pretty for the boys.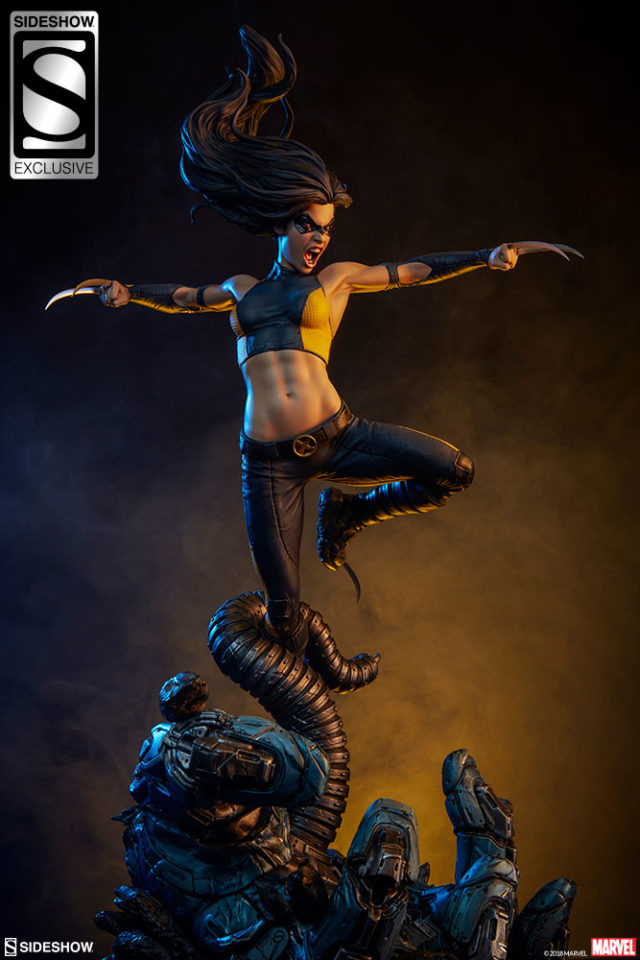 Like all major statues they release these days, there's a Sideshow Exclusive X-23 Premium Format Figure. And as just about everyone on planet Earth guessed, the X-23 Exclusive is an interchangeable masked head.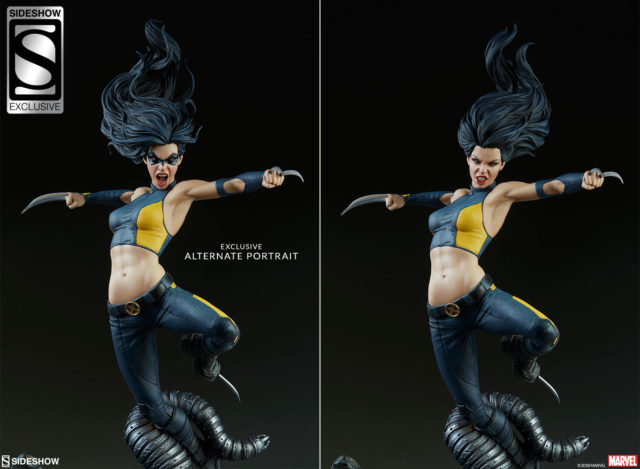 While this was a rather predictable choice, I think the execution here is exemplary. This isn't just the same head with a mask on—Sideshow has changed up the face and expression, and also totally resculpted the hair. While I prefer my Laura Kinney unmasked, the enraged EX head is definitely my preference from these two. Beautiful stuff.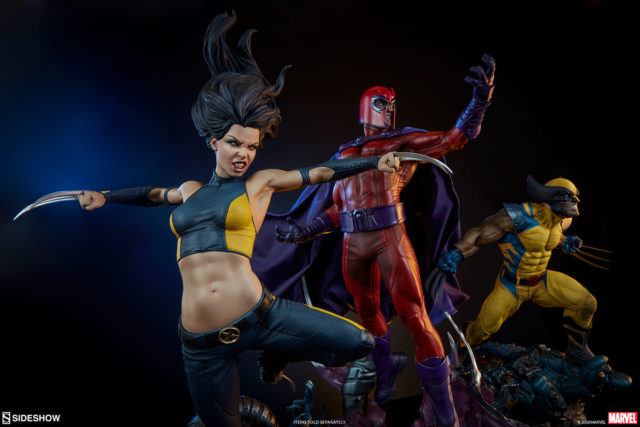 As this statue is raised above the base in a very dynamic pose, this is one of the more complicated Marvel Premium Format Figures we've seen recently. And so, it should come as no surprise that SS expects to be well-paid for this piece: $575 for the regular "Collectors" version and $590 for the Exclusive version.
While I haven't been thrilled with the prices of this year's X-Women statues, I think that price is reasonable here given the engineering and design of this piece.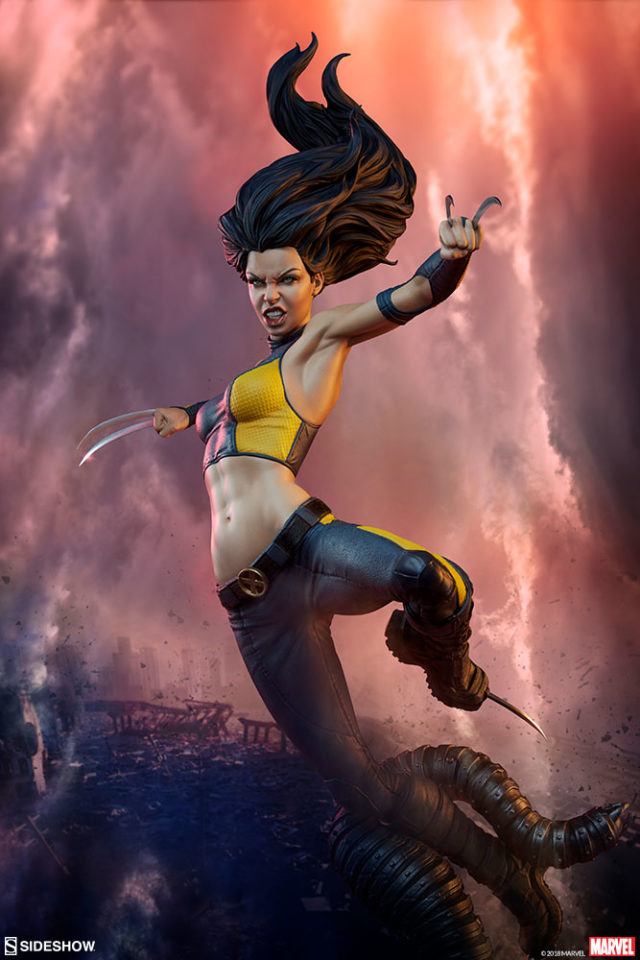 The Sideshow Collectibles Premium Format X-23 Statue will go up for order on Thursday afternoon between 3PM and 6PM EST. I'll be on the floor at New York Comic Con 2018 when that happens, but I'll try to send out a reminder alert once the PO opens up. I'll also be posting life photos of the X-23 PF statue from the show floor for those who want to see more photos to make up their minds.
Now that Laura Kinney's big day is finally here this week, have you made a decision on this 1/4 Statue yet yourself? Is this the best statue of X-23 to-date, and is it worth the hefty $590 price-tag on the EX?
The post Sideshow Exclusive X-23 Premium Format Figure Statue PO Info! appeared first on Marvel Toy News.