Sideshow Collectibles is going all-in on the X-Men this year, with a whopping five new 1/4 statues going up for sale this year—in addition to the releases of last year's Magneto and Wolverine pieces. And the fourth and perhaps most-anticipated X-Men release of the year has arrived: the Sideshow Psylocke Exclusive Statue is now up for order! She's changed since her debut at SDCC 2018–is it for the better?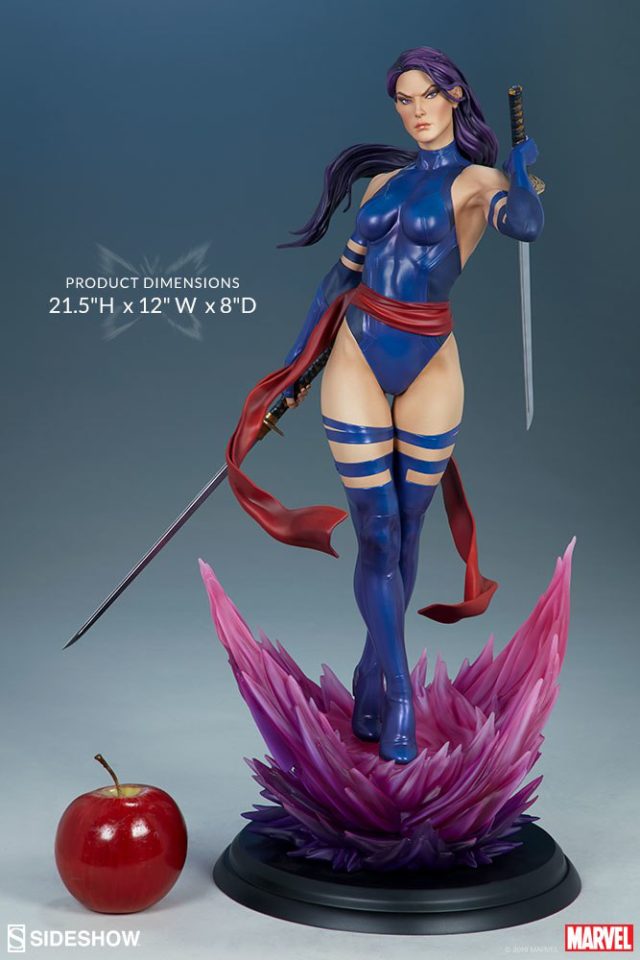 It's been a great year for Betsy Braddock, as we've already gotten the first-ever mass-released Hasbro Psylocke Marvel Legends figure this summer, and there's even a Kaiyodo Revoltech Psylocke figure solicited for arrival in the winter.
But some especially big fans of Psylocke may be waiting for something a bit… bigger… and its those fans who Sideshow Collectibles is targeting with their newest entry in the Sideshow X-Men Premium Format Figure series of quarter-scale statues!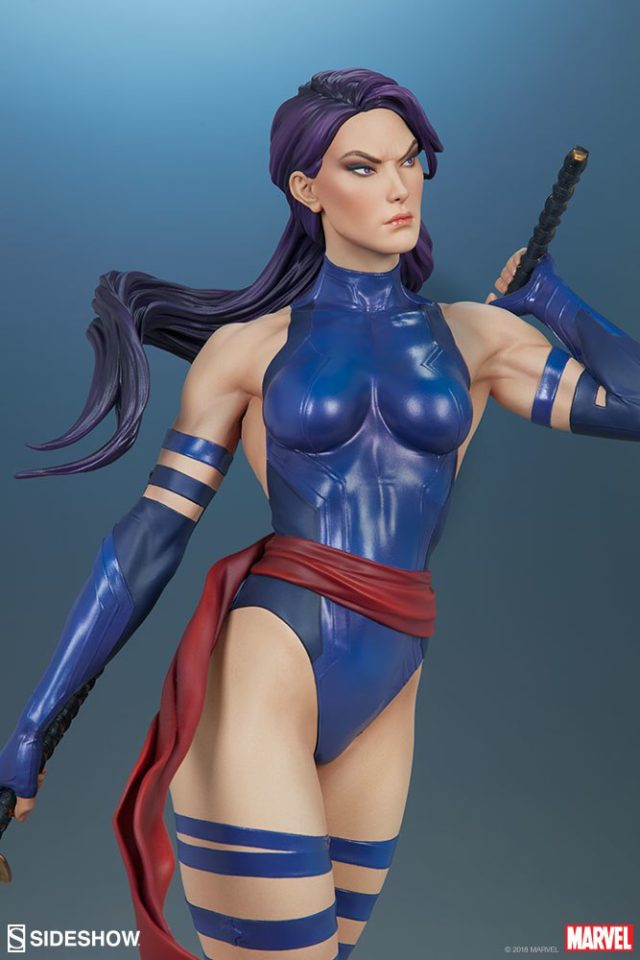 Sideshow debuted this 21.5″ tall piece to the public at San Diego Comic-Con 2018, where it received a mixed reception. Some fans said the Psylocke portrait shown at the event was a masterpiece… and some decried it as looking masculine and hideous. Two months later, pre-orders have arrived–with a drastically-revised face on Betsy!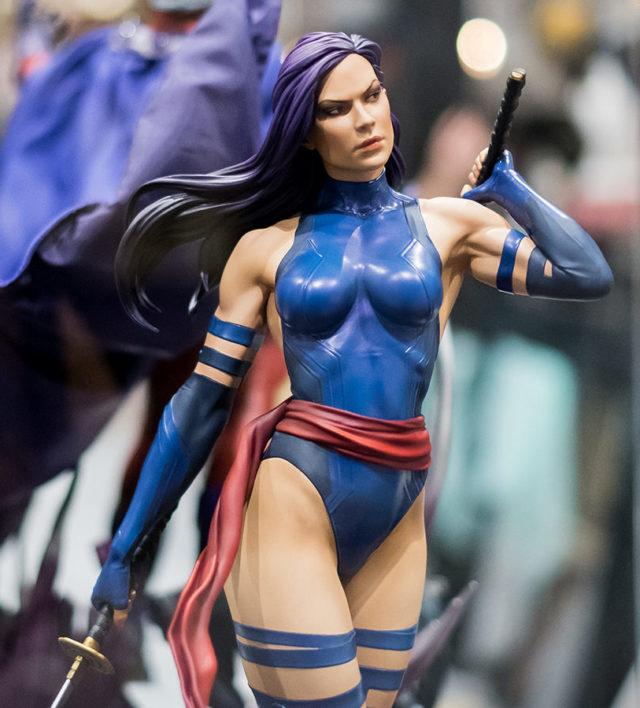 The original prototype of the statue is shown above, with the revised version below…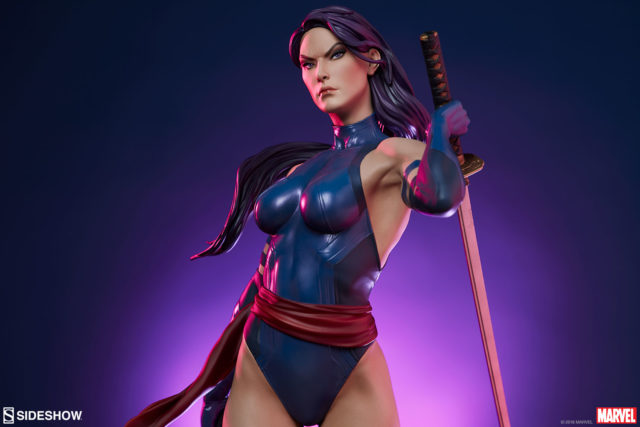 Not surprisingly, those who loved the initial sculpt for Psylocke's face hate the revised version, while those who disliked the earlier prototype are largely blown away by how good she looks now. Personally, I think the revised sculpt is aces–but if it's not for you, it's not for you. This is the Psylocke statue that I've been waiting for, however, and I'm really pleased with how it turned out.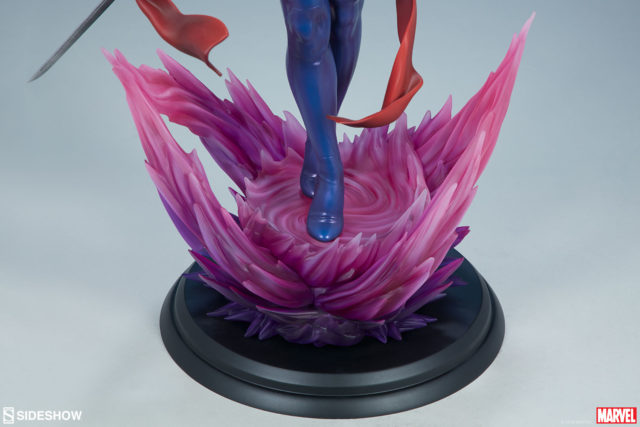 The base for the Psylocke PF figure is basically a huge vortex of pink psychic energy. While it doesn't make a lot of sense realistically speaking, it looks absolutely awesome. This is exactly what I wanted for this statue's base, so I've got no complaints about it personally.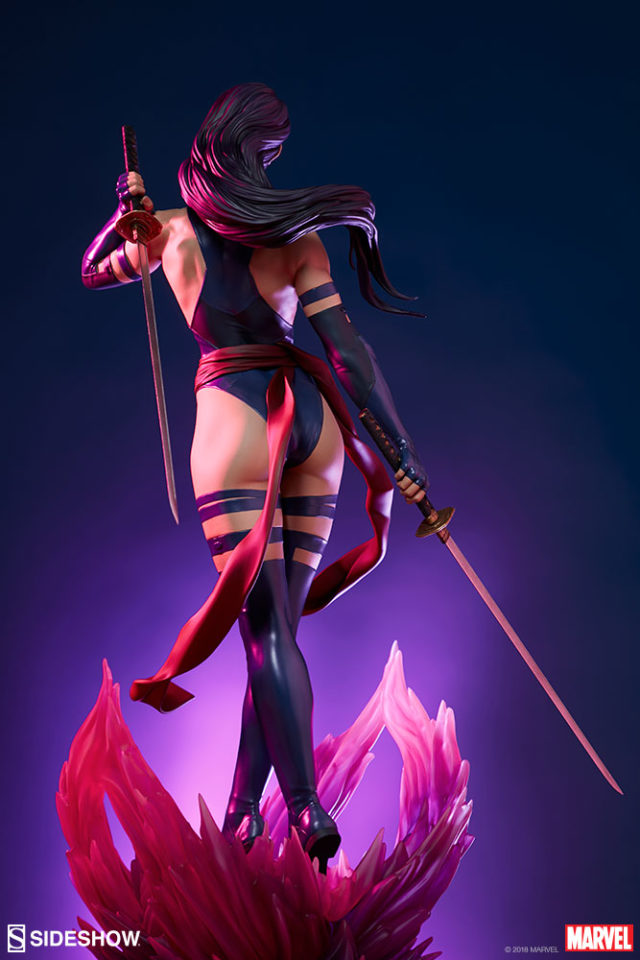 The dual-wielding katanas pose makes sense for Psylocke, what with her being a ninja and all… but just showing off her sword-fighting prowess may not be enough for some people. In fact, it's not enough for me. Luckily, there is another option if you want to see Betsy showing off her actual mutant power…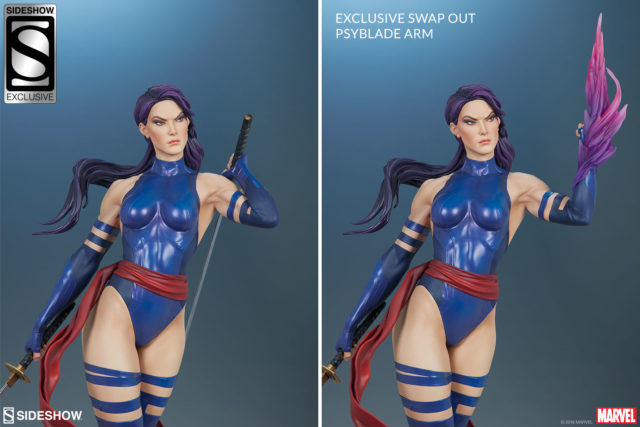 It just wouldn't be a Sideshow PF without an Exclusive Version, right? And this time, the piece is truly "EX or bust", in my opinion. The Exclusive accessory (that adds 15 bucks to the MSRP) is an interchangeable arm with Psyblade effects piece.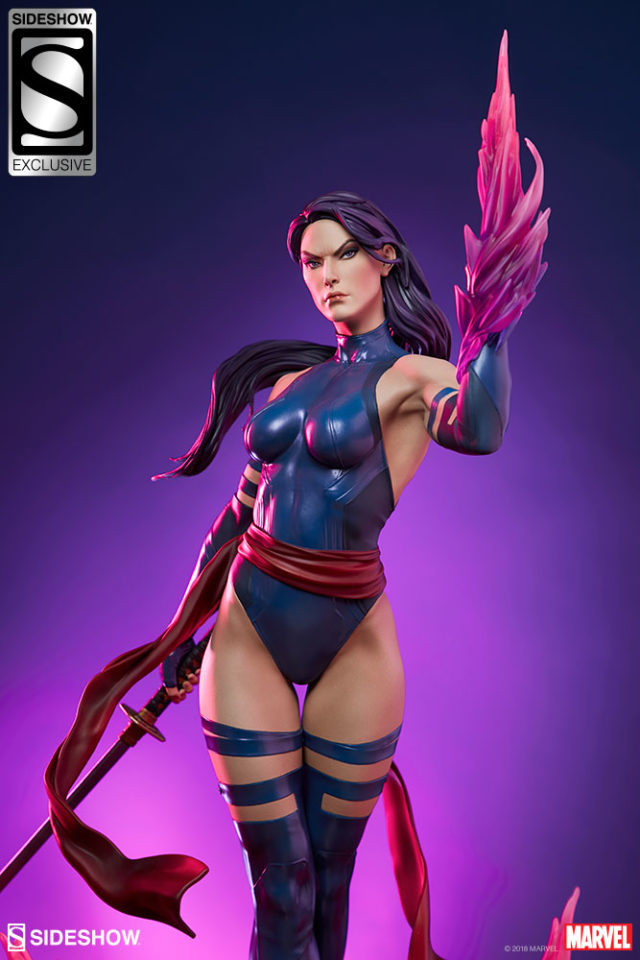 Seeing as how the Psyblade is incredibly iconic for Betsy Braddock (and also vastly more effective than a plain old sword), this is the only way I'll ever display the statue in my collection. As far as Exclusive accessories go, I consider this one to be a must. If I'm going to pay $500+ for a Psylocke statue, it had better have a Psyblade, y'know?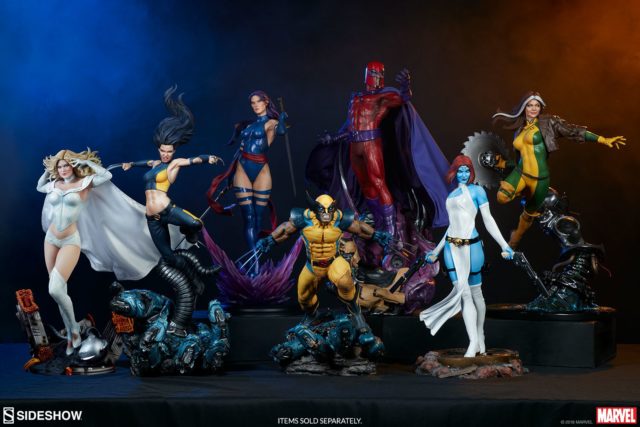 The Sideshow Exclusive Psylocke Premium Format Figure is now up for order, and is expected to be released in summer 2019. Psylocke EX is only available via Sideshow Collectibles' website, whereas the regular ("Collector") version will be available to other online and specialty stores as well.
What do you think of the revisions that Sideshow made to this statue following its premiere at San Diego Comic Con 2018, Marvel collectors? Are the changes for better or worse, and are you hyped enough about the final product to want this 1/4 Psylocke Premium Format Figure in -your- home?
The post Sideshow EXCLUSIVE Psylocke Premium Format Figure Up for Order! appeared first on Marvel Toy News.