The Sideshow Marvel Sixth Scale Figure line has had a few hits and a few misses with fans, but almost unquestionably their most well-received release to date has been their 1/6 Ghost Rider Figure. But for those who missed out on that sold-out figure or prefer a more classic take on the Spirit of Vengeance, you're in luck: the Sideshow Exclusive Classic Ghost Rider 1/6 figure is now up for order… and he's limited to a crazy-low 350 pieces!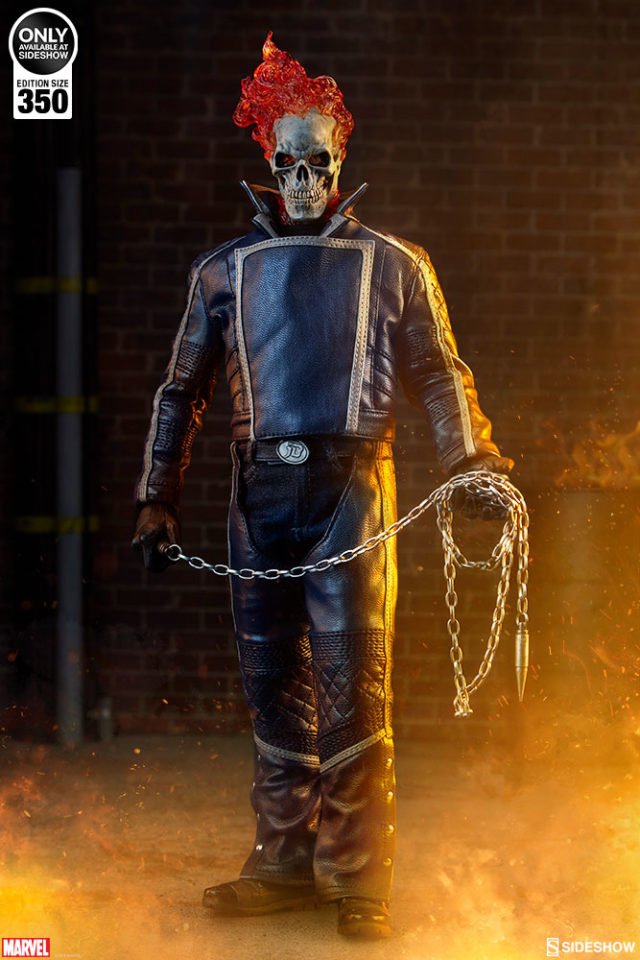 By the time I was old enough to read and buy comic books myself, Ghost Rider had already moved on to his iconic black leather costume. It wasn't until years later when I saw Toybiz make an action figure of blue Ghost Rider that I took a real interest in going back and reading the classic material.
Now, I gotta be real: black leather-wearing Ghost Rider is "my" version of the character, as it's what I grew up with and own the most toys and collectibles of. But I've got a special spot in my heart for blue GR merch, which is why Sideshow has caught my attention with their latest 1/6 figure!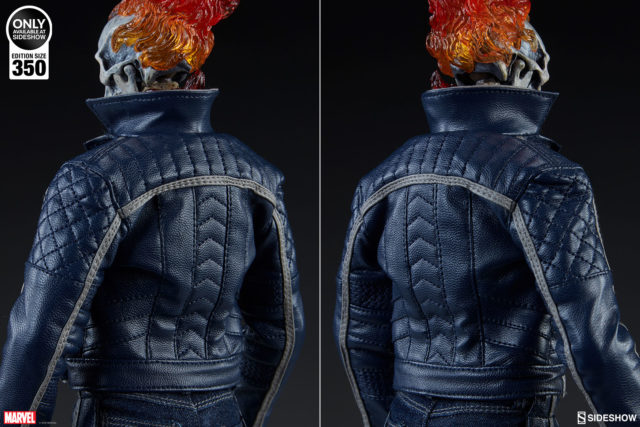 Believe it or not, Sideshow Collectibles has never released a variant in their Marvel 1/6 figure line. Crazy, right?! No grey Deadpool X-Force, no yellow Daredevil, no Thunderbolts Punisher… nada!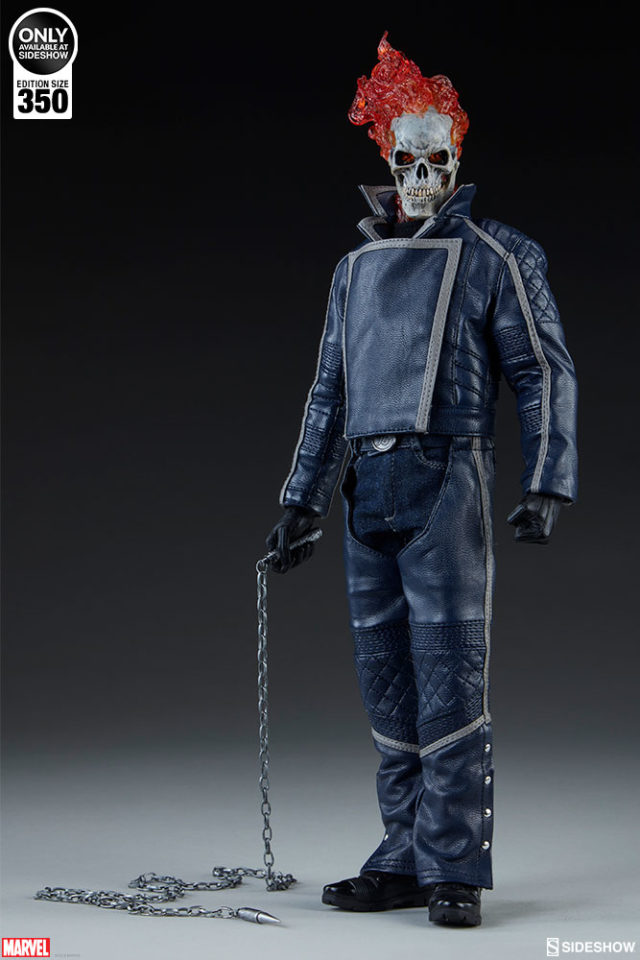 But unlike all those other sixth scale figures they did, the Ghost Rider that they shipped out last year actually exceeded peoples' expectations with tailoring and flames that turned out looking better in production than in official photos. SS sold out of that figure unexpectedly quickly, so might as well go to the well again with another popular iteration of the character, right…?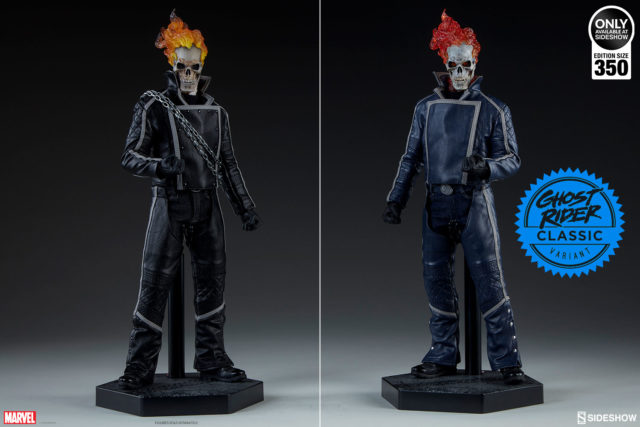 Basically, this is a palette swap of the previous figure, with blue soft goods used instead of black, and rockin' red flames instead of orange. If blue Ghost Rider is "your" Ghost Rider, then you're gonna like this variant. And hey—he's not my version, and I still like this figure. Score one for Sideshow.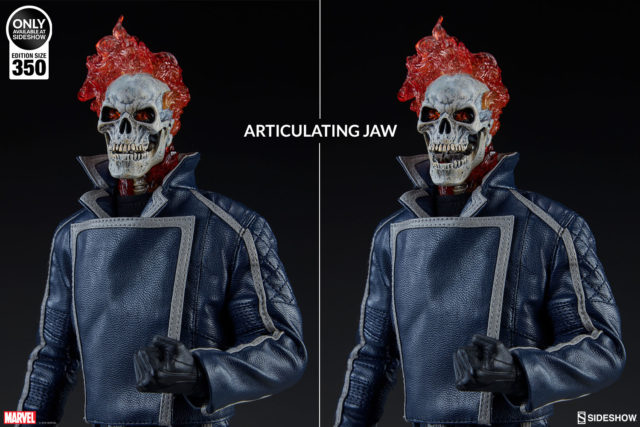 The articulated jaw is still present (obviously), which is the feature that really brings this Johnny Blaze figure to life. Serious closed-mouth skull looks intimidating, but the option of insanely cackling open-jaw is just too much fun.
The figure also comes with three pairs of interchangeable hands, a removable jacket bib, and the legendary chain whip. No extra flame effects accessories this time out, though, which is a real shame.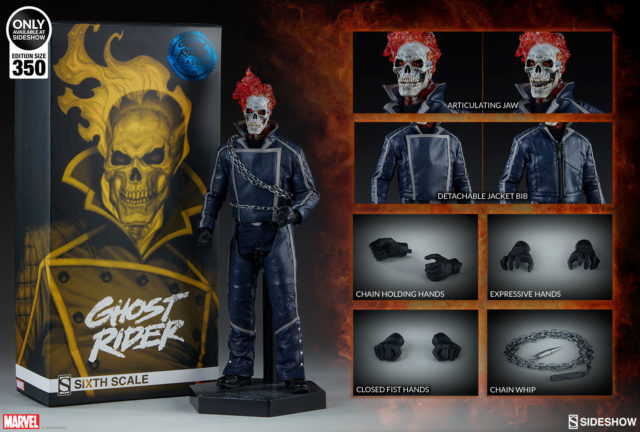 The Sideshow Classic Ghost Rider EXCLUSIVE 1/6 figure goes up for order this afternoon, and believe it or not, he's in-stock and ready to ship out this week! If that's not the fastest turnaround time for a figure in this line ever, I don't know what is! And with a limited edition of just 350 pieces and a fair $225 price-point, I've got a concrete hunch this is easily going to blaze into the record books as the fastest-selling Marvel Sideshow 1/6 figure by a wide margin.
For those of you who have the original black Ghost Rider 1:6 figure that Sideshow released last winter, what do you think? And for those of you who missed out on that version, does this classic blue variant have your attention (and perhaps your dollars)?
The post Sideshow EXCLUSIVE Classic Ghost Rider 1/6 Figure! LE 350! appeared first on Marvel Toy News.