Bizarre fact: it is now May 2020, and Sideshow Collectibles just opened their very first 1/4 Marvel Premium Format Figure pre-order this week. If that's not a sign of the times, I don't know what is! But regardless, the new Sideshow Deadpool Premium Format statue is now up for order! Depending on how you count, this is somewhere between Sideshow's 3rd and 6th statue of the Merc with a Mouth—is it their best one yet… and worthy of its $600+ price-tag?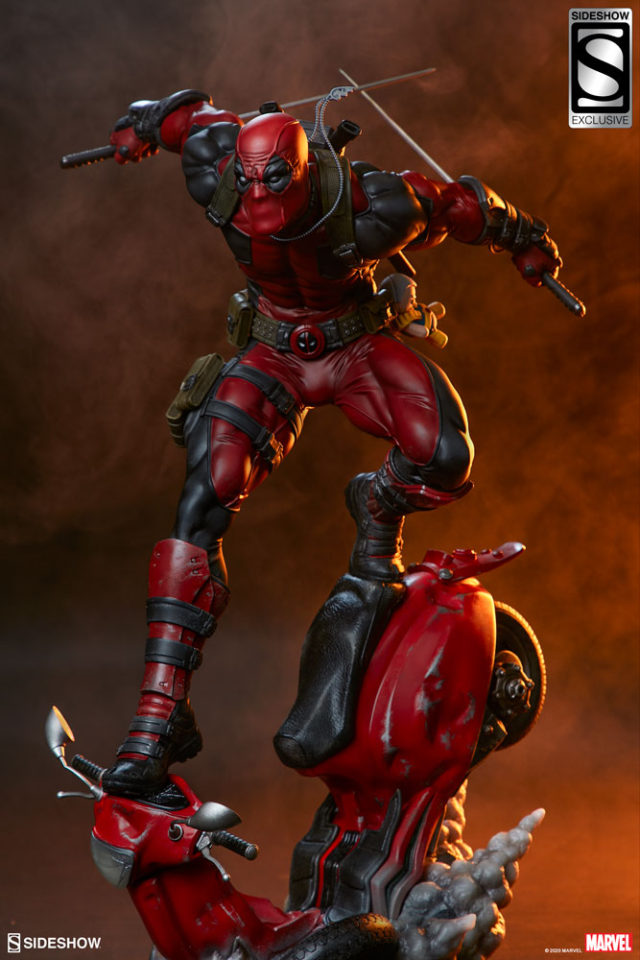 The first full-figure (non bust) statue I ever bought was the original Bowen Designs Deadpool statue—the first ever statue of the character—so my heart gets a little bit warm and fuzzy whenever I see a new statue of some iteration of Wade.
Sideshow Collectibles didn't capitalize on Deadpool's exploding popularity until they released their inaugural full-bodied sculpture of the character in 2013. But since then they've released an X-Force repaint of that statue, a wild and crazy Heat-Seeker dynamic-posed statue, plus sculptures of alternate dimension versions of the character in the form of Lady Deadpool and Kidpool. (Heck, there's even been two Sideshow Collectibles life-size busts of the Merc with a Mouth!)
So at this point, Sideshow would have to make something pretty cool to capture fans' attention for her another iteration of the character. Have they done so? Let's have a look…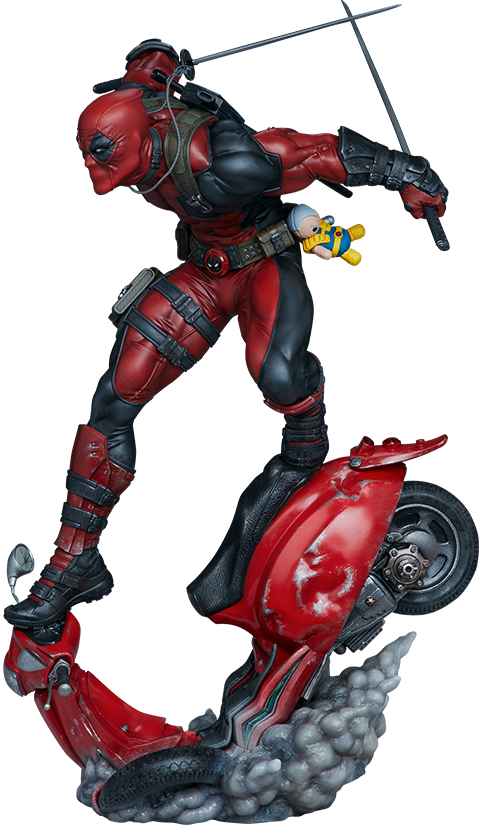 First up, I want to address the character choice here. I know many fans are upset that Wade is getting yet another statue when there are many popular Marvel characters without a single 1:4 statue to their names, but I'm actually okay with this decision by Sideshow.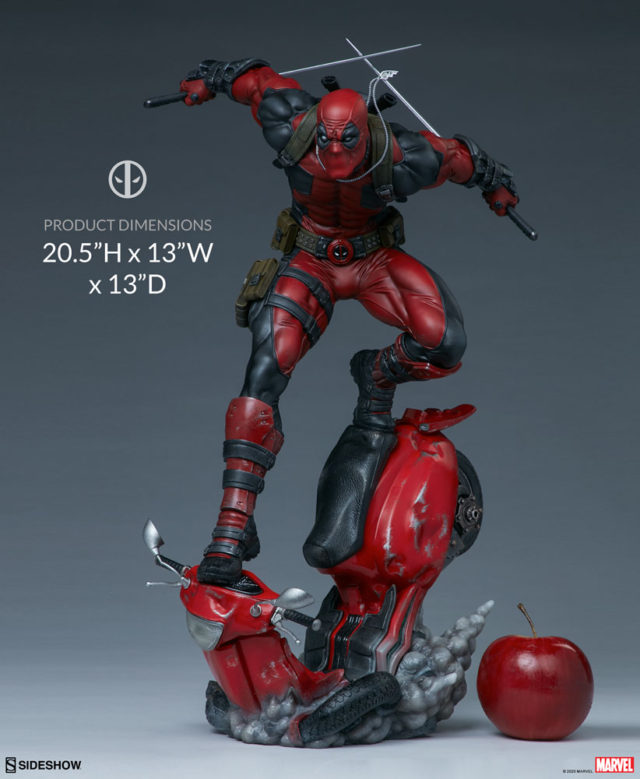 New collectors are key for any line's survival, and new collectors frequently won't start a line if the most popular characters are unobtainable. The previous Sideshow PF figures of Wade himself are all sold out now, so it is totally logical to offer this all-new version as a way to bring in fresh fans who may buy and support less merchandised characters once they're in the door of the hobby.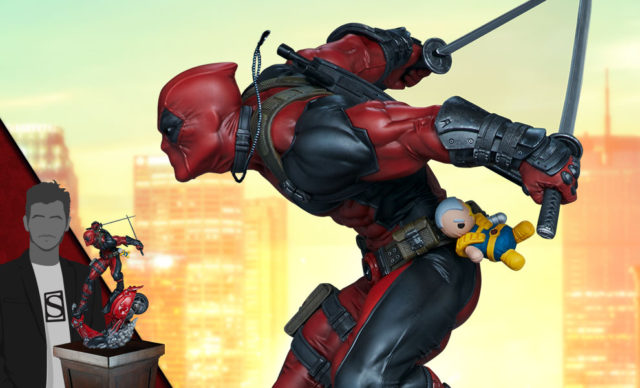 Of course, this would be moot if the new sculpture looked like crap. Luckily, that is not the case—in fact, I'd say SSC has done a pretty bang-up job with this dynamic 20.5" tall piece!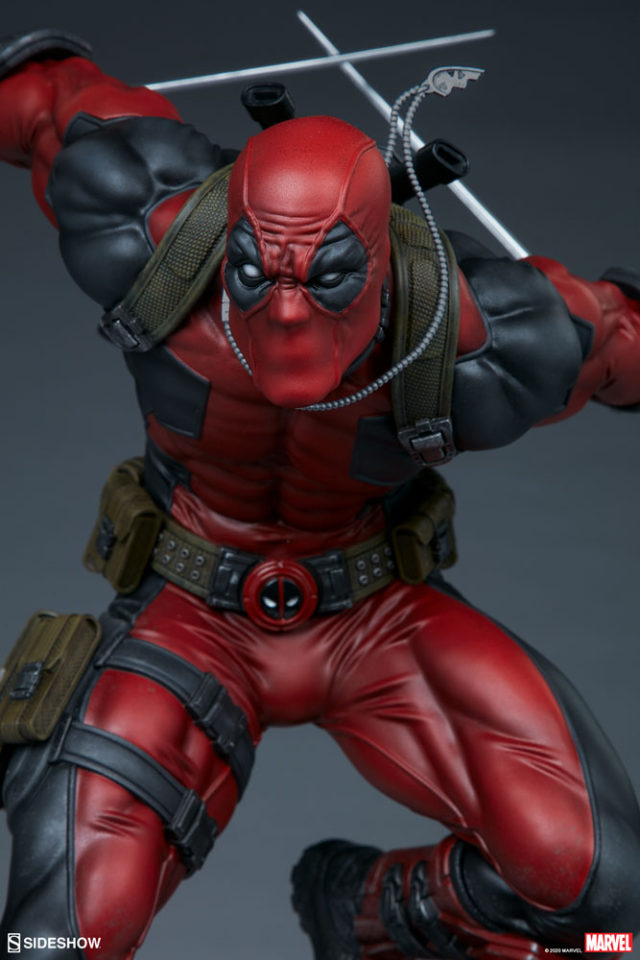 The fully-sculpted Deadpool figure is perched atop a crashing vehicle, dual katanas drawn and ready to leap into action. The detailing on the statue is exceptionally well-done, and the pose has a fierce quality to it that makes you take Wade Wilson deadly seriously. Well. At least until you look at some of the more comical aspects of this piece…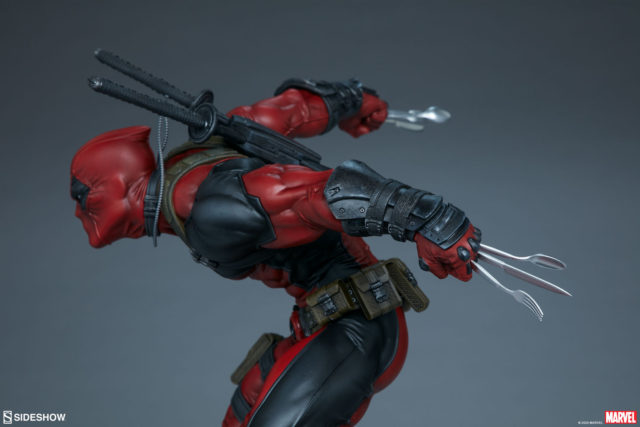 It can be difficult to successfully reconcile the zany aspect of Deadpool's character with his more badass qualities in toy form, but Sideshow has really nailed that mixture here. The vehicle Wade is skidding in on is a red scooter, and he's got change-o hands to wield a bunch of kitchen utensils instead of his deadly swords.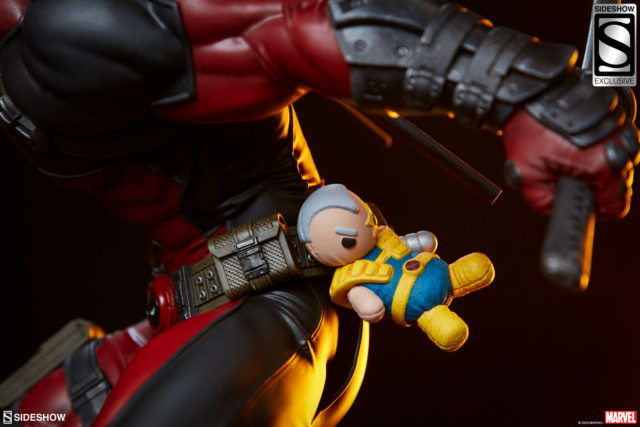 The Exclusive Version ups the comical ante a wee bit more by including an exclusive Cable doll accessory that completes the pair started with the Deadpool doll included with the Exclusive Cable Premium Format Figure! The Cable doll is just a little extra, but it's super cute and adds a load of additional personality to the piece. It won't be a "must have" for all, but I think it actually will be for quite a few collectors!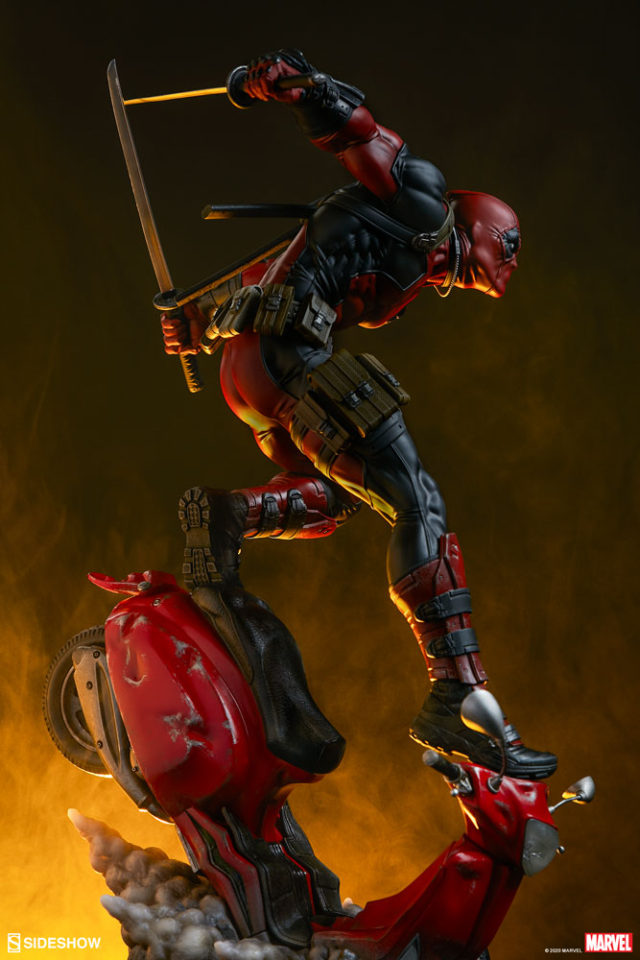 While I think the first museum posed version SSC solicited back in 2012 is still my favorite iteration from them, I like this new design worlds better than the over-the-top Heat-Seeker version from a couple years ago. Whether I like it enough to drop $650 on it remains to be seen, though, as I'm trying to reserve funds to collect as many of the core X-Men PFFs that Sideshow puts out as possible.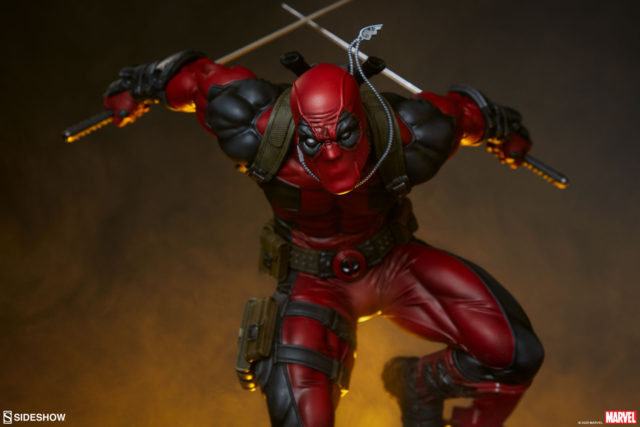 The Sideshow Exclusive Deadpool Premium Format Figure is now up for order, and is scheduled to ship out in Q3 2021 (July-September 2021). That's quite a long wait compared to other recent SSC statues, but I suspect the release window may be accurate with factories now seriously backlogged because of the ongoing pandemic. The good news is that payment plans of up to eight months are available, for those who prefer utilizing them!
What do you think of Sideshow's latest take on Deadpool, Marvel collectors? Is this their best version of the Merc with a Mouth Yet—and perhaps the best 1/4 Deadpool statue on the market overall? If not, what would you say is? Leave a comment and let your fellow collectors know your thoughts!
The post Sideshow Deadpool Premium Format Figure Statue On Scooter Up for Order! appeared first on Marvel Toy News.