We're fast approaching the Venom 2 movie (Venom: Let There Be Carnage) hitting theaters in October following the latest delay, and that means merch season for the new film is about to be in full swing. We got the "related" Marvel Legends Venom series and Kotobukiya Carnage last year due to the movie's delay caused by the pandemic, but Sideshow debuted all-new 1/4 versions of the symbiotes during Sideshow Con 2021 last month. And up first to launch is the new Sideshow Carnage Premium Format Figure! And Cletus Kassidy isn't coming alone—Sideshow's newest 1/4 Captain America statue is up for order now as well!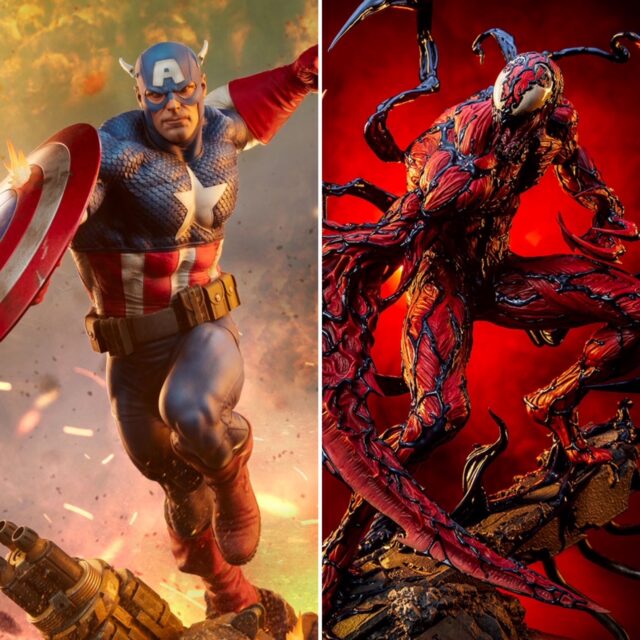 I talked about all four new Marvel Premium Format Figures that debuted at Sideshow Con a couple weeks back (including the newest Black Widow and Venom statues that I'm sure we'll be seeing up for order soon), so I'm not going to reinvent the wheel and talk about these too extensively here beyond some brief thoughts on each.
We've seen all of these characters done multiple times by Sideshow Collectibles in the past—in this scale, even—so fans have some choice in which versions they prefer at this point. Whether or not just redoing these "same old" characters will pay off with big sales for Sideshow remains to be seen, but as there are no Exclusive Editions, they're clearly aiming these at mass sales.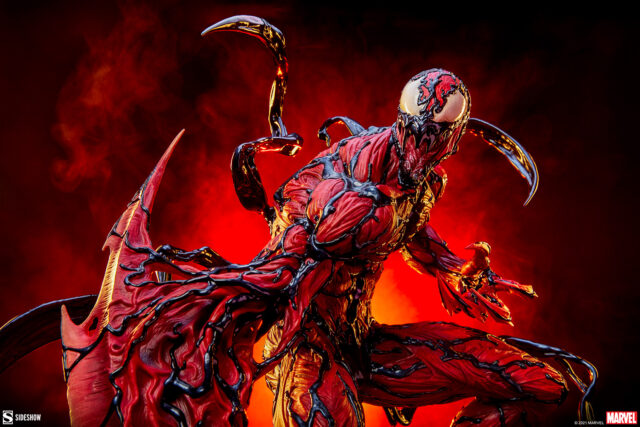 The 2021 Carnage Sideshow statue goes for a different sort of aesthetic than the previous version, giving us a serial-killer symbiote with much brighter red paint and a less dynamic pose. This still isn't a boring museum pose, mind you—Carnage has his claws and scythe out and looks ready to kill at any second—but it's not an action-packed pose either like the 2016 version was.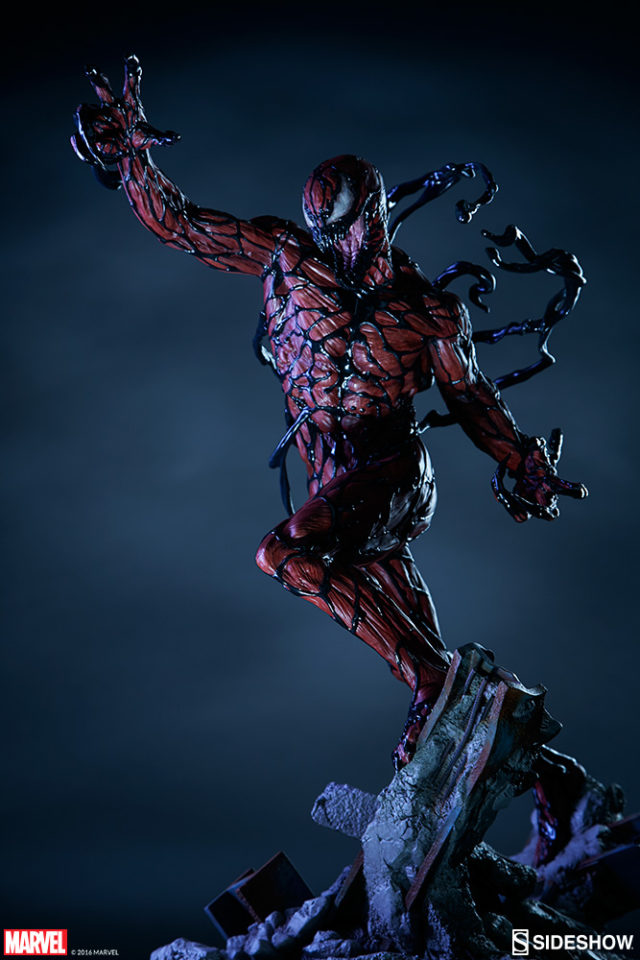 I bought my friend's old Carnage Premium Format Figure a year or so ago to replace the broken one I had gotten from Sideshow, so it goes without saying I'm a fan of that piece. Even so, the muted red always felt a hair off to me, and I wasn't 100% in love with the lunging pose.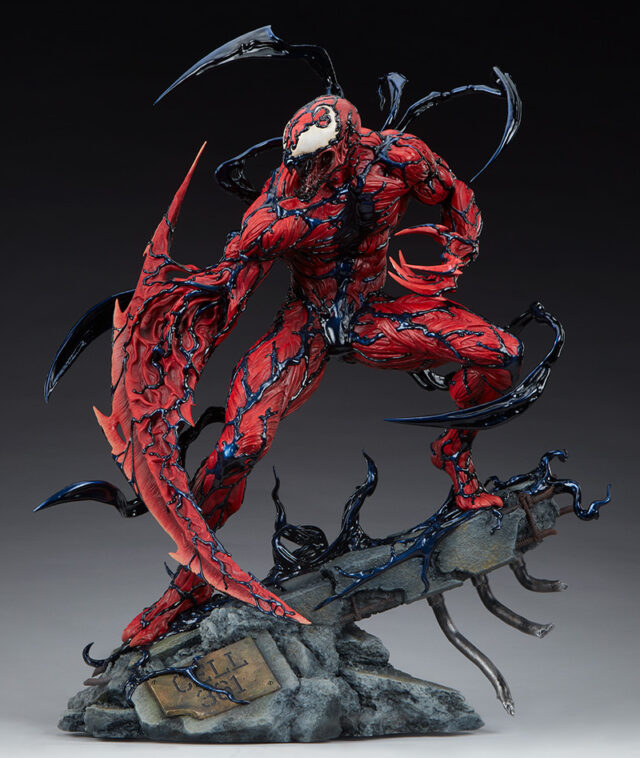 This needs iteration solves both those problems, but is also different enough that I think I may be able to justify owning both. Score one for Sideshow!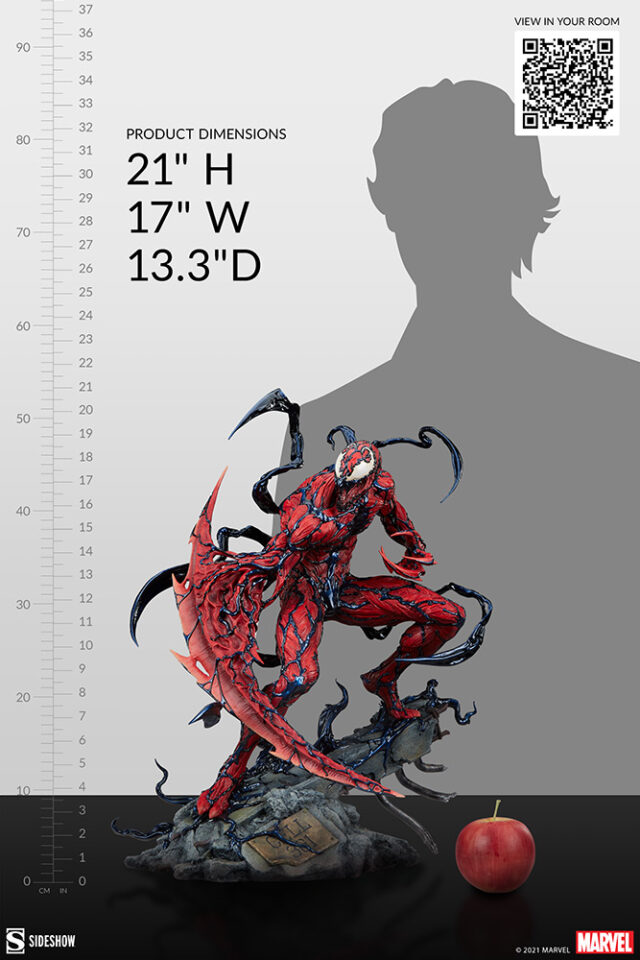 I think there's still some room for improvement for a "definitive Carnage statue" somewhere down the line (I'd love to see some red and black mixed colors on the tendrils like we saw in the classic Maximum Carnage comics), but I think this is a really nice piece that's certainly among the best representations of the character that we've ever seen in figure form.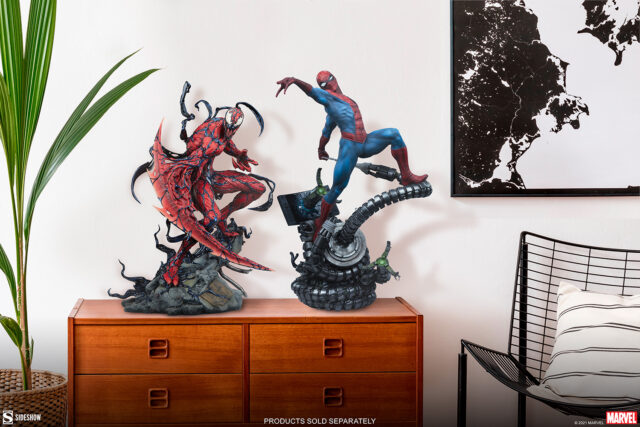 The scale on this at 21" tall looks just right to pair with other Marvel quarter-scale statues, and given the size and complicated nature of the numerous tendrils springing forth, I don't feel too bad about that $640 MSRP. Not having an Exclusive Edition with an alternate arm to replace the scythe or even a Cletus Kassidy portrait is a bit of a bummer, though.
The Sideshow 2021 Captain America Premium Format Figure has had a bit of controversy around it, as some fans are disgruntled about the proportions on Cap and think he may be a bit too beefy and over-scaled. There have even been some comparisons between this piece and Rob Liefeld's anatomy for Cap, which is generally not considered to be a compliment.
This particular 1/4 Captain America PF statue was sculpted by Martin Canale, whose style is often to make proportions beefy overall (especially forearms). At first I outright disliked this statue from the first image Sideshow showed, but once I saw it in its entirety with other pieces around it it quickly grew on me.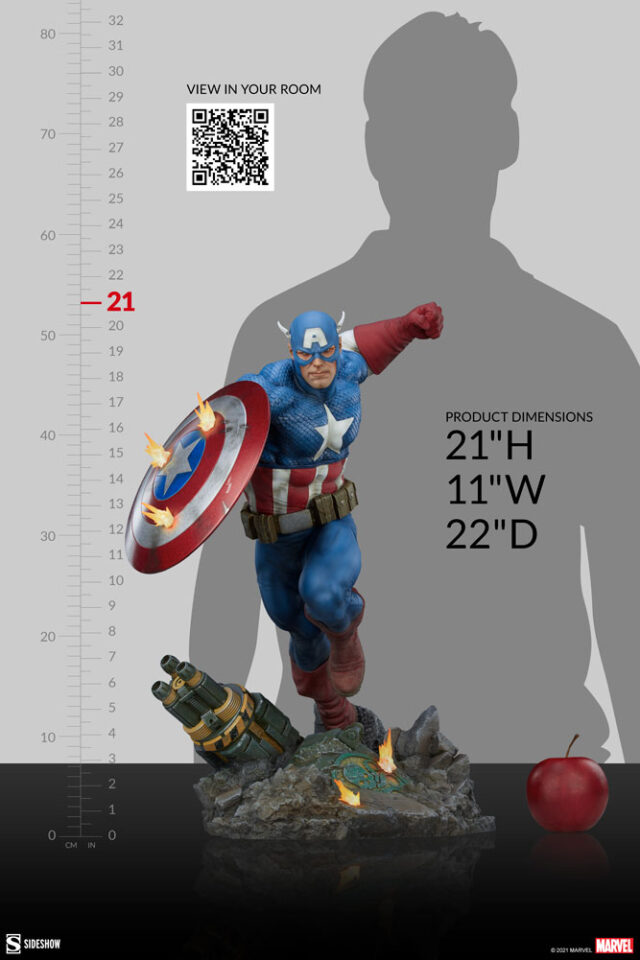 At 21" tall and 22" deep, I think the $615 MSRP on this is very fair by today's standards. I like the dynamic action pose, I like the face (another point of contention for some fans), and I'm feeling optimistic about the effects pieces (although I do want to see how they ultimately turn out).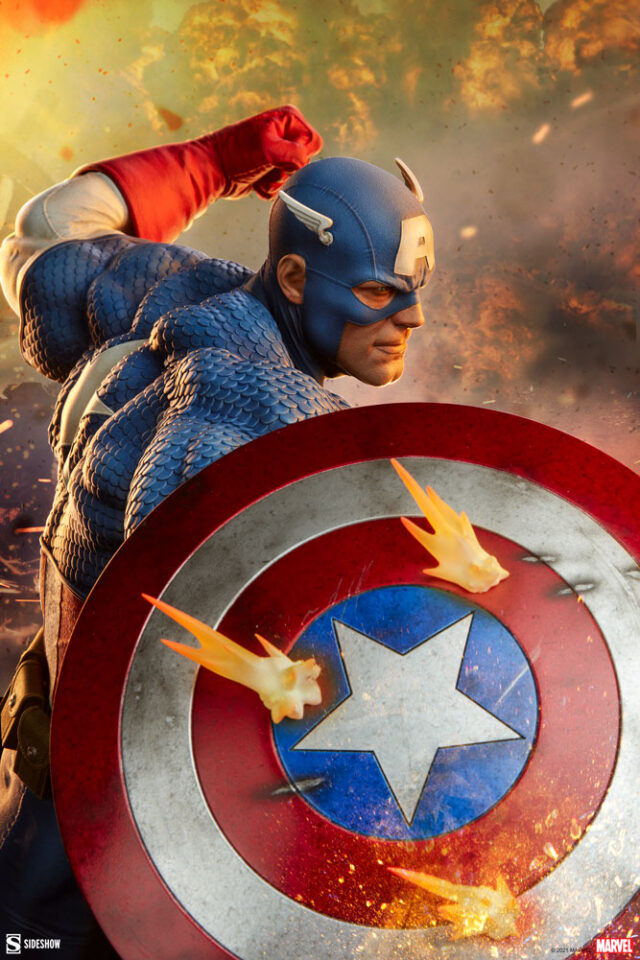 Some people are going to love the stylization of this piece (it is seriously jiving with me now), and some people are not. With a TBD edition size and no Sideshow Exclusive Edition, though, I think there's plenty of time for fans to soak this in and contemplate if this is a Steve Rogers they want in their quarter-scale statue collection. For me, I think I do.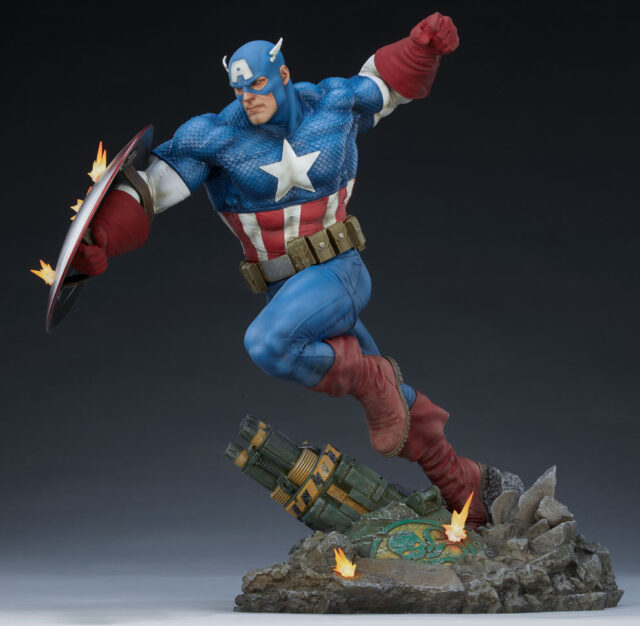 Both the new Sideshow Collectibles Carnage and Captain America statues are up for pre-order on their website now, and are scheduled for release in late spring 2022. BBTS also has both up for pre-order at slightly higher base prices, but with their $4 shipping that can be a real savings for those who don't need a payment plan. As mentioned, there's no set edition size and no exclusive edition for either, so there's really no rush to order unless you know you want one and want to be able to choose the longest payment plan available (plans get shorter on Sideshow the closer you get to a product's release date).
Any takers for either of these new takes on "old friends" from Sideshow Collectibles? Anyone already own a 1/4 statue of either of these characters and planning to upgrade? And if you're sick of seeing the "same old" characters getting redone, what characters do you think it would be viable for Sideshow to release that they haven't before at this scale and price-point?
The post Sideshow Carnage & Captain America Premium Format Figure 1/4 Statues Up for Order! appeared first on Marvel Toy News.