Avengers Infinity War was a wildly successful movie, so it's no surprise that figures and merch of the most popular characters from the movie quickly sold out. And one of the fastest sell-outs was the Bandai SH Figuarts Infinity War Iron Man 6" figure. But this story has a happy ending for those who missed out—and those who didn't may even be a little jealous—because a new S.H. Figuarts Iron Man Mark L Figure with Nano Weapons Set is now up for order in the US!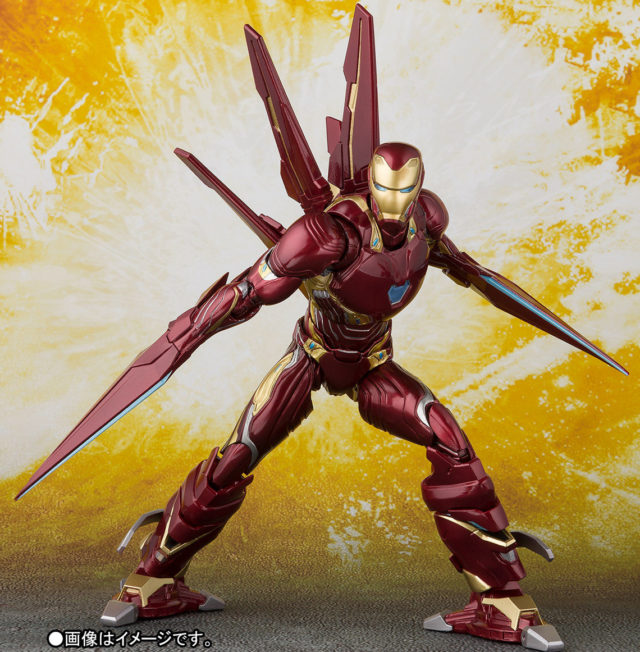 Many U.S. collectors were hugely disappointed last month when we found out that there would be no domestic release for the Infinity War Thor Figuarts figure (although an import of the web exclusive is available on BBTS for a crazy amount of money).
That was definitely a bummer, but I think Bandai/Bluefin is making it up to us just a little bit by bringing us a deluxe figure I really didn't think we were going to get stateside at all: the Iron Man Mark 50 Figuarts with with Nano Weapons accessories set!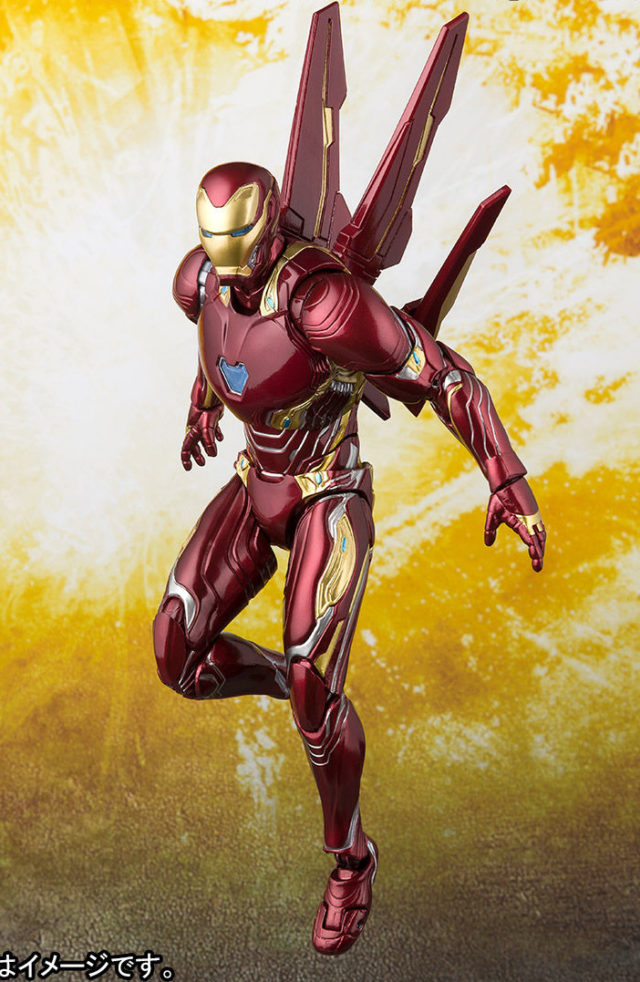 In Japan, this SH Figuarts Iron Man Mark 50 set is a Bandai Web Exclusive, but he's thankfully going to be available through Bluefin Distribution as well. I was legit worried that Bluefin wouldn't be carrying both the original Mk 50 and this version, but we've lucked out and we are in fact getting this set stateside.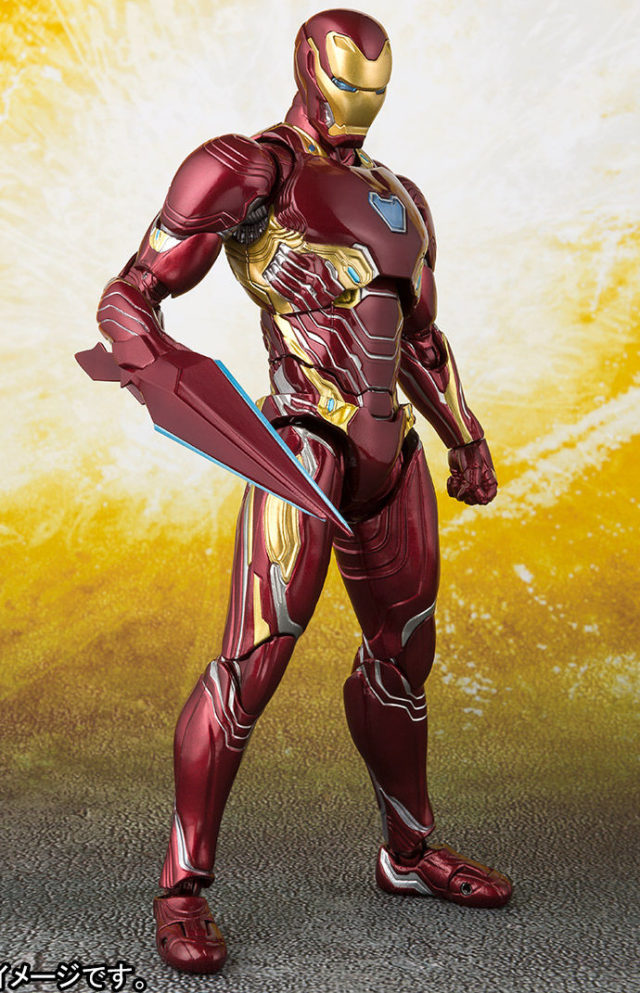 The big difference between this and the first Mark 50 release is the addition of a bunch of really cool interchangeable nanotech weapon accessories that the previous version came without.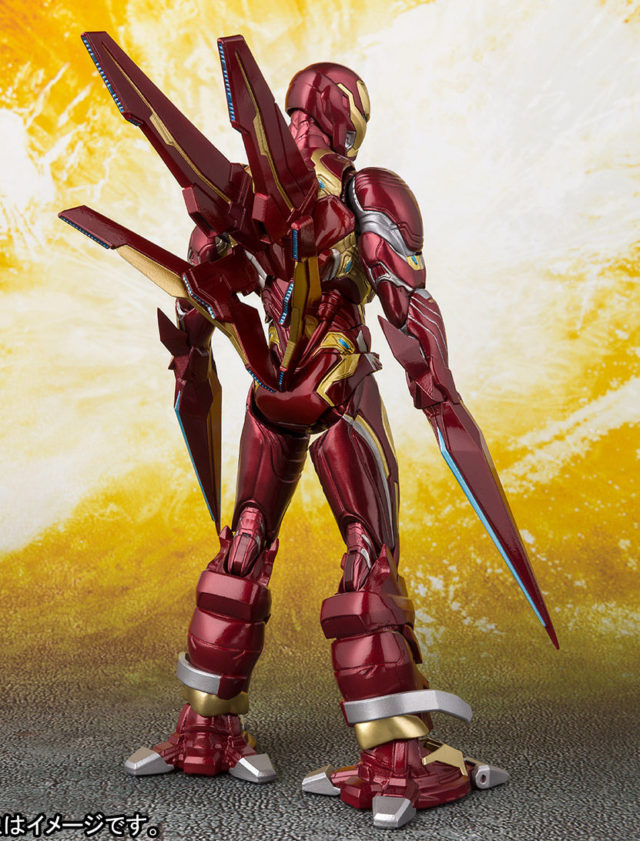 Want dual giant blade arms for Iron Man? You're covered! Wings? Present! Wrist-mounted cannon blaster? Yup! Even the claw-like boots are present and accounted for! I'm not at all thrilled with the $200+ the Hot Toys Weapons set (without figure) is retailing for, so it's gratifying to see an Infinity War Iron Man with all these extra for "cheap".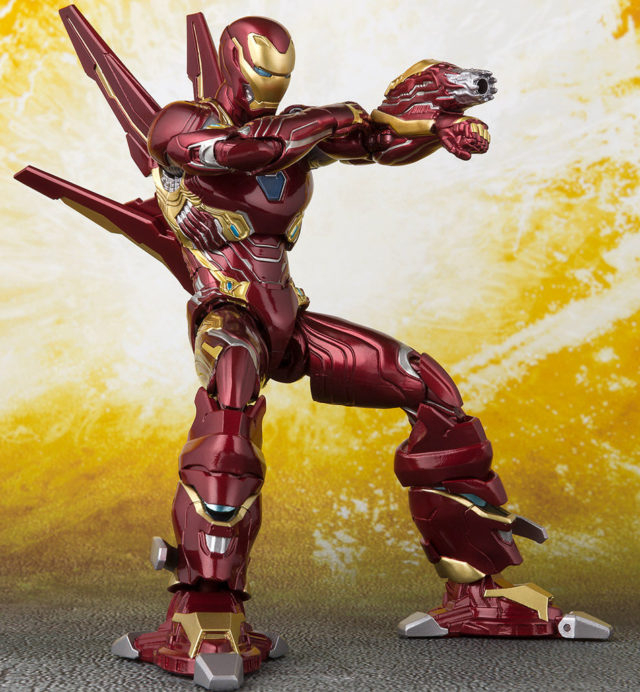 And by "cheap", I mean "under 100 bucks". It's hard to ever qualify a 6" figure and accessories that retails for close to a hundred dollars as being inexpensive, but with the die-cast Hot Toys version of this costing $600+, the Bandai Figuarts iteration really does feel like a humongous bargain by comparison.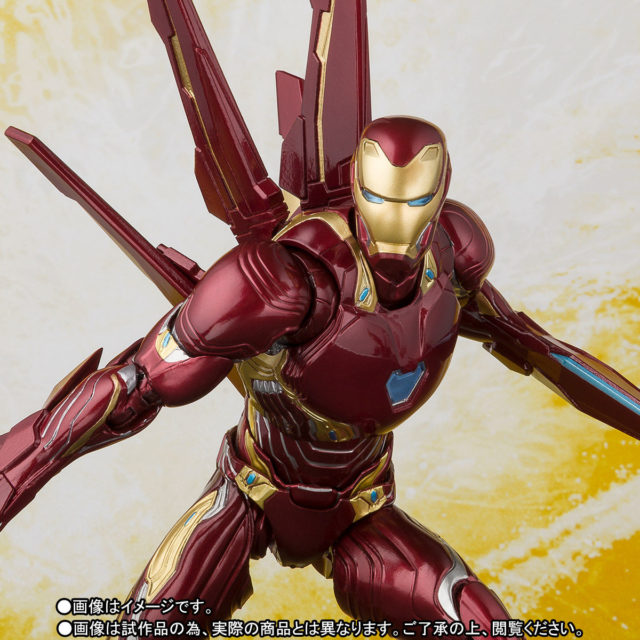 The Bandai Iron Man Mark L & Nano-Weapon set is now up for order in the United States, and is scheduled to be released in March 2019. Thanos and the previous Iron Man both sold out quickly during pre-orders, and I'd be stunned if this Mark 50 set doesn't follow that trend. If you think you might want this, make sure to lock one in reasonably early. As a web exclusive overseas, this is almost guaranteed to end up being expensive on the aftermarket after release.
How do you like this second version of the Infinity War Figuarts Iron Man, Marvel collectors? For those who own the first version, is this an upgrade worth buying the figure again for? And for those who skipped the previous release—are there enough cool extras to win you over this time out?
The post SH Figuarts Iron Man Mark 50 & Nano Weapons Set Up for Order! appeared first on Marvel Toy News.