When it comes to action figures, army-builders are pretty much the gift that keeps on giving to toy companies. After all, rather than producing one unique character that most collectors will purchase a singular time, the golden egg that is an army-builder will often be purchased multiple times with no more development expenses than a unique character. That's why companies like Hot Toys and Iron Studios have seized on a special opportunity brought about by Avengers Endgame. And now, Bandai is getting in on the action—the Bandai SH Figuarts Avengers Endgame "Cap vs Cap" Captain America is now up for order in the US!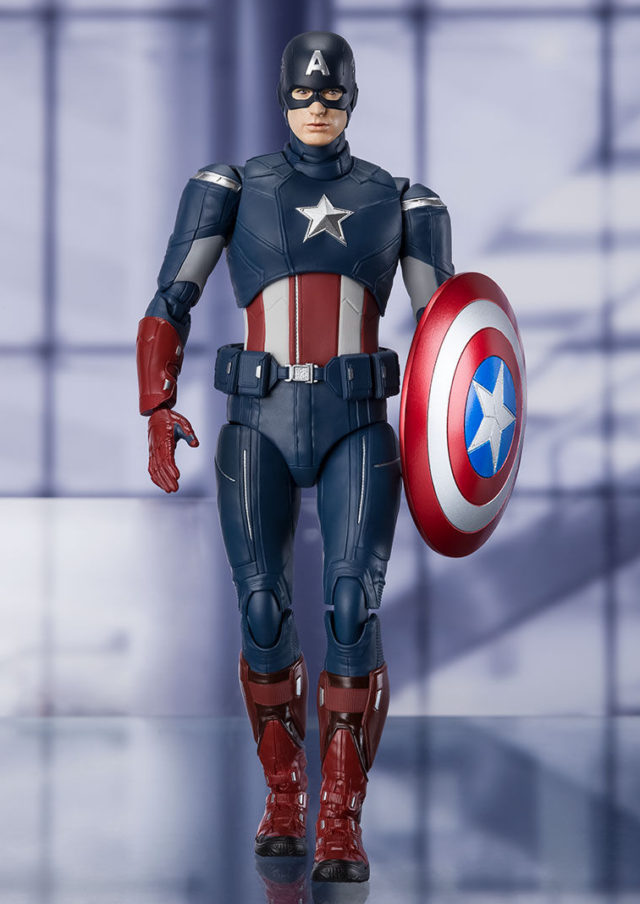 While we're going through the slowest period for new MCU movies in over a decade (with a 16-month gap between Spider-Man: Far From Home and Black Widow), Bandai Japan is wisely using this hiatus to fill in some blanks in their Marvel movie figures catalog.
And their latest release will actually check several boxes—a 2012 Avengers costumed Captain America SH Figuarts figure based off of the "Cap vs. Time-Displaced Cap" scene in Avengers Endgame!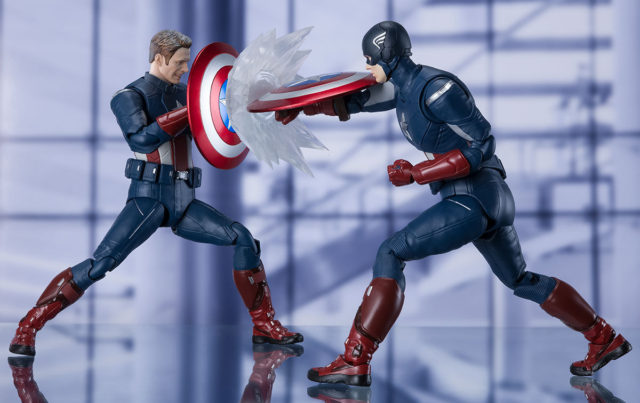 Hasbro did their own ML version of this figure for Endgame (which turned out to be surprisingly challenging to track down in brick and mortar stores), and Hot Toys and Iron Studios have done high-end versions of their own. You don't get too many chances to reasonably sell people the same toy of Captain America twice, so might as well take the opportunity, right…?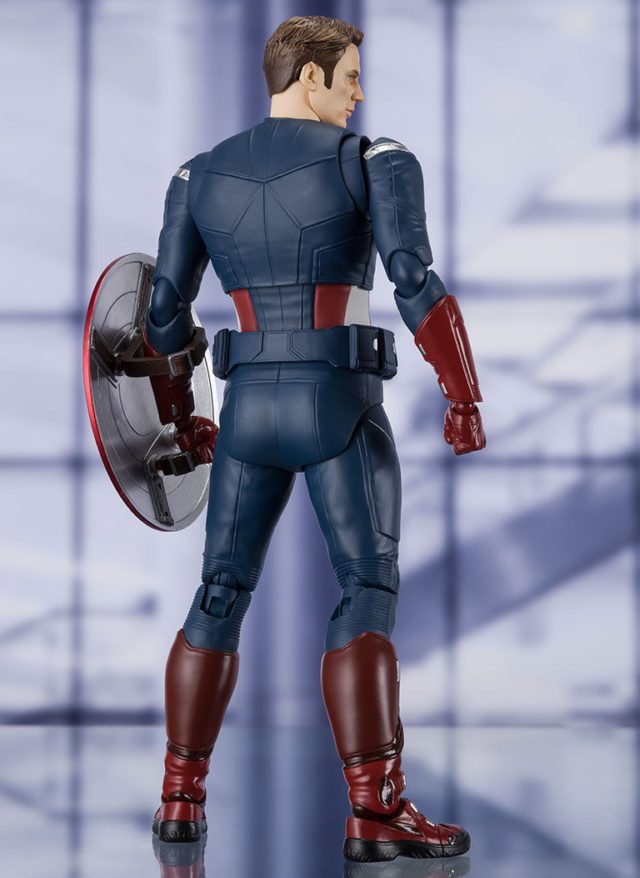 Now, I have to be honest here: the Captain America Avengers 2012 costume is easily my least favorite costume the character wears in the present in the movies. I've always thought it looked rather awkward. So am I buying one to put with my 2012 Avengers figures? Of course. Am I buying two…? Nope, I gotta draw the line somewhere with $80+ figures—awesome Figuarts quality or not.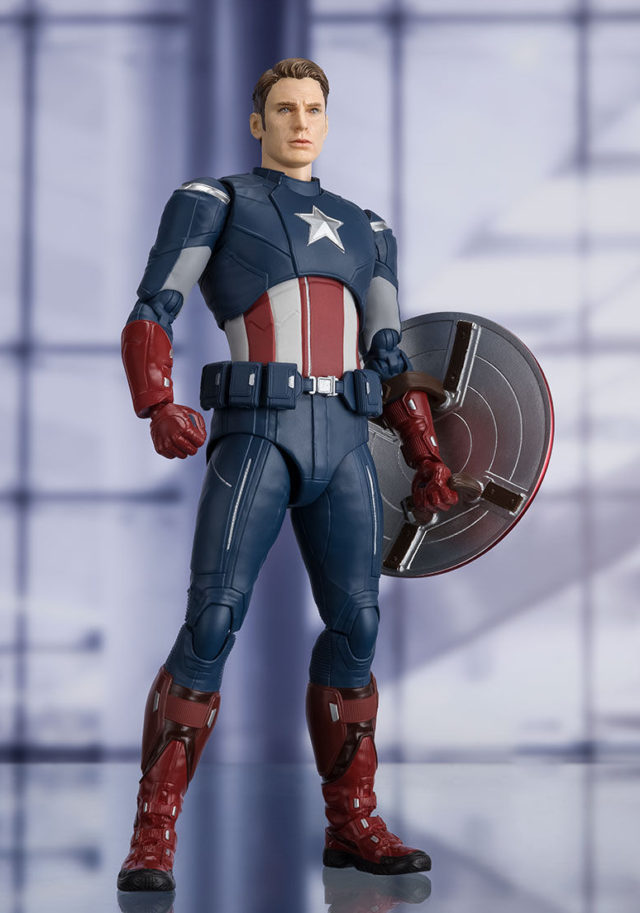 But for those who do want to buy multiples, Bandai has included both masked and unmasked versions of Steve Rogers here. And while I don't always love the portraits on Figuarts, the Chris Evans likeness on the neutral head here looks really good to me. (There's a second unmasked head with an angry expression included as well, but it looks mega-constipated and more than a bit ridiculous, IMO.)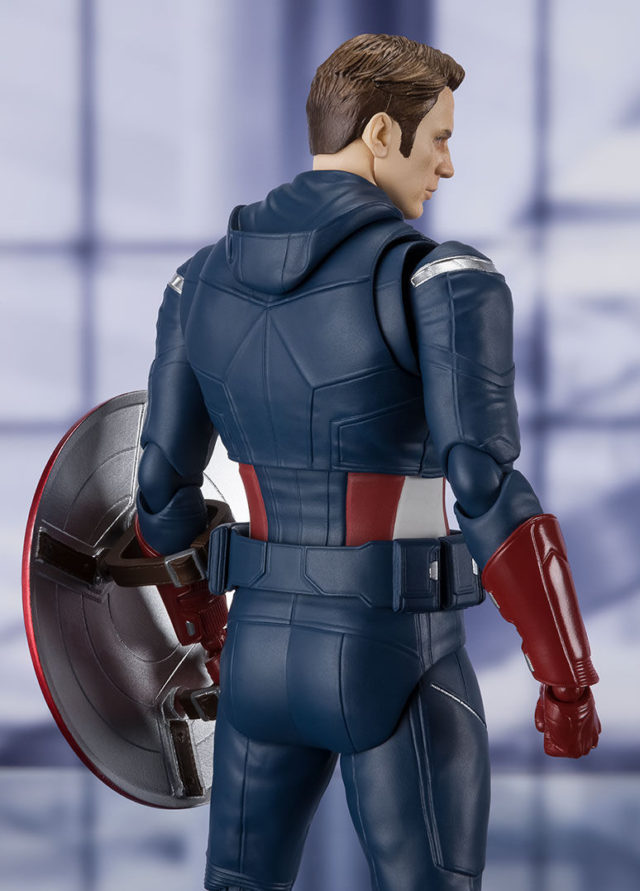 In addition to the two heads, this 6" S.H. Figuarts Captain America super-articulated figure will also include 11 interchangeable hands, a right hand holding a locket, a collar with folded mask, the iconic Captain America shield, and hey—cool shield effects pieces that will allow the shield to "ricochet" off the ground in displays or "klang"'off another shield! Sweet!!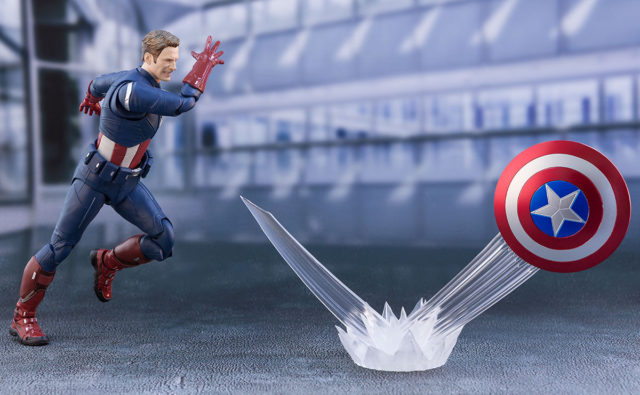 Those shield effects put a humongous smile on my face, and almost—almost—have me wanting to pick up a duplicate of this action figure (as Bandai intended) for Cap vs Cap warfare! And if you pick up Loki, you can also take his scepter to give to Steve to hold as he stares admiringly down at America's ass!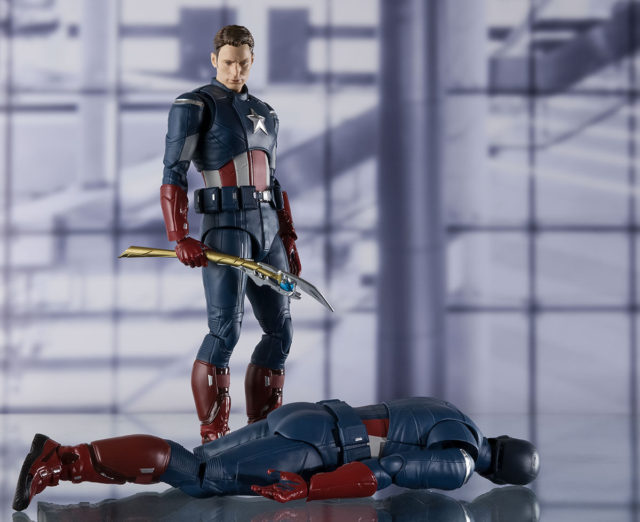 The Bandai Avengers Endgame SH Figuarts Captain America (Cap vs. Cap) figure is now available for $86 and free shipping via EE, which is the best deal that I've seen around since the shipping is included. BBTS has him for the same price, but you'll have to pay shipping unless you end up with a Pile of Loot to add him to. It's a challenge to say if a potential army-builder (of a sort) like this will sell out fast, but I know I want one (and I'm sticking to just one—probably), so I've reserved mine already.
Between this and Loki, Bandai Japan has fulfilled two big wants from the MCU collecting community in just two weeks! What do you think of this new version of Cap, and are there any other 2012 Avengers movie characters you especially want to see the S.H. Figuarts line backtrack to release?
The post SH Figuarts Endgame Captain America Cap vs Cap Figure Up for Order in the US! appeared first on Marvel Toy News.