Although the Marvel 6"-7" figure market was already starting to look a little bit crowded back in 2016, when the Kaiyodo Revoltech Marvel Comics series of figures burst onto the scene, the collecting sphere quickly gobbled up the amazing line. Kaiyodo has created over a dozen major comic book versions of Marvel heroes in the past few years, and now they're moving on to a character many will be shocked they haven't already tapped: the Kaiyodo Revoltech Bleeding Edge Iron Man is now up for order! With countless Iron Men on the market, can this one stand out?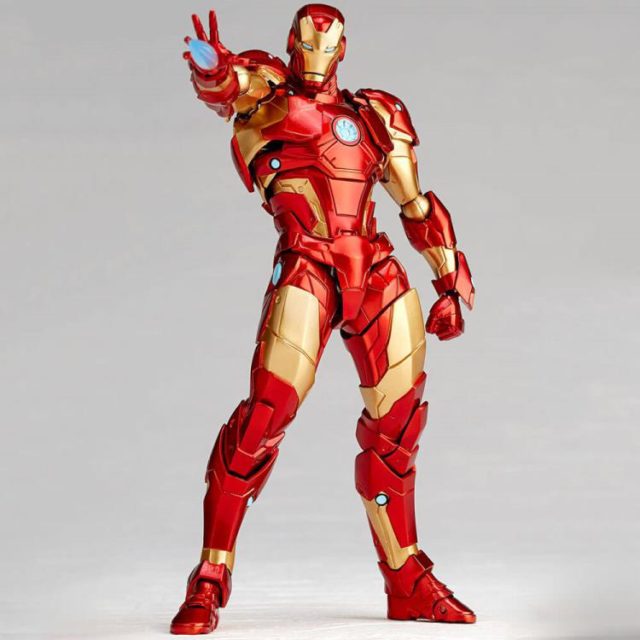 I'm a pretty huge fan of collecting Iron Man figures, as evident by the fact that I have well over $5K just in Hot Toys Iron Man armor permutations in my collection. So whenever a toy company announces a new Iron Man figure, I always at least give it a look (even if I don't necessarily always have the shelf space to give it a home anymore).
And with this latest solicitation, Kaiyodo definitely has me looking at my shelves to see where I can squeeze in another Iron Man six inch figure, because this Revoltech Bleeding Edge armor is a real eye-popper.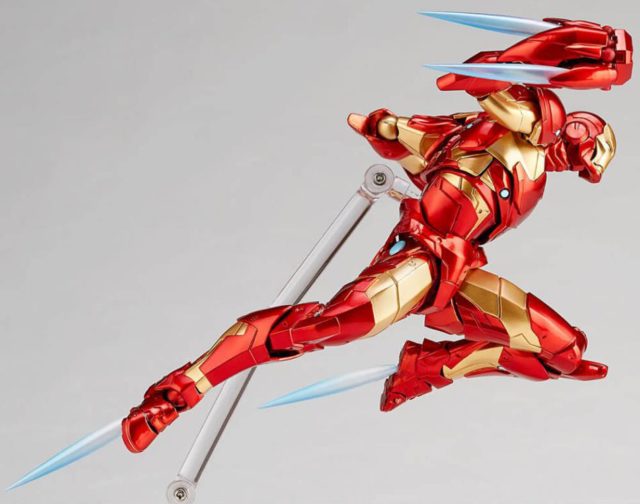 Prepare yourselves, because I'm going to gush regarding just about every aspect of this newest armor (which happens to be Kaiyodo's inaugural comic-based one).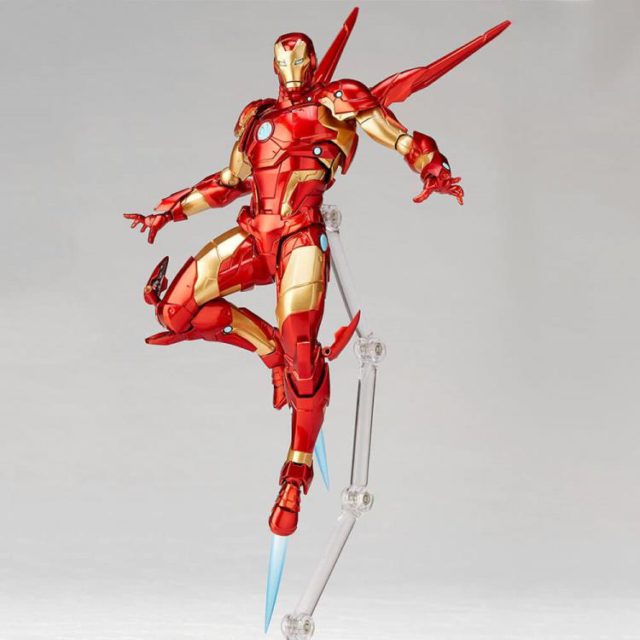 First off, Kaiyodo is correctly addressing an issue that tends to drive collectors nuts: the height of Iron Man. As Tony Stark is a man inside of an armor, he should by a little bit bigger than your typical six inch figure. And thankfully, Kaiyodo has gotten this right: the Bleeding Edge Iron Man Revoltech is 6.7" tall, making him about a half-inch larger than Spider-Man, Psylocke, and other characters in the line.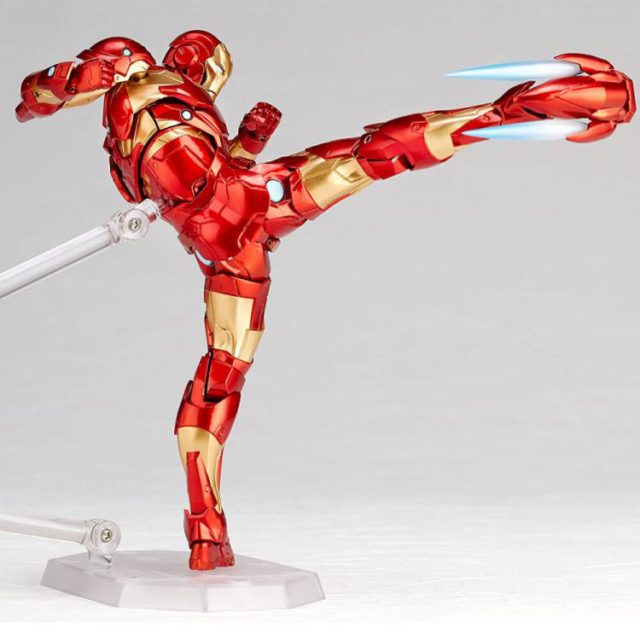 In addition, the proportions for this figure look dead-on accurate to the style that Kaiyodo is targeting. This is a critical mark to hit, and Kaiyodo hit the bullseye.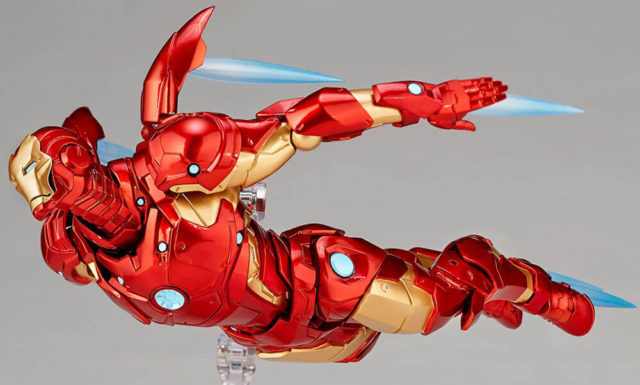 Paint-wise, we're getting shiny metallic red and gold paints that look lush and gorgeous. There have been numerous movie-based Revoltech Iron Men released in the past, so Kaiyodo's past work definitely facilitates achieving the proper metallic look to the armor here.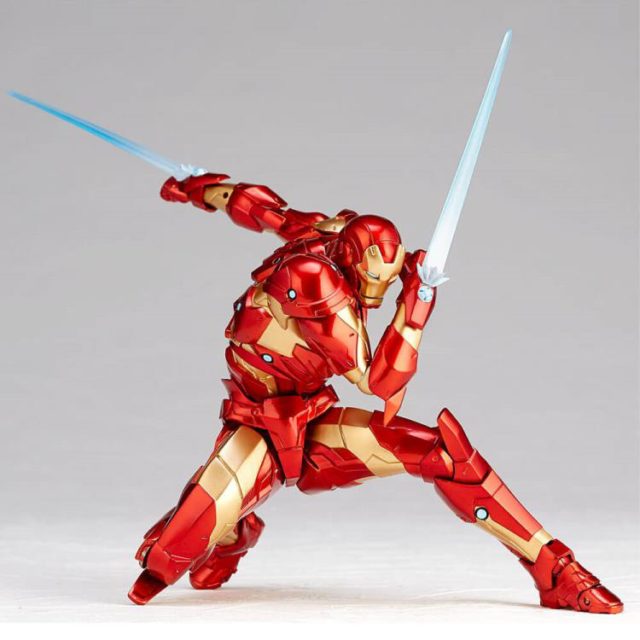 And although Tony Stark may be a man in a mechanical suit, he'll still be able to pose with the best of them with the 37 points of articulation integrated into this figure. From flight poses to blasting poses to the iconic punching-the-ground pose, Kaiyodo has drawn on their movie versions to make this comic book Iron Man as super-articulated as anyone could ask for.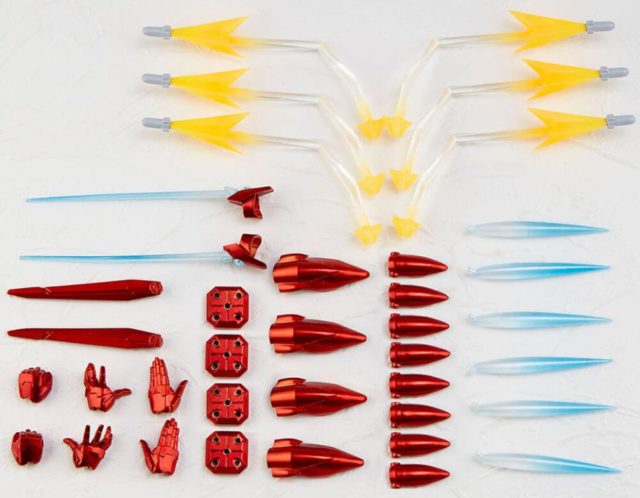 As impressive as the base Bleeding Edge armor itself looks here, what really shivers my timbers about this action figure is the insane load-out of extras, as the Revoltech Iron Man Bleeding Edge figure will come with a crazy thiry-eight accessories. Yes, you read that right: this figure's 37 points of articulation are outnumbered by the 38 accessories. Yowza!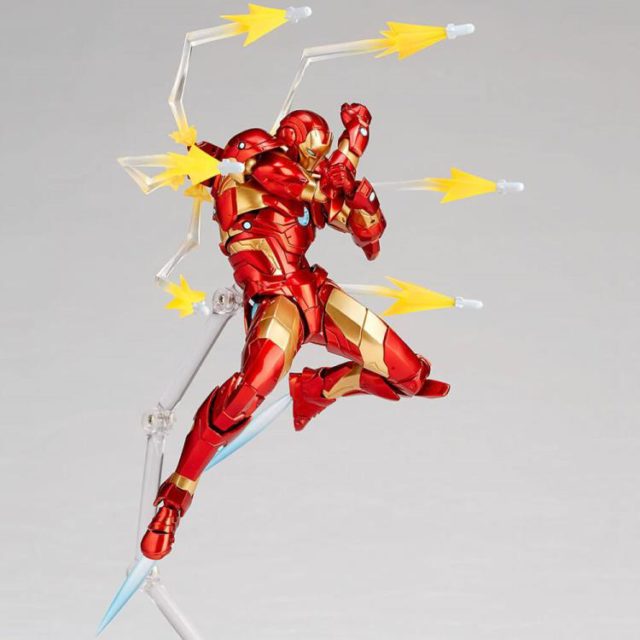 Want your Iron Man action figure to be firing six repulsor blasts at once from various orifices? It can do that! Want to have Bleeding Edge bust into action with dual laser-blade appendages? It can do that too!
From unfolding wings to shooting six missiles at once, this is the downright nuttiest, most deluxe Iron Man action figure I've ever seen in this scale. The sheer variety of options available for this figure may even make Hot Toys take notice! What Kaiyodo has achieved here is really something special.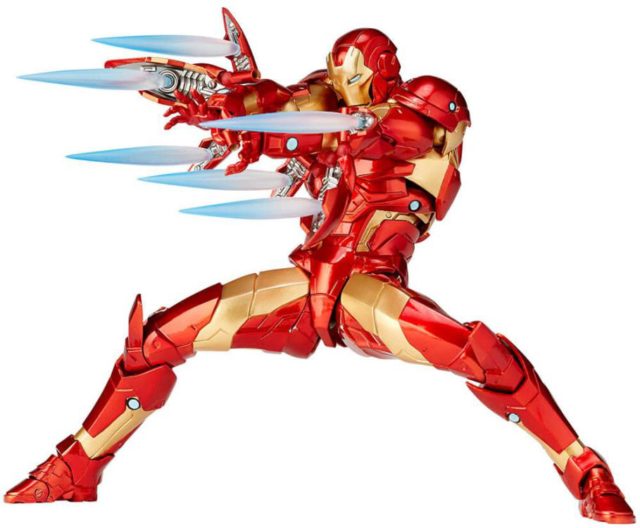 The Kaiyodo Revoltech Iron Man Bleeding Edge armor figure is now up for order, and is scheduled to be released in June 2019. As usual, Kaiyodo does not have a license to distribute these comic-based figures in the US themselves, so you'll have to import directly or buy from a retailer that does like BBTS. I've bought every Marvel Comics Revoltech to date and don't regret one, so this is almost a sure-fire buy for me as well.
In a world where you can't throw a rock without hitting a dozen Iron Man figures, does this Revoltech Bleeding Edge armor permutation stand out to you, Marvel collectors? Is this the ~6" Tony Stark that you've been waiting for, or will Revoltech fail to capture your dollars with this release? And what character do you hope is next in this expanding hit lineup?
The post Revoltech Bleeding Edge Iron Man Figure Photos & Order Info! appeared first on Marvel Toy News.