It's taken almost a full year since the wave started to be unveiled at San Diego Comic Con 2017, but the long-anticipated 2018 Marvel Legends X-Men Apocalypse Series is finally starting to ship out to online retailers and some brick and mortar stores. I wanted to kick off my figure reviews for this wave with something big—and what's bigger than the Build-A-Figure, right? The Marvel Legends Apocalypse BAF is selling for north of 100 bucks right now all by himself—is he fit to survive for that kind of money?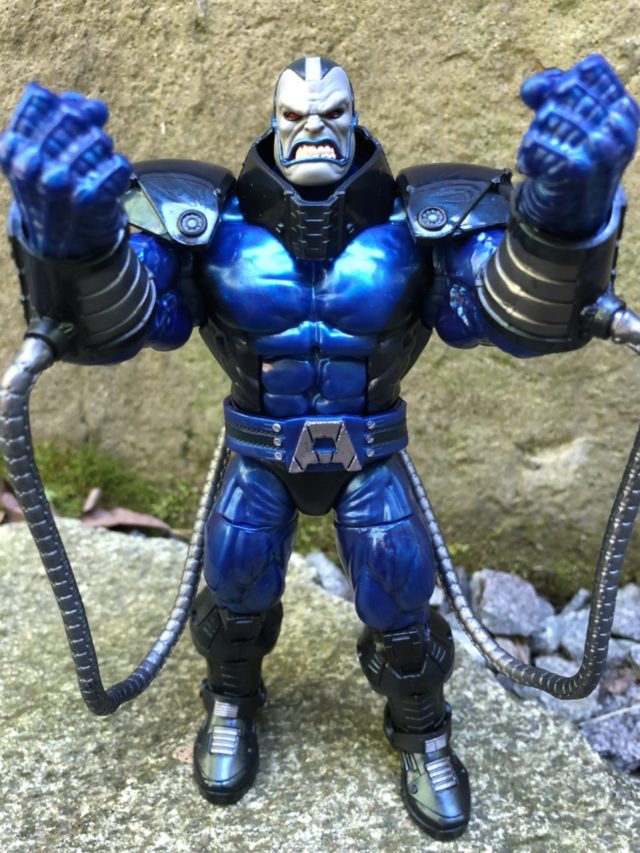 When it comes to X-Men villains, Apocalypse is perhaps second only to Magneto in overall popularity and threat level. Even so, there hasn't been a new Marvel Legends Apocalypse figure since Toybiz released their Build-A-Figure of him way back in 2005–13 years ago!
So we've been waiting quite a bit for ol' Big A to get an upgrade from Hasbro. Is this the Apocalypse that we've all been waiting for…? Well, for me personally, the answer is a decided yes.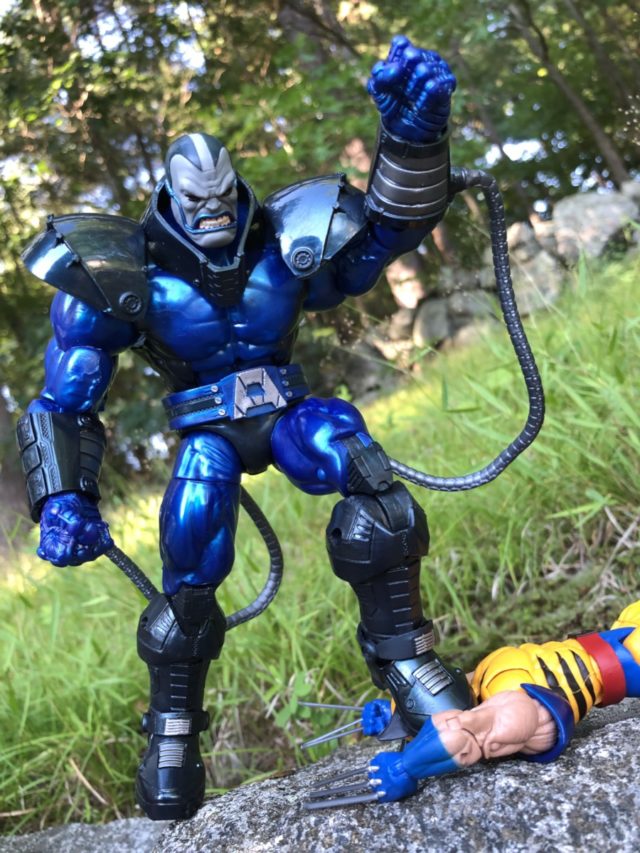 The chunky style of the Marvel Legends Series 7 Apocalypse was never my jam, whereas I liked the design of the Toybiz Apocalypse BAF but hated that they made him a giant. Hasbro has swooped in at last to give me exactly the Apocalypse I've been hoping for in both scale and design.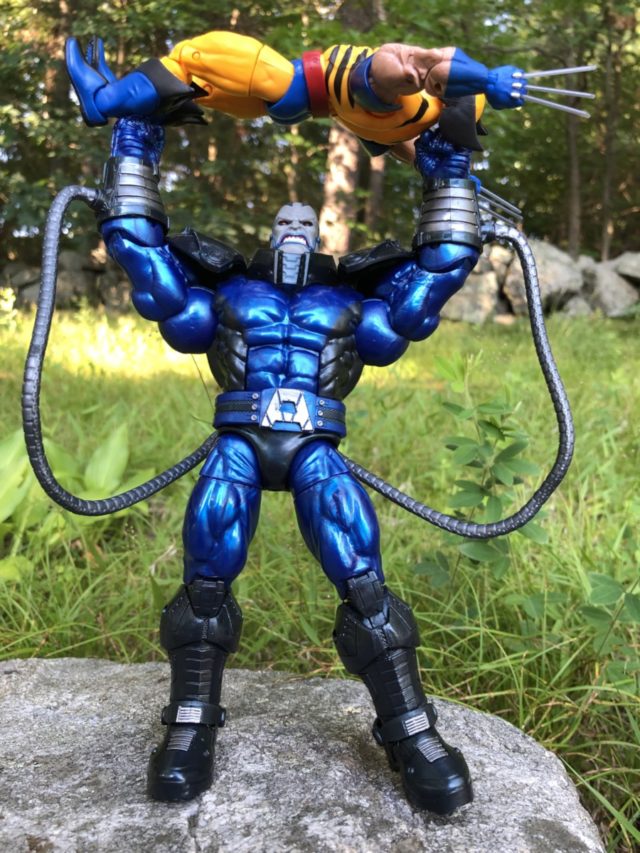 While the Hasbro Apocalypse ML figure still stands menacingly tall over standard X-Men Legends, he doesn't absolutely tower over them anymore. He looks large and intimidating, but not gigantic. For my money, this size is just right. The figure is also quite sturdy, with joints strong enough to easily hoist other X-Men Marvel Legends figures (like poor Wolverine!) over his head.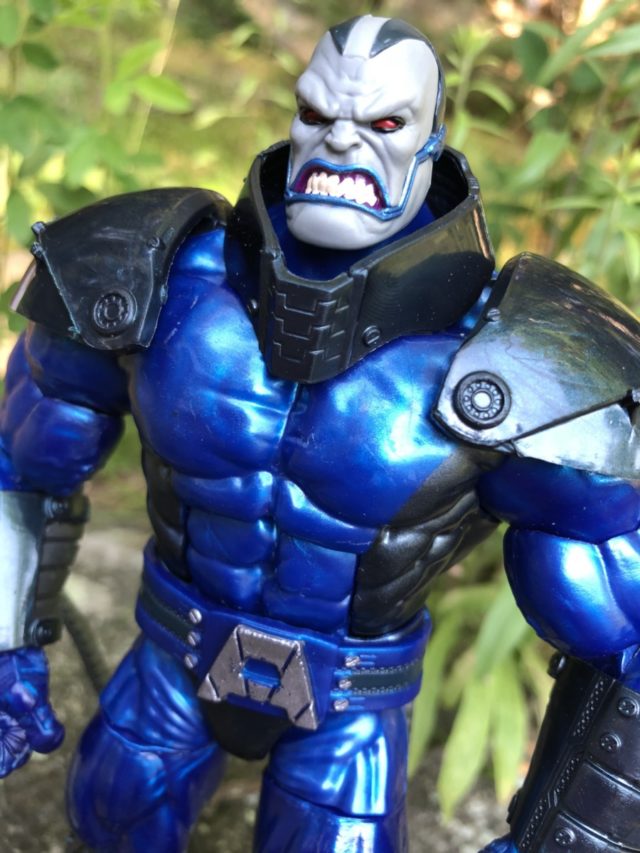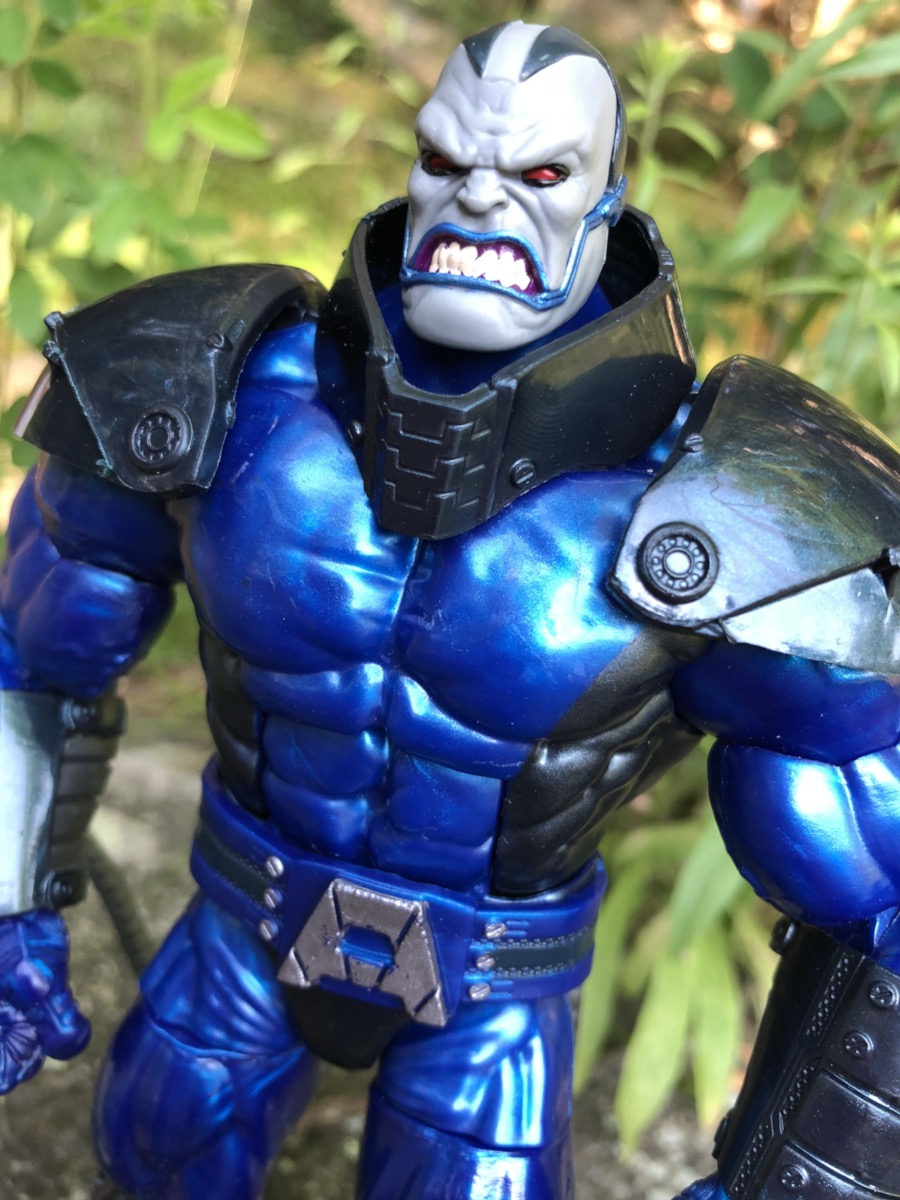 Another thing that's "just right" is the head sculpt, which might be my very favorite Apocalypse head ever on a toy. With his teeth bared in fury (showing off his healthy purple gums!) and his furrowed forehead, this is one En Sabah Nur who's ready to kill some "weak" bitches dead. Love this head. Love it!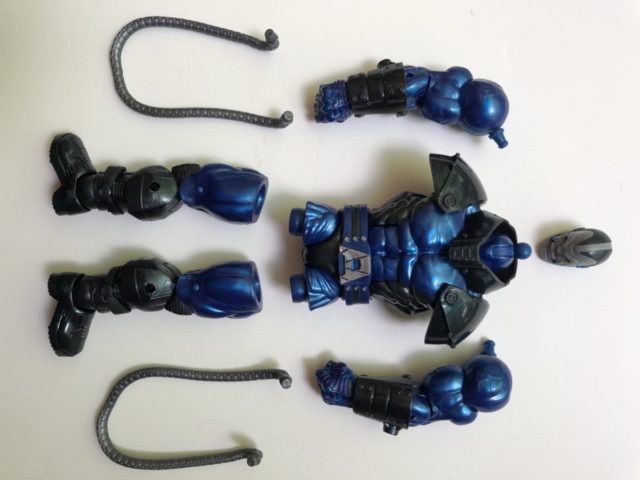 And as good as the head is, the rest of the figure doesn't disappoint. The "A" belt fits snug as can be, the coils running from Apoc's back to his arms lock into place tightly, and the sculpting work on his armor (particularly the boots) is top-notch.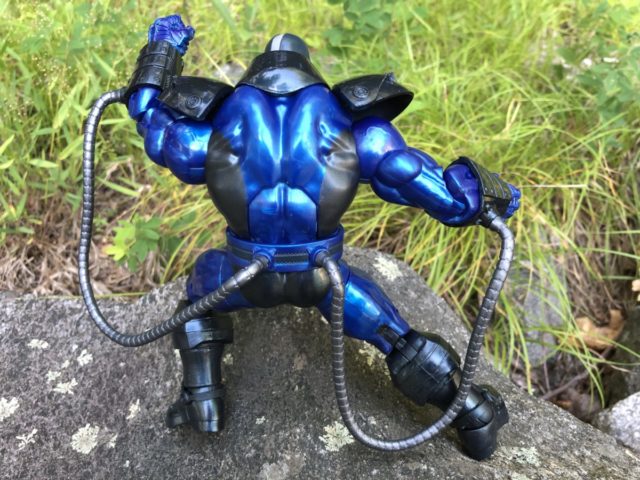 I'm equally impressed with the paintwork and plastic colors Hasbro selected for this X-Men Legends Apocalypse BAF. The shiny bright blue that makes up the bulk of the body looks appropriately alien with little sparkly flecks in the blue, and also contrasts perfectly with the dark blue-grey portions of the armor.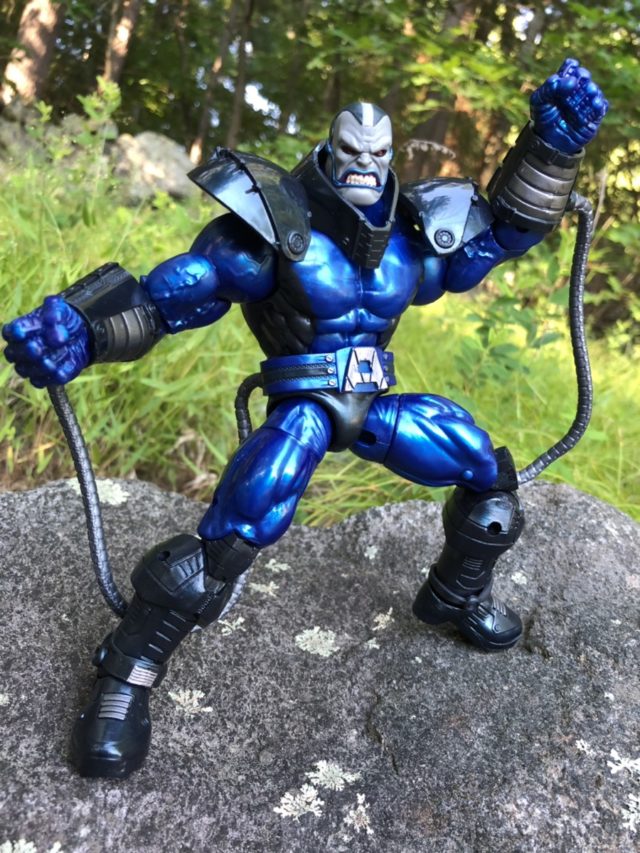 This Apocalypse figure is even ready to conquer on the articulation front, where I was surprised to see just how poseable he is. Ankle rockers are present for balancing purposes, the shoulder armor is movable so as not to inhibit shoulder articulation, and the arms move around without tugging off the coils attached at all.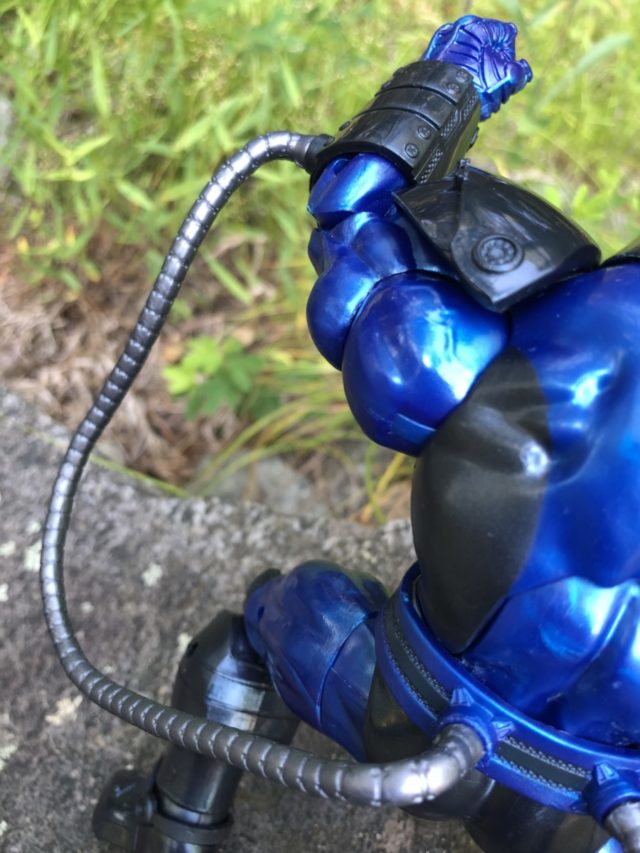 The only real flaw to speak of articulation-wise is the elbows, which only have a single hinge and don't bend as far as I would like. It inhibits some of the poses I wanted to do with the arms just a hair.
I'm also not enamored with the fact that the tops of Apocalypse's boots are a separate piece that just sort of flops around on his lower leg. I don't really understand why these were executed in this manner, but they're my least favorite thing about the BAF.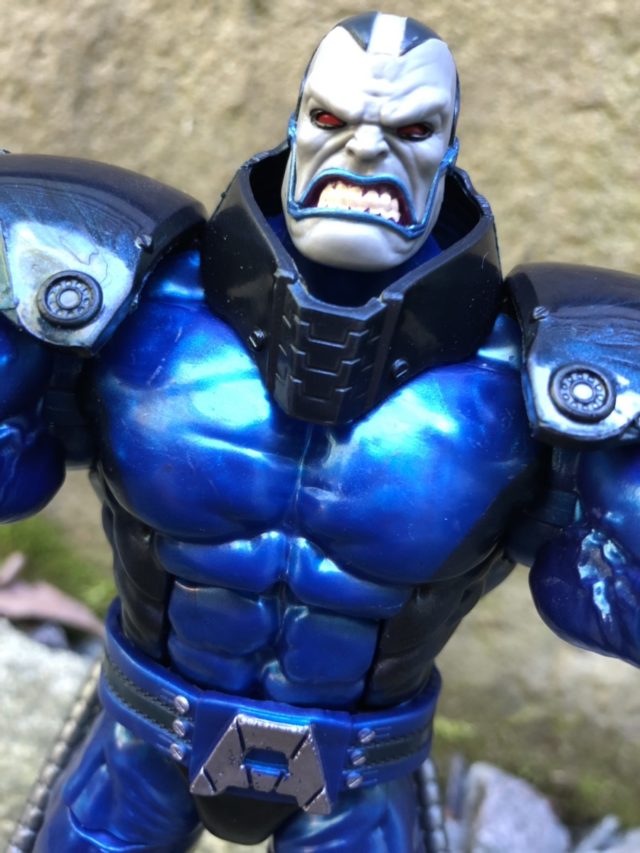 Finally, since Apocalypse is a Build-A-Figure to begin with, I think it would have been cool and added many more display options if a swappable weapons arm had also been available. He's a great figure as-is already, but I think giving him a shape shifted weapon arm would have really put him over the top.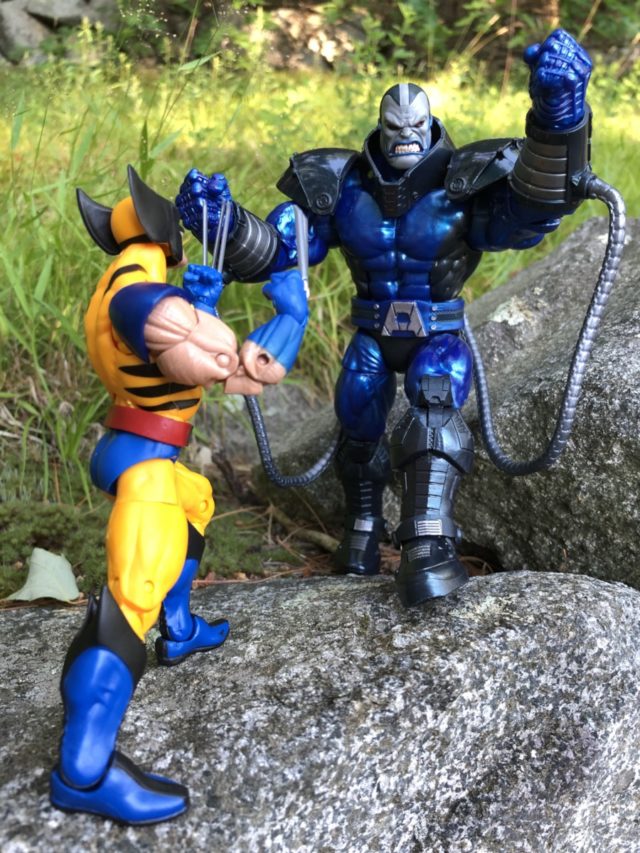 Overall: It's taken 14 years since the first Marvel Legends Apocalypse was released by Toybiz, but I think Hasbro has finally given us the definitive 6" scale figure of the character. While I've got a couple trivial nitpicks about this figure, it's basically a triumph in paint, sculpting, detailing and articulation. Easily my favorite toy of Apocalypse ever, and my front runner for Build-A-Figure of the year. Those who pick up the whole X-Men Legends wave to build him or even just buy the completed Build-A-Figure on eBay won't be disappointed. An outstanding addition to the X-Men Marvel Legends Series.
GRADE: A
The post REVIEW: X-Men Marvel Legends Apocalypse Build-A-Figure  appeared first on Marvel Toy News.