–Review and Photos by Jeff Saylor (aka Duke Nuka)
I'm in love with Fallout 76. I just joined the ranks of the Enclave, built the coveted X-01 Power Armor and I'm working hard to reach Level 50 so I can utilize the new powerful weapons I've acquired in my odyssey across West Virginia's beautiful but deadly Appalachia. I'm farming corn, tato and mutfruit – not for subsistence – but for crafting into Vegetable Starch… so I can break it down into Adhesive – the critical glue required to repair and upkeep everything I have worked so hard for. Oh, and I just launched a nuke. As if the wasteland wasn't wasted enough.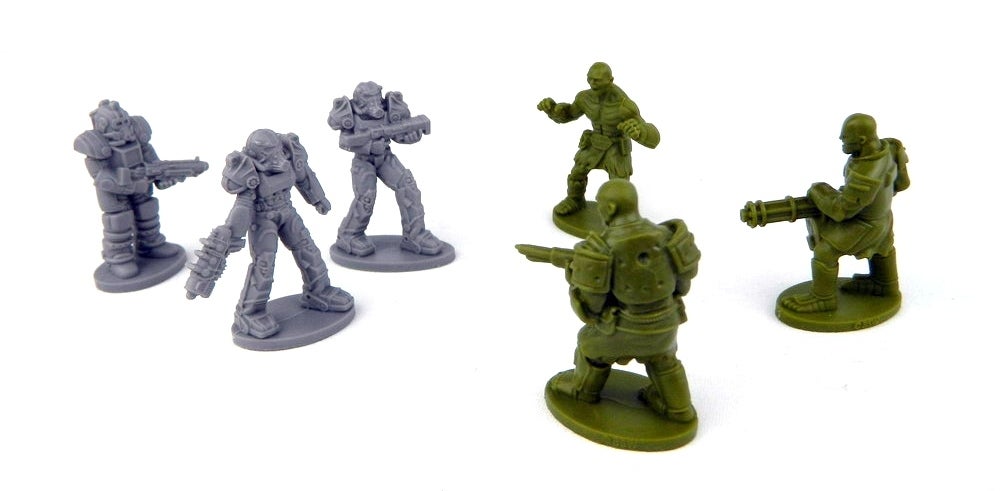 Here's the the thing: I'm a HUGE Fallout fan. Since Bethesda's takeover of the series with Fallout 3 and continuing on with Fallout: New Vegas and Fallout 4, I've been addicted to each new game's free-roaming, retro-futuristic, post-apocalyptic 50's aesthetic (and music!). That said, I'm also a HUGE fan of Fallout collectibles. Part of that is because of the in-game nature of actually collecting, err, collectibles. Nuka-Cola bottles, Vault Boy Bobbleheads, Jangles the Moon Monkey dolls, heck… who am I kidding? EVERYTHING in Fallout is collected. The other half is me being a real collector of things I love. And if you haven't figured it out by now, I LOVE me some Fallout.
Enter Emcee Toys and their new series of Fallout Nanoforce Army Builder Figures. Distributed exclusively by Toynk, the Fallout minifigure line is described as "Past Meets Future" – classic, retro 2-inch tall green army men fused with modern pop culture license sensibility. With a retro-modern game series like Fallout, I find the toy concept absolutely brilliant.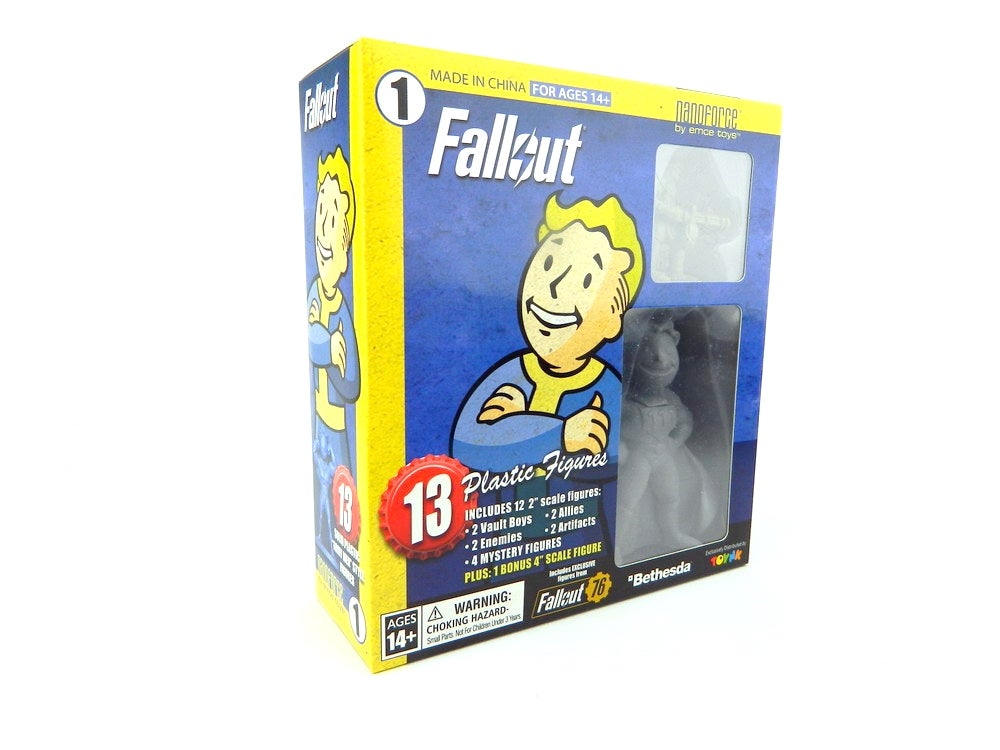 Toynk launched this series back in November with a 12-piece poly-bagged set. Priced at $12.99, this package acted as a preview to the Fallout Nanoforce series; an awesome sampler to the boxed sets to come.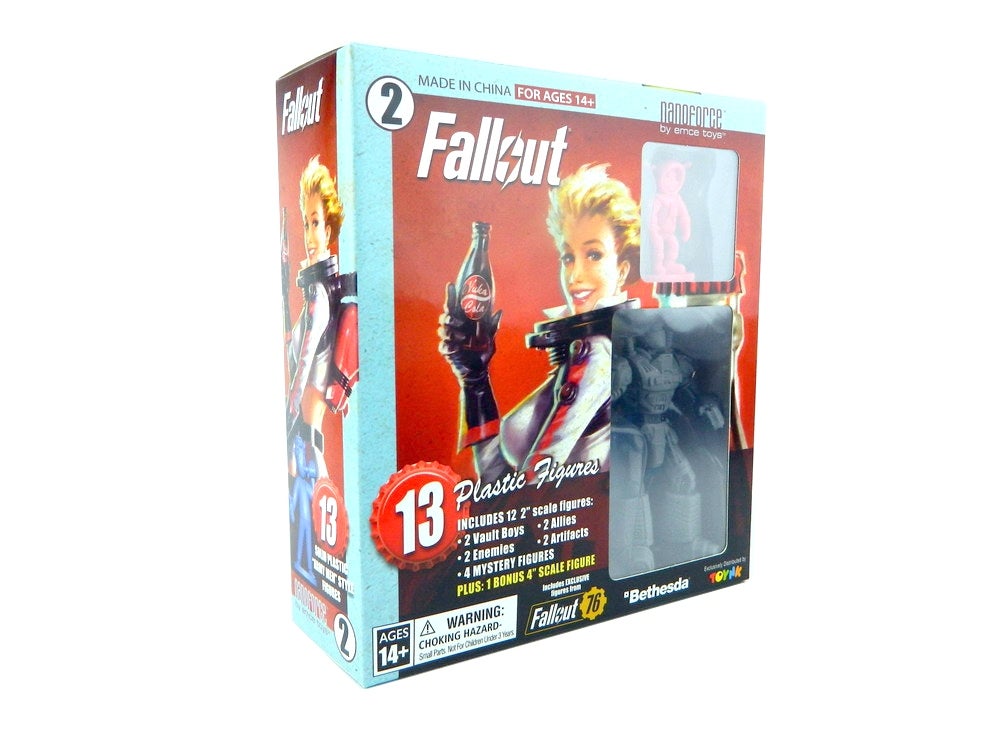 In-stock and available to ship out now exclusively at Toynk.com are the first two boxed sets: Fallout Nanoforce Box Sets Volume 1 and 2, each priced at $19.99. Where the poly-bagged set acted as introduction to the line, these 13-piece boxed sets are more focused – both in package design and the characters they deliver, including a bonus 4-inch tall figure!
Aside from the awesome packaging – the Vault Boy blue and yellow themed Vol. 1 set and bubbly brown/blue Nuka-Cola girl themed Vol. 2 – it is the bonus 4-inch figures that steal the show. The Toughness Vault Boy perk and awesome Liberty Prime are large and in charge collectibles to own from the Fallout universe. Their palm-size, meaty, hard plastic construction sets the tone for the rest of the figures, which had me eager to dig in.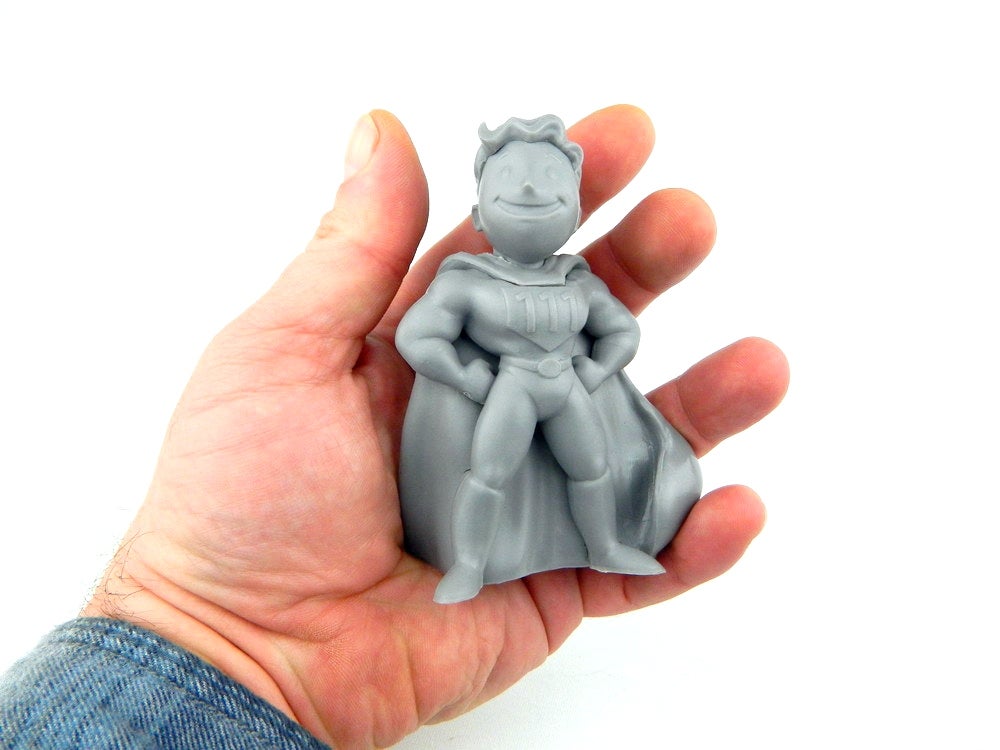 The Fallout Nanoforce collection aims to please all Fallout fans, featuring characters from ALL of the Bethesda Fallout titles, including Fallout 3, Fallout: New Vegas, Fallout 4 and Fallout 76. So if you're one of those players that didn't dig Fallout 76 (hey, to each their own, I wasn't blown away by New Vegas), there should still be plenty to like with this collection. In fact, MOST of these figures represent characters/items encountered in every single Fallout game.
The two box sets include: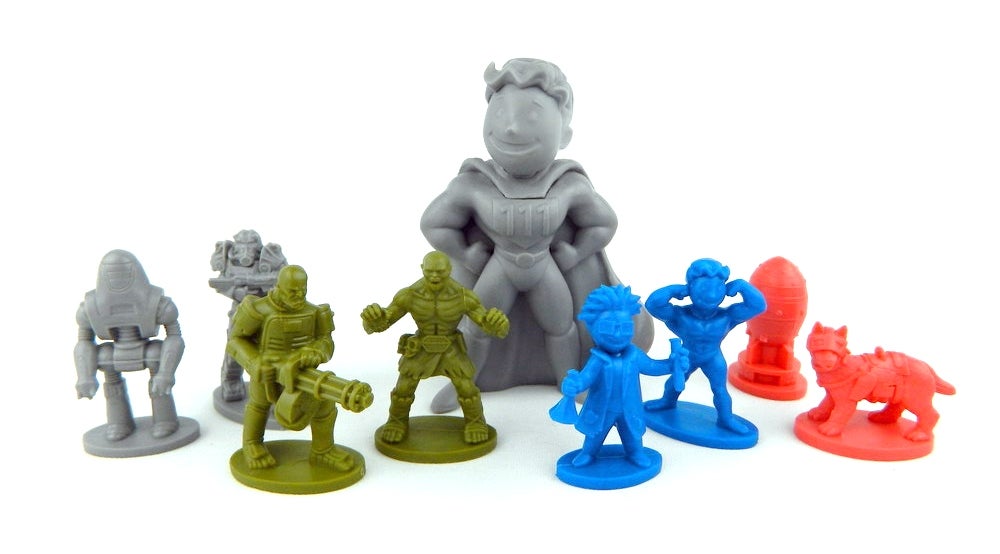 FALLOUT NANOFORCE SERIES 1 ARMY BUILDER FIGURE COLLECTION – BOXED VOLUME 1
2x two-inch scale Vault Boy perks (Strength, Chemist)
4x two-inch scale NPCs (Protectron, T-60 Power Armor, 2 Super Mutants)
2x two-inch scale artifacts (Mini Nuke, Armored Dogmeat)
1x bonus four-inch figure (Toughness Vault Boy perk)
4x two-inch scale mystery figures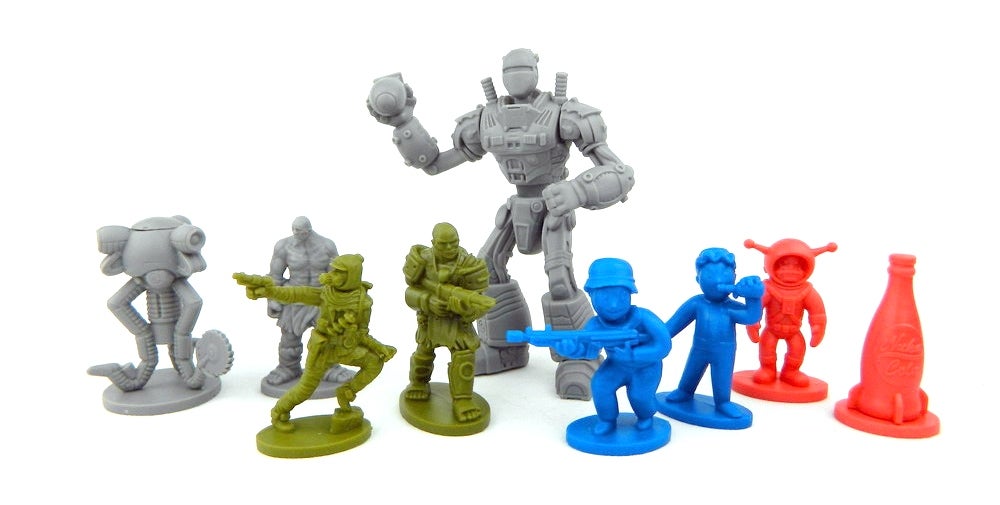 FALLOUT NANOFORCE SERIES 1 ARMY BUILDER FIGURE COLLECTION – BOXED VOLUME 2
2x two-inch scale Vault Boy perks (Party Boy, Commando)
4x two-inch scale NPCs (Mr. Handy, Strong, Super Mutant, Raider Veteran)
2x two-inch scale artifacts (Nuka Cola Bottle, Jangles The Moon Monkey)
1x bonus four-inch figure (Liberty Prime)
4x two-inch scale mystery figures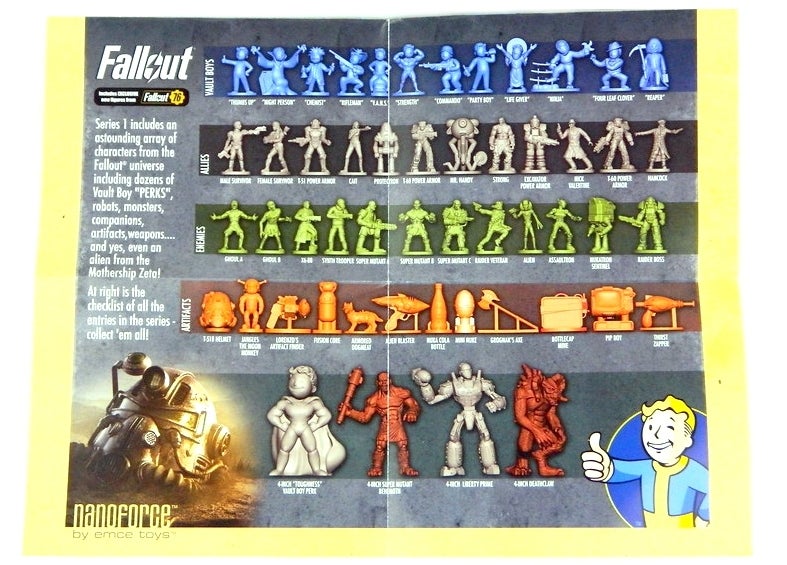 Notice I didn't reveal the mystery figures. Some people still do love surprises. However, in this day and age of the internet, nothing is really a mystery, and in fact, every character in this series is revealed on the included info sheet (I also took some photos of them, which you can find in the gallery below). Printed on nice stock paper, the info sheet acts as a handy check list for all the figures in the series (which will span a total of four box sets). The pamphlet also explains the color coding process behind the figures in the line: Blue figures represent Vault Boy Perks, Grey figures are Allies found in the games, Green are Enemies (such as Super Mutants and Raiders), and Pink/Flesh Tone figures depict Artifacts.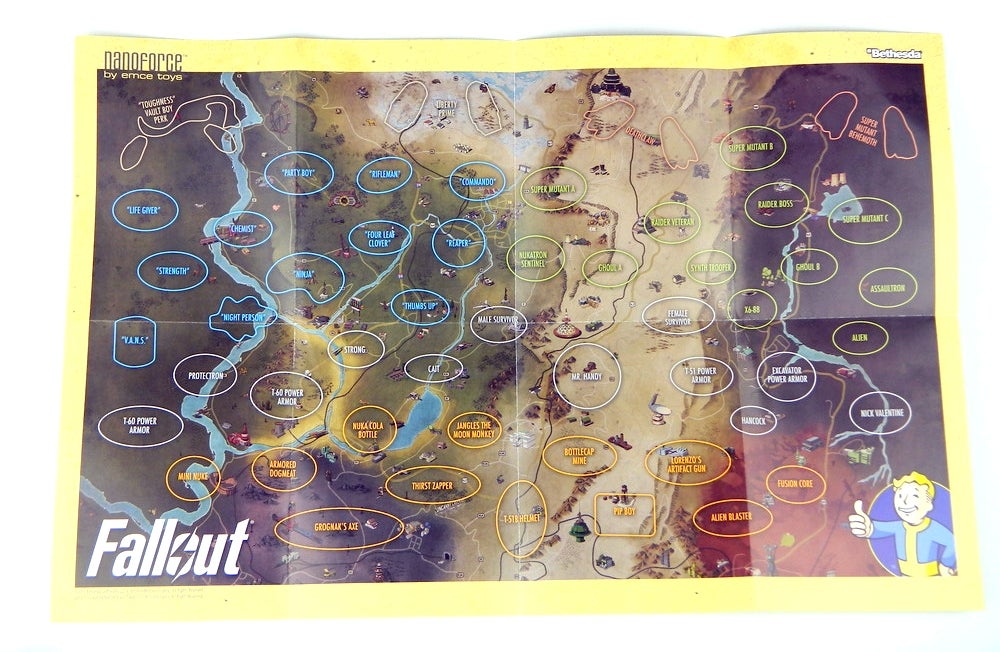 Last but not least, the pamphlet acts as a display mat – the in-game map of Appalachia featuring designated places for all your figures to sit on. A very nice touch!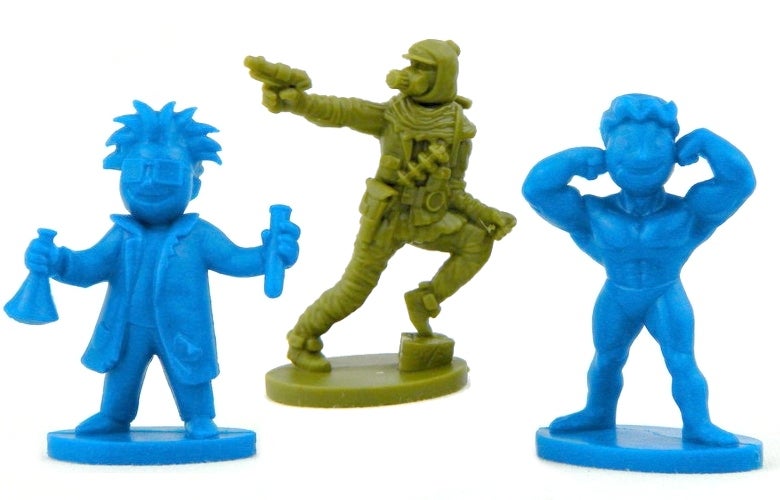 The Fallout Nanoforce figures are extremely well made. Like the large figures, each small character is made of a very hard, durable plastic. The detail on these figures is also very nice and crisp, the lack of paint really letting the clean sculpting lines shine through.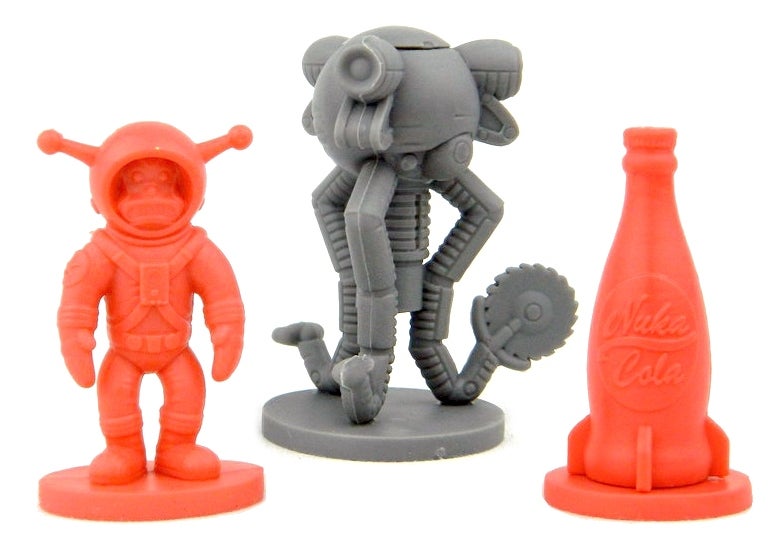 While I love them all, my favorites include many of the Artifacts, such as the Mini Nuke, Nuka-Cola bottle and Jangles the Moon Monkey (that name cracks me up everytime), along with the robot Allies – Protectron and the robust Mr. Handy figure. Needless to say, both of the large figures are incredible, especially Liberty Prime throwing a nuke ("Embrace democracy or you will be eradicated!"). I really look forward to the next two boxed sets (pre-order now – releasing in March!) and their Deathclaw and Super Mutant Behemoth large figures.
Toynk's Fallout Nanoforce collection perfectly captures the retro-charm of a video game series devoted to retro-charm. I grew up playing with little green army men, so the Fallout Nanoforce series brings back loads of nostalgia for me. However, even if you're too young to remember the joy of simpler toy times, these figures should appeal to most Fallout fans. Where else can you amass such a wide range of Fallout lore in one fell swoop? Jangles the Moon Monkey awaits your collection…
Review and Photos by Jeff Saylor (aka Duke Nuka)
Review Samples Courtesy of Toynk
[See image gallery at www.figures.com]
---
Keep up with all the latest toy news by following Figures.com on Facebook and Twitter!
To buy action figures, take a look at Hobby Link Japan, BigBadToyStore.com, TheToySource.com, Toynk.com, and BriansToys.com.