Life as a collector is full of little disappointments—but sometimes also big disappointments. After having the portrait changed from the original one show prior to SDCC 2018, fans cried foul when the final production head on the new Sideshow Psylocke Premium Format Figure statue turned out looking a lot… different… than anyone was expecting! I needed a 1/4 Psylocke in my life, so I went ahead and bought the Premium Format Psylocke Statue before it went to Wait List despite having some trepidations about the head. Did I make a $600 mistake? Here's my review…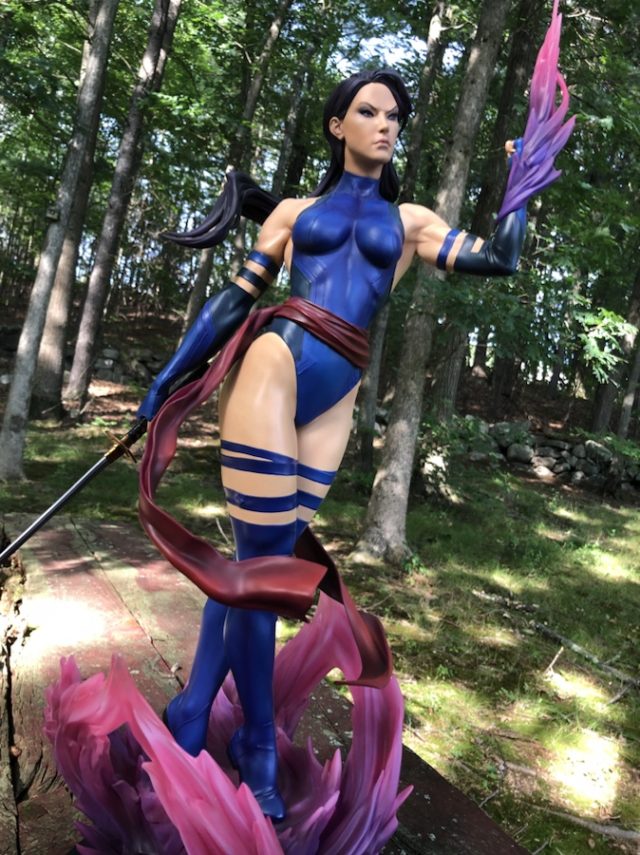 Bowen Designs' 1/6 scale Marvel statues and busts were my gateway into high-end collecting as a young adult, and even after Bowen Designs had to close down shop, I've always preferred 1/6 scale to 1/4 scale.
I've been reasonably sparing with the number of Sideshow 1/4 Statues I've purchased over the years, but when Sideshow Collectibles announced a wide series of X-Men statues last year, I knew I was screwed.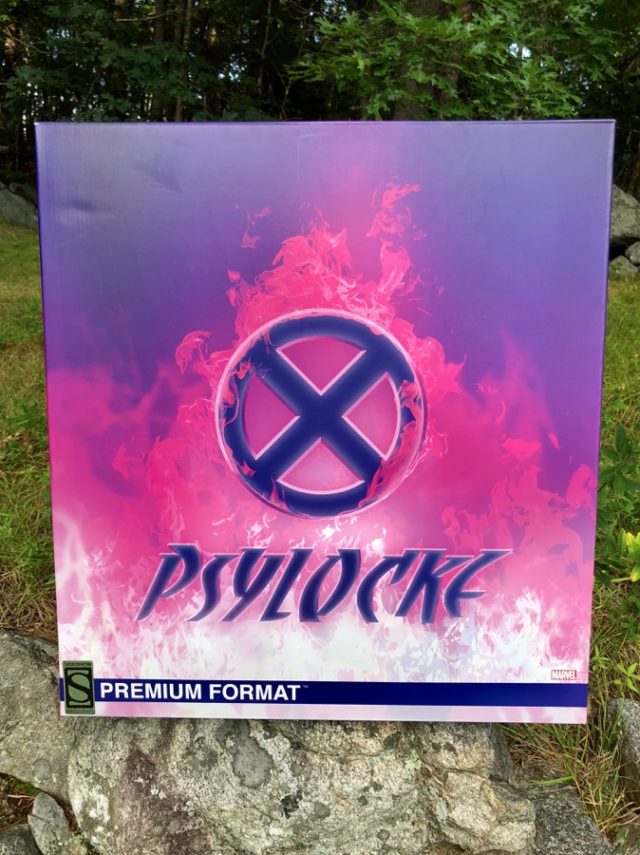 Psylocke was one of the first handful of X-Women announced, and as a long-time favorite of mine and a mainstay of my Marvel vs Capcom 2 teams, Sideshow getting my dollars was inevitable. One year and a couple weeks after her debut at SDCC 2018, she's in my home. Am I glad…? Here's my full review…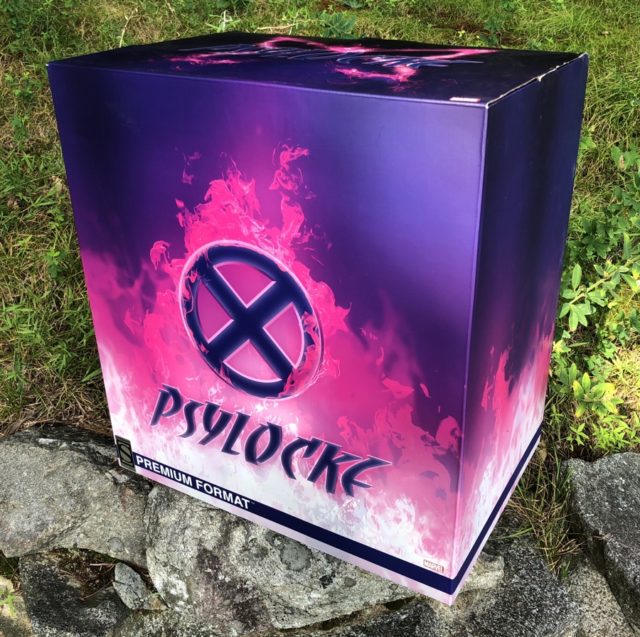 First off, let me just say that the packaging for Psylocke is absolutely drop-dead gorgeous. While there's no photos of the actual figure on the box, the graphics that are present are simply beautiful.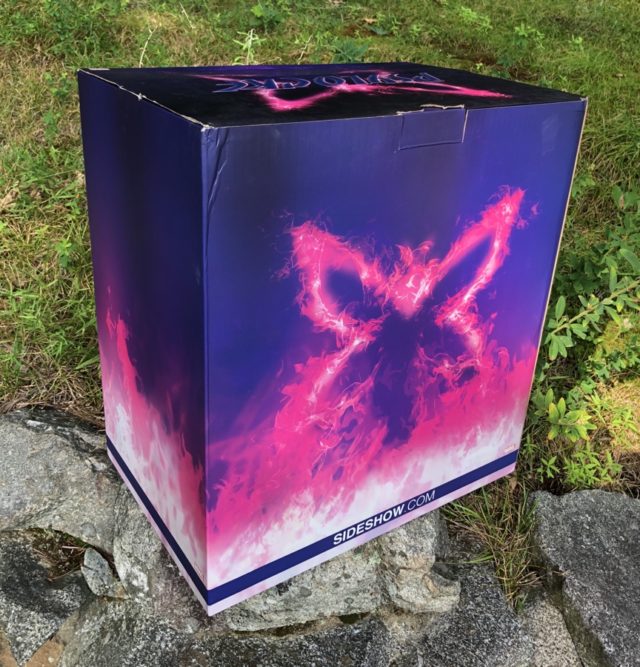 The mixture of purples and pinks on the box are incredibly eye-catching, and I love looking at how dang pretty the box is. It's a shame it's going back into its shipper and into storage now for years, but such is life!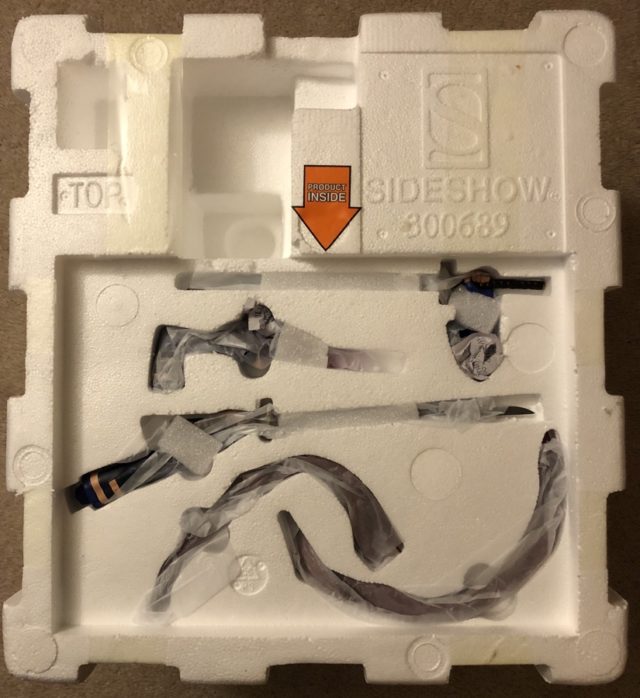 Inside the art box, we find the styrofoam packaging that's separated into two levels: arms, sash and psyblade on the top level; body, head and base inside the bottom level.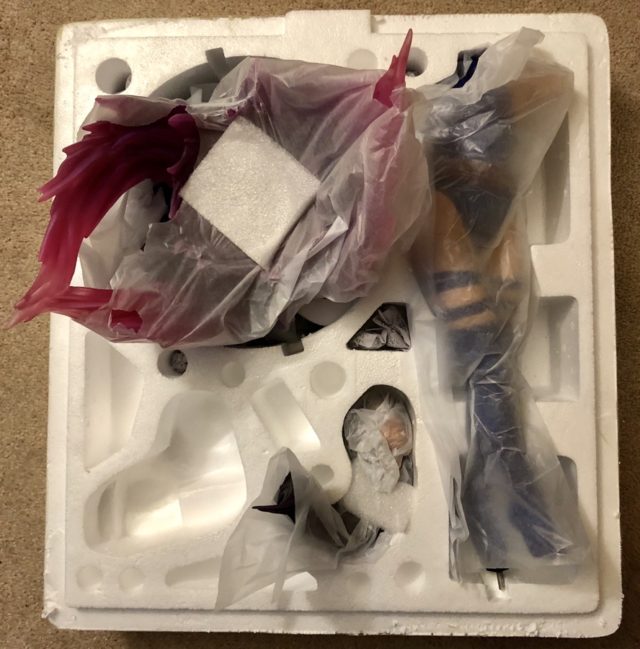 Everything was secured snugly and safely in the styrofoam—no issues. (I didn't realize how poor the lighting was when I took the unboxing photos of the pieces of the figure in the styrofoam, so my apologies for that.)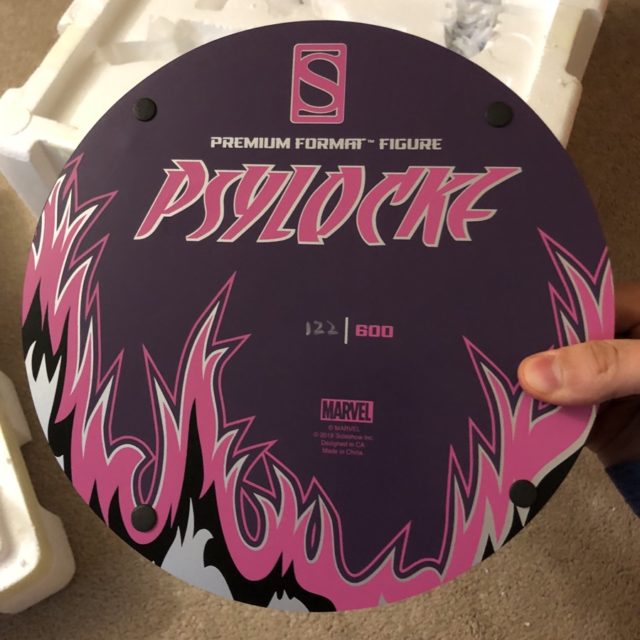 The bottom of the base has the same wicked-cool logo from the art box, as well as the specific edition number of the statue. Mine is #122/600. I'm unlikely to ever flip my statue again to see it, but again, the colors and design of the bottom of the base look excellent.
Of course, I didn't pay $585 + shipping for a box—I paid it for a quarter scale Statue. So how is it? In one word: Outstanding.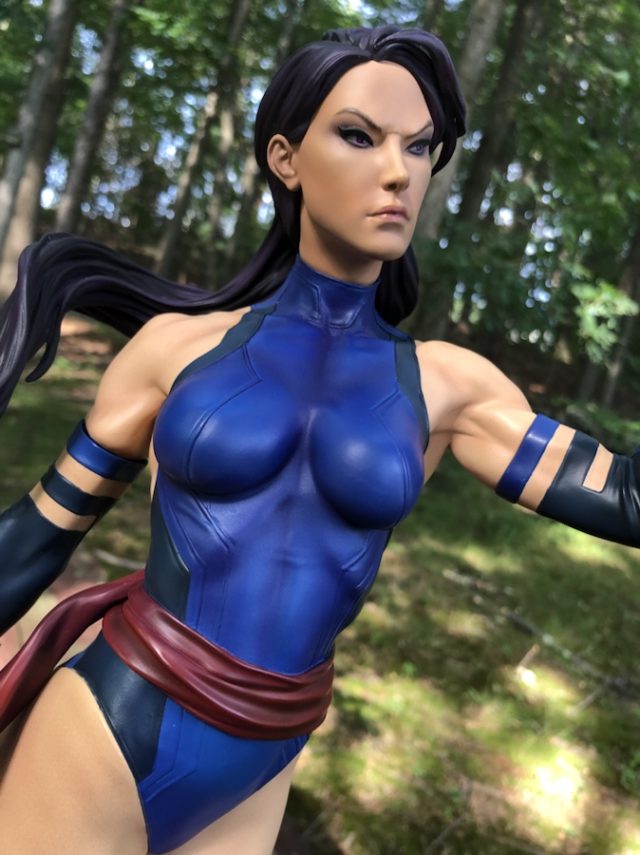 I'm very active in the online collecting community, so I've seen the outcry and vitriol directed at the head of this Psylocke statue. I saw plenty of unflattering photos when she started arriving two weeks back, and definitely had a lot of fears that I threw money away on a statue that looks "like an alien".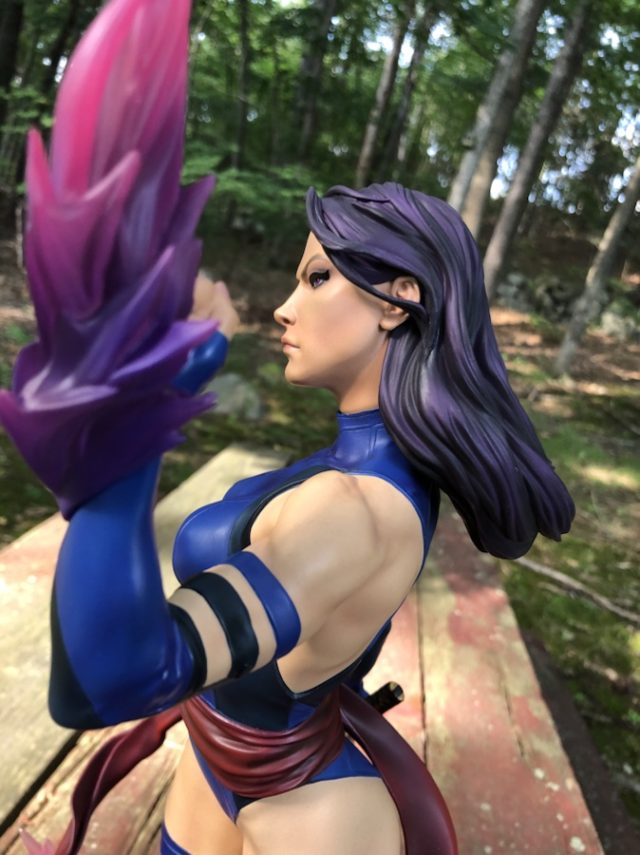 But now that I've got her in-hand and assembled, I'm rather shocked that folks are so negative toward this portrait. While some angles are clearly better than others, from pretty much any perspective I stand at, this is a wonderfully attractive Betsy Braddock portrait.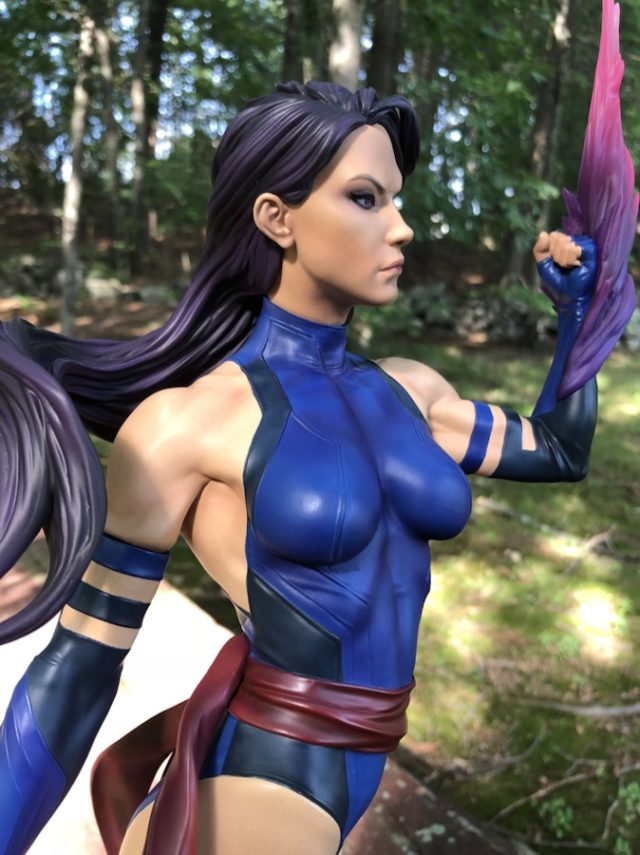 The paint shading on Betsy's face probably could have been improved in some fashion to win over a few of the naysayers, but I really don't have much of an issue with the likeness. Psylocke looks Asian—as she should—and I can feel a Jim Lee era resemblance in the face. I know plenty of folks are gonna give me flak for this, but I like Premium Format Psylocke's head. Sue me.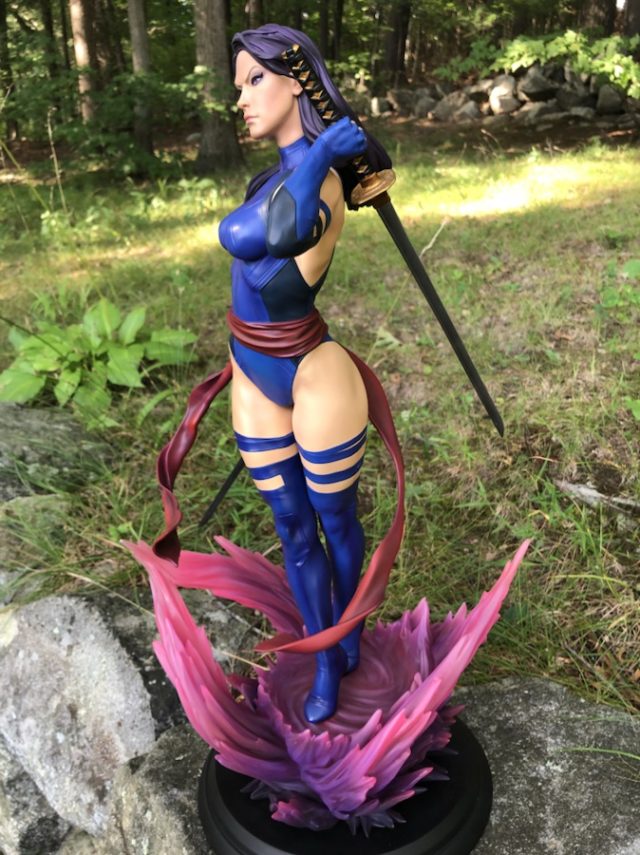 While there's been plenty of peeps mocking and ridiculing the head sculpt on this statue, sentiments about everything else on it have been extremely positive—and I fully agree with those views.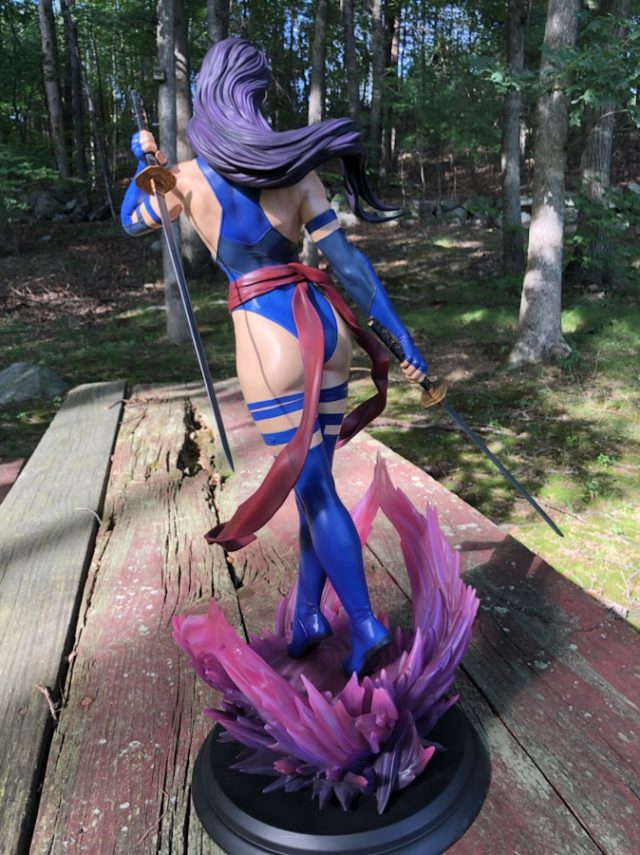 From a paint perspective, everything is neat and clean, with crisp colors and no paint slop setting off my OCD. Some may balk at the paint on the face, but I'm 100% happy with the paintwork everywhere else.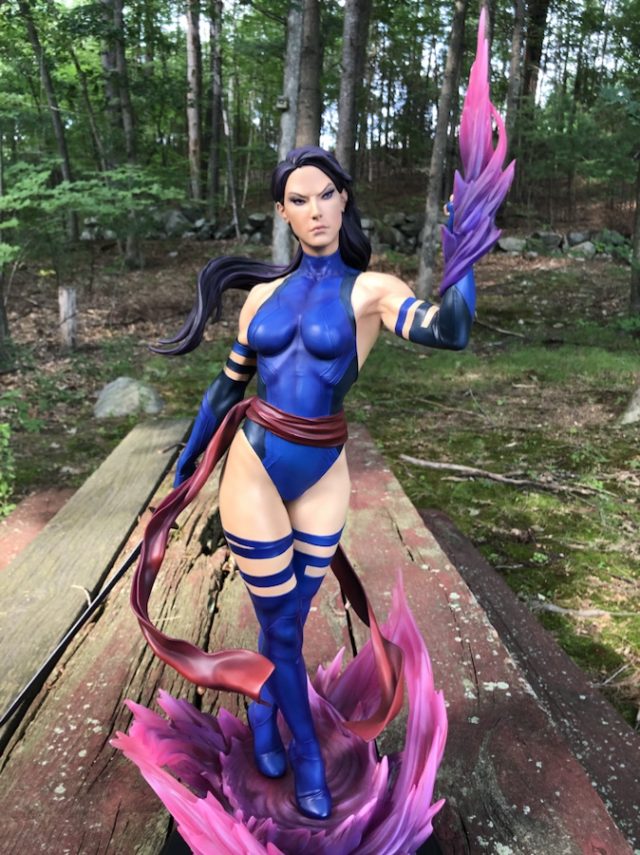 The statue pose is also a fine choice, with a sense of movement as Psylocke walks forward into battle. My Bowen Psylocke statues are just her standing around, so I appreciate this piece feeling the slightest bit more action-oriented.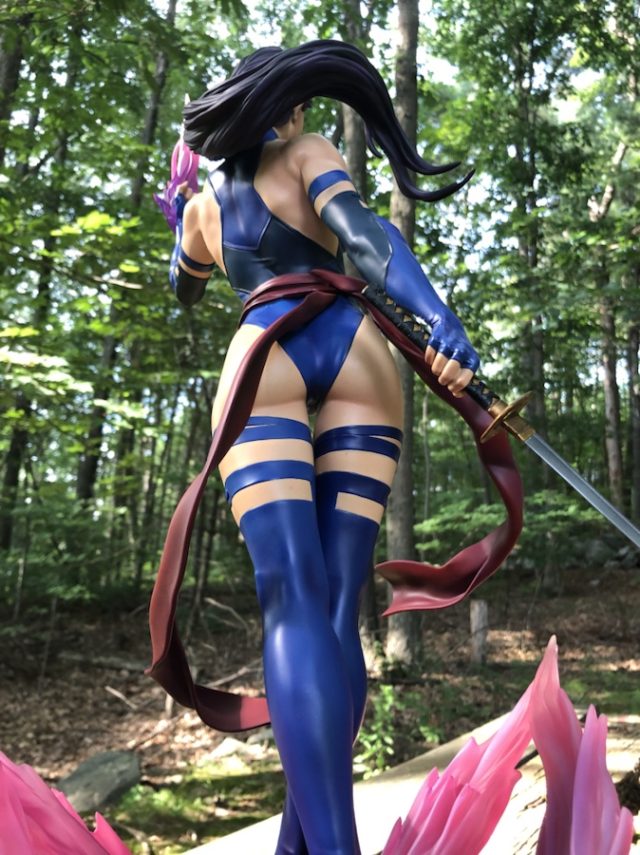 I didn't capture it very well in my photos, but there's actually a thin space between Psylocke's legs—they're not molded together as those who don't look closely might think. This is a real nice touch that I appreciate a lot.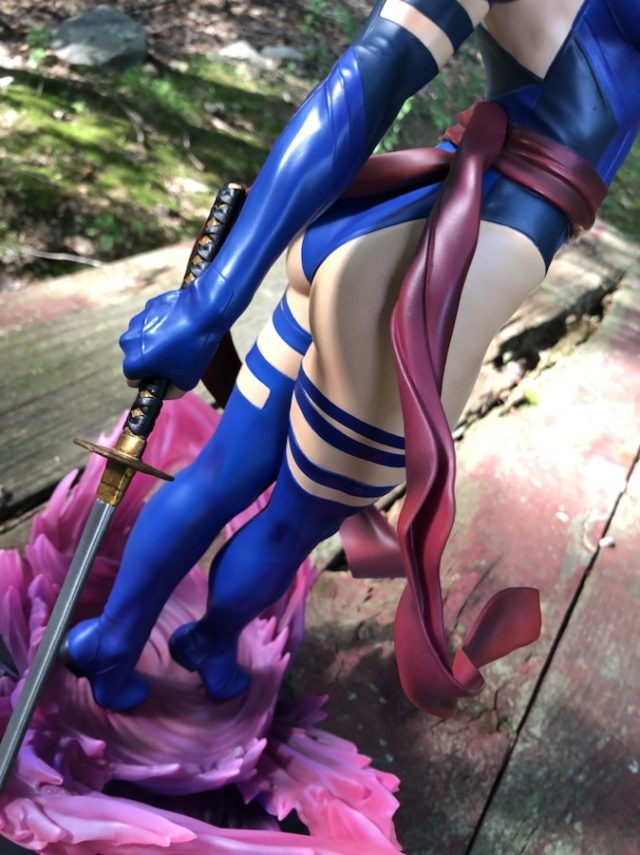 Psylocke's sash is actually composed two separate pieces that are magnetically attached by super-strong magnets. I dig the flowing sculpt of the sashes, which add an extra dynamic tone to the piece. These look and function perfect.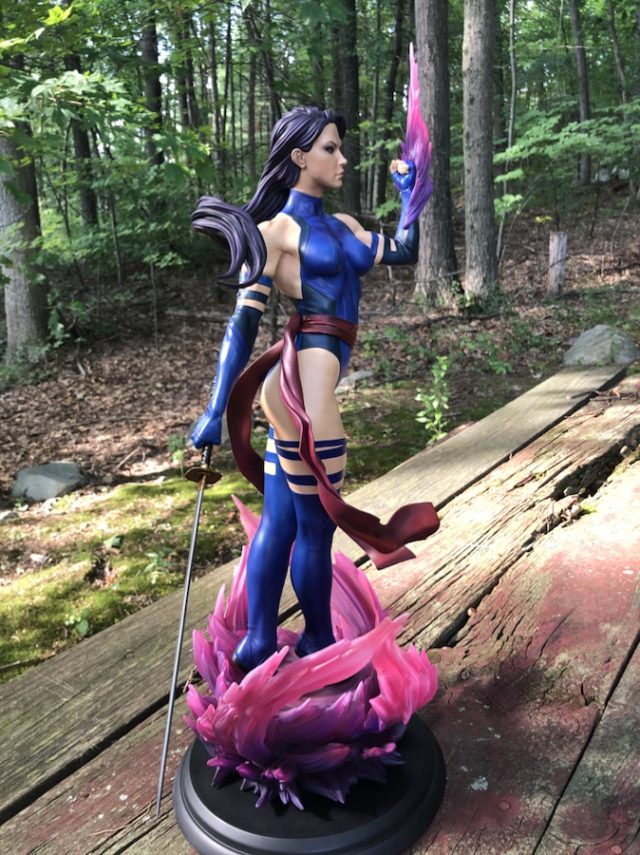 I wasn't wild about the dark blue additions to the iconic Jim Lee Psylocke costume when I first saw them in Sideshow's official production photos of the Psylocke Premium Format Figure, but in person they don't bother me at all. In fact, frankly, I sort of like the dark blue sections and feel they add to the overall aesthetic.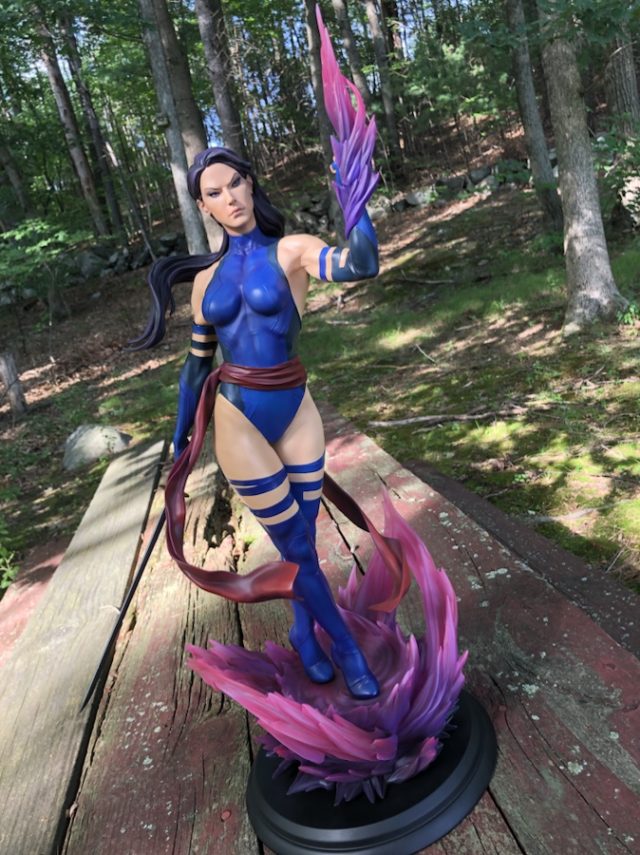 As is almost always the case, there were two versions of Psylocke available: a regular ("collector") edition for $570 (LE 1200) and a Sideshow Exclusive edition for $585 with an additional arm with a psyblade (psychic knife) limited to just 600 pieces.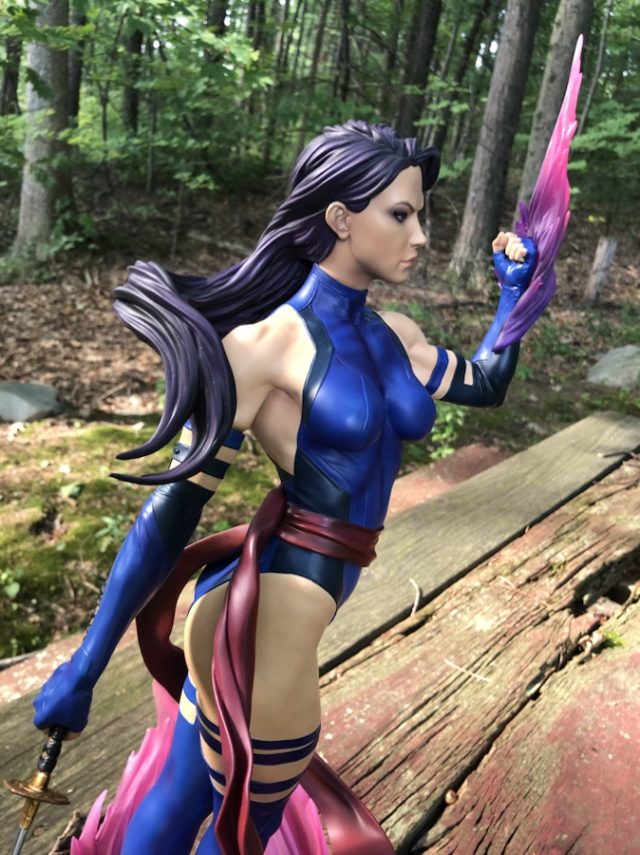 For me, the Psyblade was an absolute must, as I always picture Betsy with a Psyblade in hand as she appears frequently in Marvel v Capcom and on so many comic book covers. I've heard a few gripes about the Psyblade, but to me, it looks phenomenal. I love the gradient of purple to pink, and it looks like the correct shape and length that I remember. This is the way I'll be displaying my Premium Format Psylocke figure for years to come.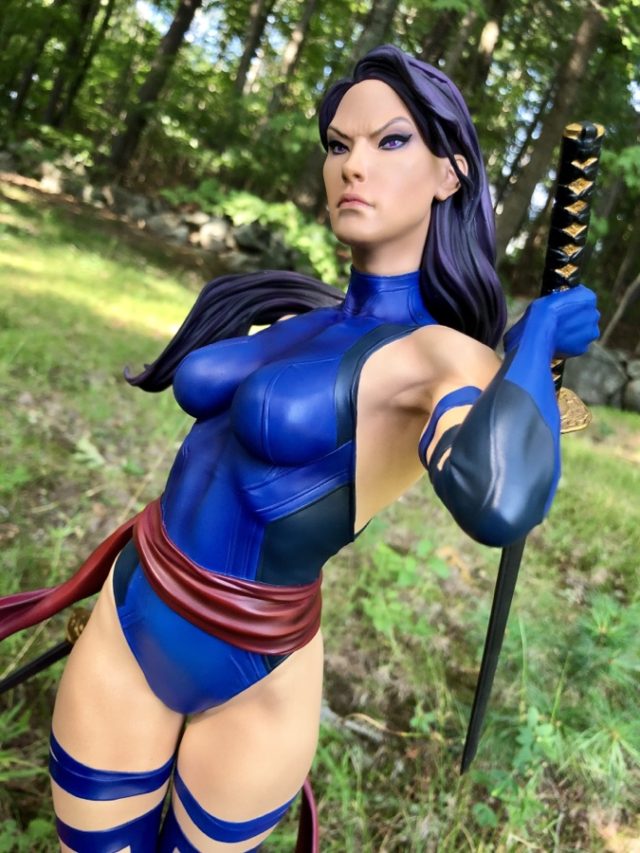 That's not to say Betsy looks bad with the default left arm clutching a second sword, however. I think Psylocke looks quite elegant nonchalantly holding the katana behind her back—it just doesn't speak to me in the way that the psychic knife which demonstrates her powers does.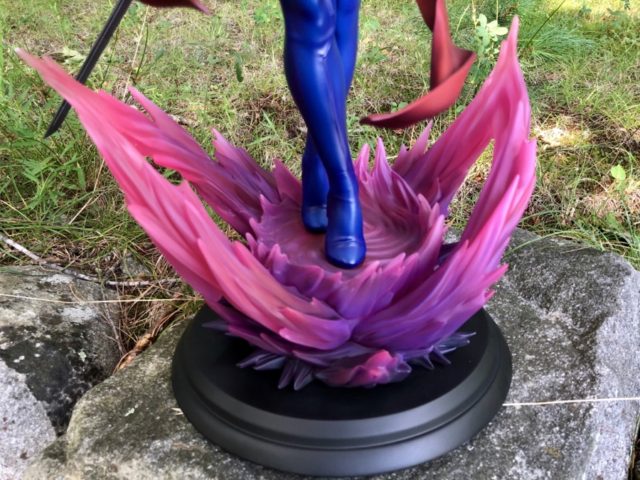 The base on this piece is large and heavy, as Psylocke is stepping through what appears to be a huge mass of psychic energy. This is a little weird, as it feels like Super Saiyan Energy surrounding Goku or something, but I'm okay with this as an artistic design choice.
I love pink (my hair is pink, after all), and the shape of the psychic energy base actually does have the right "feel" to evoke Betsy's powers to me. Some will dislike this, but I think it's lovely.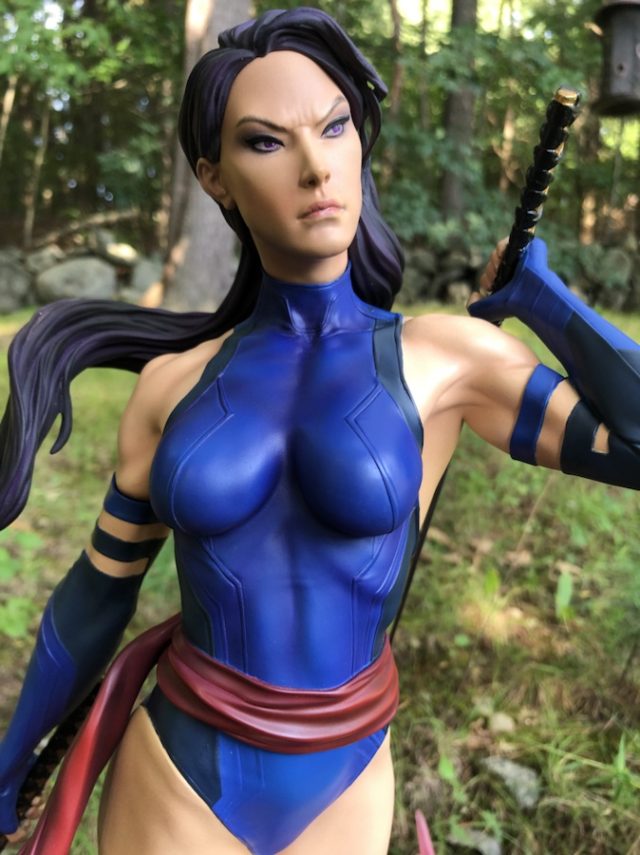 I'm still a little sticker-shocked that a relatively simple statue like Psylocke runs $600+ shipped these days, but with the high quality of this 23" piece, I don't feel too bad about my choice to pick her up.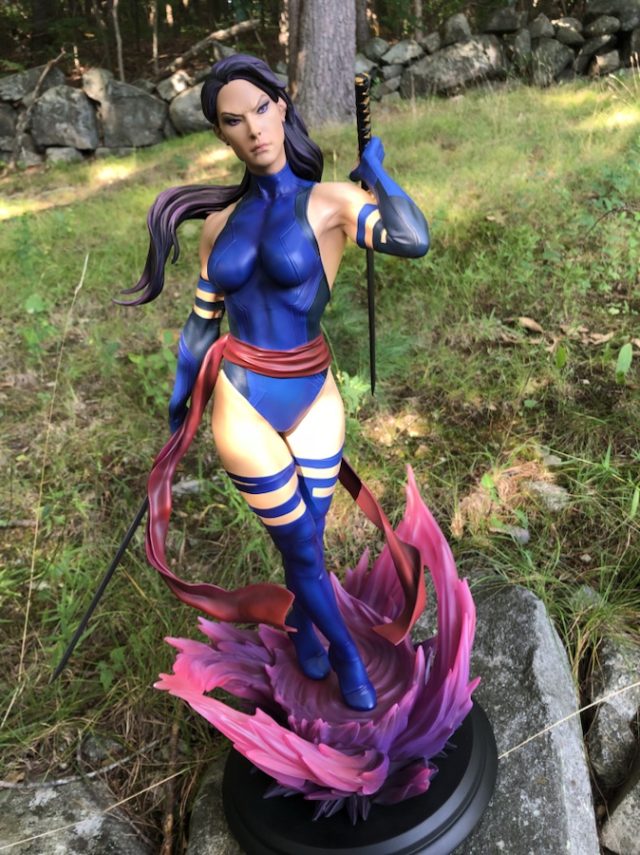 Overall: I feared the worst when the first few collectors started posting photos when their Psylocke PF statues arrived– and in fact, one of my closest friends told me I was "an idiot" for ordring Psylocke–but I can breathe a sigh of relief that my decision to purchase her was a good one.
From the neck down, this Sideshow Psylocke Premium Format Figure is an 'A+' stunner, and while the portrait definitely looks slightly better from some angles than others, I think looks pretty killer from almost any perspective.
The packaging is gorgeous, the EX psychic knife looks as good as I'd hoped, and the paintwork is terrific throughout. I think $585 is still a bit high for this piece, but since the regular and exclusive editions are both Wait Listed already, there still seems to be a strong following for this piece despite the head controversy. Not perfect, but still the best 1/4 Psylocke ever released.
GRADE: B+
The post REVIEW: Sideshow Psylocke Premium Format Statue! Unboxing Photos! appeared first on Marvel Toy News.