Hollywood has a long, rich history of action stars. Charles Bronson (Death Wish), Arnold Schwarzenegger (Predator, Terminator), Jean-Claude Van Damme (Double Impact/ Universal Soldier), Sylvester Stallone (Rambo/ Rocky), and Bruce Willis (Die Hard). The list is endless. Chuck Norris was a movie hero mainstay in the '80s, starring in films such as Missing In Action, Invasion U.S.A. , and The Delta Force. The famed martial artist even roundhouse kicked his way through the '90s with his very own television series: Walker, Texas Ranger.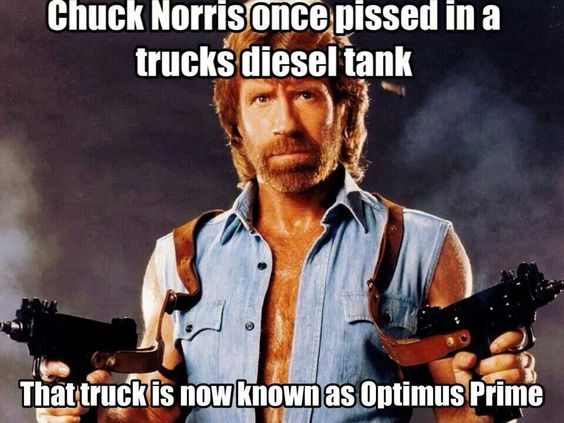 The 21st century saw many of our favorite action stars ride off into the sunset (where art thou Van Damme?), but not Chuck. Thanks to a thing called the internet, Chuck Norris' popularity soared to godlike levels courtesy of an endless stream of hilarious Chuck Norris "factoids".
"Chuck Norris doesn't turn on the shower… he stares at it until it starts to cry."

"Chuck Norris has already been to Mars… that's why there are no signs of life there."

"Chuck Norris once fought Superman… the loser had to wear his underwear on the outside."
Not a bad way to make comeback. The memes, combined with his past action hero stardom, have firmly cemented Chuck Norris in pop culture. And now thanks to SD Toys, fans can celebrate the man, the myth, the legend as a new collectible figure diorama.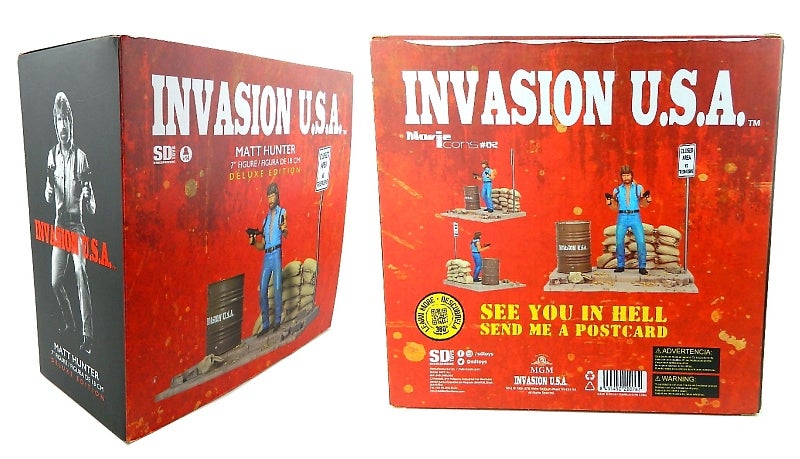 The second release in SD Toys' Movie Icons series, the figure diorama is based on 1985's Invasion U.S.A., an over-the-top shoot 'em up that acts as the living embodiment of a Chuck Norris meme. The film stars Chuck Norris as Matt Hunter; essentially Chuck Norris dressed in head-to-toe denim (except when it tends to peel away from his chest), spewing out classic one-liners ("If you come back in here, I am gonna hit you with so many rights you are going to beg for a left.") and shooting more bullets and bad guys than an action movie has any right to do. In other words, Invasion U.S.A. is outrageously silly and fun. The stuff cult classics are made of.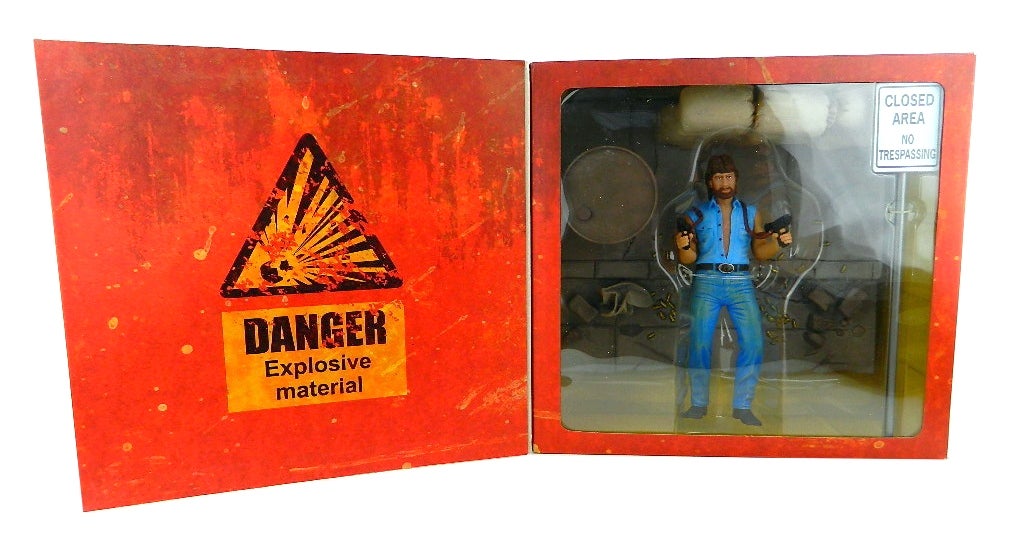 Made of durable PVC plastic, the Chuck Norris diorama comes handsomely packaged in a bold red window box with opening flap. To remove Chuck, simply slide out the two plastic trays. The top layer features Matt Hunter tied down by one twisty tie at the waist, while the lower portion houses the bullet-ridden diorama and street sign. To assemble, just plug Chuck onto the base. Voilà! Insta-battle out of the box (1000 dead bad guys not included).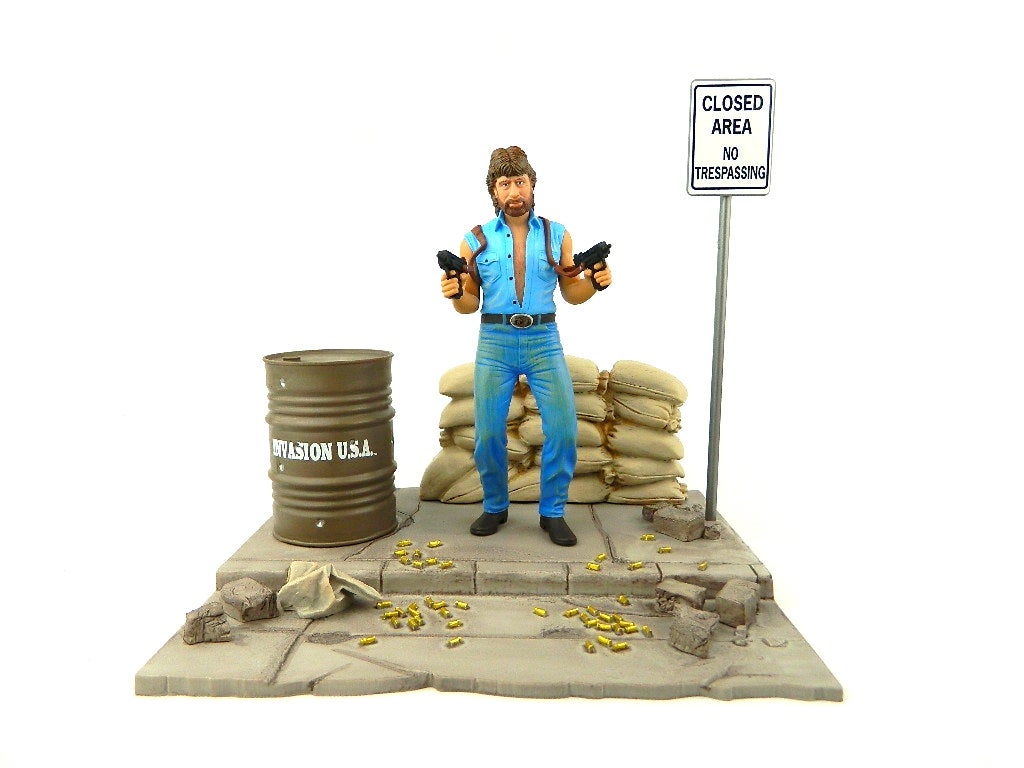 Once built, Chuck Norris/ Matt Hunter impresses at 7-inches tall with his dual 9mm Micro Uzi Pistols locked and ready to rock – just like the iconic movie poster.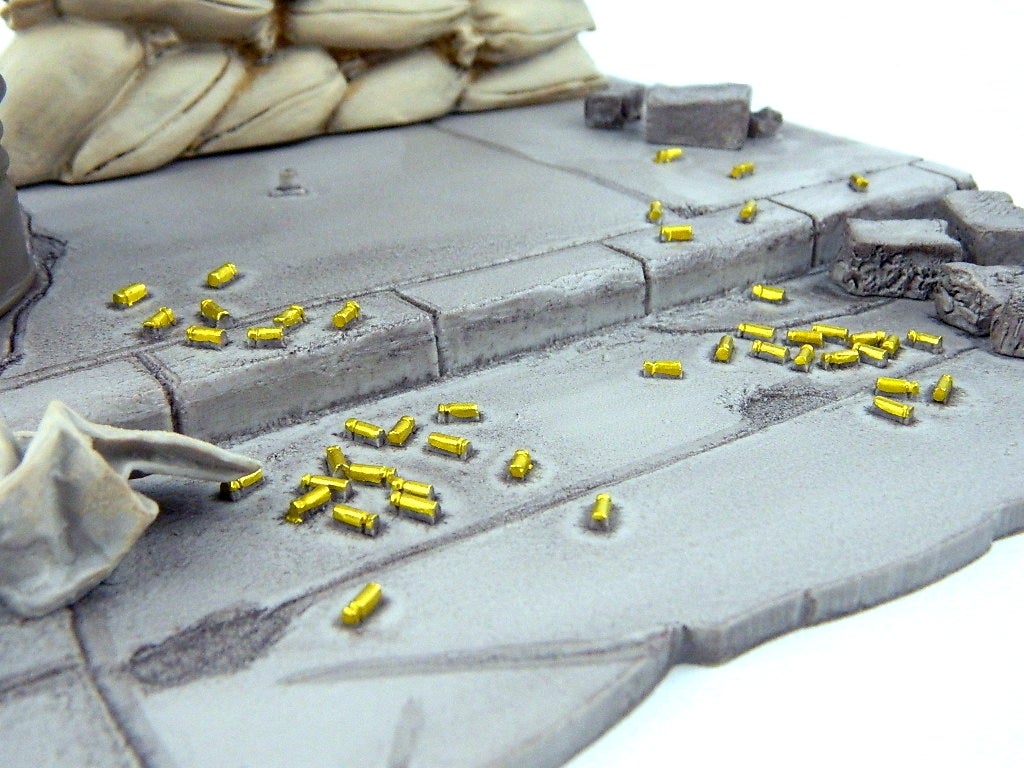 To go along with his guns, the base comes decorated with a plethora of just spent shell casings – 45 to be precise – leaving 22 rounds left loaded for 22 more bad guys to kill.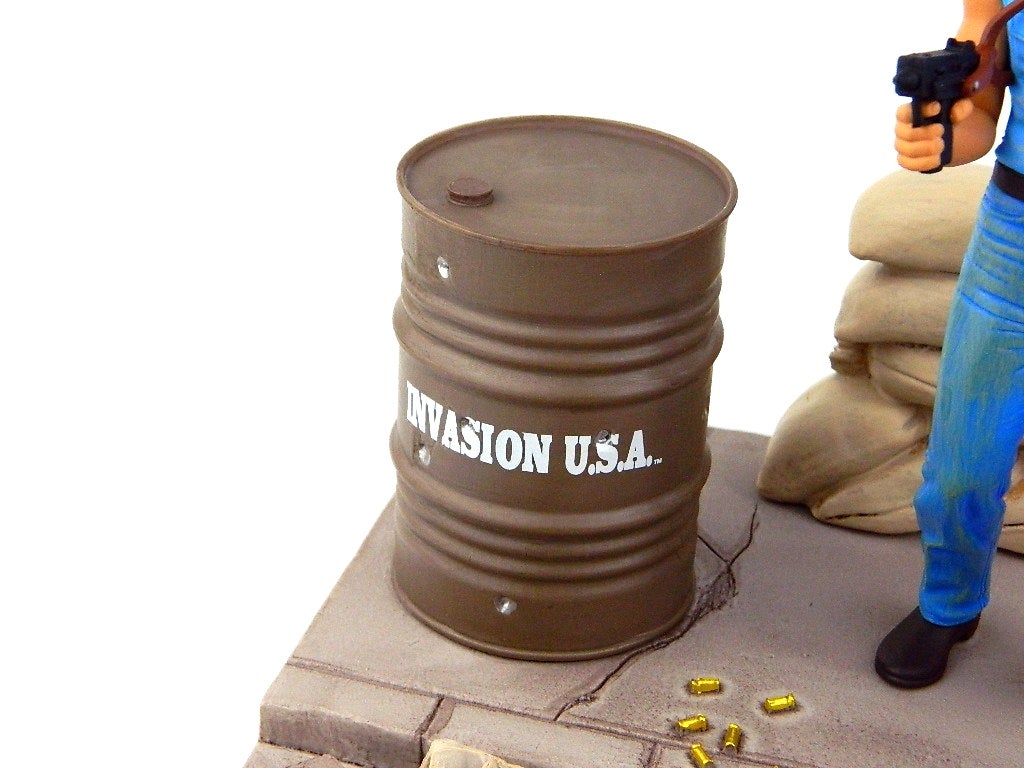 A metal barrel (smartly stenciled with "Invasion U.S.A."), sand bags, broken concrete, and some rumpled up newspaper all come permanently attached to the base and help paint the picture of all hell breaking loose. Add on the street sign with its tongue-in-cheek "Closed Area: No Trespassing" (those pesky terrorists just don't listen!), and you have yourself one knockout display.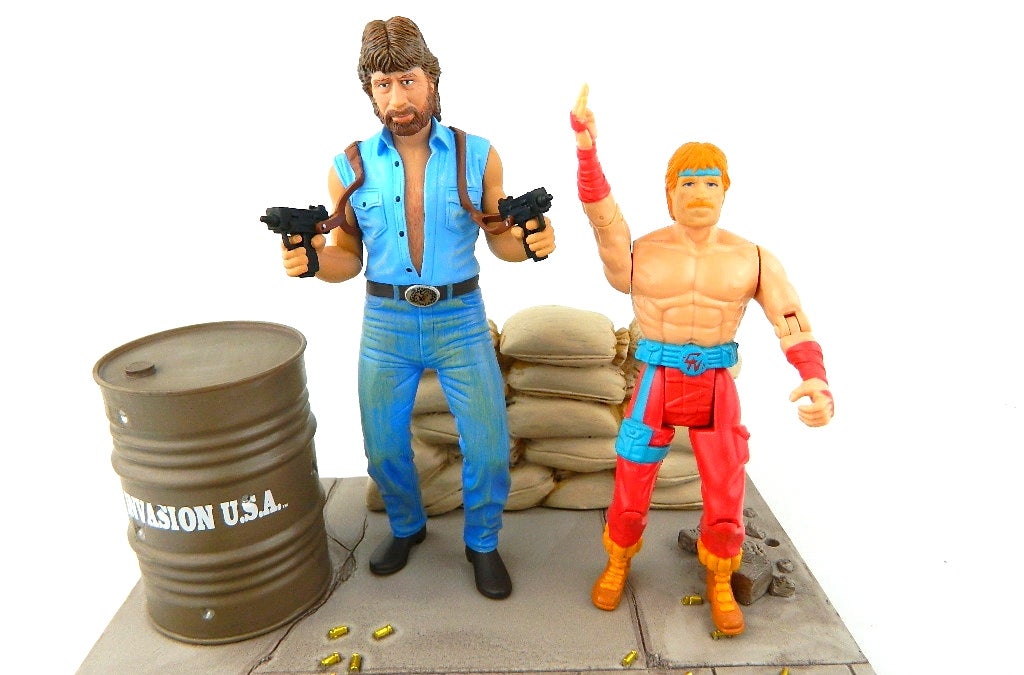 The world may have more than enough Chuck Norris factoids, but it is seriously lacking in Chuck Norris collectibles. SD Toys' Invasion U.S.A. Chuck Norris Figure Diorama is just the thing every Chuck Norris collection deserves.
The Invasion U.S.A. Chuck Norris Figure Diorama is available to order now through many fine retailers, including BigBadToyStore.com where it is in-stock priced at $69.99. And remember: "Chuck Norris does not sleep. He waits."
Review and Photos by Jeff Saylor
Review Sample Courtesy of SD Toys
[See image gallery at www.figures.com]
---
Keep up with all the latest toy news by following Figures.com on Facebook and Twitter!
To buy action figures, take a look at Hobby Link Japan, BigBadToyStore.com, TheToySource.com, Toynk.com, and BriansToys.com.