I know that there are tens of thousands of fans hella excited about the release of the Spider-Man PS4 video game—but, well… I half-forgot it was coming out at all until the PS4 Spider-Man Collector's Edition I ordered from Best Buy turned up on my doorstep today. The mystery Spider-Man Statue alone has been selling for $100+ online, so I was dying to dig in and see what it looked like. Was it worth spending the extra 90 bucks to get the limited edition version…?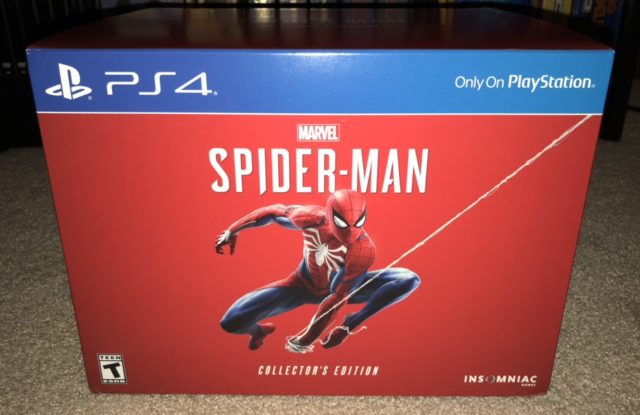 I don't ordinarily review video games (Marvel or otherwise), and I won't be doing so today either. So if you're looking for a review of the PS4 Spider-Man game itself… prepare for disappointment. But if you're looking for some quick unboxing photos and impressions of the loot that comes with the Spider-Man CE? In that case, I've got ya covered!
The Spider-Man PS4 Collector's Edition comes in a heavy, sturdy shoebox-style box that's surrounded by a slipcover. The slipcover is basic-but-elegant, with the logo and Spider-Man swinging at a red background on the front. Simple, but effective.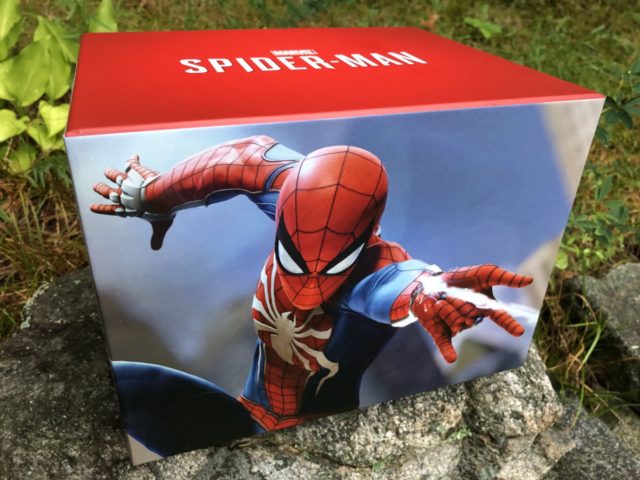 The actual art box for the Collector Edition has some bright and nicely-printed graphics on them, and looks very attractive. I think the artbox looks much better with the slipcover removed, honestly.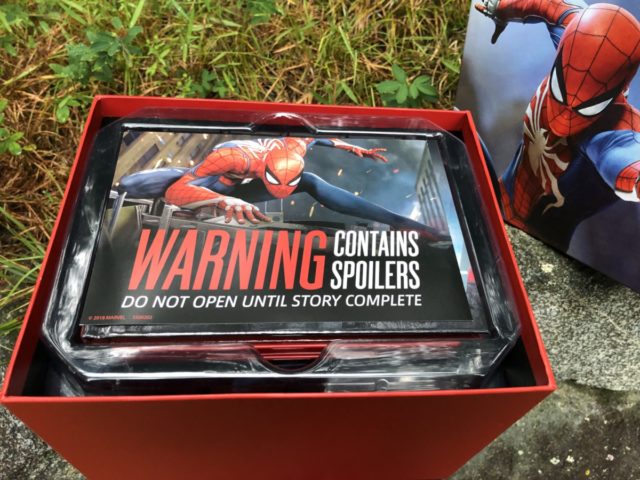 Once you pop the top off the box, you're immediately greeted with a piece of paper warning you of contained spoilers, and not to proceed. As I needed to get to the other contents in the box, I continued unboxing anyway.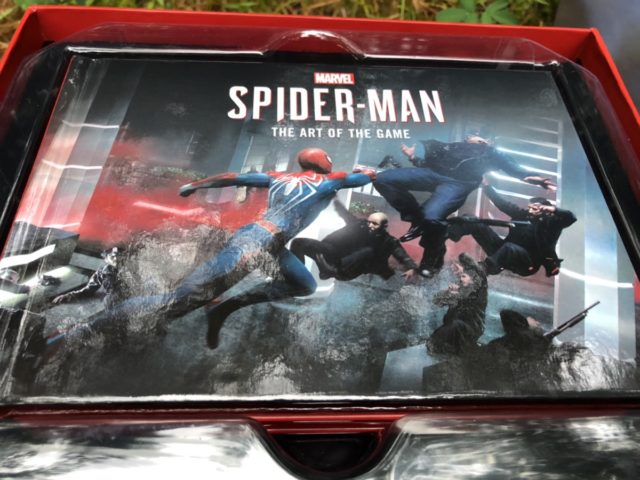 Underneath the spoiler warning is a little 64-Page "The Art of the Game" hardcover art book. Assuming that this actually might have some major spoilers in it, I didn't open it up. It's not flimsy at all, though—it feels like a quality item for its size.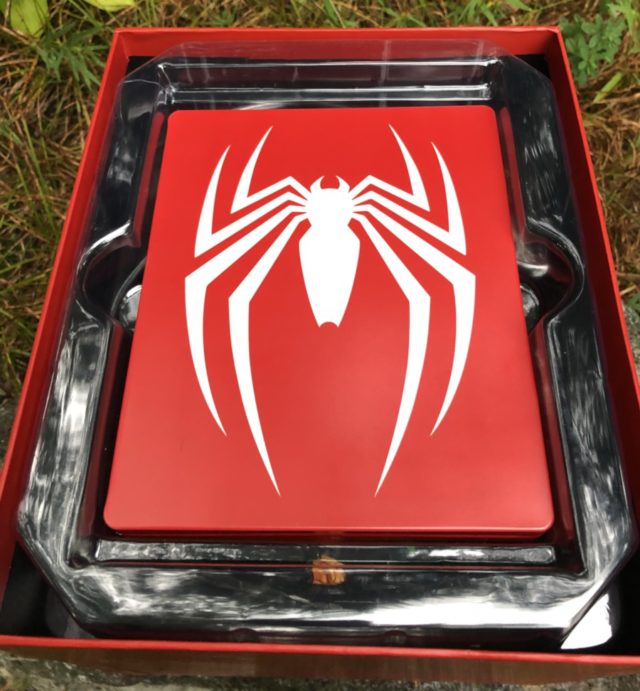 Beneath the art book is the PS4 Spider-Man Steelbook. This is red with the white spider logo on the front and looks slick as hell. I'm developing a real weakness for Steelbooks, so this was a primary reason I bought this limited edition version of the game.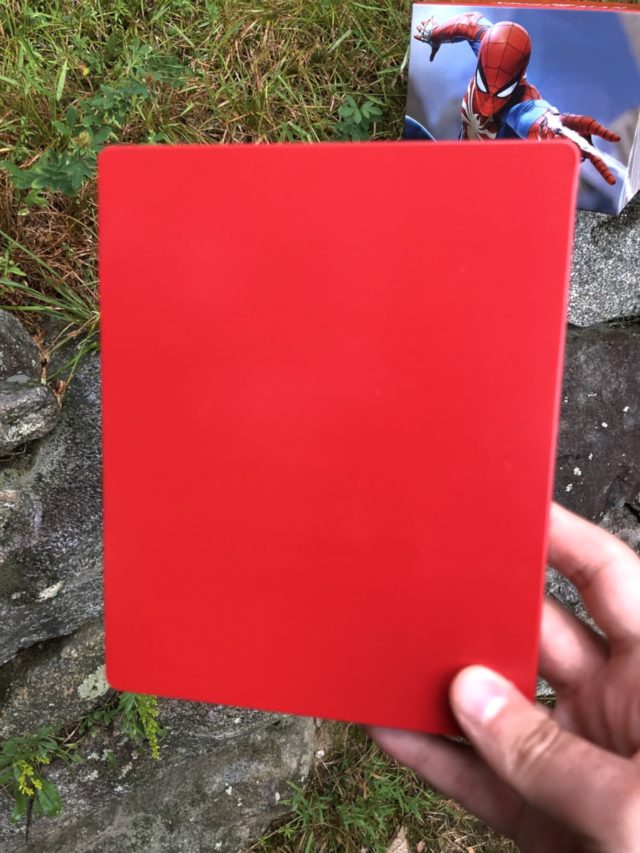 I was disappointed to see that the back of the Steelbook is just pure red, though. It's plain and boring and makes no sense to me—the back of Spidey's costume for this game isn't plain red, so I'm not sure why this case is. It feels like a real lack of effort to leave the back "blank", though.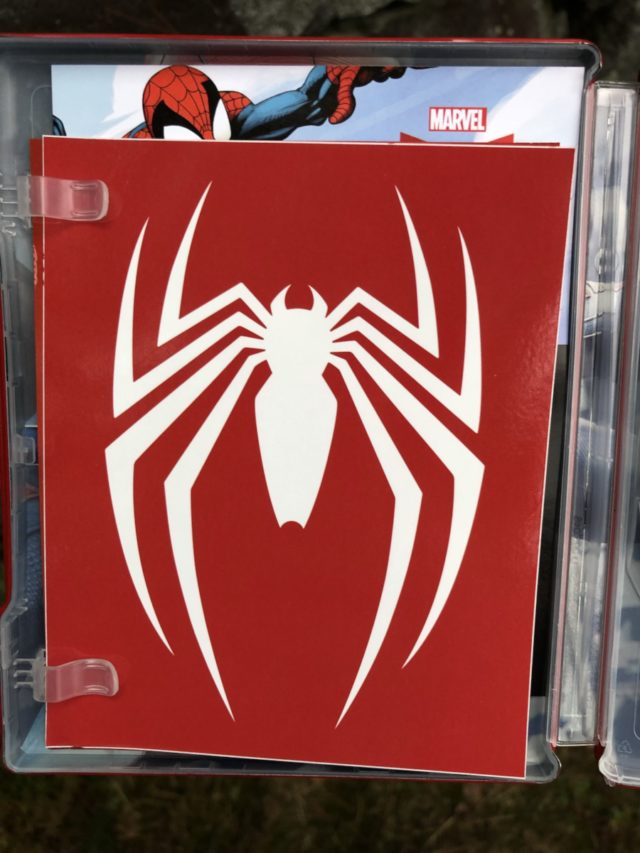 Inside of the Steelbook is a white Spider-Man logo sticker (no, seriously—a sticker was one of the selling points for this set) and a card with the code for the DLC for this game.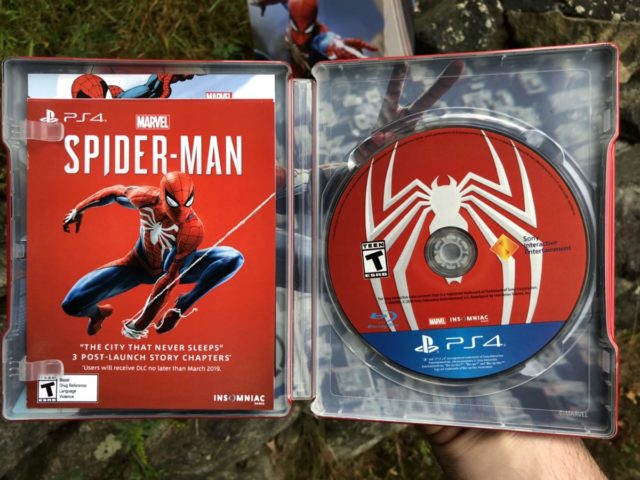 I have a stack of unplayed games about a dozen tall, so it'll be a while until I get around to playing the PlayStation Spider-Man game, but it's nice to know I'll have all the downloadable content when I do eventually play.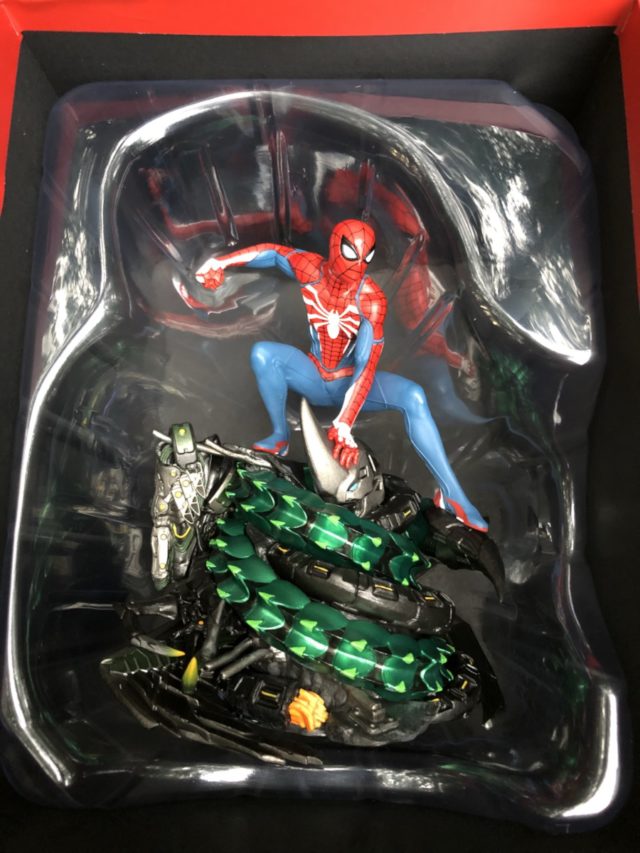 Underneath the video game is the final (and presumably most expensive) piece of the deluxe edition: a statue of Spider-Man upon a base that's been strictly hidden as a secret since the Collector's Edition was announced.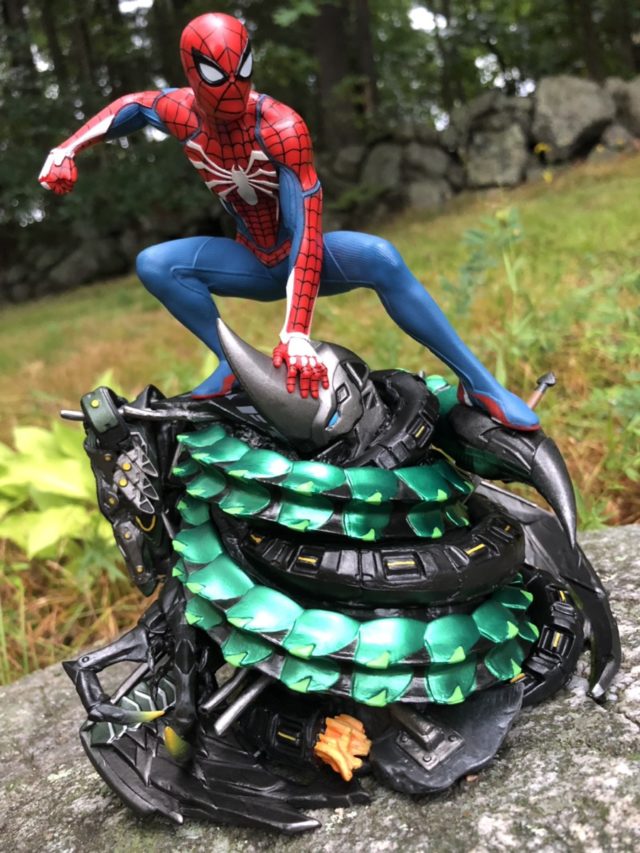 And the big secret is… well, I dunno exactly what it is. There may be unwitting spoilers here, so beware and stop reading if you're worried about that sort of thing.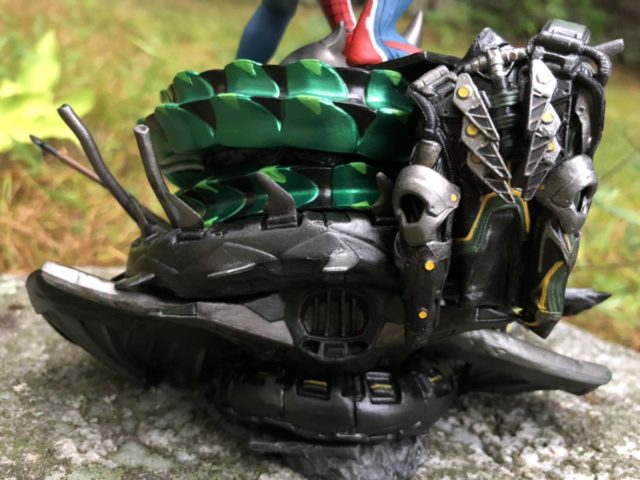 The base consists of… a big pile of pieces of armor, presumably of the Sinister Six. I spot chunks of armor from Electro, Vulture, Scorpion, Rhino and Doctor Octopus here. I think the big "spoiler" here might be the Doc Ock tentacles, but I always just assumed Doc Ock would be in this game, so I wasn't like "*GASP!*" when I saw his arms represented here.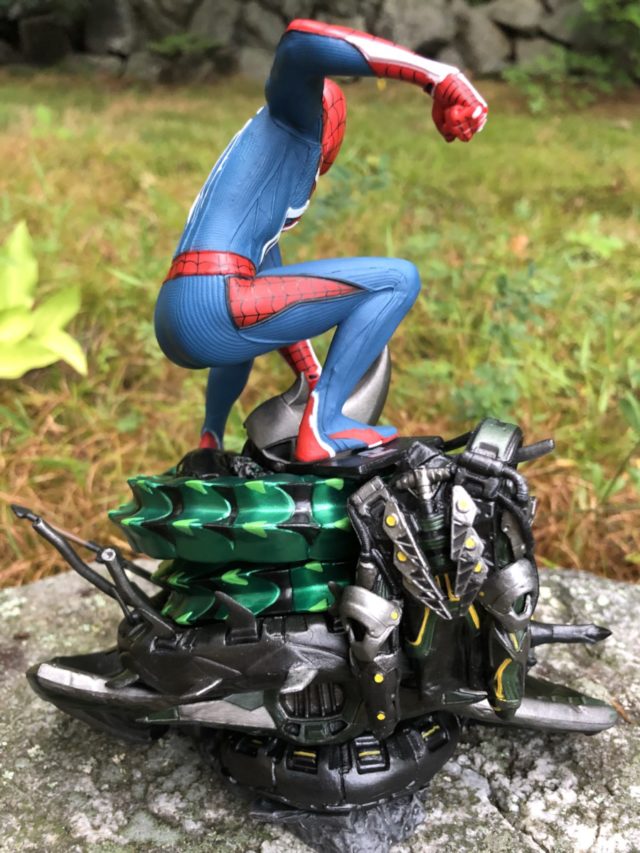 I'm suspicious that the real reason this base was obscured up until now is that, well… it's a total mess. It's hard to make heads of tails of what you're looking at with this piece, and it looks more like a cluster than anything super-cool.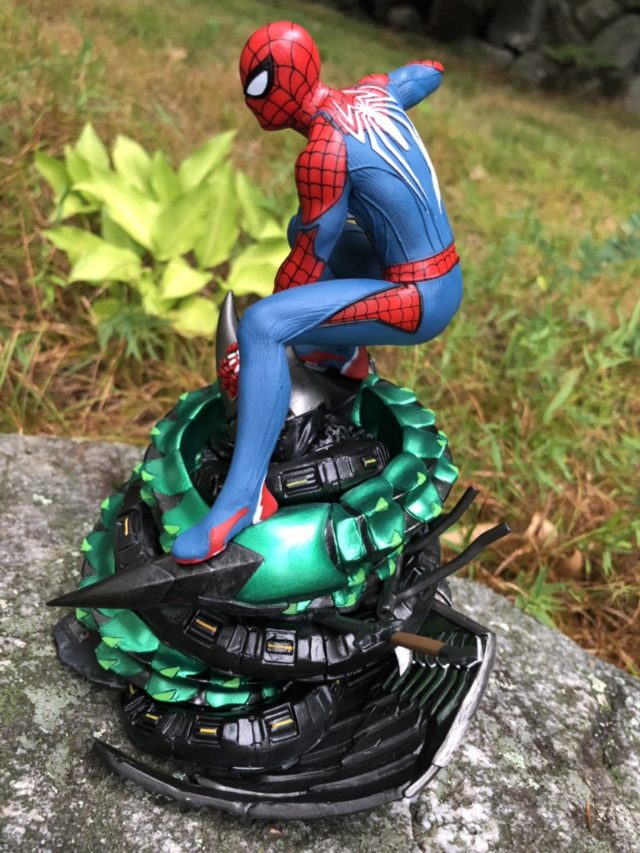 Had I seen the base before ordering the CE, I might have straight-up passed.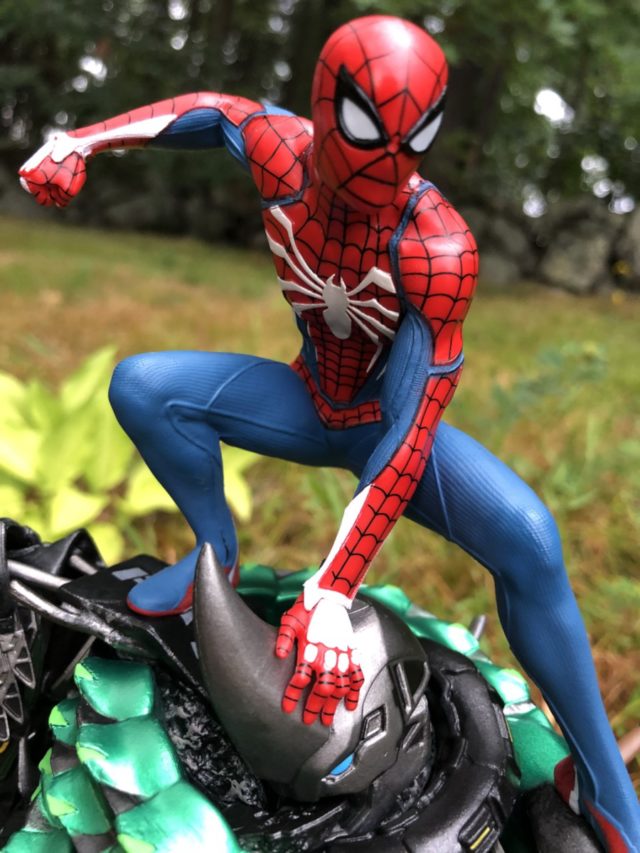 The statue itself is PVC and fairly small at just about 7″ tall. Diamond Select Toys regularly makes Marvel Gallery PVC statues that are larger and better-looking, IMO, so I'm not at all impressed by this. The Spider-Man figure itself on the statue looks way too rubbery and plastic for my taste, and the white paint apps on his logo just don't look up to snuff.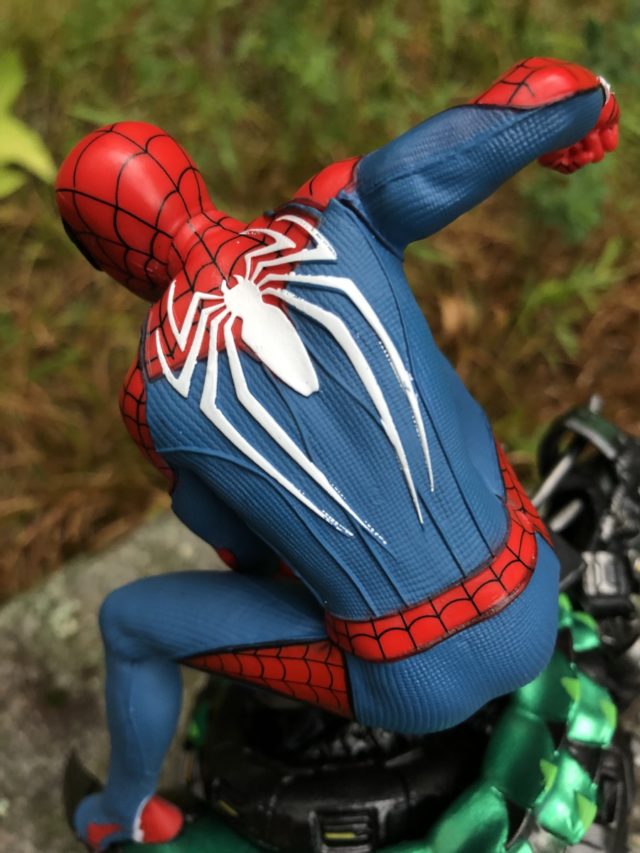 Gentle Giant supposedly worked on this statue, but I'm only familiar with their resin Marvel statues—all of which look far sharper and nicer than this piece. Personally, I think this PVC Spider-Man statue is easily the weakest part of this Collector's Edition. A major disappointment.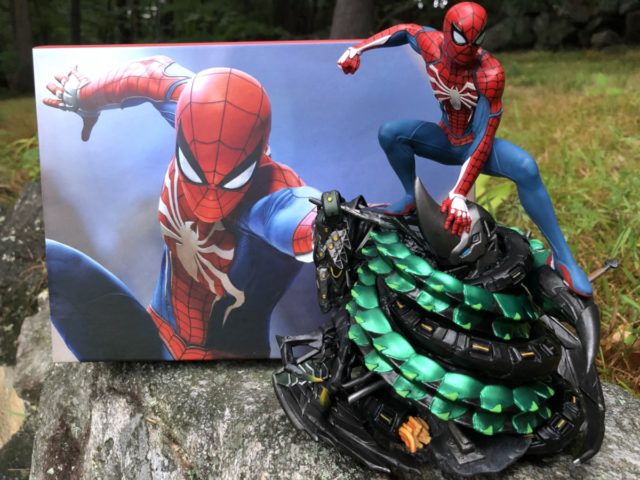 Overall: While I think that the art box itself is nicely done here and I really appreciate the simplicity of the video game Steelbook cover, I have a really hard time justifying the $150 MSRP on this item. The Steelbook being plain red on the back is lame, and the "statue" is a total mess and looks cheap. I'm still looking forward to playing this game (eventually—I'm pretty slow), but in this instance I wish I'd just paid for the basic version of the Spider-Man PS4 game. For a Collector's Edition, this feels pretty lackluster.
GRADE: C-
The post REVIEW: PS4 Spider-Man Collector's Edition & Statue (Video Game) appeared first on Marvel Toy News.