–Review and Photos by David Yeh
It's hard to remember an age before the Teenage Mutant Ninja Turtles existed, and we're getting into that territory that's difficult to keep up with all the different iterations. Their latest, Rise of the Teenage Mutant Ninja Turtles, made its debut on Nickelodeon this past September and has already been picked up for more episodes. The plot is more or less about the four brothers of turtles, but this time they face off against the evil Baron Draxum (voiced by John Cena) who attempts to turn all kind into mutants.
We'll take a look at five of the new figures released by Playmates Toys for the new cartoon, including the main turtles and the new baddie.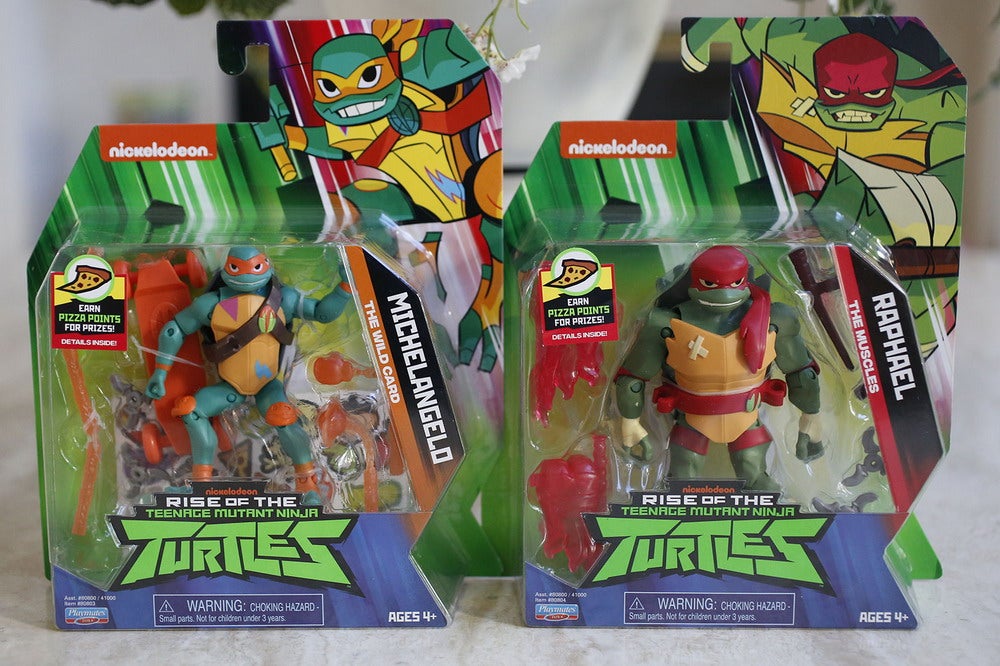 Visually, these aren't your 80's Ninja Turtles, nor are they even close to the turtles of just a few years ago. This new cartoon has a 2D animated look that is fast-paced and frenetic, and the designs of the turtles reflect that flatter style. It could be off putting to start but if you've seen the cartoon then these are certainly in line with that.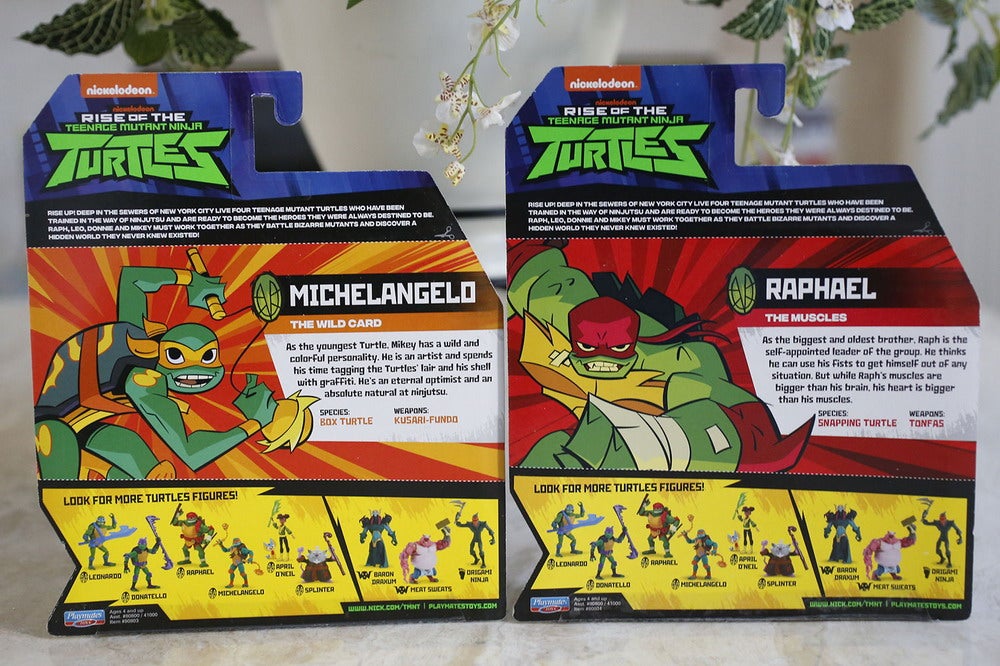 The cardbacks for each of the turtles have unique art but the villains have a more generic card that shows off all four turtles. The look really pops and carries over to the backside where individual bios of the character can be found. Other figures released in the basic assortment include April, Splinter, Meat Sweats, and Origami Ninja.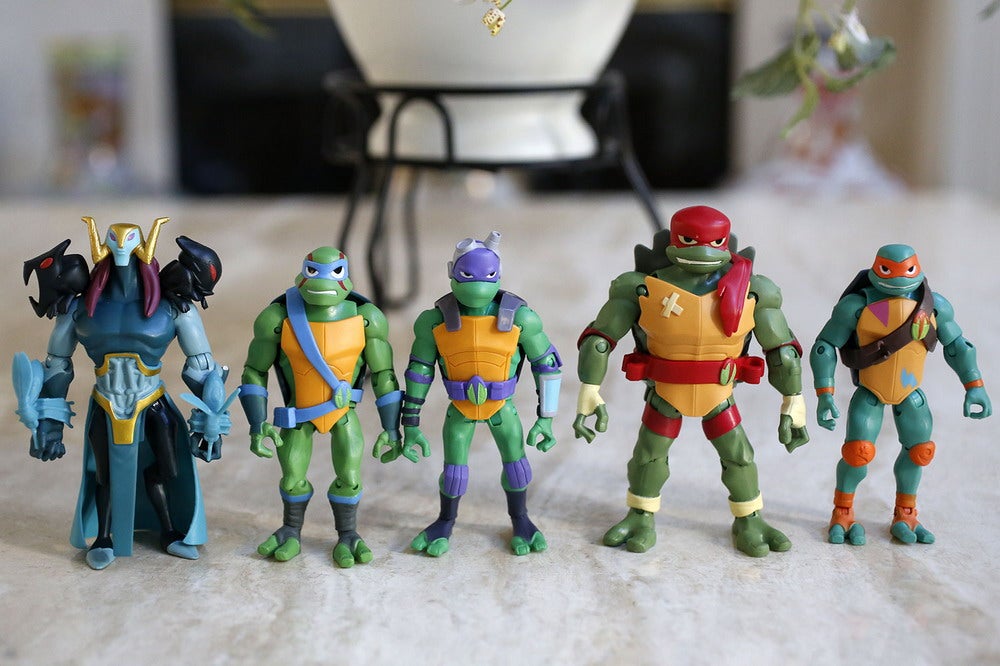 Getting to the turtles themselves, you might wonder why they all look so different. This time around, they're different species of turtles and surprise, Raphael is the leader now, being the biggest of the bunch. Raph is a snapping turtle, Michelangelo is a box turtle, Donatello a soft-shell turtle, and Leonardo is the more common household pet, the red-eared slider.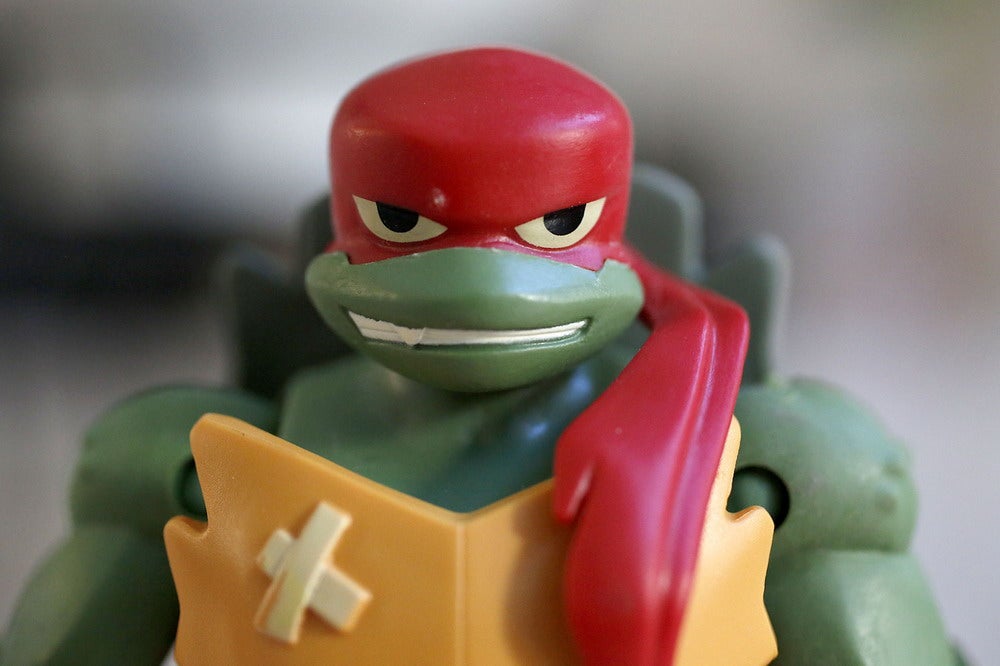 With each turtle a different species, there's very little reusing of parts between them and all are more unique in their own way. Michelangelo is the smallest and youngest, but Donatello isn't much bigger either. Some of the turtles have places to holster a weapon or two, but aside from Leonardo or Raph, they don't quite look right. Michelangelo has a holder on the front of his strap but his weapons aren't suited for dangling.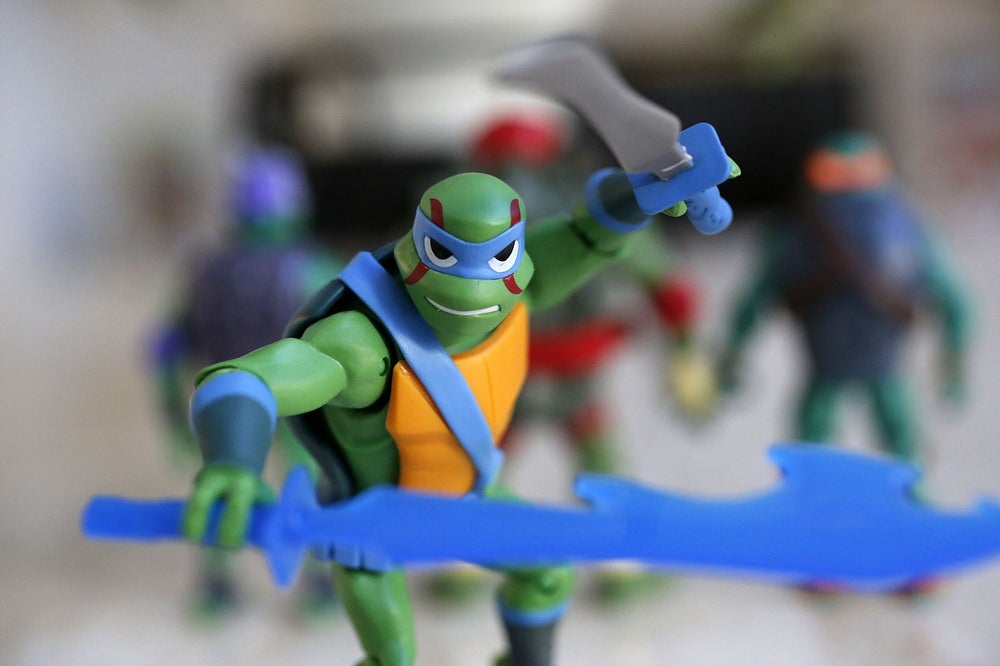 For the basic assortment, these figures have a really good amount of articulation, with each turtle having at least 20 points. We've certainly come a long way since the earliest turtles in the basic assortment! Baron Draxum also has a decent amount as well, but his skirt is a hindrance below the waist.
Each figure also comes packed with a number of accessories…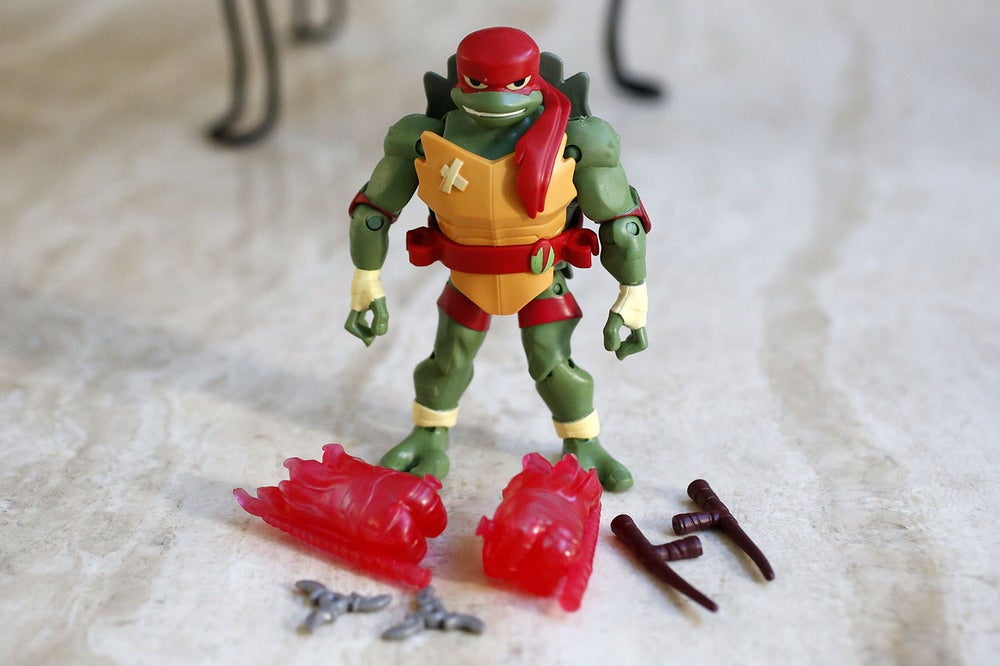 Raphael, The Muscles, comes with tonfas, two stars, and two fist attachments.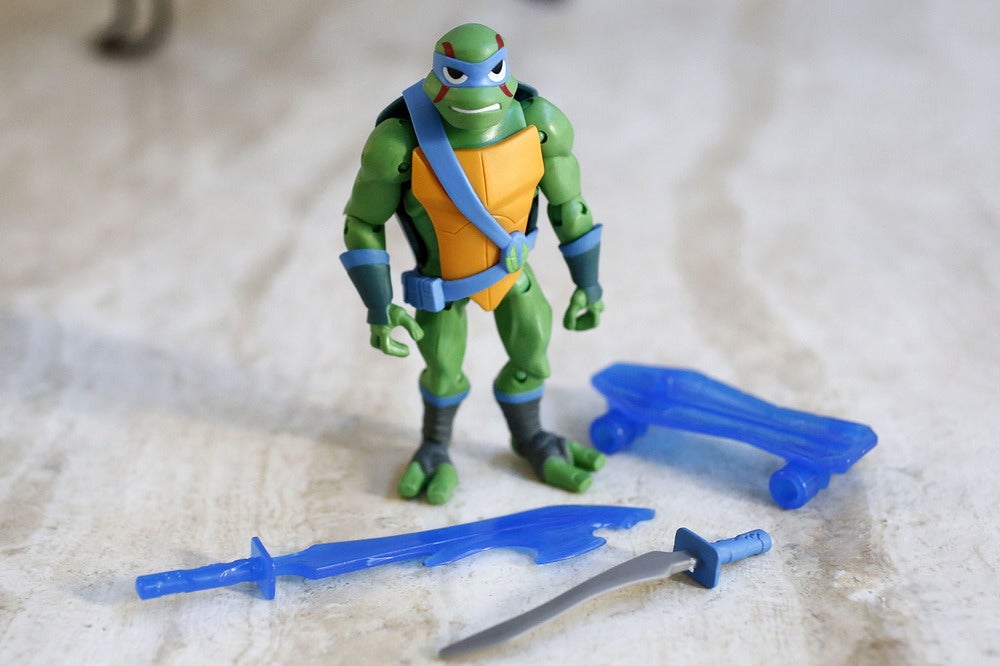 Leonardo, The Trickster, comes with Odachi Sword, another sword, and a skateboard.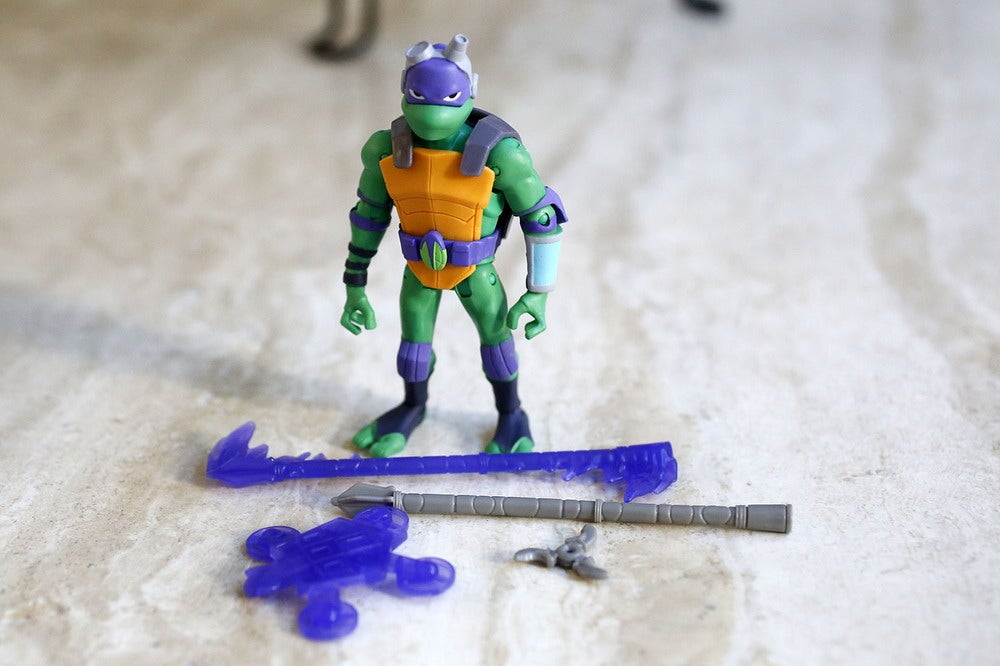 Donatello, The Tech Wiz, comes with Tech Bo-Staff, regular bo, ninja star, and a backpack with drone named Sheldon.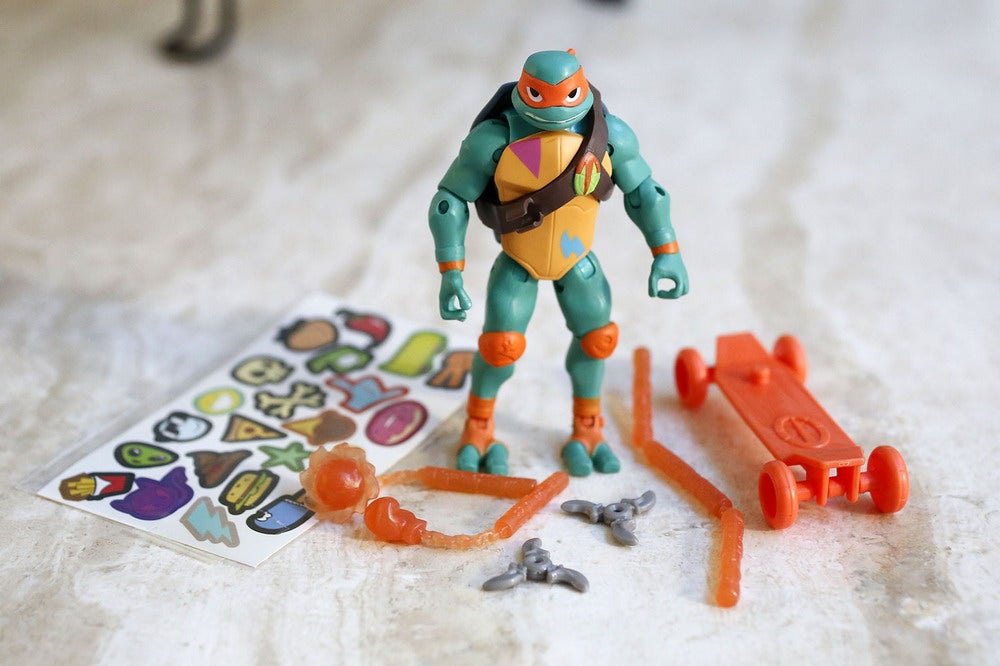 Michelangelo, The Wild Card, comes with Kusari-Fundo, two ninja stars, skateboard, and sheet of stickers.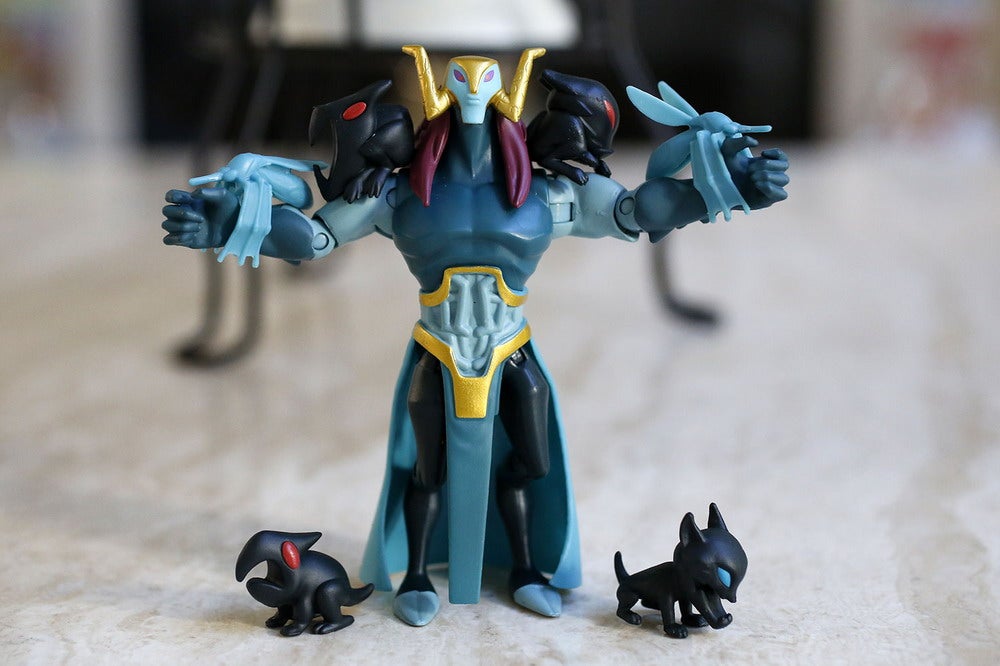 Baron Draxum, The Maker of Mutants, comes with Oozesquitoes and two of his gargoyle-like creatures. The ones on his shoulders are Hunginn and Muninn.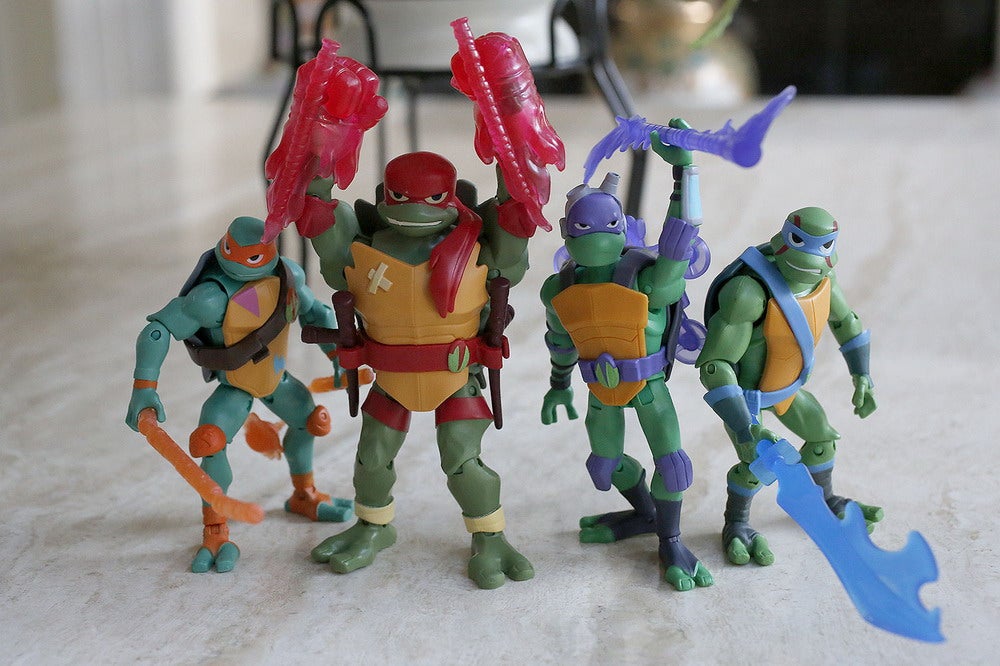 The basic assortment retails at $8.99 and is a bargain compared to most other action figure lines currently on the market. Especially with the number of accessories and articulation each figure has. Perfect for the fan in your family, it looks like turtles will continue to be around for a very long time.
Scroll on for more photos!
Review and Photos by David Yeh
Review Samples Courtesy of Playmates Toys
[See image gallery at www.figures.com]
---
Keep up with all the latest toy news by following Figures.com on Facebook and Twitter!
To buy action figures, take a look at Hobby Link Japan, BigBadToyStore.com, TheToySource.com, Toynk.com, BriansToys.com, ToyWiz.com, and EntertainmentEarth.com.