Let's get ready to ruuuuuuumble!
Sorry, I HAD to say that. The world-famous catchphrase is so synonymous with professional wrestling that it leaps into my head every time I deal with something wrestling related. It's better to get these kind of things out, like a song stuck in your head. And hey, it's the perfect introduction to my next review: new WWE bobbleheads from FOCO!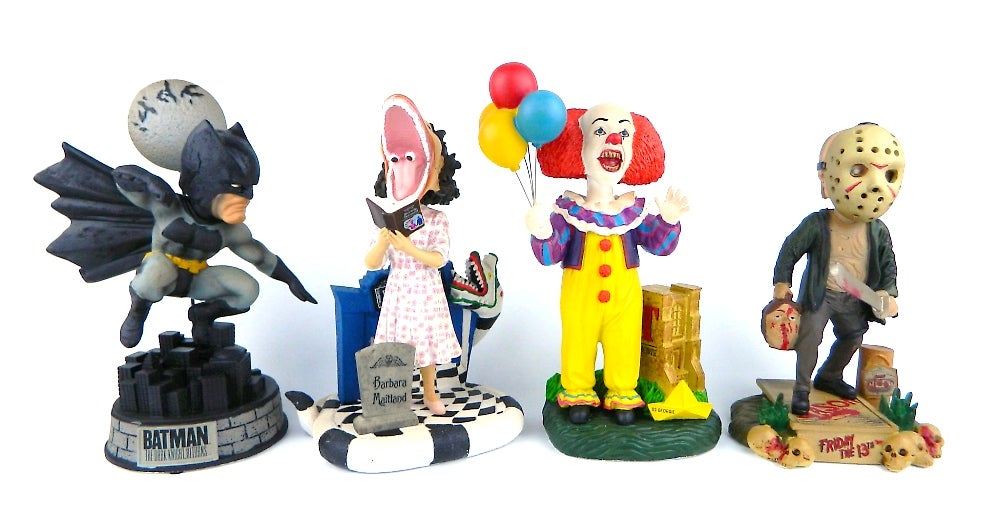 In my last review (read it HERE), I checked out FOCO's explosive debut into the world of licensed pop culture bobbleheads. These included detailed resin characters like Friday the 13th's masked slasher Jason Voorhees, DC's iconic superhero Batman, and even hot television properties, such as HBO's Westworld. For a company that previously dealt exclusively with sports collectibles (known then as Forever Collectibles), the move was radical, yet totally welcome. FOCO proved that they can play the licensed pop culture collectibles game with the best of them; putting their own unique stamp on the bobblehead market.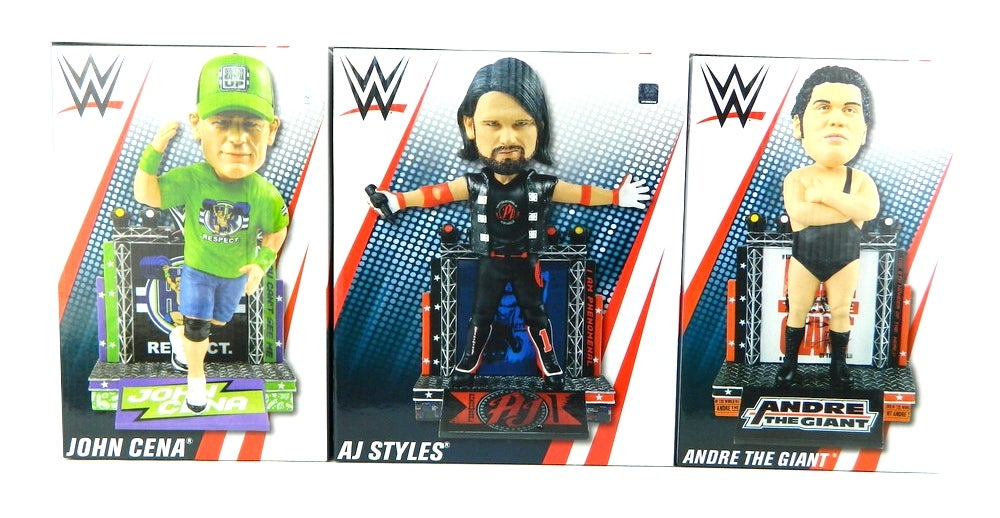 With their new WWE bobbleheads, FOCO shows that they haven't forgotten their sporting roots. The WWE is an absolutely brilliant license for FOCO – World Wrestling Entertainment being the perfect marriage of sport AND pop culture.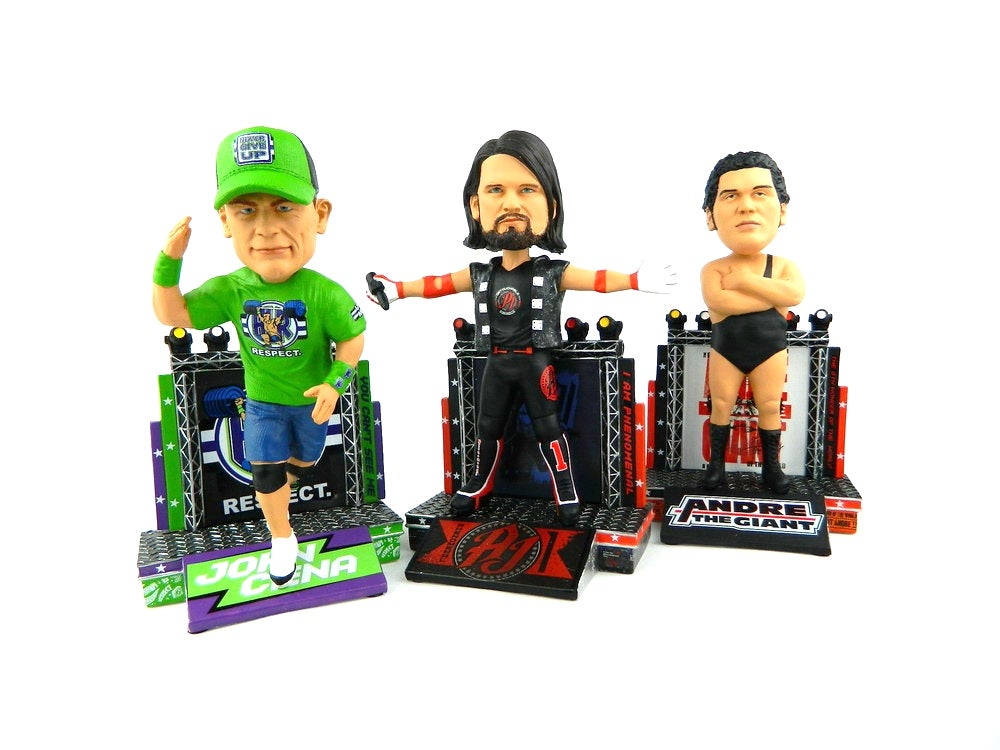 Launching the line and available for purchase now directly through FOCO.com are three wrestling superstars: AJ Styles, John Cena and the WWF's legendary Andre the Giant. Each premium resin bobble retails for $45.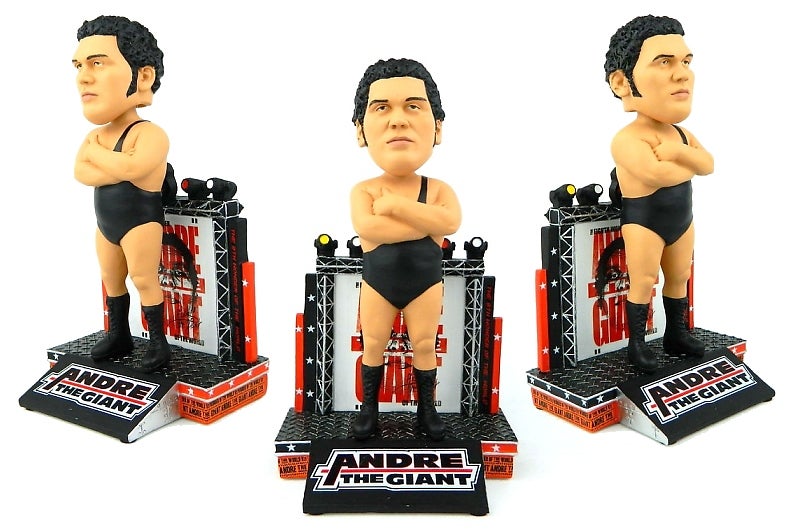 Like all FOCO bobbleheads, quality is the name of the game. Made of polyresin, each handcrafted, hand-painted bobble stands a collectible 8-inches tall. Think of them as fine art statues… with the added bonus of heads that bobble!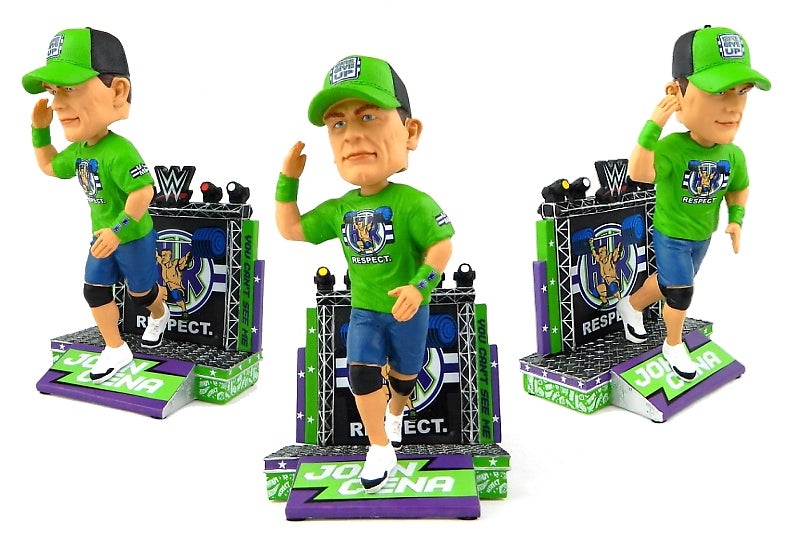 With their slightly oversized head-bobbin' noggins, each WWE superstar features a spot-on sculpted likeness. I instantly recognized John Cena and Andre the Giant, and while I'm not terribly familiar with AJ Styles (I'm old school), a quick search showed me that, yes, even his sculpt is eerily accurate. Each portrait is a perfect caricature of the athlete – realistic, without being too cartoony.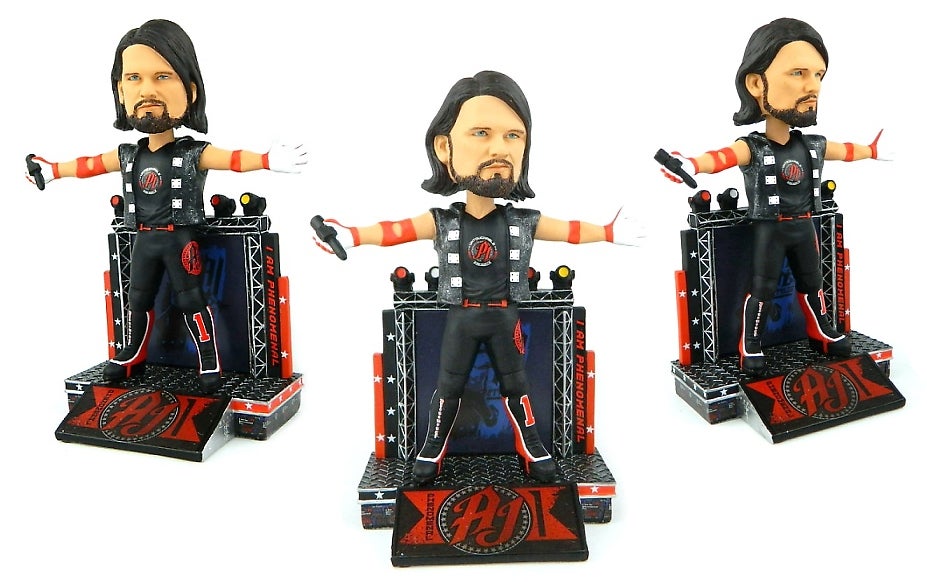 What makes these WWE bobbles truly shine, however, is FOCO's signature bobblehead stamp: the rich story told through the figure's pose and detailed base. There's John Cena running off the stage, ready to deliver a Five Knuckle Shuffle; AJ Styles looking "phenomenal" with arms outstretched and mike in hand; and Andre the Giant standing stoically with arms folded across his bare chest. To accomplish these classic poses, FOCO delivers each bobblehead as two pieces – figure and base – which are held securely together by a sturdy metal screw, washer and wingnut.
Each chunky resin base continues the wrestler's story with his signature colors, slogans, and logos. The wrestler's key art is not only printed on the front of the backdrop, but also on the back. A lot of thought went into making these WWE bobbles look good from ALL angles.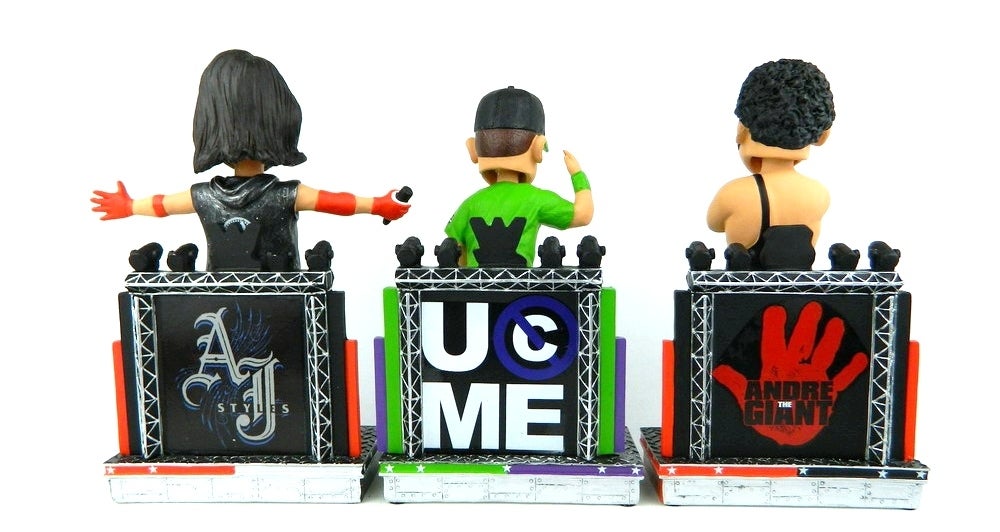 WWE (and old school WWF) fans are gonna eat these bobbles up. If you opt to just pick up your favorite wrestler, FOCO's attention to character detail ensures that each bobble stands out all on its own. Want to start a WWE collection? Thanks to the backdrop bases that they all share, these bobbles display very well together.
Following the release of AJ Styles, John Cena and Andre the Giant, WWE fans can look forward to Ric Flair (arriving late March) and Rowdy Ronda Rousey (late April)!
Scroll on for more photos!
Review and Photos by Jeff Saylor
Review Samples Courtesy of FOCO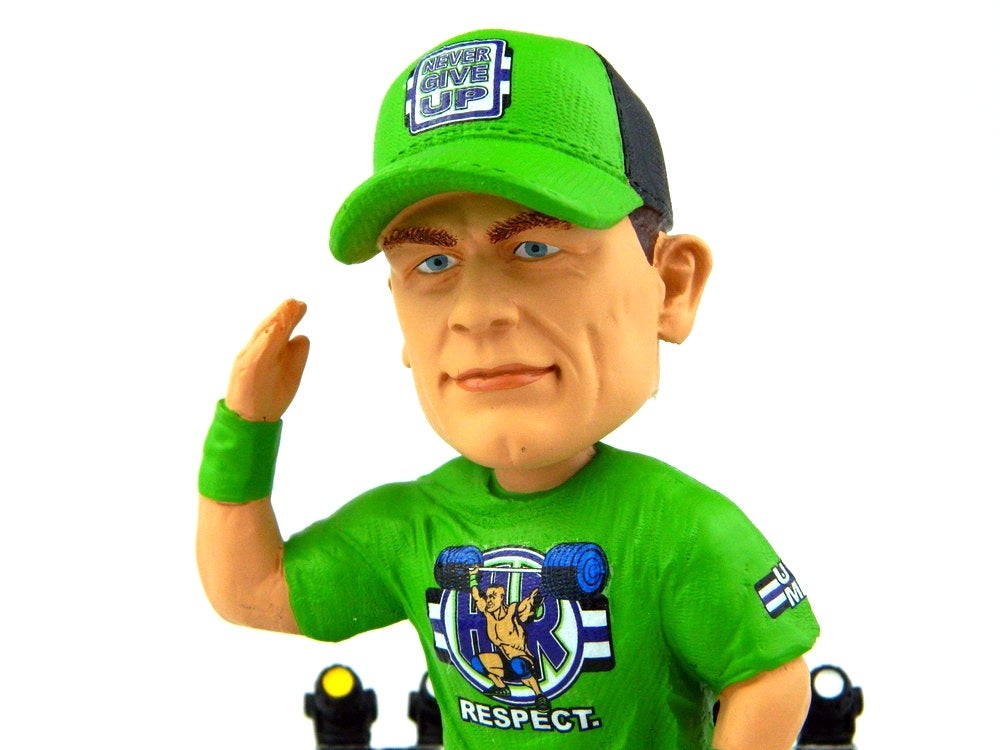 [See image gallery at www.figures.com]
---
Keep up with all the latest toy news by following Figures.com on Facebook and Twitter!
To buy action figures, take a look at Hobby Link Japan, BigBadToyStore.com, TheToySource.com, Toynk.com, and BriansToys.com.