It's been quite a while since my last Marvel Legends reviews, but I'm back and ready to wipe out the last three figures in this year's X-Men Age of Apocalypse Legends wave! And first up will be the only double-packed figure in the wave. You can get the Marvel Legends AOA Weapon X Wolverine figure for about 15 bucks shipped now online—is he worth picking up at that 20% discount? Here's my review of the alternate universe Best There Is At What He Does…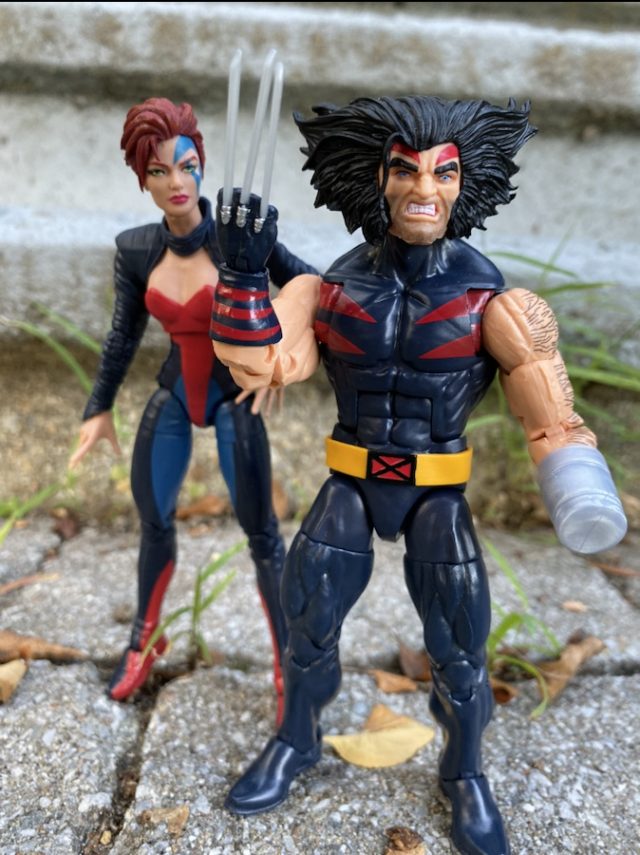 Make no mistake: While I was ready to knock down the doors at Toys R Us as a 14-year-old in 1996 to get them, the Toybiz Age of Apocalypse X-Men figures were, well… not that great. And the least great of them all was the awful bright blue Weapon X figure, in my opinion.
Toybiz would attempt an AOA Weapon X figure again in their Walmart Marvel Legends Giant-Man series, but that figure (and its melted-face variant) also fell short for me. When Hasbro announced their own X-Men Legends Age of Apocalypse figures last year, I had faith we'd finally get a long-needed perfect AOA Wolverine. Was my faith rewarded?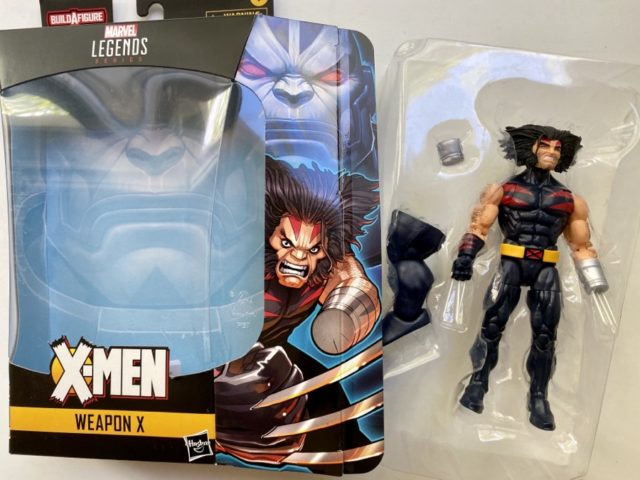 The Right:
Some of the things that Toybiz got wrong with their Age of Apocalypse Weapon X action figures were the scale, proportions and colors. Thankfully, Hasbro basically nailed all of those areas perfectly.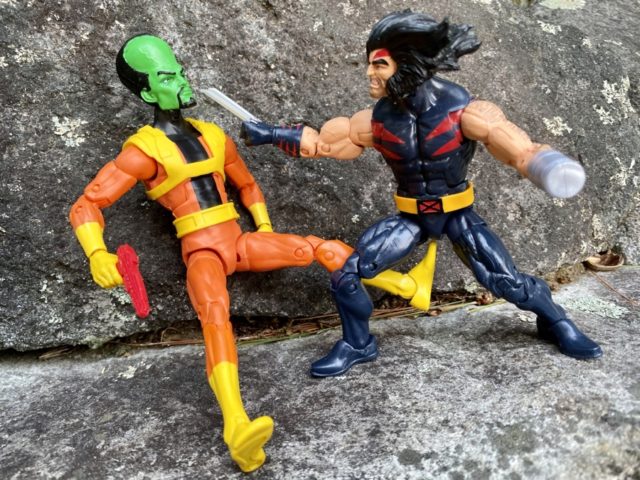 This time out, AOA Wolverine is shorter than your average Hasbro Legends figure–as he should be–and captured in a proper dark blue costume and with appropriate proportions for his smaller stature.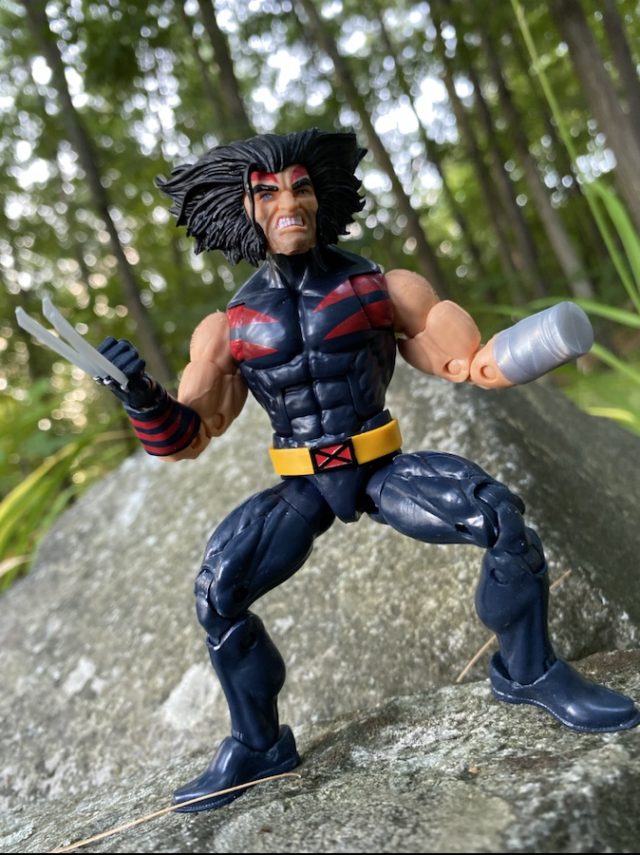 Hasbro's iteration of this character also wins the articulation game, with the awesome butterfly swivel shoulders enhancing the articulation scheme. The full set consists of:
Ball-Hinge Head
Ball-Hinge Shoulders with Butterfly Swivels
Swivel Biceps
Double-Hinge Elbows
Swivel-Hinge Right Wrist and Swivel Left Stump
Upper Torso Ab Crunch
Swivel Waist
Ball Hips
Swivel Thighs
Double-Hinge Knees
Hinged Feet with Ankle Rockers
It's a strong set of articulation overall, with swivel calves being the only missing point I would have really liked having implemented as well.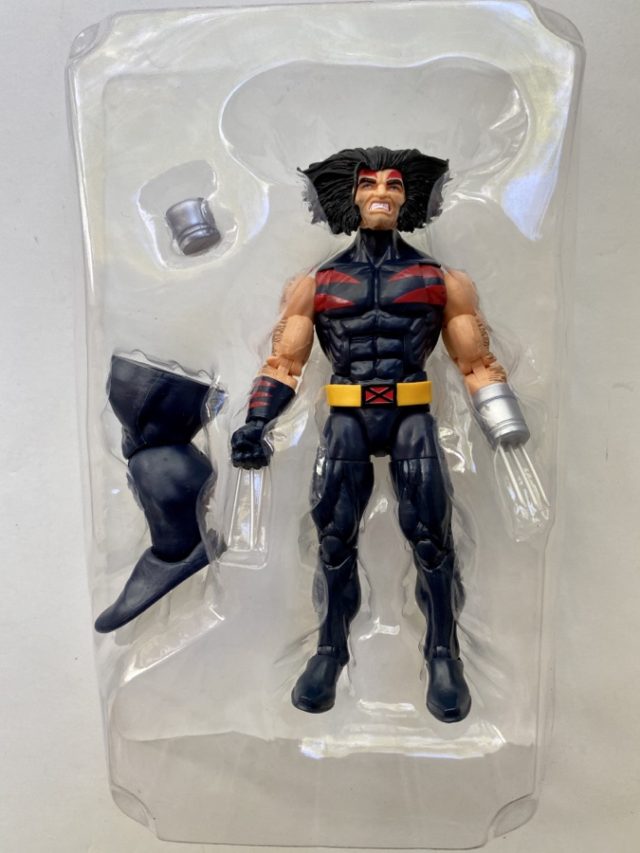 Accessories-wise, while this figure does come with less extras than the original Toybiz 5″ figure from 24 years ago, he at least comes with the one accessory some folks will want: the extra metal stump hand with extended claws.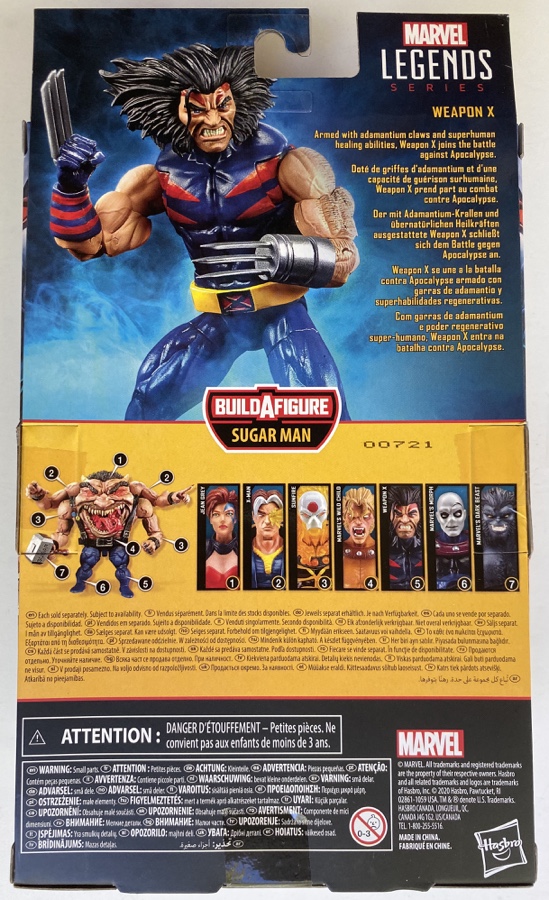 I never put this hand on Weapon X after taking him out of the package, as I'm not interested in this particular accessory at all, but props to Hasbro to including it for those who dig the option. (Despite being the double-packed figure in the wave, it still a Sugar Man Build-A-Figure piece–the left leg–by the way.)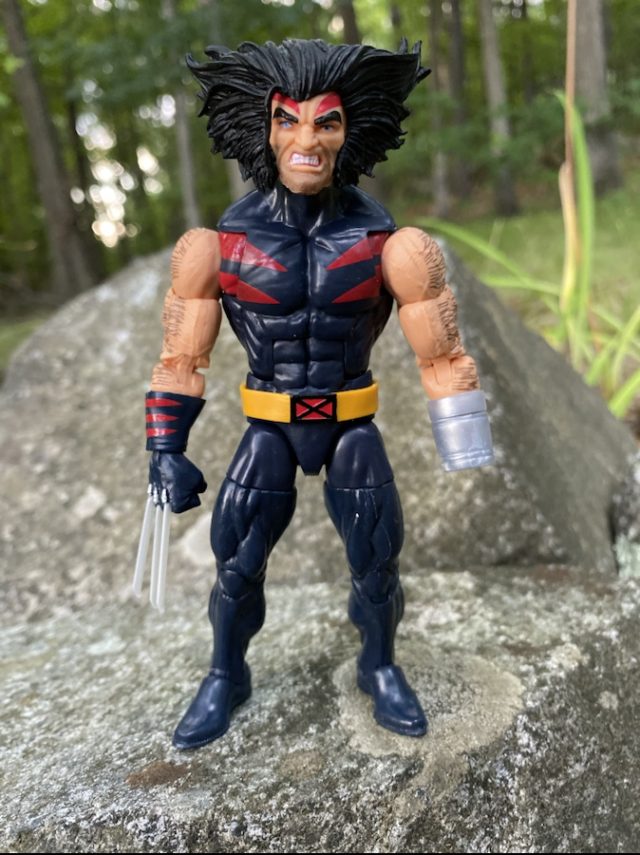 The only other add-on piece to this figure is the yellow belt, which fits snugly and has the X-logo on the belt masterfully painted on. The hair on Logan's outer arms is also nicely painted, and the stubble on his face is mostly successful as well.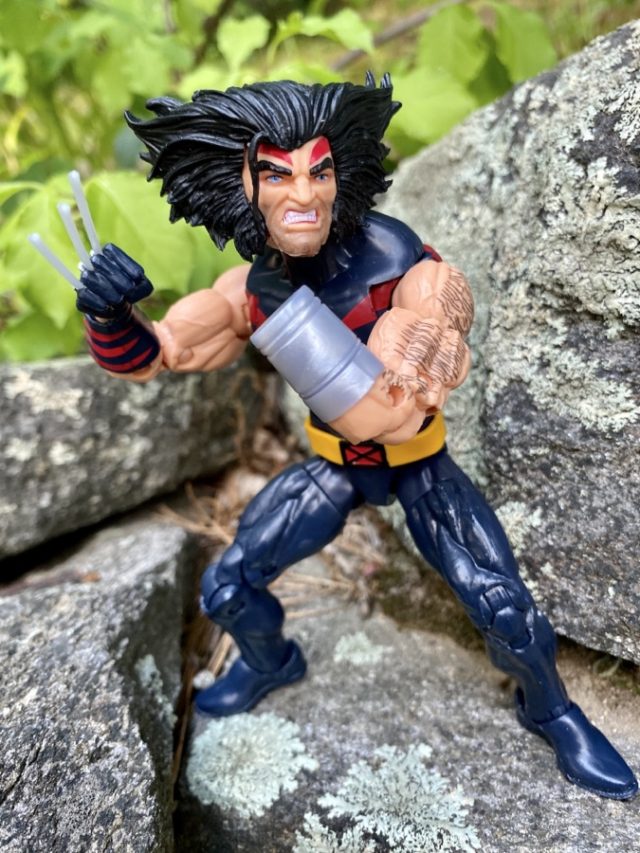 While the huge and wild hair that Weapon X Wolverine has in the Age of Apocalypse is a difficult detail to get right, I think Hasbro did a suitable job with that as well. I'm not sure if it's quite perfect, but for the most part it's on-model.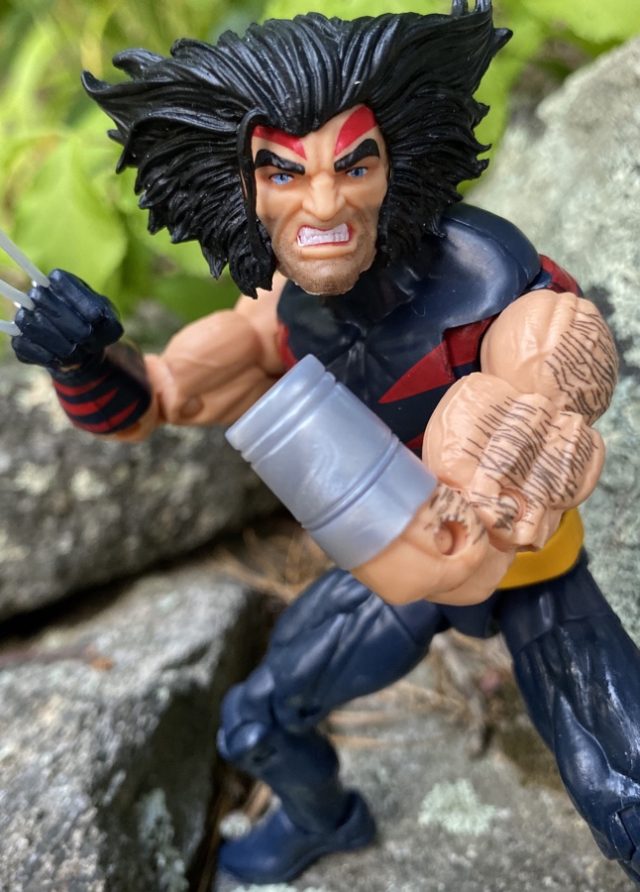 The Wrong:
I like this Age of Apocalypse Logan figure quite a bit—but he's ain't perfect, that's for sure. First, let me talk about the thing that bugs me the most about this figure: the likeness. I don't blame Hasbro for having a tough time capturing the iconic representation of the character from the legendary cover of Weapon X #1–Hasbro certainly didn't do it any better—but I think the mark has been missed here.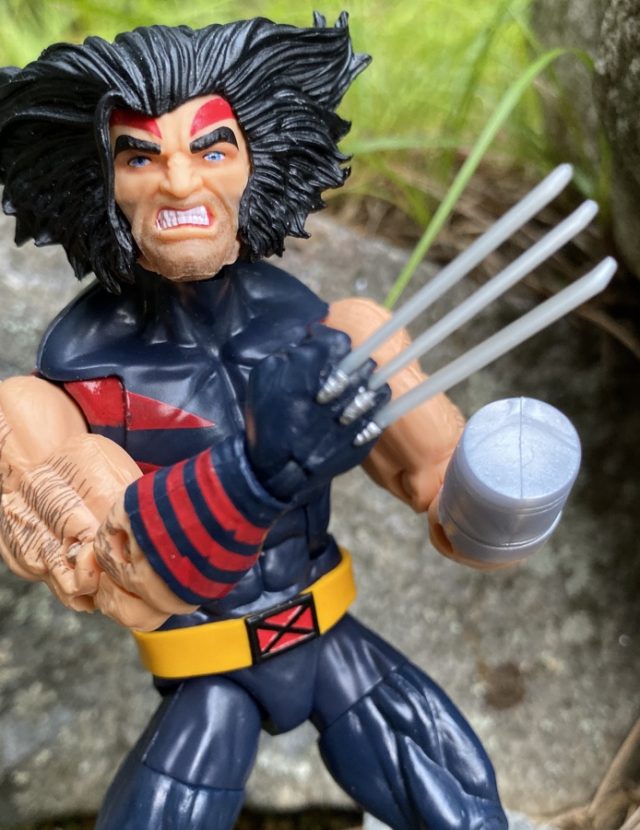 To me, with or without pupils, the shadow-bordered eyes are absolutely essential to making this version of Wolverine look like the classic artwork. Whether or not the red chin tattoo needs to be present is up in the air, but I think the face just looks inaccurate without the shading surrounding the eyes. And the giant eyebrows just look silly, IMO.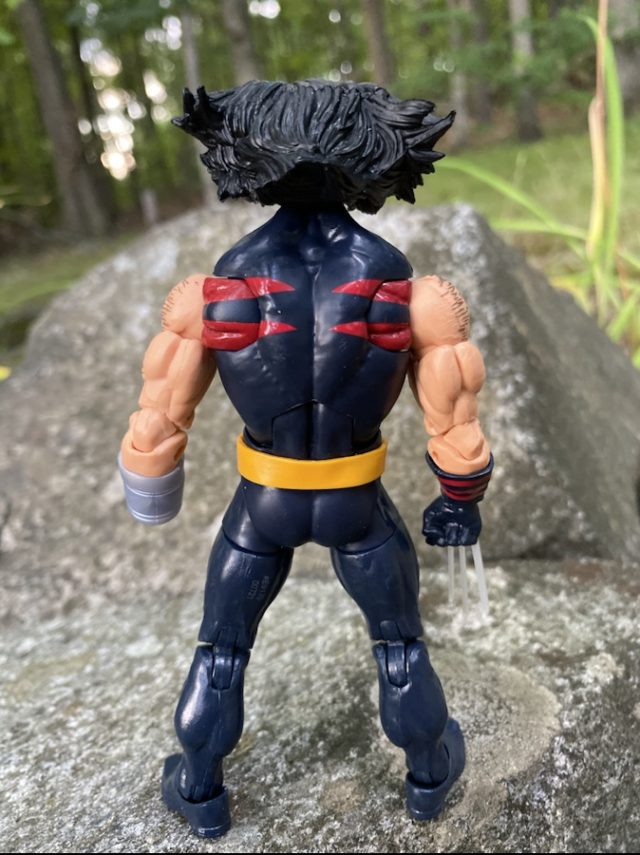 There's a few other things bugging me about this figure that are less subjective as well. As is always a concern, the dark blue plastic used here is sadly cheap-feeling and rubbery. Nothing has ripped and it doesn't seem like it's going to, but the plastic quality is definitely lower than on your usual ML 6" figures.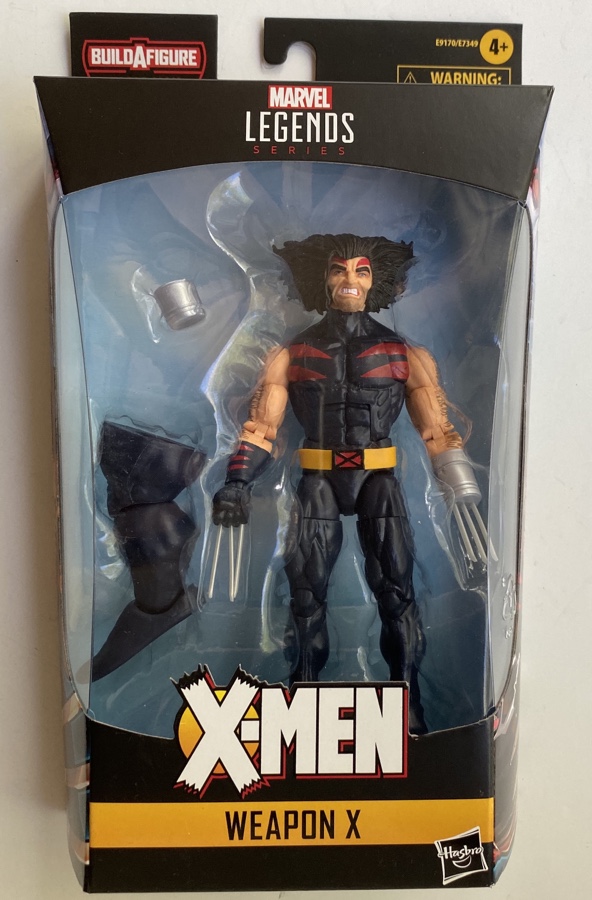 Last but not least, this figure has a problemo I've been dealing with on quite a few recent Wolverine figures the last few years: claws that come warped straight out of the package (as seen above) and break off or fall off and get lost. Some of the claws came fine, but others came bent, wouldn't fit properly, and fell off and were immediately lost. Annoying issue, and I sincerely wish Hasbro would stop making the claws removable at all because of it.
Overall: Although Toybiz did 3 AOA Wolverine action figures of their own back in the day, this is bar none easily the best version of that character that's ever been made in toy form. The proportions are right, the interchangeable "stump" with claws is a clever accessory, and the butterfly swivels really elevate the articulation scheme.
All that said, I outright hate the paint job on the face of this figure, as it doesn't match up with the shadowed eyes on the iconic artwork of the character all. In addition, the blue plastic feels a bit cheap and gummy, and the claws suffer from the usual warping and/or falling off issues. This is a good figure even with these issues, but I definitely can't pretend the shortcomings don't bother me.
GRADE: B
The post REVIEW: Marvel Legends X-Men Age of Apocalypse Weapon X Wolverine Figure appeared first on Marvel Toy News.