We are living in an unprecedented era of Hasbro giving us a deeper cut of Marvel characters as action figures than has ever been seen before. As such, not every character will be to every fan's liking. That's how I felt about today's review subject. While you have to buy the whole 2020 Marvel Legends Venom series to build the Venompool Build-A-Figure, I was hellbent on hating this BAF. But once I got him assembled, well… I felt a little different…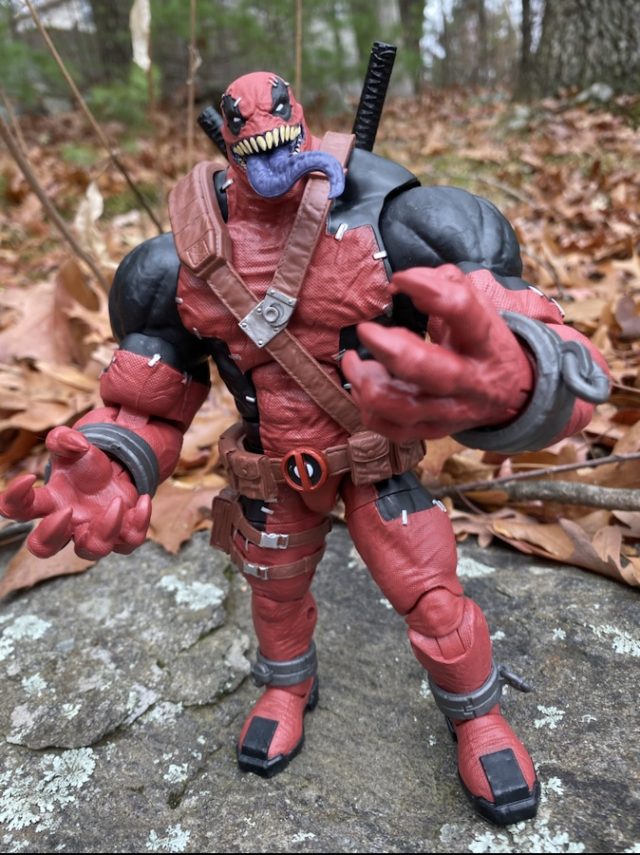 After Hot Toys and PCS Collectibles announced high-end figures and statues of Venompool from Contest of Champions for several hundred dollars (several thousand dollars in the case of the PCS statue), I figured it was only a question of "when" and not "if" we'd see this wacky mashup arrive in Hasbro Marvel Legends form. 
And once it became confirmed we were getting a new Venom wave in 2020, well… a Venompool BAF seemed like—and was—a lock. How'd he turn out?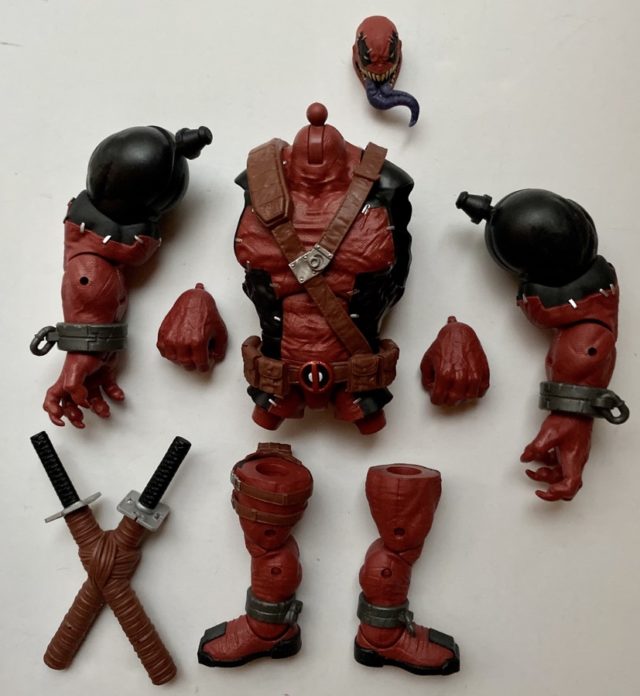 As you might expect from a modern Marvel Legends Build-A-Figure, Venompool is a winner. Hasbro's symbiote figures have sometimes been a little hit or miss, but this is a nearly complete hit.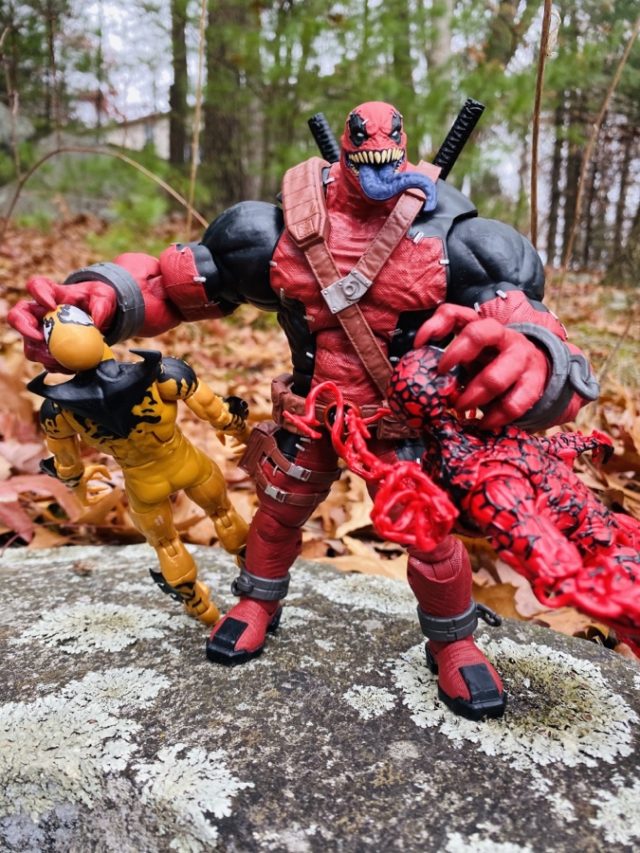 I passed on the $400 Hot Toys version of this character, and I feel like this Hasbro version makes me really glad I did. While not nearly as gargantuan as what Hot Toys put out, I feel like the Venompool BAF is is basically the Hot Toys version in a much more manageable size and cost.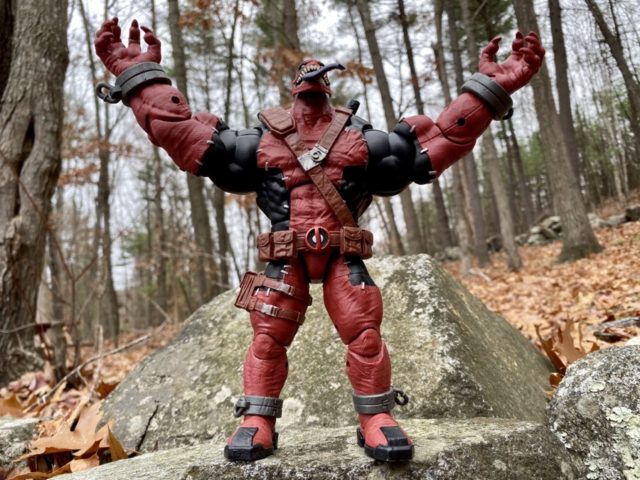 The red parts of the costume are richly textured with thousands of tiny sculpting details, an excellent complement to the smoothness of the black portions of the costume. I think that the silver "staples" bridging the red and black sections have a cool "horror" feel to them, and I appreciate the metallic red Deadpool logo on the belt's contrast to the darker red of the costume.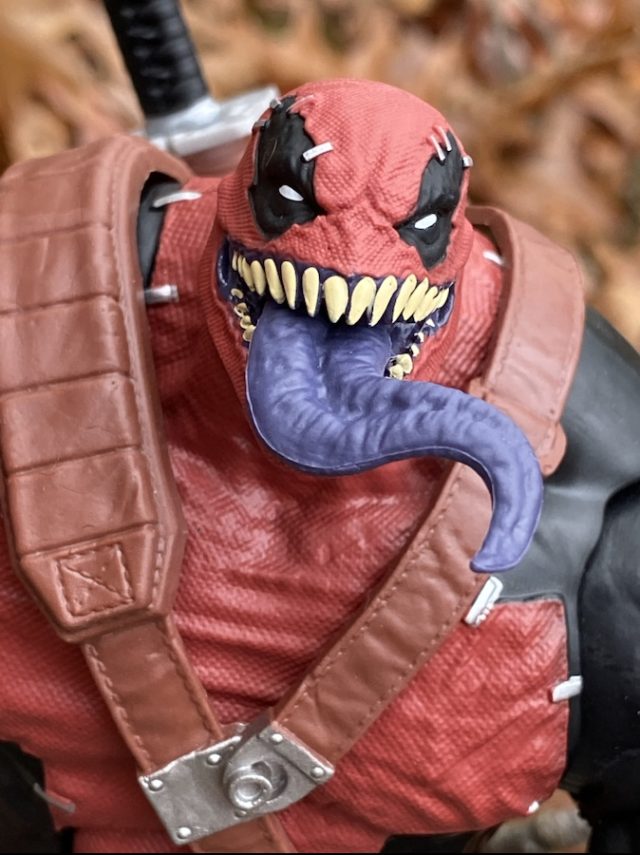 Venompool's head sculpt is all-out awesome (and horrific), with purple winding tongue and rows of vicious teeth. It's a superb portrait, and I really don't feel any need for an alternate head. 
The "chained" bracelets on the ML Venompool figure's wrists and ankles also add to the brutal feel, making this easily the scariest Deadpool action figure Hasbro has ever put out.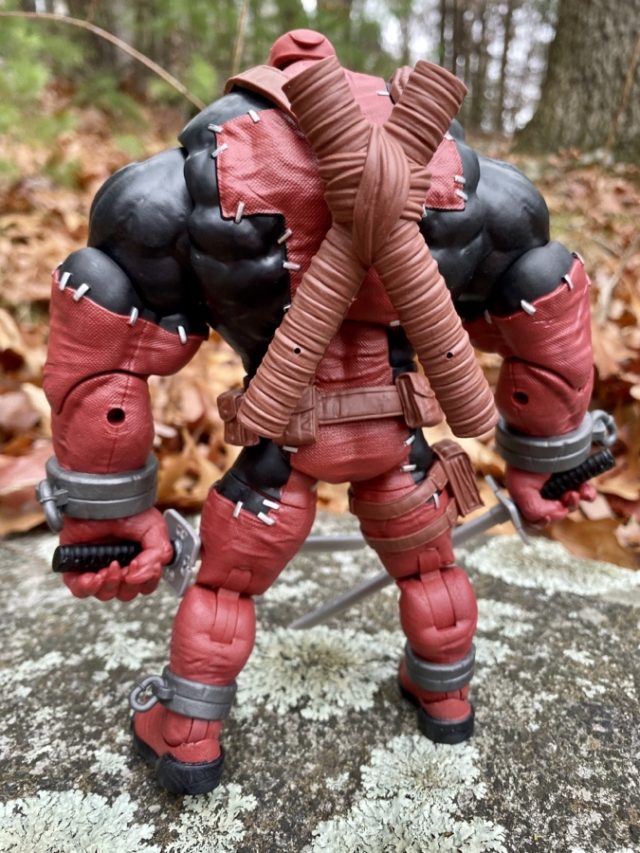 Venompool comes with five accessories: a pair of katanas, a pair of interchangeable grasping hands (to tightly clench the katanas), and a sword sheath that attaches to the straps on his back. The sheath has a nice leathery texture to it, and snugly holds the two swords, which smoothly slide into place.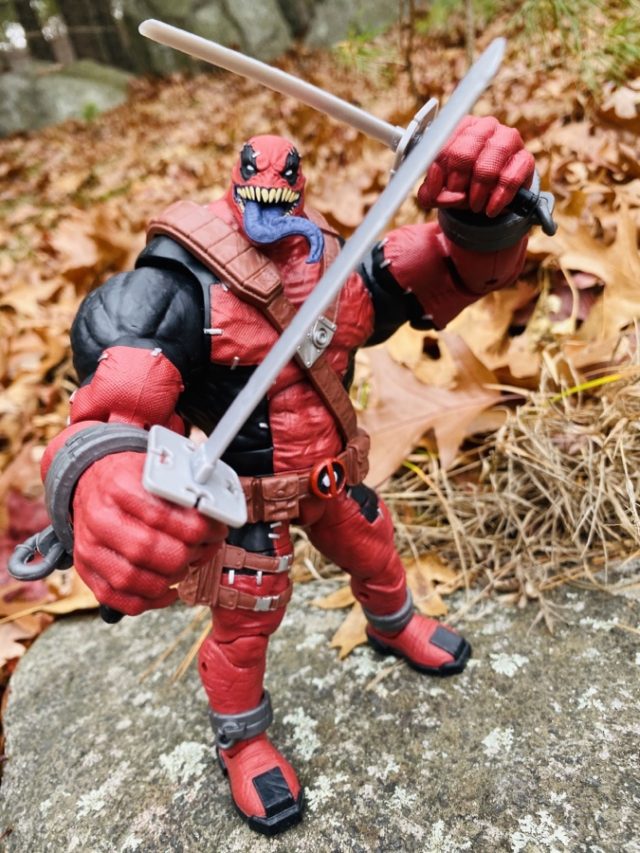 The katanas themselves actually have a nice texture on the blades, but the hilts really ruin the effect by being made of a super-rubbery plastic that both looks and feels cheap. While I like that the swords are removable for the sheath and the usable, I don't altogether enjoy displaying the Venompool Legends figure with them much.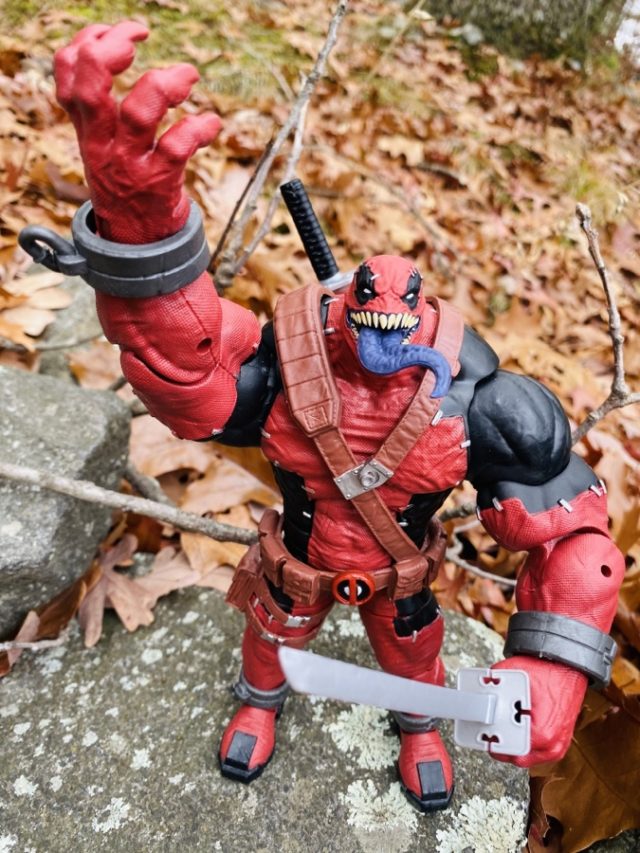 Articulation-wise, my only real disappointment with this figure is the arms. Not only are the elbows not double-jointed—they're not even ball-jointed. His elbows are single-hinged only, and you have to swivel his biceps to position his arms—not ideal at all.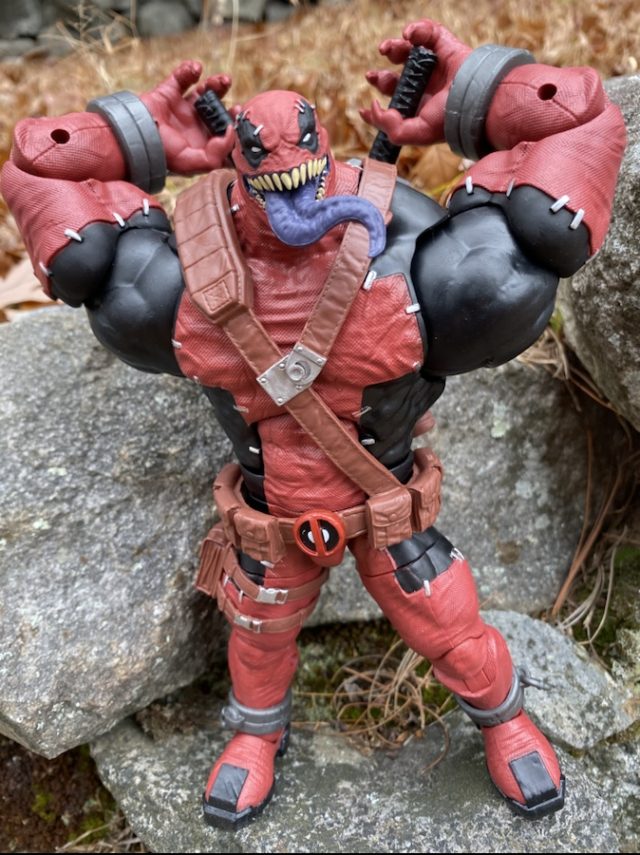 Otherwise, his articulation is pretty excellent, consisting of:
Ball-Hinge Head and Shoulders

Upper Torso Ab Crunch

Hinged Elbows

Ball Hips

Swivel-Hinge Wrists

Swivel Biceps, Waist and Thighs

Double-Hinge Knees

Hinged Feet with Ankle Rockers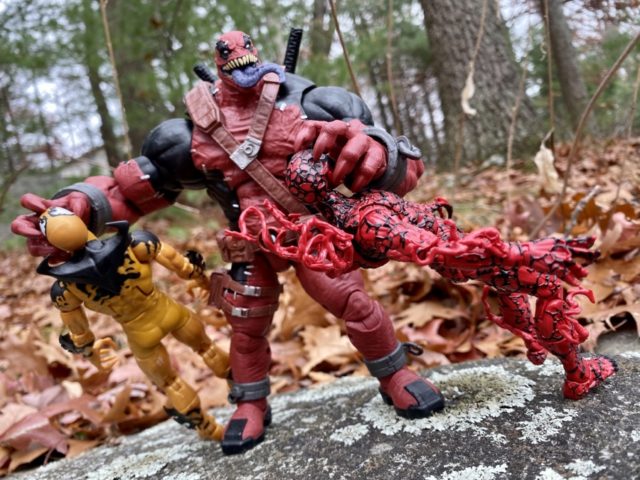 Overall: My expectations for an oversized action figure of a beefed-up Deadpool/Venom mashup were pretty low—but I have no choice but to admit that this is a tremendously fun action figure. With a killer head sculpt, spot-on paint and proportions, and excellent sculpting details, this is the Marvel Legends Venompool figure that I had no idea I secretly wanted. I wish that the arms had just a bit more of a range of motion, and I think the swords look rather cheap, but otherwise I'm really pleased with this big guy. 
GRADE: A-
The post REVIEW: Marvel Legends Venompool Build-A-Figure (2020 Venom Series) appeared first on Marvel Toy News.