Considering the fact that the 2013 Scarlet Spider Marvel Legends figure has been in the header for this site ever since I opened it over half a decade ago, I don't think anyone will be stunned to learn that I'm a big Kaine Parker fan. While that ML Rocket Raccoon Series figure is a bit dated by today's standards, I loved (and still do love) it. But time has marched forward, action figures have advanced, and it was time for a new version of Kaine to be released. The Marvel Legends SP//DR Series Scarlet Spider figure is already selling out and escalating in price: is it worth upgrading before it's too late?
The Right:
Even though we just got the first-ever 6" Scarlet Spider Marvel Legends Kaine Parker figure in the fifth wave of Hasbro (Return of) Marvel Legends back in 2013, the character exploded in prominence and popularity since and has become a modern perpetual staple in the Spider-Man comic books family.
As a result, the old action figure was in high demand and a new Scarlet Spider was sorely needed. As part of this fall's SP//DR Series, we got this new Marvel Legends Scarlet Spider figure—but is he an improvement?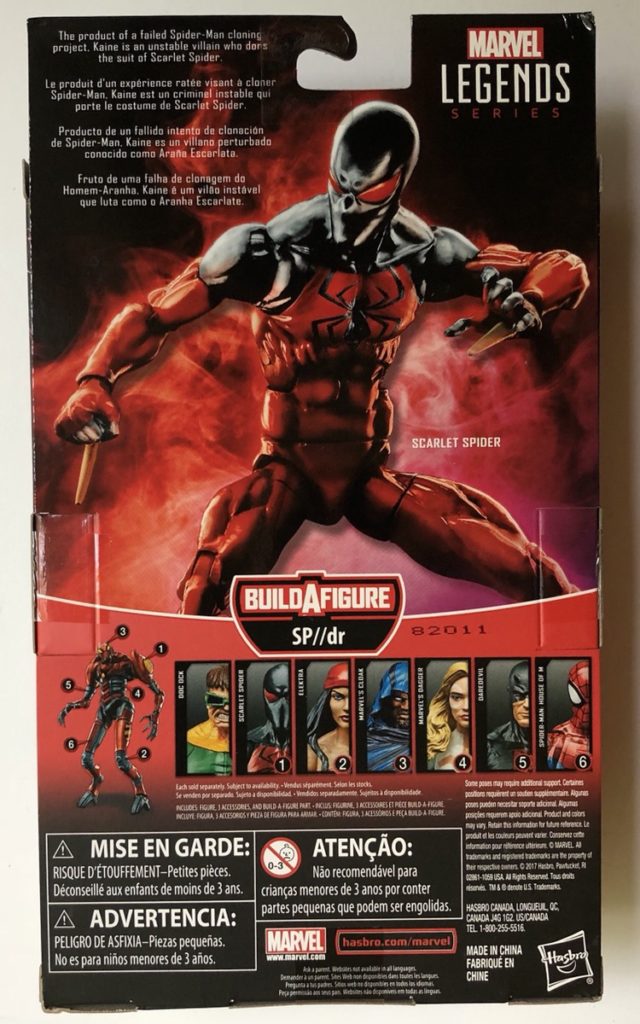 Well, frankly: yes. As much as I adore that original version, this one is better in practically every way.
Along with the proportions looking more authentic and realistic, this new Kaine Scarlet Spider Legends figures adds the butterfly swivel shoulders that are all the rage these days. These joints alone make a huge difference in the number of upper-body poses that can be achieved, and pair wonderfully with the improved proportions.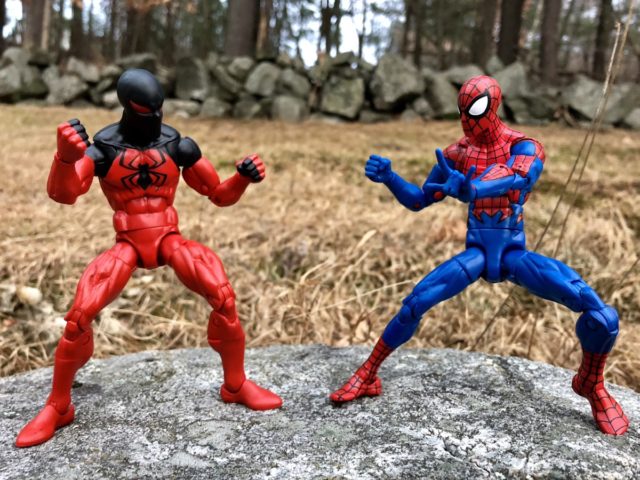 The complete articulation scheme consists of ball-hinge head; ball-hinge shoulders with butterfly swivels; ball hips; ab crunch; swivel thighs/biceps/waist/boots; double-hinged elbows and knees; swivel-hinge wrists and hinged ankles with rockers. As far as I'm concerned, every necessary articulation base has been covered here.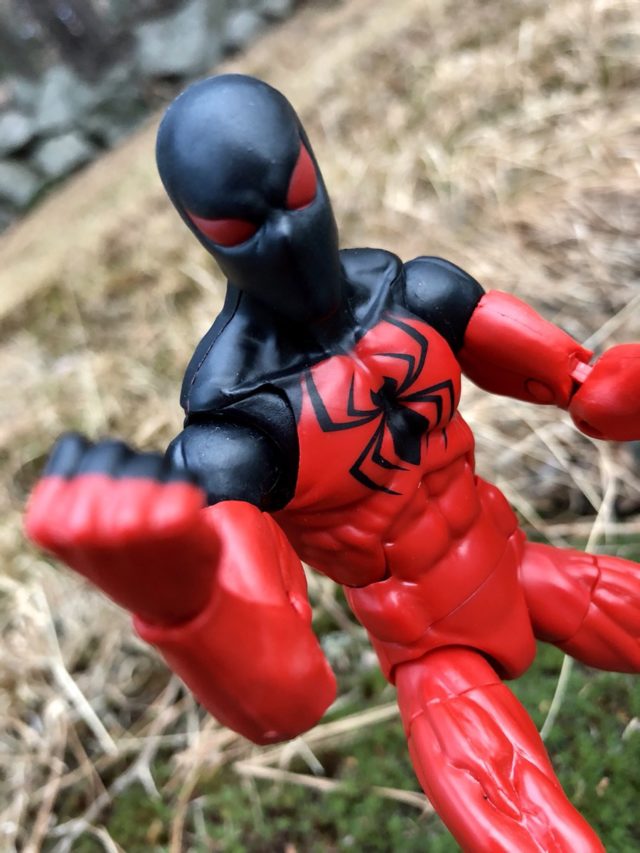 In addition, Kaine has three newly-sculpted parts: a pair of hands with stingers coming out of the forearms and a new head. With this new head sculpt, it's blatantly clear that Kaine Parker is the pissed-off, unfriendly neighborhood Spider-Man. Love the angry, slightly asymmetrical eyes on him!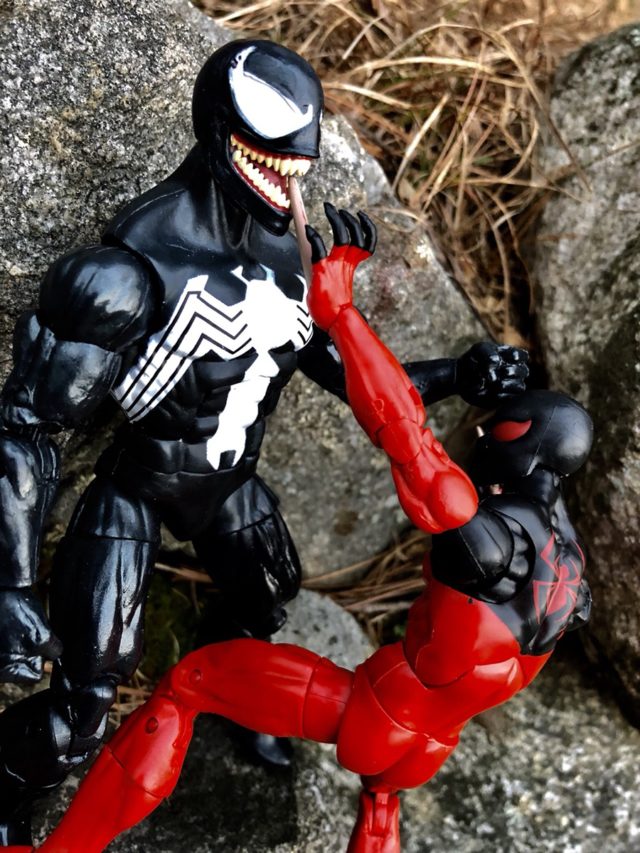 Meanwhile, the "stinger" arms look downright deadly and are something wholly unique to the Kaine iteration of Spider-Man.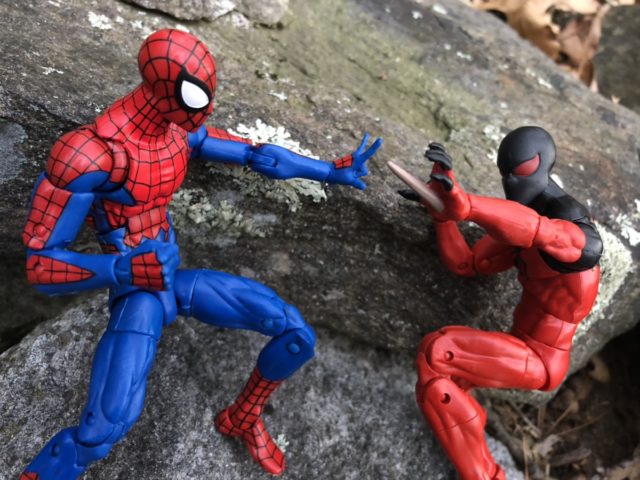 While I'm frustrated by some of the missing hands this figure has (more on this momentarily), the venomous stinger hands are a blast to pose and play with. Wicked.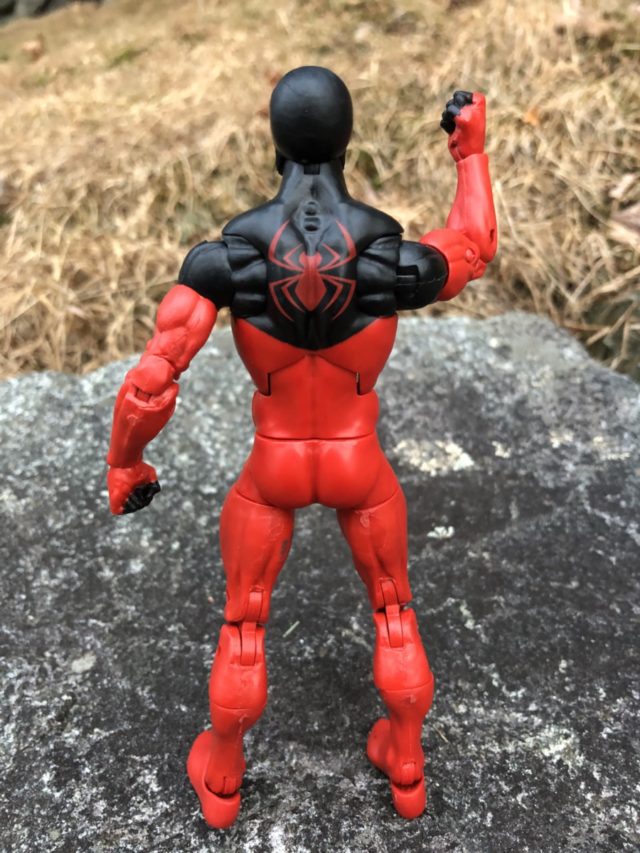 Paint-wise, this 6" Scarlet Spider figure is close to ideal. Everything on the front of mine is perfection, and on the back there's only the smallest dot of extra black paint on the red upper back. The two-tone color of this character is the coolest part of the design, and Hasbro thankfully keeps those colors looking clean and well-painted on this figure.
Two additional accessories are included: a "Clone Conspiracy" Unmasked Head (which I won't be discussing further in "The Right") and a SP//dr Build-A-Figure arm.
I reviewed SP//dr earlier this month and found him oodles of fun, and I think this will ultimately be the most expensive figure that comes packed with a BAF part for the robot. If you need that arm, I'd recommended getting it now while prices aren't out of control yet.
The Wrong:
Because Kaine Scarlet Spider is one of my favorite iterations of Spider-Man, I had sky-high expectations for this figure. And while the basic figure itself largely meets those expectations, some interchangeable parts—both included and not included—disappoint me.
On the hands front, it's the fact that Marvel Legends Kaine comes with just fists and hands with his bone-like stingers extended. Apparently, this is the Spidey that can't shoot webs, crawl walls or grasp anything.
I mean, if ever there was a Spider-Man with the temperament to just punch stuff or stab folks, it would be Kaine. Even so, we know tooling already exists for web-shooting and grabbing hands for this mold, so not including such small extras for a character who's not likely to be revisited again for years feels a little bit stingy.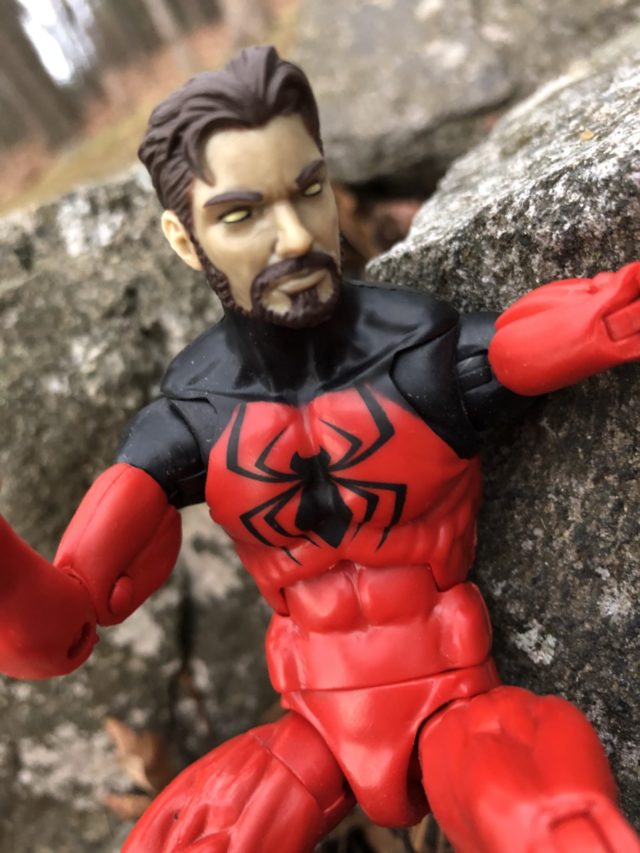 In addition, I think the switch-out degenerating Kaine Parker portrait from "The Clone Conspiracy" is a monumental waste. Kaine appears in dozens of modern comic books with his mask off, so it was with a huge groan that I saw Hasbro picked a storyline-specific unmasked Scarlet Spider head that literally almost no one will use as the pack-in. This is an ugly head that was a bizarre choice.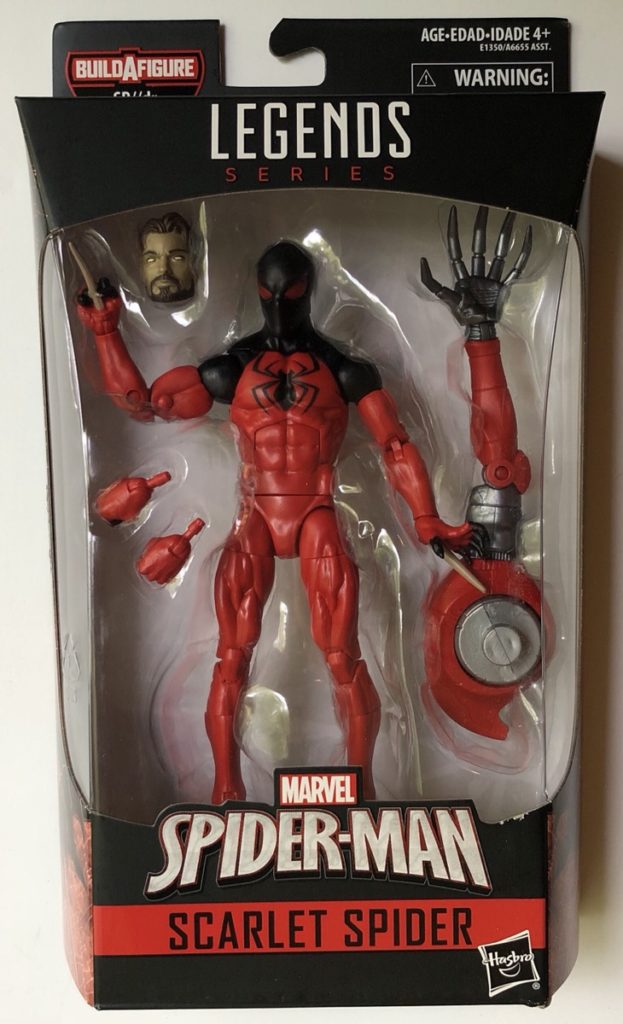 Overall: As a whole, I'm really pleased with this 2018 Marvel Legends Scarlet Spider figure. The aggro masked head is loaded with personality, and I love getting the updated body mold with butterfly swivel shoulders. Paint quality is excellent, joints are tight… base figure is golden (not literally).
I really would have appreciated some corresponding open hands and web-shooter hands to match Kaine's Scarlet Spider costume, and the lack of a non-dying unmasked head is a real head-scratcher (no pun intended). Otherwise, this 6" Scarlet Spider figure is a winner.
GRADE: A-
The post REVIEW: Marvel Legends Scarlet Spider 6″ Figure (SP//DR Series)  appeared first on Marvel Toy News.