For decades, the Red Skull was an off-limits character that toy companies would not touch with a 200 foot pole because of fears of controversy due to the character's political origins. But those days are 2+ decades behind us now, and Red Skull is a bonafide movie star in the MCU with quite a few figures to his name. But somehow, one figure we've never gotten is a definitive version of the character in his most iconic classic look—at least, maybe not until now! The Xemnu Series Super Villains Marvel Legends Red Skull figure has arrived—has Hasbro created the perfect classic Red Skull action figure?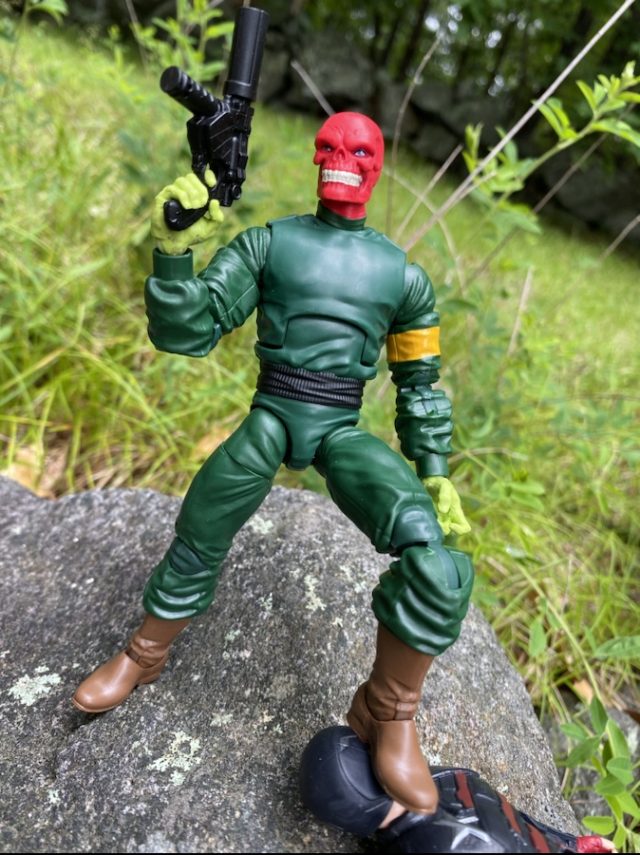 Because I didn't really start seriously reading Avengers and Captain America comics until my college years, for the longest time the black trench coat look was "my" look for the Red Skull. I didn't really see the appeal of the green jumpsuit, even when Bowen Designs created what I now respect as an incredible statue of that costume.
But as I've been reading more classic comic books featuring Red Skull in recent years, I've really softened on this look for the character. And just in time, too—because Hasbro finally deemed it time to take a swing at making a definitive action figure version of classic green jumpsuit Red Skull! Did they succeed?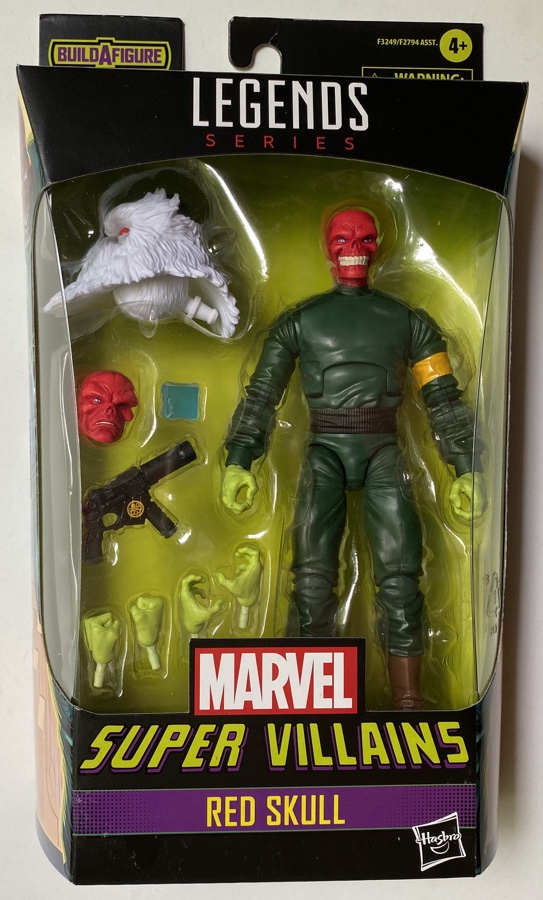 The Marvel Legends Super Villains Red Skull figure is one-per-case, and among the harder figures to find in the wave. I think maybe Red Skull should have been double-packed instead of God Emperor Doom, personally, but it's hard to fault Hasbro for making a Doctor Doom two-per-case.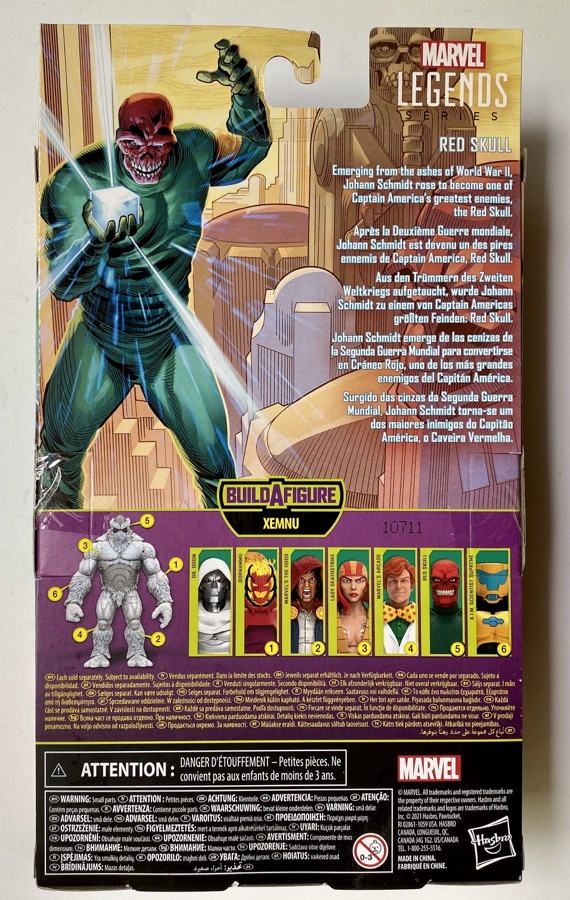 I lucked into finding the whole wave at Target, but you can also still pre-order the figure online for below MSRP if you don't mind waiting a bit for him to arrive.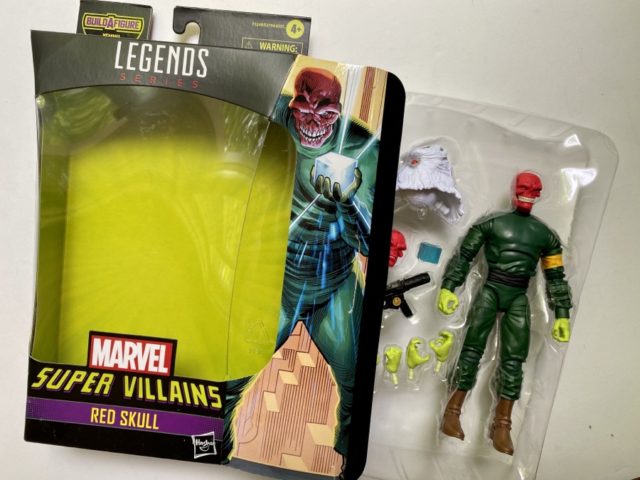 Hasbro went all out accessories-wise for this figure, giving us six interchangeable hands, two interchangeable heads, a Cosmic Cube (or Tesseract as the kiddos call it), a gun and the Build-A-Figure Xemnu head. That's the best assortment of extras for any figure in this wave, and plenty of good stuff to enhance enjoyment of this 6" Red Skull.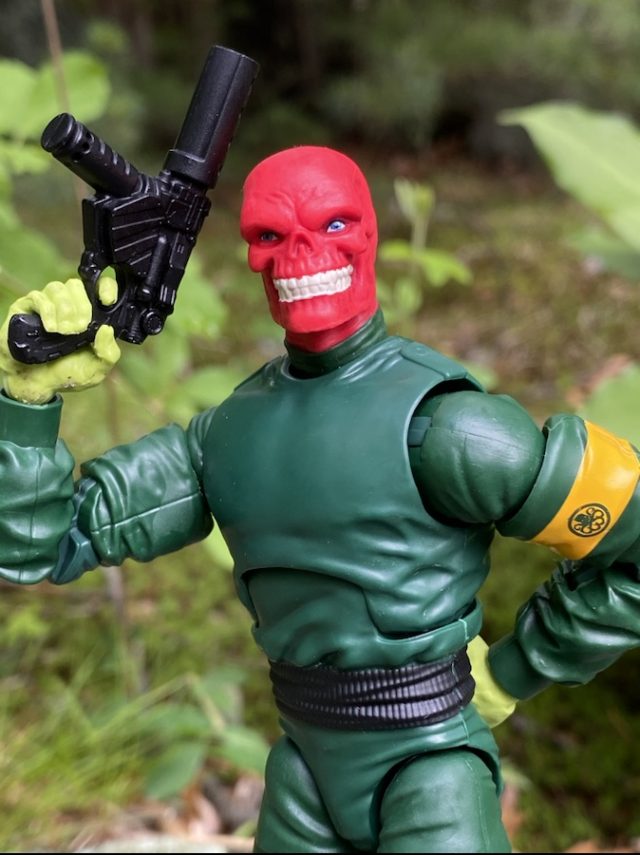 I instantly fell in love with the insanely evil, grinning Red Skull head with its teeth bared, as that's the Red Skull I see in my head when I think of the character—particularly this classic comic book version. While I haven't been as enthusiastic about the dour, serious-faced head sculpt, I've seen quite a few fans say that that's the portrait they prefer for this action figure. Clearly Hasbro knew there were going to be fans favoring both looks, and they came prepared to please both sides. Good for you, Hasbro!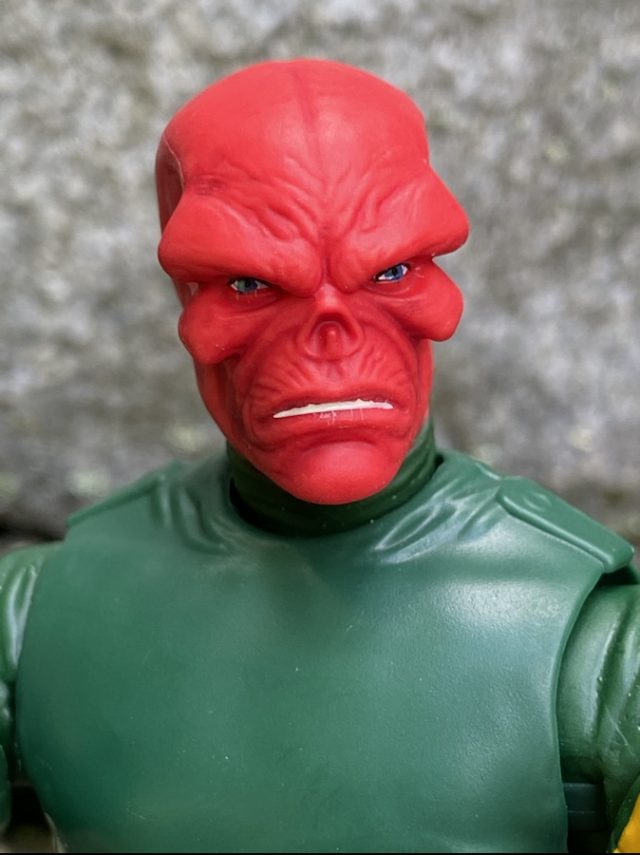 Although I think the actual sculpting and expressions are superb on both heads, my biggest complaint about the figure is lack of any kind of weathering or dark wash on both heads. It makes the heads look very plastic and toy-like, and feels a mite too close to the look of 3-D printed items for my taste. Really wish Hasbro had invested in a few pennies' worth of paint wash on these heads (which I'll be adding myself, but I review figures as they come, not as I change them).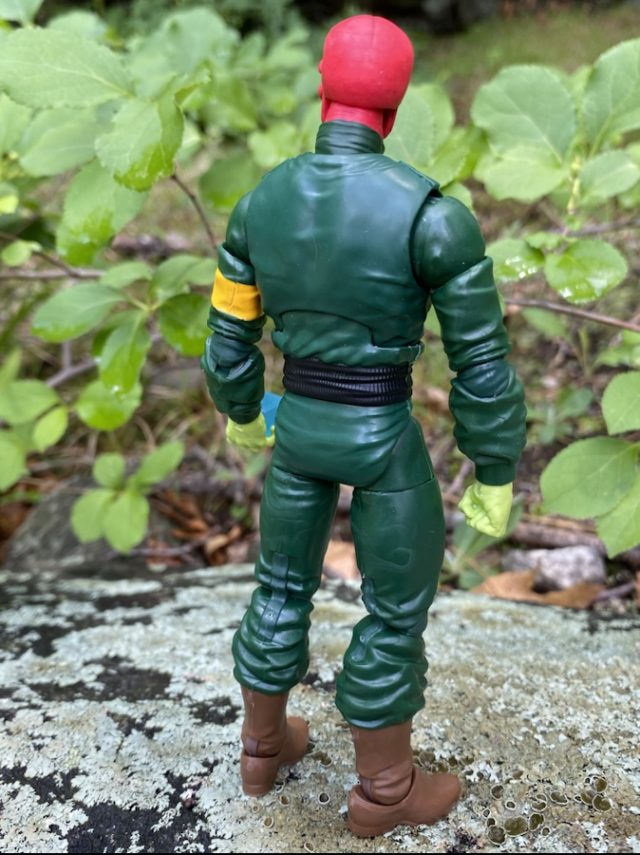 Hasbro made use of his some new tooling for this figure, and it really does help make it shine. The folds and creases on the limbs and lower torso give this a good "jumpsuit" feel, and I definitely dig the textured belt around the waist.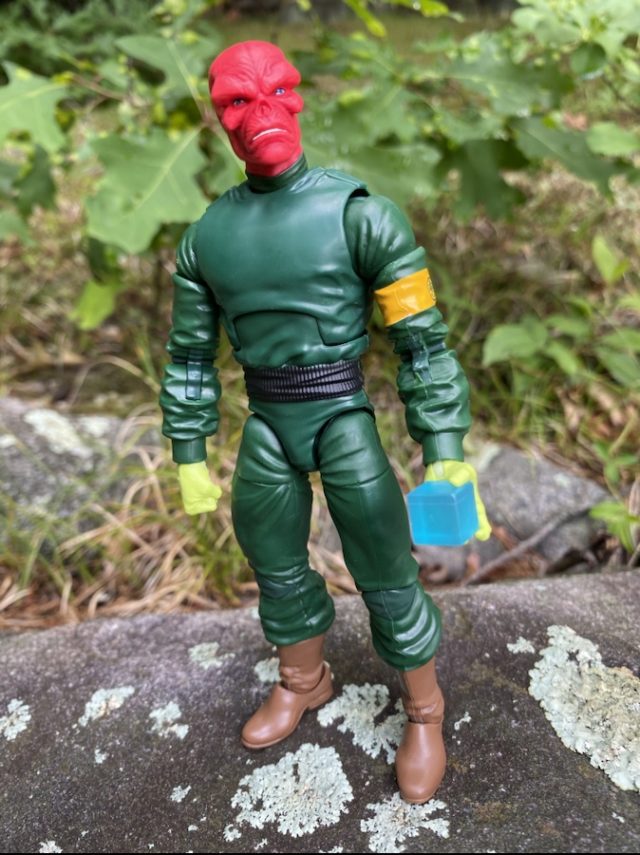 I've seen a few fans complain about the Hydra logo on the left arm band, but let us be real here: no legitimate company will ever—ever—put out a Red Skull action figure with a Nazi swastika on it. The Hydra logo is impressively detailed for its size, and it stands out well on the yellow of the armband.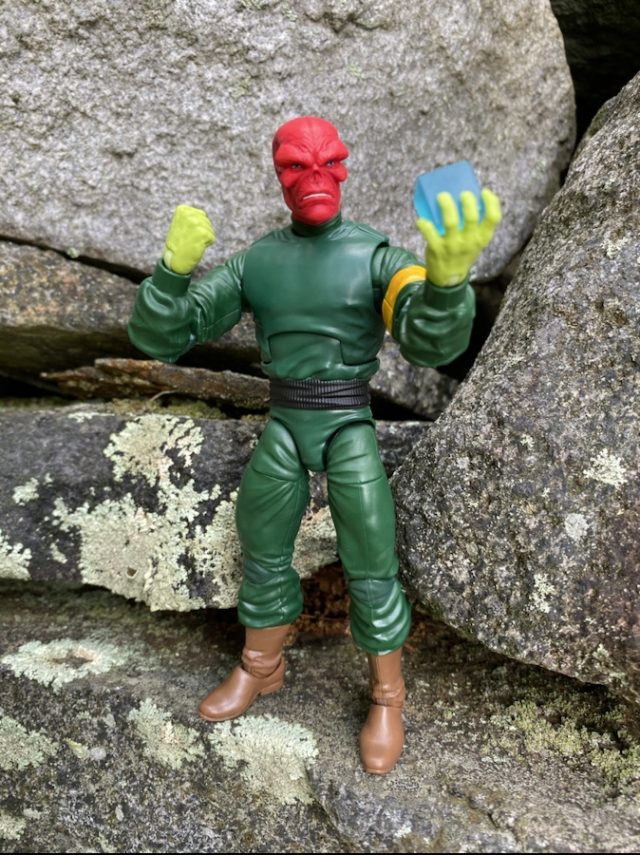 The brown boots have a military feel to them, and don't look like casual or superhero boots at all (as they should not). The key lime gloves make quite a fashion statement, but they're accurate to this era and frankly I think they complement the color scheme really well.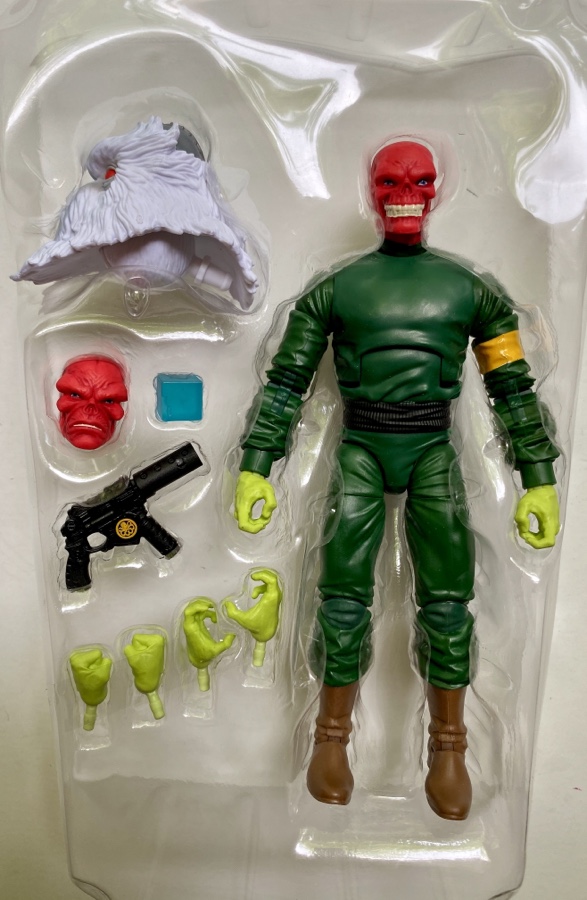 The alternate hands and accessories give this figure plenty of potential for all kinds of display. Want Red Skull to engage in fisticuffs with Captain America? Maniacally unleash rounds of bullets with his military-grade gun? Contemplate the perfect world he will create with the Cosmic Cube? All possible thanks to the accessories load out we've been given here. Good stuff.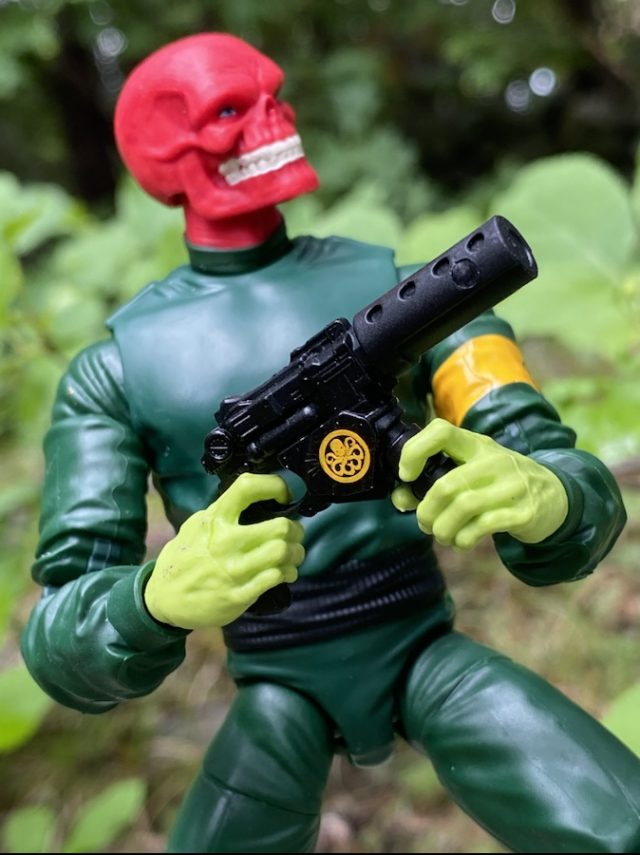 The recent pin-free technology also appears here, so there's no ugly pins breaking the illusion of a miniaturized Johann Schmidt here. I think the double-hinged knees look a bit clunky and weird in this instance, but the pin-less arms look excellent.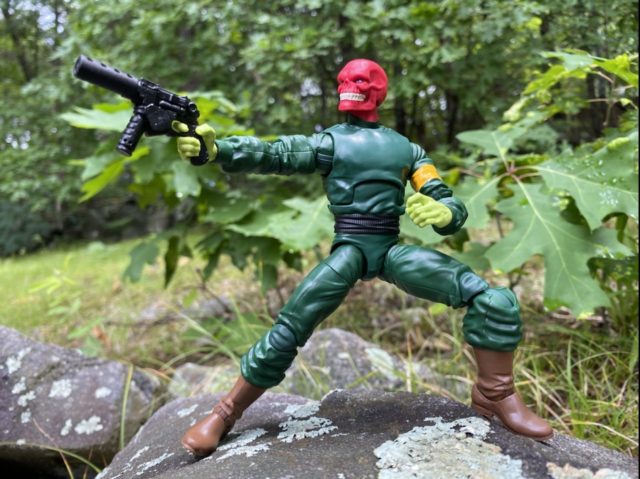 And speaking of double-jointed, here's the complete rundown of all the articulation you'll find built into this 2021 Marvel Legends Red Skull six inch figure:
—Ball-Hinge Head and Shoulders
—Double-Hinge Knees and Elbows
—Swivel-Hinge Wrists
—Upper Torso Ab Crunch
—Swivel Boots, Thighs, Biceps and Waist
—Hinged Feet with Ankle Rockers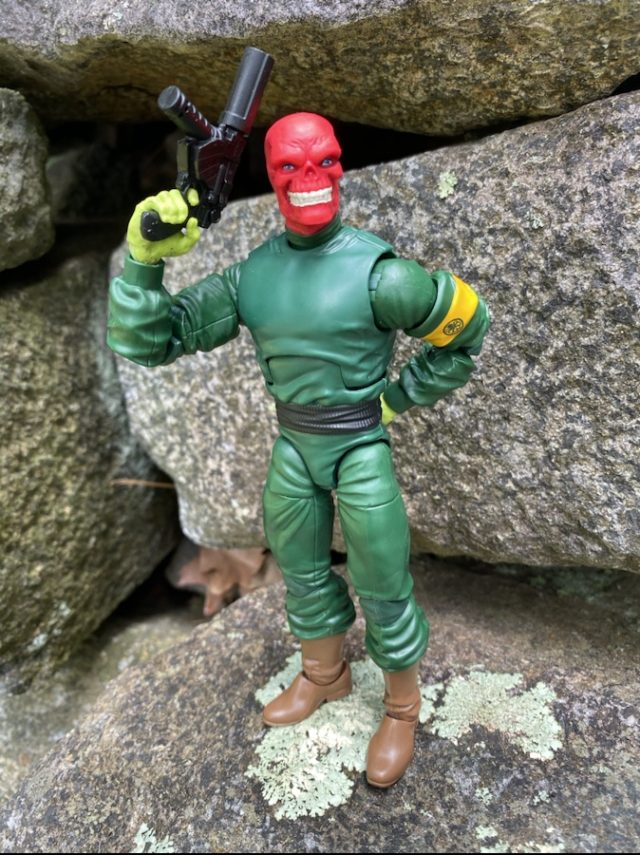 All of the joints felt sturdy on my figure and have as wide a range of motion as I'd hope for. Butterfly swivel shoulders might have been nice for more options posing with guns, but the articulation here is pretty outstanding regardless.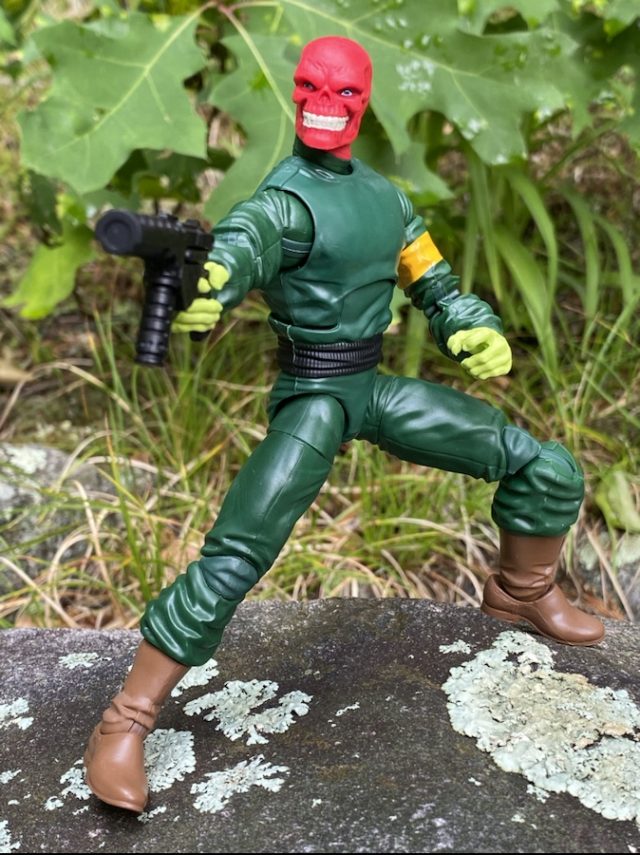 Overall: This is a 6" version of the Red Skull that fans who didn't want to drop hundreds on Mezco's ONE:12 Collective iteration desperately wanted, and he is definitely a winner and solid figure overall. Two excellent portraits, six interchangeable hands, a cool gun and a Cosmic Cube combine with the usual ML super-articulation to give this figure a variety of display options that are fun and easy to set up.
My one big gripe with this figure is that both heads, cool as they may be, have zero paint wash on the neon red, which looks like it just popped out of a 3-D printer. This is certainly something customizers will be able to add with minimal effort, but it's disappointing to see the portrait arrive this way out of the box. The double-jointed pin-less knees also look a bit awkward.
Overall, I'm very pleased with this Marvel Legends 2021 Red Skull figure, and will be adding a touch of paint to his heads and calling it a day as far as my need for a classic Red Skull Legends figure goes. I don't see Hasbro or anyone else topping this toy of this era's representation of the character any time soon.
GRADE: A
The post REVIEW: Marvel Legends Red Skull Figure (2021 Super Villains Xemnu Series) appeared first on Marvel Toy News.