Of all the 6" scale figures that Hasbro has coming our way in the Marvel Legends 2020 lineup, nothing made my eyes light up and etched a smile on my face as much as the New York Toy Fair 2020 reveal of the oversized Marvel Legends Nimrod figure. After waiting patiently for over half a year, the Amazon Exclusive Marvel Legends X-Men 3-Pack with Nimrod finally arrived this week—but did the ultimate Sentinel have any chance to match up to my sky-high expectations?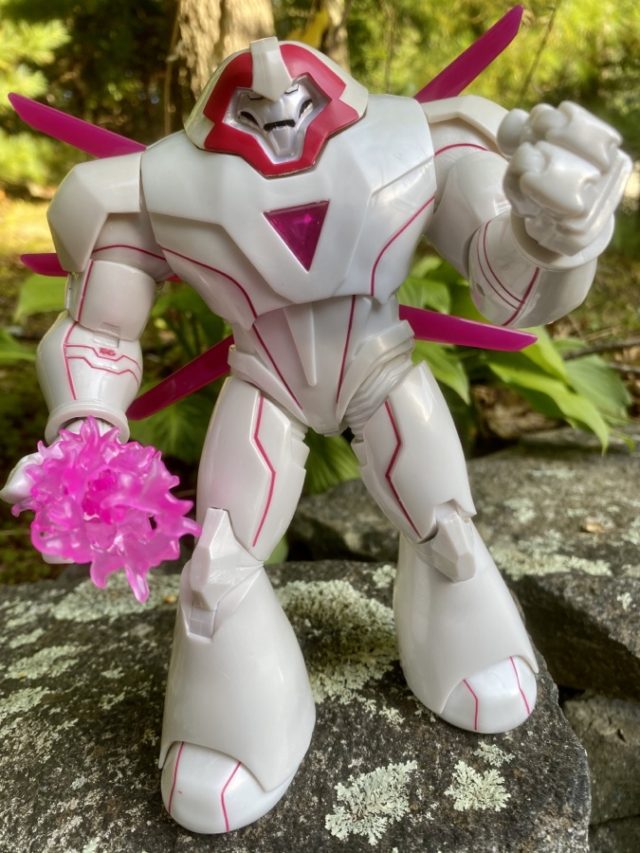 Let me be totally honest here: even though Nimrod appeared at the top of many many collectors' Marvel Legends Build-A-Figure wish lists for years, I never really had any affinity for or interest in the character… right up until last year, when that all changed.
After seeing Jonathan Hickman's interpretation of Nimrod in the "Powers of X" comic books, I was instantly in love with the robot whose very existence spells doom for all of mutantkind. So when Hasbro revealed him at the 2020 Toy Fair…? Cloud nine, baby!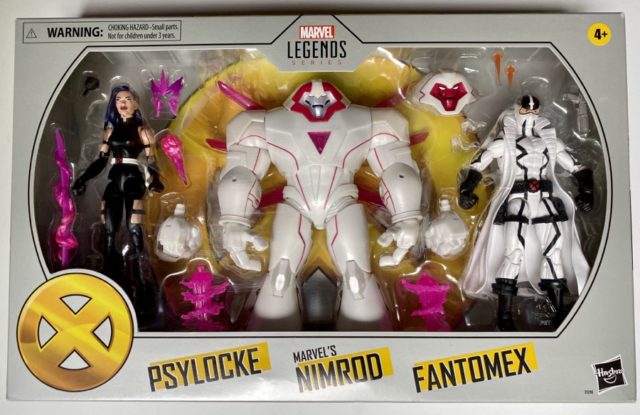 I was not exactly enthusiastic when Hasbro announced Nimrod would be part of an Amazon X-Men Legends 3-Pack with X-Force Psylocke and Fantomex, as I wanted at least two Nimrods for my collection—and the $80 price-point definitely rained on my parade a bit. Still, I couldn't help but feel my excitement rise when I got my shipping notification from Amazon on my sets.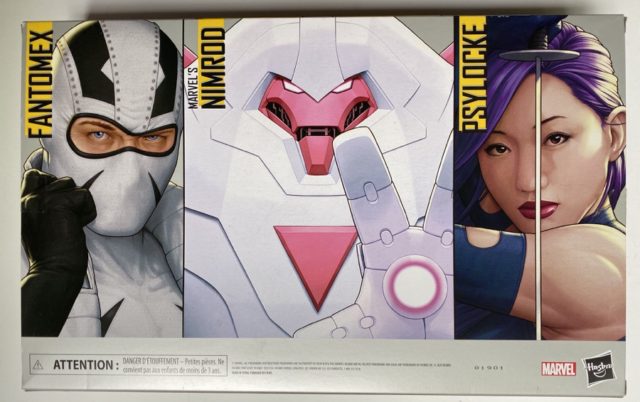 And now that I've got my pair of three-packs, well… Nimrod is alright. While you might have thought I'd be shouting from the rooftops about how awesome he is, he has one crucial shortcoming that's uncommon in the modern Hasbro X-Men Marvel Legends series: limited articulation.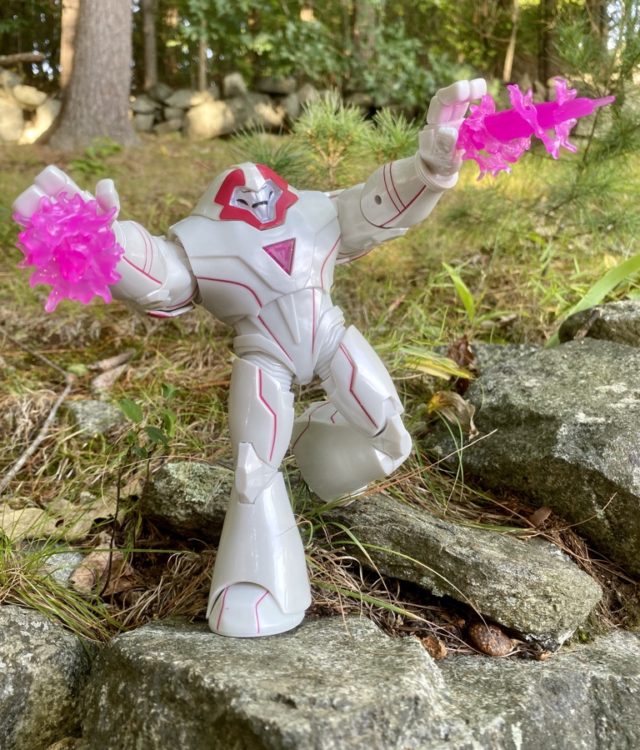 At a glance, it seems like X-Men Legends Nimrod isn't doing too bad, with an articulation set that includes:
Upper Torso Ab Crunch
Ball-Hinge Shoulders
Swivel Biceps
Hinged Elbows
Swivel-Hinge Wrists
Ball Hips
Swivel Thighs
Double-Hinge Knees
Hinged Feet with Rockers (Sort of)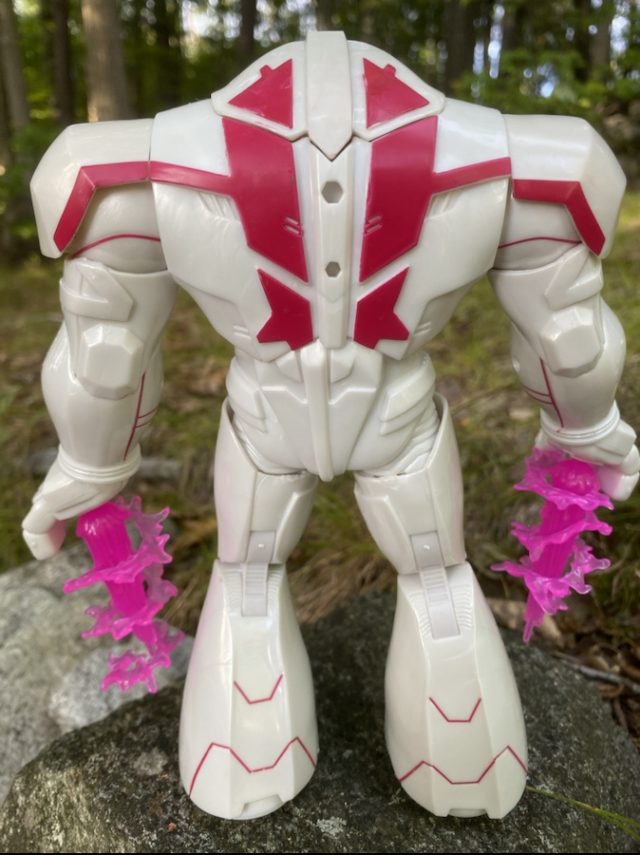 On paper, that sounds like a lot. In reality… there's really just not much articulation there. The feet are virtually unmovable because of how the lower legs cover them, and single-hinged elbows with no other elbow articulation feels archaic. The hips only move a minimal amount, and the ball-jointed upper torso actually resists next and pushes itself back to its default position when I move it.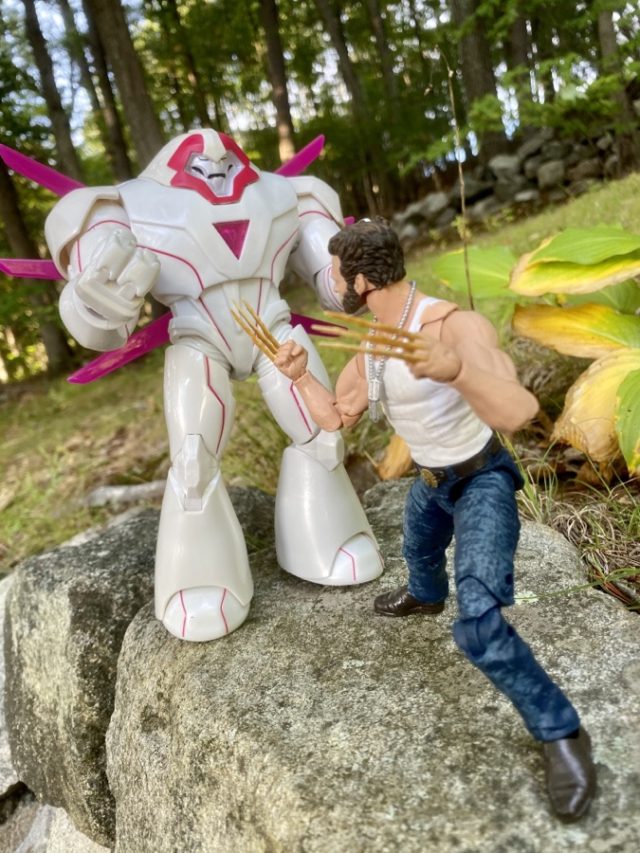 Worst of all is the head, which has zero range of motion or articulation. This is a consequence of the character design for Nimrod, but when combined with all the other articulation limitations, it really hurts what you can do with the poor guy/robot.
While it might sound like I hate this figure after blasting its articulation thoroughly to begin this review, I actually dig it a ton other than the epically disappointing posing potential. All of the new tooling was money well-spent—the proportions and silhouette for this classic villains are right on the money.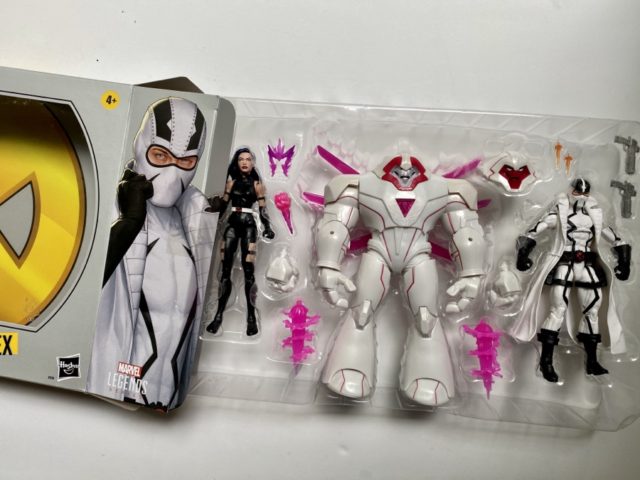 The translucent pink triangle on Nimrod's chest is an eye-grabber, and the pink paint lining really breaks up the white plastic and makes the figure feel like character design.
I know some fans wanted an actual pink Nimrod like in the vintage comics, but I think the white looks a lot more appealing ultimately. The sleek, smooth surfaces definitely give the toy a robotic feel. I also appreciate the detailed bottoms of Nimrod's feet, even though most people may never notice that detailing.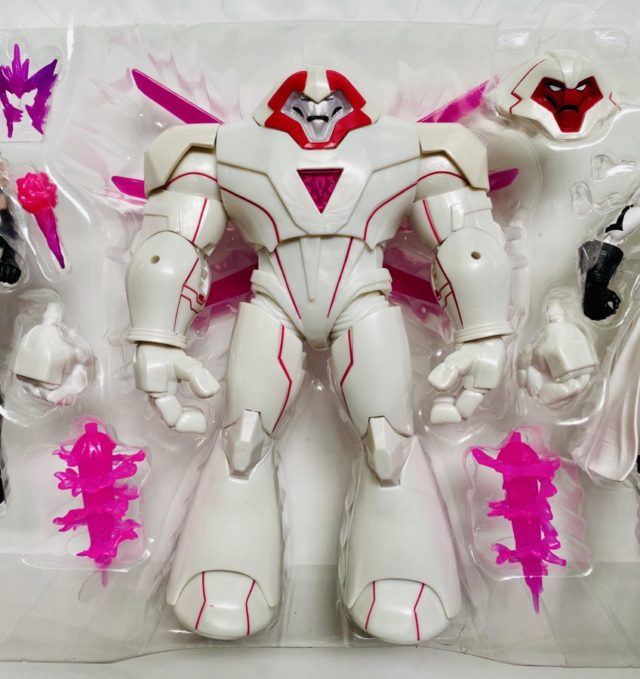 Where Hasbro really went all-out with this release is the accessories: Nimrod gets SIX all-new accessories—a number almost unheard of in this day and age. The translucent pink "wings" that attach to ML Nimrod's back are my favorite accessory, as they attach firmly and really evoke the modern design for the character.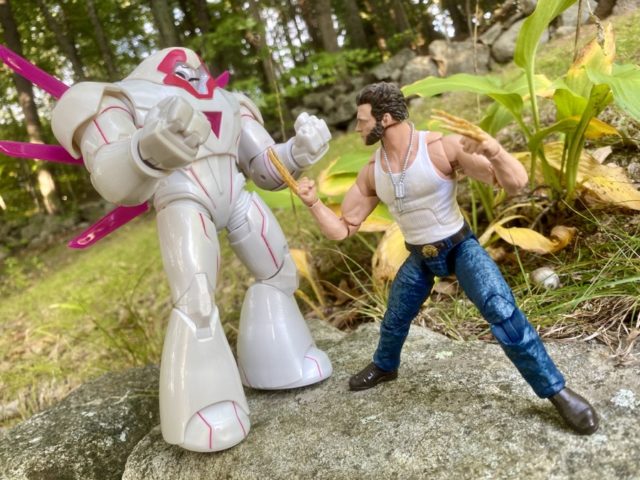 We get interchangeable open hands and fists, which are surprisingly useful as well for changing up the look of the figure—with such limited articulation, being able to alternate between punching and grabbing/blasting is a big plus.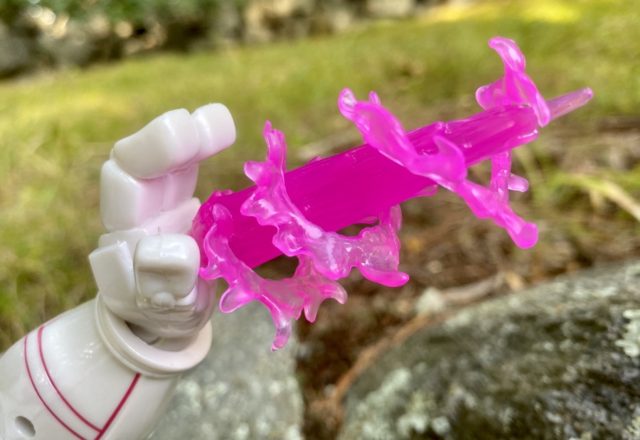 There are two translucent pink blast energy effects included that plug into the open hand palms. The angle the hands rotate up doesn't seem to be quite right to make the blasts look natural when posing, but I do really dig the spiraling energy going around the effects pieces.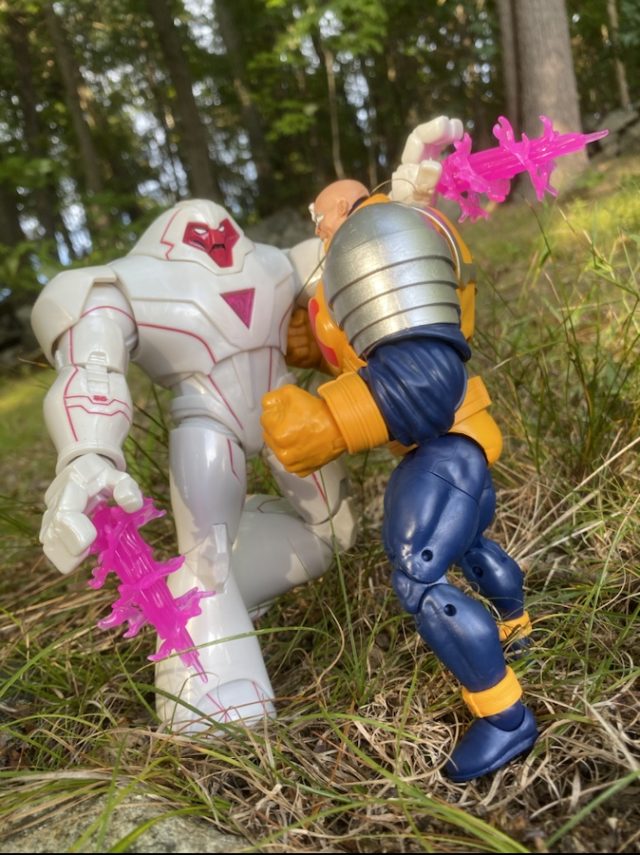 And most important to many, a classic pink-faced Nimrod head is also included, which definitely gives a different look and feel to the figure. I decided to buy this figure twice (as expensive as that was) to display both classic and modern versions of the character. Your need to own this toy twice may vary.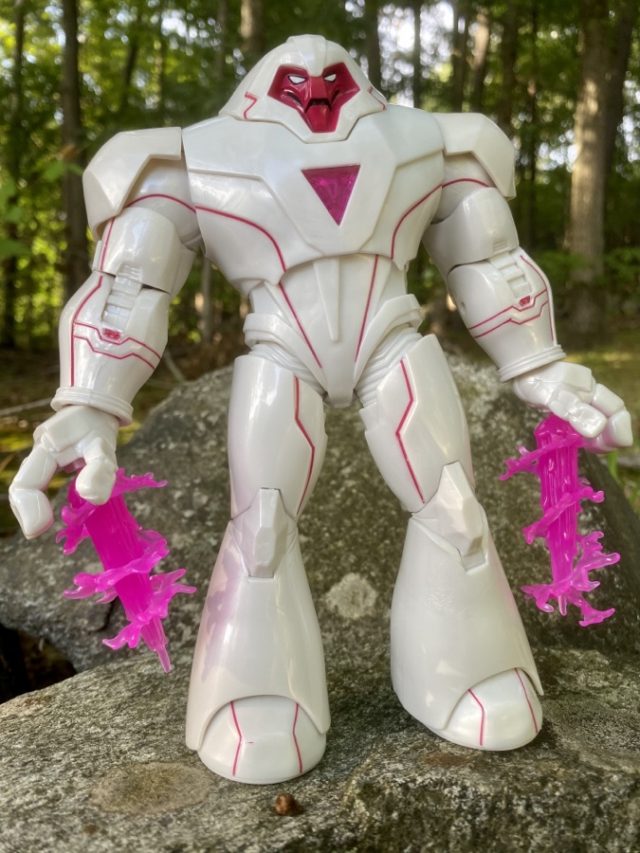 Overall: In my heart, getting a Marvel Legends Nimrod figure at all right now is an 'A++'. In execution, this action figure falls short of that. On the positive side, I think Hasbro has given us a sculpt with wonderfully accurate proportions, a half dozen unique accessories and a surprisingly effective functionality as either the classic or modern version of the character.
On the downside, the articulation here is absolutely dreadful. While the character design leaves little opportunity for flexibility, the lower body effectively feels like a brick with the barest of posing potential.
I still think this Nimrod Legends figure looks awesome, and I love the various accessories and interchangeable parts—particularly the translucent pink wings—but there's no denying that many fans accustomed to the super-poseability of Hasbro Marvel Legends figures will be frustrated with this release.
GRADE: B-
The post REVIEW: Marvel Legends NIMROD X-Men Amazon 3-Pack Exclusive Figure appeared first on Marvel Toy News.