Hasbro has been pretty on-the-ball with giving collectors pretty much every major Marvel Studios villain in 6" Marvel Legends form (sorry Malekith and Kaecillius—you don't rate), so it wasn't a big plot twist when they revealed we'd be getting a movie-based Marvel Legends Mysterio figure from Spider-Man Far From Home as well. Packed at just one-per-case, the new 2019 Marvel Legends Mysterio figure is already sold out on Amazon, still available for pre-order from other online retailers and likely to be a tough grab at retail. Is he worth all the fuss?
The Right:
Last year, Hasbro gave fans the gift of a virtually perfect comic book-styled ML Mysterio figure in the Lizard Series that instantly sold out and has remained at an inflated price on the aftermarket ever since. This year, it's time for the Jake Gyllenhaal live-action Mysterio to shine in toy form! But does he? Here's my review…
The most distinctive characteristic of Mysterio's costume is his helmet, and Hasbro has hit a home run with their design on the helmet for this Far From Home Legends figure. The fishbowl helmet is resplendent and opaque, which looks stellar on the smooth surface. The glitter-like speckles are marvelous. This is downright beautiful!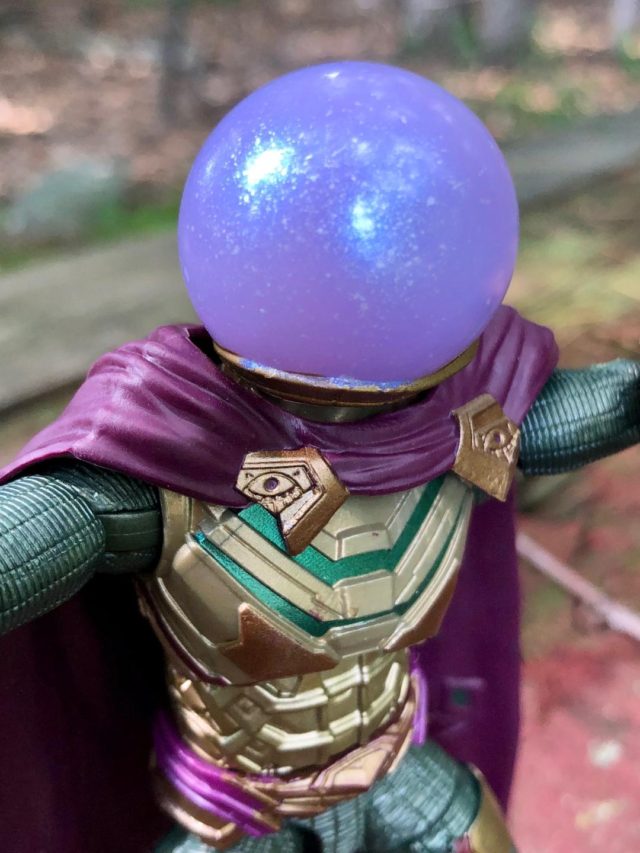 The Mysterio helmet also has an outstanding range of motion, and can easily and smoothly be positioned looking way up or down or turning to the sides. I get serious joy moving this fishbowl-looking head around. Fun!!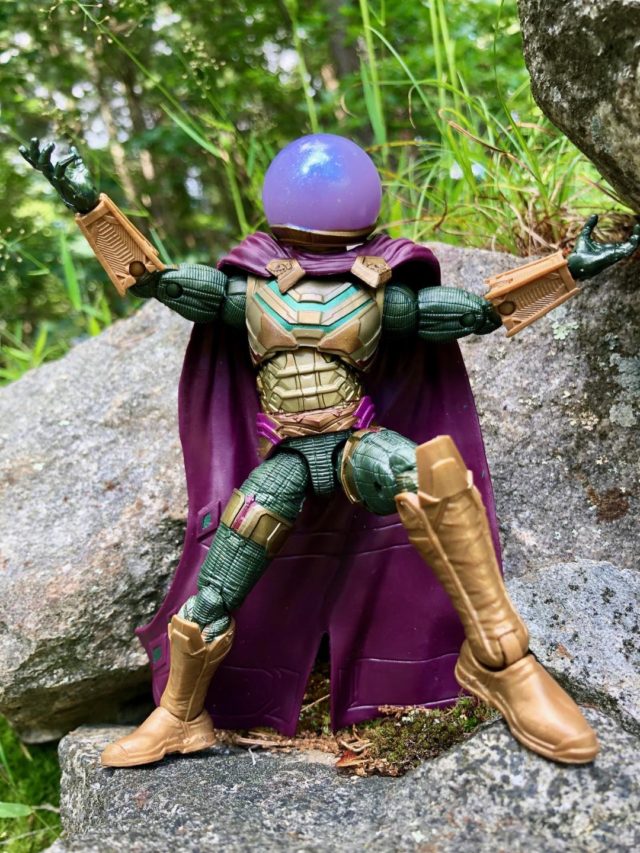 For the most part, the rest of Mysterio's articulation scheme is very solid, including the standard double-jointed knees and elbows, ball-jointed hips and upper torso, hinged ankles with rockers, swivel biceps and thighs, and swivel-hinged wrists. It's not the tip-top peak of Marvel Legends articulation, but what's present is beyond any other toy available on the market for this movie character.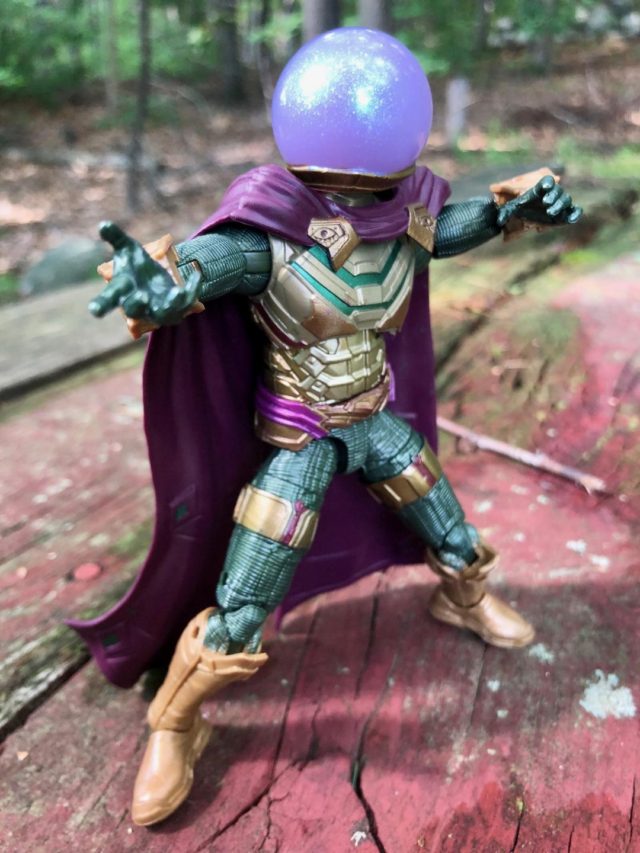 While perhaps not as breathtaking as the helmet, the remainder of the Spider-Man Legends Mysterio figure's costume is no slouch either. The all-new cape has sculpted decorations on the front including lining and painted diamonds that really set it apart from standard ML capes.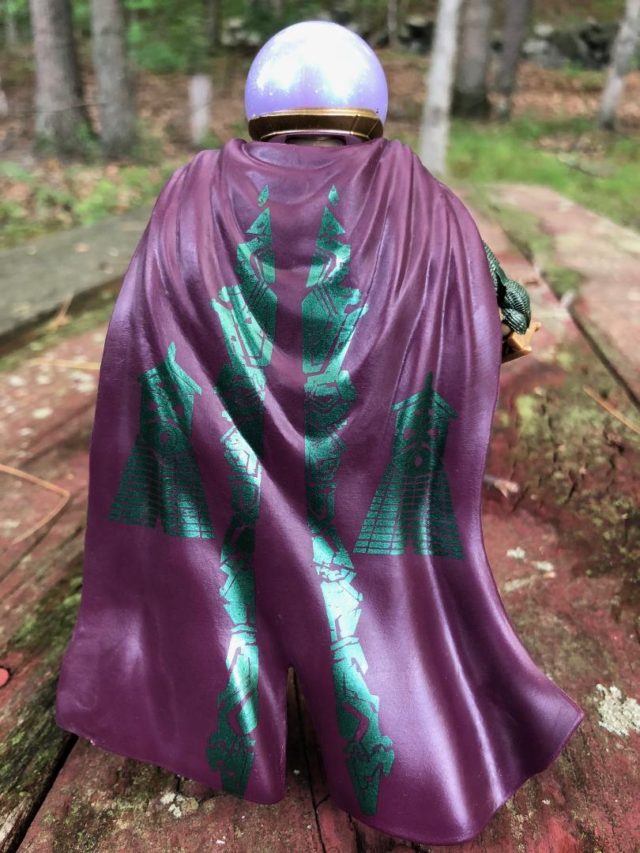 The back of Mysterio's cape is even cooler, with an ornate green design printed on in a metallic green paint with a foil-like feel to it. This is aesthetically one of the nicest capes we've seen from Hasbro ever, and it's flexible and light enough that it stays in place without much trouble and doesn't inhibit poses much at all.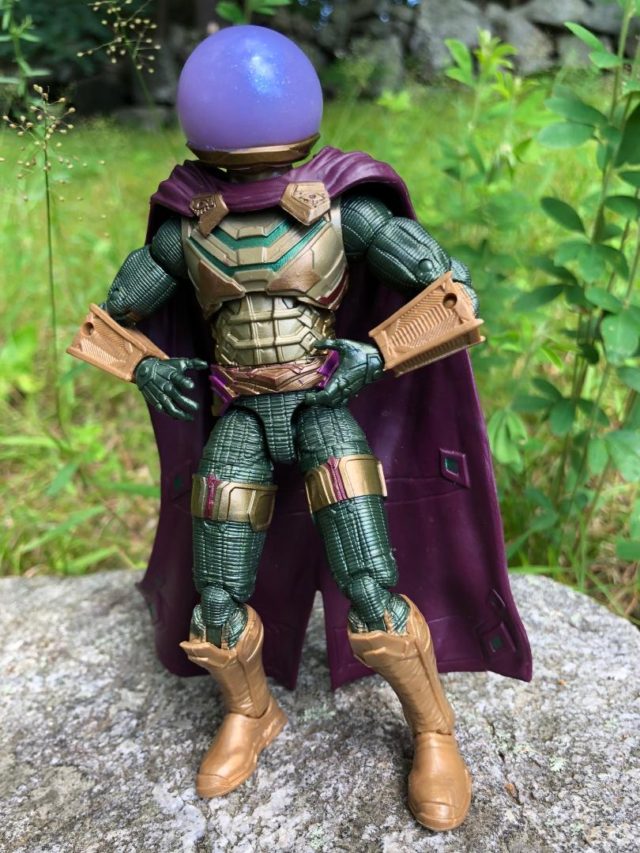 The armor on the Marvel Legends Far From Home Mysterio figure is likewise 100% new and covered in intricate sculpting detailing and loads of well-executed paint deco. The colors look dead-on accurate to the actual movie costume and really draw your eye to this action figure on a shelf. This figure looks so good, it basically puts the FFH Spider-Man itself in the series to shame.
The Wrong:
If there's any real disappointment with this Spider-Man Far From Home Marvel Legends Mysterio figure, it's the lack of any kind of meaningful accessories. Given how much exposure we've had to an unmasked Jake Gyllenhaal Quentin Beck in all the trailers for the movie, I'm pretty stunned that we don't get an alternate head included here.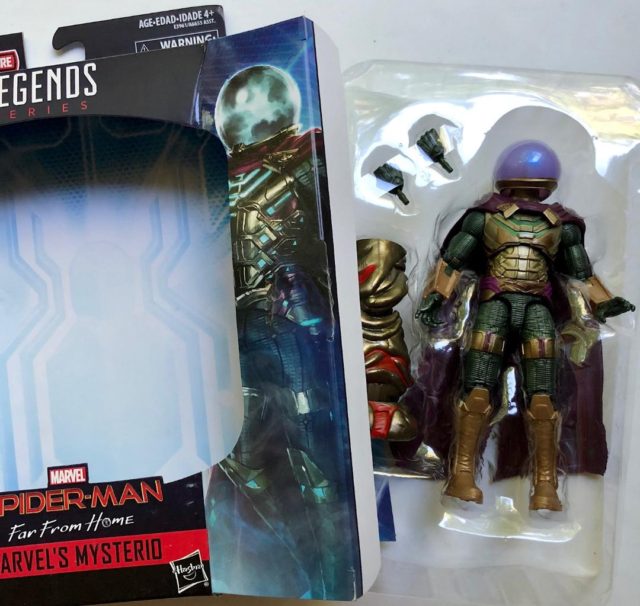 Given the nature of Mysterio's abilities, you would also think there would be some effect piece of some kind included here. If nothing else, maybe a repack of the lower body smoke effects from last year's comic-based Mysterio Legends figure. But nope! No effects accessories of any kind come with this action figure. Instead, we get… interchangeable fists (and the leg of the Molten Man Build-A-Figure I reviewed last week).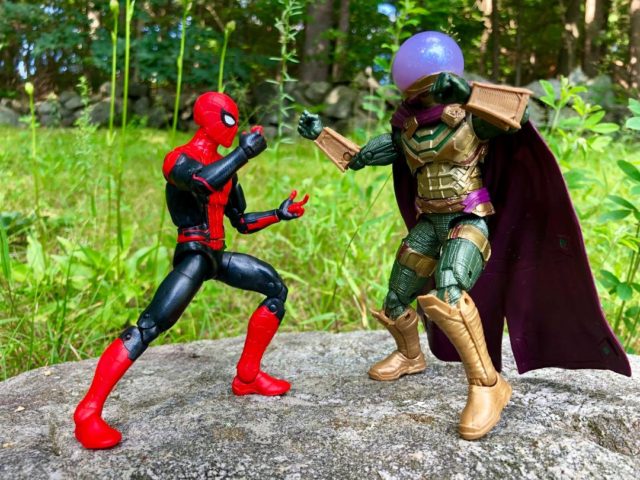 Admittedly, I haven't yet seen Spider-Man: Far From Home, so perhaps Mysterio and Spidey engage in an epic fisticuffs battle in the movie and these fists are in fact the ideal sole accessories. Even so, I'd still prefer some sort of effects of any kind based on my present knowledge of the character.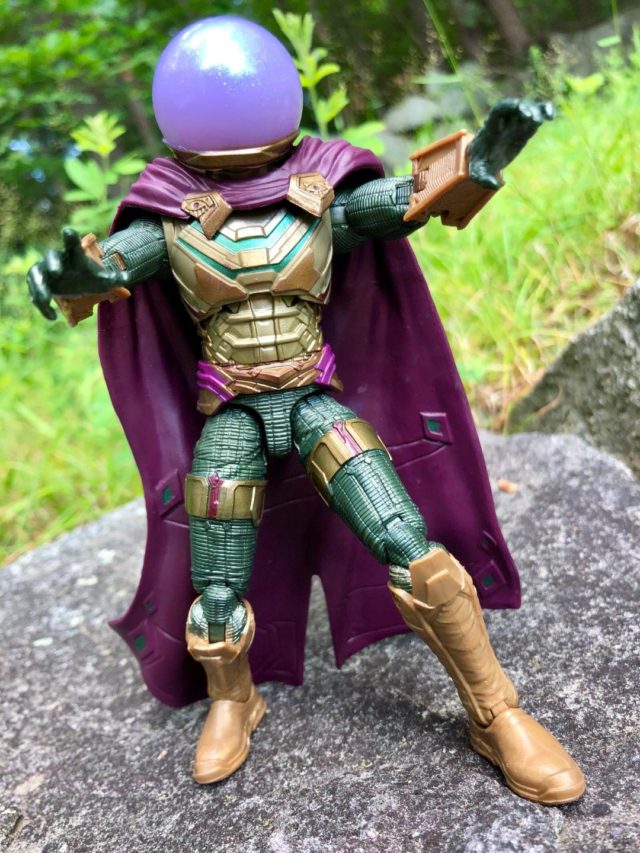 In addition, several normal points of articulation have been omitted on Mysterio: there's no swivel waist, boots or forearms. He's got an otherwise nice articulation scheme, but I definitely found myself hindered by the missing POA while posing him for my review photos.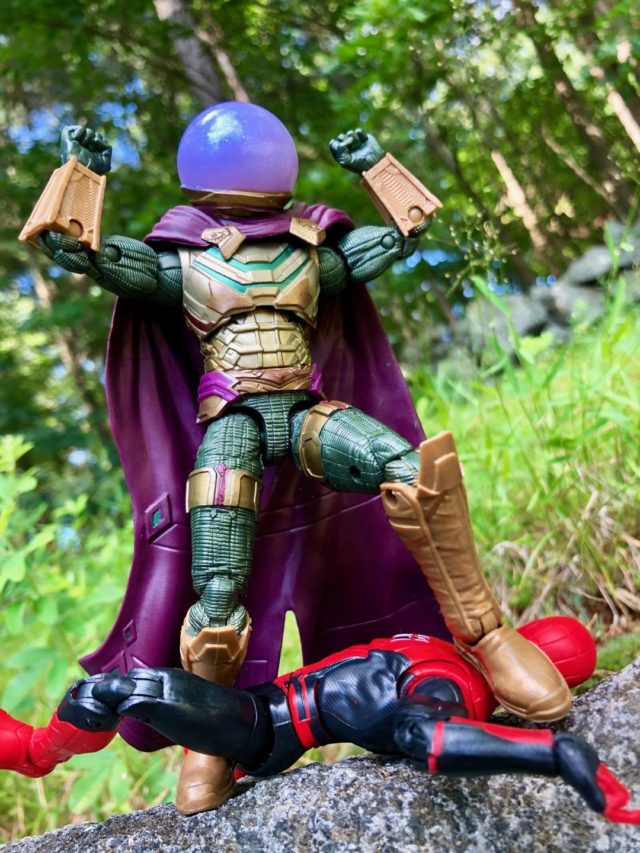 Overall: In general, this is a really solid and well-executed Mysterio movie figure. The new sculpt is wonderfully detailed, I love the wide range of motion on the fishbowl helmet and the decorations on both sides of the cape look splendid.
On the flip-side, we don't get much of anything in the way of accessories here, which really limits what this Mysterio action figure can do besides have a fist-fight with Spidey. Combined with missing articulation at the waist, forearms, boots, this Marvel Legends Far From Home Mysterio figure falls just a hair short from perfection.
GRADE: A-
The post REVIEW: Marvel Legends Mysterio Far From Home Movie Figure appeared first on Marvel Toy News.