Having already covered my favorite character (the anthropomorphic amphibian one) in the 2021 Marvel Legends Into the Spider-Verse Stilt-Man Series, let's move on now to the character in the wave that I was least excited about. After getting a classic comics-based Prowler Legends figure in Lizard Build-A-Figure Series in 2018, I wasn't really sure I needed an Uncle Aaron Prowler Version from the Spider-Man Into the Spider-Verse animated film. Now that he's arrived from Amazon, have I changed my mind?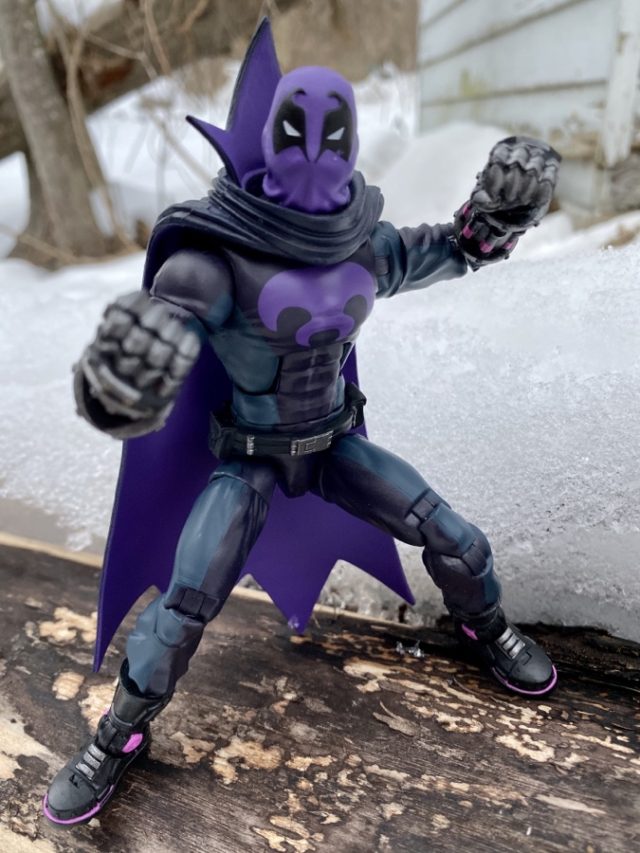 Sony's Spider-Man: Into the Spider-Verse movie actually being a blockbuster hit with fans came as so much of a surprise in 2018 that we're just now getting proper Hasbro 6" figures from the film—in 2021.
While it was basically a given that we'd get animated versions of Miles Morales Spider-Man, Peter B. Parker and Ghost Spider (Spider-Gwen) in this wave, Spider-Verse Prowler is at least a minor curveball. As a secondary villain in the film and also the doomed uncle of Miles Morales, I wouldn't have given Uncle Aaron the best odds of getting an action figure. But here it is! How is it?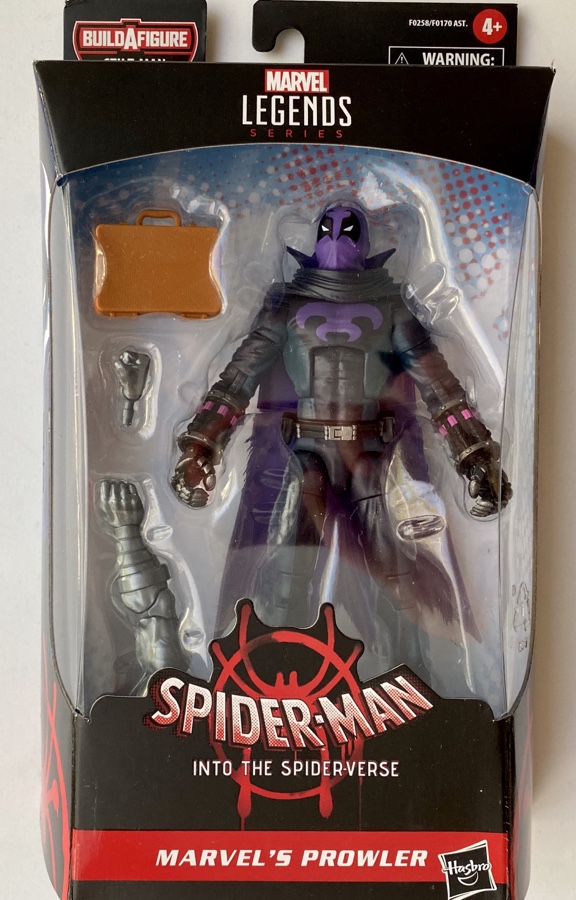 Prowler comes in the Into the Spider-Verse branded packaging with the Miles graffiti Spider-Man logo on the front of the packaging, which I dig. We've come a long way the last few years with Hasbro now offering so many packaging variations within waves of figures!
Illustration of Prowler on the box back is actually pretty cool-looking, and I totally dig seeing a Stilt-Man figure on the back of packaging that hundreds of thousands of fans are going to see.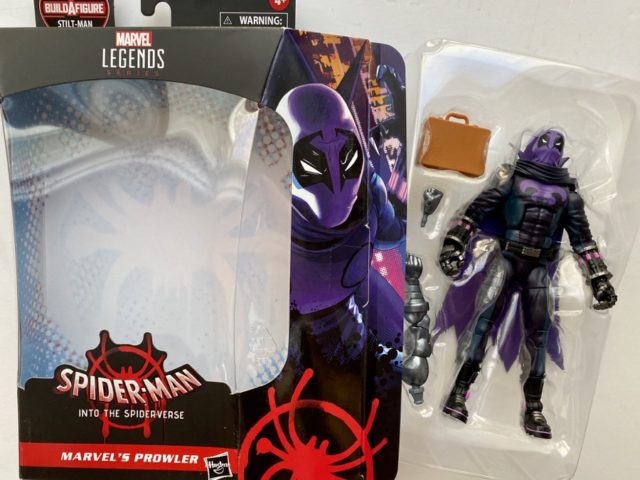 The packaging art on the spine is the same, which is fine—looks great.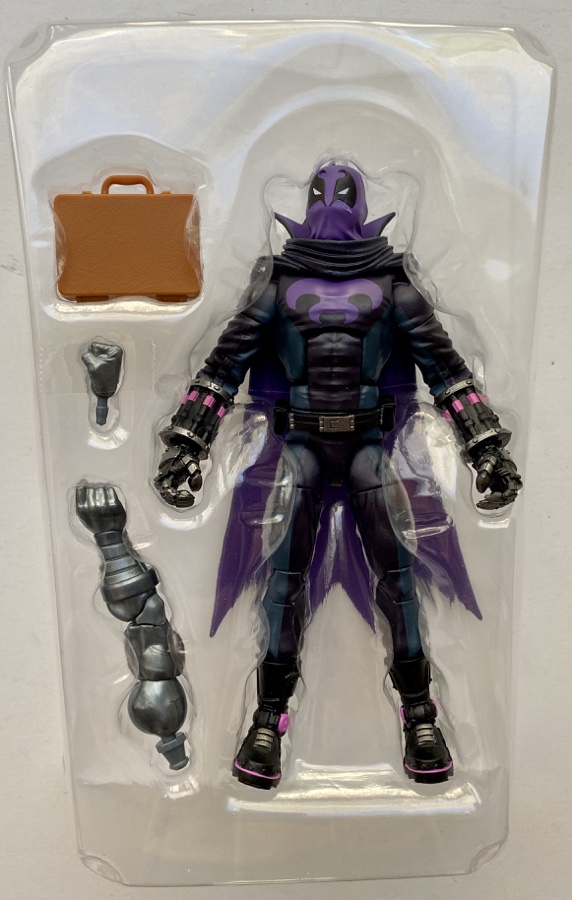 After unboxing, we can clearly see everything included: a 6" Prowler action figure with a whopping zero accessories of his own—along with the Stilt-Man Build-A-Figure right arm and interchangeable fist, as well as Stilt-Man's briefcase full of money accessory.
I'll talk about the briefcase more when I review the Stilt-Man BAF, but it kind of, sort of functions as an accessory for Prowler in a pinch. His hands aren't really sculpted ideally to hold it by the handle (at all), but if you want to give Aaron something to hold for posing, it's close-ish.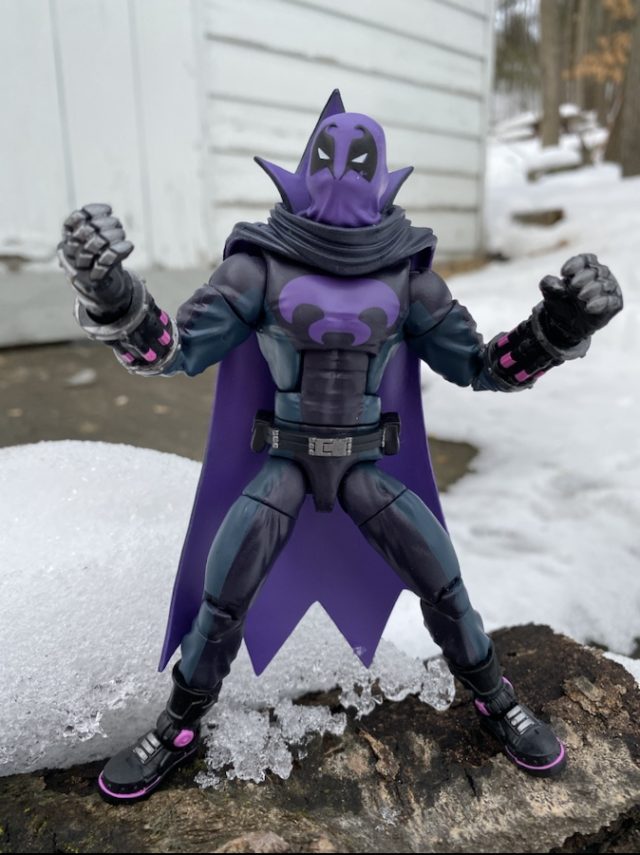 The lack of accessories for this figure really bugs me, honestly. An unmasked Aaron Davis head seems like it should have been a sure-thing for an inclusion, and not getting it stings. In addition, the hands aren't really posed in a clawing attack motion at all—alt hands would have greatly increased the logical poses for this toy. We don't even get cool "boot blast" effects pieces like the Hasbro kiddie figure a few years back came with. Lame.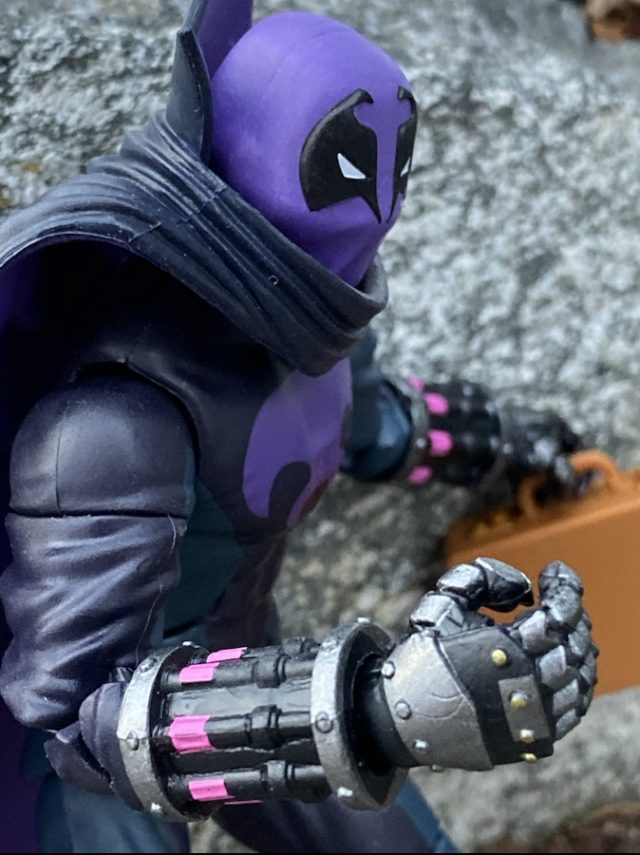 On the bright side, what we do get here is a wonderfully faithful Into the Spider-Verse costume for the Prowler, which looks a lot more modern and enticing than the classic comic book version. Don't get me wrong—the comics version is my Prowler and my preference, but I think–objectively speaking–this is a cooler costume.
The paint quality on mine is overall nice, although mine has a weird tiny defect on the mask that I'll be correcting myself after my review. I especially love the hot pink "energy" coursing through Prowler's boots and gauntlets. This really pops and draws the eye, and is a color we very rarely see on a Marvel Legends figure.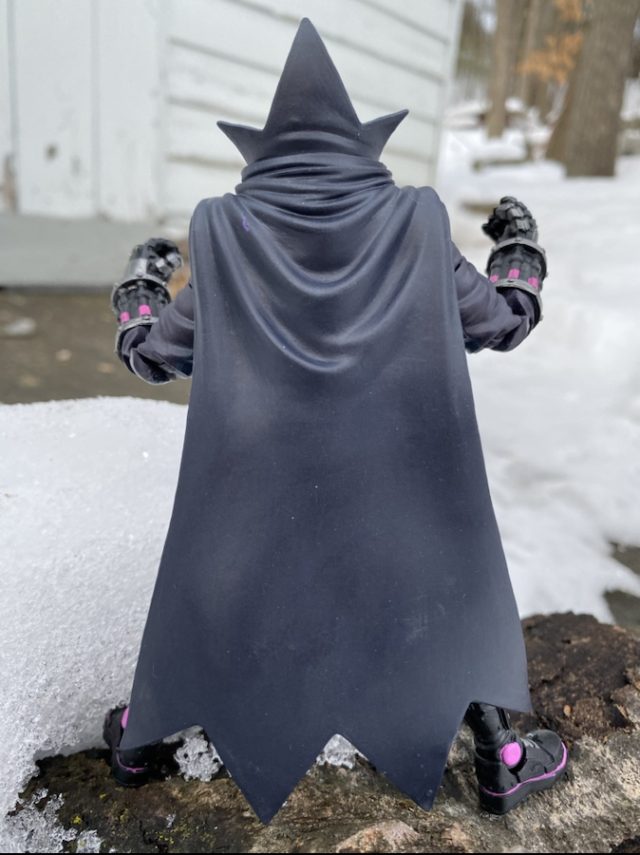 Prowler's belt fits nice and snug, but I straight-up dislike the add-on cape he's wearing. The peg is of the ultra-rubbery variety that won't stay in place and pops out constantly for me, and the cape is sculpted going straight down, so it's not really suitable for dynamic/crouching poses. This further limits what you can do with this guy easily for display, alas.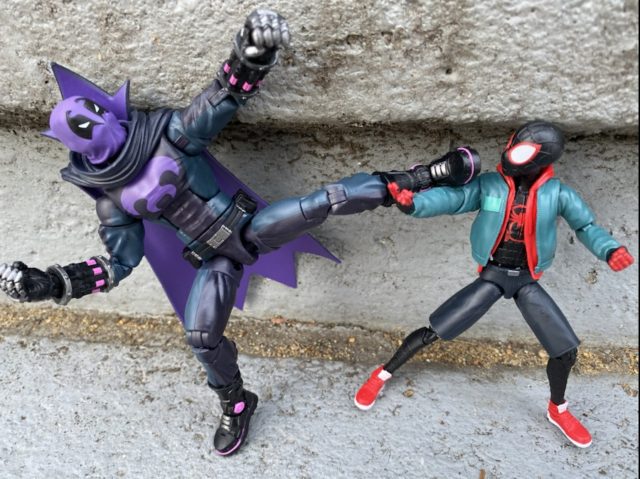 Finally, on the articulation front we've got standard levels of Hasbro Marvel Legends super-articulation:
Ball-Hinge Neck and Shoulders
Ab Crunch
Swivel Waist, Biceps, Thighs and Boots
Double-Hinge Knees and Elbows
Swivel-Hinge Wrists
Hinged Feet with Ankle Rockers
In short, there's loads of usable articulation built into this action figure—he just doesn't have any real effects or accessories to make for interesting poses when paired with his static cape.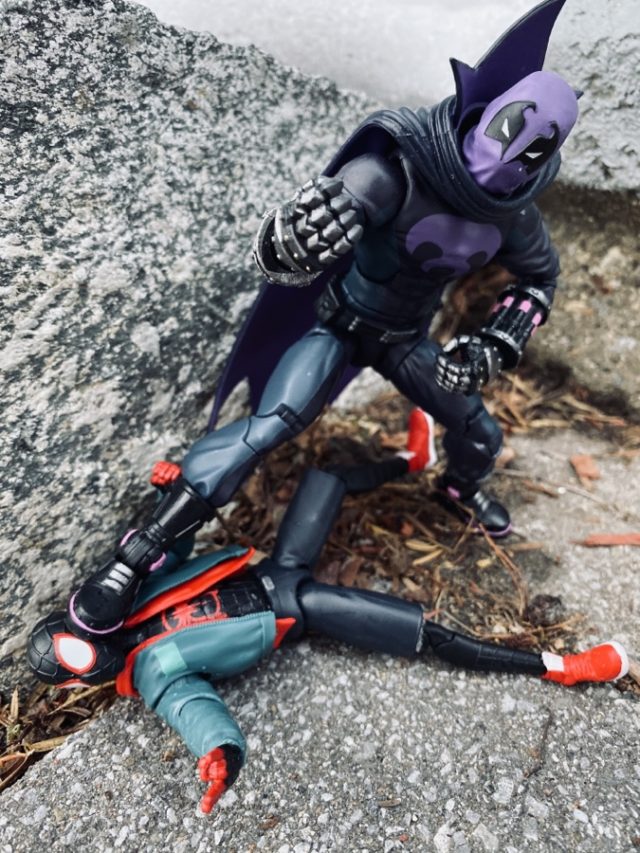 Overall: I'm glad that Hasbro dove deep enough to give us a super-articulated action figure of the Aaron Davis Prowler iteration, but this figure really fails to have enough features to get my attention. An Uncle Aaron interchangeable head, alternate hands actually posed to claw offensively, boot blast effects pieces… anything would have been appreciated to spice things up for this Spider-Verse Marvel Legends Prowler figure.
The sculpt and paints are nice (paint defect on the mask of mine notwithstanding), but with the static cape and grasping hands and no accessories of his own, what you can do with this Prowler Marvel Legends figure is really limited. Overall, this is a pretty average Hasbro ML figure—if I didn't need the arm and briefcase for my Stilt-Man BAF, it really might have ended up being a pass.
GRADE: C+
The post REVIEW: Marvel Legends Into the Spider-Verse Prowler Figure (2021) appeared first on Marvel Toy News.