Fact of action figure industry life: tooling has got to be reused when possible to save money and make costs even out logistically. That's why we got the weird Astral Doctor Strange figure a few years back, and it's why we're getting this Captain Marvel Legends figure in flight jacket. But unlike that Doctor Strange, this figure has a few things in its favor, including a new Brie Larson portrait and an exclusive Goose the Cat figure. Do these new additions warrant dropping $19.99 on this version of Carol?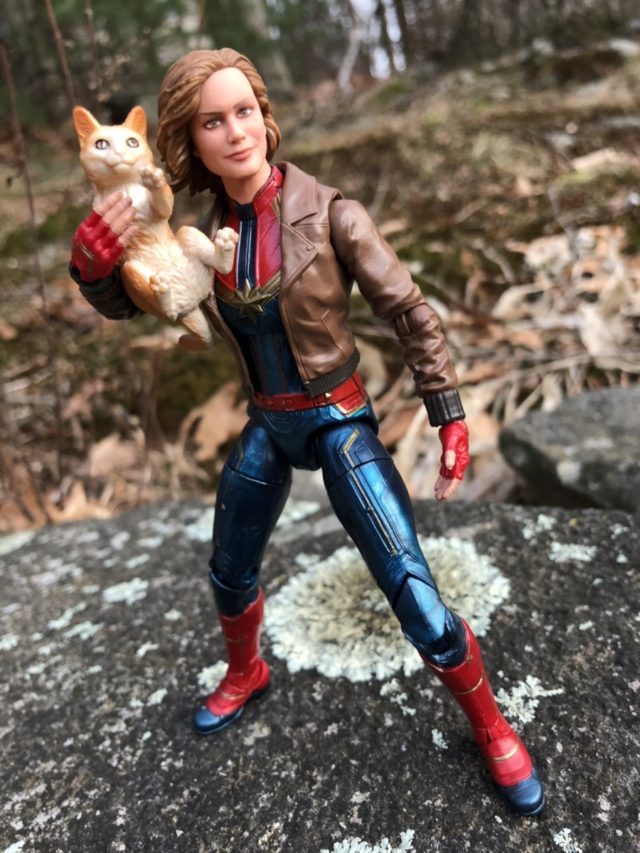 The Captain Marvel movie that premieres in just over two months will be both Carol Danvers' debut in the MCU and also the first solo movie for the character. Carol is about to be put on the map with the general public in a big way, and so Hasbro needs to be ready for the potential demand for toys of the character.
As such, we're getting our first mass-release alternate version of Marvel Legends Captain Marvel with this figure featuring a smiling Brie Larson head sculpt, a bomber jacket and "normal" Goose the Cat.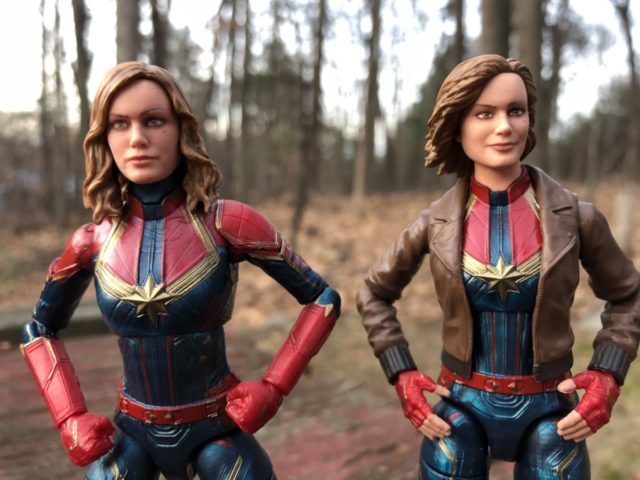 Elephant in the room here: the Brie Larson portrait on this Flight Jacket Carol Danvers action figure is not as good as the incredible one on the head that comes with the other Captain Marvel figure in this series. However, I also don't think it's the nearly meme-worthy abomination that some people seem to think it is.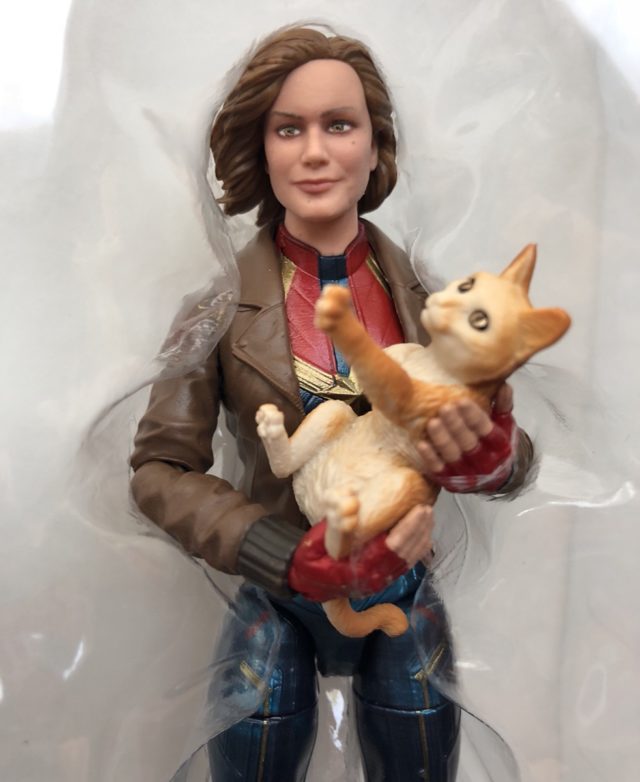 Hey, I know we all love Leslie Knope, and so the Amy Poehler comparisons are understandable, but I don't think this is a bad Brie Larson head sculpt at all. The cocky grin gives her some playful personality we haven't really seen in the trailers for the movie, and the facial features and paint don't seem far off from the actress photo on the package.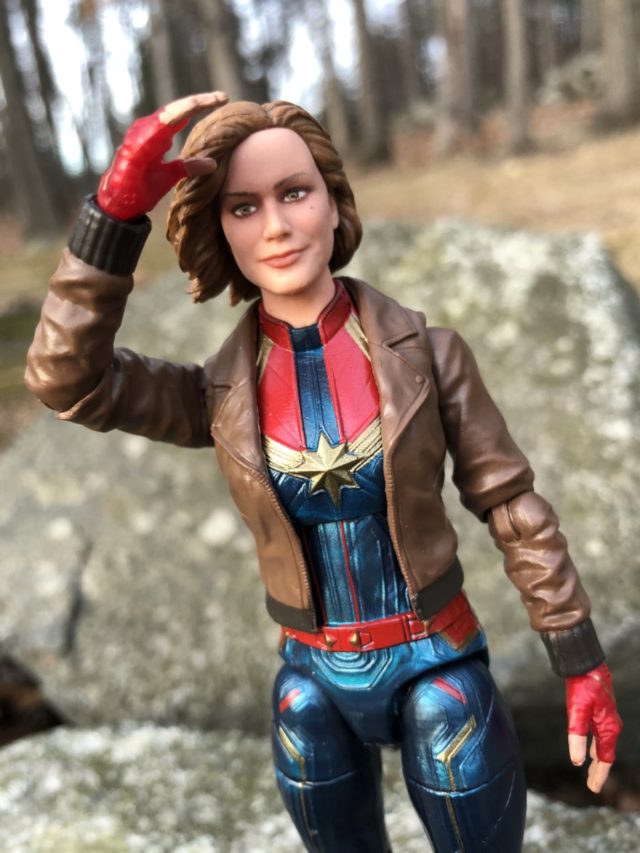 I commend Hasbro for giving us 100% new sculpt here when they didn't have to—no complaints from me, even if the likeness isn't exactly at Hot Toys level (nor should anyone expect it to be).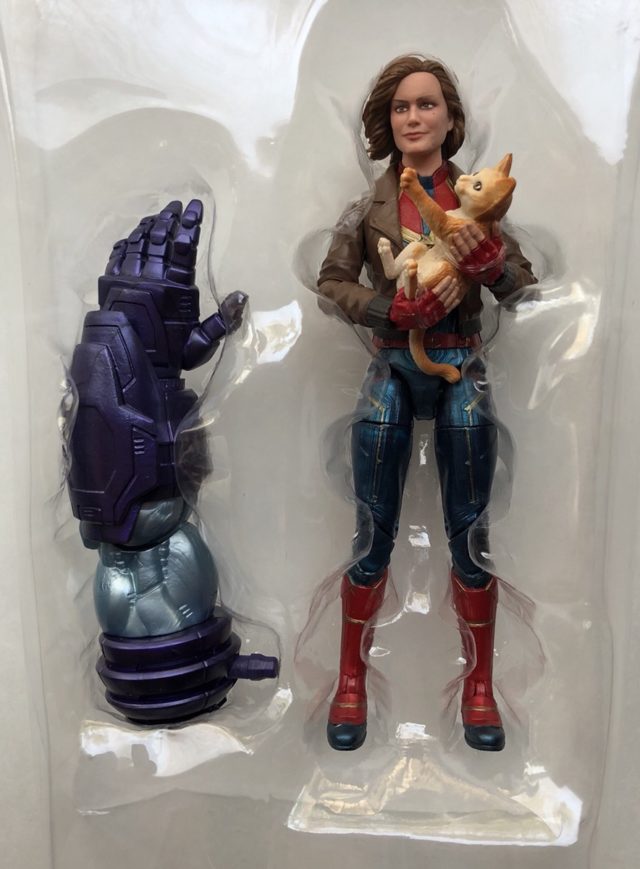 What I will complain about, however, is the lack of accessories this figure comes with. We get Goose the Cat, the left arm of the Kree Sentry Build-A-Figure, and… wait, that's it?! While not every figure needs a ton of accessories, this Flight Jacket Captain Marvel Legends figure is one that at least needed one other pair of hands.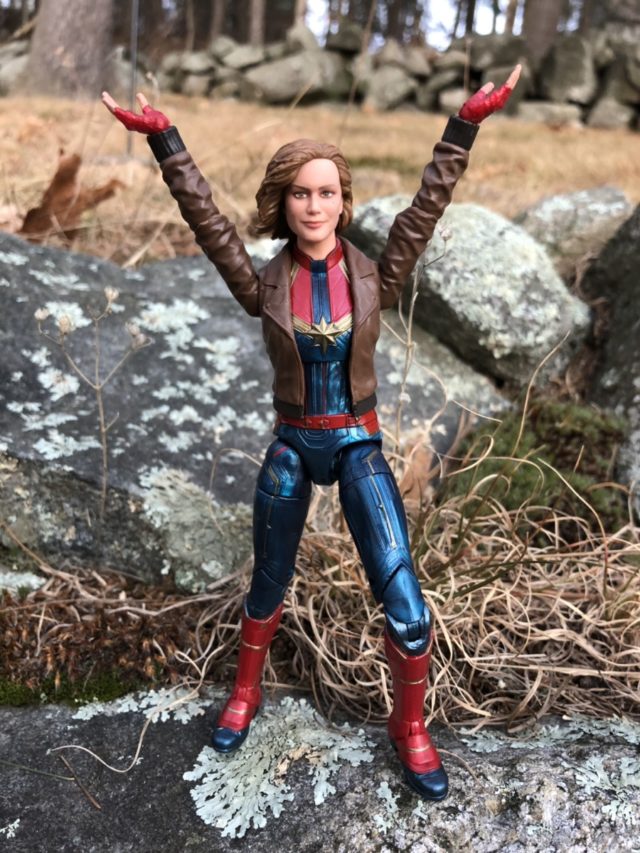 This Carol comes equipped with open "karate chop" hands, which means she's ready to do The Wave, throw her hands in the air like she just don't care, bust out some kung fu or do a military salute, but not much more than that.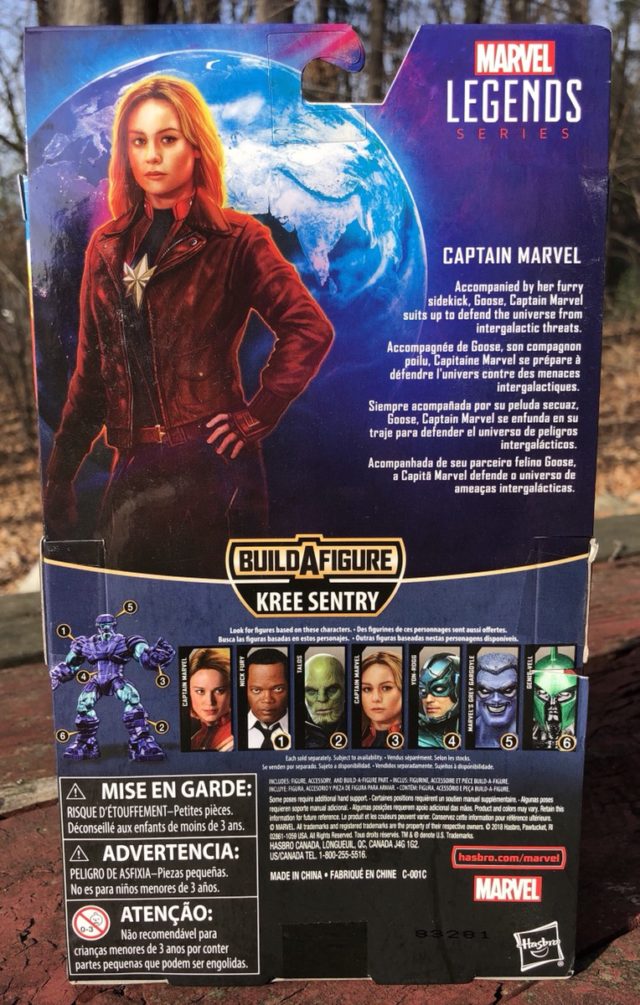 Since this figure is mostly reused tooling from the other Captain Marvel 6" figure to begin with, I'm stunned Hasbro didn't at least give us a pair of fists so that she can, you know… fight.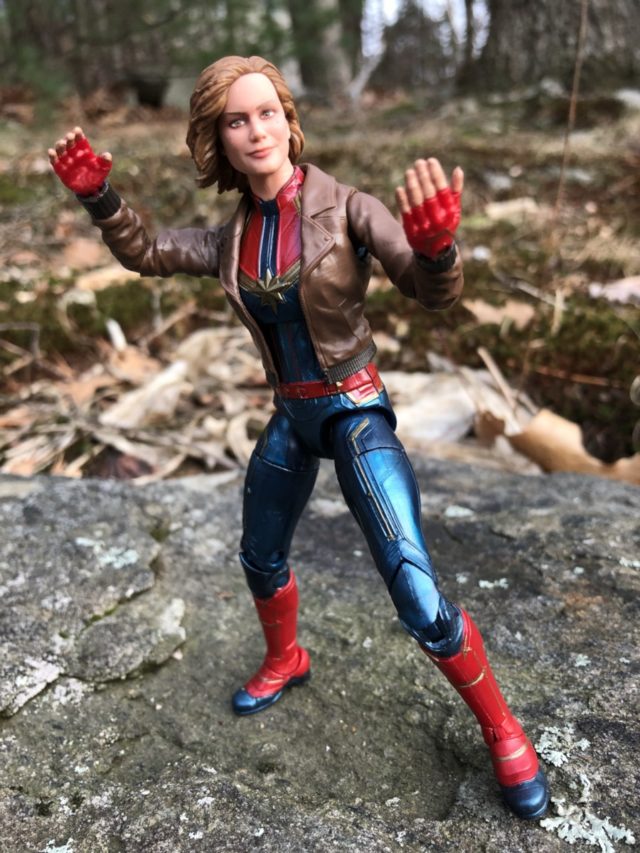 You can pop in the hands from the other Carol Danvers movie figure in the Kree Sentry series, but then that figure's options become limited. I won't photograph this figure with the fists from another toy, since I don't want anyone being confused and thinking this one comes with something it does not.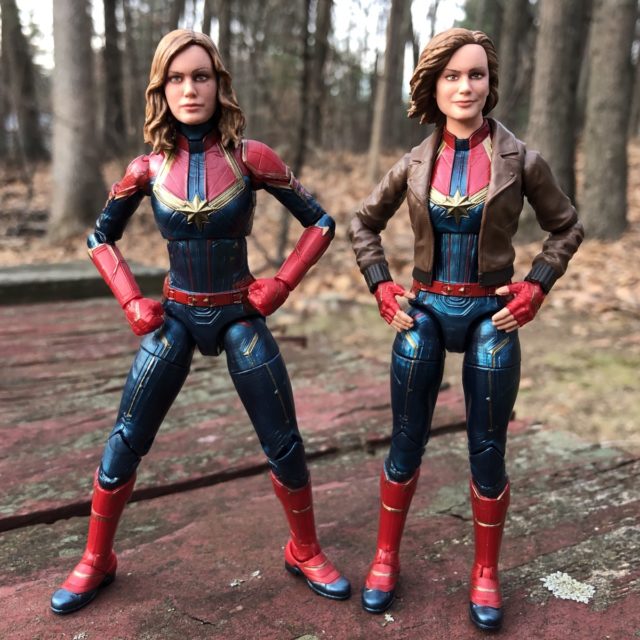 But enough about what's not here—let's talk about what is! The lower body and upper torso for this ML Captain Marvel figure are obviously reused from the other version in this wave, but the flight jacket and sleeves are different.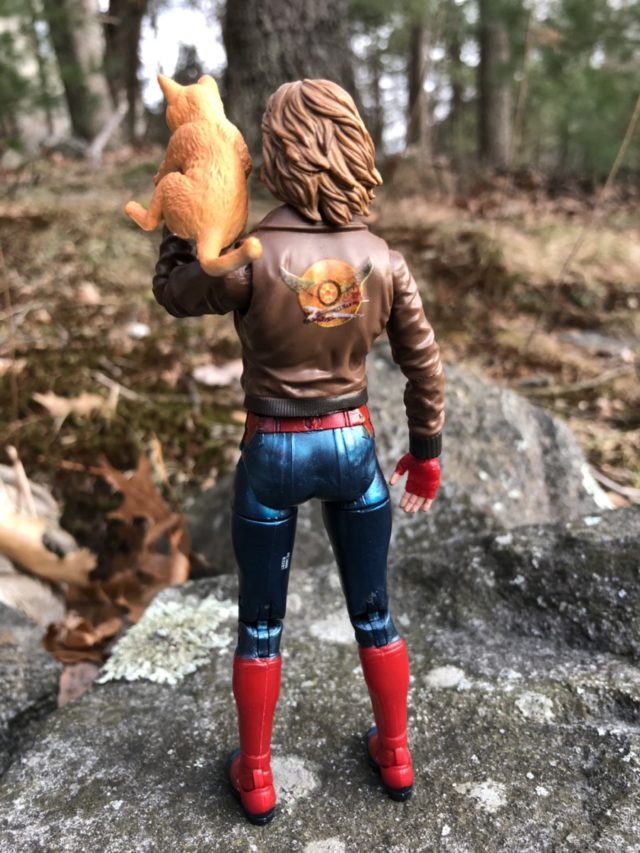 I was surprised by how nice the print quality is on the logo on the back of the jacket, and I appreciate the darker paint deco on the ribbing on the bottom of the jacket and the cuffs. The paint on the sleeves matches perfectly to the add-on jacket. Basically, this jacket is what it needs to be: impressive.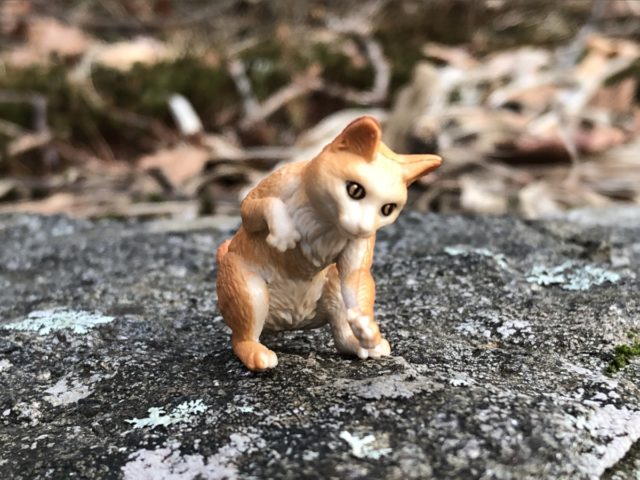 The little Goose cat figure is cute, although not an amazing representation of the actual cat we've seen in the trailer. I like the way that Goose the Cat is posed, as he can be held by Carol or hang on her in quite a few ways. I think Hasbro probably could have gotten this figure a bit more adorable, but I'm glad to have it at this scale, even if it's not quite perfect.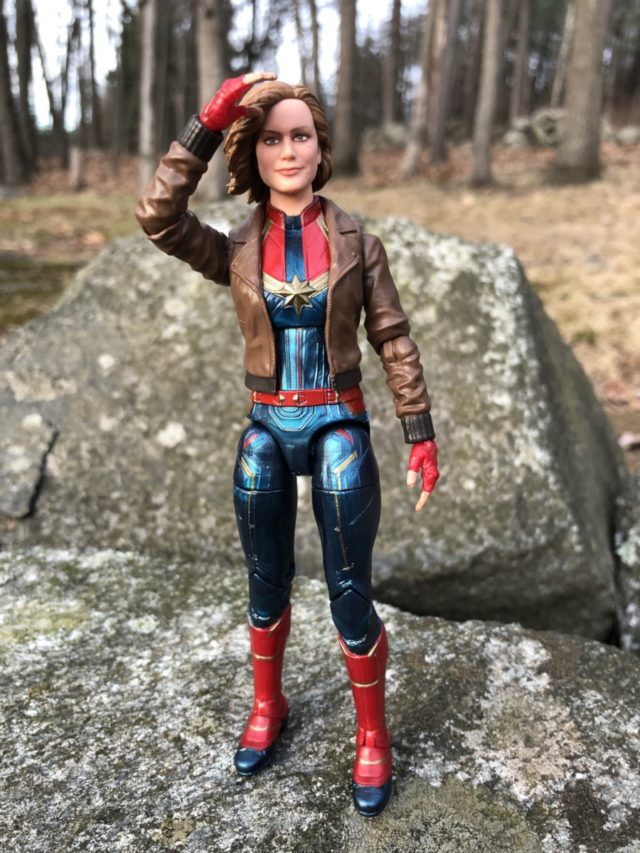 The matte brown of the jacket is an excellent contrast to the shiny metallic paint on the Captain Marvel costume, and I've got zero gripes about the paintwork on this action figure. Good stuff all-around paint-wise.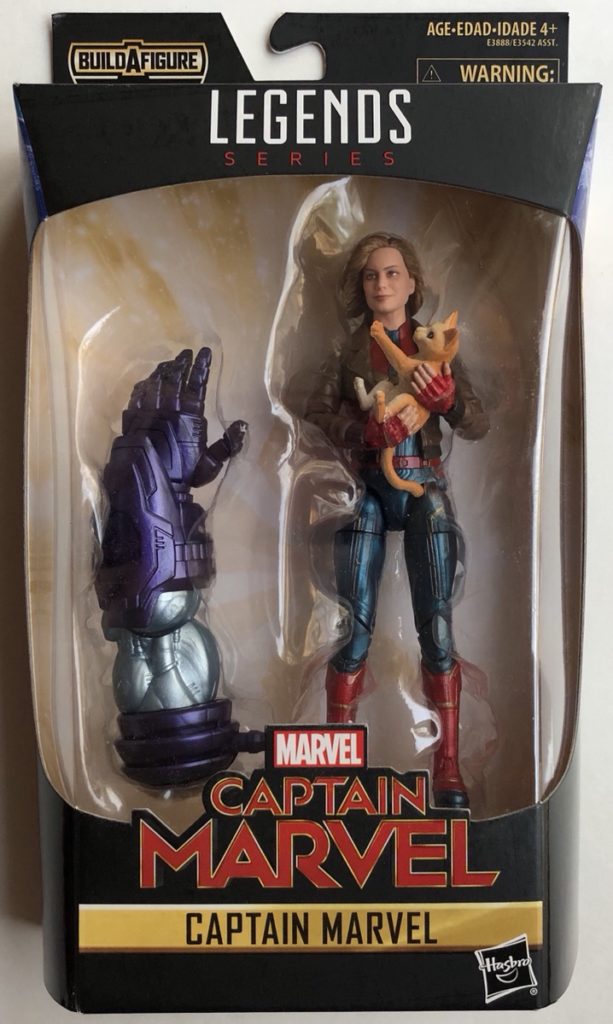 The articulation is likewise what we'd expect from a female Marvel Legends figure: really good, but imperfect. No swivel calves or biceps, plus ball-jointed elbows that can only bend 90 degrees. Carol is about to be a central character in the Marvel Cinematic Universe, so I'm disappointed we didn't get more articulation in this all-new mold.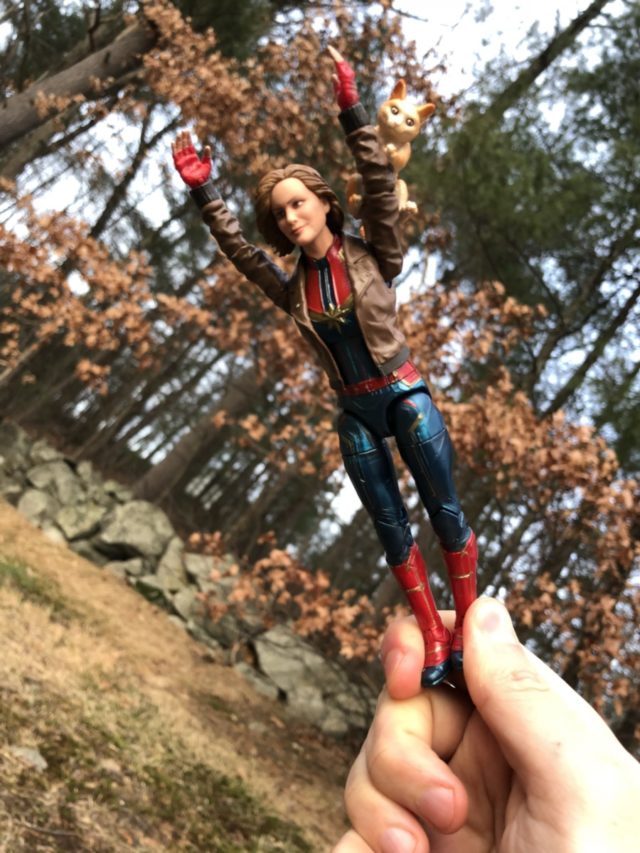 The complete articulation scheme consists of ball-jointed upper torso and hips; swivel thighs; ball-hinge head, shoulders and elbows; swivel-hinge wrists; double-jointed knees; and hinged ankles with rockers. Good articulation in general, but obviously still well beneath what we're accustomed to for male Marvel Legends figures.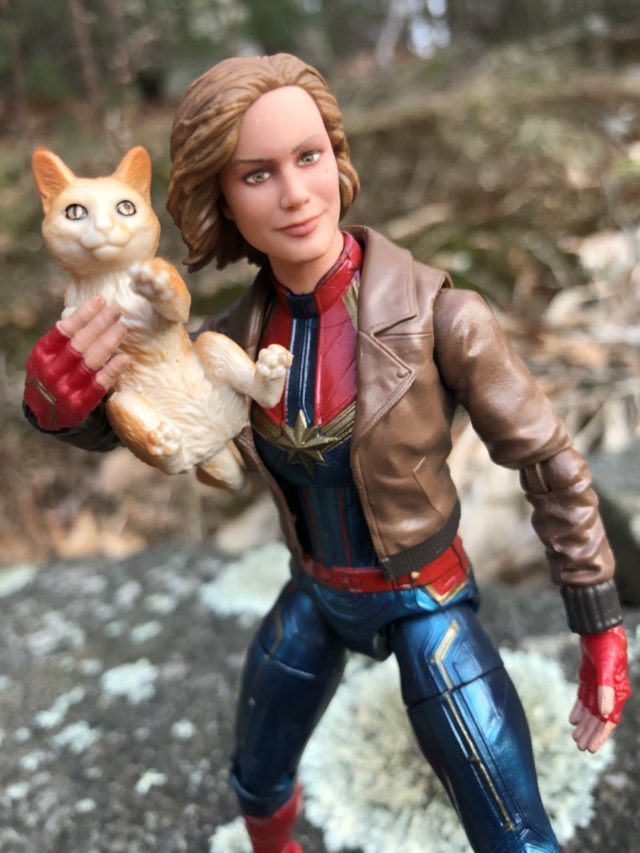 Overall:While I don't think this figure is as strong overall as the "standard" 6" Marvel Legends Captain Marvel movie figure that it's shipping alongside, I think this is a pretty fun and worthwhile release. I like the more expressive face on this Carol (Leslie Knope jokes or no), the bomber jacket is looking good, the paint deco is pristine, and I suspect we're ALL gonna be wanting our own Goose the Cat figures two months from now.
On the downside, the lack of extra hands is a huge misstep that really limits the possibilities for posing this Carol Danvers action figure. And speaking of posing—more points of articulation would have definitely been welcome for this crucial MCU character. In addition, Goose could certainly be a bit cuter, although I have fun posing him with and on Carol regardless.
This isn't an essential release (unless you want to build the Kree Sentry Build-A-Figure), but I do think it's a fun and underrated one that's getting a bit of a bad rap right out of the gate.
GRADE: B-
The post REVIEW: Marvel Legends Captain Marvel Movie Figure (& Goose Cat!) appeared first on Marvel Toy News.