In this day and age where the majority of resin "high-end" statues being produced run half a grand and up, Diamond Select Toys has taken it upon themselves to produce the widest-ranging value-priced line of comic book PVC statues ever. I've been one of the most outspoken advocates for the Marvel Gallery statues since they debuted at New York Toy Fair 2016, but I've never actually reviewed one—until now. Though the 13" Marvel Gallery Infinity War Thor Statue costs under 45 bucks shipped, it ended up as one of my favorite pieces of Thor merch from the movie…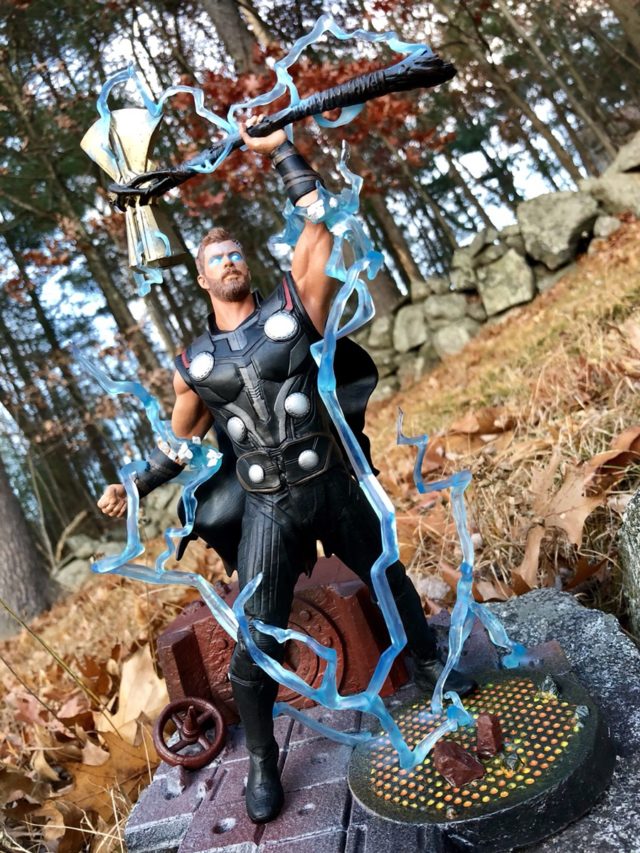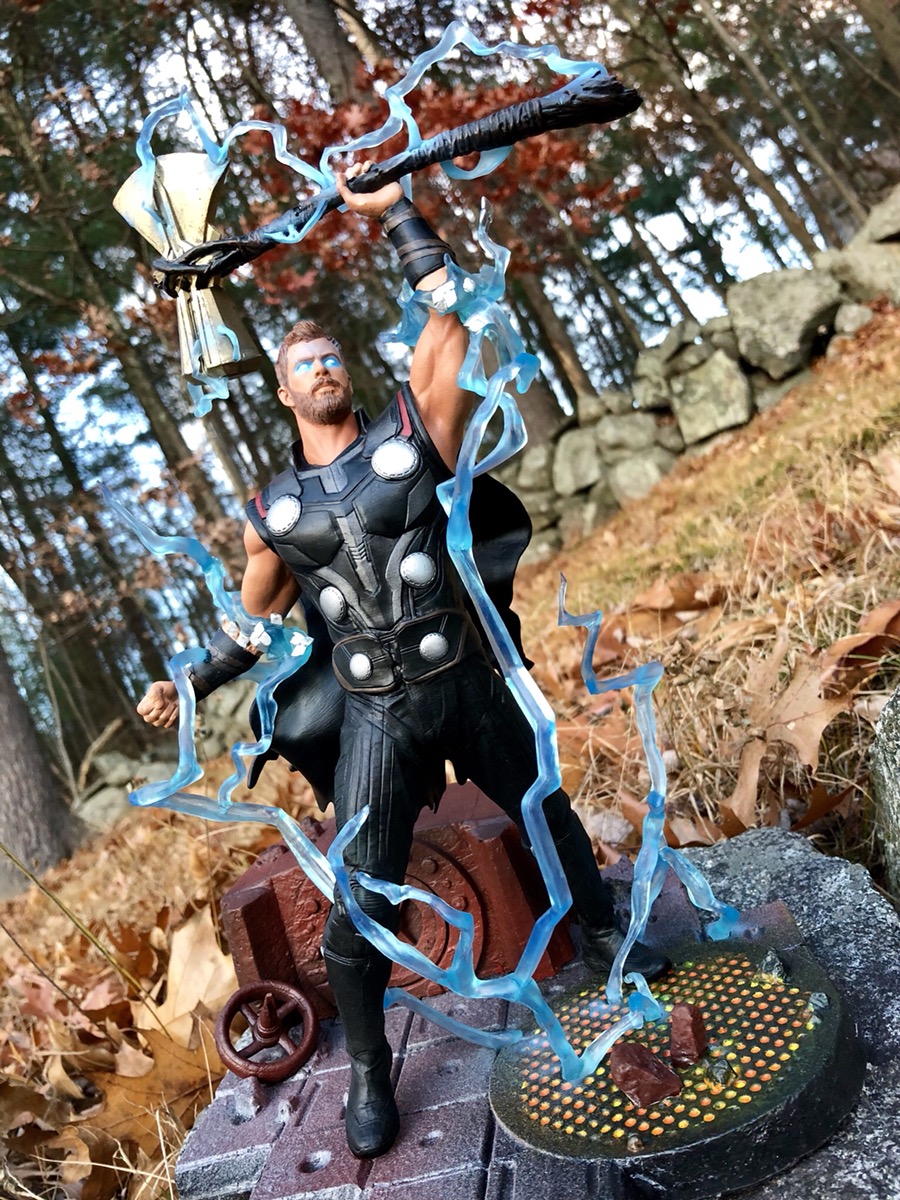 November 2018 has been a good month for fans of Chris Hemsworth Thor collectibles, as the downright jaw-dropping Hot Toys Infinity War Thor figure (with loads of LED goodness!) is now shipping out to happy high-end collectors everywhere.
But for those who want a really cool, large electro-charged Avengers 3 Thor figure that costs about 40 bucks instead of the 270 that the Hot Toys iteration costs…? Diamond Select Toys has you covered.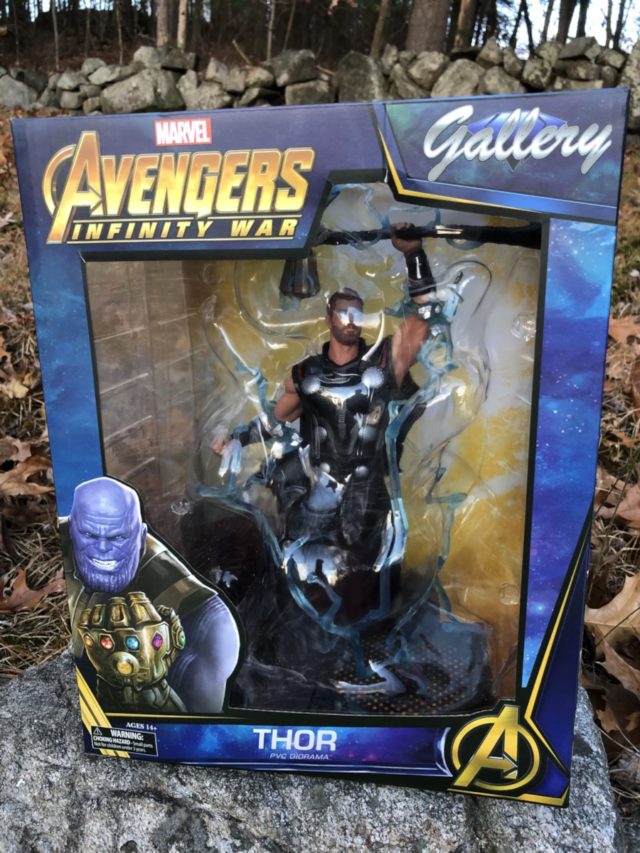 DST specializes in economically-priced substance and not extravagant style, so there won't be any bells and whistles craziness like velcro straps or cloth wrapping for this PVC statue.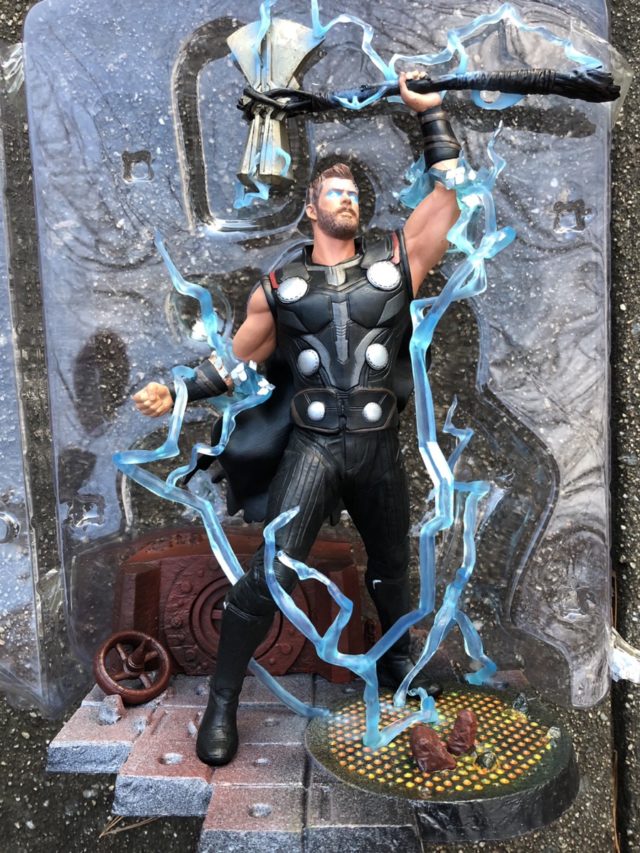 Avengers Infinity War Thor is packaged in a fairly generic-looking window box, nestled in an everyday plastic clamshell. It ain't fancy, but it does the job and allows collectors who see this on a store shelf to know exactly what they're buying.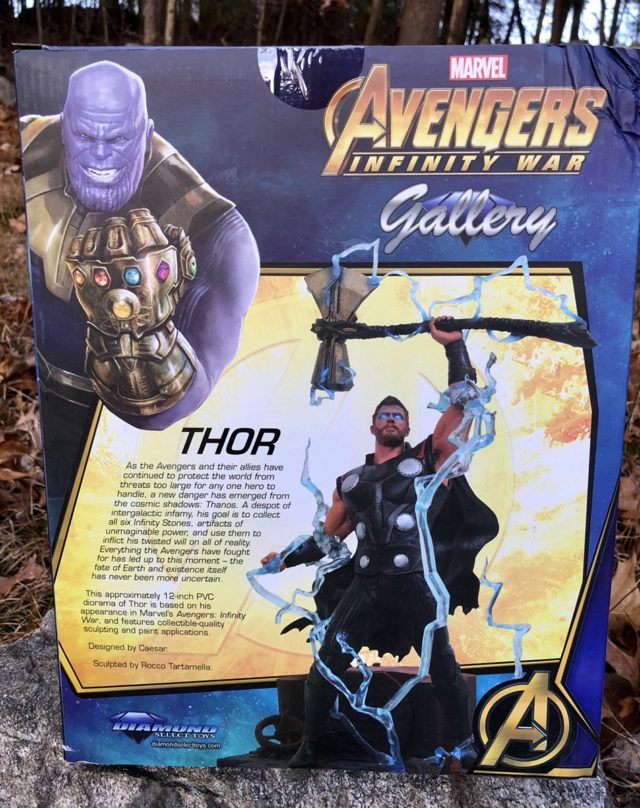 The back of the box does give a decent blurb about the Avengers Infinity War movie plot, although it would have been nice (if unnecessary) to include a write-up regarding the scene this Thor figure is meant to be representative of.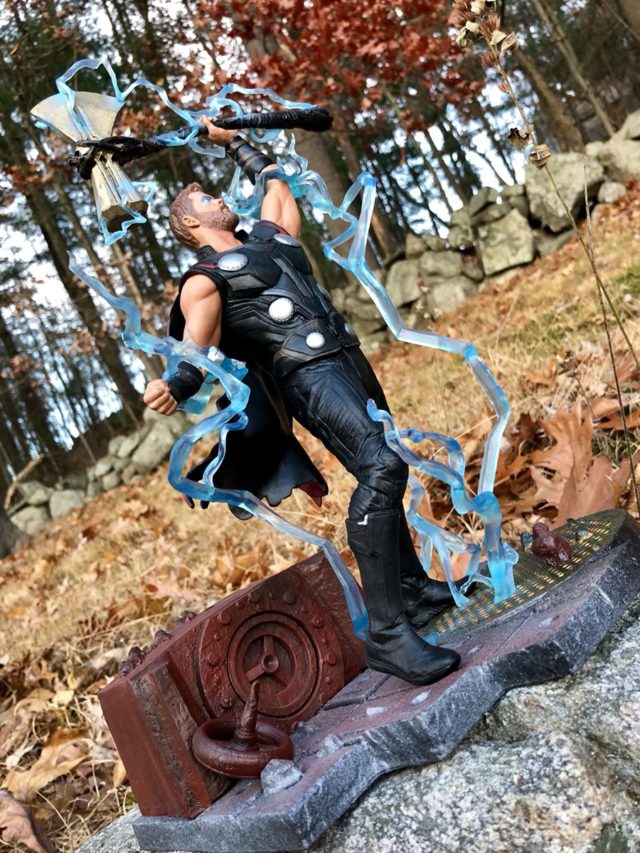 This Marvel Gallery Thor figure is made of PVC plastic and not polystone resin, but that doesn't mean he doesn't have a nice heft to him. Weighing around one pound and thirteen ounces (or 29 ounces overall), this is around the same size and weight as some of my old Bowen Designs resin statues. It certainly doesn't feel light or cheap to me at all.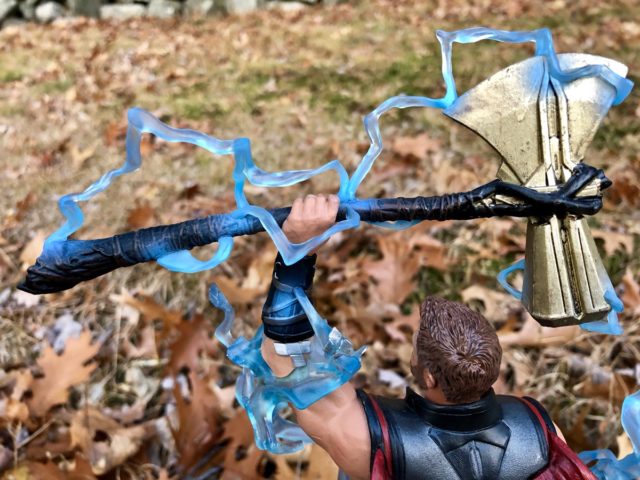 What I was afraid might actually look cheap about this DST Thor Gallery figure is the lightning effects, as they're made of translucent plastic and not expensive clear resin. But in reality, the effects pieces that surround Thor and Stormbreaker look nice—they don't feel out of place or silly at all. In fact, I think they genuinely add a lot to the overall aesthetic of the piece.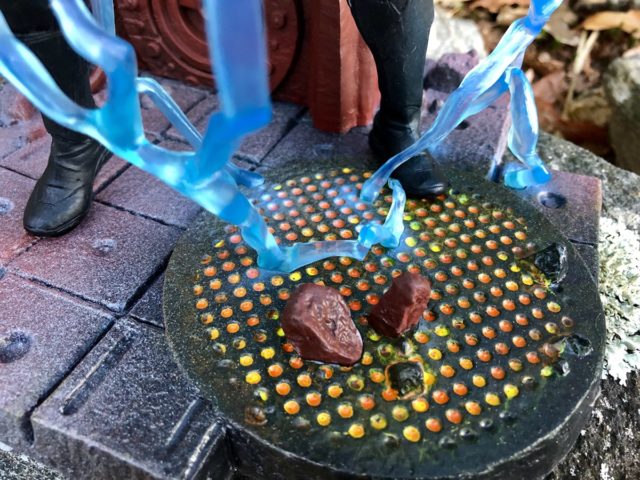 The base for this PVC statue isn't immediately clear (since we only fully see Thor with the new hammer on Earth in the film), but I assume it's meant to be Nidavellir, where Stormbreaker is forged (what with the broken control wheel on the base and all).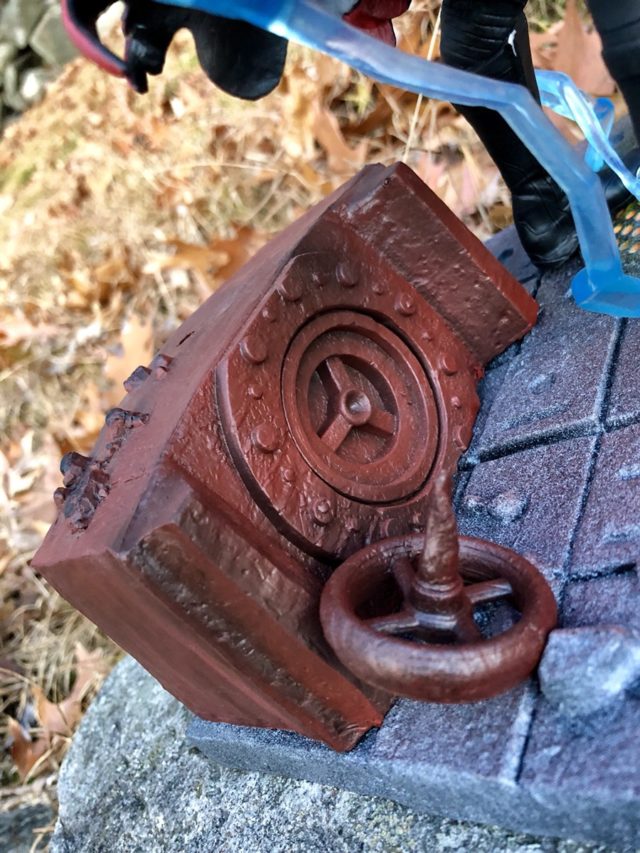 This is more visually compelling than just some dirt and grass from Wakanda would have been, and I actually think some of the nicest paint deco on the whole piece is on this base. The speckled texture on the stones looks terrific, and I love the varied orange and yellow "fire" under the grate the Odinson is standing upon.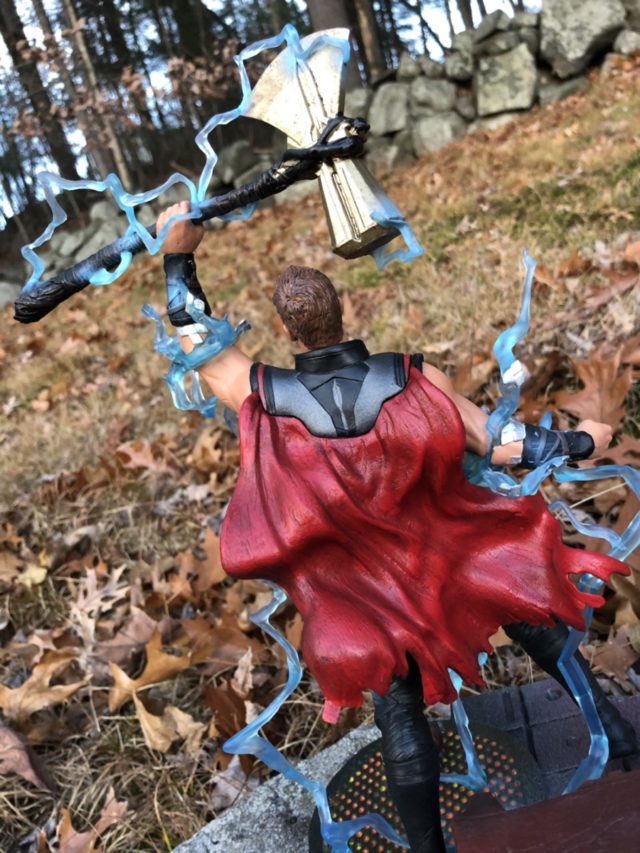 The detailing on Thor's cape is another star feature of the piece. While this is just a simple red cape with a black wash on it, the black has sunk into the copious amounts of texture on the cape and made it looks more phenomenal than it has any right to do. It's hard to believe a mere black paint wash can bring a cape to life like this!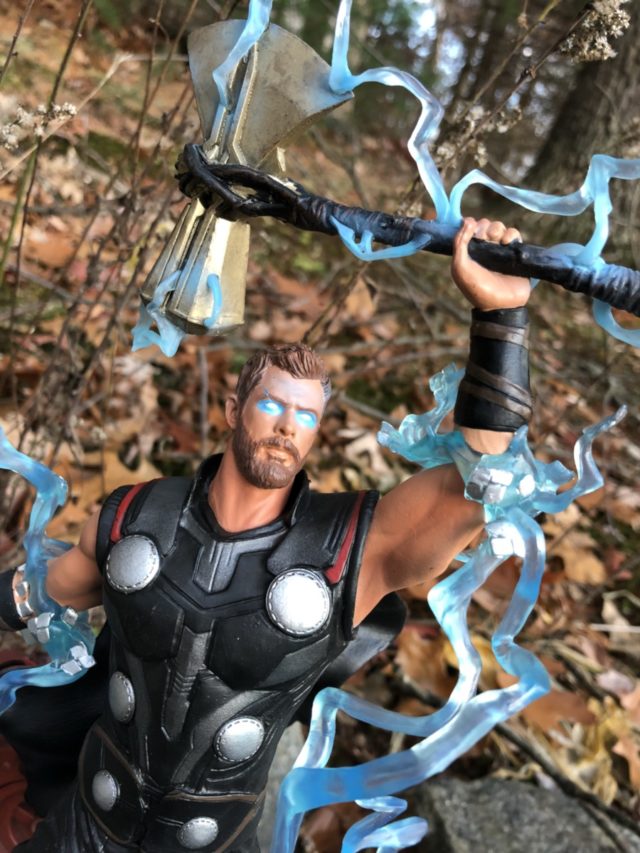 The Thor Chris Hemsworth portrait on this DST figure is actually quite decent, in my opinion. It's world away from being a Hot Toys likeness, mind you, but I can definitely tell who this man (err… God) is, and I actually think the likeness is better than on quite a bit of Thor merch.
While Thor's costume could probably really shine with some additional paint deco, there's a very nice sculpt underneath and the paint apps that are on the figure are reasonably spot-on. There's a couple minor stray paint marks, but for what this is, it looks excellent.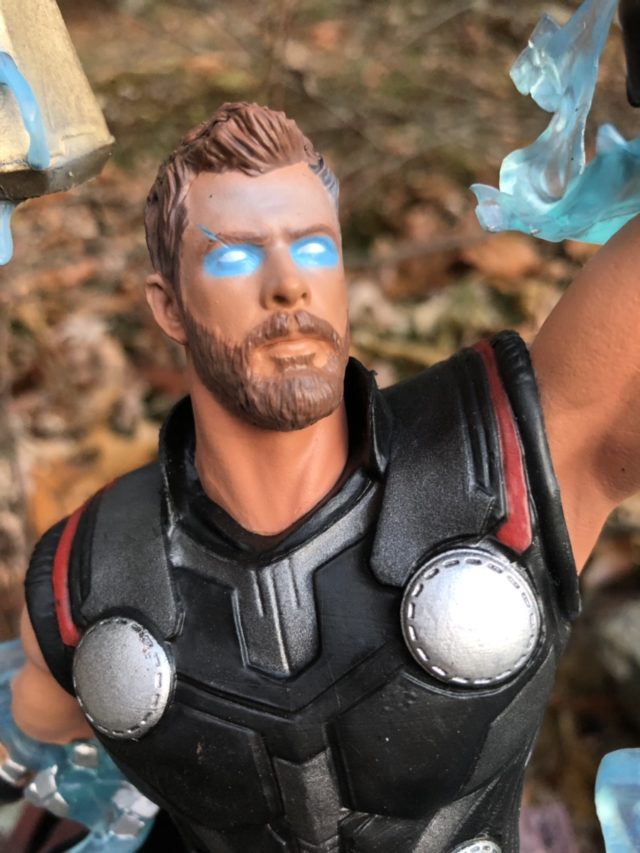 The one thing that a lot of folks aren't liking about this piece is the blue paint that Diamond Select opted to use on Thor's face, hammer and costume to portray the glowing reflection on the God of Thunder. I sorta like how this looks, personally, but my wife calls it Thor's "demon mascara". Your mileage may vary.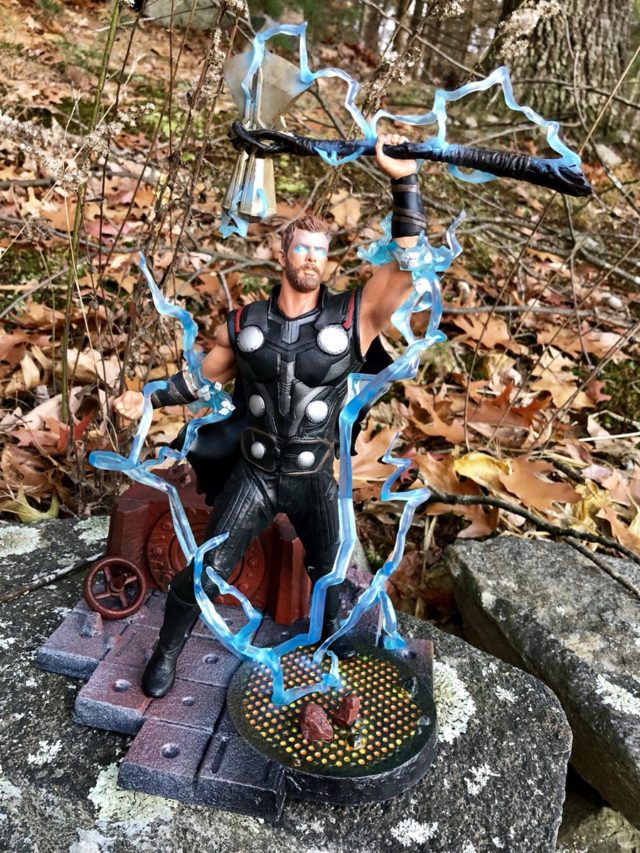 Overall: For its ridiculously low price-point, the Avengers Infinity War Marvel Gallery Thor Statue is insanely awesome. 40-45 bucks for a 13" Statue of this quality is a bargain, and I'm shocked DST is able to keep the prices on these PVC figures as cheap as they are. The lightning effects pieces look nice, the portrait is solid, and the pose and base both make sense and add to the piece.
Those expecting something with the same level of detail as a Hot Toys sixth scale figure or a Sideshow Premium Format Figure that cost 500%-1500% more than this Thor are going to be disappointed, but for those who have an open mind and an eye for value, this is one of the best Diamond Select Toys Gallery Statue releases to-date.
But perhaps I could have saved myself a few hours and about a thousand words by just posting my wife's review of this Marvel Gallery Avengers Infinity War Statue upon seeing it and learning the price: "For 40 bucks, this is really bitchin'!" Well-said.
GRADE: A
The post REVIEW: Marvel Gallery Infinity War Thor Statue (Diamond Select) appeared first on Marvel Toy News.