Review and photos by Scott Rubin
Aqua Teen Hunger Force was… a trip. A surreal, absurd, highly quotable, and often hilarious cartoon, ATHF aired on Cartoon Network's Adult Swim from 2000 to 2015 and included a major motion picture in 2007. At its core the show can be described as the wacky adventures of a milkshake, a carton of French fries, and a wad of ground meat, but it's so much more. Master Shake, Frylock, and Meatwad travelled through time, confronted aliens, took on social issues, adopted monsters, and got into tons of other weird situations, often under the disapproving eye of their suburban neighbor Carl Brutananadilewski. And now, the trio is back in an all-new vinyl figure from Kidrobot, the Mecha ATHF!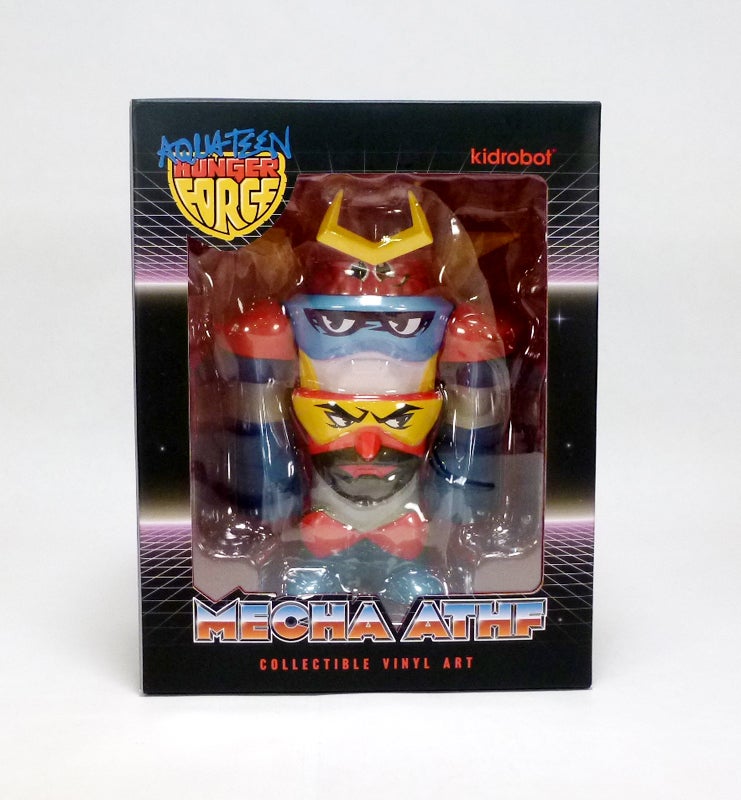 Inspired by the crazy antics of the characters from the show (not to mention all of their unique costume choices and transformations), this version channels classic giant robots like Mazinger Z and Raideen with a combo form of Meatwad, Master Shake, and Frylock. It's possible that at first glance someone might not even notice the silly faces of the junk food trio and think it's some kind of Shogun Warrior. As far as I can recall Mecha ATHF doesn't reference a specific moment in the show, though I could be wrong (let us know in the comments at the bottom!).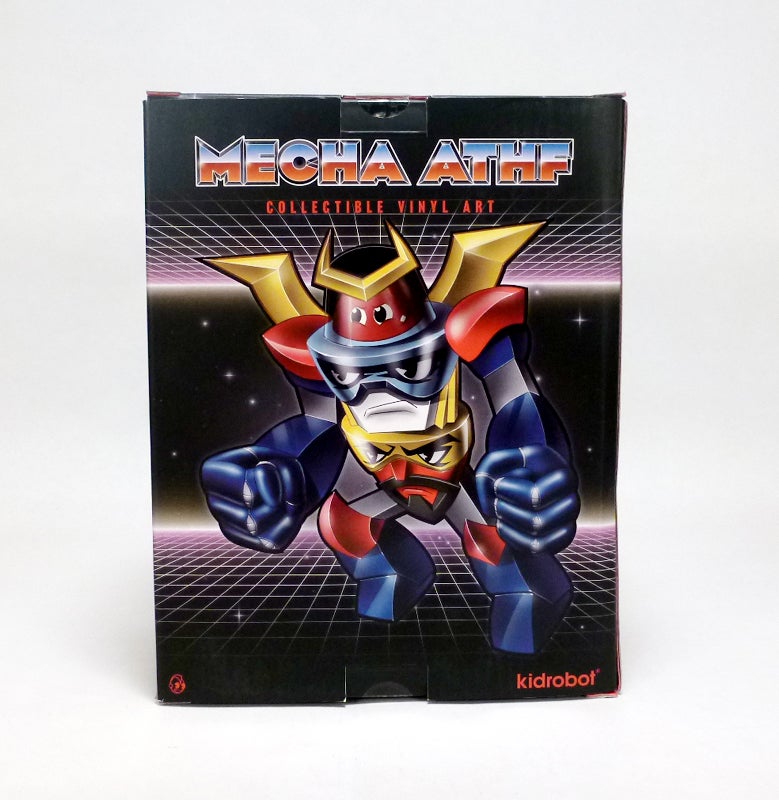 As you've come to expect from Kidrobot, Mecha ATHF comes to you in a sleek package, in this case a tall window box with a great 90s aesthetic. The black starscape background and screaming neon decoration are pure retro, with the obligatory grid patterns extending toward the horizon. Around the window on the front panel are the logos for Kidrobot and the Aqua Teen Hunger Force TV show, with the name of the figure at the bottom. On both sides is the Mecha ATHF title as well, in a Transformers-like font and coloration, with the subheading of "Collectible Vinyl Art" (this is no mere toy, statue, or figure after all). On the back of the box you'll find more of the same decoration along with a kick-ass illustration of the robot in action!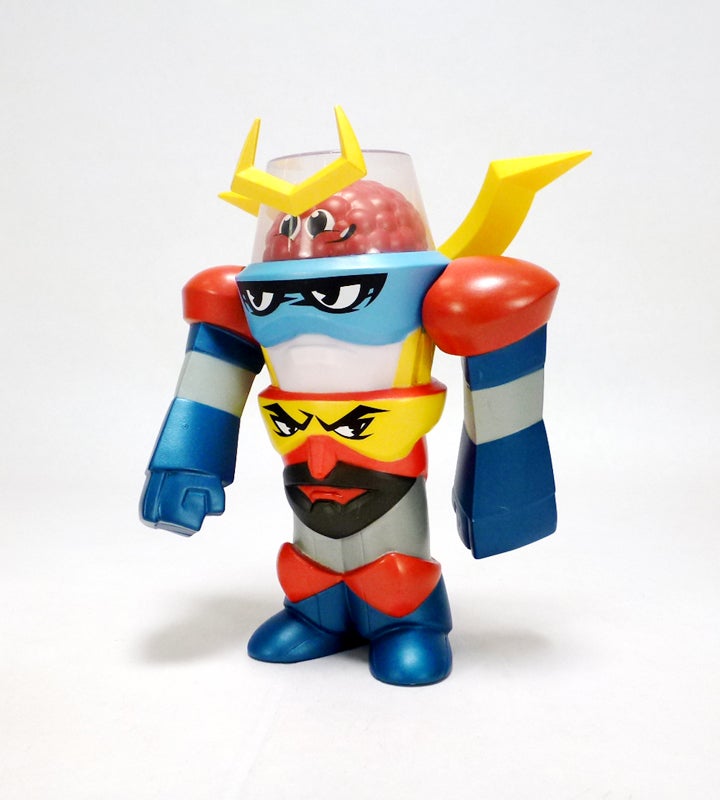 Mecha ATHF stands 6 ¼ inches to the tips of his "horns," making it in-scale with a lot of your other robot toys and action figures. As a giant robot it has cool armor elements like big feet and exaggerated kneepads, large shoulders and long arms, and pointed horn elements on its back and forehead. Look even closer to see the three-fingered hands clenched into fists and armored hinges on the back of its knees. Oh, and those big chunky shoulders? They hide actual articulation – just two points and they're pretty restricted, but it does add some posing options!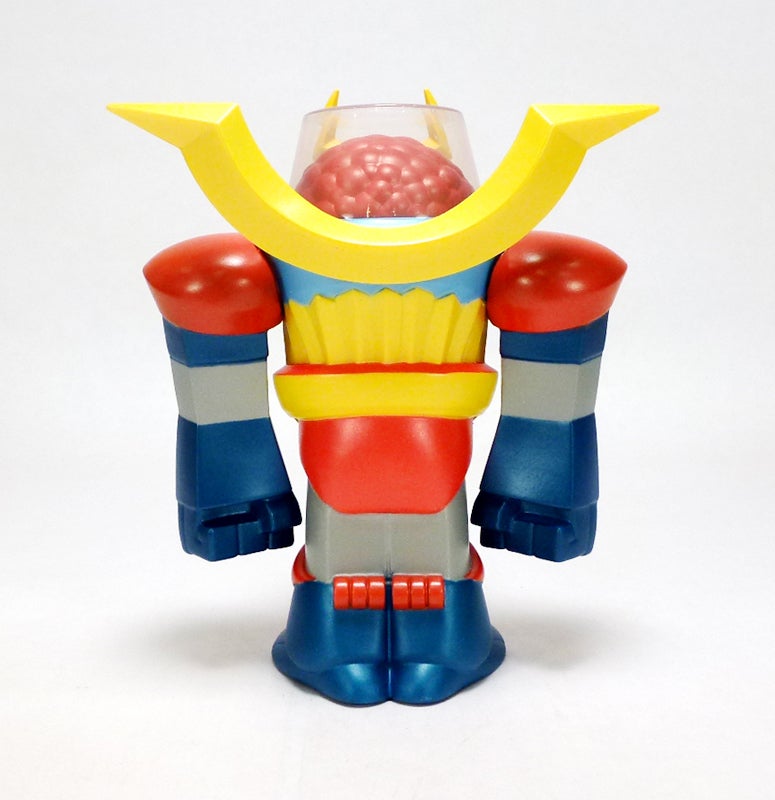 The characters are represented totem pole-style in the center of the robot's body, with Frylock making up the waist, Master Shake the torso, and Meatwad the head. The lower two have prominent visors, with a fully sculpted face and facial hair for Frylock and a signature underbite mouth for Shake. Turn the figure around to see Frylock's French fries extending up behind Master Shake like segmented back armor. Atop the wide, flat top of the robot's torso is a hemisphere of Meatwad, fully sculpted and textured under a translucent plastic flat-topped dome.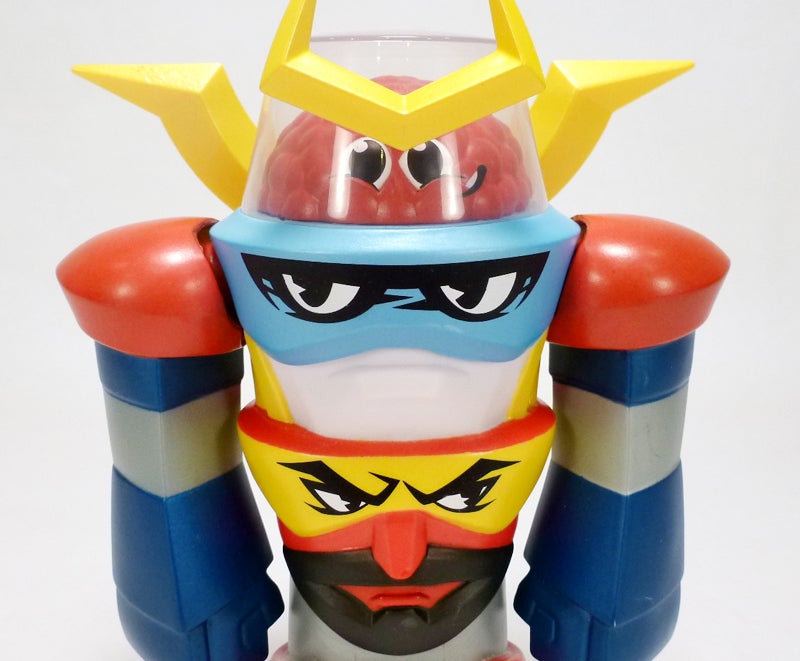 The sculpt is cool and understated (as appropriate for a vinyl art toy based on vintage robots), and Mecha ATHF has a similarly styled paint scheme. The arms and legs are resplendent in sectioned off blue, gray, and red, while the center of the robot brings in the characters' colors from the show. Frylock has a brown goatee, red package, and yellow visor and fries (matching the horns), while Master Shake has a white face and blue visor. Both have dynamic white eyes painted on with expressive eyebrows. Lastly there's Meatwad on top in reddish-brown with his usual goofy eyes and single-toothed smile in black and white.
Do you need some Mecha ATHF in your life? It's a fun little robot with a lot of personality, definitely eye-catching but "mecha" enough to fit in with an eclectic collection. You can get one now directly from Kidrobot for $49.99, and of course it goes great with their new Adult Swim Blind Box Vinyl Mini Figure Series 2 featuring Master Shake, Frylock, and Meatwad (along with lots of others). I highly recommend this collectible vinyl art piece for all fans of Aqua Teen Hunger Force as well as those who enjoy offbeat and unique robot and mecha designs.
Review and photos by Scott Rubin
Review sample courtesy of Kidrobot
[See image gallery at www.figures.com]
---
Keep up with all the latest toy news by following Figures.com on Facebook and Twitter!
To buy action figures, take a look at Hobby Link Japan, BigBadToyStore.com, TheToySource.com, Toynk.com, and BriansToys.com.