-Review and photos by Scott Rubin
Last month we brought you an exclusive early look at the DC Comics Bombshells Supergirl & 1956 Ford F-100 Pickup truck set from Jada Toys (see it HERE), an interesting pack mixing a superhero figure, a beloved classic vehicle, and a matching colorful paint job. Well, we liked it so much that we're back to check out more of the latest wave of Bombshells with their companion classic cars! To recap from last time, Jada is the go-to brand for several different scales of figures (including my favorite, the tiny Nano Metalfigs) in heavy duty metal featuring everyone's favorite licenses like DC and Marvel comics and their respective films, Disney, Harry Potter, WWE, and even die cast metal replica vehicles representing fan-favorite properties from Transformers to Ghostbusters and so much more. After the girl of steel's ride, we're going to look at another Die Cast Hollywood Rides entry today with DC Comics Bombshells Wonder Woman & 1952 Chevy COE Pickup!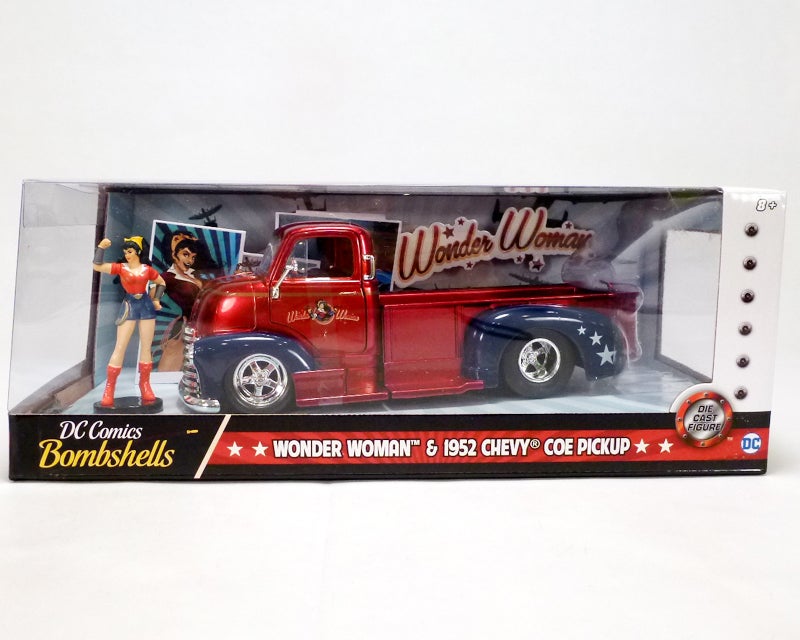 The DC Comics Bombshells come from a retro, 1940s inspired world created by artist Ant Lucia. After its inception in artwork in 2011 the Bombshells have exploded into collectibles, comic books, game pieces, and beyond with unique and fun reinterpretations of classic characters, often in surprising ways. Still an Amazon daughter of Queen Hippolyta, this Princess Diana leaves Themyscira to find a very different world of man in 1940. She's thrust into the events of World War II and meets comes to the aid of Allied Forces who bestow upon her the moniker Wonder Woman. But there are worse things in the world than warmongers and Diana must go up against threats like Baroness Paula von Gunther and her Tenebrae, Clayface and the Mud Men, and more.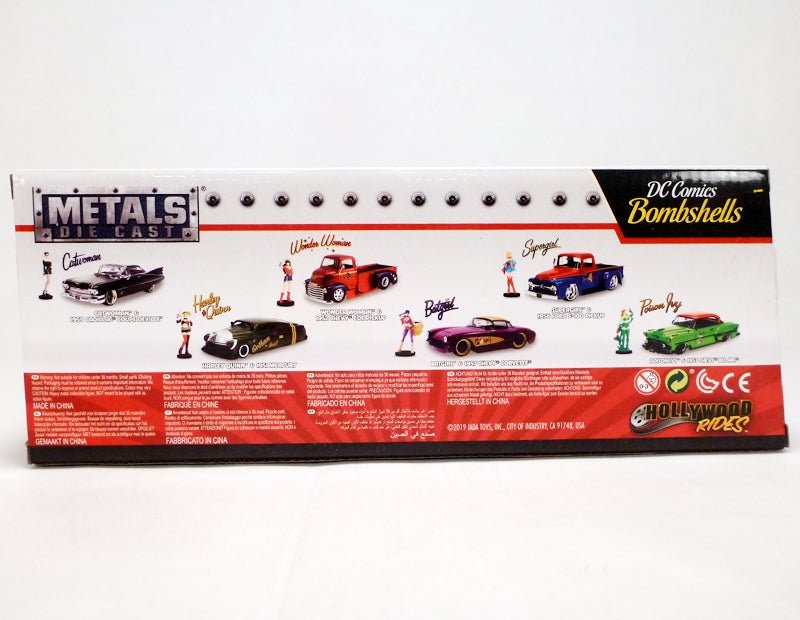 Checking out the packaging for Wonder Woman and her classic American vehicle, we immediately see that it's very similar to that of Supergirl and her F-100. It's a wide, sturdy box with lots of decorations and a huge window, perfect for checking out the figure and vehicle or displaying if you're not into opening your toys. There are even fun "billboards" behind Wonder Woman featuring pinup art of the Bombshell! The front and back panels of the box have all of the branding and logos for the respective companies and toy and comic book lines, while on the back is also a lineup of other available sets featuring Catwoman, Harley Quinn, Supergirl, Batgirl, and Poison Ivy.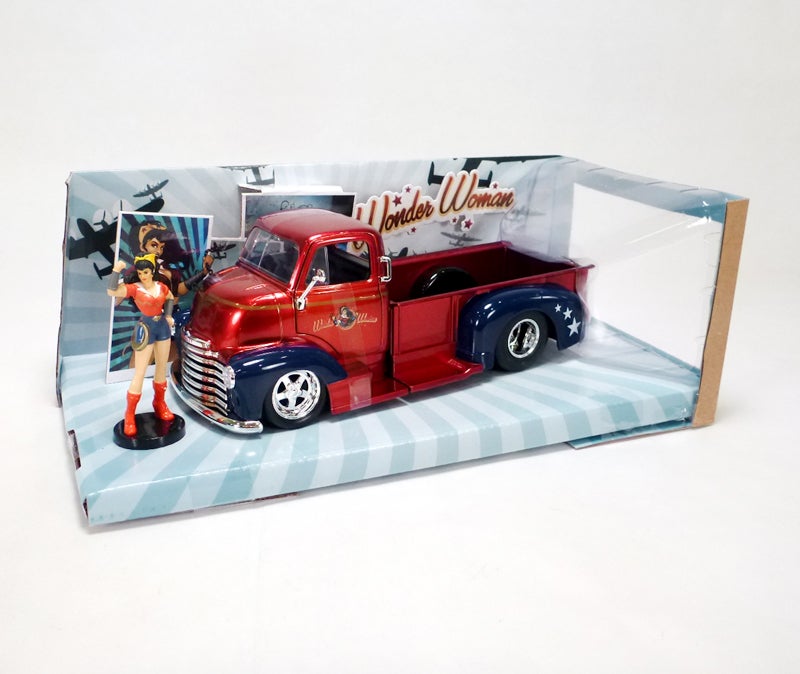 The big feature for these sets is the substantial 1:24 scale vehicle, here the imposing and aggressive looking Wonder Woman branded 1952 Chevy COE Pickup. Again, I'm not really a car guy and couldn't tell you anything about this truck in real life, but as a toy it looks pretty awesome. The COE (Cab Over Engine) truck has a snub nose with a tall, slatted grille, a short cab, and a long bed. It's about 8 ¼ inches long and weighs a ton thanks to the inclusion of plenty of die cast metal in its construction.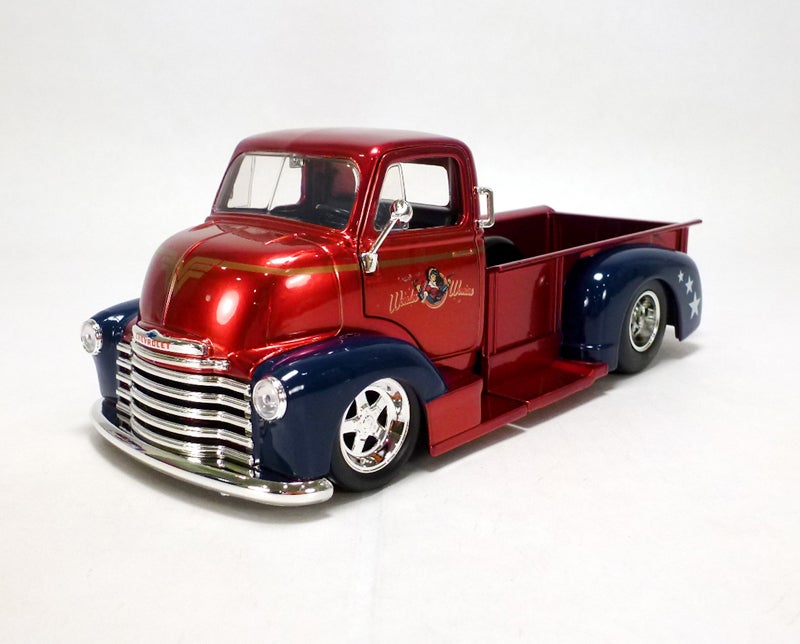 Sporting the superhero's colors the pickup is primarily a shiny metallic red with blue fenders/guards, the rear ones even decorated with white stars. Running around the mid-line of the cab is a gold stripe with the Wonder Woman symbol on the front of the hood. Then there's a ton of chrome from the aforementioned grille to the wheels, mirrors, bumper, and more, and on both doors is a pinup image of the Amazon.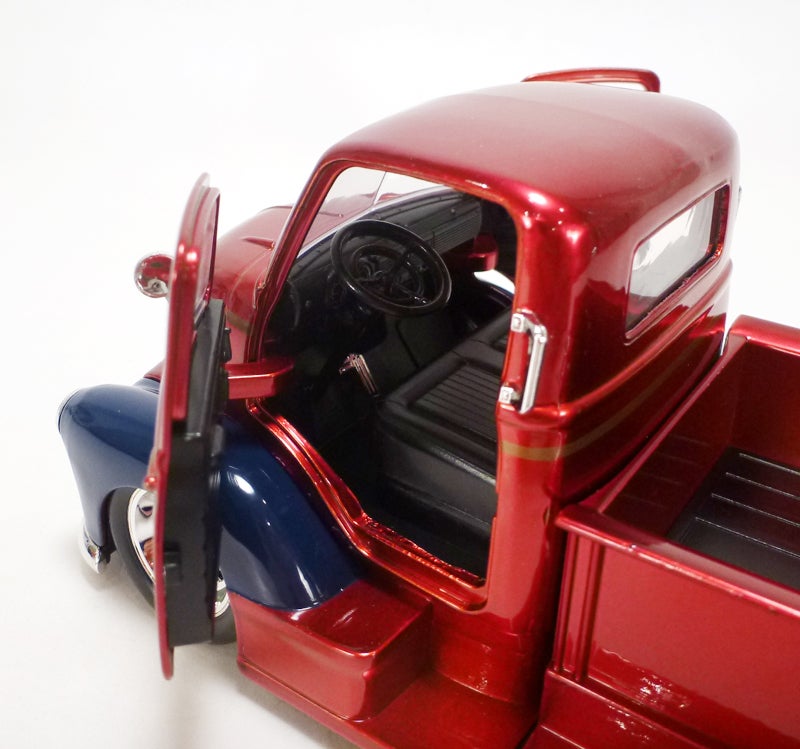 The COE Pickup's interior is fully sculpted with seat stitching, a complete dashboard, steering wheel, pedals, and more, and the inside of the doors have great detail as well; you can get a pretty good look at everything with the opening doors. The liftgate on the pickup bed is also functional, and locks in place securely when it's closed. I should note that the tires spin very well in case you want to take it for a drive. The included Bombshells figures aren't articulated and so can't sit inside their vehicles, but I suppose you could find some other toys to hop in. As with Supergirl's pickup Wonder Woman's COE would definitely look right at home in a collection with other fun 1:24 scale vehicles.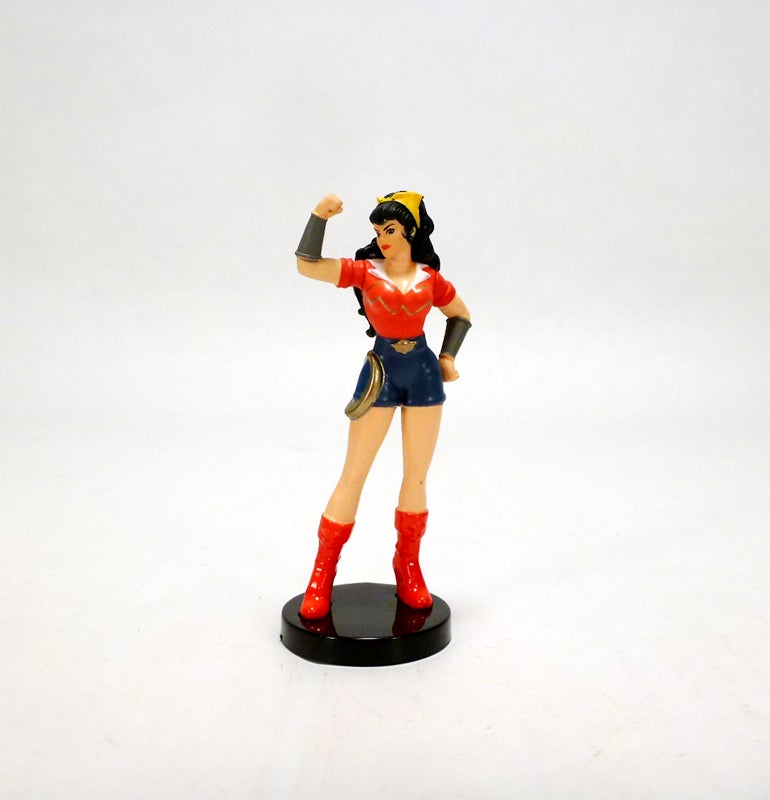 Speaking of Wonder Woman, she's here too! The included Bombshells figure is a little over three inches tall attached to her black disc base. Even moreso than Supergirl before her, Wonder Woman is captured in an instantly iconic pose from the Bombshells artwork, a "She Can Do It!" pinup highly reminiscent of Rosie the Riveter. Princess Diana stands with her legs apart, leaning slightly to one side as she turns her upper body. Her left hand rests on her hip while her right arm is raised and flexed as she looks in that direction. Wonder Woman wears her signature Bombshells outfit with tall red boots, blue high-waisted shorts, and a red shirt with an open white collar. She adds to the ensemble her Amazonian bracelets, the Lasso of Truth on her hip, and a bright yellow bandana holding back her flowing black hair. There's also a gold Wonder Woman symbol on her top, as well as a matching logo on her belt. Even on such a small figure, the paint is nicely done and I love the saucy look on Wonder Woman's face. Very nice.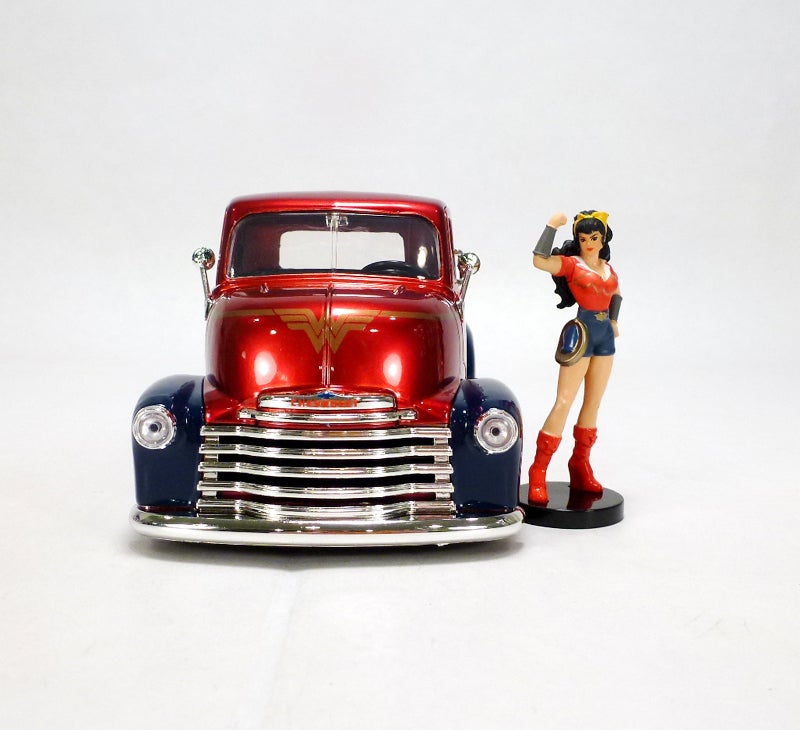 This new wave of Bombshells and their vintage vehicles is currently available wherever you buy your collectibles, retailing for about $25. Wonder Woman and her COE pickup are highly recommended for DC Bombshells fans, 1:24 scale vehicle collectors looking for something a little different, and of course anyone who likes Wonder Woman (especially in different costumes/looks), though this would be a fun gift for any DC Comics fan too.
Review and photos by Scott Rubin
Review sample courtesy of Jada Toys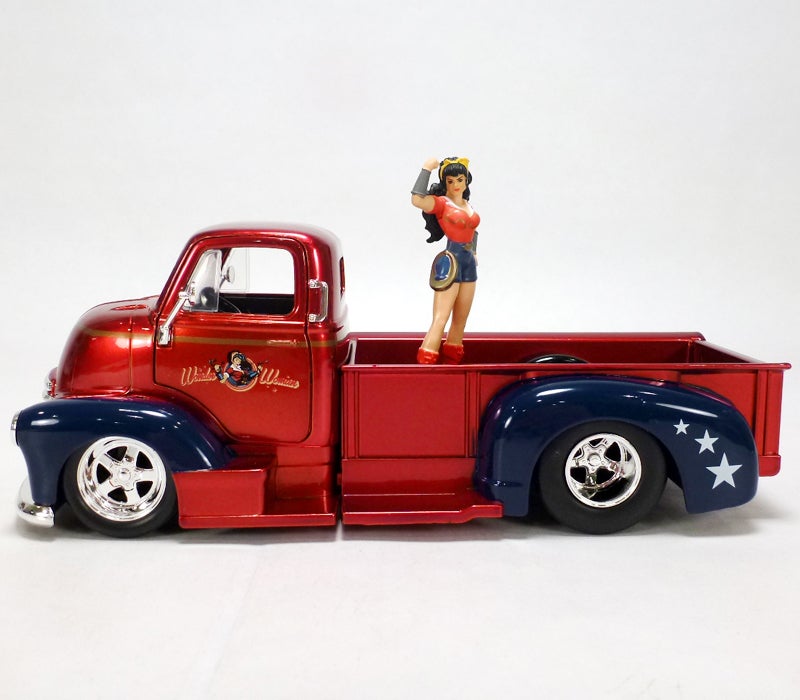 [See image gallery at www.figures.com]
---
Keep up with all the latest toy news by following Figures.com on Facebook and Twitter!
To buy action figures, take a look at Hobby Link Japan, BigBadToyStore.com, TheToySource.com, Toynk.com, and BriansToys.com.