Thanks to the massive popularity of Marvel's movies, there is no shortage of Marvel character collectibles on the market. From action figures to statues – Ant-Man to Zemo – if it's a Marvel superhero or villain, chances are it has been made in one form or another. That said, it takes something unique on the market to perk my interest in new Marvel collectibles. Enter Eaglemoss Hero Collector.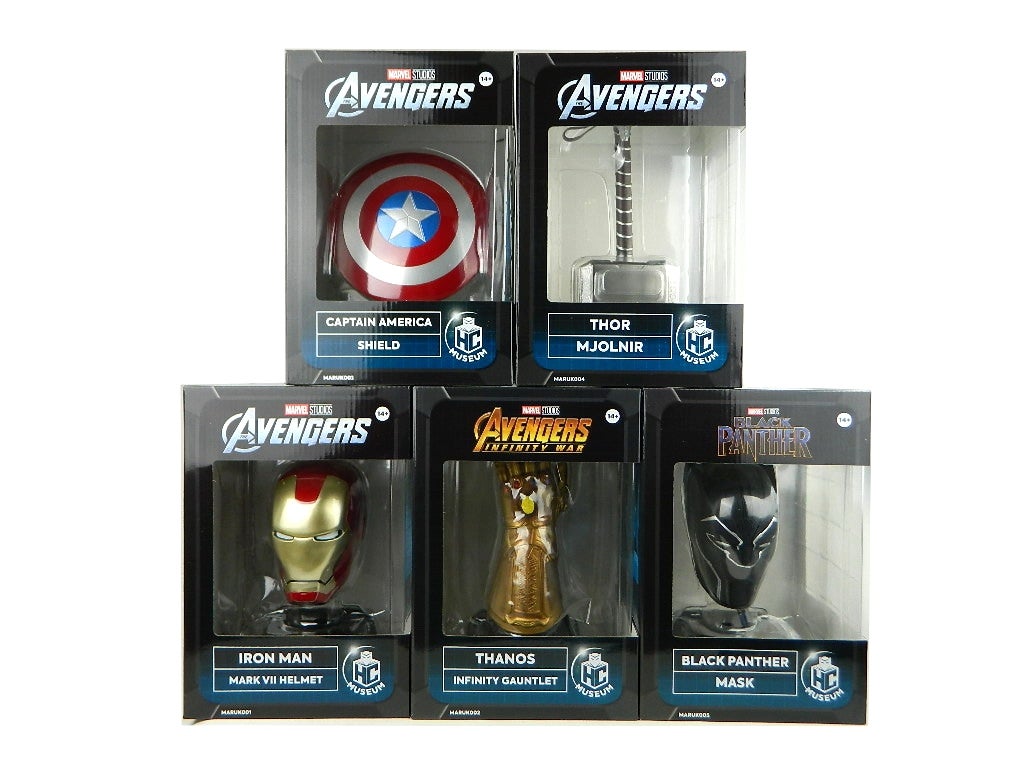 While no stranger to Marvel character statues (check out their new die-cast metal Marvel Heavyweights), Hero Collector has opted to shake things up a bit with a collection of iconic Marvel artifacts. Called the Marvel Movie Museum Collection, this affordable resin-cast series launches this month with five well-known Marvel superhero (and villain!) accessories in 1:4th scale. What makes the Marvel Movie Museum Collection so unique -aside from their $39.95 price tag and the fact that they aren't full-bodied character collectibles – is that these can be found nationwide this month at your local WALMART! I dunno about you, but it's always super cool to see something new in the toy aisle – especially a high-caliber product like this.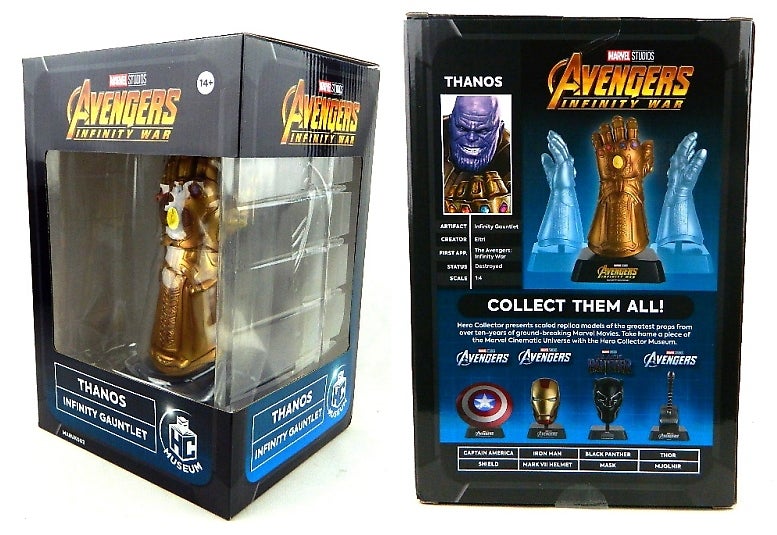 Housed in an attractive window box, each Marvel Movie Museum Collection artifact shines on the shelf. I particularly like how each piece is easily viewed from multiple angles and the movie-specific callout is a nice touch. I also love the informative back panel which gives you brief specs on each artifact. While most items are obviously still ACTIVE (Cap's Shield, Black Panther's Mask, etc), a few caught my eye as being DESTROYED (Thanos' Infinity Gauntlet and Thor's beloved first hammer).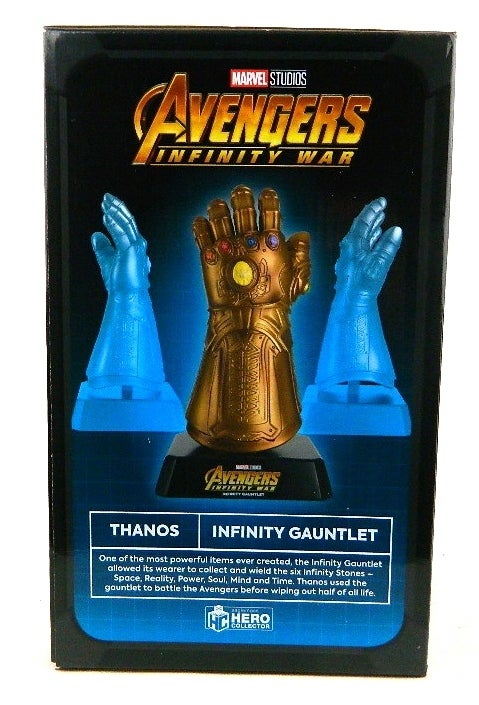 Their background – also shared on one side panel – really lends these classic Marvel artifacts a more museum-like quality; pieces of Marvel's rich cinematic history. I will also note that each polyresin piece was very safely packaged. I was initially concerned with the open window box design (especially at a touchy-feely retail store like Walmart), but I'm happy to report that the window box is more like a molded clamshell insert holding each piece nice and snug. Simply slip the plastic container out from the top and cut the tape around the clamshell seams. You're now good to go.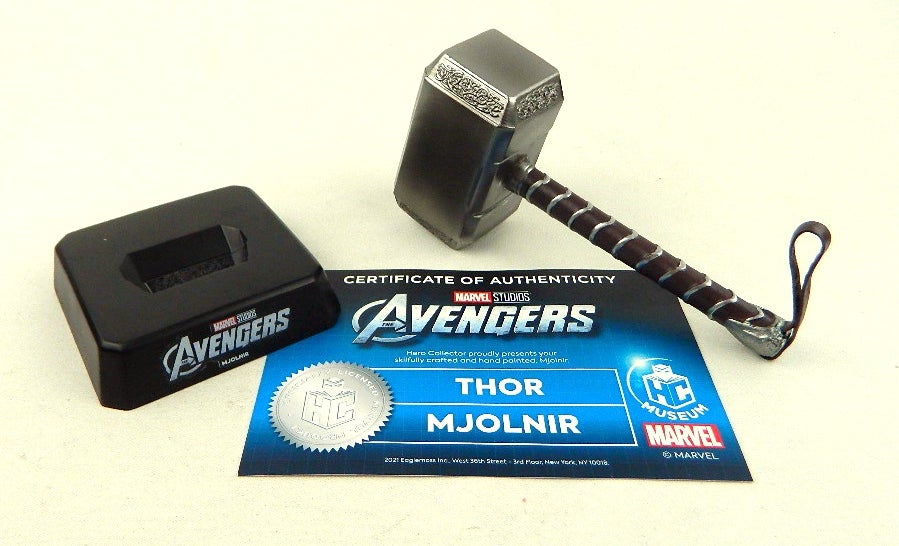 Another nice touch is the inclusion of a Certificate of Authenticity. These aren't limited-edition collectibles, but the certificate goes a long way in showing that Hero Collector takes pride in their Marvel license – as the collector should too.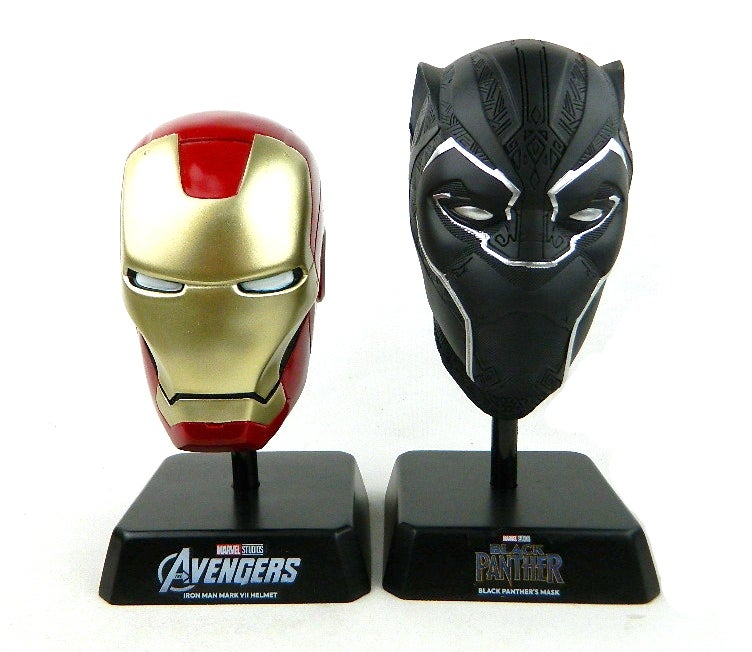 As previously mentioned, the initial launch of the Marvel Movie Museum Collection includes five iconic items that range from helmets – Iron Man Mark VII and Black Panther Mask – along with what I consider three true artifacts: Thor's Hammer Mjolnir, Captain America's Shield, and Thaos' Infinity Gauntlet.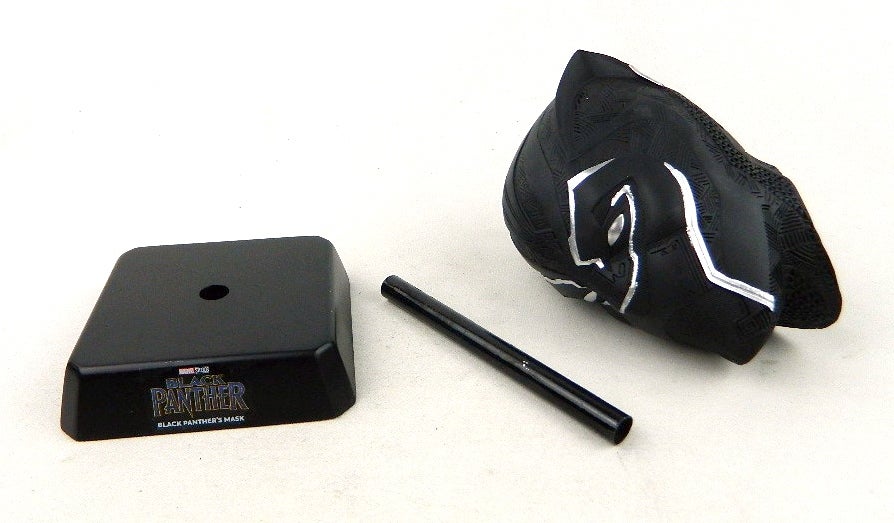 The helmets are the most robust resin pieces of the bunch, each fitting nicely into the palm of your hand. Each resin "head" also includes a heavy resin base and a metal (aluminum?) display rod. While the themed polystone bases are VERY sturdy, the rods are rather lightweight.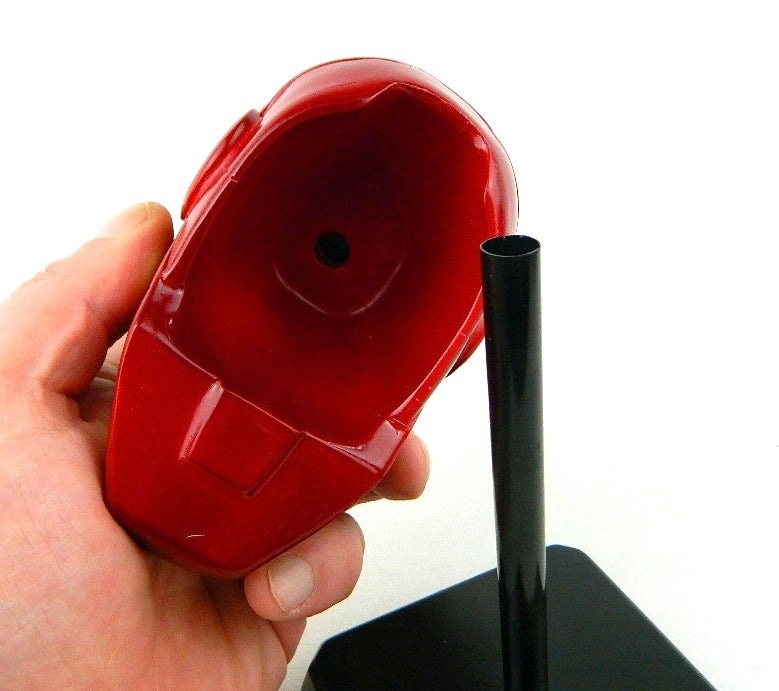 I found inserting them into the resin helmets required a little effort. That said, it's not like you really see the rods when the pieces are fully assembled and on your shelf, but I would have gone with something more elegant and easier to insert, like a solid metal post, not a hollow metal rod painted black.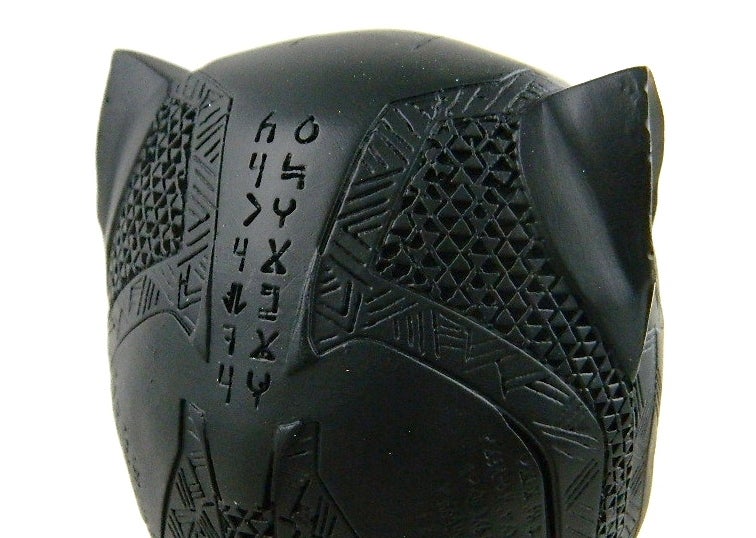 Paint and detail is what you'd expect from a $40 collectible, with Iron Man's helmet featuring glossy red and gold paint apps and Black Panther's Mask impressing with TONS of intricate sculpted detail that I never noticed in the movie. Good stuff.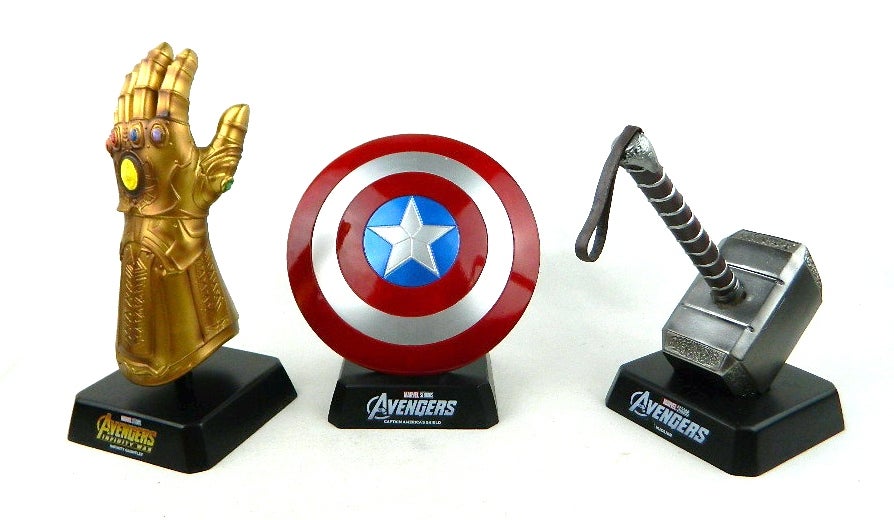 As for the three Marvel artifacts, all are of VERY iconic Marvel weapons. I found Cap's Shield to be the most visually impressive with its high gloss red, white and blue patriotic paint scheme and large size.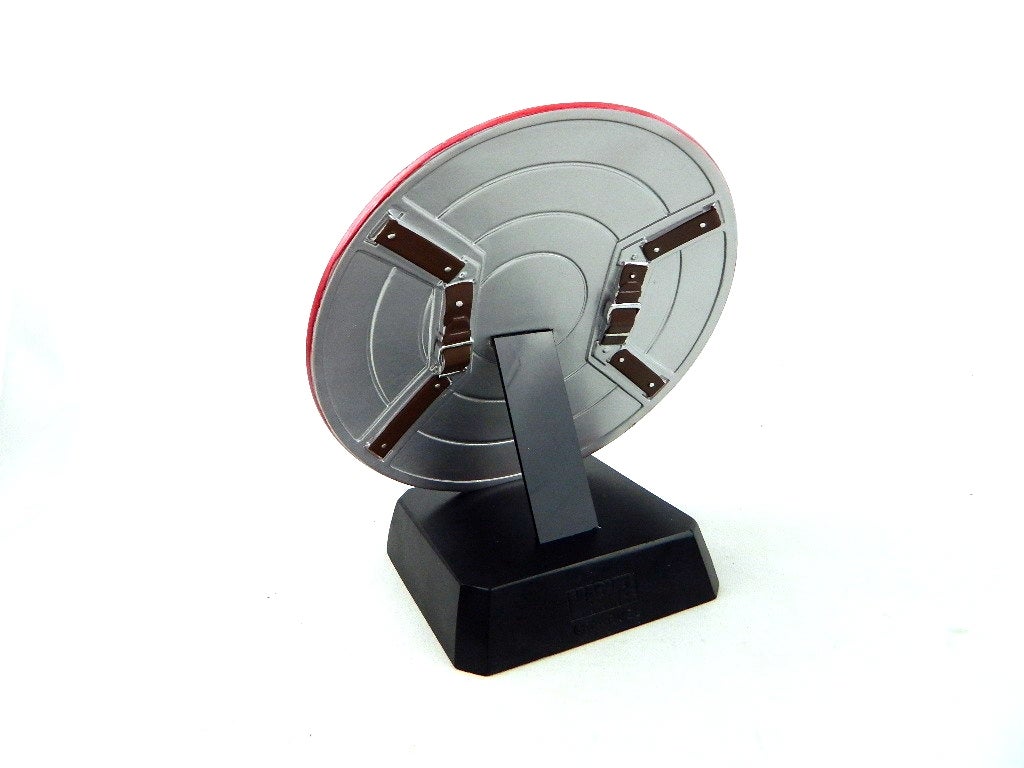 All three artifacts feature the same heavy resin base found on the helmets – most excellent additions. Alas, Cap's Shield features an odd plastic rectangular piece that just doesn't quite grab the sculpted back notch on the shield securely enough. The same applies to Thor's Hammer, which just kind of sits loosely in this molded insert on the base. Of course, the use of magnets on both pieces would have been ideal, but I understand Hero Collector trying to get actual resin pieces on the market at an affordable price point. Still, a little bit more thought in the display of these two pieces was in order.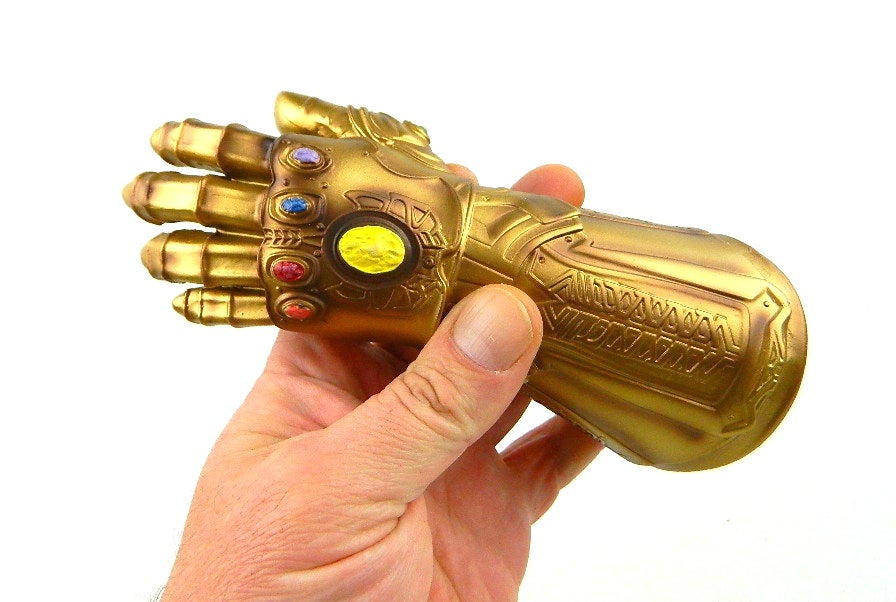 Thanos' Infinity Gauntlet, however, is a very solid display. Like the two helmets, fans display the glove with a rod. Unlike the helmets, the rod inserts easily. The Thanos Infinity Gauntlet is also a very hefty polyresin piece. The only downside I have to it is the mixed paint apps. The gauntlet's air-brushed gold sheen is solid but is brought down slightly by the painted Infinity Stones. Fake translucent plastic gems would have been so much better, but it still looks fantastic on display.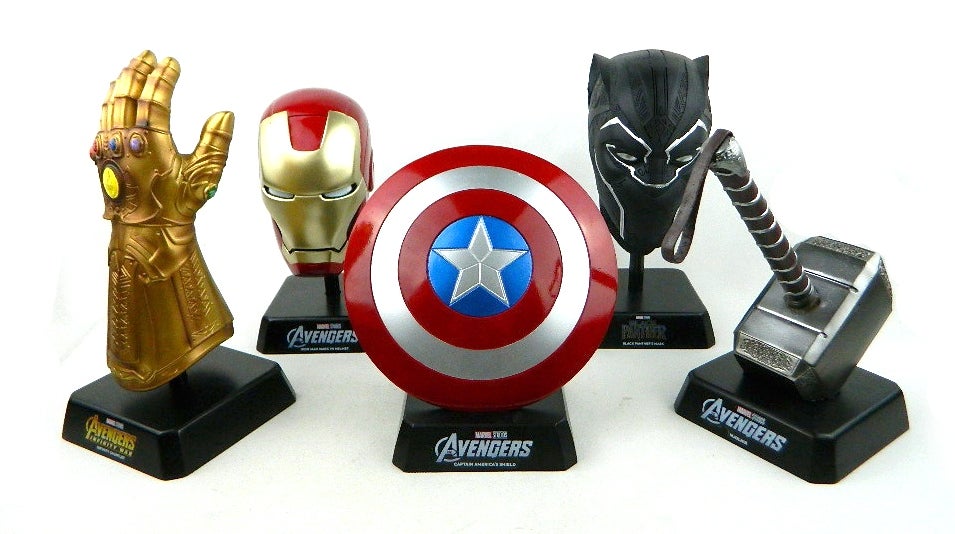 Minor criticisms aside, I'm left really liking Hero Collector's Marvel Movie Museum Collection. For every small design misstep, Eaglemoss got so much more right. That includes producing unique, affordable resin Marvel collectibles that – WOW! – can be found at a popular mass-market store like Walmart. The Marvel Movie Museum Collection nicely bridges this gap between Marvel kid's toys ($10-$20) and collectors looking to get a bit more serious with their Marvel collection without breaking the bank (which can run ya $100+). Hero Collector hit a sweet spot of $39.95 – unusual for a mass-market release these days involving a resin statue.
Also, for those without a Walmart (or their Walmart doesn't have these yet), the Marvel Movie Museum Collection can be purchased online directly through Hero Collector!
Fans and collectors should stay tuned for further details, including the reveal of more upcoming MCU figurines and Hero Collector Museum lines!
Scroll on for more photos!
Review and Photos by Jeff Saylor
Review Samples Courtesy of Hero Collector
[See image gallery at www.figures.com]
---