When it was announced early last year that Hasbro had been awarded the master toy license for Saban's Power Rangers, my jaw dropped in disbelief. Bandai had the license for what's considered an eternity in the toy industry: T-W-E-N-T-Y F-I-V-E Y-E-A-R-S. Passionate fans start to have certain expectations when a company has a toy license that long. In other words, they don't like major change. Would Hasbro's new Power Rangers toys live up to Bandai's legacy? Or was Power Ranger Toy Armageddon upon us?
IT'S MORPHIN TIME!
Hasbro's Power Ranger debut at the 2019 New York Toy Fair erased all my concerns. Hasbro showed mad respect for Saban's license with a showroom display that honored the history of the long-running television series. Actual helmets worn by the Power Rangers throughout the years lined a wall, while Hasbro's new Beast Morphers toy line impressed with everything previous Bandai fans had grown to expect. Action figures and Zords? Check. Role play items? Check. Hasbro is even paying fan service to hardcore collectors with the Power Rangers Lightning Collection – premium 6 inch figure line featuring two decades of iconic characters from the storied franchise.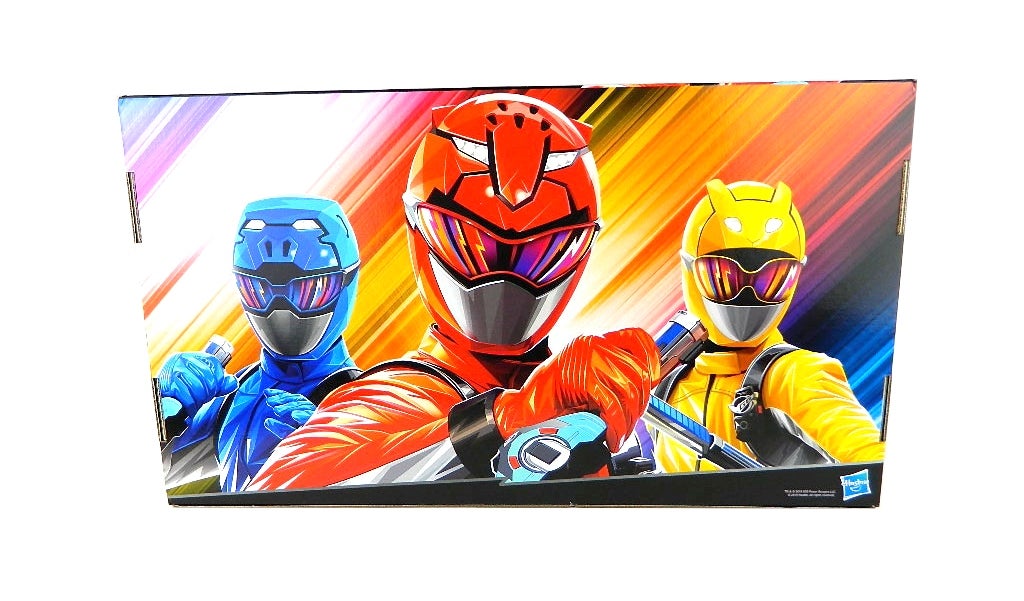 However, as most collectors know, seeing a toy and actually playing with one are two different things. To help us get a feel for their new Power Rangers Beast Morphers toy line, Hasbro sent over a care package (complete with Beast Morphers theme song when you open the lid!) jam-packed with cool samples.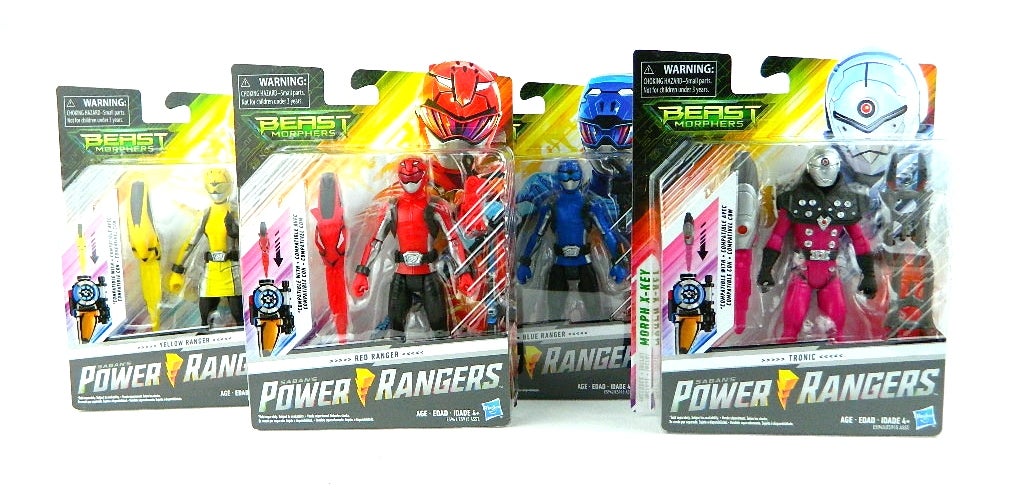 BASIC 6-INCH FIGURE ASSORTMENT
The backbone to any good Power Rangers series is the basic action figure assortment. Priced at a SRP of $9.99, these figures tempt young and old fans alike with affordable versions of all their favorite Rangers and villains. Fans can pretend to steal Morph-X with a figure of the evil Tronic (and Cybervillain Blaze, not pictured), or protect the power with figures of the Yellow, Red and Pink Rangers.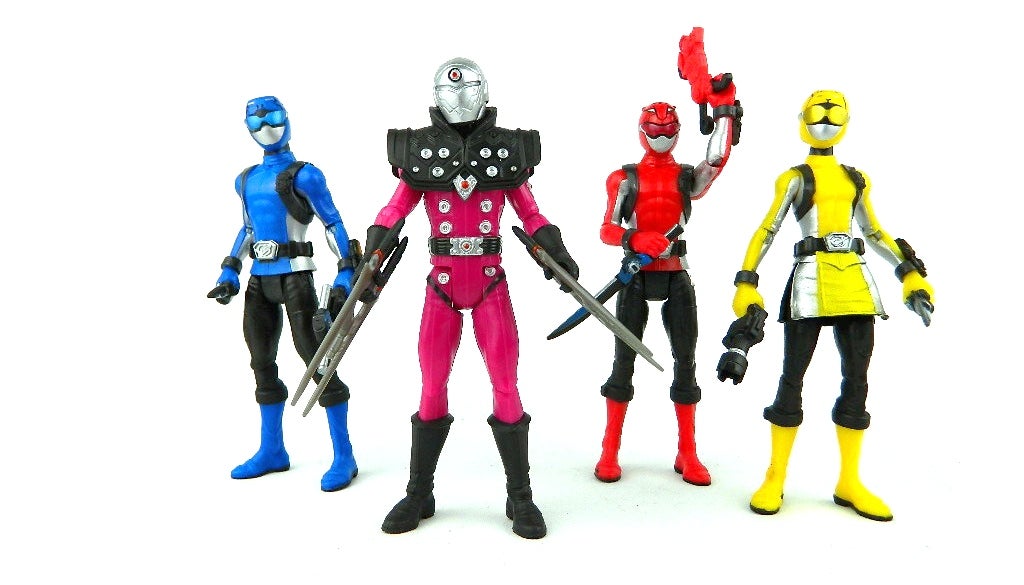 For such affordable action figures (ten bucks a pop!), Hasbro's Power Rangers impressed me with their generous and well-designed points of articulation. Each figure features a basic swivel head and cut thighs, however the simplicity ends there. Arms features ball-jointed shoulders and swivel/hinged elbows allowing for a variety of great battle poses. Further surprising me was the addition of swivel/ hinged knees, which let you to firmly plant your Power Ranger figure without fear of it toppling over. Stiff and wooded toys these are not.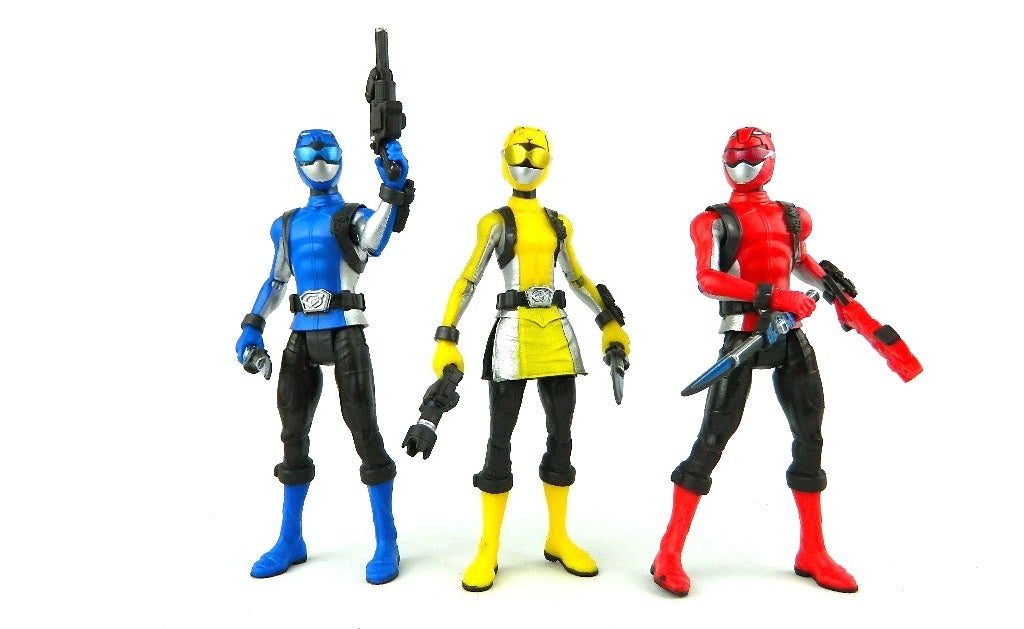 Paint is minimal, but well applied, used primarily for weapon detail and the silver accents. The rest of the figure's color palette is expressed via very durable plastic cast in said color: ie blaze red for Red Ranger, canary yellow for Yellow Ranger, etc. In addition, each figure includes two weapon accessories (sword and blaster) AND a bonus Morph-X key for use with the Beast-X Morpher electronic Role Play Toy (sold separately)! Not bad at all for a $10 toy. Go, go Hasbro Power Rangers!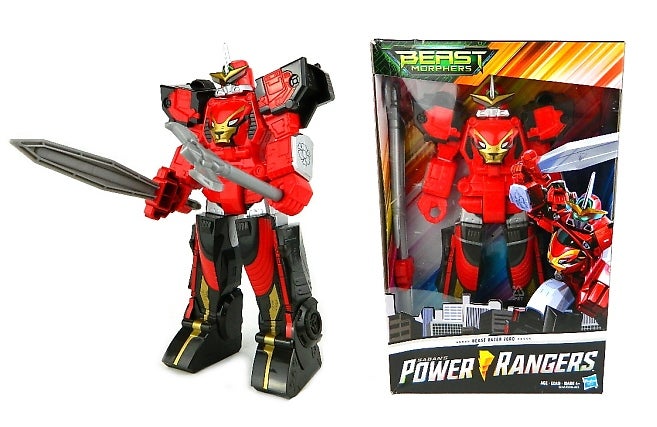 BASIC MEGAZORD WAVE
On the more kid-friendly side, Hasbro is releasing an assortment of affordable Megazords (around $20 each). Cast in chunky, durable plastic with minimal articulation (up/down arm movement) these large 10-inch tall figures include the Beast Racer Zord (shown) and Beast-X Megazord (not pictured). Each figure comes complete with two removable weapons for battle.
While these basic Zord toys may not fully appeal to more mature collectors, rest be assured that Hasbro has that base covered too. A Dual Converting Zord Assortment and a Beast-X Ultrazord are on the way this Fall.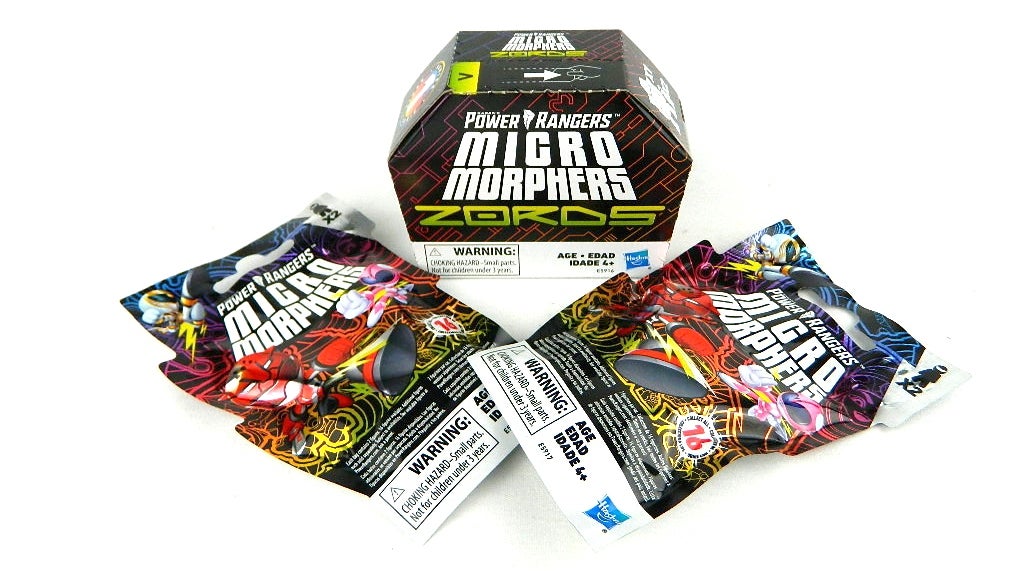 MICRO MORPHERS
Blind bagged mini figures more your style? What kid doesn't love 'em? Presenting Power Rangers Micro Morphers! Each $4 blind bag contains two (2) random rubber-like micro characters cast in various poses and colors. There are 16 to collect.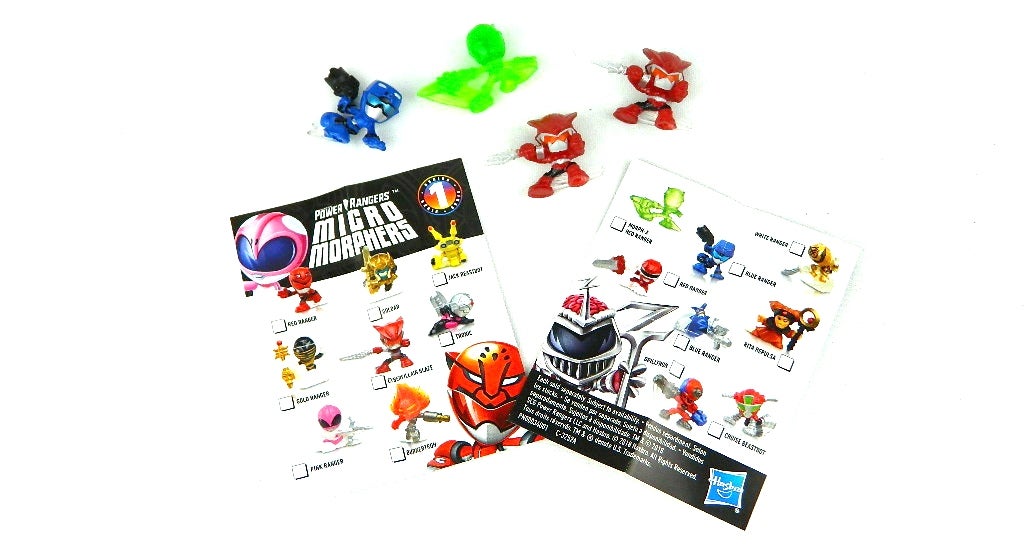 The two packs I opened didn't offer much variety (I got doubles of Cybervillain Blaze), but I appreciate Hasbro's attempt here. Like their Transformers Bot Bots, all Hasbro has to do is fully invest in the concept and offer more characters to collect. Oh wait, they did… I almost forgot to tell you about Power Rangers Micro Morpher ZORDS!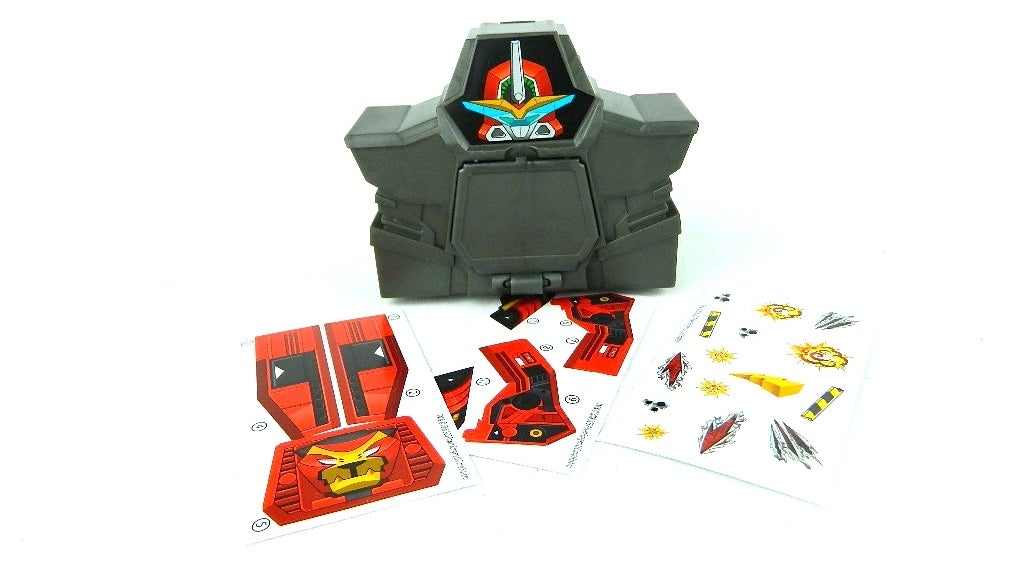 This blind bagged series features four (4) distinct Zords, each packed with two bonus Power Ranger Micro Morpher figures! The Micro Morpher Zord sub-line introduces 12 new mini figures to the series, but the real star of the show is the Zord itself. Assembled from two plastic pieces that connect, each Zord comes to life with included sticker sheets and translucent plastic weapon and armor pieces that slide into place.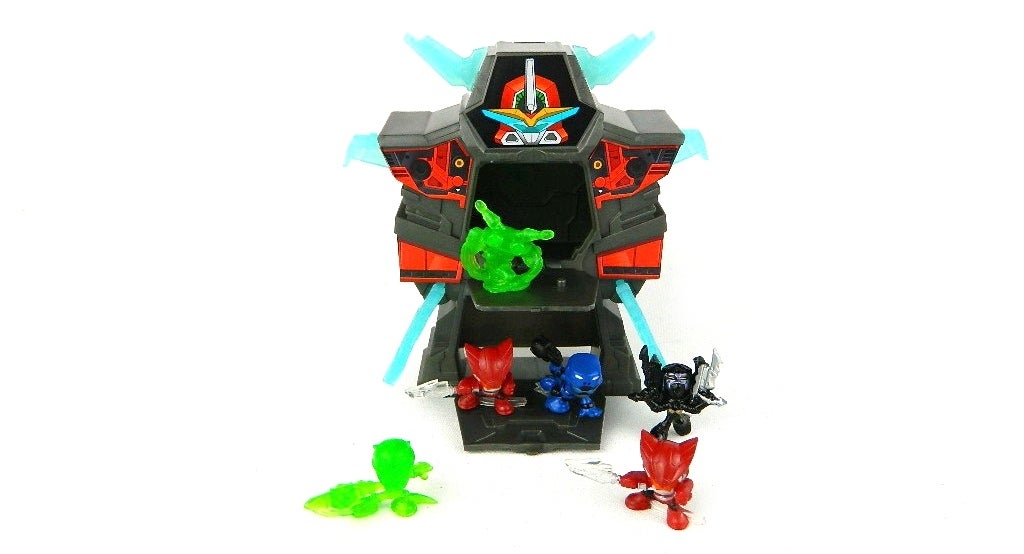 What's extra neat is how each Zord not only acts a towering micro toy to fight alongside your mini Rangers, but it also features opening compartments to serve as a "playset" AND it also acts as a carrying case for your Power Rangers Micro Morphers figures. I managed to stuff all six of mine inside with space to spare. Kudos to the Hasbro design team – quite a clever concept.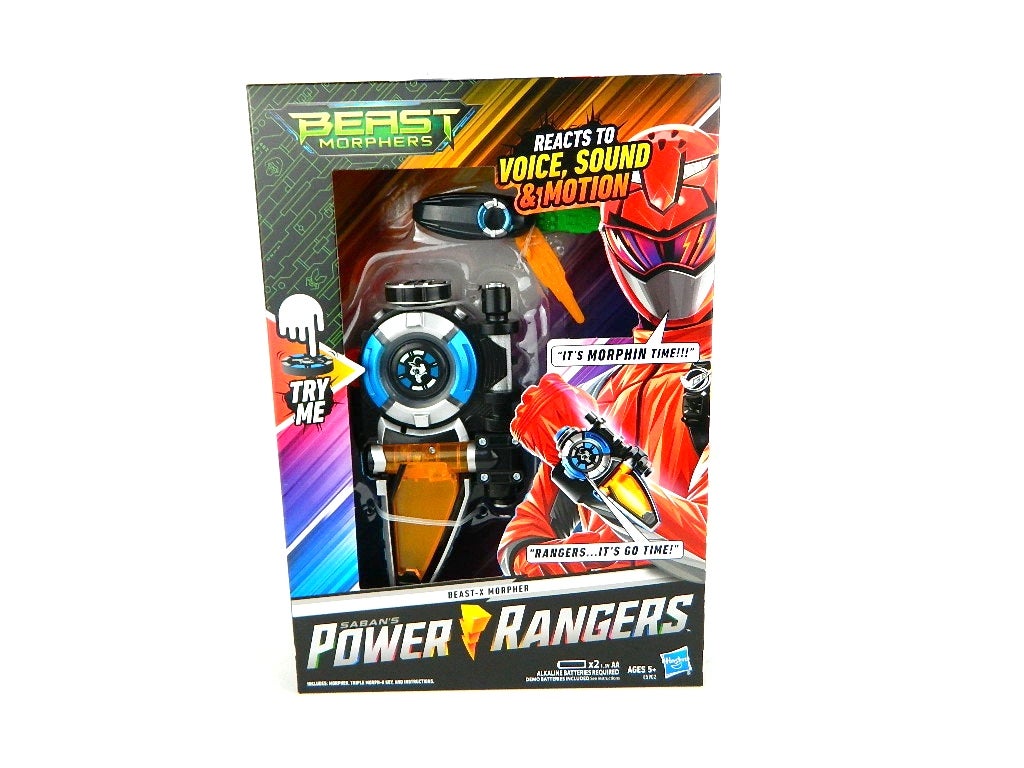 ROLE PLAY
Last, but certainly not least, is Hasbro's continuation of a Power Rangers toy staple: role play items. The core gadget this time around is the Beast-X Morpher (SRP $29.99), an electronic device that allows the Rangers to morph into their superhuman form. After being greeted with the voice "It's Morphin Time!" it is clear that music, lights, and sound effects are the name of the game with this fun role play item. Swinging it around as if battling monsters unleashes special animal-inspired sounds. Insert the included thew Swiss army knife-like Morph-X Key (and the single Morph-X Keys included with the basic action figures) activates different character sounds and phrases.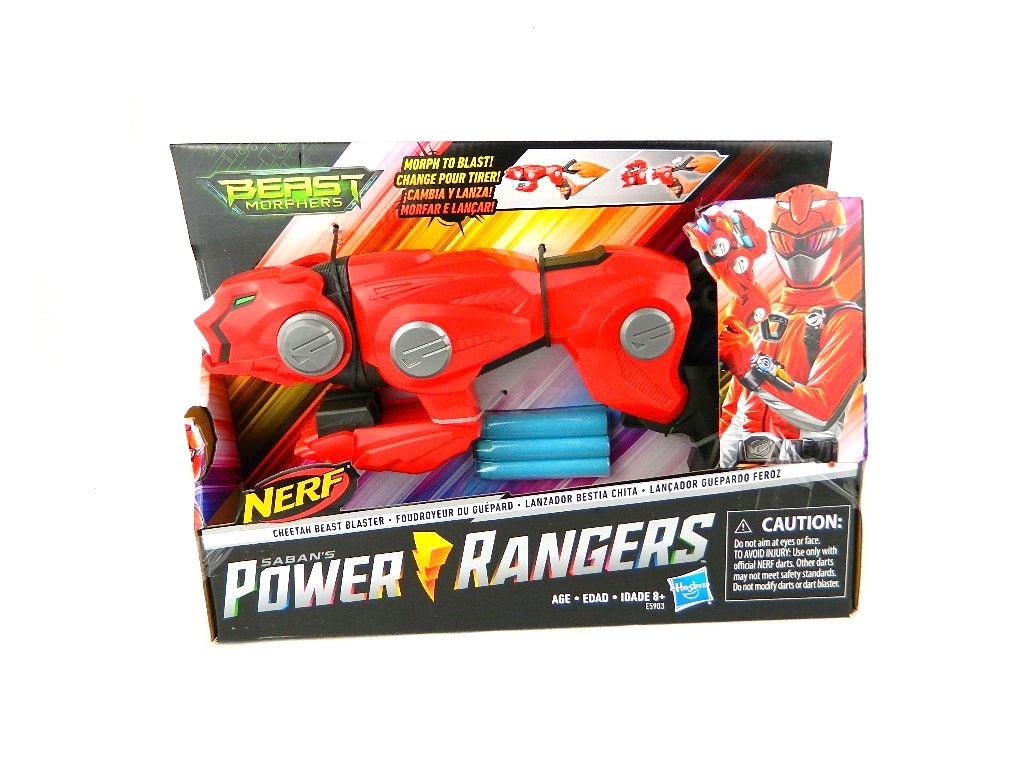 While the Beast-X Morpher is obviously aimed at young fans wanting to reenact the show with their friends, the Cheetah Beast Blaster pleases all age groups with awesome single Nerf dart firing action. Co-worker slacking on the job? Load up the included Nerf dart (and place the two included spares in their reserve slots), pull back the "tail" receiver and dish out some serious Cheetah fury! Roar! While an extremely powerful Nerf blaster (and I love how the lower spare round chamber swivels to an upright position when cocked and the Cheetah's mouth opens when fired), those into serious Nerf battles will want a much larger ammo capacity.
All said, Saban's Power Rangers are in very capable hands. Hasbro has all bases covered. Long time fans of Bandai's annual Power Rangers line will rejoice with the knowledge that Hasbro is not only continuing the toy tradition with basic figures, Zords and role play items for each new Power Ranger season, but is also looking beyond Beast Morphers to embrace the Power Rangers entire rich history.
Fans can grab Hasbro's new Power Rangers Beast Morphers toy line starting now, with new items rolling out next month, as well as debuting this Fall.
Scroll on for more images!
Review and Photos by Jeff Saylor
Review Samples Courtesy of Hasbro
[See image gallery at www.figures.com]
---
Keep up with all the latest toy news by following Figures.com on Facebook and Twitter!
To buy action figures, take a look at Hobby Link Japan, BigBadToyStore.com, TheToySource.com, Toynk.com, and BriansToys.com.