Continuing out look at new Monogram figural bag clips for September, we turn our attention the the King of Monsters, Godzilla! Returning for a second helping of kaiju coolness, Godzilla Series 2 features new versions of everyone's Tokyo-stomping lizard, along with a slew of deep-dive movie monsters for 'zilla to fight!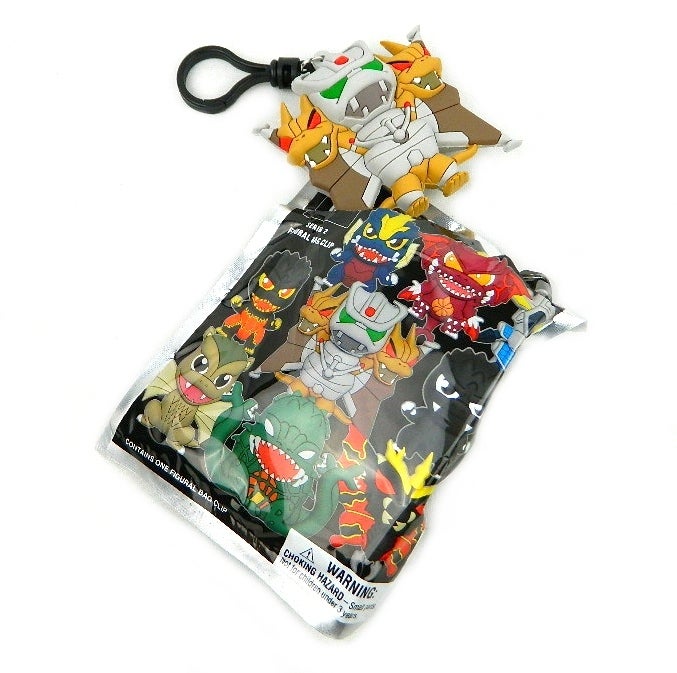 Like all Monogram figural bag clips, Godzilla Series 2 is sold as individually wrapped mystery blind bagged figures. If the thrill of the hunt isn't your game, there are also options to buying an entire case of 24 figures (details at the end of this review). With a case, you are guaranteed to receive two complete sets of the 9 core characters, the two rare chase figures, as well as four random 'zilla figures to spare. So who stars in this new 'zilla wave? Read on to find out!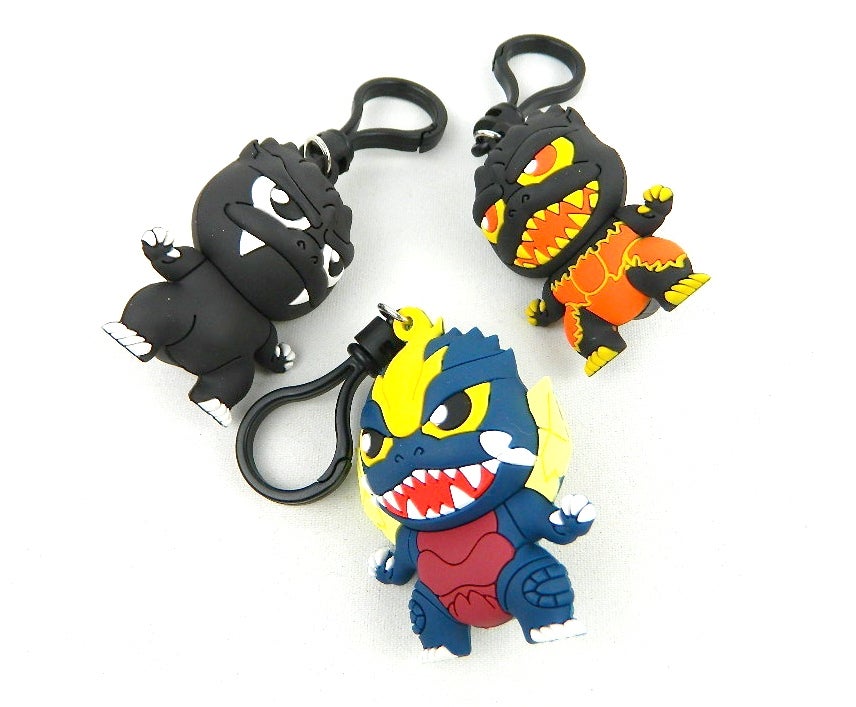 Kicking off the core group of 9 bag clips is Godzilla himself! Well, technically TWO versions and one evil imposter: SpaceGodzilla (the blue and yellow critter above)! The two standard figures of Godzilla include his appearance in 1984's The Return of Godzilla, the sixteenth installment in the Godzilla series, as well as the first in the Heisei series. Fans are also being treated to a spectacular "Burning Godzilla" from 1995's Godzilla vs. Destoroyah. You'll want to nab this figure so you can re-enact the epic showdown (and Godzilla's sad demise) with Destoroyah, another epic figure in this series.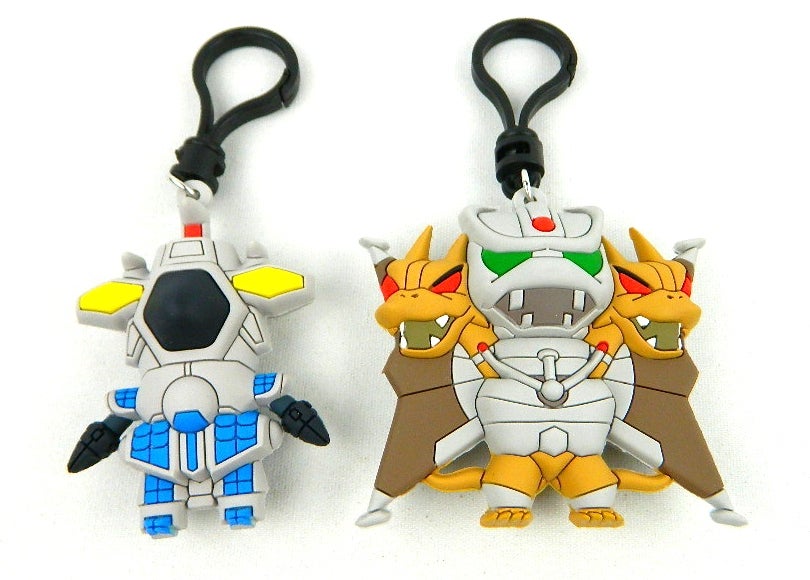 Next up, some mecha madness! M.O.G.U.E.R.A. (Mobile Operation Godzilla Universal Expert Robot Aero-type) is an anti-'zilla robot that first appeared in the 1994 Godzilla film, Godzilla vs. SpaceGodzilla. The other robo-kaiju is Mecha-King Ghidorah! The unstoppable Monster Zero returned to battle his nemesis in 1991's Godzilla vs. King Ghidorah, this time his middle head mechanized as well as his wings, and torso! This is a large figural bag clip and my favorite of this assortment.

rounding out the core group of nine is the winged Battra (92's Godzilla vs. Mothra) and Dorat (small, genetically engineered kaiju who appear in the 1991 Godzilla film, Godzilla vs. King Ghidorah), along with mega 'zilla archrivals: the plant-like Biollante and Destoroyah (Boo! Hiss!). Of the four, Biollante impresses as a seriously meaty figure.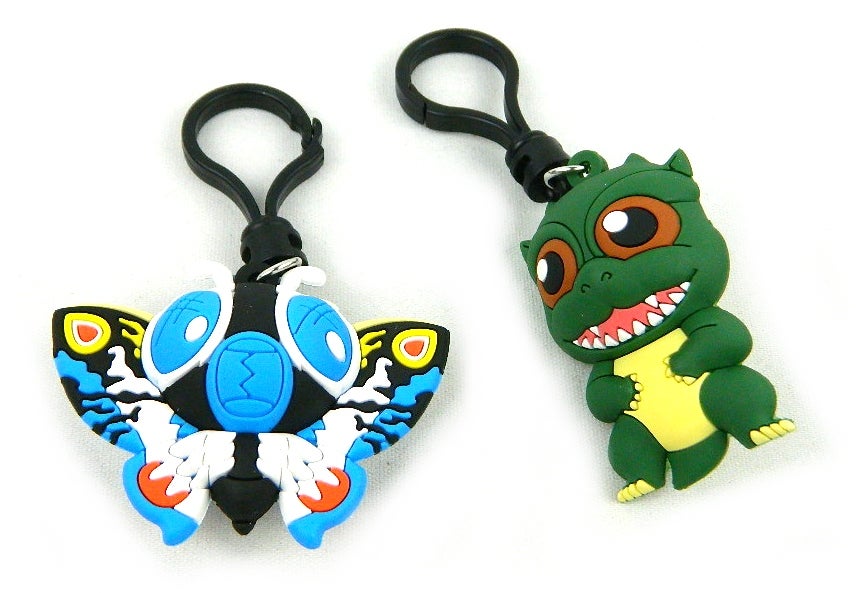 Last, but not least, the ultra-rare chase figures! Here we have very colorful winged Rainbow Mothra and what's being called "Little Godzilla," better known to 'zilla fans a Godzilla Junior! This little tike takes the place of his dad at the end of Godzilla vs. Destoroyah, the Baby Godzilla has appeared in numerous other 'zilla films. These chase figures offer fans two really unique Godzilla characters; a true incentive to hunt them down!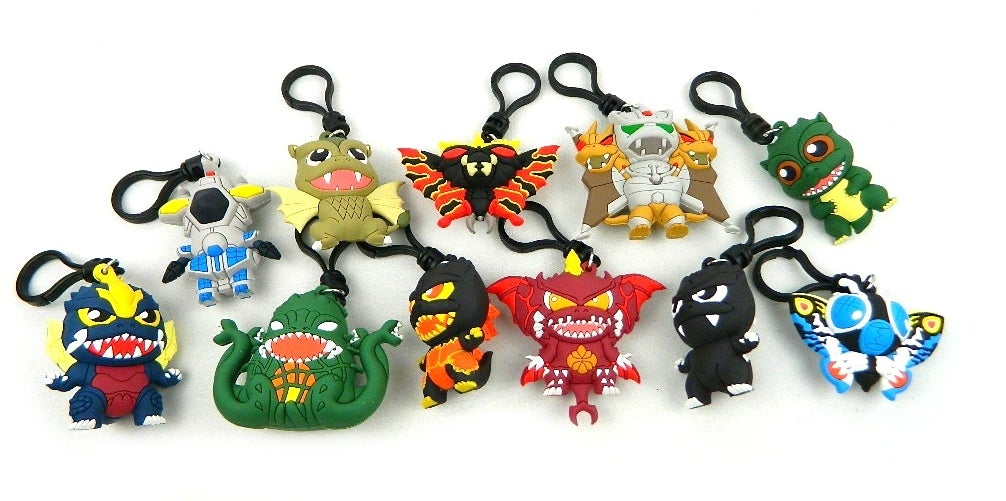 While light on Godzilla's many appearances, I'm very impressed with the range of kaiju villians offerd in Godzilla Series 2. There chunky, colorful characters are sure to impress Godzilla fans. The two chase figures are especially worthy of tracking down – Mothra for it's bold colors and Little Godzilla just because it's so darn cute.
Available now, 'zilla fans can order an entire case of Godzilla Series 2 through fine retailer EntertainmentEarth.com. They also have the option to purchase six random blind bags. For those that want to test their luck with the solo blind bags, Godzilla Series 2 can be found at Hot Topic, BoxLunch, and other specialty and gift retailers!
Scroll on for more photos!
-Review and Photos by Jeff Saylor
-Review Samples Courtesy of Monogram
We are committed to finding, researching, and recommending the best action figures and collectibles. We earn commissions from purchases you make using the retail links in our product reviews. Learn more about how this works.
[See image gallery at www.figures.com]
---