Flame Toys exploded on to the U.S. toy scene last year with their amazing action figure of Autobot Drift. This high-end figure – and others like it, including the upcoming Decepticon Tarn – have everything a Transformers fan could want: hyper articlaution, die-cast metal parts and most of all, awesome IDW comic looks. The only downside? Their high-end price tag of $300-$400. Mass market Hasbro Transformers toys these are not.
Thankfully, Flame Toys is aware that a $400 Transformers figure isn't for everyone. With pricing that won't break the bank, Flame Toys presents their new Transformers Furai Model Kit Series. Distributed in the U.S. exclusively via Bluefin, this non-transforming line features cool IDW comic book styling on fully articulated figures that you build yourself.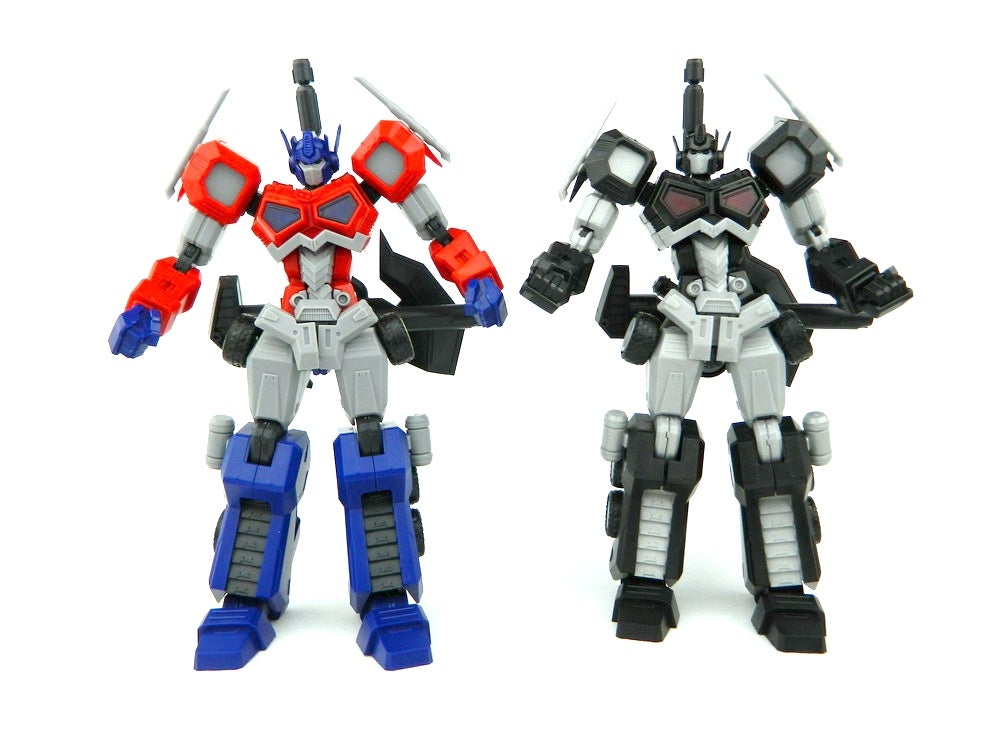 Optimus Prime (Attack Mode) and a NYCC exclusive variant depicting the Autobot leader in his Nemesis Prime color scheme launched the line last month priced at $36 each. Future releases shown at New York Comic Con include a new Optimus Prime (IDW version), Bumblebee, Starscream, and a wicked looking Megatron.
So how do the new Flame Toys Transformers model kits stack up?
Back in September I reviewed some of the new Star Wars character kits from Bandai Hobby (HERE). Needless to say, with decades of Gundam modeling experience behind them, Bandai Hobby has set the bar for quality kits pretty dang high. Their models exhibit a snap-build with easy-to-follow instructions, pre-molded colored parts for optional painting and a solid final build that doesn't fall apart when posed.
With those high standards in mind, I'm pleased to report that Flame Toys makes a remarkably strong first showing with their Optimus Prime model kit.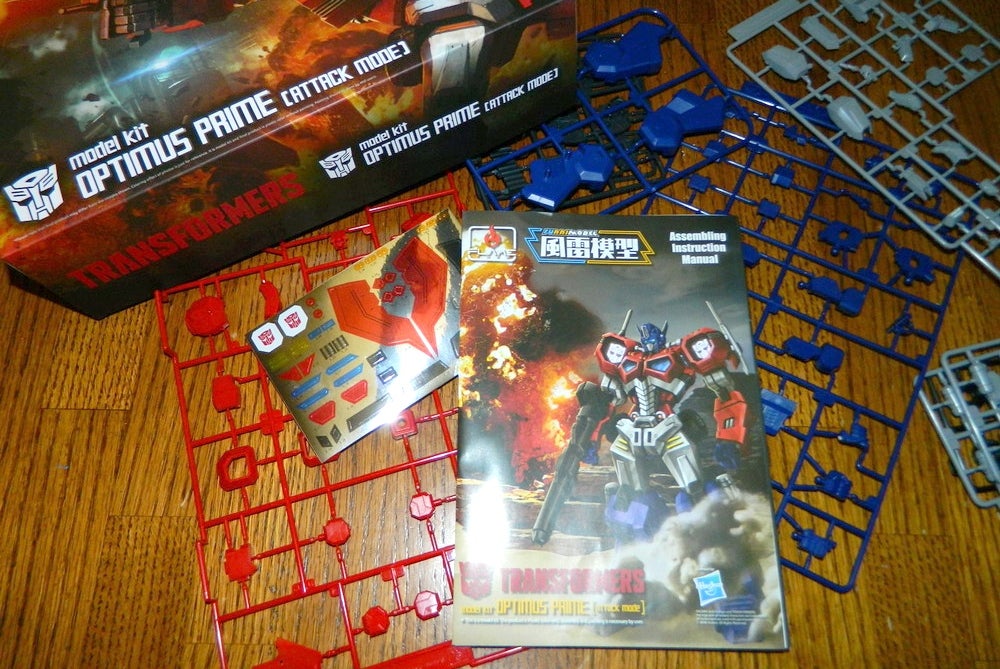 Designed by the 3D modelling company TRGGER, the Optimus Prime kit is about a 2-3 hour build. It is advertised for model builders of all skill levels, and while it's not the most complex model I have ever built, I wouldn't recommend it for beginners. As I'll point out soon, some steps can get a little confusing.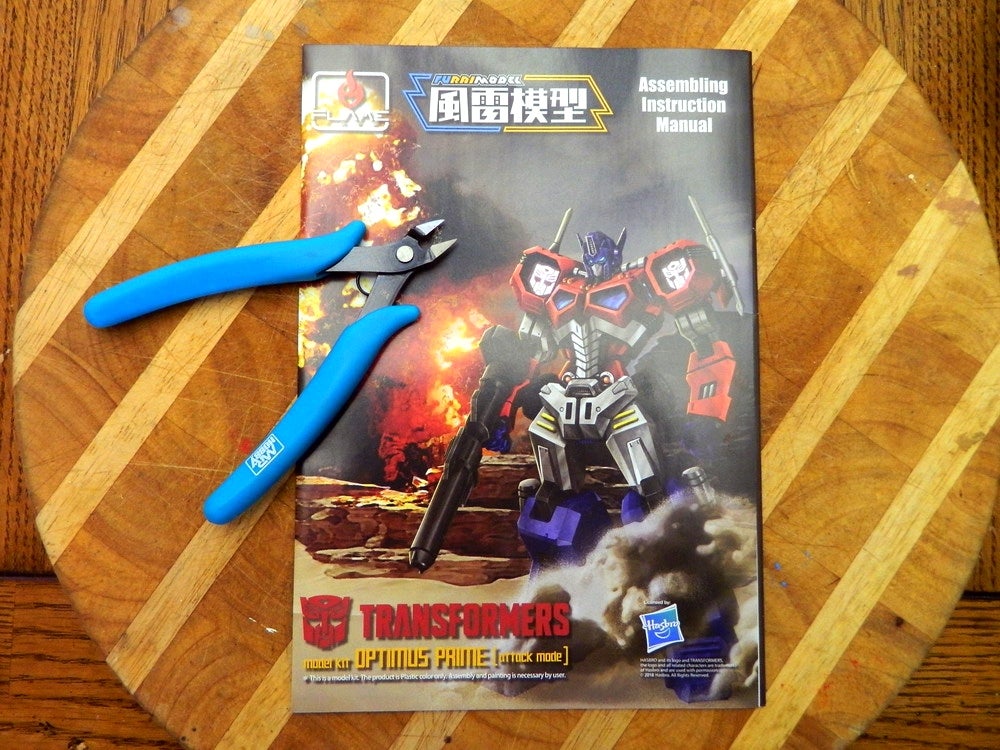 Similar to a Gundam kit, Optimus Prime's parts come attached to pre-colored plastic sprue trees. Nippers, while not required, are strongly recommended. They'll make your model building life so much easier. Included sprues are the iconic Optimus colors of red and blue, along with some light grey pieces and black for his weapons, wheels and joints. Some depth is added with the inclusion of translucent red plastic parts for the window's on Prime's chest, as well as his eyes.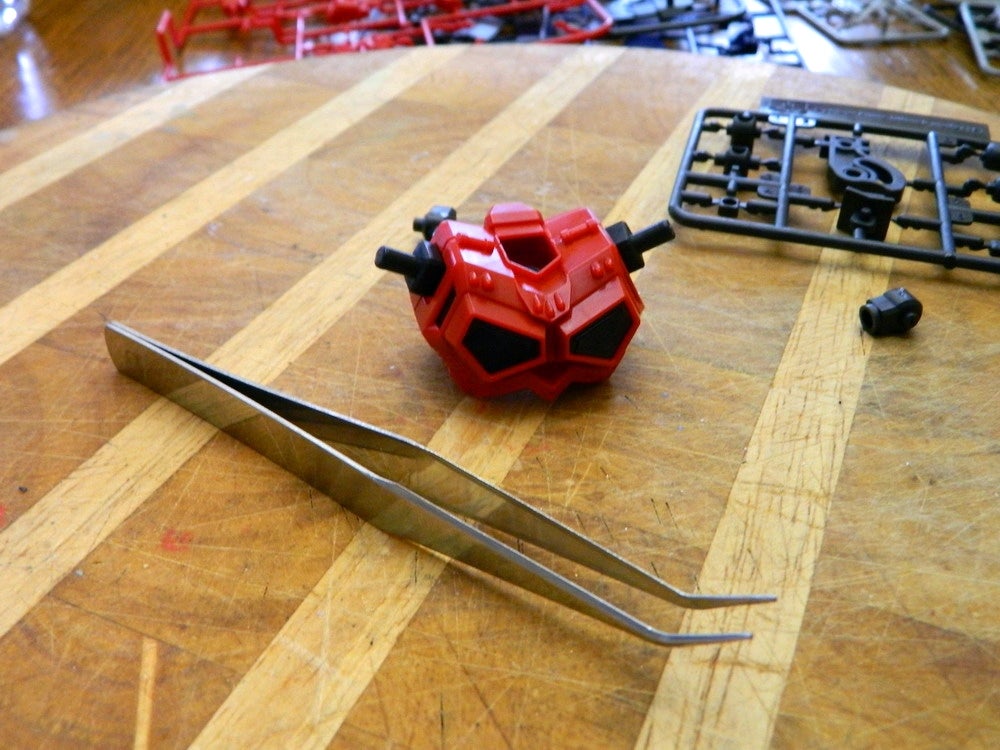 I would love to see Flame Toys expand the color palette even further with the addition of chromed parts, such as Optimus' semi-truck smoke stacks and tire rims. Perhaps a deluxe kit down the road? Also included is a decal sheet and of course, an instruction booklet.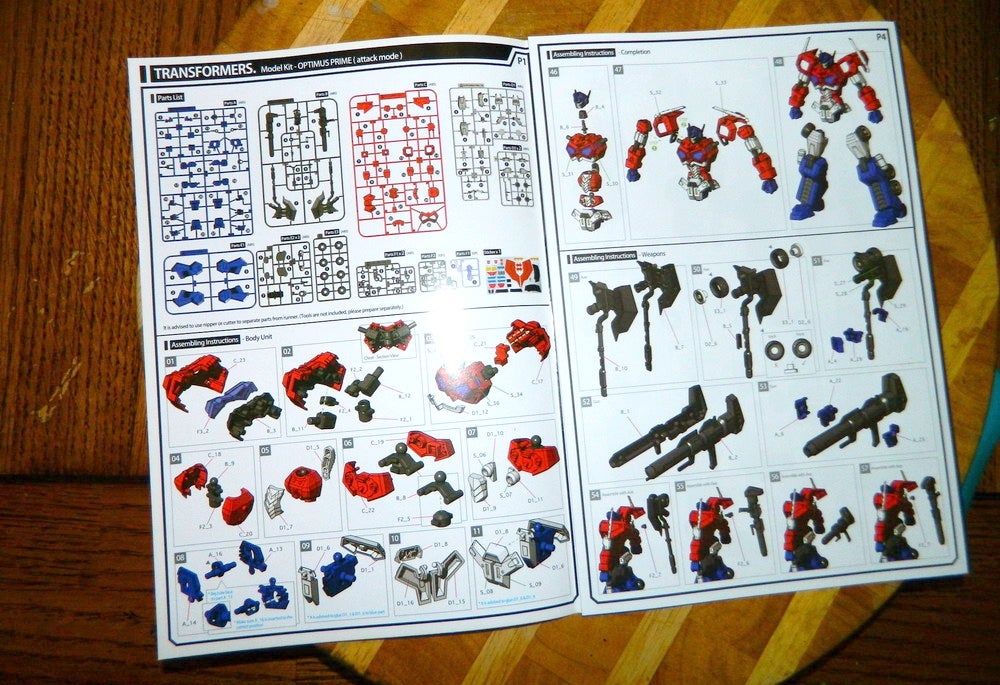 Instructions, for the most part, are rather straight forward. My only criticisms include some questionable step placements and a couple of build stages that weren't very clear.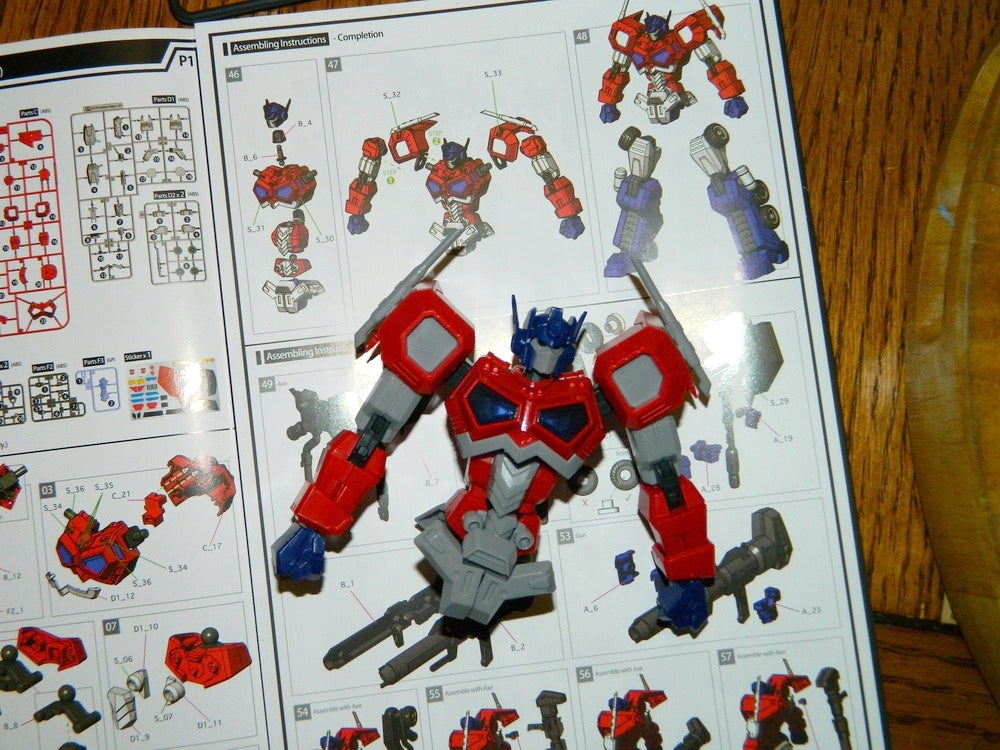 Regarding the step placements: You start off clear enough by building Optimus Prime's chest, then his torso. The instructions then have you skip to his head and then onto his arms, legs and weapons. It's not until the back page – starting with step #46 – that you are instructed to actually begin putting all these limbs together!
As you can imagine, having all these pieces scattered about makes for a cluttered work space. When I got around to building Nemesis Prime – an identical build to Optimus – I decided to go my own way. I built Optimus' chest, torso and head first, however this time I put everything together afterward. I then skipped to his legs and attached them and finished by building/attaching his arms and weapons.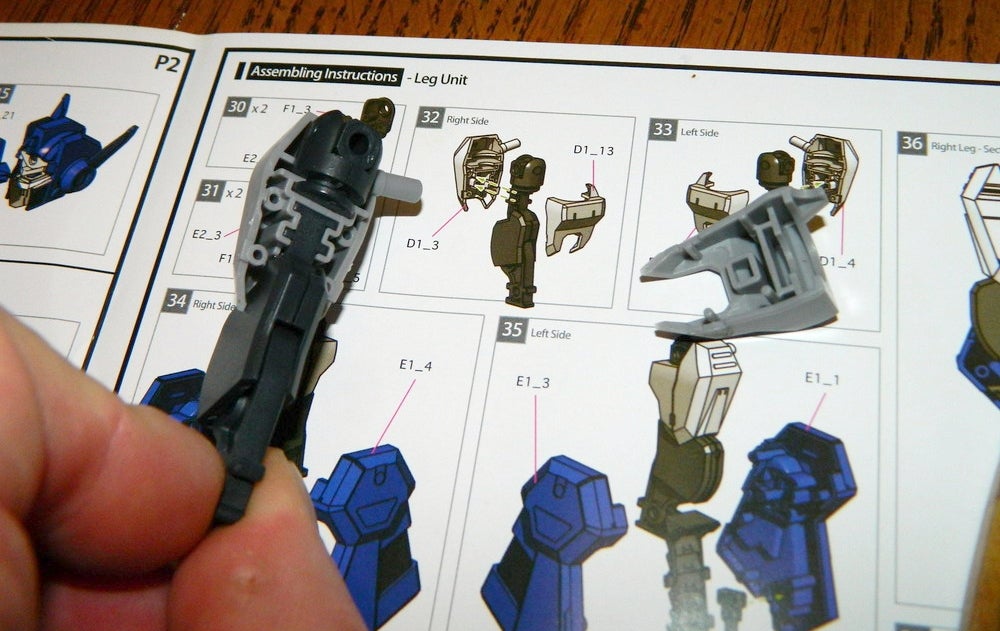 My issue with the build stages involved a couple really small, unclear instruction images. Building articulated limbs is often the most challenging process of a kit. Each piece has to face a certain direction and go in a precise way. When an instruction image is the size of a small U.S. coin, things can get very, very confusing. See if you can spot my error above…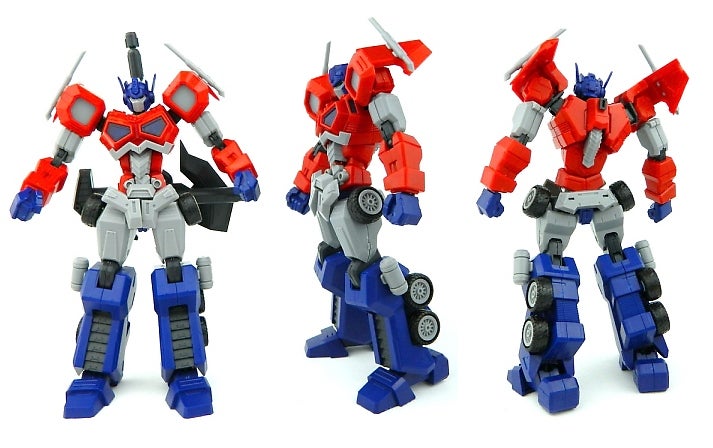 Anywho, both of these building issues are easily fixed and relatively minor in the grand scheme of things. I paved my own path on the assembly steps (granted, it was with a second, identical kit, something not many folks will be doing). As for the instruction images, all Flame Toys has to do in the future is make the pictures slightly larger, with perhaps a few more turnarounds so it's clearer on how a piece should go together.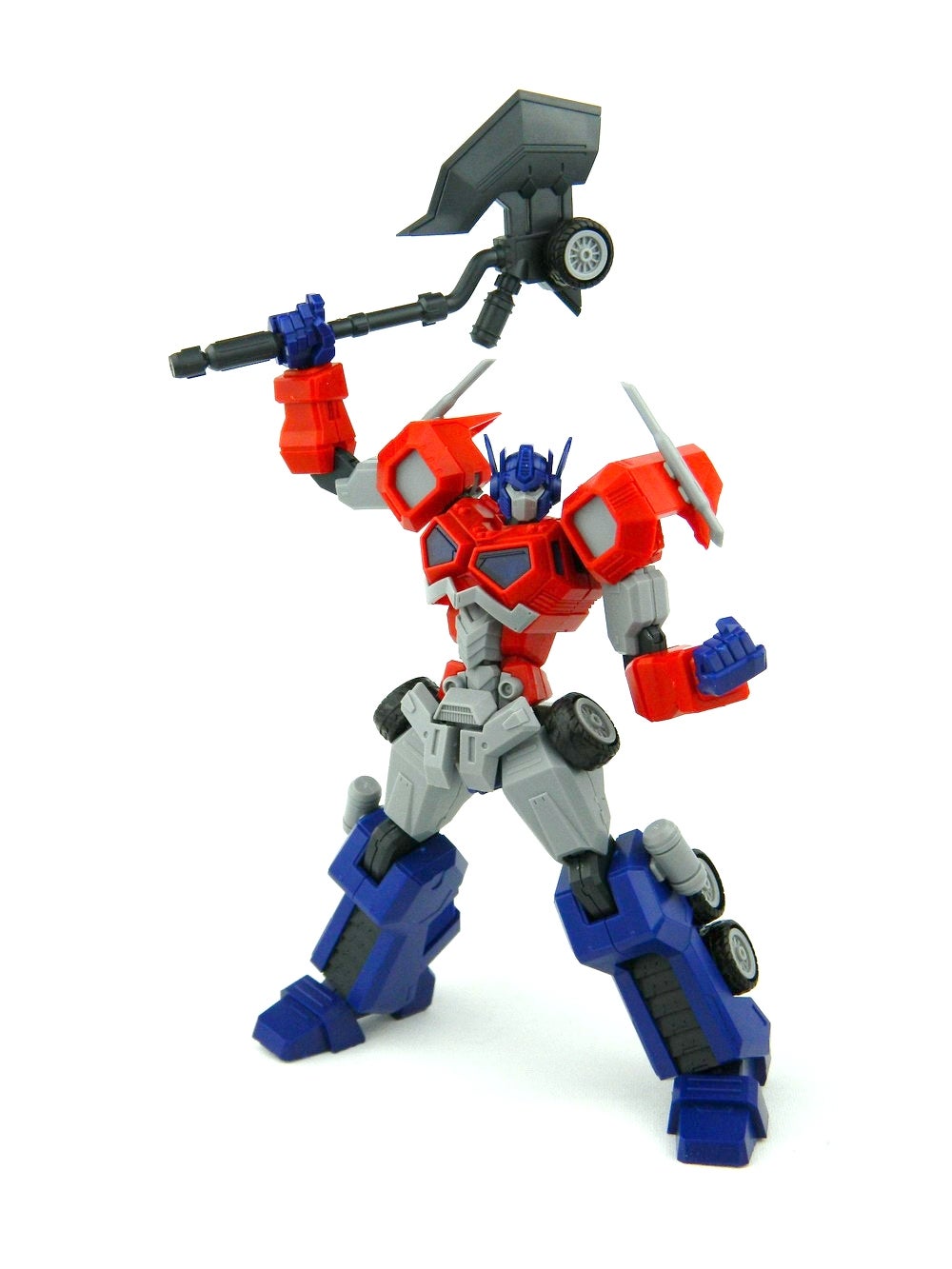 When completed, the final Optimus Prime figure measures a good 6-inches tall, and as advertised, this guy can move! 40 articulated joints are advertised, and I believe it. It's quite satisfying to have an action figure so poseable that you actually built yourself. Now is Optimus Prime up to all that extreme poseability?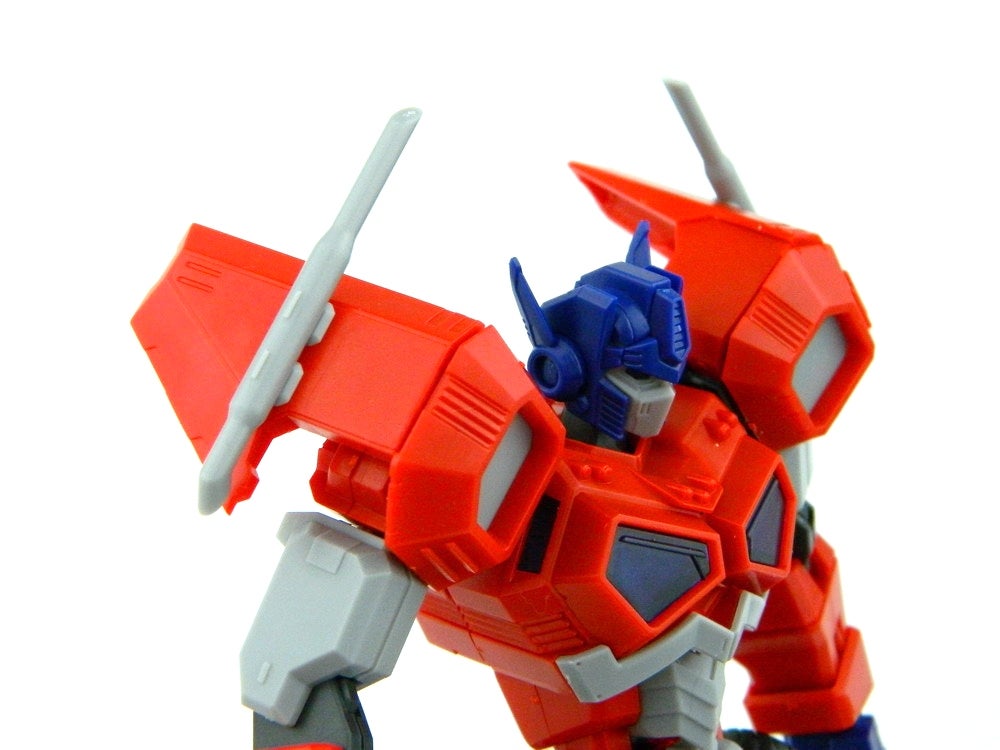 For the most part, yes, this is a rather solid build. His legs are extremely well designed and can easily be positioned without fear of the model coming part. However, I did encounter some loose connections with his shoulders. This included the smoke stacks popping off (easily fixed with some glue), the front shoulder covers detaching (again, fixed with glue), and occasionally the arm coming out of socket (a firm shove back in fixed that for awhile).
Another nice feature of this model is the ability to stow Optimus Prime's weapons on his back. His blaster plugs in horizontally onto his butt and looks great doing so. His power axe can plug into his back, although I found the connection there not as strong, especially if you're playing around with the model.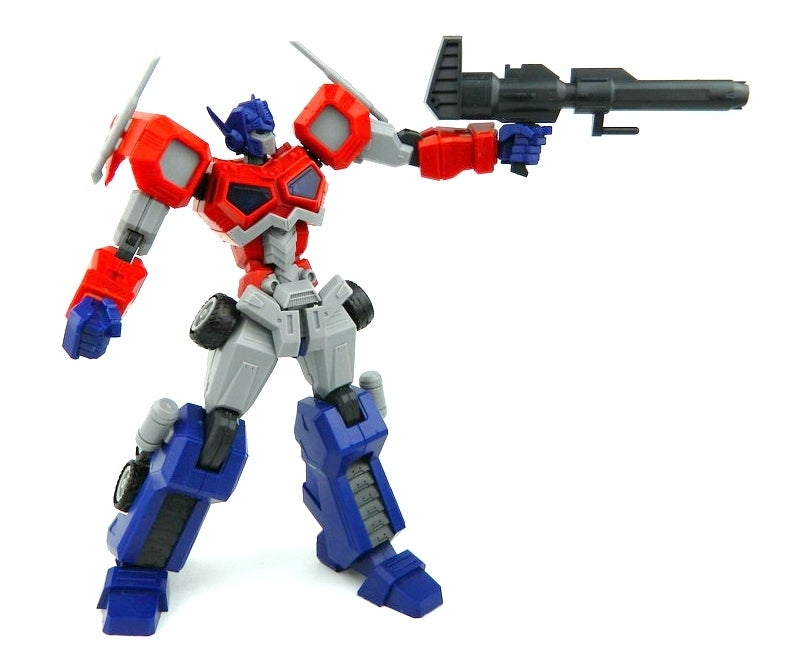 When not stashed away on his back, Optimus can take on the Decepticons with his gun and axe by switching to the two weapon grasping hands. These come in addition to fisted hands and snap together over the weapon handles like a clam shell. Then simply plug the hand in via the ball joint. It's a bit tedious having to connect the two hand halves each time you want Optimus to fire away (the weapons don't just slide into a hand slot), however the plus side is that the weapon grip is nice a solid (the weapon handle is anchored in the grip via a peg and slot system).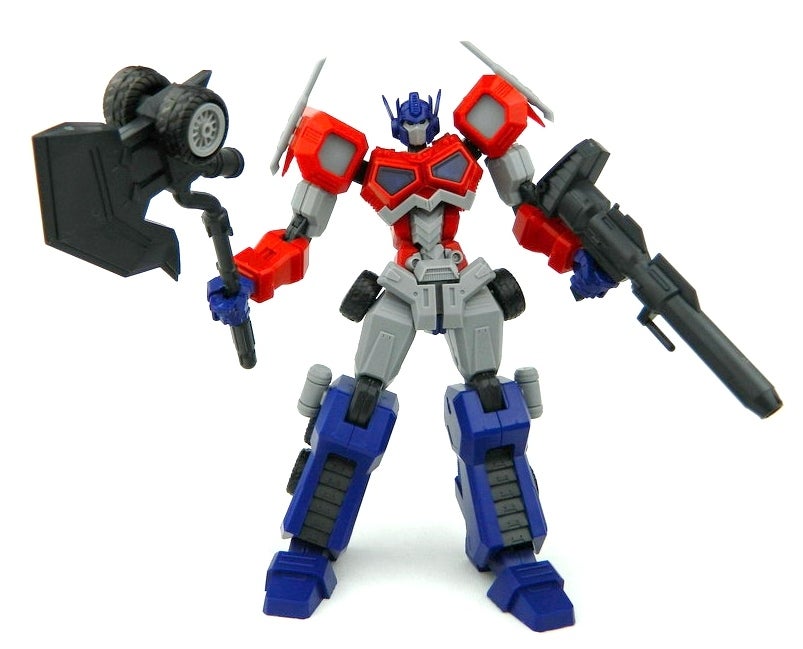 And there you have it. For Flame Toys' first offering in the world of model kit building, this is a surprisingly solid kit. Bandai Hobby has some stiff competition. Fun model kit building aside, the main selling point for me with these kits is the awesome IDW Transformers comic license. While these do not transform, the robot character designs are everything. These aren't stiff G1 toys, but sleek and limber Transformers ready for battle. I wish I had $300-$400 for Flame Toys' Transformers action figures, but since I don't, their $36 model kits are the next best thing.
Fans can order Transformers Furai 01 Optimus Prime (Attack Mode) at select retailers, including BigBadToyStore.com where he is in-stock and ready to ship! BigBad is also accepting pre-orders on the next couple of Transformers model kits, including:
Transformers Furai 02 Starscream

(November)

Transformers Furai 03 Optimus Prime IDW Ver.

(January)
Review and Photos by Jeff Saylor
Review Samples Courtesy of Bluefin
[See image gallery at www.figures.com]
---
Keep up with all the latest toy news by following Figures.com on Facebook and Twitter!
To buy action figures, take a look at Hobby Link Japan, BigBadToyStore.com, TheToySource.com, Toynk.com, BriansToys.com, and ToyWiz.com.