Hungry for some new collectibles? Satisfy that toy craving with Hasbro's Deadpool Chimichanga Surprise Figures! As the title implies, this blind bagged mini figure assortment is all about Marvel's wise-cracking "Merc with a Mouth"… and chimichangas. Not only is the deep-fried burrito tie-in a clever way of promoting Deadpool's favorite food (making me really hungry for one), but the chimichanga concept makes for one of the best packaging designs I've seen.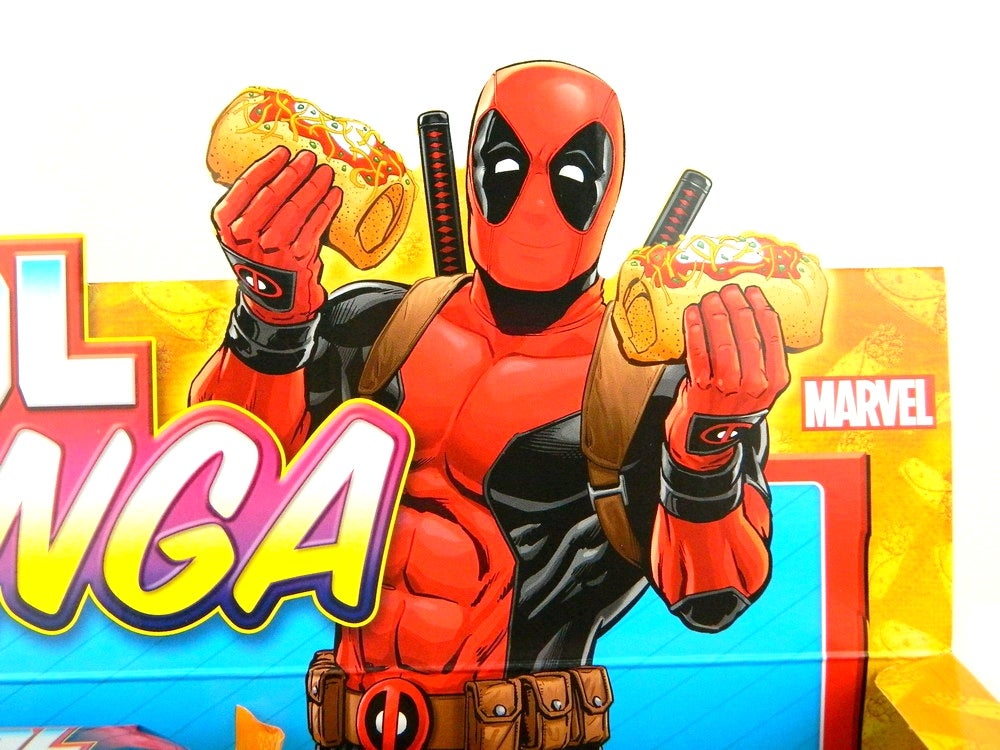 SPOILER WARNING: Stop reading this review now if you want to be surprised when opening your Deadpool Chimichanga Surprise Figures. This review spoils the unique unwrapping process of this blind bagged series and also reveals all the contents. If interested in owning these, they can be ordered through Entertainment Earth as set of four HERE or as a full case of 12 HERE.
Now that you have been warned, read on…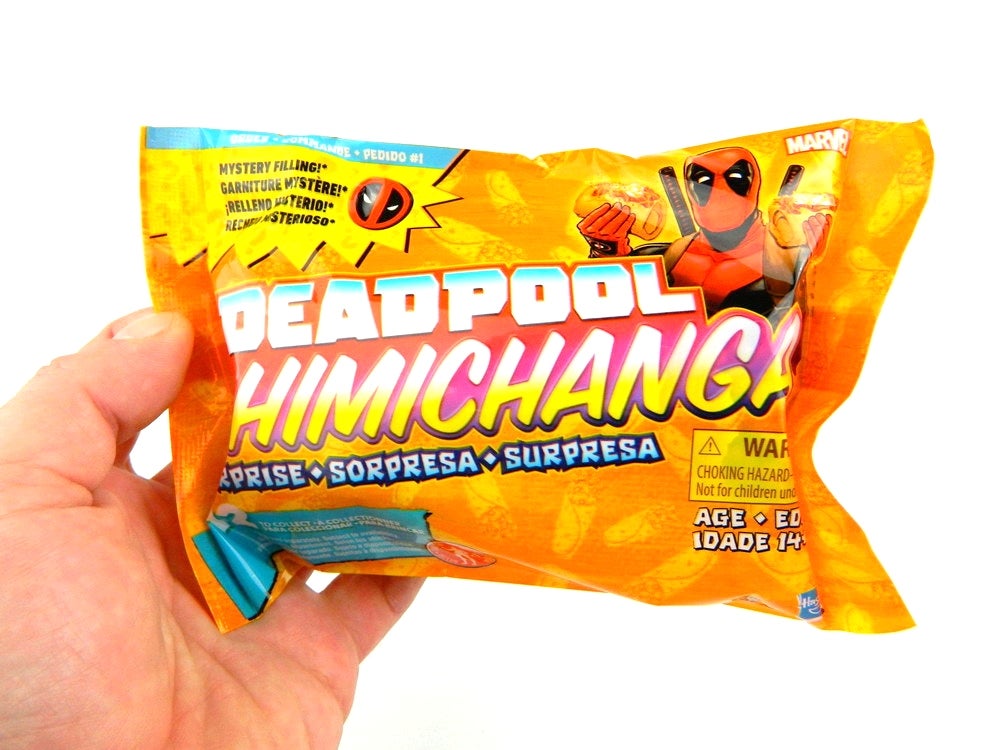 That brilliant design starts with the counter display; a festive celebration of mystery figure and "food". Each counter display holds 12 Deadpool Chimichanga Surprise Figures – yellow blind bags that mirror the counter display's design – each pack looking strikingly similar to that of a microwave burrito wrapper.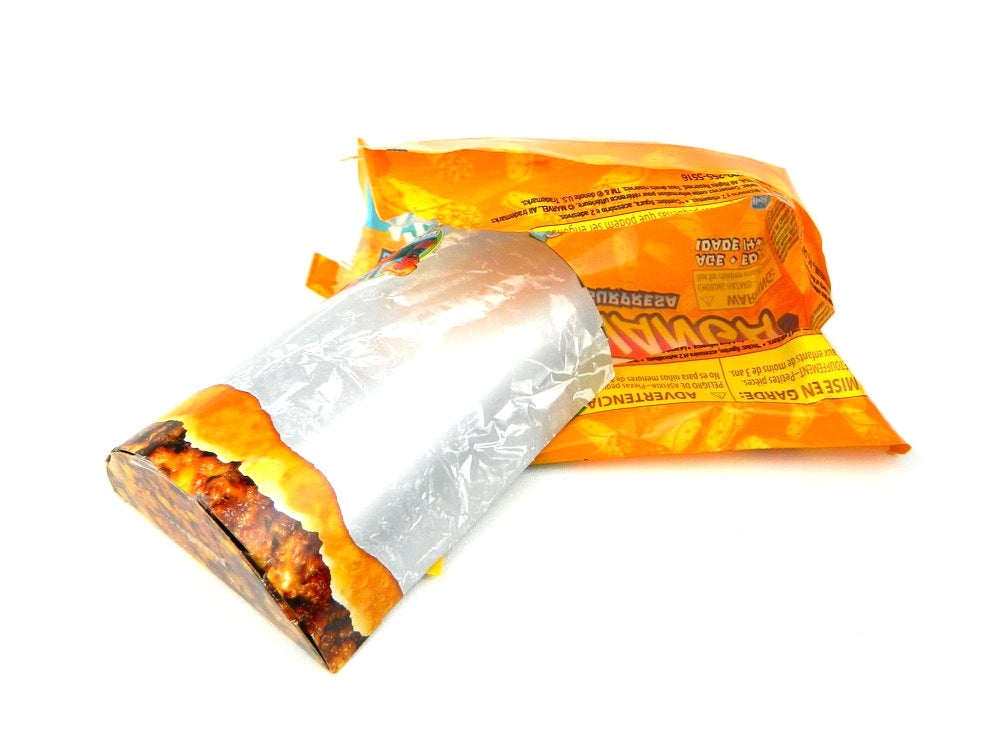 Opening any blind bagged figure is all about the anticipation of what figure you'll find inside. You open the bag and voilà! – your prize is unveiled. With the Deadpool Chimichanga Surprise Figures, each package is a multi-layered mystery figure adventure. After cutting open the outer wrapper, fans will find what appears to be an actual chimichanga in a Hot Pocket-like cardboard sleeve. Like I said, it's all very foodcentric.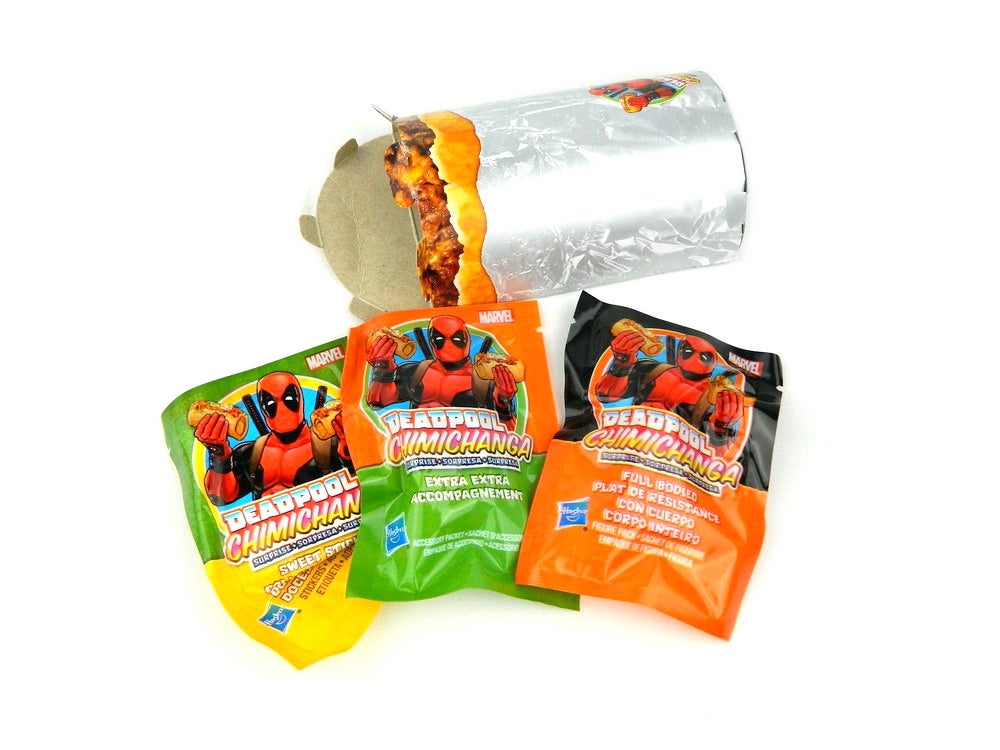 Inside the chimchanga pack you'll find THREE MORE packages which to me resemble hot sauce packets like you'd find at Taco Bell. These read: Sweet Sticky, Full Bodied and Extra Extra.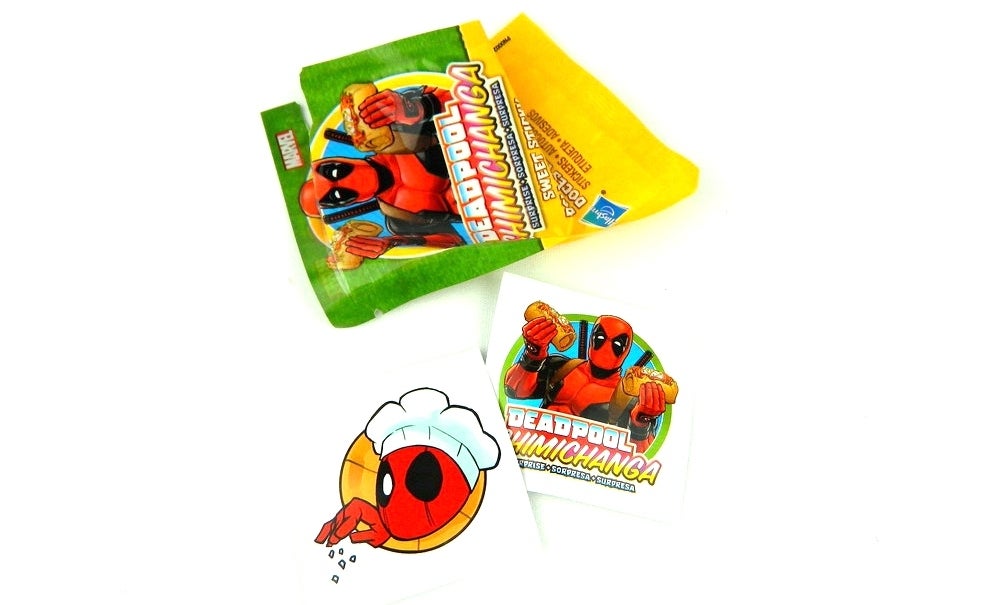 Sweet Sticky is a play on stickers, each pack including two of them. One sticker is unique to the pack (sometimes indicating which figure you'll get), while the other is always a Deadpool Chimichanga logo sticker. This means you'll have 12 of them after opening a case. Perhaps Hasbro is hoping collectors will start slapping these stickers up in random places, such as conventions, to further promote the Deadpool Chimichanga line? Internal product marketing, baby!
Full Bodied is the actual Deadpool surprise figure, while Extra Extra contains accessories for the figure. Each non-articulated figure stands approximately 2-inches tall. On paper there are 12 Deadpool figures to collect, however, it is actually more like six as each style of figure has two color variations.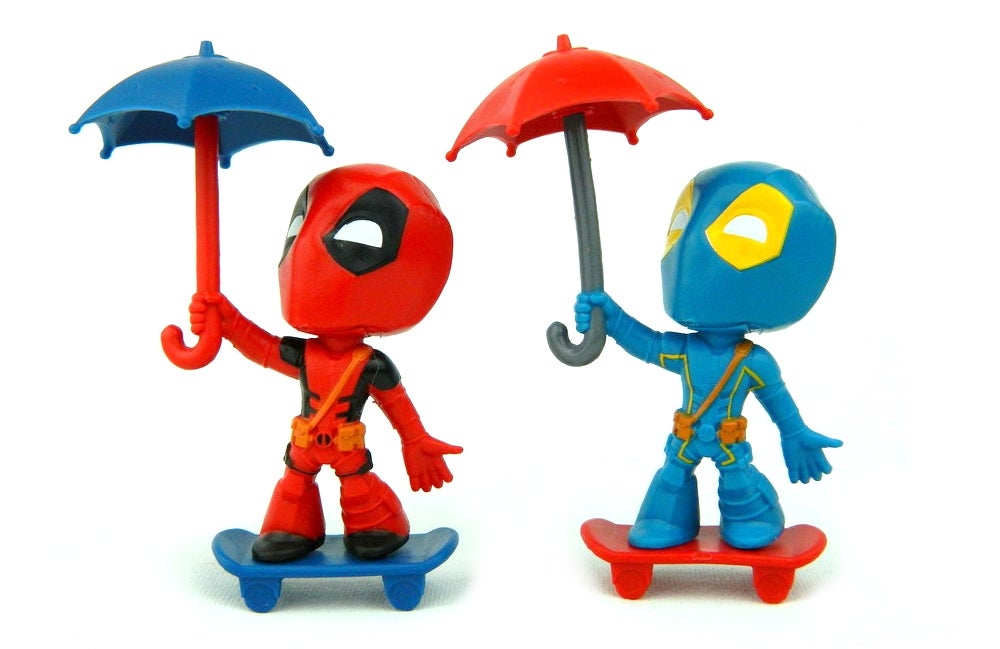 These include:
Chef Deadpool (Classic Red and Blue & Yellow X-Men Suit)
Skating Deadpool w/ Umbrella (Classic Red and Blue & Yellow X-Men Suit)
Deadpool Riding A Unicorn (Classic Red and Blue & Yellow X-Men Suit)
Pandapool (Classic Red and X-Force Grey)
Meat Suit Deadpool (Classic Red and X-Force Grey)
Blinged Out Deadpool w/ Gun (Classic Red and X-Force Grey)
I do wish there was a little bit more variety in this series, as color variants don't do much for me. Some of the character choices are rather strange as well.
I was pretty mystified when I unwrapped Meat Suit Deadpool, complete with hot dog and arrows. Even after my Google search revealed that the "Meat Suit" appears in Deadpool Vol. 2 #11, I was still left scratching my head at its inclusion. Unless you read that particular comic issue, how would you know what this is? I dunno, perhaps I'm just not cool enough. Deadpool, unicorns and chimichangas I get. Pig meat armor… uh, not so much. Still, I'll admit it's a unique, creative figure. Infinitely better than the goofy Skating Deadpool w/ Umbrella, my least favorite figure in the assortment. It's a tad too kid friendly.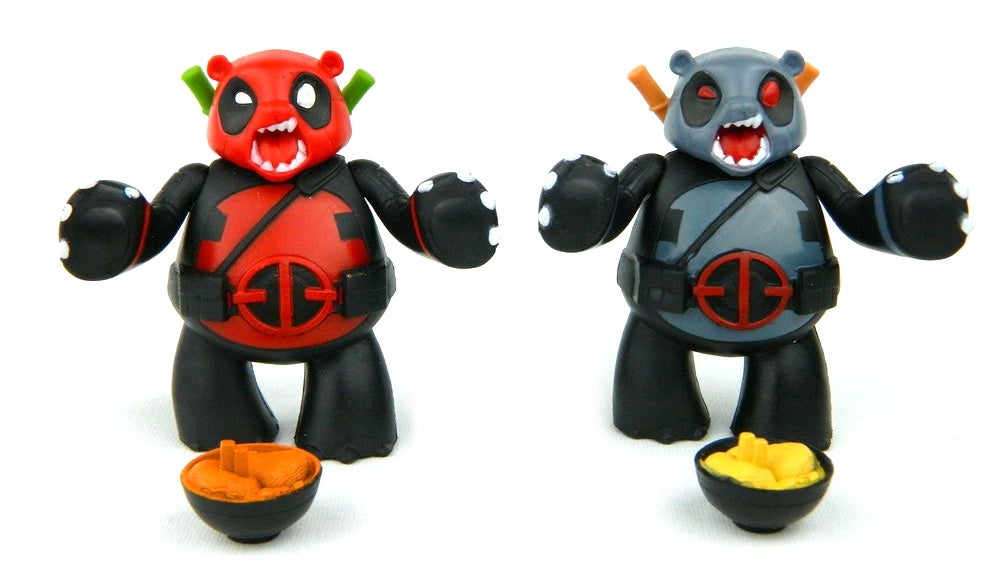 My favorites are Chef Deadpool with a chimichanga skewered on his sword; Deadpool Riding a Unicorn, complete with large AND mini unicorn accessories; and the completely awesome Pandapool, the largest figure of the bunch and one that you actually have to semi-build (his arms are accessories, as well as a bowl of noodles).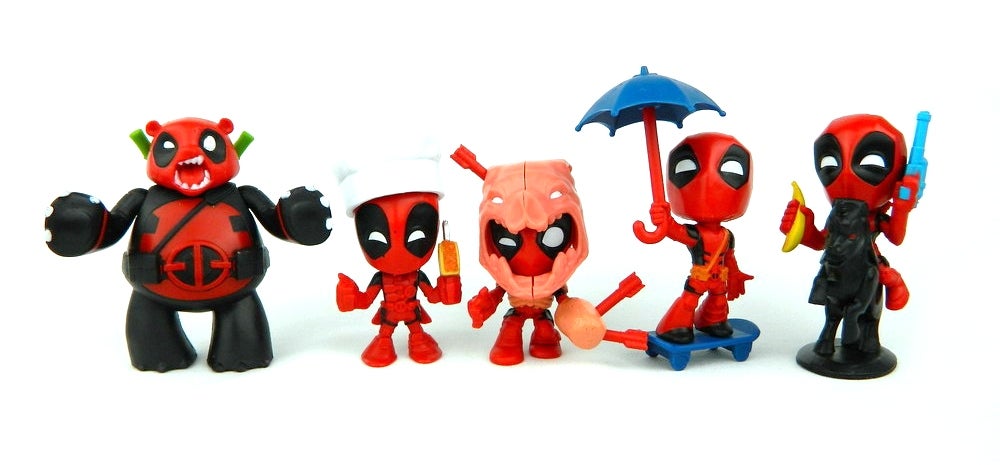 So are these worth about $8 a pop? Absolutely. While I'm not thrilled by all the character choices, the figures are fun, well made and the Extra Extra accessories add to the value. Ultimately though, it's all about that super cool Deadpool Chimichanga Surprise Figure packaging. Opening a blind bagged figure to find out what's inside is always fun, but opening a Deadpool Chimichanga is an experience all in itself.
The Deadpool Chimichanga Surprise Figures are arriving this month via Entertainment Earth. These are being sold as set of four HERE or as a full case of 12 HERE. Trust me, you'll want as many of these as you can get your grubby little hands on. Not only are they a blast to open (you can't just unwrap one!), but they make for awesome and affordable gifts (think stocking stuffers!).
Review and Photos by Jeff Saylor
Review Samples Courtesy of EntertainmentEarth.com
[See image gallery at www.figures.com]
---