–Review and photos by Scott Rubin
Cryptozoic Entertainment is a major player in the mid-size vinyl statue field, with fan-favorite series of DC superheroes and villains, Street Fighter competitors, and more. Their hit DC Bombshells lineup, capturing the unique interpretations of classic characters in a fun, cute style, is back with a new wave before the year ends, and we've got a look at them here today. Cryptozoic's DC Bombshells Series 3 brings you Black Canary, Harley Quinn, and Mera from a retro, 1940s inspired world created by artist Ant Lucia. After its inception in artwork in 2011 the Bombshells have exploded into collectibles, comic books, game pieces, and so much more. These beautiful and affordable 7 inch stylized figures (designed by Pedro Astudillo and sculpted by Anders Ehrenborg) were just released, so check them out and see if they're right for you.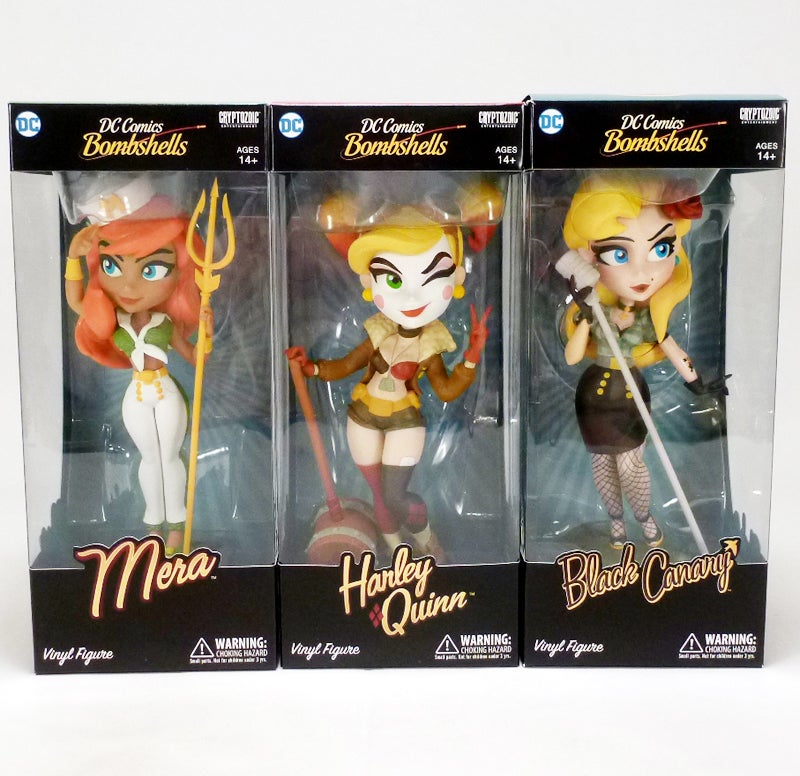 If you've bought (or seen) any vinyl figures from Cryptozoic you'll be familiar with their overall packaging design. Like previous Bombshells and the Street Fighter Knockouts these new ladies come to you in highly decorated, tall window boxes that are practically identical. On the front panel, surrounding the window displaying the figure are logos for the collectibles company and DC along with the respective character's name, all popping against a pitch black background.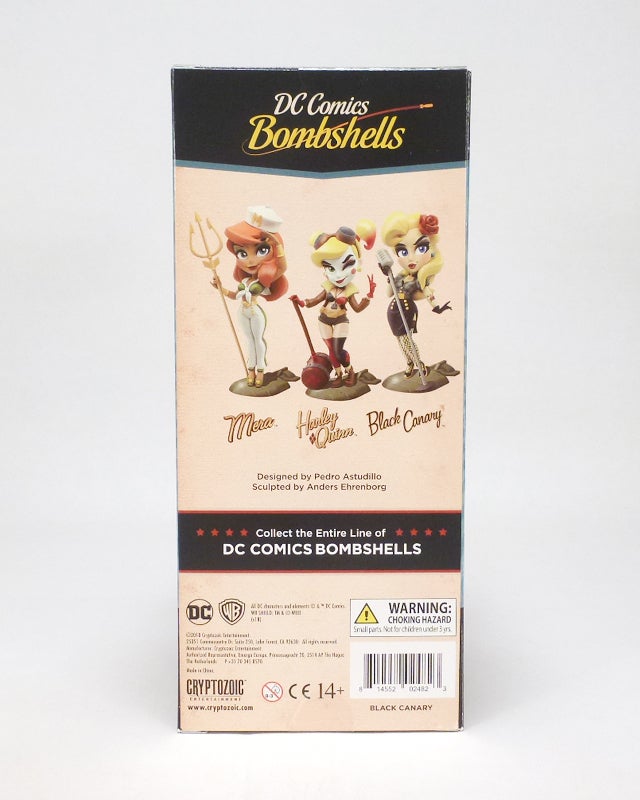 The box sides repeat the name and logo while the wraparound window offers unparalleled views of the figure before you buy or open. The back panel is shared between this series' figures (with the exception of the individual character's name printed near the bottom) and features images of all three. I like to take my figures and statues out of their boxes but if you like displaying packages instead these do look great.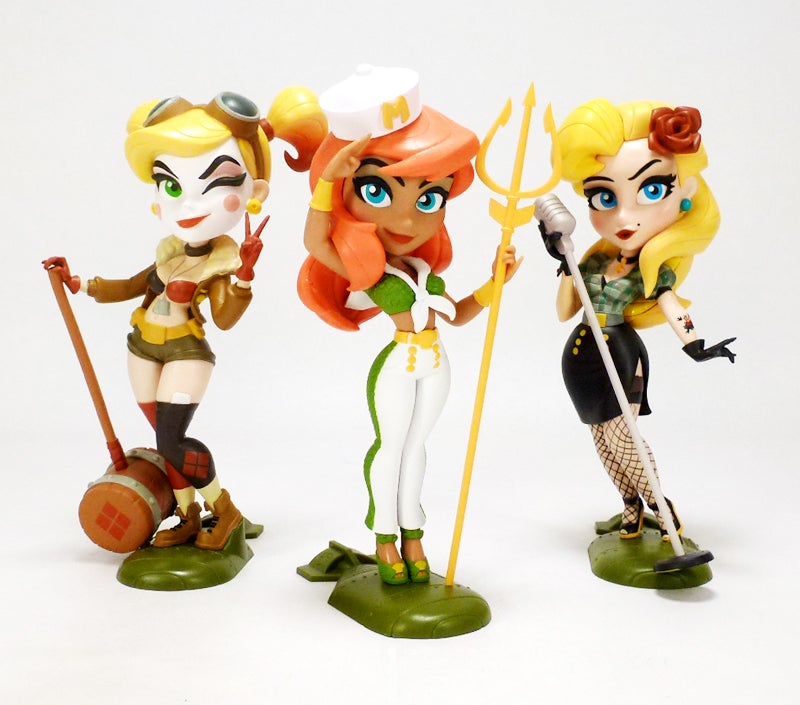 Previous Bombshells series from Cryptozoic starting in 2016 have brought fans and collectors Wonder Woman, Catwoman, Harley Quinn (in a different look), Poison Ivy, Supergirl, and Batwoman. They've exemplified the Bombshells aesthetic with Cryptozoic's spin on the fun style, with all figures standing on themed bomb display bases. The new Series 3 fits right in with their predecessors, adding two new characters and a new version of a classic for collectors and Bombshells enthusiasts. Black Canary, Mera, and Harley Quinn 2.0 are solid 7 inch scale vinyl figures with quite a bit of heft to them, standing solidly on their display bases and looking great with knockout sculpts and paint jobs.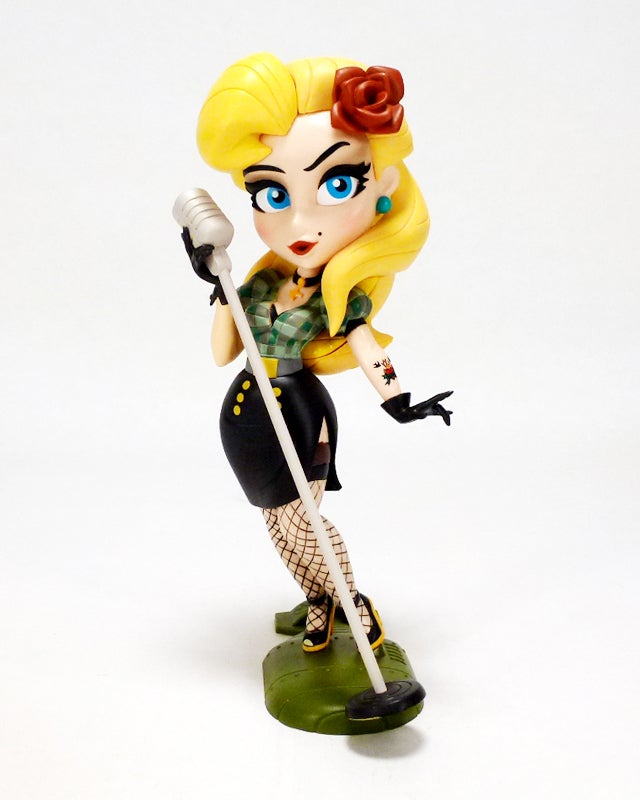 Let's zoom in for some closer looks at these figures, starting with Black Canary. Famous for her powerful sonic cry, Dinah Lance is a singer in the Bombshells world famous for performing for American troops in Hawaii. You can see her profession here as Canary sings for you, frozen in mid-dance as she holds a tall microphone. She wears a green plaid blouse, black skirt with gold buttons, gray belt with gold buckle, and of course her signature black fishnets. She also accessorizes with black gloves, black and yellow high heeled shoes, a black and yellow choker, blue sphere earrings, and a huge red flower in her hair.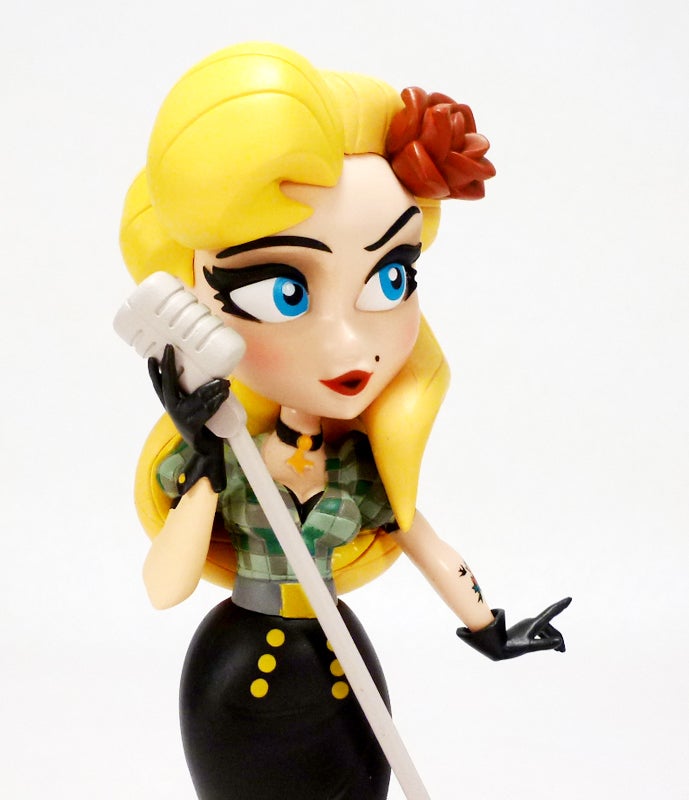 Like all of the Bombshells Black Canary has cartoony proportions that exaggerate her curves and give her a large head, made all the bigger by her massive blonde hair that sweeps down her back. Dinah is fantastically detailed with makeup and a beauty mark accentuating her face and huge blue eyes, while a burning heart tattoo that reads "Oliver" is on full display on her outstretched left arm.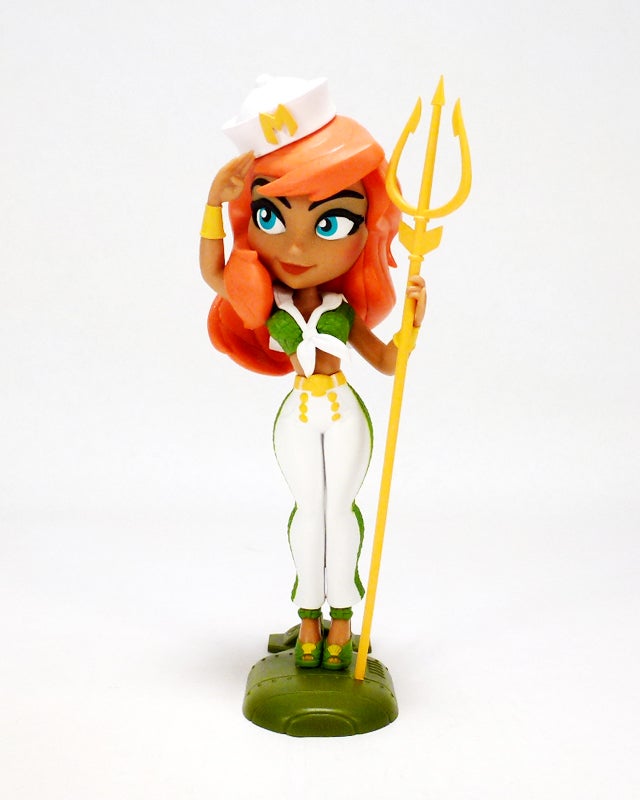 Up next is Mera, an Atlantean who joined Wonder Woman's mission of peace in the world of the Bombshells. A powerful warrior and future queen of Atlantis, she presents a more light-hearted aspect in this statue as she stands at attention and salutes you. Mera wears a naval-themed outfit consisting of white pants and top decorated with matching scaled green sections, green platform shoes with tiny yellow seashell decorations, yellow bracelets, and a white sailor's cap emblazoned with an "M" in yellow. The statue's slight lean forward combined with her straight legs accentuates her physique, as does her small top tied around her chest.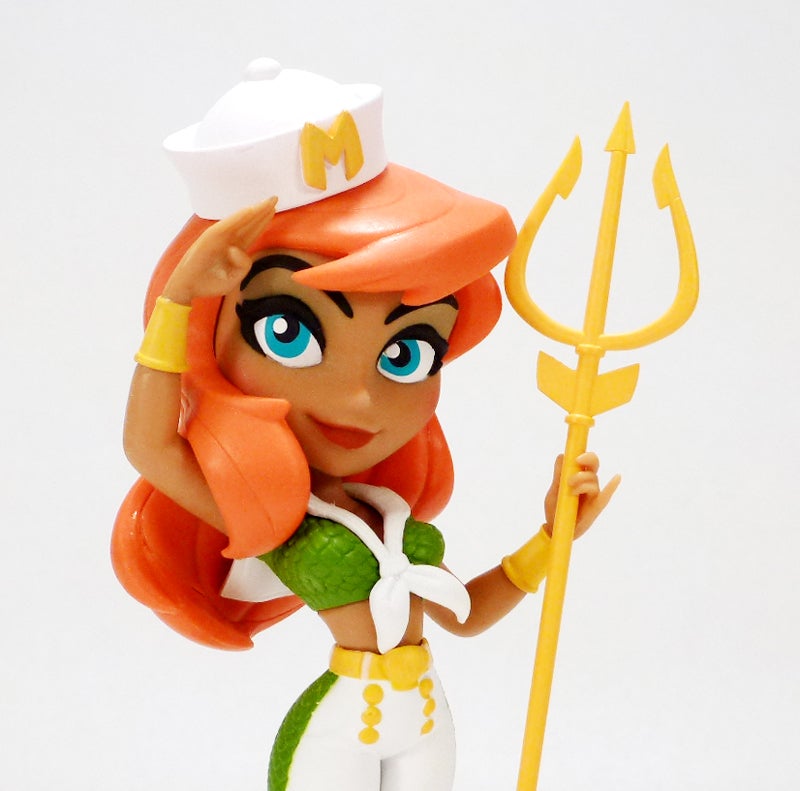 Mera is by far the most tanned of the Bombshells with a much darker skin tone than Canary and Harley. The Atlantean turns her head to the right as she salutes with a smile, while her left hand holds a golden trident. Her red hair is a perfect contrast to the white and green clothing and she just looks like she's having a great time with her happy expression and her left pinky jauntily extended.
Last but not least is Harley Quinn who returns to the Bombshells line after having appeared in the first series. The first version captured the crazed psychologist wielding her oversized revolver one-handed and with a big, wide-eyed smile on her face. In Series 3 Quinn switches to melee (and more crazy) with her right hand resting on the handle of her huge mallet while she flashes a peace sign with the other, all with a smile and a wink!
The former criminal wears a fleece-lined brown bomber jacket over a black and red bra, dark green short shorts with yellow belt, alternating black and red stockings with diamond accents, brown boots, and red gloves. She also has cards sticking out of her stocking, a black choker, dog tags hanging around her neck, yellow earrings, and goggles pushed up on the top of her head. Harley wears clown-like white face paint with pink rouge and red lipstick that highlights her sly smile and one green eye while she winks at you. Meanwhile, her hair is fire with yellow roots that darken to red at the tips of her pigtails. I should point out also that Harley's hammer is nicely detailed with metal bands and red diamonds on the hitting surfaces.
If you're looking for even more DC Bombshells fun to go along with the Series 3 figures, you can also check out the Lil Bombshells Backpack Clips. These are two inch tall mini figures on keychains, perfecting for fun on the go or hanging around your house.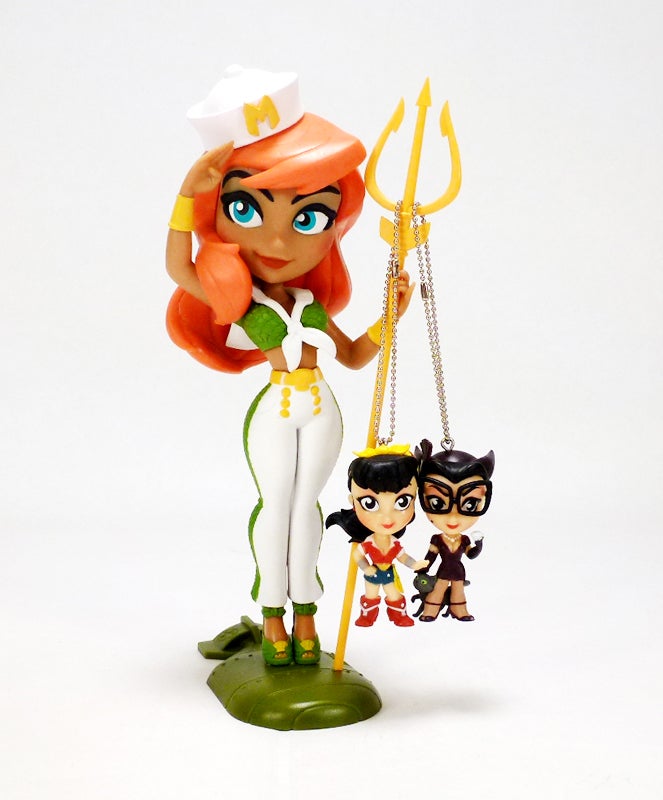 We got a few of them to play with our bigger Bombshells, but the full series consists of Harley Quinn, Wonder Woman, Catwoman, Poison Ivy, Batwoman, Black Canary, and rare "noir" versions of Wonder Woman and Harley. Super fun impulse buys, the Backpack Clips figures come in single blind packages and are great for collecting and gifts.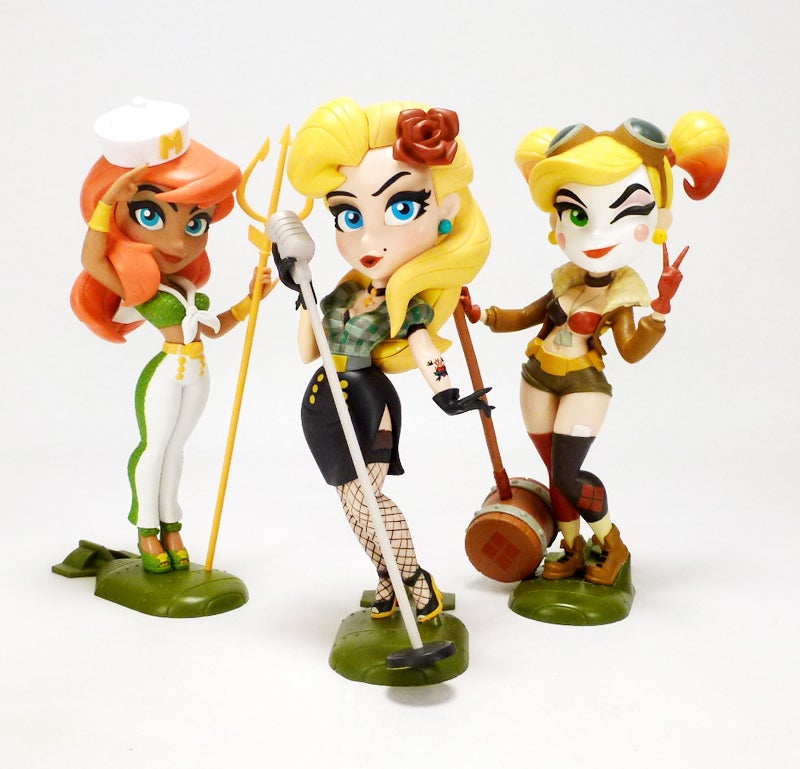 I'm a big DC fan and I love the aesthetic of the Bombshells, so I think Cryptozoic's Series 3 vinyl statues are pretty darn great. They look beautiful and distinctive with their own unique style, while still perfectly conveying the personalities of their characters. They're a really nice size (and weight) at 7 inches, and at $29.99 MSRP they're also a ton of value for the money. These explosive Bombshells are highly recommended for comic book fans, toy collectors, and of course Bombshells enthusiasts, while they're absolutely perfect for anyone who really likes Harley, Mera, and Black Canary. Series 3 is hitting stores now, so look for them wherever you get your comic book collectibles and other items from Cryptozoic!
Review and photos by Scott Rubin
Review samples courtesy of Cryptozoic Entertainment
[See image gallery at www.figures.com]
---
Keep up with all the latest toy news by following Figures.com on Facebook and Twitter!
To buy action figures, take a look at Hobby Link Japan, BigBadToyStore.com, TheToySource.com, Toynk.com, BriansToys.com, and ToyWiz.com.