On November 21st, Ralph Breaks The Internet. In Disney's animated sequel to 2012's Wreck-It Ralph, Ralph and Vanellope embark on an adventure inside the internet to find a spare part to fix a video game. Check out the trailer below!
To celebrate the new film, Bandai has released a new line of Ralph Breaks The Internet action figures! Available for pre-order at Entertainment Earth as a case of all four figures, this fun assortment includes: Wreck-It Ralph and his best friend Vanellope von Schweetz, along with Fix-It Felix and his wife Sergeant Calhoun. As an added bonus, each figure also includes an Avatar mini-figure that can be customized. More on that in a bit.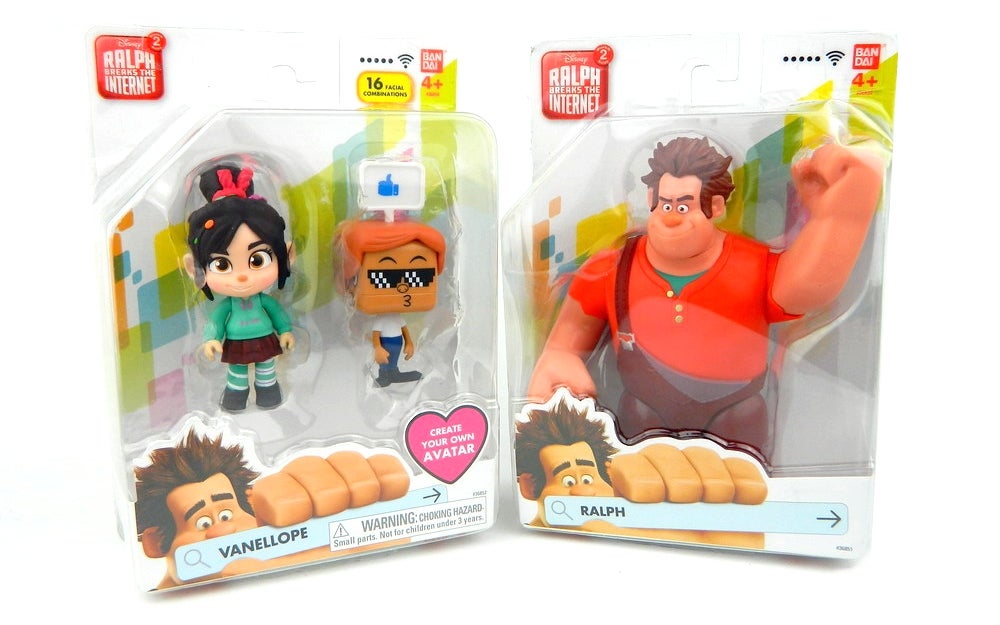 What's interesting about Bandai's new figures is that despite being based on Ralph Breaks The Internet, all four characters also starred in Wreck-It Ralph. So if you totally missed out or weren't happy with the Thinkway Toys figures released for the first film, you now have a shot at owning some new ones! And I gotta say, the new Bandai figures turned out very nice.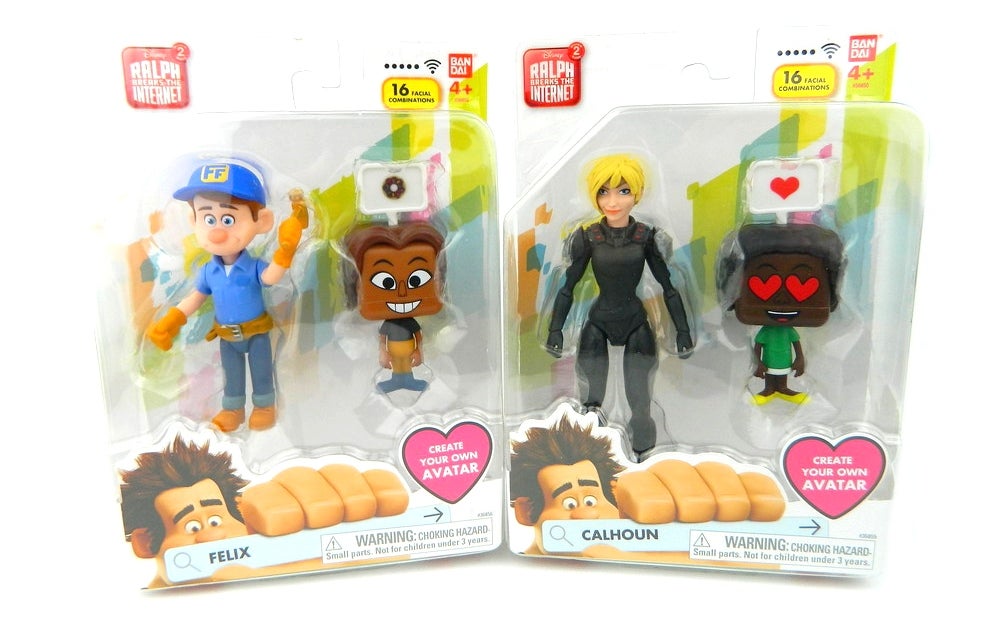 Blister carded, each Ralph Breaks The Internet figure stands anywhere from 3-inches (tiny Vanellope) to 5.5-inches tall (hulkin' Ralph). It's a great action figure size; perfect for play and display.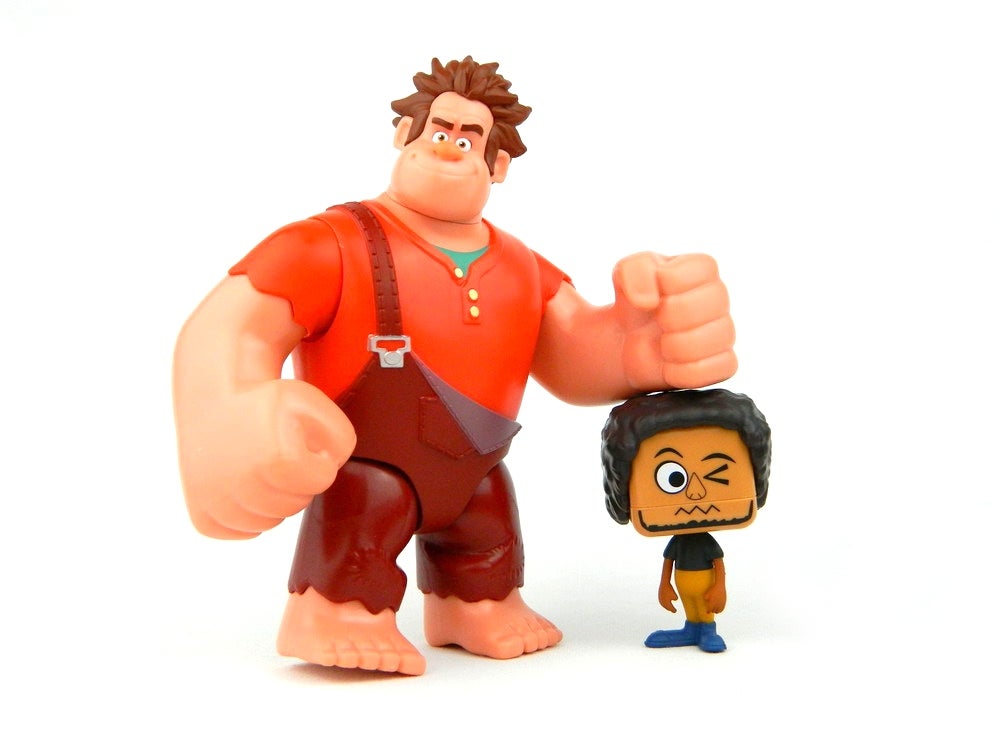 Each figure is advertised has having 5 points of articulation, however don't let that low number fool you. Thanks to the smart inclusion of fluid ball joints, these figures have a surprising range of motion. Ralph and Calhoun make the best use of ball joints with both their arms and legs featuring them. With the addition of a swivel head, you can get some pretty nice display poses, especially with the bulkier Ralph.
Fix-It Felix and Vanellope, no doubt because of their smaller size, only have ball joints in their thighs. This allows you to plant the figure firmly on a variety of surfaces. With cut joints in their head and arms, I was never left wanting for a more extreme pose. Felix can swing his hammer up and down, which is good enough for me!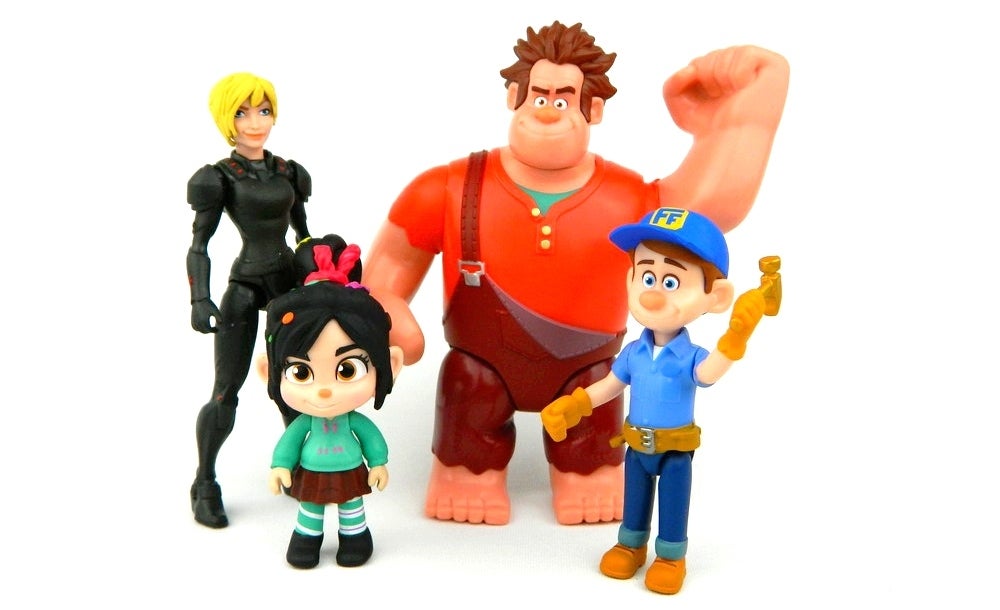 Another advantage to the joint system on these figures is that it really lets the sculpt shine. Each Ralph Breaks The Internet figure has a spectacular likeness and the paint apps are all crisp and even. You couldn't ask for a better display figure – these star the great sculpting of a static PVC fig, with the bonus that they can actually move and be played with. It's a win-win for collectors and kids!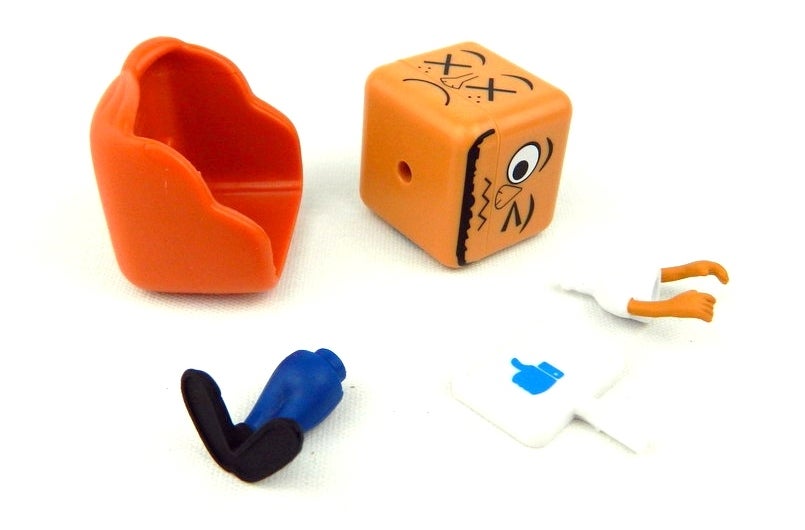 Another unexpected perk to these figures is the Avatar mini-figure. At first I thought these would be goofy, throwaway pack-ins – some sort of movie tie-in aimed at kids. And while they do appear to be aimed at a younger audience, they are quite fun! The gimmick is that each Avatar can be fully customized, not only on its own, but with other Avatars in the series.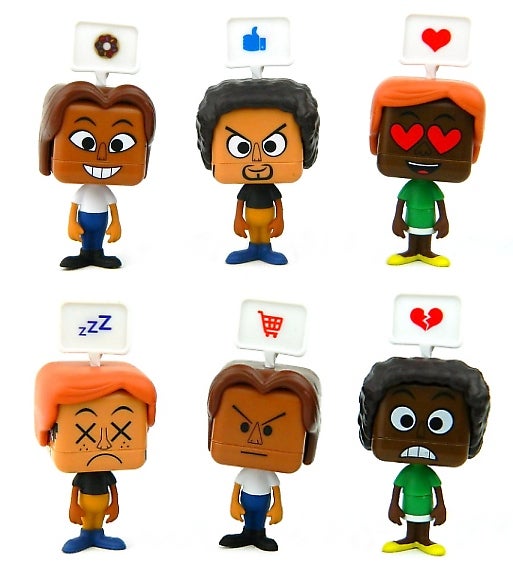 The packaging proclaims "16 Different Expressions!" on EACH figure. Not only does each block head have four different faces, but the lower half can rotate for even more combinations! Each Avatar completely comes apart for a large array of looks – from different colored clothes and hair styles, to the emoji thought bubble (each being two sided) that you can plant on their noggin. The hero characters in the Ralph Breaks The Internet series might be the main attraction, but the Avatars are very entertaining figures all on their own!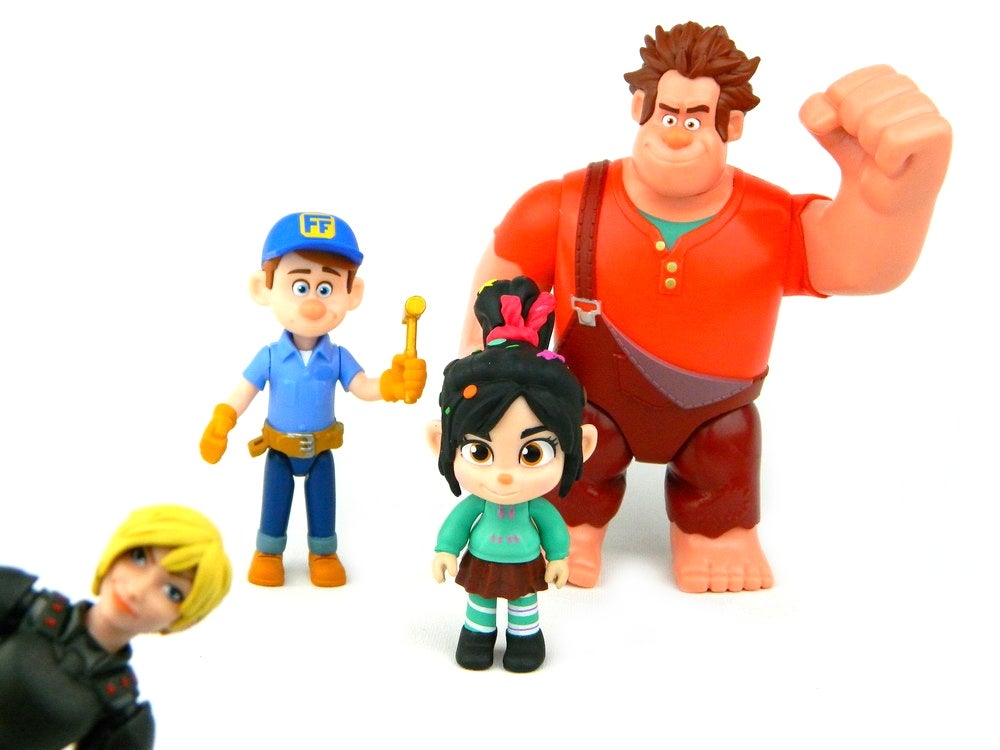 I loved Wreck-It Ralph and I can't wait to see Ralph Breaks The Internet. If you're a fan of the character like myself, you'll definitely want to add these figures to your collection. Ralph is a must-have (that's why he comes two to a case!). Fix-It Felix and Vanellope are sure to be hot sellers too as they are both major players. Throw in Calhoun if you're a completest, but for me she's not as essential. Oh, who am I foolin', just get them ALL by ordering the case through Entertainment Earth! You KNOW that you'll want them all after seeing the movie!
Scroll on for more photos!
Review and Photos by Jeff Saylor
Review Samples Courtesy of EntertainmentEarth.com
[See image gallery at www.figures.com]
---