If you're an avid model kit building, chances are good you're familiar with Bandai. Best known for their Gundam model kits, Bandai has revolutionized what model kits can be.
With a Gundam kit, the entire process has been streamlined so that the focus is firmly on the fun of actual model building. Tools such as Xacto blades are not required as parts come off their sprue trees effortlessly. Glue is not required as everything smoothly snaps together. Paint is not required as parts are molded in the correct colors. Best of all, Bandai's Gundam kits can MOVE. With the addition of ingenious ball socket joints incorporated in the building process, Gundam model kits are much more akin to action figures than their static brethren.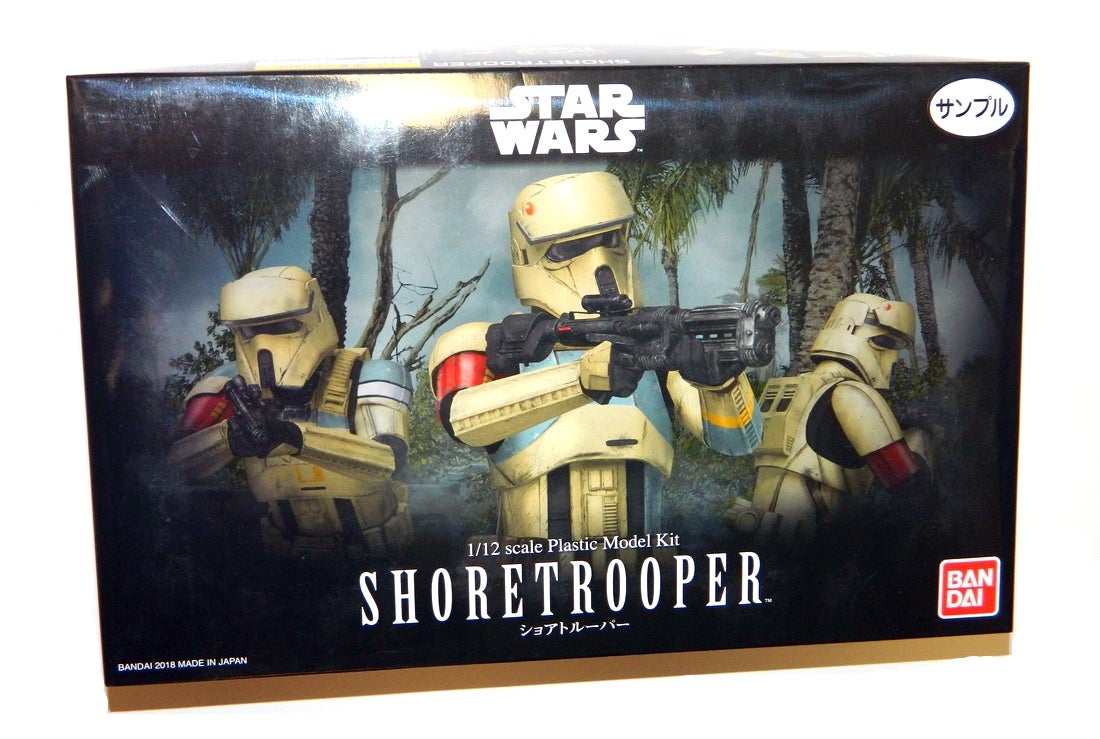 Now Bandai is taking their model kit technical know-how to a galaxy far, far away. Distributed exclusively in North America via Bluefin, Bandai Hobby's new model kits capture the global pop culture phenomenon known as Star Wars.
Spaceships are the first thing to pop into your mind when it comes to Star Wars model kits, and sure enough, Bandai Hobby launched this new licensing endeavor with them. However, Star Wars ships are really nothing new in the model kit world. While arguably not as detailed as Bandai Hobby's Star Wars kits, the fact that model ships have already been produced makes Bandai's new releases anticipated, but not exactly groundbreaking.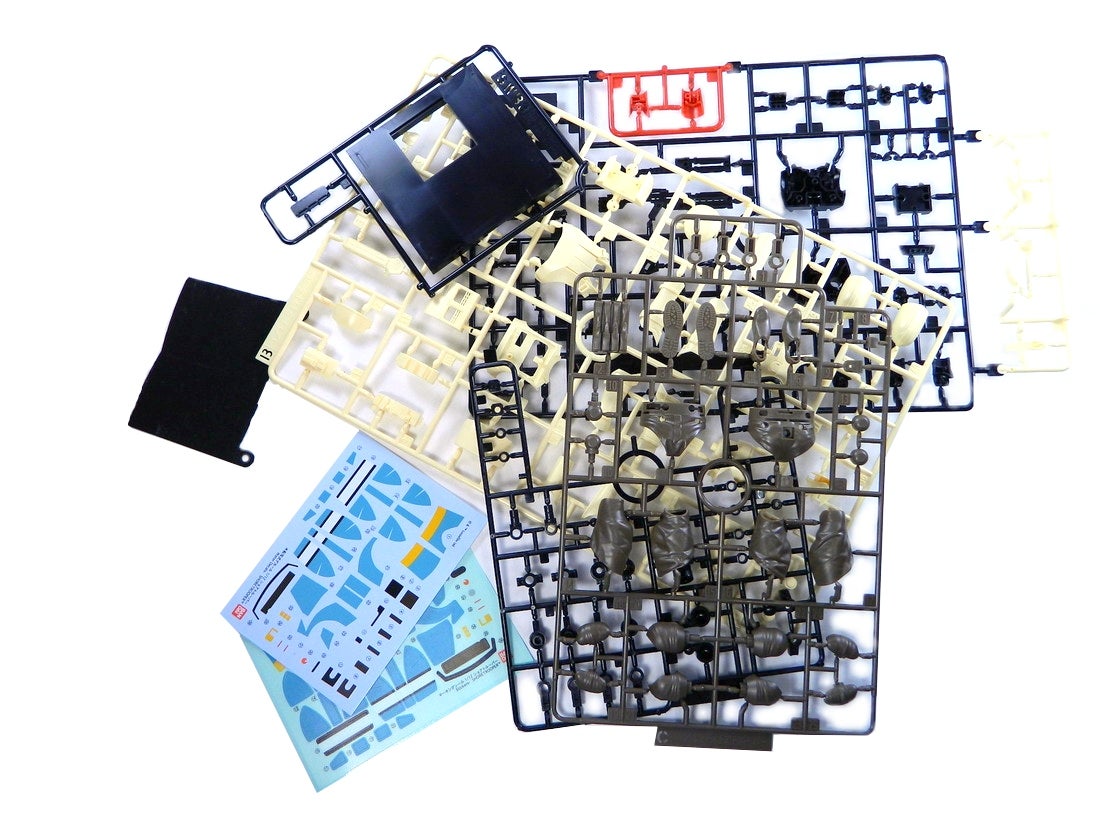 That all changes with Bandai Hobby's new line of Star Wars 1/12 scale character model kits. Sure, model kits of Star Wars characters have been done before, but not ones that MOVE. Remember Bandai America's mass market model kit line called Sprukits? Bandai Hobby's new Star Wars character kits are similar to those, but far more sophisticated. These are action figures… that you build.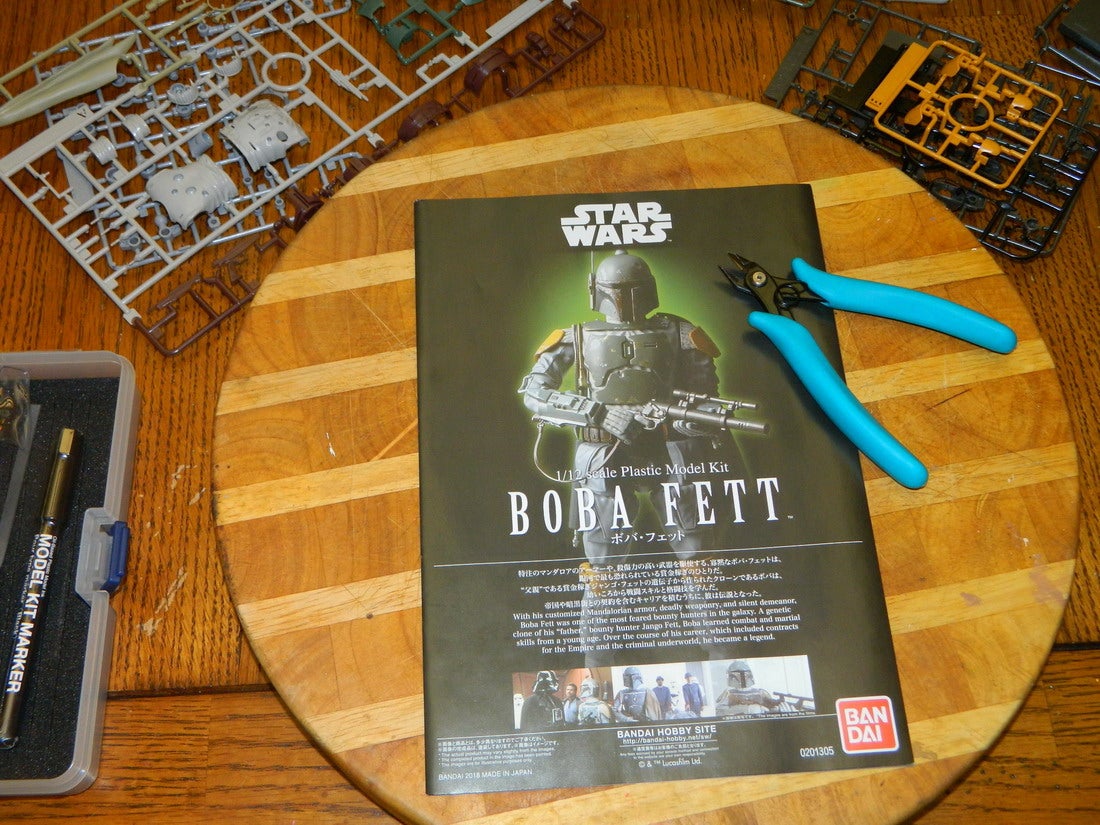 To help convey that point, Bluefin was kind enough to send along three samples to share with you. I got to select the characters, so I apologize (not really) for the group skewing towards the Dark Side: my main man Boba Fett, First Order head honcho Kylo Ren, and my favorite new Stormtrooper design, the Shoretrooper as seen in Rogue One: A Star Wars Story. Each 1/12 scale model, once fully built, stands approximately 6-inches tall.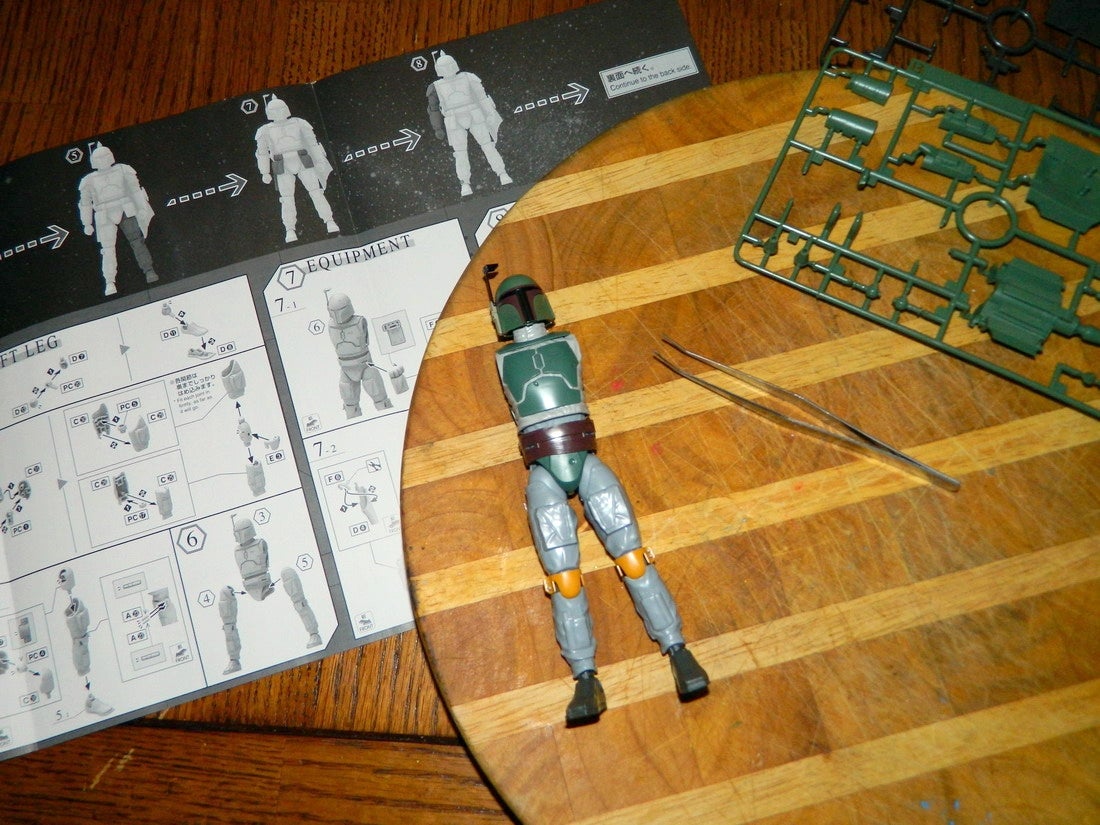 I have some pretty good model kit building skills, so keep that in mind with my difficulty level rating on these. I started with Boba Fett because he's my favorite character, but he is actually the most difficult kit of the bunch. He took me about 3 hours to build at a slow, methodical pace. He was also a slightly higher learning curve as I was just getting familiar with the building process. I will say that the instructions are extremely clear. Think advanced LEGO.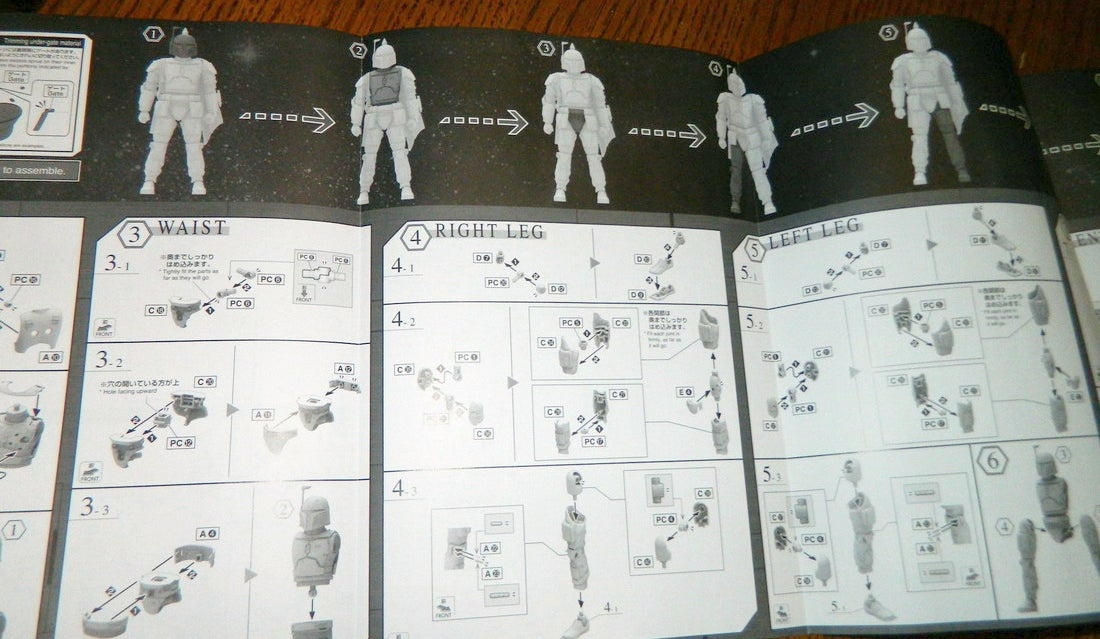 Shoretrooper was next, and believe it or not, he was the second most complex character (about two hours to build). It's all about the intricate armor details. Kylo Ren was the easiest, taking me about an hour.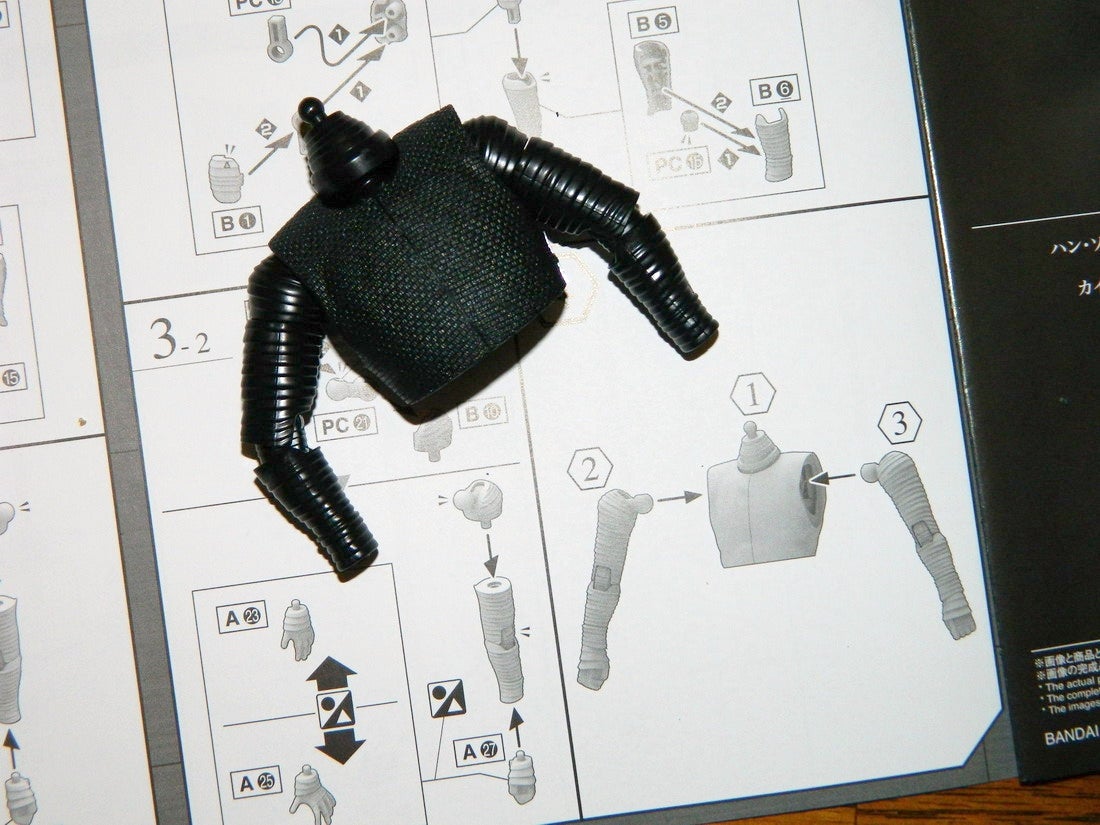 However, since I built Kylo last, I was already pretty familiar with the process on building these kits by the time I got to him. By that I mean assembling the arms and legs, the most time consuming build on each kit. The process is almost identical on all three – challenging at first, but easier as you go. For example: the instructions tell you how to build one limb at a time, a five step process of foot, lower leg, knee, upper leg and thigh (or hand, forearm, elbow, upper arm, and shoulder). Once you get the technique down, you can skip to building both right and left limbs at the same time as each limb's parts are in close proximity on the sprue tree. I don't recommend doing this right off the bat as you do need to pay very close attention to how these pieces go together.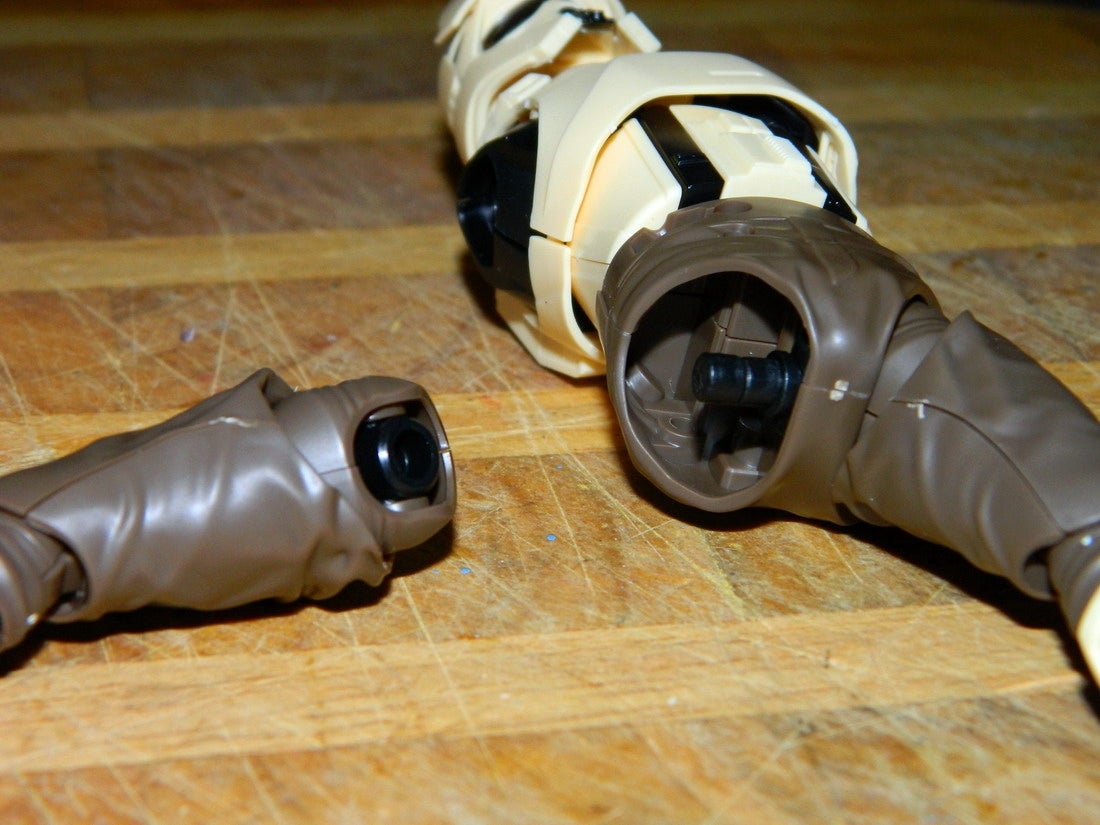 Speaking of limbs, that's the big standout feature on these kits. Just check out the Shoretrooper leg connection above. That articulation system, combined with rotating thigh, double jointed knees and feet is the same as a high-quality pre-assembled action figure.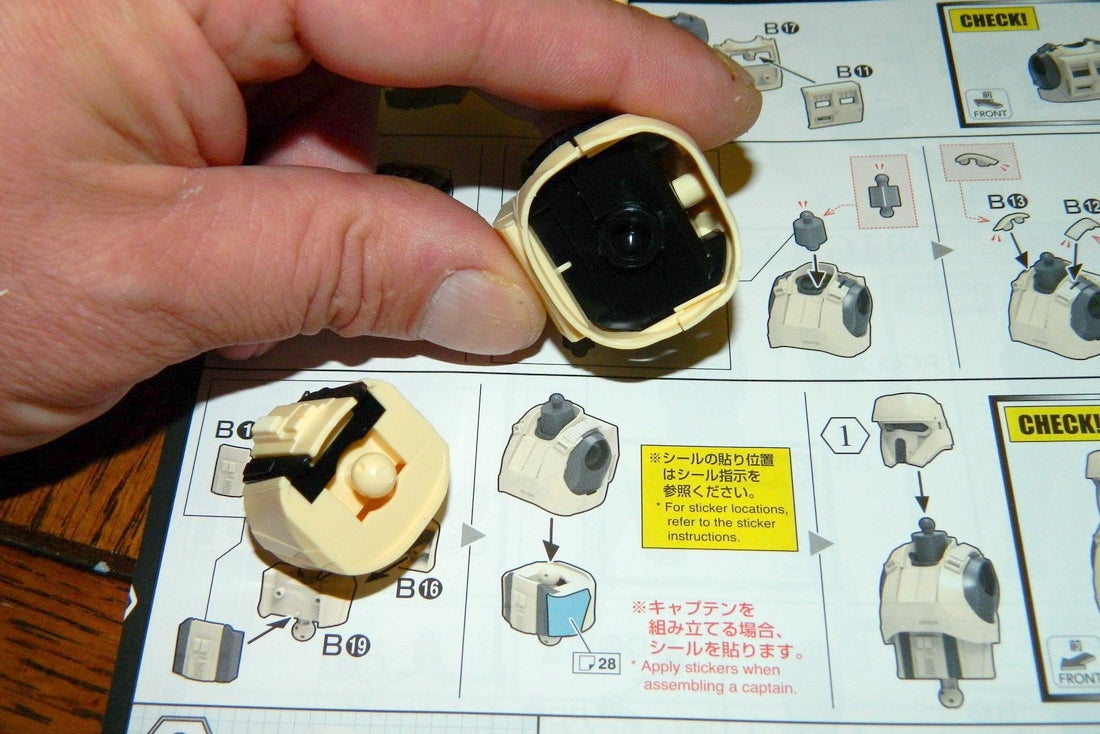 There's even rocker ab movement on these! Ball-jointed heads! Truly amazing and it is all articulation that you build.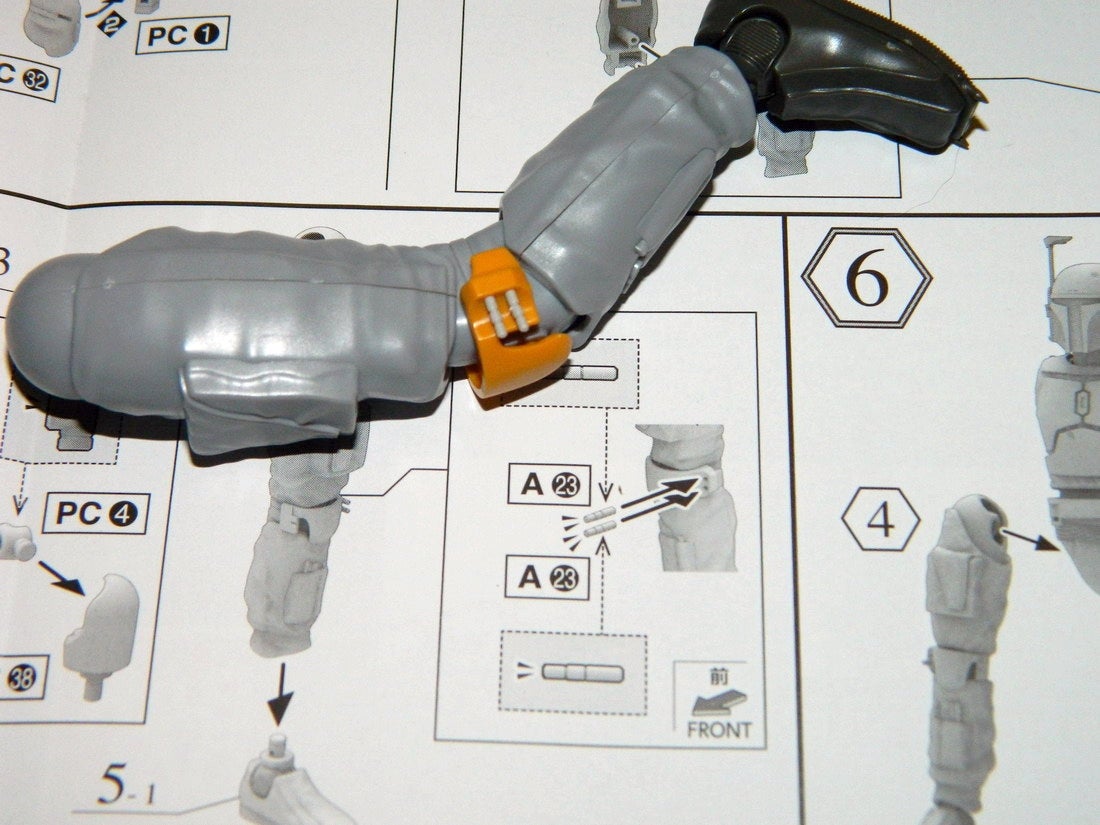 Another highlight on these kits: the attention to detail. Like I mentioned earlier, these kits are very sophisticated. For example, one step of building Boba Fett made my jaw drop. You have to insert his knee darts – each smaller than a grain of rice – into their corresponding holes.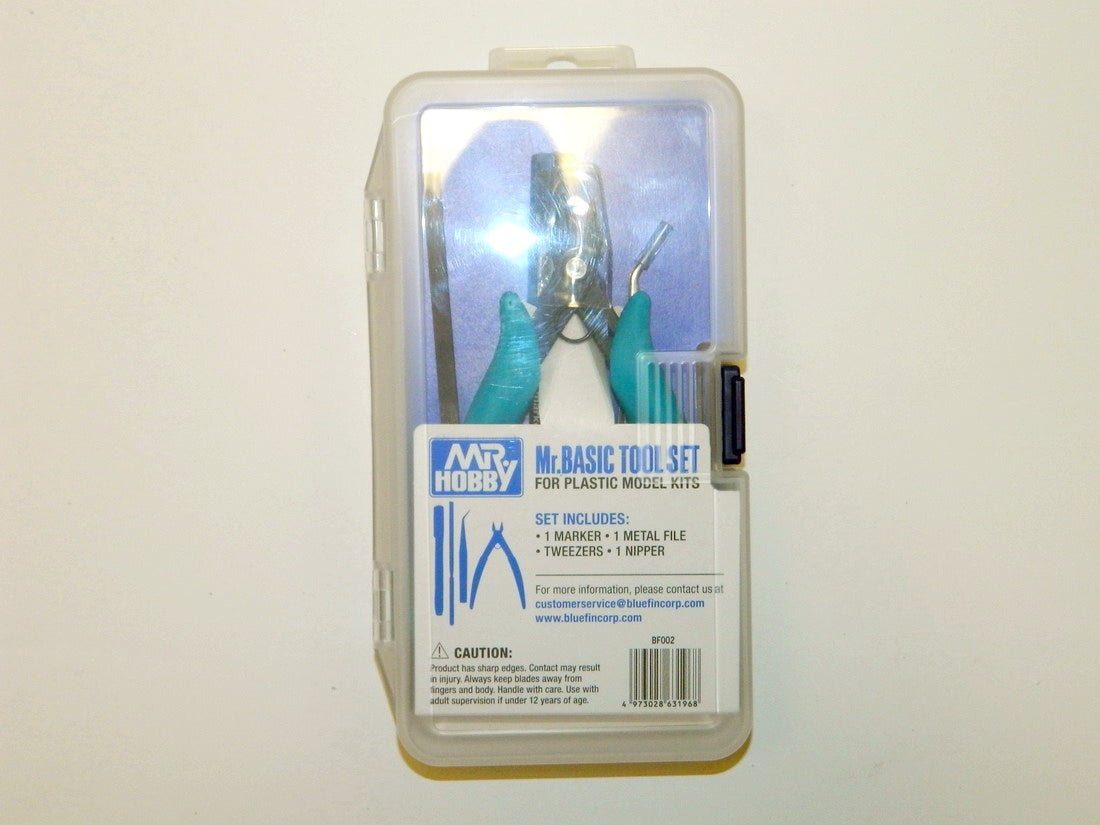 The process was smooth, but here (and a few other steps with tiny parts), I DO recommend using a pair of tweezers. While I own a pair (you know, splinters and stray hairs), Bluefin was nice enough provided me with a Mr. Hobby Basic Tool Set (around $20). In addition to the much nicer hobby tweezers, I found the nippers to be particularly useful, even though the model parts do to come off their sprue trees cleanly without them. They really just make the whole process that much easier (a quick snip, snip as opposed to stopping what you are doing and bending the part off). I didn't bother with the file (though more obsessive model builders will disagree), but I'm sure I'll use both it and the marker in the future. Overall, a very handy tool set and money well spent if you plan on dong more than one of these model kits.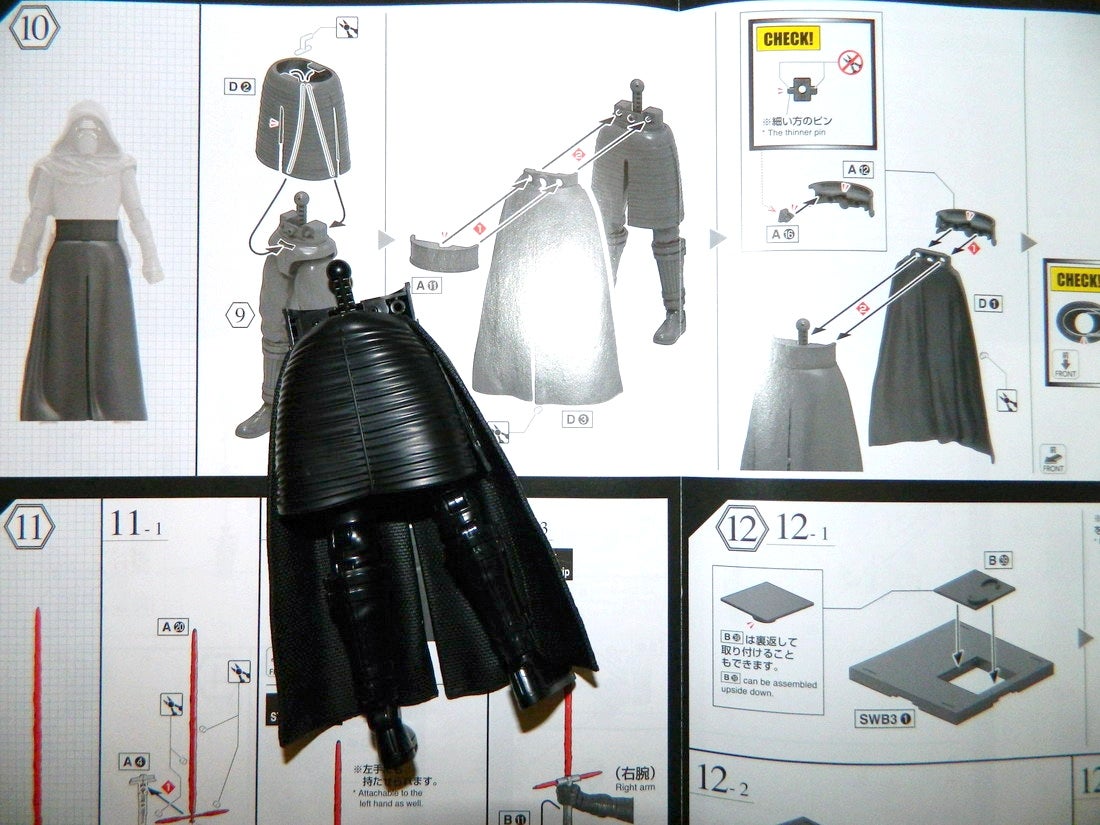 Other impressive details include the inclusion of a real cloth waist cape for the Shoretrooper (alternate captain look) and real rubber robes for Kylo Ren. The latter adds a very nice textured layer to the plastic figure. I was also wowed at the way the robes assembled on the figure allowing for full body articulation underneath.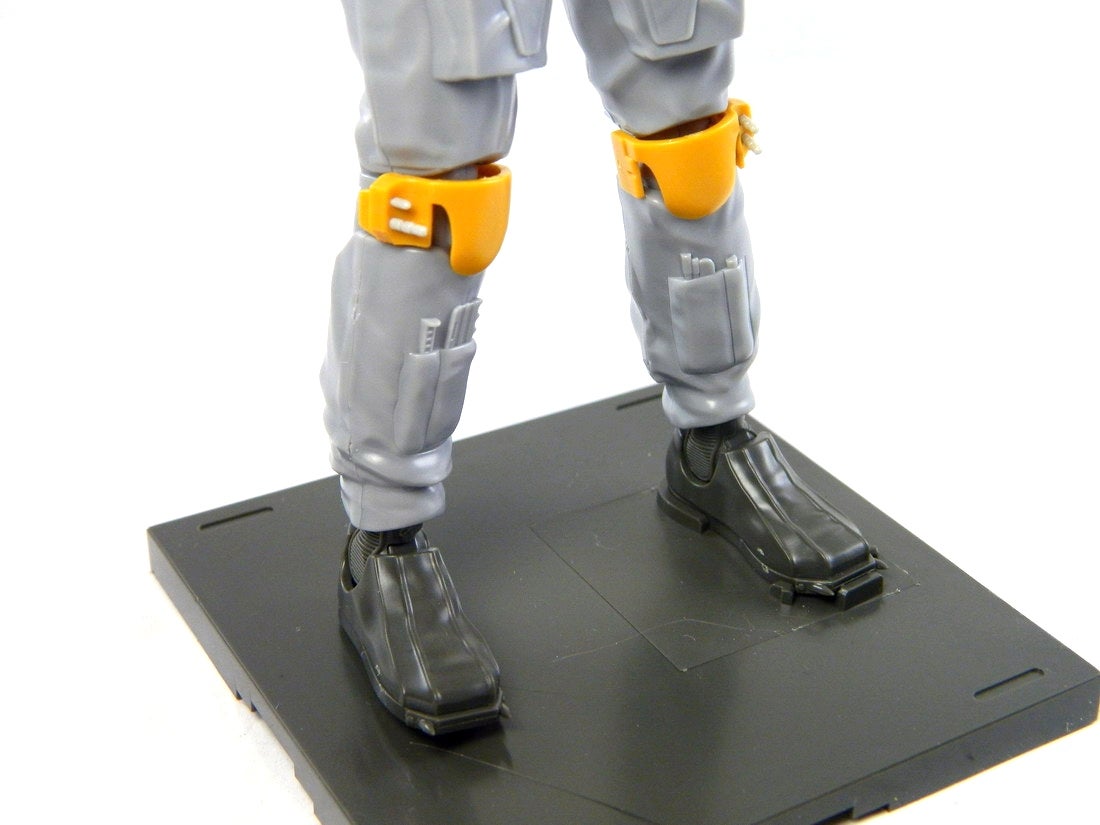 Like an action figure, you also get multiple weapons (two blasters per figure, lit and unlit sabers for Ren) and hands (fisted, splayed open and weapon grasping), as well as a display base. The base is surprisingly complex, allowing for a flat, clean display, or with the optional foot support (not a peg, but more molded to grip a foot). You also get a piece that allows you to connect the bases should you prefer them all lined up in a row. Oh, while not included, there's an optional flight rod Bandai offers that can be used with these figures, such as Boba Fett and his jet pack.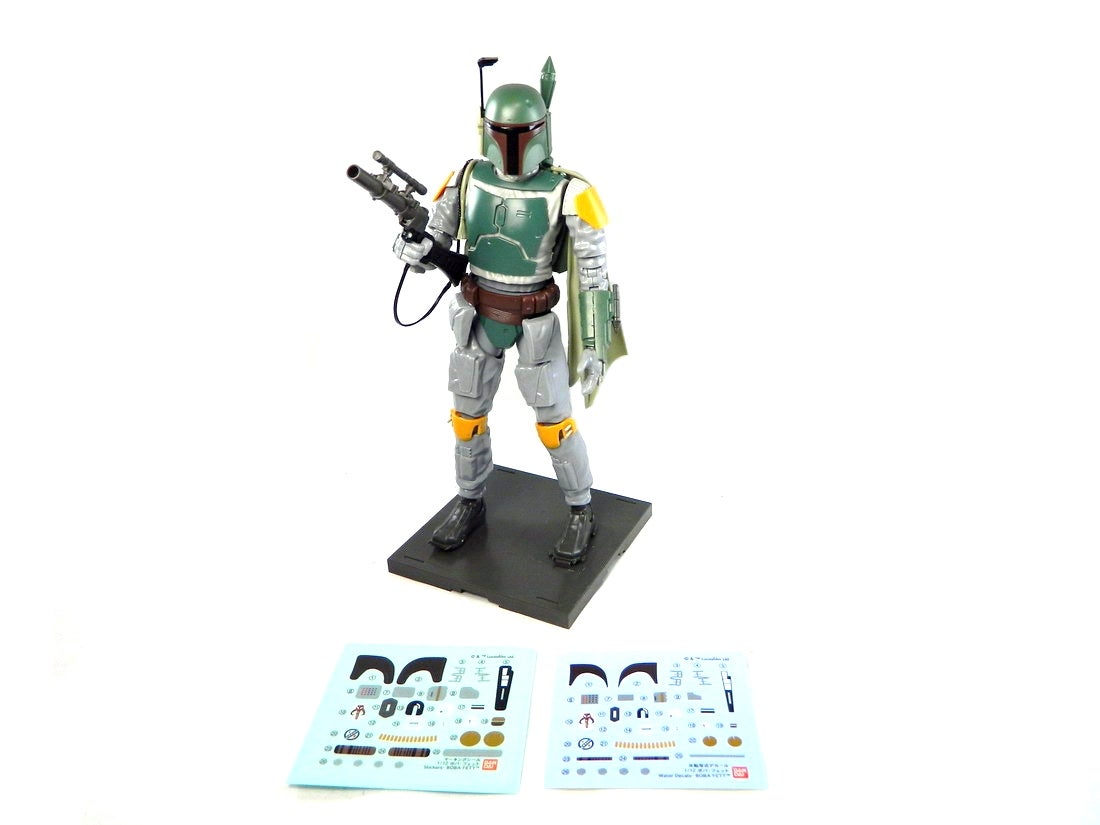 Last, but not least, Bandai Hobby provides two decal sheets – water transfer and stickers. For the sake of time in getting this review out I skipped this process, but you can imagine how much nicer these figures will look when all is applied. Again, painting is entirely optional as all pieces are cast in the correct colors. I can see some weathering used on Boba Fett and the Shoretrooper's armor, but other than that, these look quite nice as is.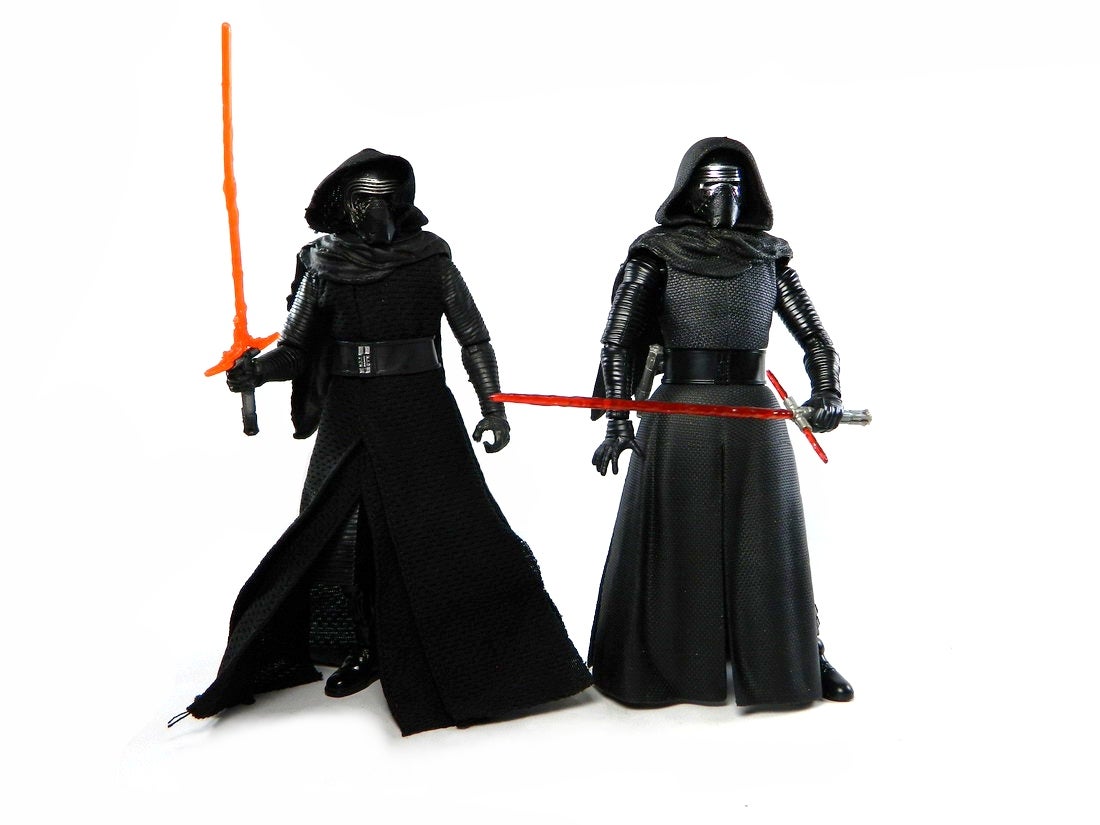 So you're probably asking yourself: Why do I need a Star Wars character model kit if I already have the 6-inch Black Series action figures? That really depends on the individual. If you're a model kit builder, the opposite is more true: you're more likely to be interested in these kits rather the toys. If you're an action figure collector, the process of actually BUILDING an action figure seriously expands your horizons. You really get to know your favorite characters so much more intimately as you piece them together – layer upon layer of individual armor pieces. Building Boba Fett, for example, was an eye-opener. I thought I knew his outfit rather well, but the model kit building process lead to me to discovering little things I wasn't aware of, or simply made me appreciate what was there so much more. I know I'll never forget those knee darts.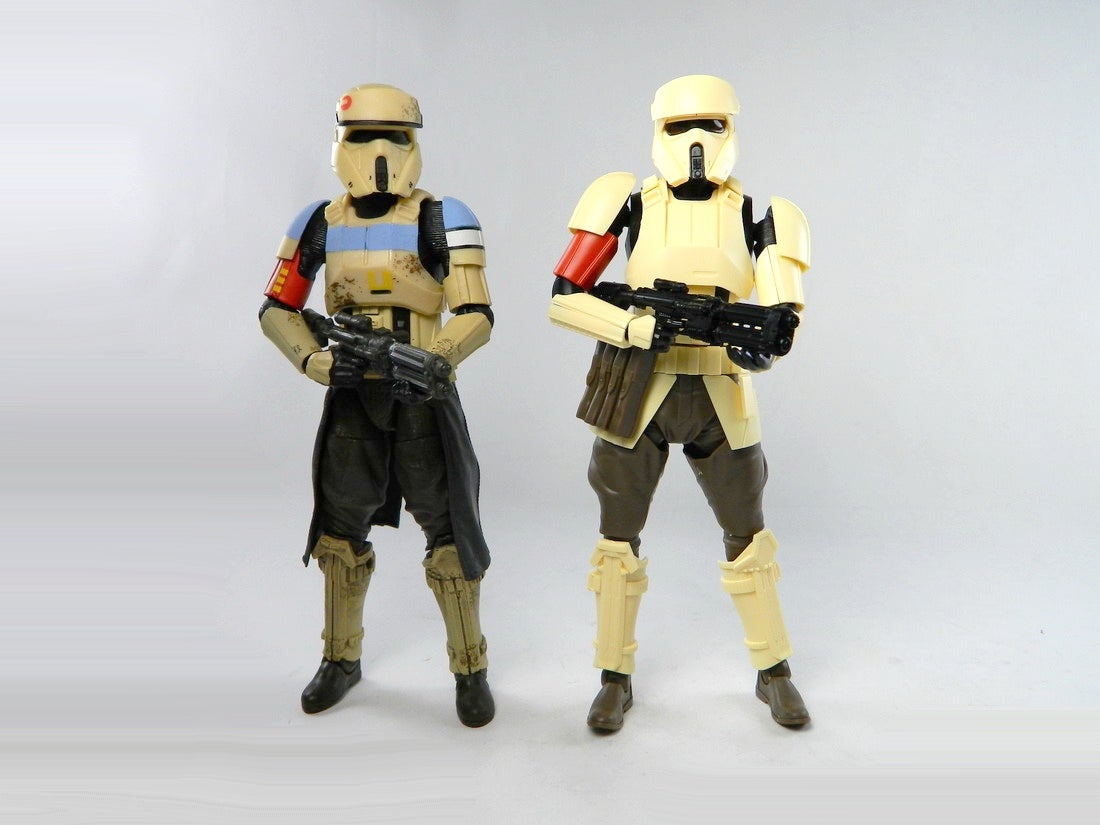 The engineering behind these kits is absolutely mind blowing. Construction is straightforward, clever, challenging and rewarding to complete. If you're already into model kits, new to the scene, or simply looking to expand your hobby and collection, give a Bandai Hobby Star Wars 1/12 character model kit a whirl. I guarantee you'll walk away impressed.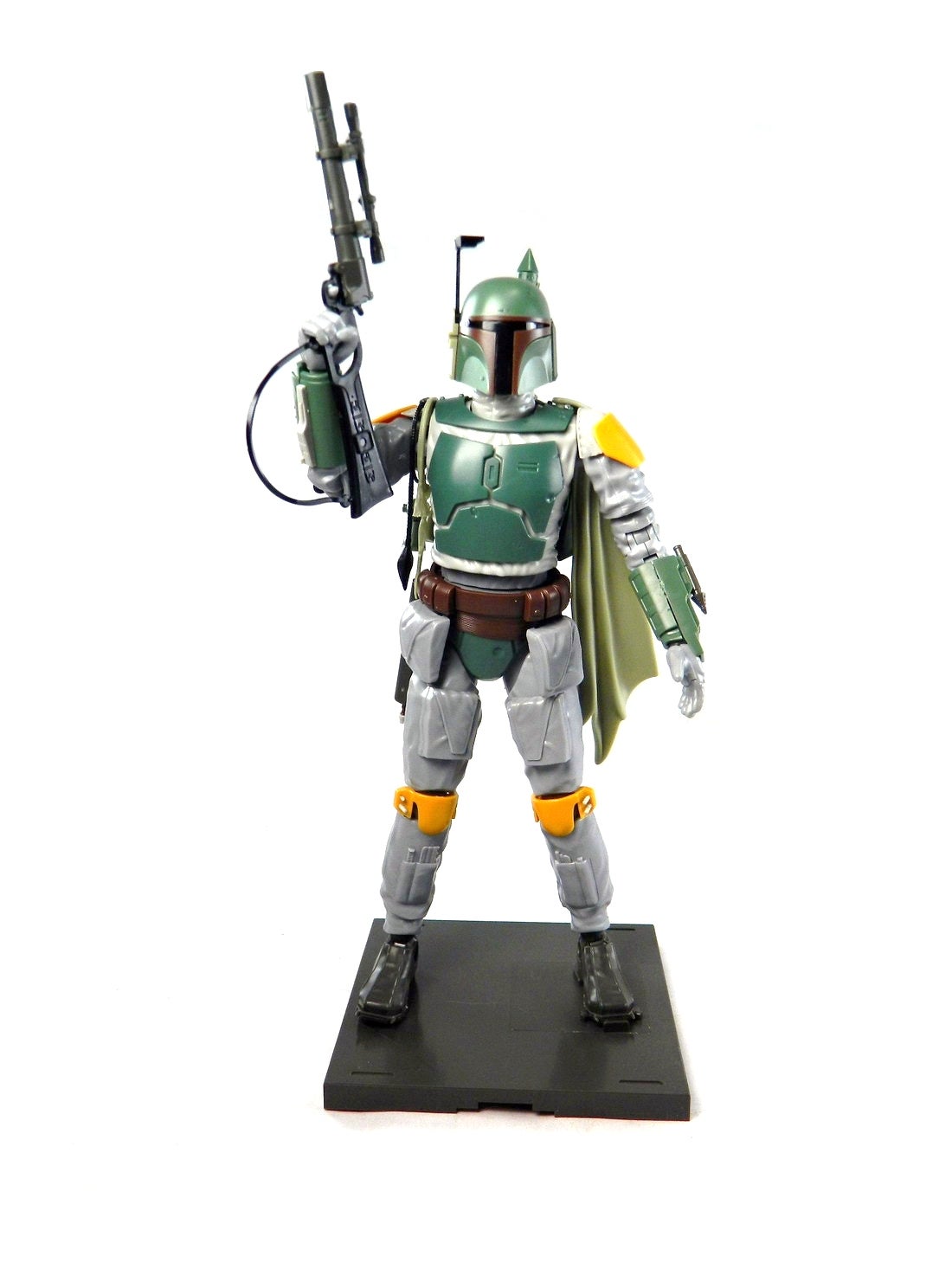 In addition to Boba Fett, Kylo Ren and Shoretrooper, other Star Wars characters currently available for order include Darth Vader, Stormtrooper, First Order Stormtrooper, Clone Trooper, BB-8, R2-D2 & R4-D5, K-2SO, C-3PO, General Grievous, and Luke Skywalker and Han Solo disguised as Stormtroopers. Originally available only for the Asian market, these official U.S. releases include English instructions and also have product support from Bluefin. Additional character releases will be announced throughout 2018. Each kit retails in the MSRP price range of $28.00 – $50.00.
Review and Photos by Jeff Saylor
Review Samples Courtesy of Bluefin
[See image gallery at www.figures.com]
---
Keep up with all the latest toy news by following Figures.com on Facebook and Twitter!
To buy action figures, take a look at Hobby Link Japan, BigBadToyStore.com, TheToySource.com, Toynk.com, BriansToys.com, ToyWiz.com, and EntertainmentEarth.com.