-Review and photos by Scott Rubin
As you all know by now, the Japanese collectibles giant Kotobukiya offers some really unique and cool versions of familiar characters (in addition to giant robots, anime characters, and much more). The most popular example of this is, of course, their Bishoujo lines that capture ladies from comic books and beyond in fun, exaggerated poses and physiques. Well, Koto's new DC Comics Ikemen ("handsome men") series flips the script with male characters portrayed in tender, even suggestive poses based on original illustrations by the artist Ricken. The first statue in the lineup was Nightwing, but I was much more interested in the follow up character and second former Robin, Red Hood. I'm a big fan of Jason Todd in the comics and have several toys and statues of the character, so when I was eager to check out a new interpretation of him in statue form, and I was not disappointed.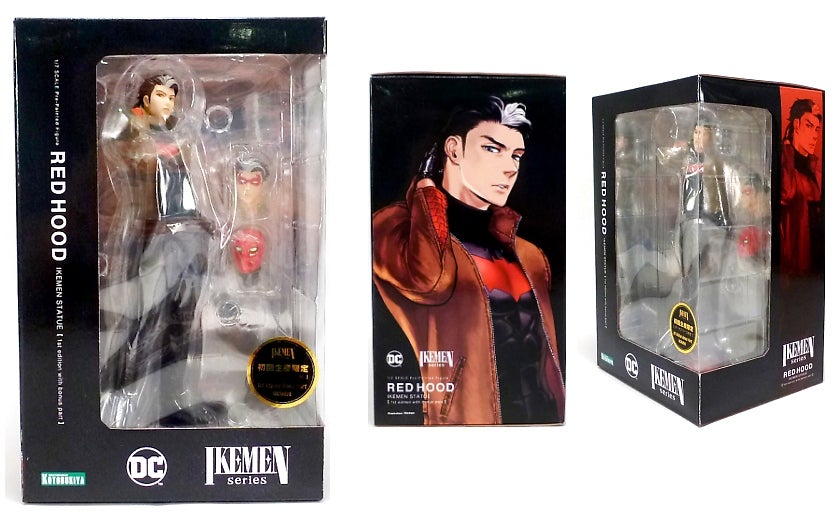 The Ikemen statues come in cool window boxes with all of the style you'd expect from Kotobukiya. In this case the box is black with stark white lettering and logos, along with both a full color and red-tinged image of Ricken's Red Hood illustration. The unique thing going on here is that the 1st edition of this statue comes with a special bonus part (more on this below), and that's pointed out several times on the box both in text and a metallic gold sticker. Of course, you can see Red Hood through the big window, though like all Kotobukiya statues he's partially wrapped in protective plastic so you can't see all the details.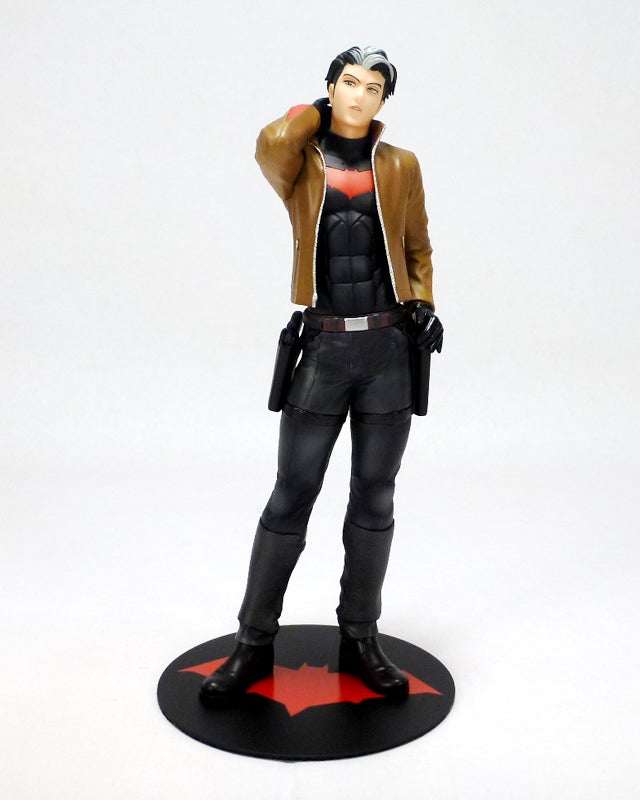 While the Nightwing statue before him was quite playful and… focused on certain gluteal anatomy, Red Hood here has a unique look but it's much more subdued and I think he can fit in with just about any collection or display. The anti-hero is replicated mostly in his New 52 look wearing a black outfit accessorized with strategically placed reinforced armor, heavy boots, belt with twin pistol holsters, and his distinctive brown jacket with red accents at the cuffs. Naturally his bright red bat symbol is front and center on his chest armor, though his jacket covers up the wingtips. As with all Kotobukiya statues Red Hood has a great sculpt with tons of little clothing textures and fine details.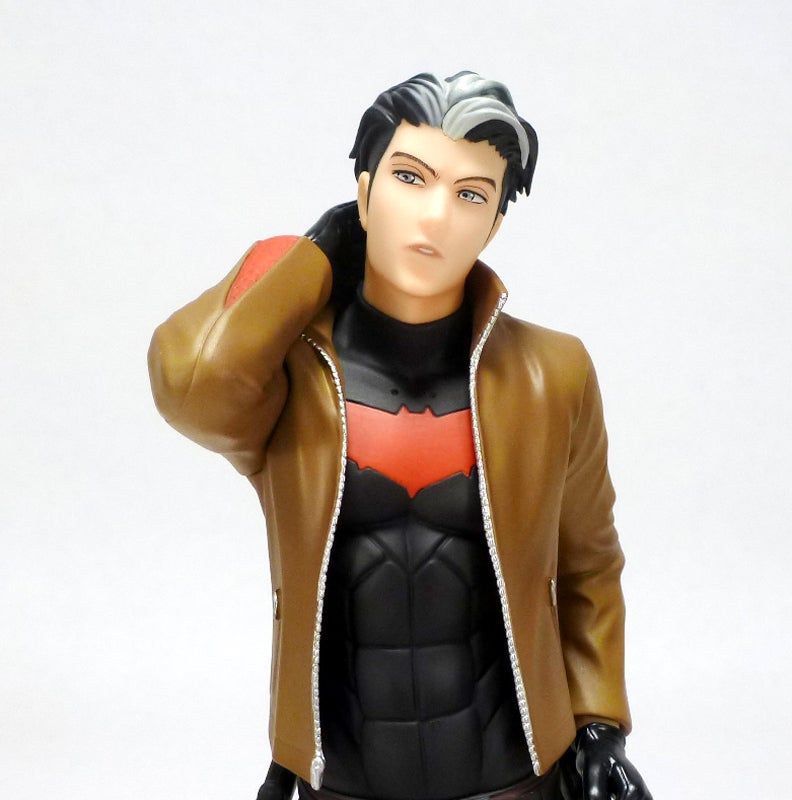 Now don't get me wrong; Jason here looks hot with a great bad boy pose and a physique most geeks would kill to have. But, I'd expect those things on just about any Red Hood statue as they fit his character. The anti-hero stands with a leg kicked out to the side, leaning back slightly to show off his abs while he reaches up with his right hand to cradle his neck. Oh, and just for safety his left hand rests on one of his holstered pistols so don't try anything. Red Hood has magnets in his feet which means he's 100% stable on the included themed metal display base disc, another nice feature in this presentation.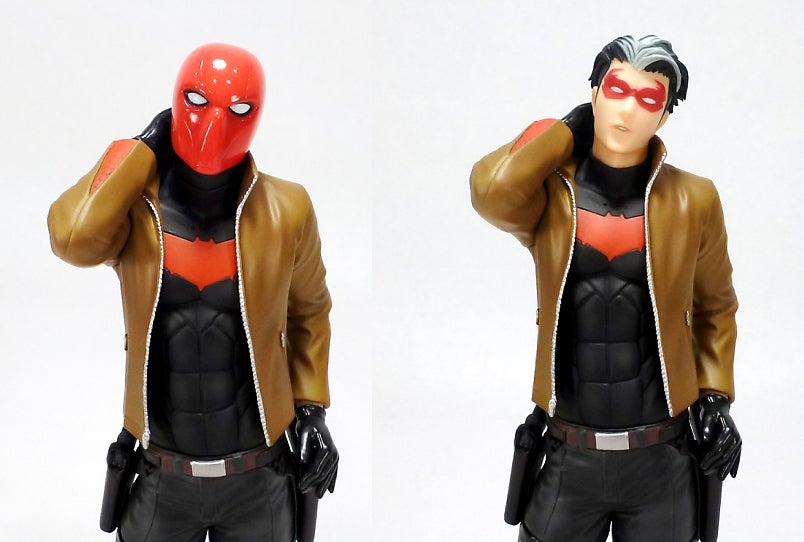 The really cool thing about the Red Hood Ikemen statue is that it has great display options with not one, not two, but three different heads! Two of them come standard with the statue (helmeted and bare), while the third (wearing a domino mask) is exclusive to the 1st edition/run. The helmet is bright red with flashy black-rimmed, white eyes, and while it looks cool I think it doesn't quite fit with the pose. Both of the unhelmeted heads are great and here's where Koto has further differentiated this piece from other Red Hood collectibles with a youthful, handsome face and spiky black hair with a white patch at the front. The exclusive version is the one with the red domino mask with built-in white eye covers, and frankly that's my favorite out of the bunch and the one I'll be displaying. Combining the distinctive Ikemen-style face with that mask is just mysterious and cool.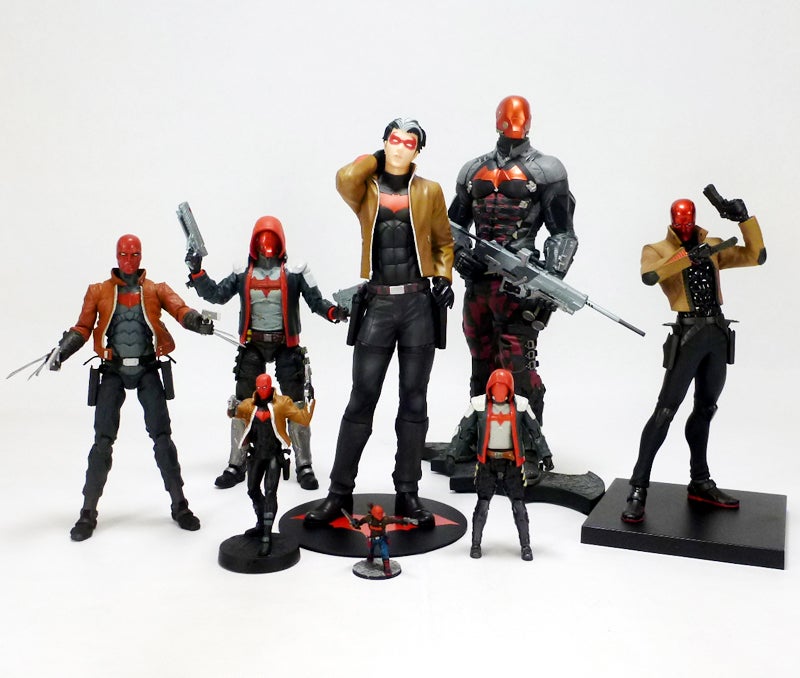 The Ikemen Red Hood statue is available now wherever you buy your statues or other Kotobukiya items, and has an MSRP of $89.99. I highly recommend any fans of the character give this one a good look; it's pretty darn cool, whether designed to show off Jason as a sexy dude or not. Some of the best Red Hood comics have played with his "bad boy" side and that's perfectly portrayed here. I also suggest picking up the 1st edition with domino mask head before it sells out, too!
-Review and photos by Scott Rubin
[See image gallery at www.figures.com]
---
Keep up with all the latest toy news by following Figures.com on Facebook and Twitter!
To buy action figures, take a look at Hobby Link Japan, BigBadToyStore.com, TheToySource.com, Toynk.com, BriansToys.com, ToyWiz.com, and EntertainmentEarth.com.