The Mezco ONE:12 Collective star was just beginning to rise when their Punisher figures were released, so a plethora of collectors missed out on owning any of the four ONE:12 Collective Punisher figures that were released in 2017 (including the Classic Punisher that sells for 1000% of his original cost today!). But while a comic-based Punisher may be forever out of reach for many Mezco Toyz collectors, they're about to have a shot at a live-action Frank Castle—the ONE:12 Collective Netflix Punisher is now up for order!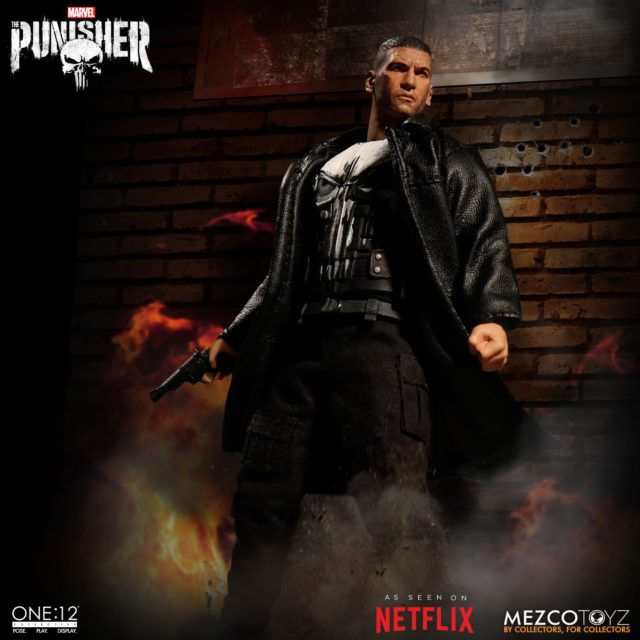 As soon as Mezco Toyz unveiled their Marvel ONE:12 Collective figure line of nearly Hot Toys-quality 6" figures, I knew it was going to be a grand slam with collectors. But even I didn't realize just how rabid fans were going to become, with exclusives selling out in minutes and variants like Classic Punisher selling for upwards of $800 on the aftermarket.
And so, even though he's based on the live-action Punisher Netflix design, I imagine that along with the Netflix fans, quite a few comic book figure collectors are going to be willing to "settle" for this new ONE:12 Collective Netflix Punisher figure. Is he any good?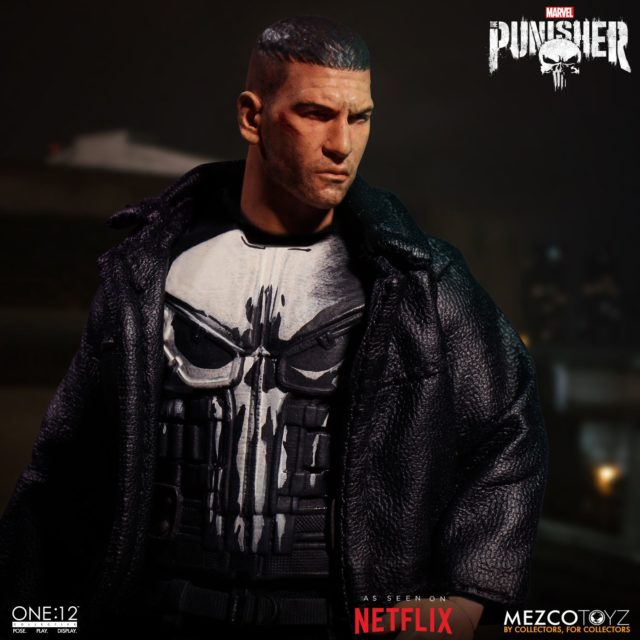 About one second after seeing the prototype of this figure live at New York Toy Fair 2018, I knew the answer to that was a resounding "Yes". The Jon Bernthal likeness is miraculously good for a 6" figure, the soft goods leather-like coat looks phenomenal, and 28 points of articulation gives him the capability of pulling off virtually any pose that a non-ninja like The Punisher should be put into.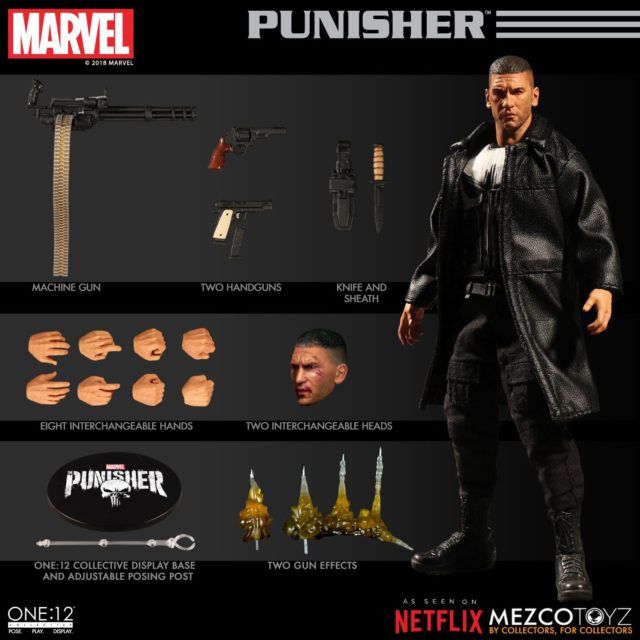 Accessories-wise, this Punisher gets two handguns, a machine gun, a knife (with sheath), two different gun effects pieces, eight interchangeable hands, the obligatory figure stand base with posing pole, and two interchangeable heads.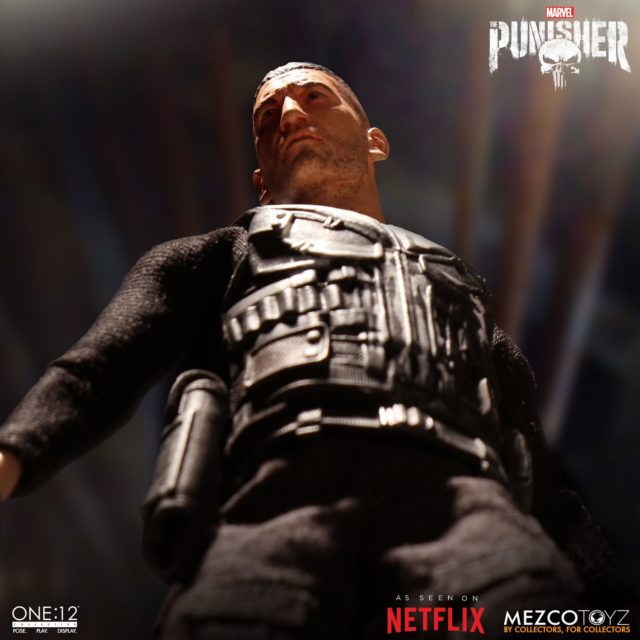 The new multiple firing gunshots effects piece is probably my favorite part of the entire figure. With Punisher's penchant for rapid-fire destruction, an effects piece of this nature makes sense and is fun and unique.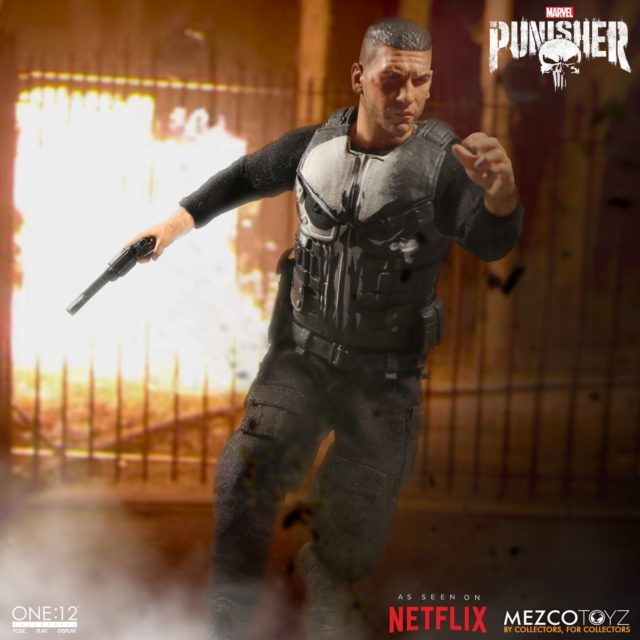 I'm also a big fan of having both battle-damaged and "undamaged" heads included, as fans are going to have individual preferences for how battle-worn or pristine they want their 6.6″ Frank Castle looking. This is a quick and easy deco change variant for Mezco to make that adds a lot of value to the figure, so kudos for the inclusion of the additional head.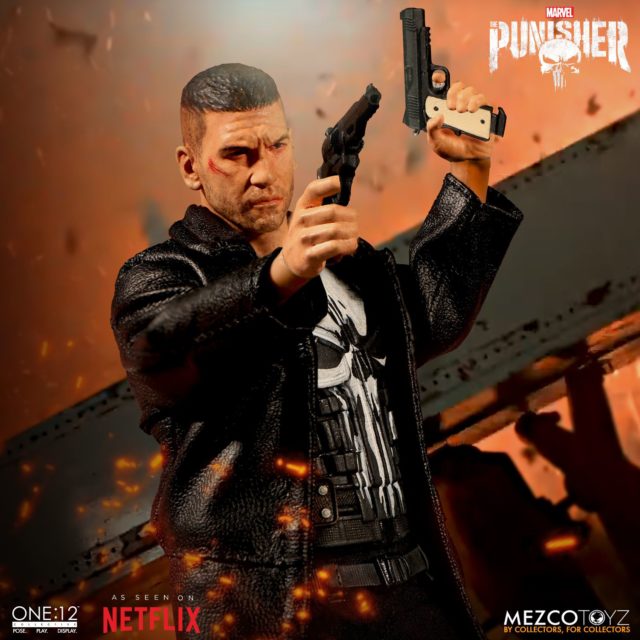 My one real complaint about figure is that this version of Punisher definitely seems a bit lightly armed compared to some other Marvel ONE:12 Collective figures we've gotten in the past (including the crazy arsenal that the Deluxe Punisher came with).
Mezco hasn't released any Previews Exclusive versions of live-action Marvel characters with a wider variety of weapons to-date, but if there's a Netflix character that warrants this deluxe treatment, it's definitely the Jon Bernthal Punisher (and I hope he gets it).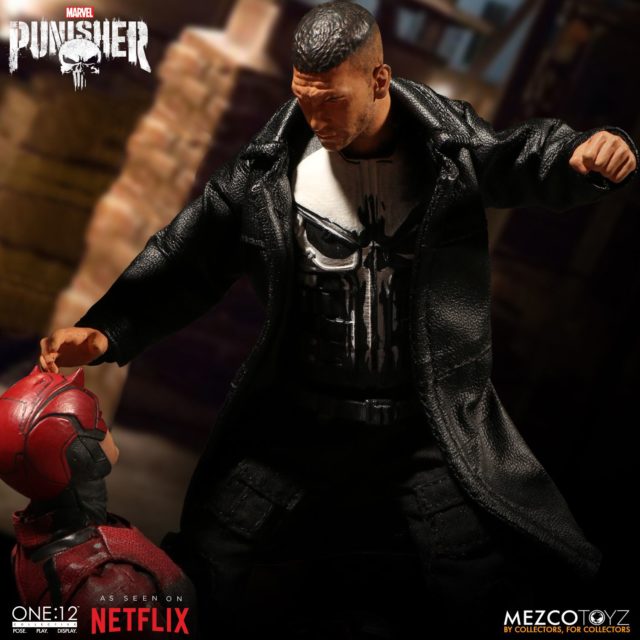 The Mezco Netflix Punisher ONE:12 Collective figure is now up for order, and is scheduled for release in November 2018. This isn't a limited exclusive release, but given the manner in which prices exploded for the comic Punishers and the monumental demand, collectors who want to be assured of this figure would probably be smart to reserve one early. EE has him with free shipping, which is the best deal Mezco will allow for pre-orders.
What do you think, ONE:12 Collective collectors? How does this Frank Castle figure compare to the comic book-based figures, and are you planning on scooping him up while he's available?
The post ONE:12 Collective Netflix Punisher Mezco Figure Up for Order! appeared first on Marvel Toy News.