It's looking more and more like it might be a slow year for Marvel NYCC 2018 Exclusives, with next to nothing announced thus far for the show. But one company that will be bringing the goods for Marvel collectors next month is Mezco Toyz, who just revealed their first (and perhaps only) New York Comic Con 2018 exclusive last night. Now that the classic version is sold out just about everywhere, the exclusive ONE:12 Collective First Appearance Doctor Strange is ready to appear!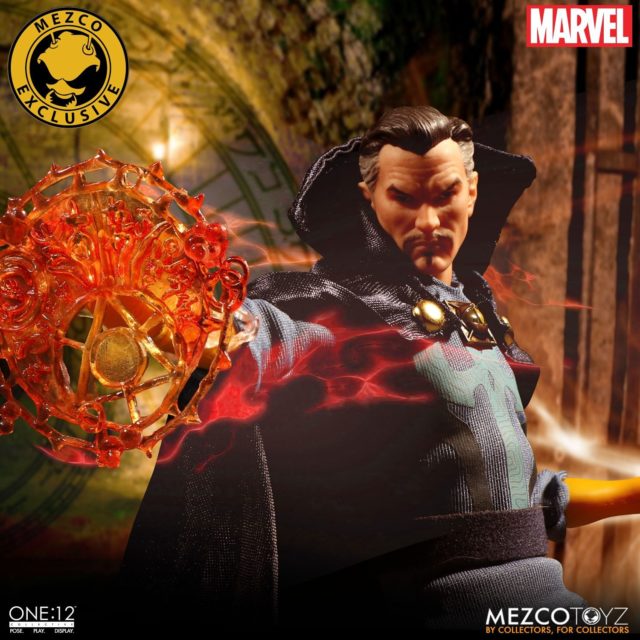 Full disclosure: even though I've read the comic book with the first appearance of Doctor Strange at least twice in my life, I would have happily bet—and lost—that Stephen Strange never sported an indigo/dark blue cloak during his career as sorcerer supreme.
Luckily for the hardcore Dr. Strange fans out there, Mezco Toyz knows better than me, and they're giving Stephen Strange fans something that's never been done before as their Fall 2018 Exclusive for New York Comic Con—a 6" First Appearance Edition Doctor Strange figure!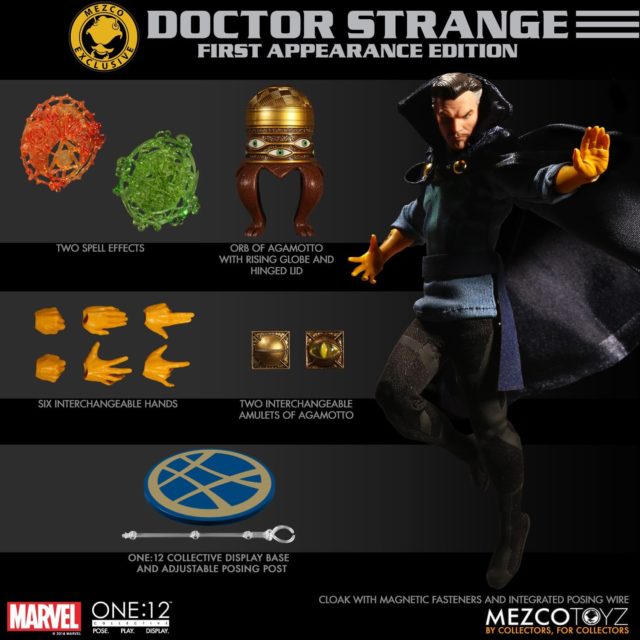 In essence, this is the same figure that has been released in both classic and modern forms already, but with a redesigned costume and a mashup of the accessories from the previous two versions. This is a character who desperately needs to be able to change up his hands for various poses, so I'm pleased to see that the six interchangeable hands will still be packed in with this edition.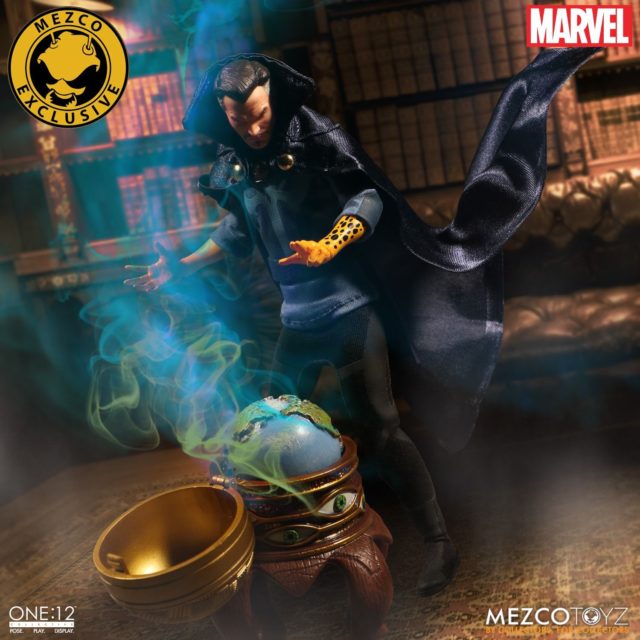 Fans who didn't want to Previews Exclusive (PX) Modern Dr. Strange may want the very cool Orb of Agamotto globe that gets repacked with this figure—although this variant doesn't come with the astral form projection that I loved so much with the classic version.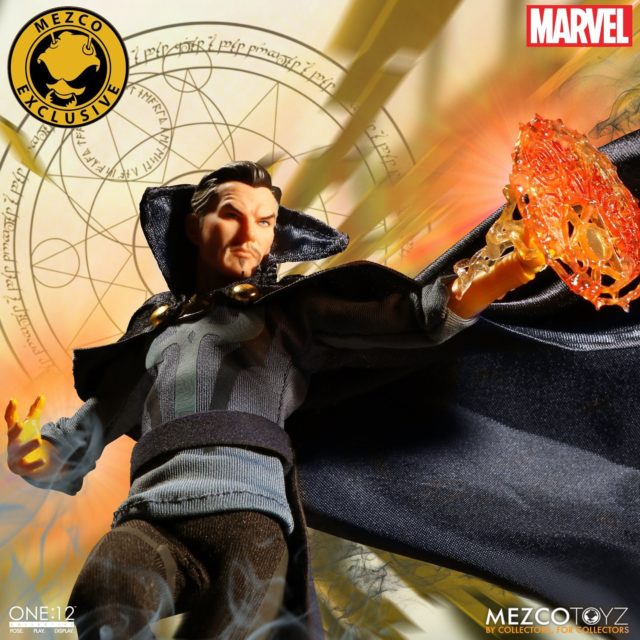 The one thing that almost makes me want to pull the trigger on this exclusive is the recolored spell effects—we get orange and dark green effects pieces with this 1st Appearance Strange, whereas the PX Exclusive had pink/teal and the mass release version has yellow/blue effects. The effects look awesome—but this just isn't a variant I care about (especially not for 5 bucks more MSRP than the classic version).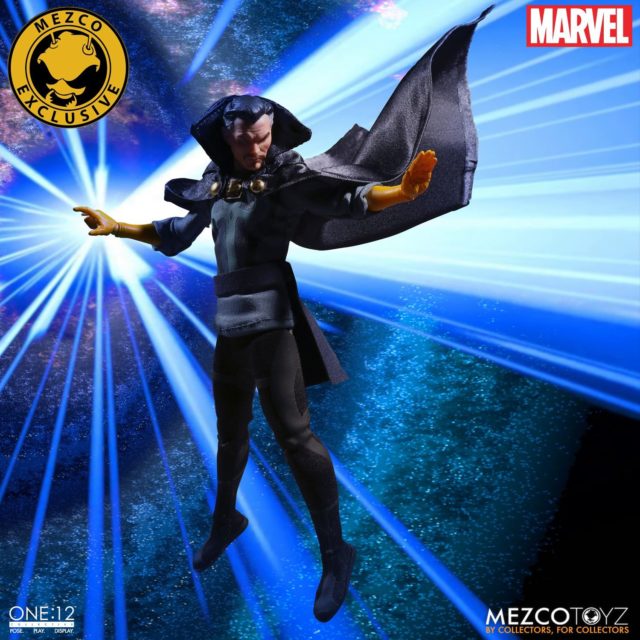 As I don't know a whole heck of a lot of people that could even identify Doctor Strange's First Appearance costume, I genuinely thought this might be a slow seller for Mezco. But nope—! Within half an hour and with a limit of two per person, pre-orders on the website went to the "Wait List" (which you can still get on in case other folks cancel).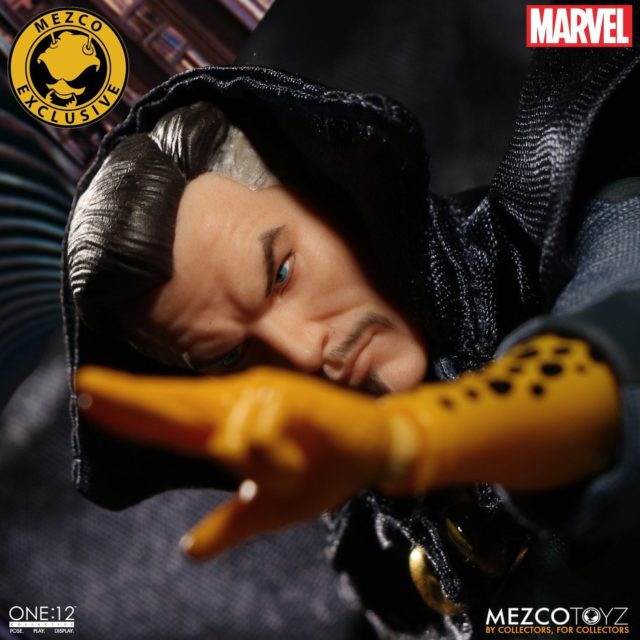 This expedient sellout seems a little bit fishy to me, and has me wondering if the Mezco 1st Appearance Dr. Strange is going to be highly limited like the Classic Red Skull figure ended up being last year. We'll have to wait and see just how many (or few) of this guy actually end up in collectors' hands.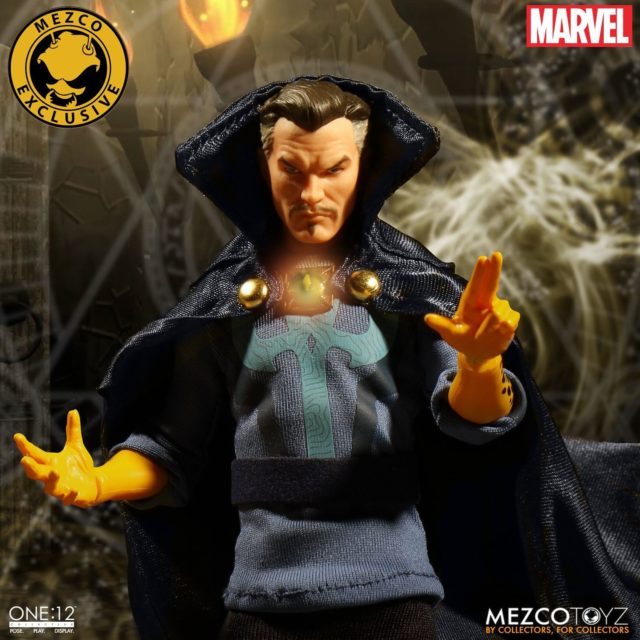 The First Appearance Doctor Strange figure is now on the Wait List on the official Mezco Toyz website, but you can still hop on the list or visit their booth at NYCC next month if you'd like to get your hands on the master of mysticism in his debut attire. This is a really obscure variant, so I will be curious to see how this performs on the aftermarket, where ONE:12 Collective con exclusives tend to sharply appreciate.
How do you like this year's ONE:12 Collective New York Comic Con Exclusive, Marvel collectors? Is First Appearance Doctor Strange a nice surprise, or were you hoping for a different character or variant to get this con exclusive slot?
The post ONE:12 Collective First Appearance Doctor Strange NYCC Exclusive! appeared first on Marvel Toy News.