CHECK OUT THE TRANSFORMERS DISPLAY IN OUR HASBRO NEW YORK TOY FAIR 2018 PHOTO GALLERY!
Are you a fan of robots in disguise? Then you'll definitely want to check out our coverage of the Transformers showroom at Hasbro's New York Toy Fair 2018 presentation by clicking on the link at the top and bottom of this page. Before you do, here's a rundown of the presentation they gave us:
The next animated TV show will be Cyberverse, coming later this year. It will tell the origins of the Transformers and how they came to Earth, and will be told from the perspective of young Bumblebee. The main cast is comprised of 'Bee, Grimlock, Windblade, and Optimus Prime of the Autobots, with Decepticons Megatron, Starscream, Shockwave, and a new female character named Shadowstriker. The Cyberverse toys are aimed at young fans and come in Scout, Warrior, Ultra, and Ultimate classes. Action Attackers convert to activate signature moves from the show like Bumblebee's pop out cannons, Grimlock's rocket blast, etc.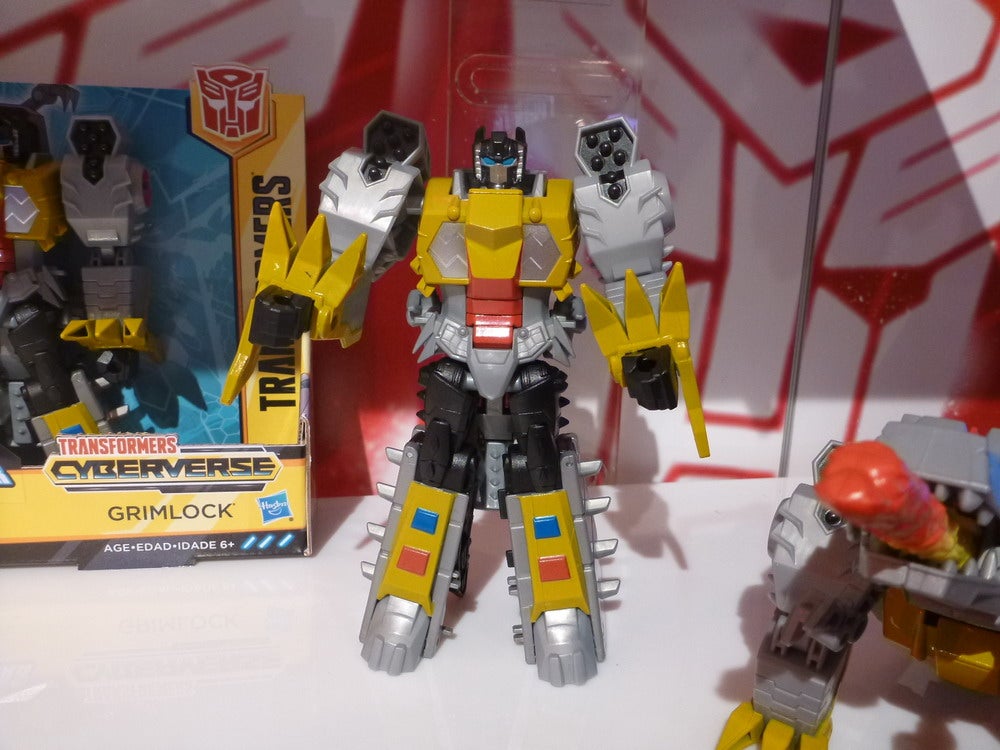 Online you'll be able to watch the third part of the Generations trilogy Power of the Primes. The toys for this series are in stores now and will be continuing for a while, starting with the diminutive Prime Masters giving the powers of the gods to Transformers; up next are Quintus Prime and Bludgeon, Megatronus and Bomb Burst, and Solus Prime and Octopunch. Legends series 2 brings Tailgate in IDW style, Battleslash, and Road Trap; the last two can combine to form Battletrap. The next combiner is Abominus, created from five Terrorcons. Then Elita-1 returns in Voyager jet form to create Elita-Infin1te with Deluxes Moonracer and Novastar. Optimal Optimus is the reinvisioned winner of last year's fan poll, and comes with a Deluxe scale Optimus Primal. The biggest and baddest Predaking then returns consiting of FIVE Voyagers and bringing with it the exclusive Onyx Prime. In 2019 the animated War for Cybertron trilogy will begin, celebrating the 35th anniversary of Transformers.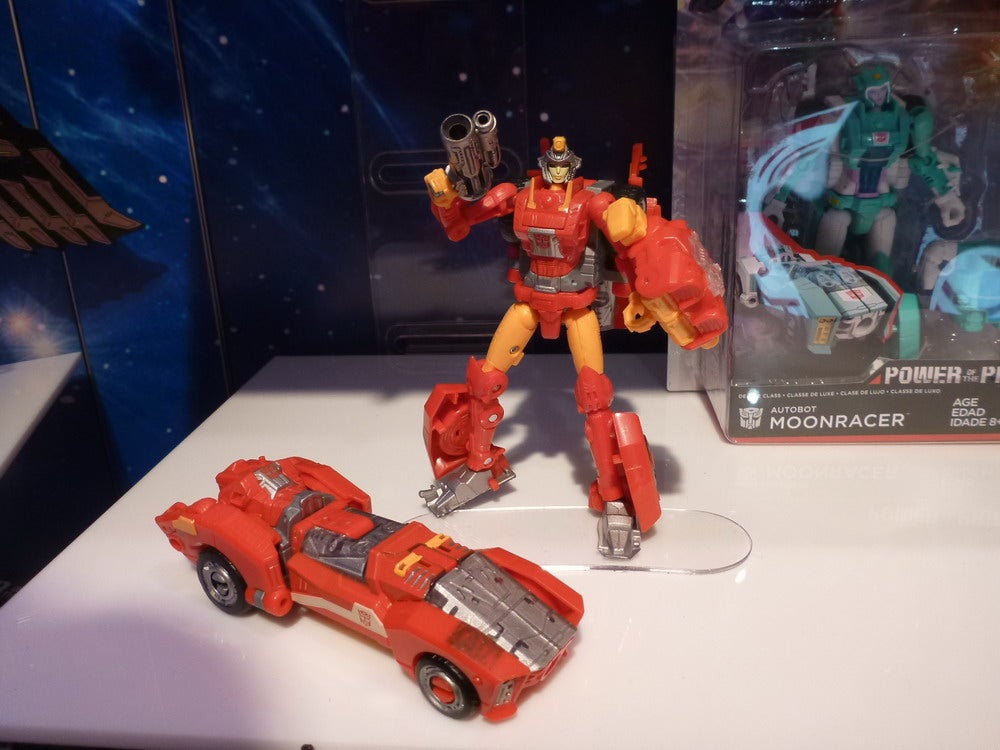 Meanwhile, the Studio Series is all about the Transformers (live action) movies, with all new Deluxes, Voyagers, and Leaders in updated forms and all in scale to each other. Starting in April, up first in the Deluxes are TF1 Bumblebee, TF3 Crowbar, TF4 Stinger, TF1 Ratchet, TF2 Jazz, and TF4 Lockdown. The Voyagers will include TF1 Starscream, TF2 Optimus Prime, TF2 Megatron, TF1 Brawl, and a Toys R Us exclusive "off screen" Thundercracker. The Leaders are TF4 Grimlock and TF1 Blackout with Scorponok.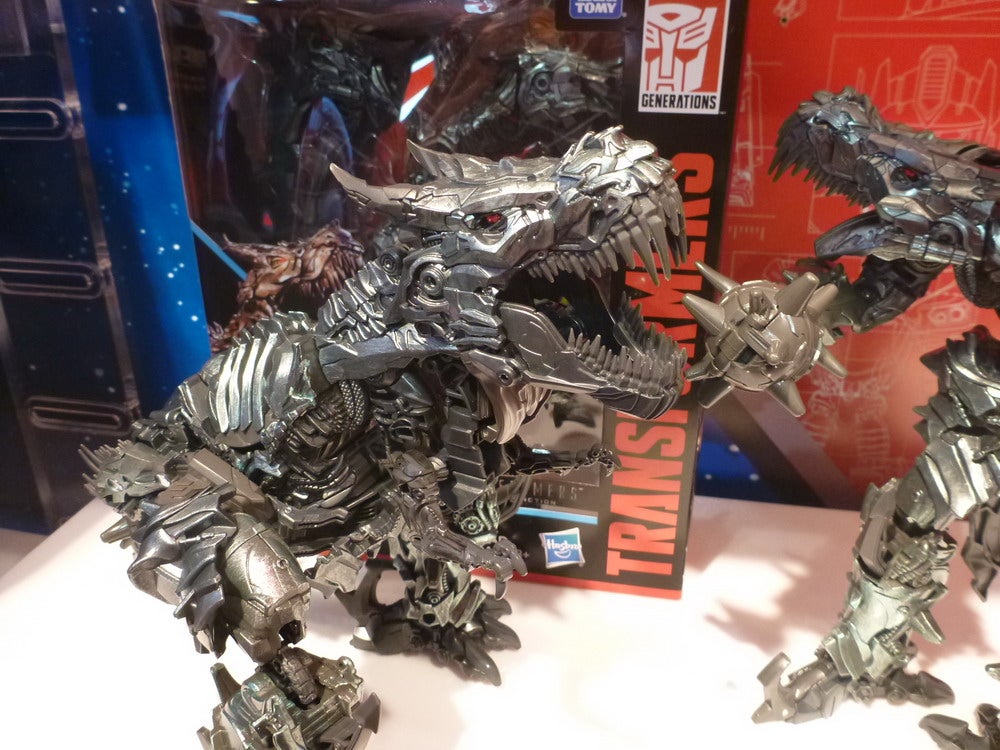 CHECK OUT THE TRANSFORMERS DISPLAY IN OUR HASBRO NEW YORK TOY FAIR 2018 PHOTO GALLERY!
– Scott Rubin
Keep up with all the latest toy news by following Figures.com on Facebook and Twitter!
To buy action figures, take a look at Hobby Link Japan, BigBadToyStore.com, TheToySource.com, Toynk.com, BriansToys.com, ToyWiz.com, and EntertainmentEarth.com.