Hasbro hit us with quite a few curveballs at NYCC 2018, and one of them that I definitely did not see coming was the next Marvel Legends two-pack to be announced! Although we got a modern Kraven Legends figures just a few years ago as part of the Rhino Series, that Kraven wasn't to the liking of a lot of classic fans. But as usual, the Hasbro Marvel team had something up their sleeve to please fans of all eras, and they revealed it at New York Comic-Con: a Marvel Legends Kraven's Last Hunt two-pack with classic Kraven and Black Costume Spider-Man figures!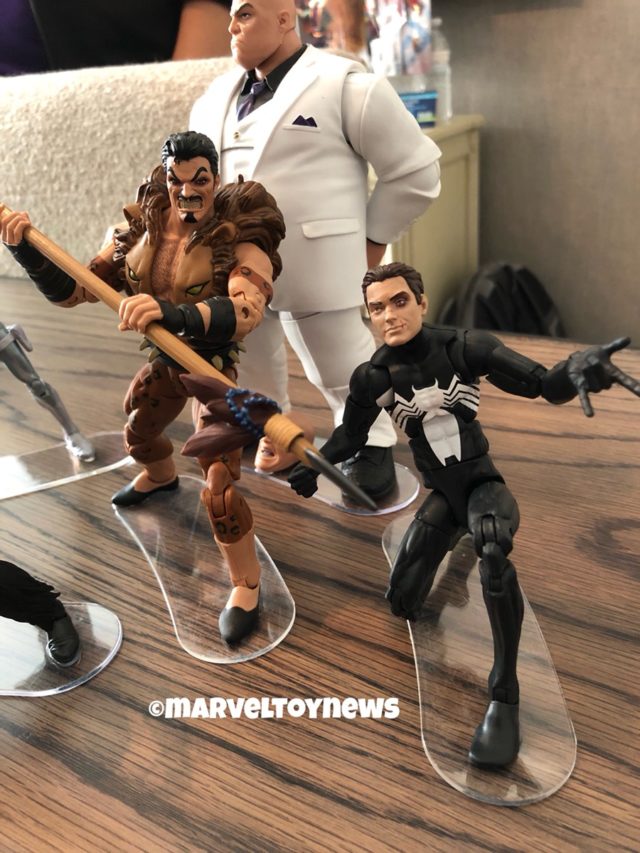 While a few of the Marvel Legends 2019 6″ figures that Hasbro revealed at New York Comic Con 2018 over the weekend were ones that had been rumored for a while (such as Forge), Hasbro was also full of surprises at this year's press event. And one of them that I had never seen coming was one of next year's two-packs: Kraven vs. Symbiote Spider-Man!
Hasbro kept mum on release details for this set, so we don't know where it's going to be released or if it'll be an exclusive, but we do know that it's going to be a two-pack and it's scheduled to ship out in 2019.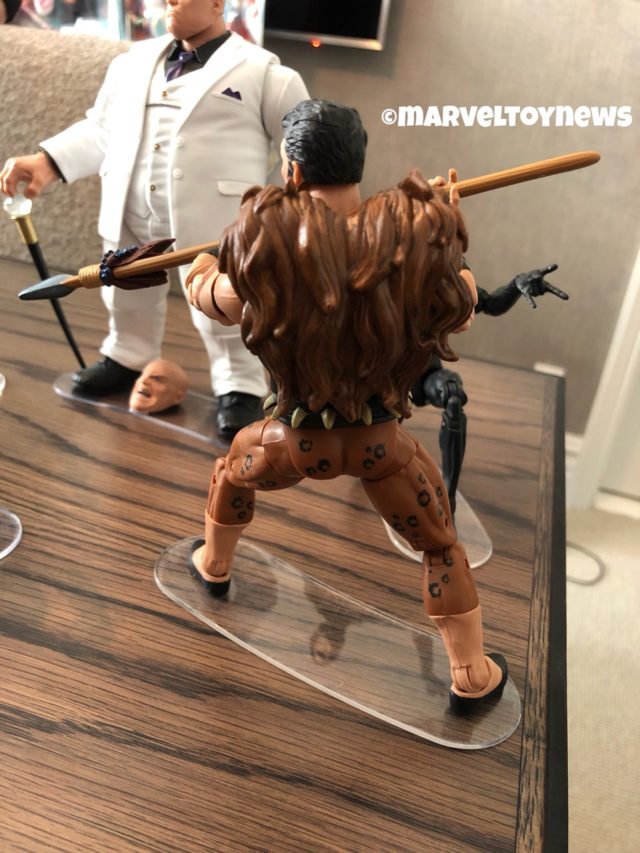 The main attraction of this set for most folks is (obviously) going to be the updated 6″ Kraven Marvel Legends figure. This 2019 version has quite a few changes from the 2015 iteration, including an all-new head sculpt, leopard pants that don't go all the way down his legs, no skull kneepads, no loincloth, slippers instead of boots, and a darker-colored "lion mane" going across his back and shoulders.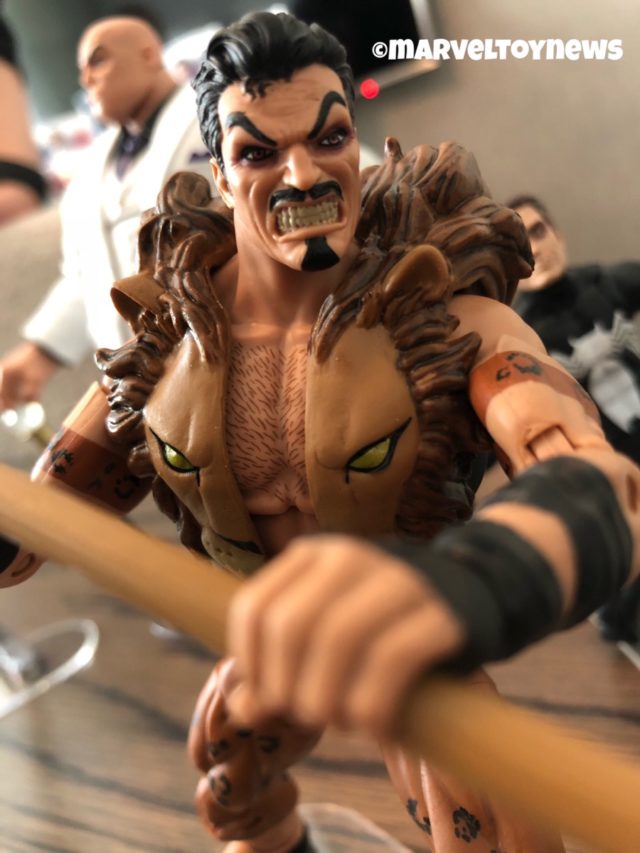 While the style of the classic Kraven the Hunter portrait (based off the legendary "Kraven's Last Hunt" story arc) might be a bit over the top for some folks, but the bushy raised eyebrows and infuriated gritting teeth on the head sculpt look awesome to me. I honestly never liked the 2015 Marvel Legends Kraven the Hunter figure (in fact, it's a figure from that year that I didn't even review), and I'm pretty tickled to see that we're getting a more classic-oriented (and way more fun, IMO) version next year.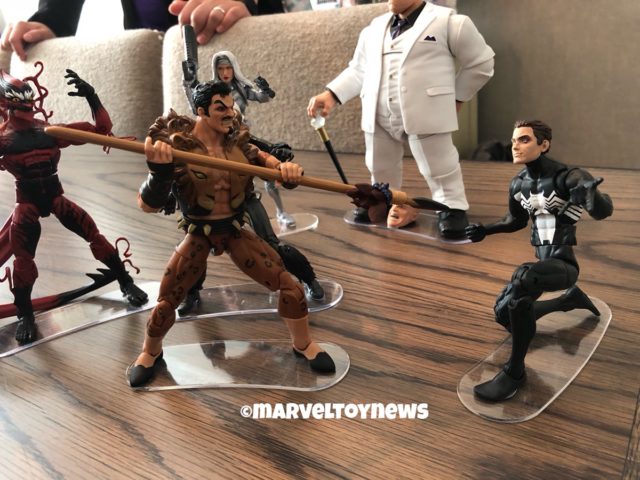 The figure that Kraven comes packed with is a perennial favorite: Marvel Legends Black Costume Spider-Man. While we just got a ML Symbiote Spidey in Spider-Man Legends 2017 Wave 1, Black Costume Spider-Man figures are always hot sellers and there is always a demand for them.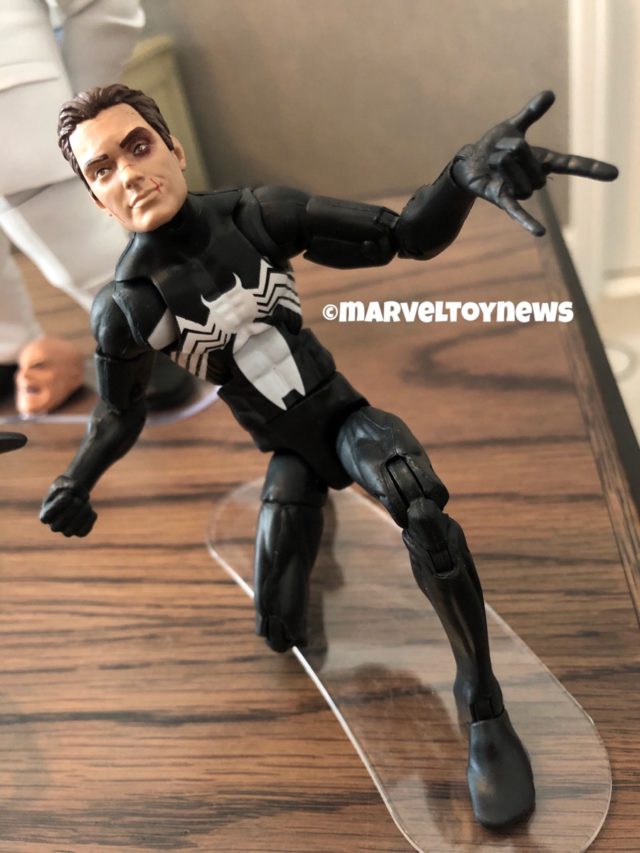 As such, Hasbro probably didn't need to make any changes to the existing figure at all to sell this to a hungry collecting base, but they are granting us one new extra: a battle-damaged unmasked Peter Parker head (don't worry, a masked Symbiote Spider-Man head is also included).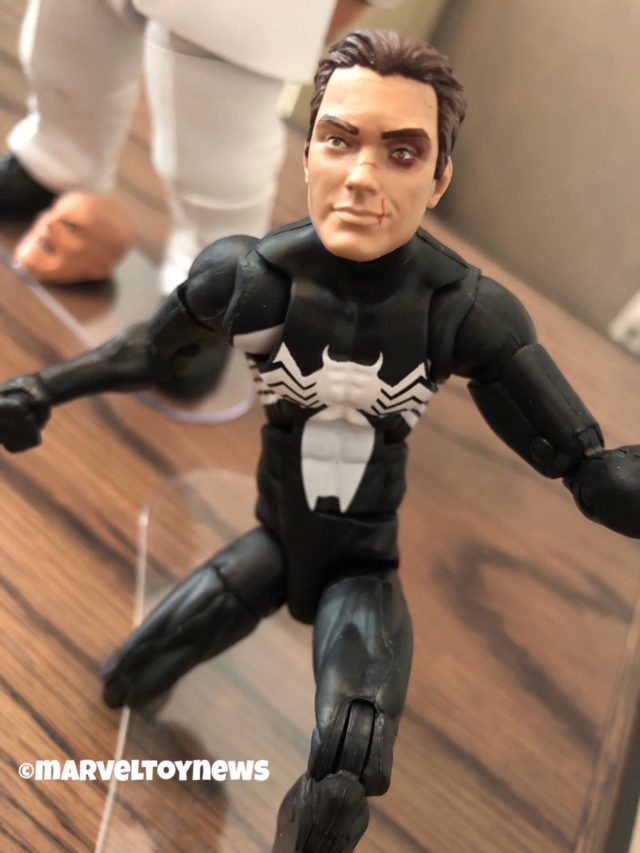 Ordinarily I really dig unmasked superhero interchangeable heads, but this is a rare exception where I don't especially like what I see. Hasbro has just painted some battle damage over the existing Peter Parker head, and that means that this head is painted up to look like Peter beat to a pulp… and smiling through it.
It's really pretty creepy, and makes Spidey seem like a bit of a masochist. Thumbs down on this head from me, though I'll be perfectly happy to pop the regular masked Spider-Man head onto the figure and enjoy it that way.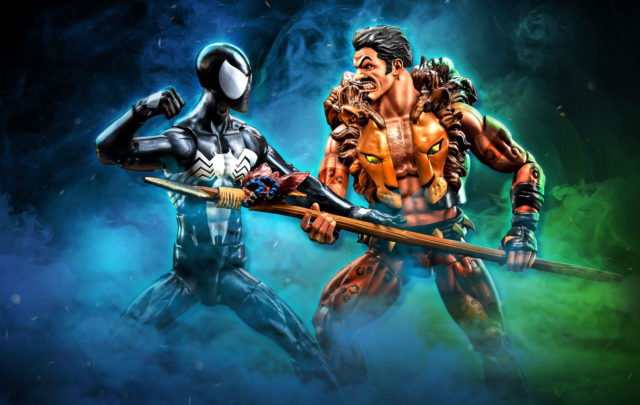 The Marvel Legends Kraven & Spider-Man two-pack is due out in Spring 2019, although we don't know the price or place where it'll be available just yet. With a major version of Spidey like the Black Costume included, I'd guess that we'll see this released at mass retail, but we'll have to wait for additional details.
Regardless of where this set lands, it's a 'buy' for me. But what about you, Marvel collectors? Is this Kraven a big enough change from the Rhino Series version to earn your interest (and dollars)? And for those of you who already own a Black Costume Spider-Man Marvel Legends figure–are you willing to buy him again to score this classic Kraven the Hunter?
The post NYCC: Marvel Legends Kraven's Last Hunt Figures Two-Pack! appeared first on Marvel Toy News.