Kotobukiya is one of my favorite companies to visit every time I'm in New York City for a major toy event, as they've always got at least something new for Marvel collectors to ogle at. And New York Comic Con 2018 was no exception! While the Weapon X statue I was hoping to see in-person wasn't present, Koto unveiled their upcoming Vision and Thanos ARTFX+ statues, reveal their next Marvel Bishoujo Statue, and had a killer X-Men Animated figure diorama set up…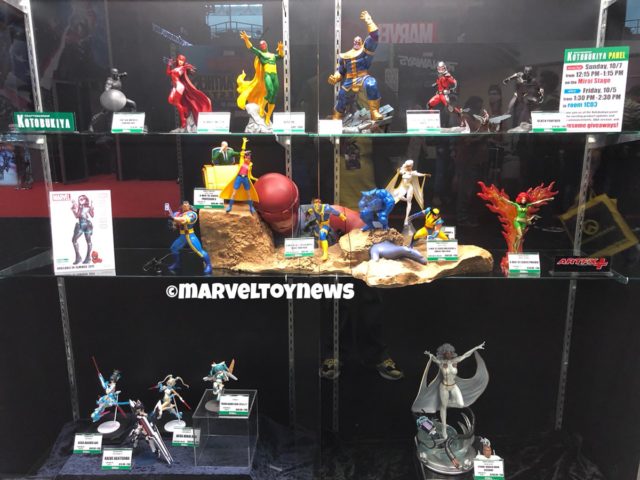 I'll admit it: my heart sank a little bit at first when I saw a smaller Kotobukiya Marvel showing at their NYCC 2018 booth than I was expecting. I was really anticipating seeing a new Bishoujo prototype, the Weapon X Fine Arts statue, new 90s X-Men ARTFX+ Statue, and the remaining Avengers ARTFX+ Wave 2 PVCs.
And, well… there were two new 1/10 Avengers ARTFX+ statues that debuted, a drawing of the next Bishoujo… and a bunch of things we'd already seen before. But hey—I have to admit, everything that was there looked glorious!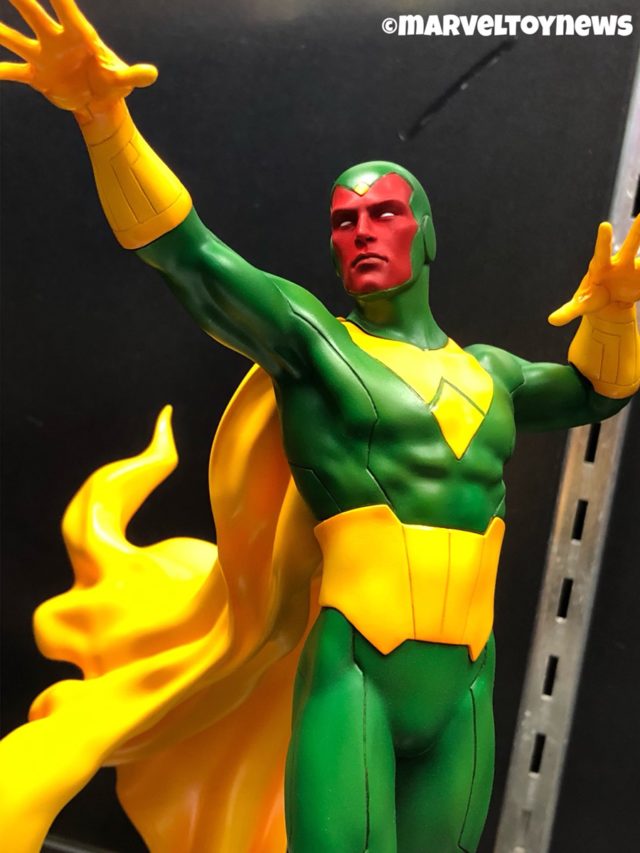 The highlight of the showing was definitely the debuting sculpts for ARTFX+ Vision and Thanos. While Thanos is already getting an Infinity War PVC from Koto in a few months, this is the first non-resin Kotobukiya Vision figure.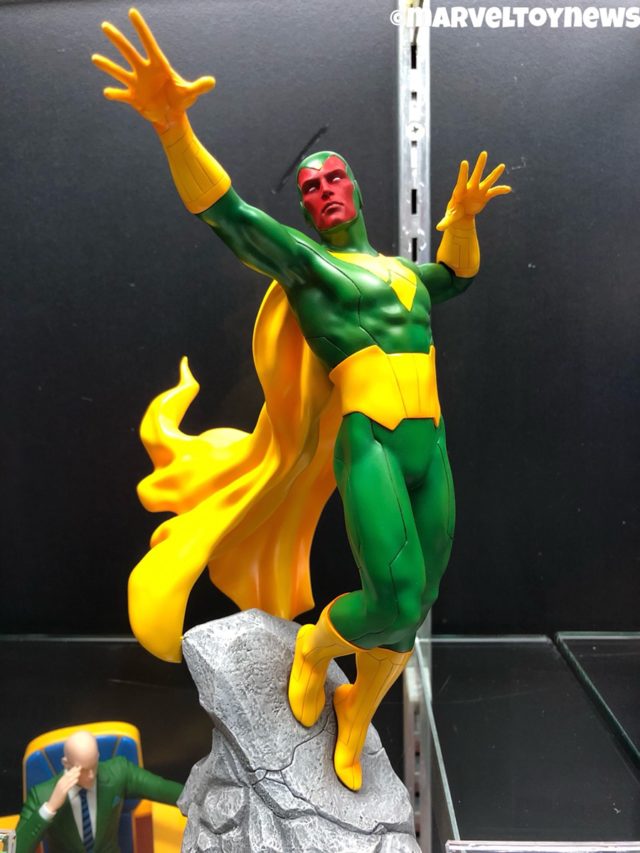 I'm somewhat torn on my feelings about the Vision ARTFX+ Statue. On the one hand, I think his ultra bright red, yellow and green colors look incredible in 1:10 PVC form—perhaps even better than in 1:6 resin 1:6.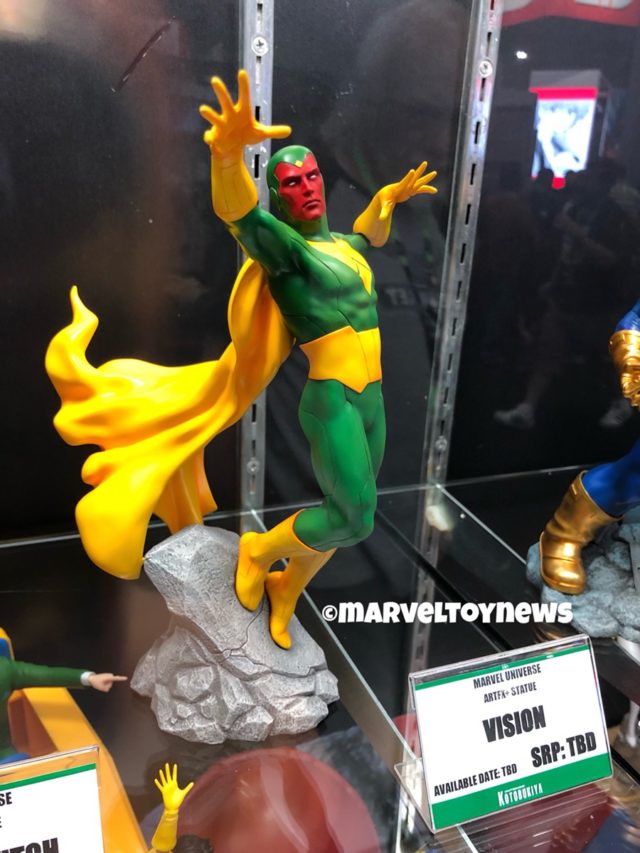 On the other hand, Vision's pose is, well… awkward. I showed him to my wife, and she said she couldn't decide if he was doing jazz hands or the Thriller Dance. The way Viz is bending with his back arched and holding his arms aloft—he looks seriously weird.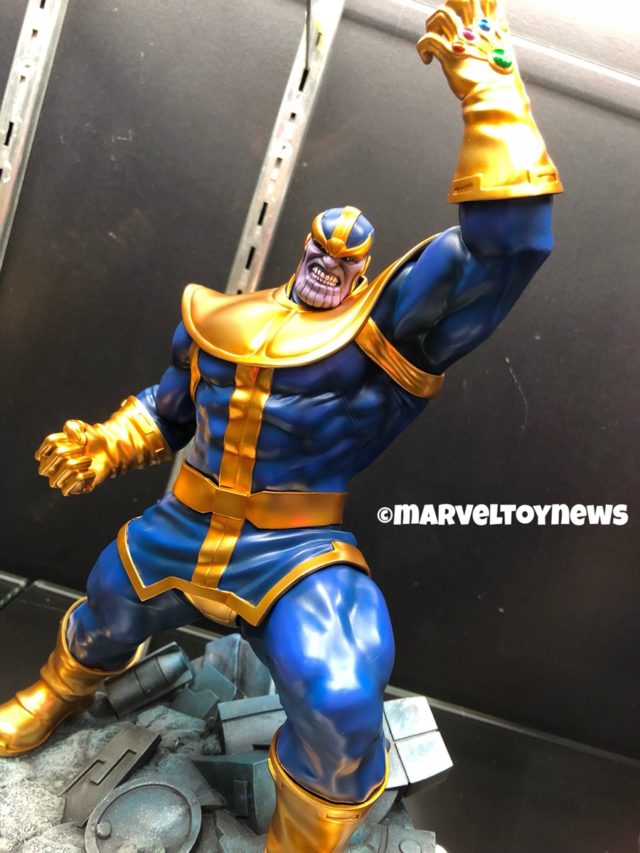 Thanos, however, looks spectacular. I wasn't all that impressed with the movie Thanos Koto put up for order a few months back, but this comic-based Mad Titan is hitting all of the right notes for me.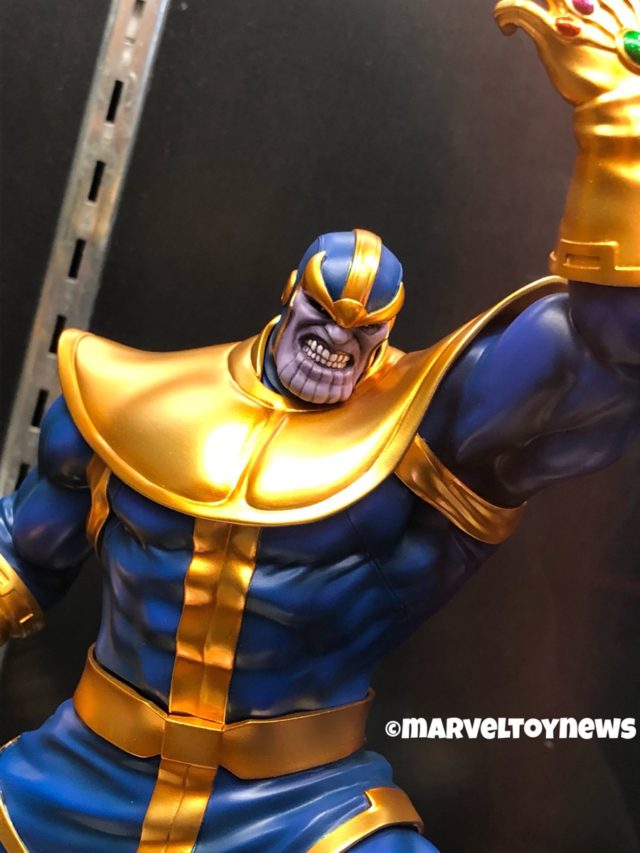 Neither fully classic nor modern, I think Kotobukiya found the precise balance stylistically to make this an ARTFX+ Thanos figure that will appeal to everyone. I just hope that when he actually comes out, he won't be overpriced like some recent Koto offerings have been.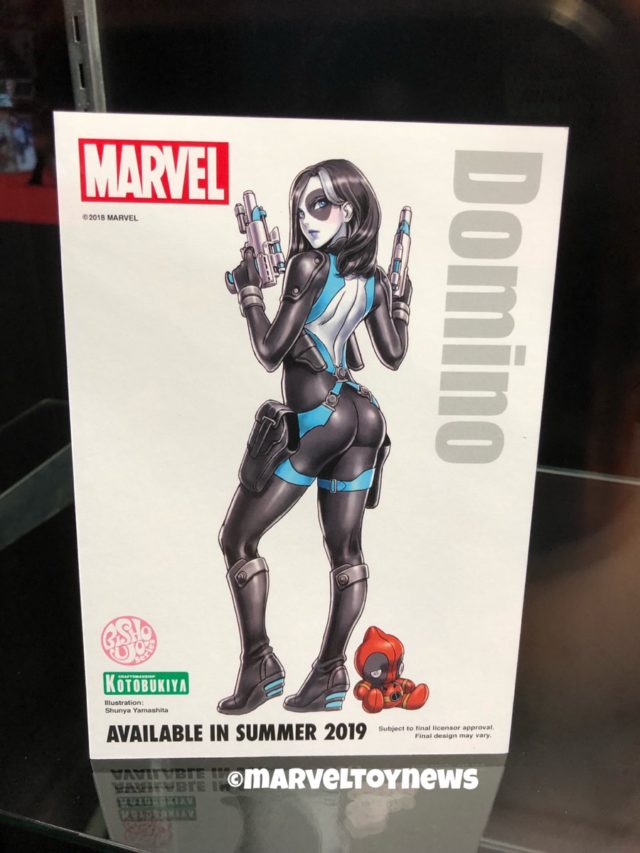 The third and final new reveal of the show as far as Koto's Marvel offerings go is the first addition to the Bishoujo series in what seems like eternity: Domino. I think the little plush Deadpool shown in the artwork is rather unnecessary, but I like what I see otherwise as far as the concept art goes.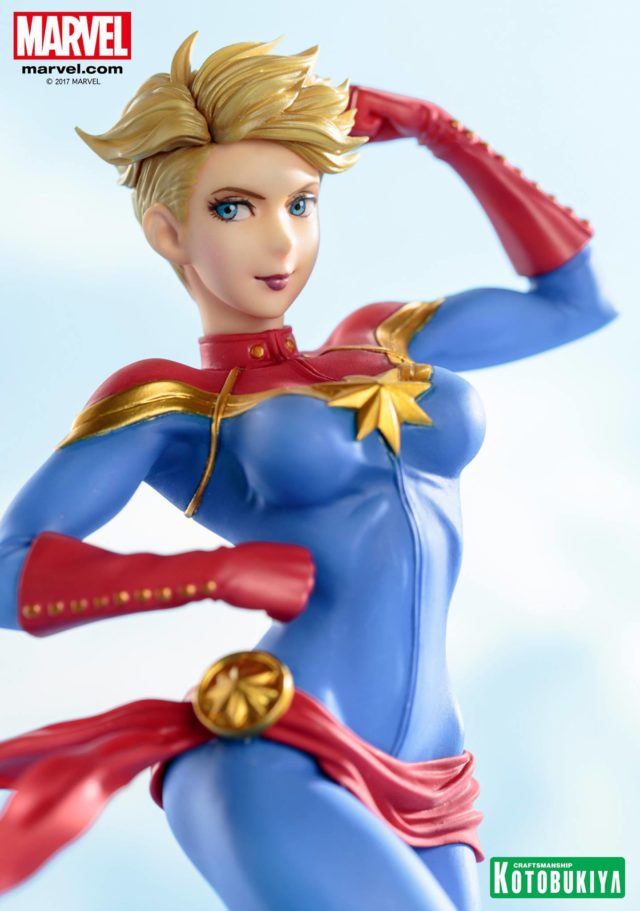 For those wondering, Kotobukiya representatives explained at their New York Comic Con 2018 panel that the Captain Marvel Bishoujo is in fact still in the works, and they think it's very likely to come out in 2020. There was something about the statue that didn't go as planned and didn't meet Marvel's expectations, so it was delayed until after the movie so that it could be reworked.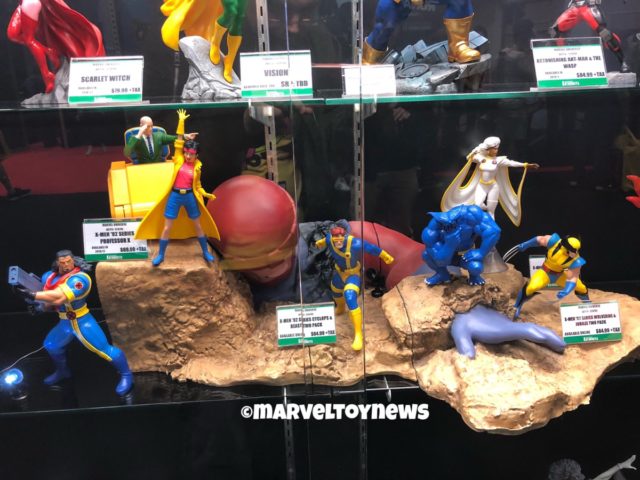 Other relevant items that Kotobukiya had displayed in this display case included the final Danger Room Sessions statue by Erick Sosa (Storm), the majority of the 90's X-Men Animated ARTFX+ statues that are currently up for order (the Rogue and Gambit prototypes weren't present for whatever reason), as well as the ARTFX+ Ant-Man/Black Panther/Sam Wilson Captain America PVC figures.
While it was a bummer that there were a whopping zero new X-Men '92 figures revealed at the show, getting to see most of the solicited ones standing in that awesome diorama with a downed Sentinel was quite a sight to behold. I genuinely think this line will be a huge hit once more pieces are in circulation.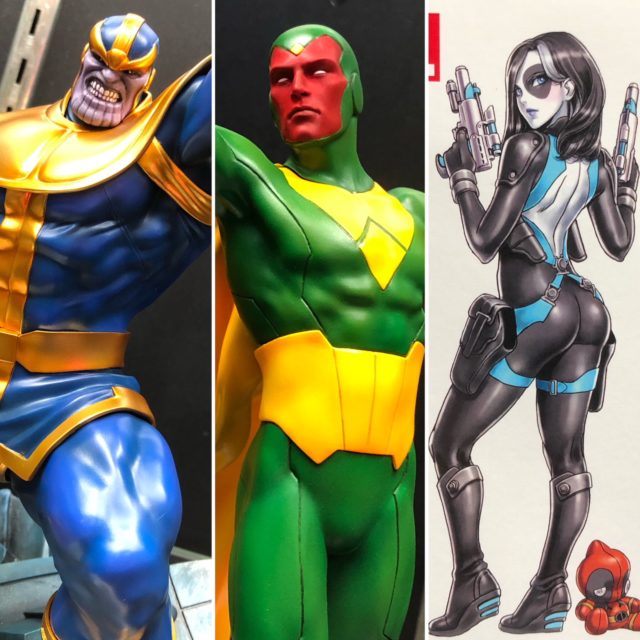 The Kotobukiya ARTFX+ X-Men, Avengers and Bishoujo statues are all available via a variety of online retailers, with Thanos and Vision expected to go up for sale before the end of the year. With Bishoujo Domino still at the concept art stage, I expect we won't see her pre-order until late winter next year. A new Avengers ARTFX+ series will also kick off with a Modern Thor statue next year according to the panel at the show.
What do you think of this NYCC showing, Koto collectors? Are you excited about the few new pieces that were revealed at the event, or are you disappointed that we didn't get to see more new items introduced? What are you hoping to see unveiled with Kotobukiya returns to New York City in February 2019 for Toy Fair?
The post NYCC: Kotobukiya ARTFX+ Thanos Vision Domino & X-Men Statues! appeared first on Marvel Toy News.