NEWS FROM THE FRONT
Catalog #3 is out now, and with that all new Catalog Specials. Now is a good time to check out our Specials Page for we have BOTH Catalog 2 and 3 Specials active (Catalog 2 Specials expire tomorrow, May 16th).
Click HERE to check out ALL our Specials!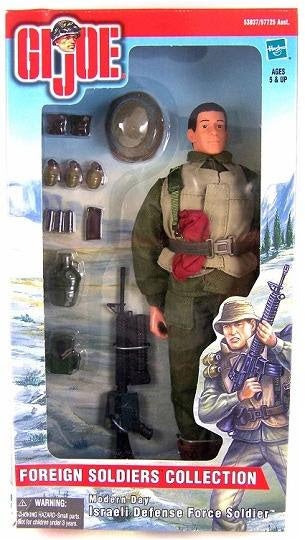 BLAST FROM THE PAST
Israeli Defense Forces Soldier
Released in 2001 as part of the Foreign Soldiers Collection, Modern Day Israeli Defence Force Soldier set includes: Classic Collection Body, M-16 w/grenade launcher, Ammo clip and pouch, Beret, Boonie hat, Web belt, Canteen, Pouches, Frag grenades, Harness, Flack vest, Uniform, Weathered boots, Dog tag
BUY NOW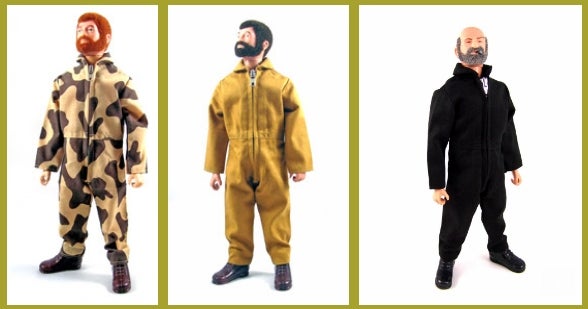 WEEKLY SPECIAL
Elite Brigade Adventure Team Style Jumpsuits (Tan – Amoeba Camouflage – Black)
25% Off The Listed Price!
Click HERE for details.
Offer Expires: May 22nd, 2019 at 6:00 pm (central). Cannot be combined with any other special or discounted pricing. Sorry – No Backorders or Rainchecks.
---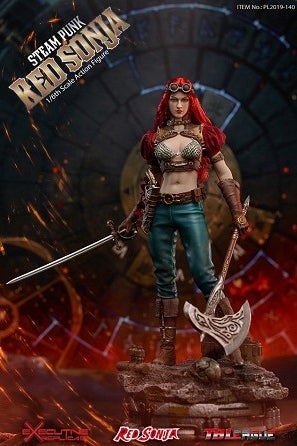 NEW PRODUCTS ANNOUNCED!
WOO Toys Fat Viking Figure Set
Artlab Design Light Up Huxter Industries Launch Platform DIY Kit
DID Sergeant Charlie: British 1st Airborne Division (Red Devils)
Phicen Limited Steam Punk Red Sonja (Classic Version)
Phicen Limited Steam Punk Red Sonja (Deluxe Version)
101 Toys Saigo Takamori (Standard Version)
101 Toys Saigo Takamori (Exclusive Version)
101 Toys Sanada Yukimura (Standard Version)
101 Toys Sanada Yukimura (Exclusive Version)
SG Toys Women's Split Skirt Dress Set (4 Different Colors)
Toy Works Black Steel
Mini Times Toys Female SWAT
Vicky Secret Toys Clown Outfit & Head Sculpt Set
AS Toys Biker Apparel Set
JX Toys April Head Sculpts (3 Different Styles)
Crazy Figure Toys US Army 75th Ranger Grenadier (1993 Mogadishu 1:12 Scale)
Crazy Figure Toys US Special Forces: Delta Force (1993 Mogadishu 1:12 Scale)
Phicen Limited Cleopatra: Queen of Egypt
Pocket Cosmos Weapons Rack & Shelves (1:12 Scale)
Pocket Cosmos Weapons Cabinet/Locker (1:12 Scale)
Pocket Cosmos Weapons/Ammo Crate Assortment (1:12 Scale Black/OD/Tan)
DS Toys Winonah Head Sculpt
Elite Toys Steve Head Sculpt
Art City Men's Dress Suits (4 Color Styles)
MC Toys Bulls Sport Sets (2 Color Styles)
Brother Production Live Free Johnny 2.0
Trumpet Models Electric Turntable Display Battery Powered
Threezero Game of Thrones: King Joffrey Baratheon (Deluxe Version)
MONDO Toys Kratos: God of War
JXK Toys Horse & Saddle Sets (1:12 Scale 5 Different Variations)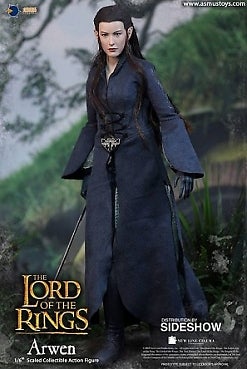 INCOMING!
Dragon Models Igor Ivanovich Bazarov: Red Army LMG Gunner with Aerosan RF-8
Asmus Toys Lord of the Rings Arwen
Elite Brigade Fuzzy Heads (Assorted Styles/Colors)
Hot Toys USMC II – MEF Tan Flight Suit, 2007 HK Comicon Ltd Ed.
Hot Toys US Navy SEAL Water Edge Ops SAW Gunner
Hot Toys USMC M249 SAW Gunner (Fallujah)
Blue Box Toys RAF Fighter Pilot Squadron Leader Keith Gordon, WWII
Blue Box Toys SEAL Helicopter Sniper "Hawkeye"
Blue Box Toys USMC 26th MEU 2nd Force Recon 'Chopper'
Hasbro Timeless Collection Eight Ropes of Danger, GI Joe Adventure Team
Hasbro Timeless Collection Talking Action Sailor
Hasbro Black & White Action Soldier with box, 2018 GI Joe Club Exclusive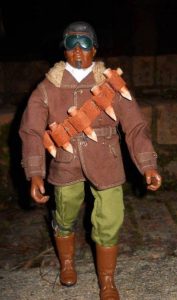 CUSTOM FIGURE OF THE WEEK
Marvel's BLADE by Chris Allen
Per Chris…
Thought I'd share my latest 1/6 custom with you all. I usually try to go very realistic, but since Blade is a 70s character, I tried to make him look more like a vintage GI Joe.
Click HERE for larger pic.
---