NEWS FROM THE FRONT
Last week, we announced that we are working on some new Elite Brigade Uniform Sets. One of these is the upcoming Desert Commando Uniform Set. We don't yet have it finished yet (still hammering out the price), but it should be up in the next 7 days. Until then, enjoy pics of it HERE.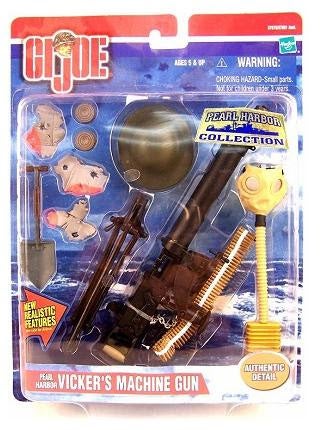 BLAST FROM THE PAST
Pearl Harbor Vickers Machine Gun Set
Released in 2001. This carded set includes: Helmet, Gas mask with hose and filter, 2 rations cans, Vicker's .30 cal machine gun with tripod, 2 .30 cal ammo belts, Shovel, and 3 Japanese plane fuselage fragments riddled with bullet holes.
BUY NOW

WEEKLY SPECIAL
Safari Limited Animal Sale
25% Off All In Stock Sets with GISL Code!
Click HERE for details.
Offer Expires: October 17th, 2018 at 6:00 pm (central). Cannot be combined with any other special or discounted pricing. Sorry – No Backorders or Rainchecks.
---
NEW PRODUCTS ANNOUNCED!
Hobbycrash Geyperman Mountain Survival Set
Star Ace Toys Harry Potter Series Griphook 2.0
Hot Toys Star Wars Series Luke Skywalker (Crait)
Vicky Secret Toys Male & Female Mountain Boots (4 Styles)
JxK Studios Doberman Pinscher (Lying)
JxK Studios Doberman Pinscher (Sitting)
MONDO Masters of the Universe He-Man
DAM Toys Combat Girl Series Pisces "Nana"
INCOMING!
Hot Toys Iron Man 2: Iron Man Mk IV
Easy & Simple SMU Tier-1 Tandem HALO Jumper Pack
Soldier Story Hong Kong Airport Security Unit
Phicen Limited Fang Hua (Youth) Figure Set
Phicen Limited Super-Flexible Male Seamless Body (M35 Model)
POP Toys Guard Officer
DAM Toys IDF Combat Intelligence Corps 'Nachshol' Reconnaissance Company
World Box 'Dad Bod' Male Body
Very Cool Toys Heart King (WeFire Series Female Mercenary)
POP Toys Super Flexible Female Body (4 Body Styles)
Black Box Toys Undercover Agent (aka Replicant Killer)
Toys City Working Dog Series: Malinois (3 Variations)
Jorsing Toys Zombie Dog
Mister Z Pug (Tan/Black)
Flagset Toys Caesar: Death Squad K (Doomsday War Series)
COO Models Viking Valhalla Deluxe Set
DAM Toys Vector Sub-Machine Gun Tactical Sets (Assorted)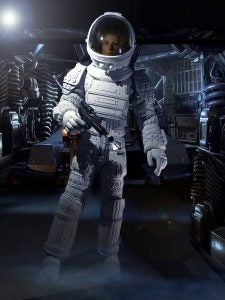 CUSTOM FIGURE OF THE WEEK
Alien: Ripley by Wayne Faucher
Here's the answer to last week's teaser image, and my latest 1/6 custom figure. Yes, it's Ellen Ripley (believe it or not) from the 1979 sci fi/horror classic Alien. I was recently lucky ("lucky, lucky, lucky") enough to snag a full Hot Toys Kane suit ( thanks to Greg Brown and the Harrisburg Action Figure show) and I went to work with my spray paint. After a few minor alterations and a touch of the old Photoshoppery, here she stands in Narcissus, ready for the final battle. The grappling gun isn't exactly screen accurate, but good enough until something better comes along!
Click HERE for larger image.
---