We're approaching a year since the Spider-Man: Into the Spider-Verse movie hit theaters, but a lot of companies are still in the midst of playing the catch-up game with merch for the much-beloved animated movie. Good Smile Company kicked off their line in the summer with a far-too-cool Miles Morales Nendoroid, and now they're ready to launch his first "teammate"—the Nendoroid Spider-Gwen figure is now up for order! And for those who can't get enough of Gwen—there's a DX Version with two bodies on the menu as well!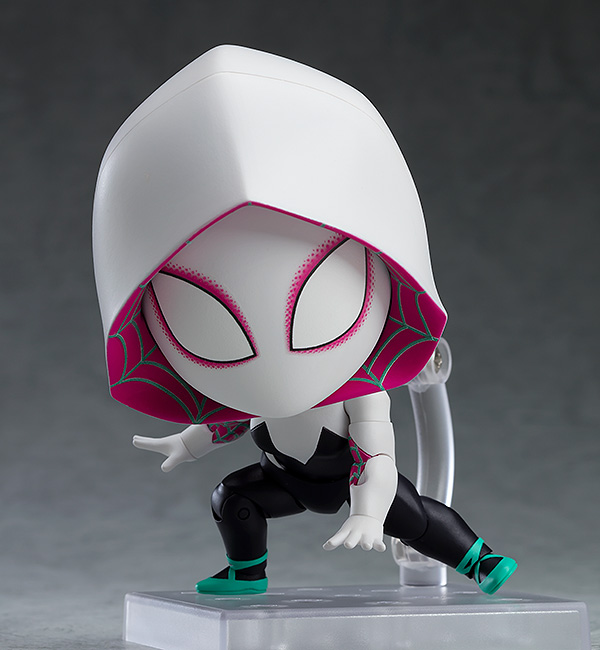 While Funko is an unstoppable juggernaut of super-deformed figures with no end in sight around the world in the low-end price range, Good Smile Company's Nendoroid series is similarly successful in the medium-end price range with over 1200 figures released to date!
It took a while to kick into full gear, but GSC is now focused on pumping out Marvel characters—and this time, their attention has turned to Spider-Gwen!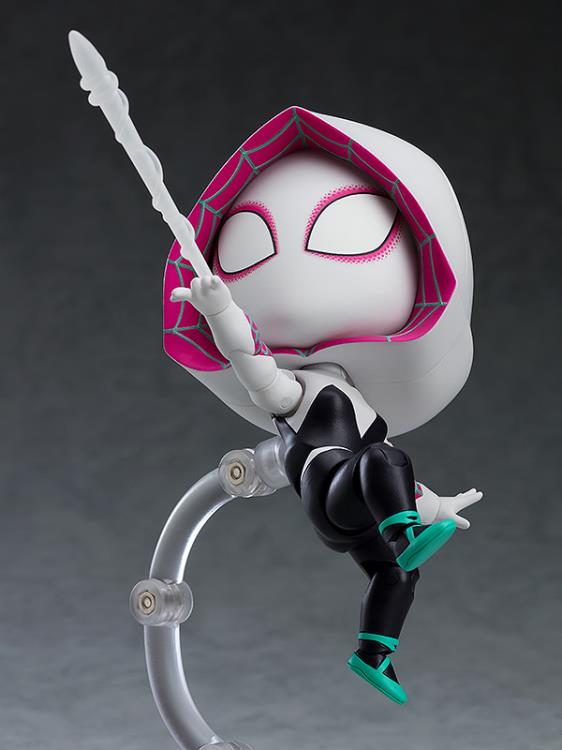 For those who don't know them, Nendoroids are cutesy super-deformed figures with articulation and many optional interchangeable parts. The adorable style has led to millions of worldwide fans, and I think it suits the character designs for Into the Spider-Verse quite nicely.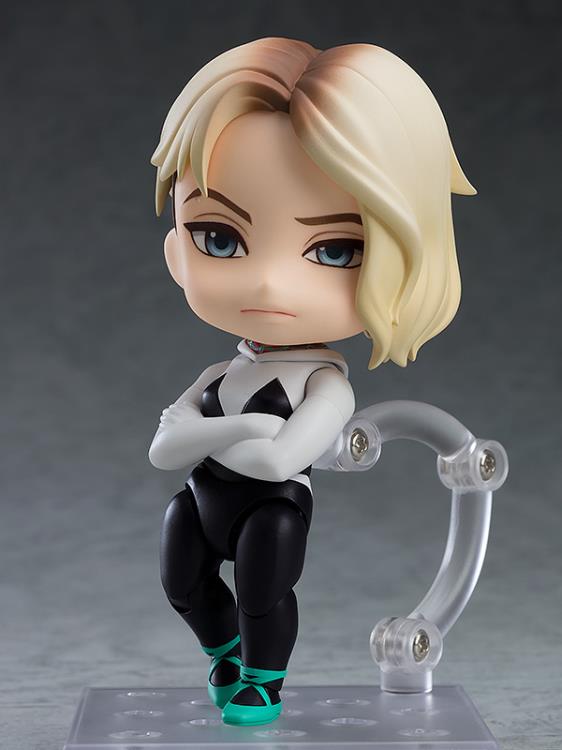 Believe it or not, this is the single most comprehensive Spider-Gwen figure releases by any company, as the standard version includes both masked and unmasked Gwen Stacy heads, an alternate face plate for the unmasked head (so she has both smiling and serious expressions), regular and crossed arms, alternate hands and a web effects piece.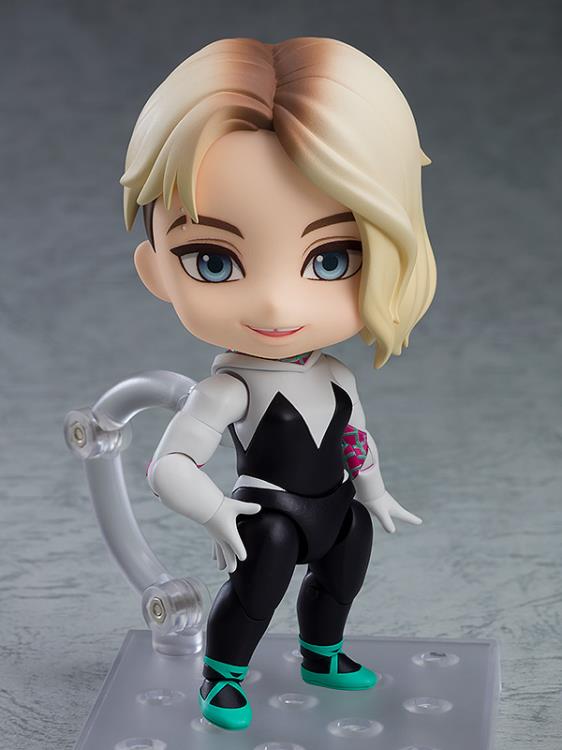 The missing-tooth in Gwen's smile kinda freaks me out, so I'm glad that we also get a closed-mouth faceplate to use with the unmasked head.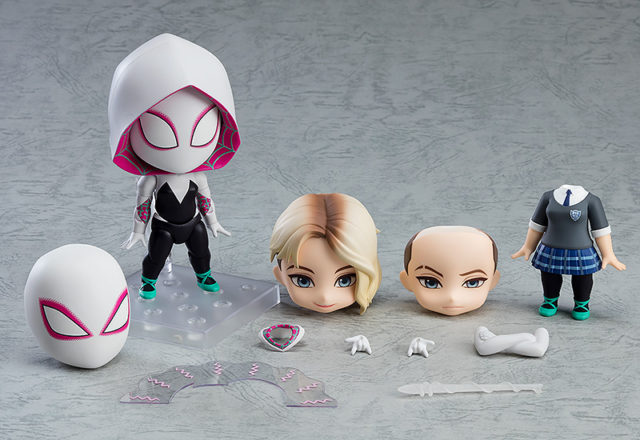 Those who want to spend about 30 bucks more and get the Spider-Gwen DX Version, however, will basically get a whole other figure as a second school uniform body is included for Gwen! That feels like a pretty good deal to me, though I am not nearly as big a fan of Gwen's school clothes as Miles' casual costume clothes.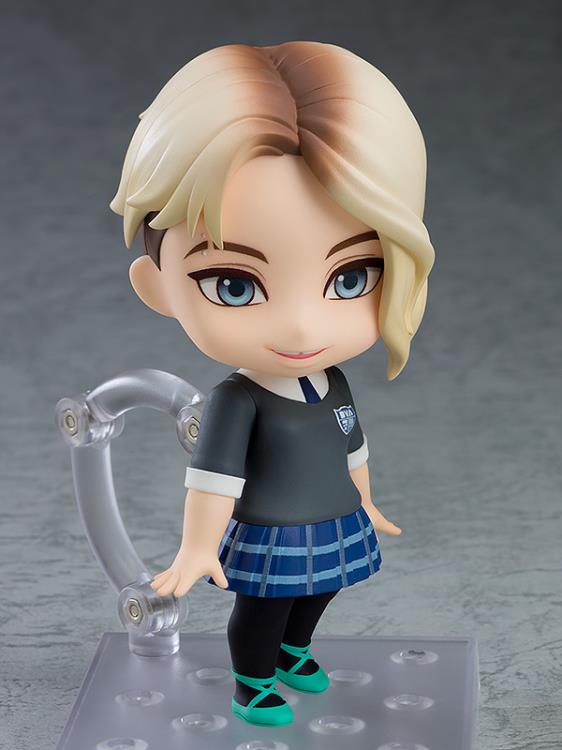 In addition, the DX Spider-Gwen will include an attachable Spider-Gwen effects piece, which is also compatible with the Miles Morales figure. This isn't a huge selling point for me, but as an extra bonus, I don't imagine those who pick up the DX Ver. will complain about the bonus accessory.
The Good Smile Company Spider-Gwen Nendoroid figure is now up for order in both standard and DX varieties, and is scheduled to be released in June 2020. That'll be over a year and a half after the Spider-Verse movie was released, so I really hope sales are still good enough to give this line the legs necessary to produce Spider-Ham, Noir and SP//DR as well.
What do you think of the first-ever Nendoroid Ghost Spider, Marvel collectors? Are you still interested in merchandise for Into the Spider-Verse at this point, or is this Gwen Stacy too little, too late? Would you like to see GSC complete the team of Spideys from the movie?
The post Nendoroid Spider-Gwen DX Figure Up for Order! Into the Spider-Verse! appeared first on Marvel Toy News.