Review and Photos by Jeff Saylor
Review Samples Courtesy of Hasbro
As the 35th anniversary of the Transformers toy brand comes to an end, Hasbro keeps the celebration going with with the rollout of exciting new store exclusives. By partnering with three of the largest North American retails – Amazon, Target and Walmart – Hasbro has been granted the opportunity to expand their many Transformers lines with cool characters that collectors can find nowhere else.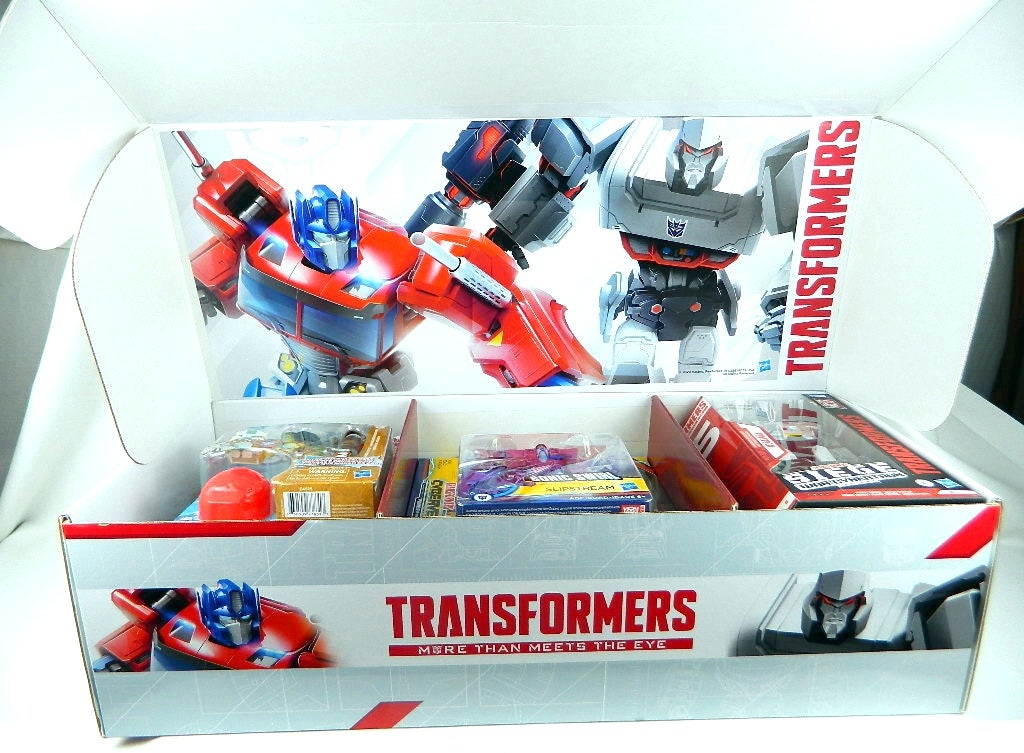 Here's a look at what the trio of exclusive Transformer retailers are offering. This wonderful sneak peek was provided courtesy of Hasbro, all packed in another fantastic promo box!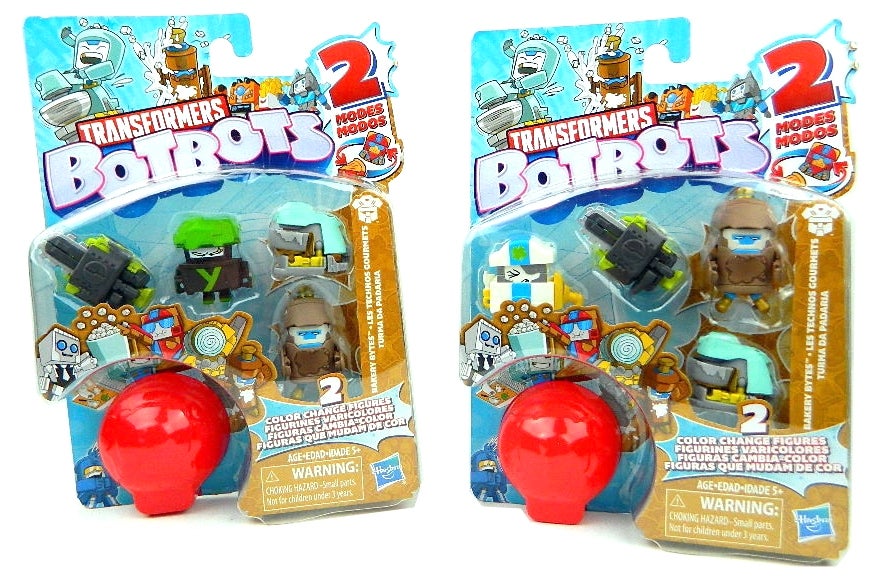 AMAZON
The little guys are back with a brand new Tribe: the Bakery Bytes! However, that's not all! In addition to their micro-conversion power from ordinary objects to mini bots, these all-new BotBots pack an awesome new gimmick: Color Change! After roaming the kitchen in search of adventure (and mischief), these half-baked baker bots have gotten themselves a little messy. Don't worry, it's nothing a little "cleaning" can't fix! Give each BotBot a rub and, with the color change feature, stains disappear and reappear!
I've had a blast playing around and collecting this new line (read my Series 1 review HERE and my Series 2 review HERE), so any chance to add new additions is fully welcome. And with a new play feature? Bring 'em on! Add the Bakery Bytes to your collection exclusively via Amazon. Each 5-pack is priced at $9.99 (with Prime) and are available for order NOW!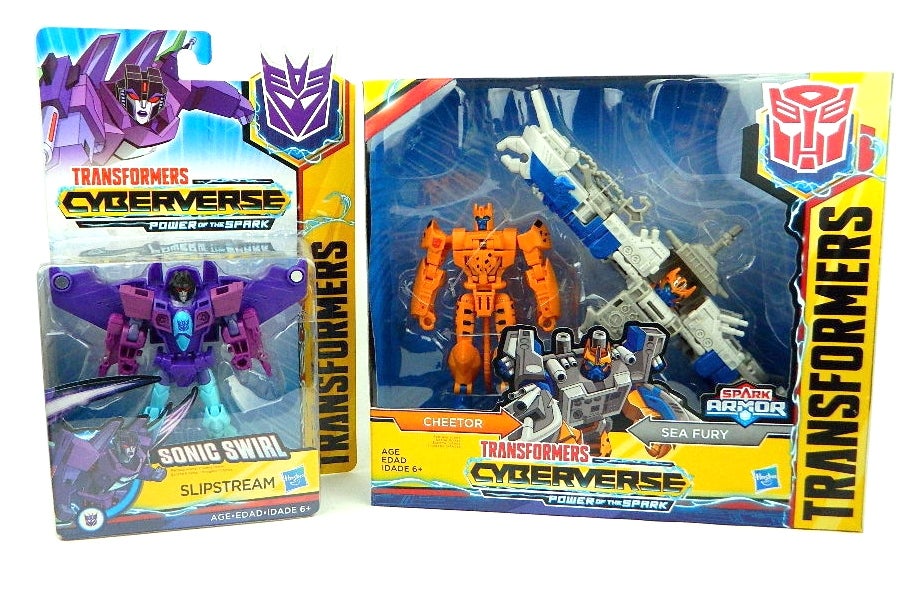 TARGET
Animated style more to your liking? Hasbro has two new Transformers Cyberverse figures for you: both exclusive to Target! Figures include Spark Armor Elite Class Cheetor & Sea Fury 2-Pack ($24.99), as well as an Action Attackers Warrior Class Slipstream ($14.99)! Both figures are available for order NOW!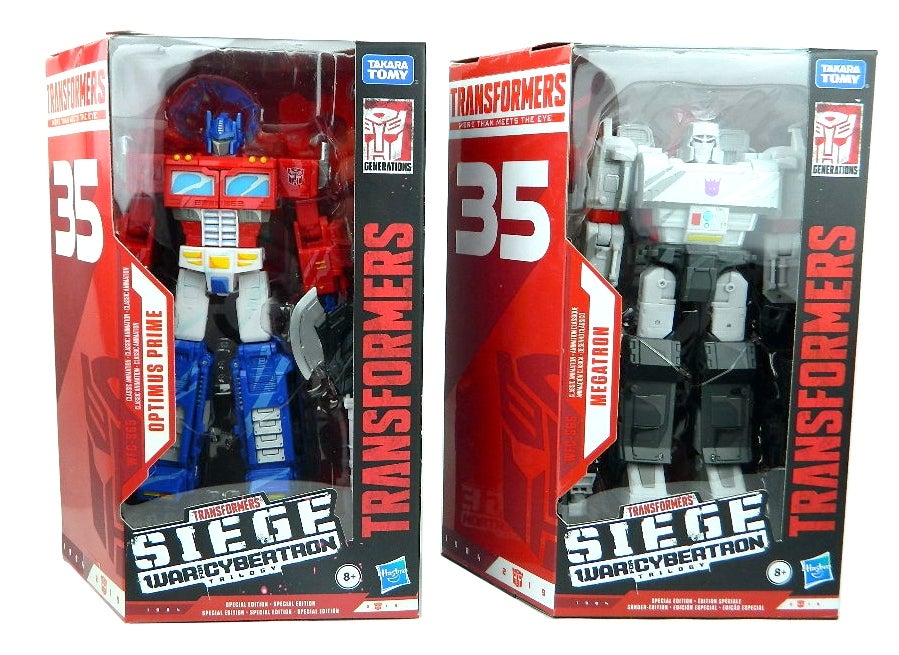 WALMART
Hasbro's new War for Cybertron figures have appealed to me primarily for their awesome G1 sculpting. How can that possibily get any better? How about G1 cartoon-like cel shading deco! Collectors can pre-order Classic Animation Optimus Prime and Classic Animation Megatron now! Both figures are priced at $24.84 (what an odd price!) with shipping only days away: November 14th! Lock and load!

#MoreThanMeetsTheEye
2019 has been an incredible year for Transformers collectors. Not only is 35 years a significant milestone for any toy line, but the emphasis Hasbro and their brand team has placed on Transformers this year has been nothing short of amazing. As I pointed out in my first Transformers 35th Anniversary article earlier this year HERE, Hasbro has created something for everyone: from the new collect-them-all BotBots micro collectibles, 'toon accurate and vibrantly colored Cyberverse figures, to more mature War for Cybertron figures with nostalgic sculpts and modernized conversion. Hasbro has hit it out of the park .
2019 might mark the end of the Transformers 35th Anniversary. However, for the legions of devoted collectors, new and old, the celebration is just beginning.
Review and Photos by Jeff Saylor
Review Samples Courtesy of Hasbro
[See image gallery at www.figures.com]