The New York Toy Fair is canceled this year due to the pandemic, but Mezco Toyz is plowing ahead with their OWN show! To get fans excited about the event (February 20-22), the company is offering an exclusive Toyz Chest bursting at the seams with Mezco goodness. Exclusive to MezcoToyz.com priced at $175, this exclusive set includes: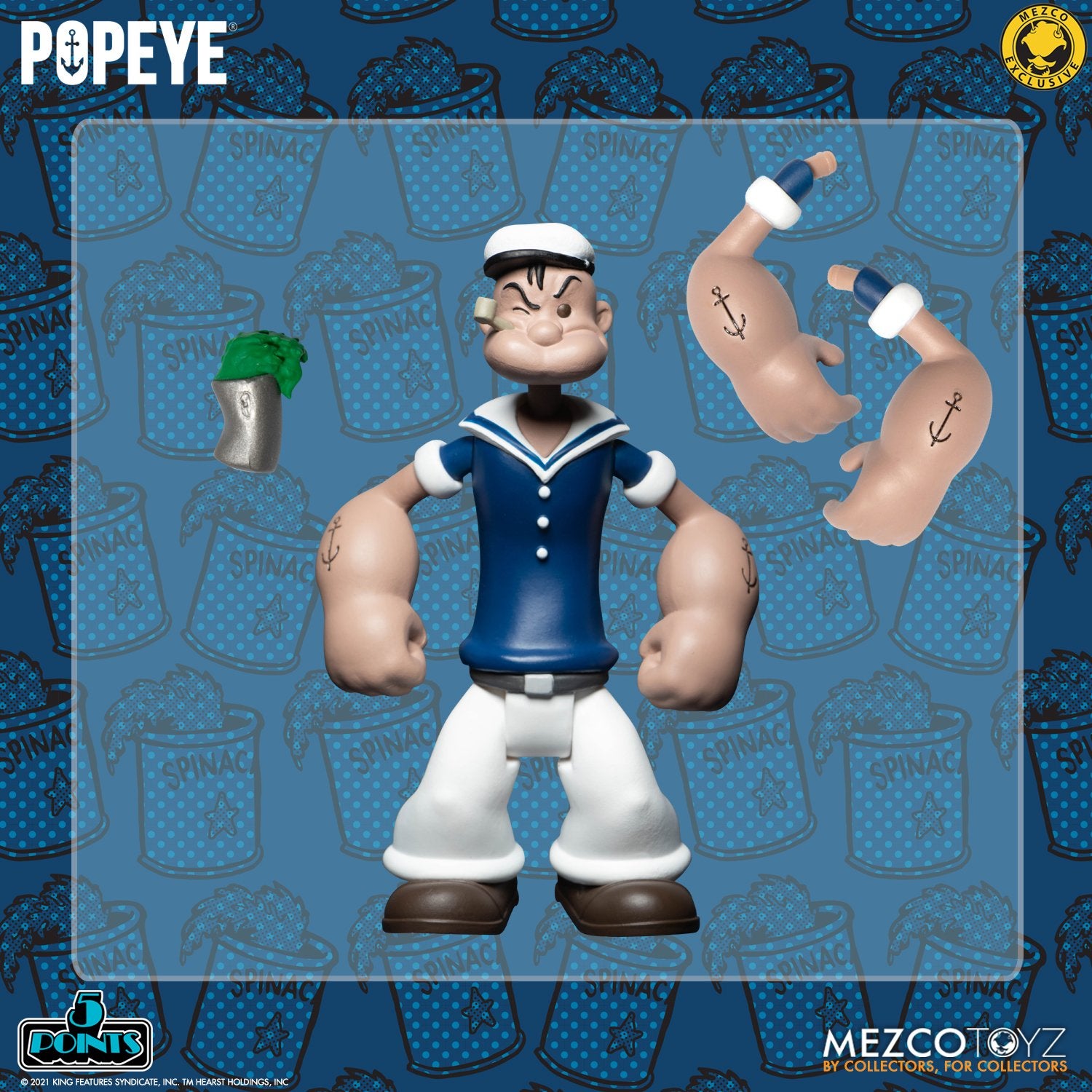 5 Points Popeye – He's one tough Gazookus! Popeye, the spinach-loving sailor, is complete with two sets of interchangeable arms, a pipe that fits in his mouth, and a can of spinach he can hold in his hands.
Krig-13 Comic – learn more about the Krig and the ever-growing world of Rumble Society.
Slugfest Crypto-Cog – The Crypto-Cog is the code cypher for Slugfest's Emporium Of Badassery. Created by Slugfest himself, he will contact coin holders who purchased directly from Mezcotoyz.com with new messages to decode. You never know what ol' Sluggo's gonna say…
Rumble Society Trading Cards: Series 0 – a pack of 9 cards that barely scratch the surface of the many layers of the Rumble Society.
Krig-13 & Gomez stickers – These 3" stickers feature artwork from the Krig-13 comic & our Mezco Toyz Fair logo. Stick 'em on your laptop, phone case, hoverboard, or wherever!
Gomez & Boom Boom Pin Set – two limited edition enamel pins commemorating the first ever Mezco Toyz Fair! This pin set features rubber clutch backings and is perfect for a shirt, jacket, lanyard, or backpack.
Pink Skulls Chaos Club bandana – Cover ya mug, ain't nobody wanna see that! This bandana features a blue and black checkered pattern with the P.S.C.C. logo as seen on our Pink Skulls figures.
Pink Skulls Chaos Club jumbo iron-on patch – Join the club and get patched in with this 9" iron-on patch featuring the P.S.C.C. logo, just like the colors the crew rocks.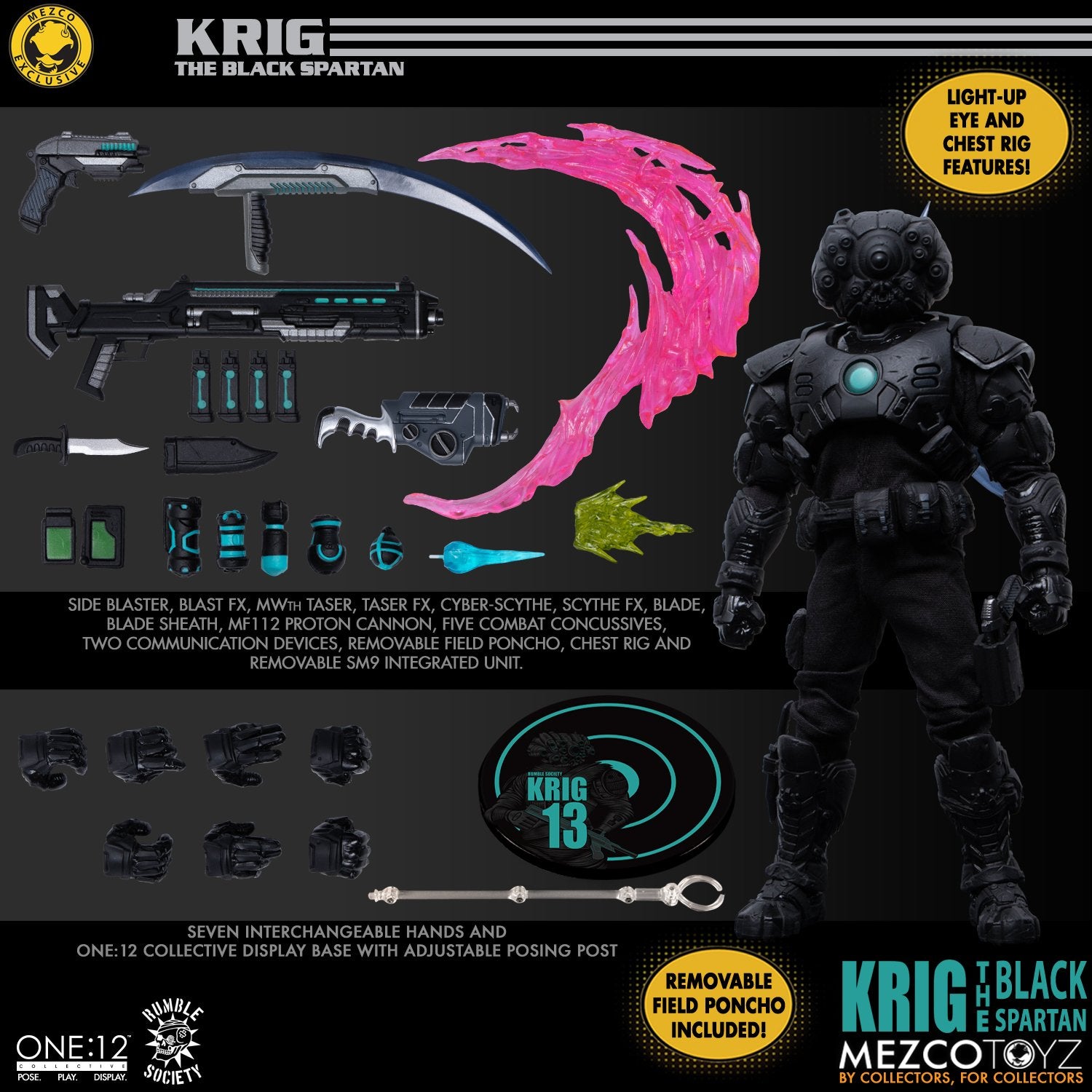 THE ONE:12 COLLECTIVE KRIG-13 FIGURE FEATURES:
One:12 Collective body with over 30 points of articulation
One (1) head portrait with light-up eye function
Hand painted authentic detailing
Approximately 17cm tall
Seven (7) interchangeable hands
-One (1) pair of fists (L&R)
-One (1) pair of knife holding hands (L&R)
-One (1) pair of gun holding hands (L&R)
-One (1) posing hand (L)
COSTUME:
Chest rig with light-up function and weapon bracket on back
Shoulder pads (extendable)
Utility belt with holster
Thigh holster
Terrain boots
ACCESSORIES:
One (1) SM9 integrated unit (removable helmet)
One (1) Field Poncho with integrated posing wire
One (1) sticker sheet to customize poncho and base
One (1) Side Blaster
One (1) blast FX
One (1) MWTH Taser
One (1) taser FX
One (1) Cyber-Scythe
One (1) scythe FX
One (1) Blade with boot sheath
One (1) MF112 Proton Cannon
Five (5) Combat Concussives
Two (2) Communication Devices
One (1) One:12 Collective display base with logo
One (1) One:12 Collective adjustable display post
[See image gallery at www.figures.com]
---